Learn how to decorate your home with classic coastal elements for a relaxed look for summer.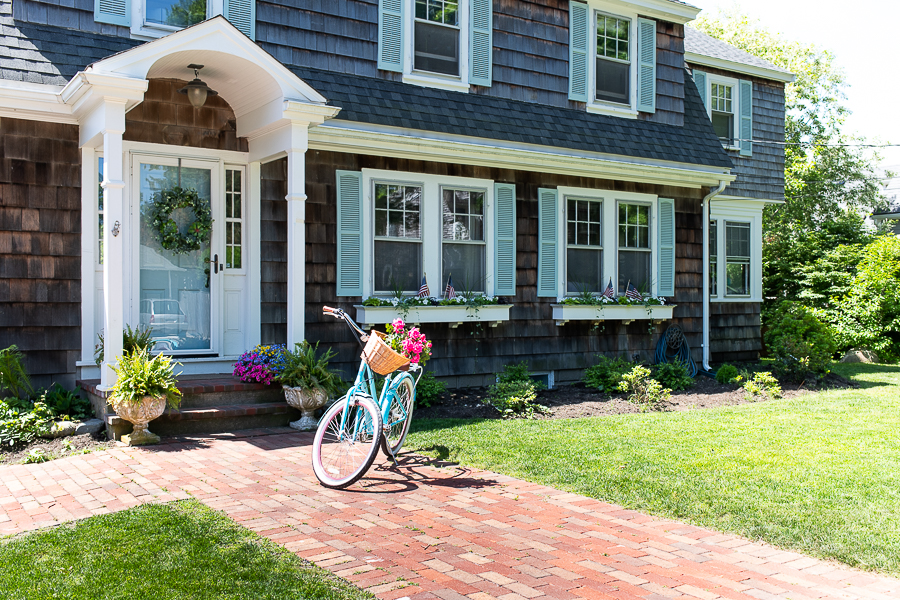 This week marks the seasonal simplicity home tour series organized by my good friend Krista of The Happy Housie! If you're stopping by from there or Lauren's wonderful blog, Blesser House, welcome!
If this is your first time visiting our home, I'm so glad you're here. I'm Danielle and I love all things coastal.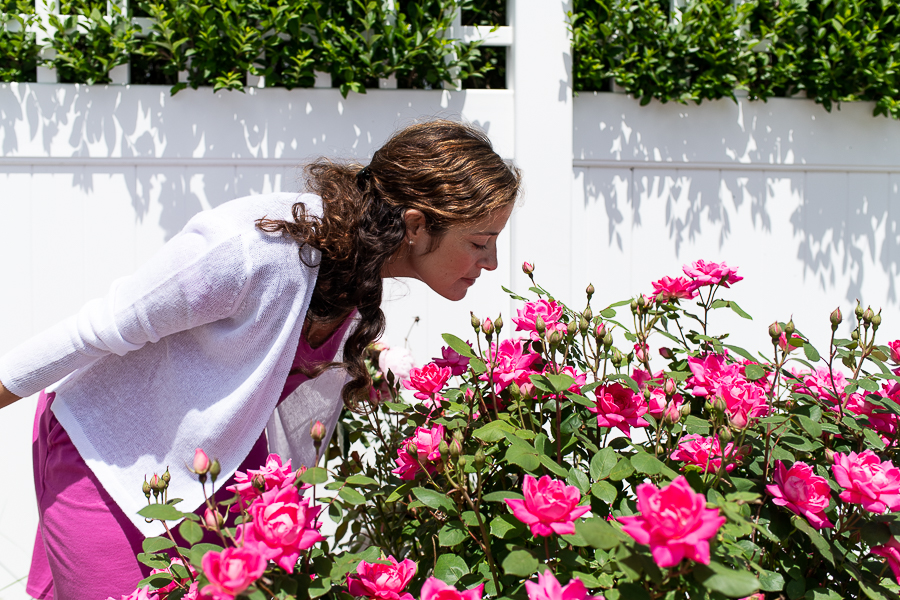 I love using flowers from our garden and treasures we find at the beach to decorate with.
This is our home on Boston's South Shore. We live right in Scituate Harbor and can walk to lovely beaches, shops and amazing restaurants. Summer is a magical time here by the sea.
This post contains affiliate links, click here to read my full disclosure policy.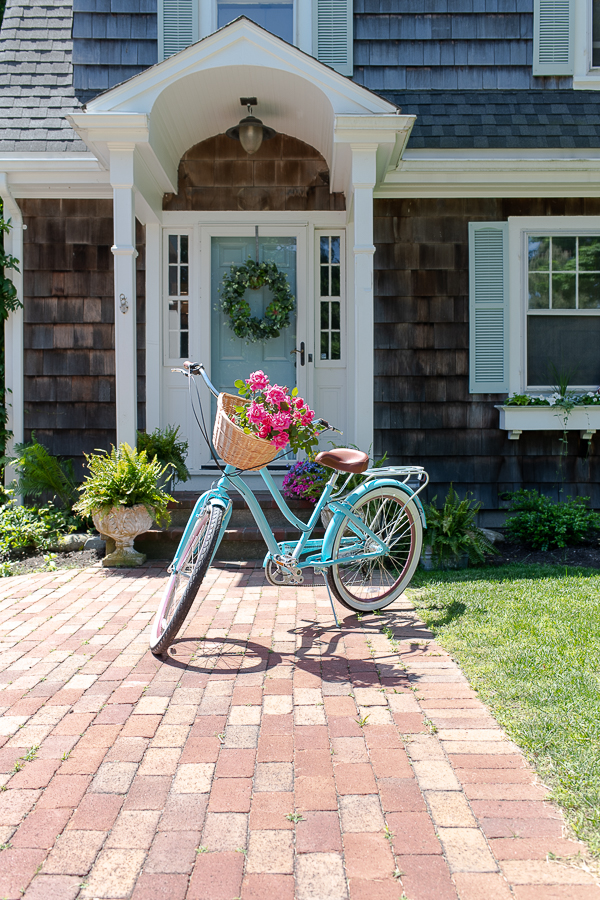 We spend time exploring the beaches, swimming in the sea, and our two sons will be taking sailing lessons in the harbor. They are already quite good at it. The boys surprised me with this gorgeous bike for my birthday. We love to go on family bike rides around the harbor and in the woods.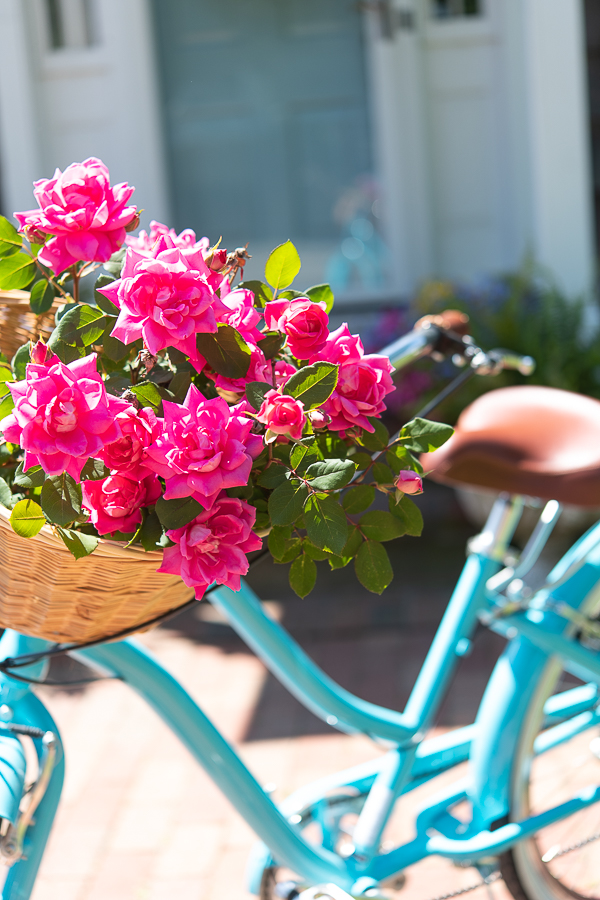 That color blue is my favorite! Well, you'll see, once you step inside, that I LOVE all blues 😉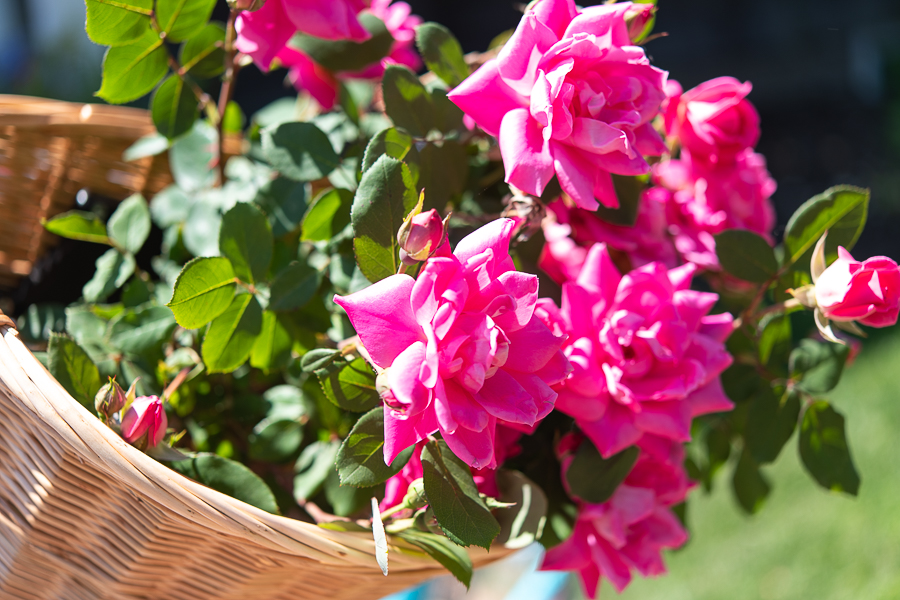 We spend most of our time outside in the summer months. The smell of the sea is intoxicating, but I thought it would be fun to show you around inside before showing you the backyard.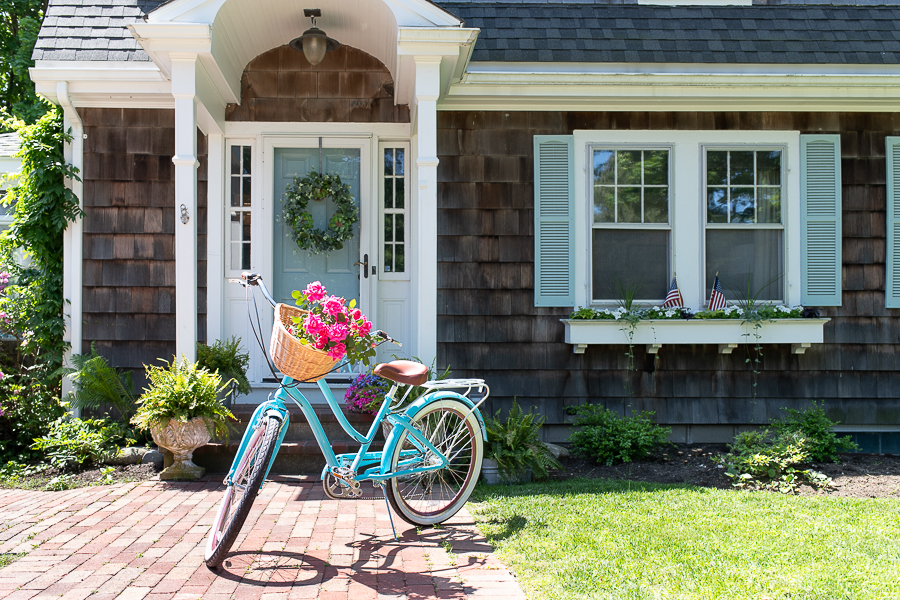 Shop the Look

Entry
Just as you step inside our front door is our entry. I created these gorgeous sun prints with my boys with items we had in the backyard. If you're looking for a fun summer project, you need to try these. You can read my tips here.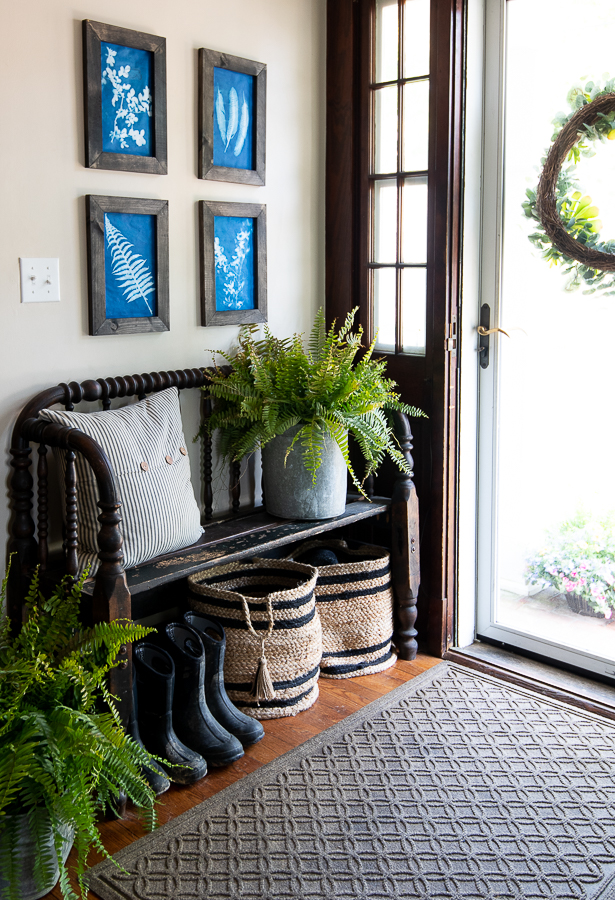 We made the frames too. That bench was an old Jenny Lind bed that we converted. I am slightly obsessed with ferns and have them inside and out. Here they are in vintage galvanized containers.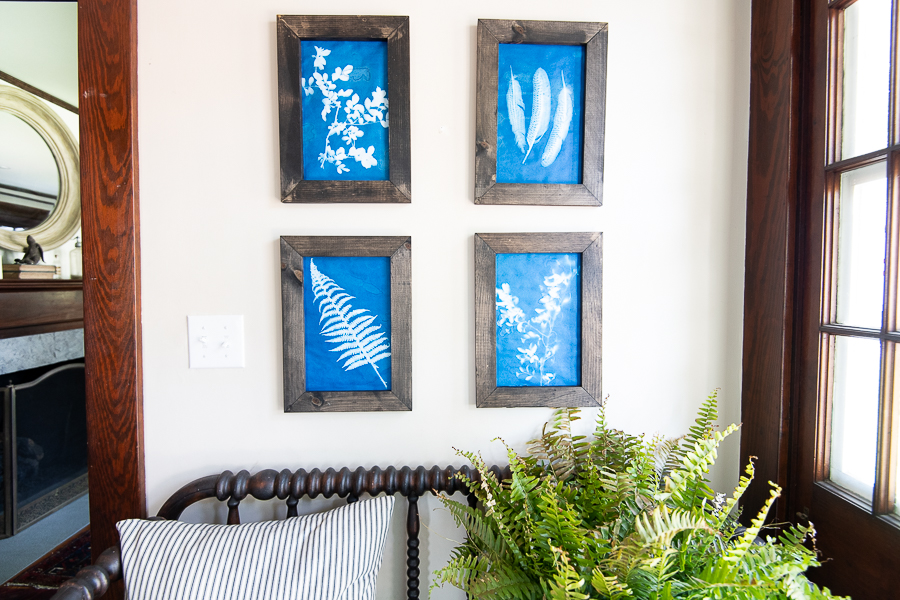 Shop the Look

Living Room
We have a very long living room which was puzzling to decorate when we first moved in. This room has undergone many, many changes. We replaced the ceilings, updating the fireplace and have gone through three couches, but I think this is how I love it best. First I'll show you the family area.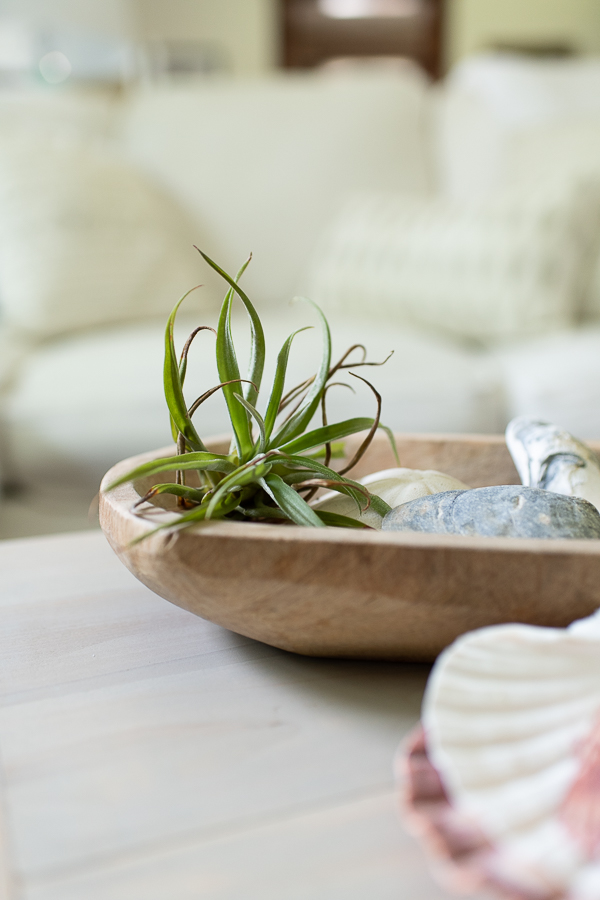 Oh, and you'll see lots of nature in here from spikey air plants to pretty shells to heavenly peonies.
We added the white slipcovered sectional last fall and LOVE it. It's big enough for the four of us to fit and Max (our terrier mix has decided it's his perch when he's not chasing squirrels outside).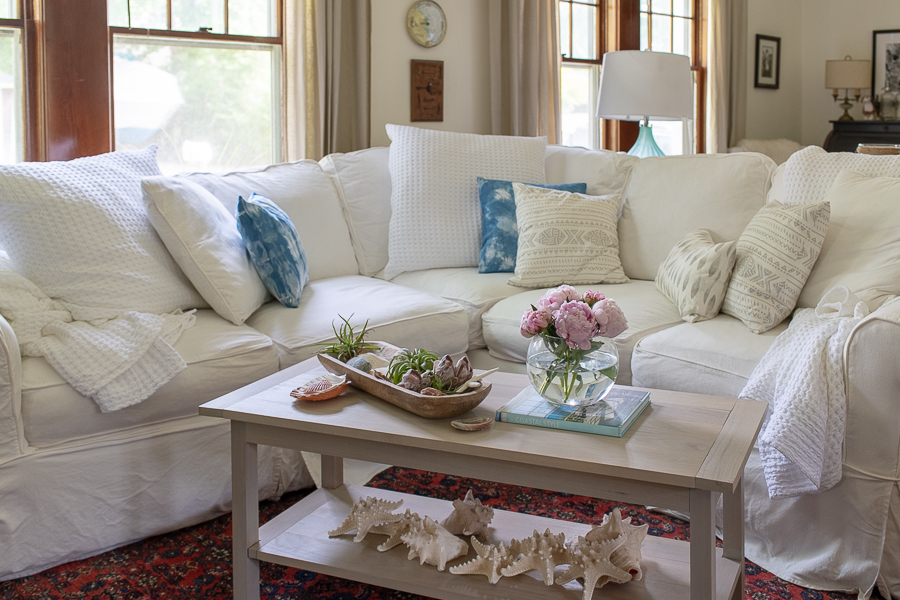 Those quilts are actually to help me keep the couch clean. I just washed our slipcover successfully (phew!) but I bought these to drape on so I can just wash them when they start looking grimy. The sectional is 94 x 94 and my little washing machine can't handle stuff that big.
If you've been reading the blog for quite a while then you might recognize this coffee table from the She Shed. I'm still waiting for Luke to build me a custom one for here (I'm thinking round). Our old coffee table is too large and I thought it would be fun to see what this driftwood one looked like in here. We built it a few years ago.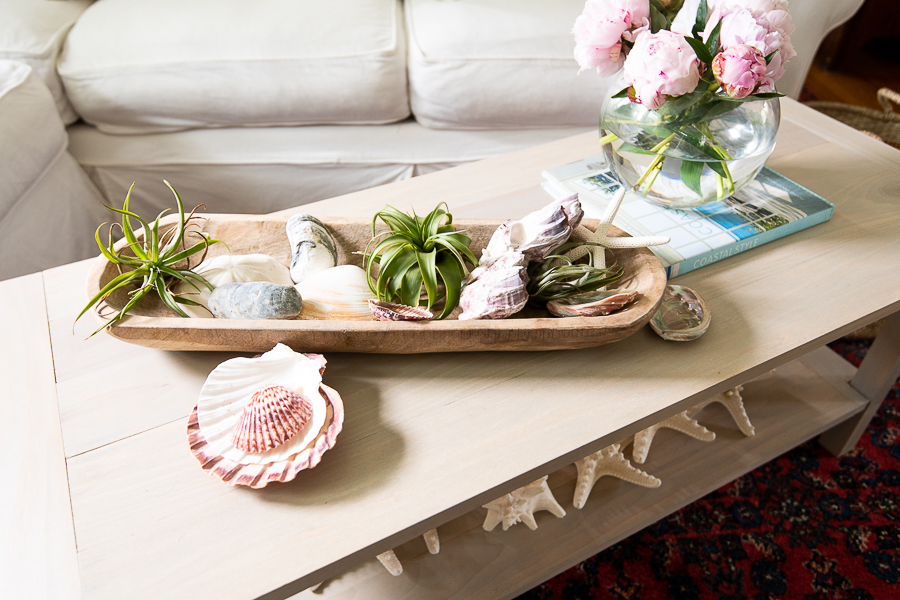 I adore air plants and shells, just in case you were wondering.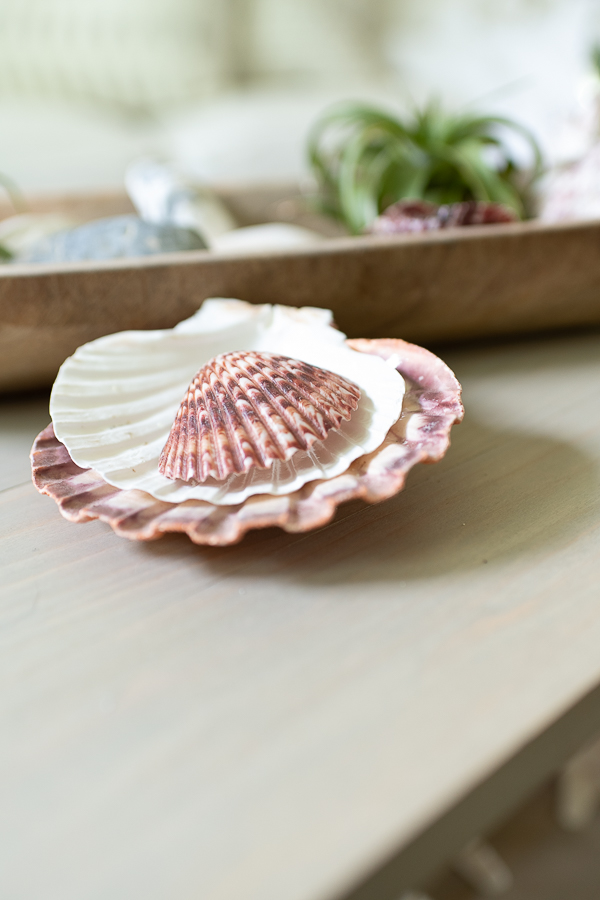 It's amazing to see all the details on shells.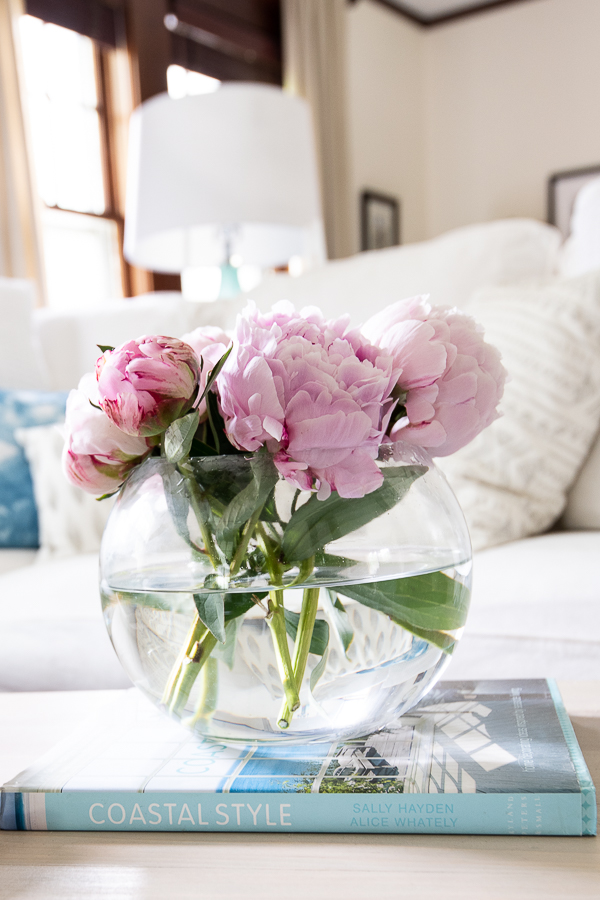 I try to put out books I love to flip through. This one is beautiful if you like coastal style.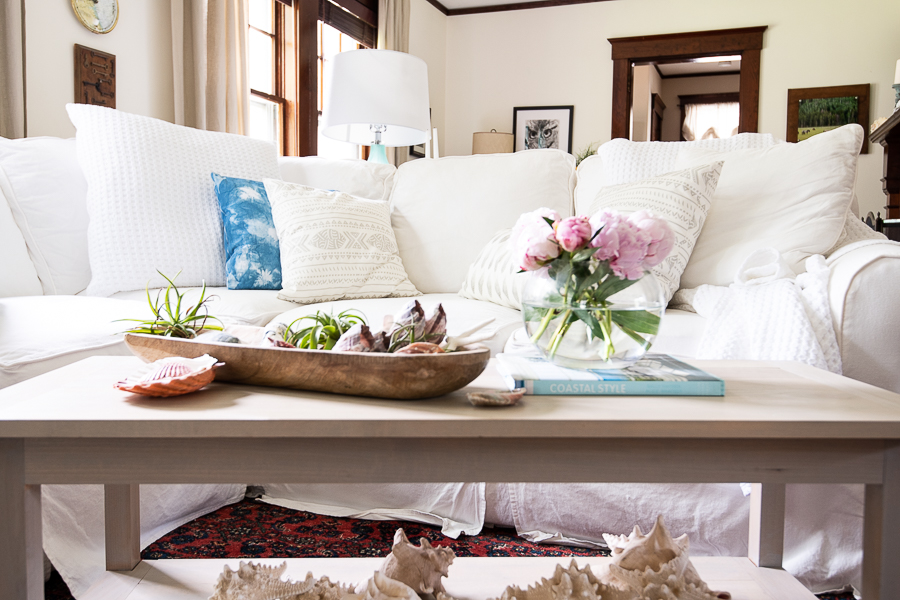 The pillows on the couch are a mix of HomeGoods (the larger ones were in the bedding department), Minted, and shibori ones we made last summer. DIY Shibori is another fun project to do with your kids in the summer. You can read our DIY Shibori here and our pillowcases here.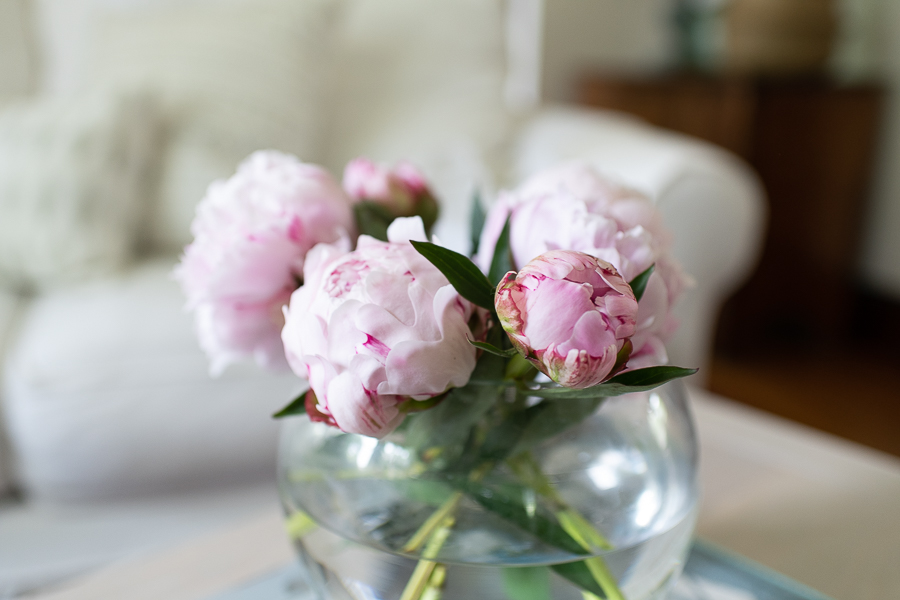 Peonies remind me of my grandmother. I have many planted in the garden but they're not ready yet. These are from Trader Joe's and were $7 a bunch. I don't think that's bad. The fragrance is heavenly.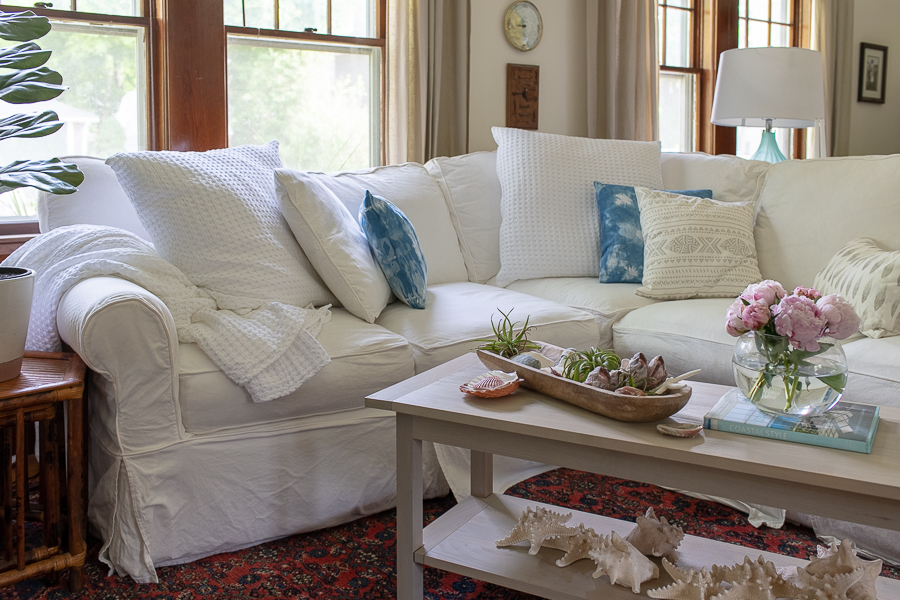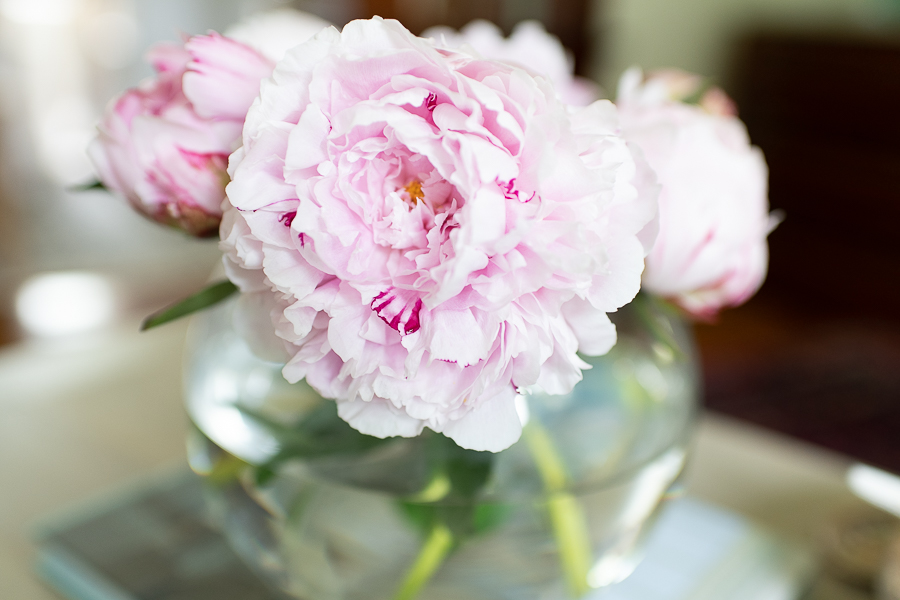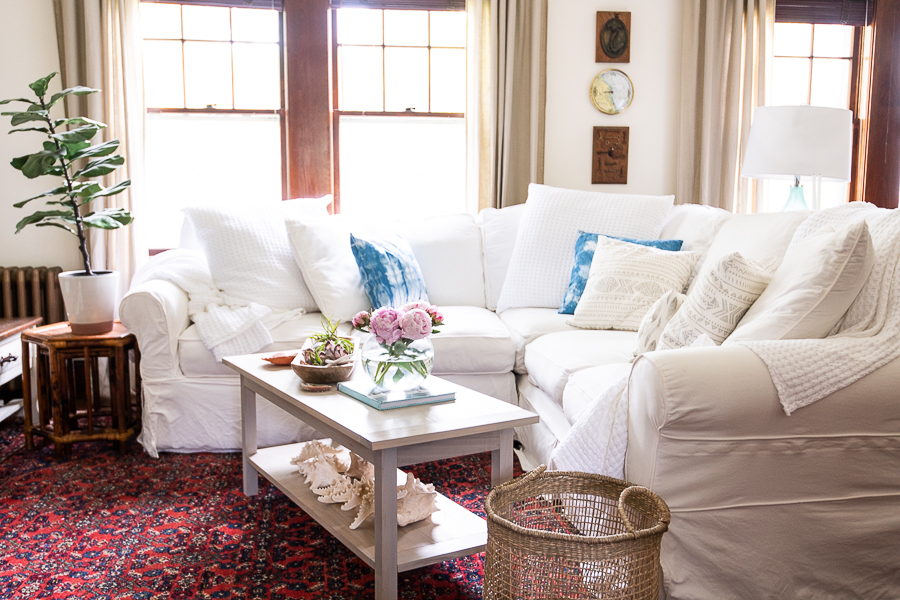 For Mother's Day my boys surprised me with this gorgeous Monstera Plant. Isn't it lovely? I found the basket on Amazon for $10. As you'll see I have quite an obsession with woven baskets. They're great for plants, throws, added storage and they look coastal and summery.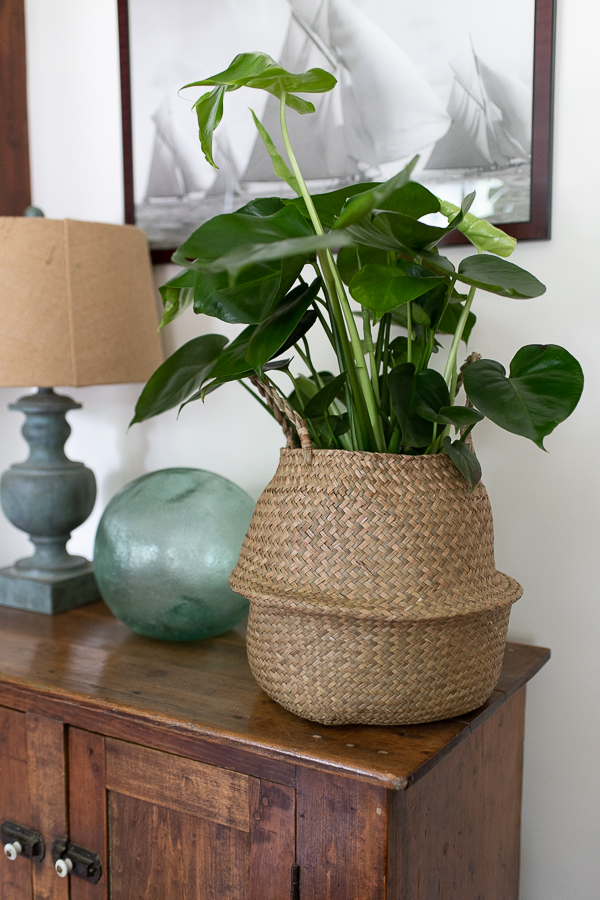 This cabinet is from my childhood and I have every intention of giving it a makeover soon.
Okay, now over to the other side of the room.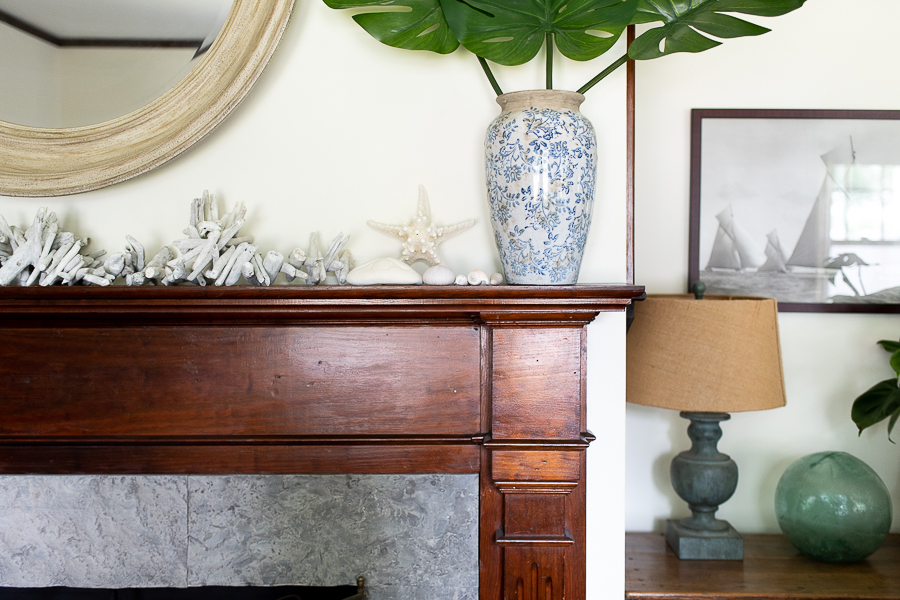 Central to this part of the room is the fireplace. We love the dark mantel and we refaced the front of the fireplace with fossilized ocean flooring. It's amazing. Here you can see the gas fireplace on and a white slipcovered chair pulled over to it. I snapped that the other week when I shared our mantel.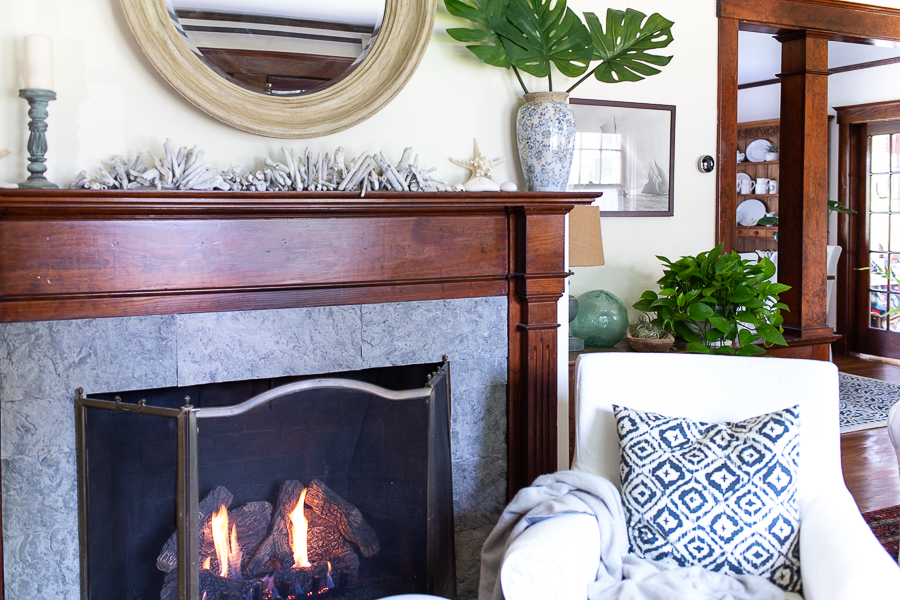 Usually the chairs "live" under the windows in the living room, opposite the fireplace.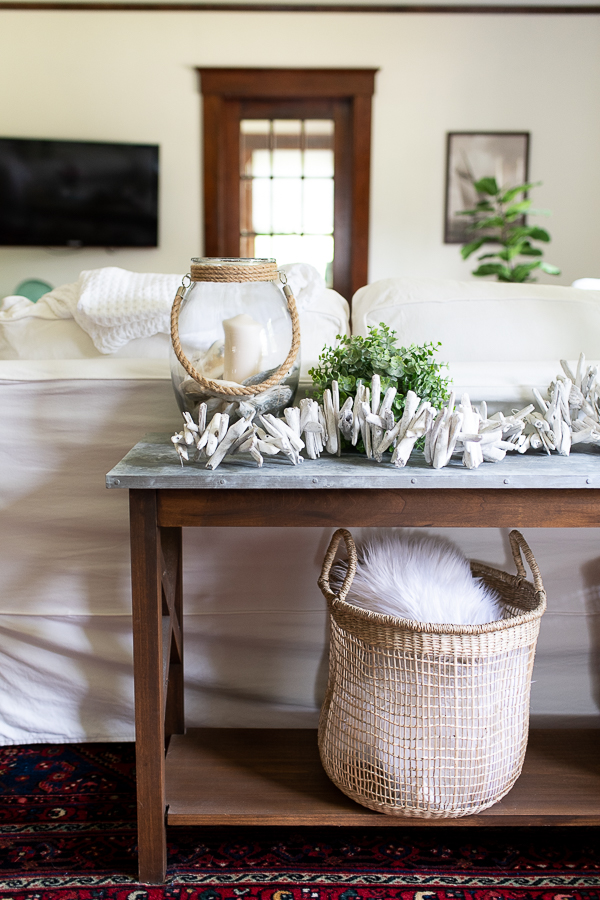 Luke built this console and the top is actually wood that I painted to look like galvanized metal. You can see the post here. I decorated the console simply with a driftwood garland, some oyster shells we found at the beach and a pretty lamp that reminds me of sea glass.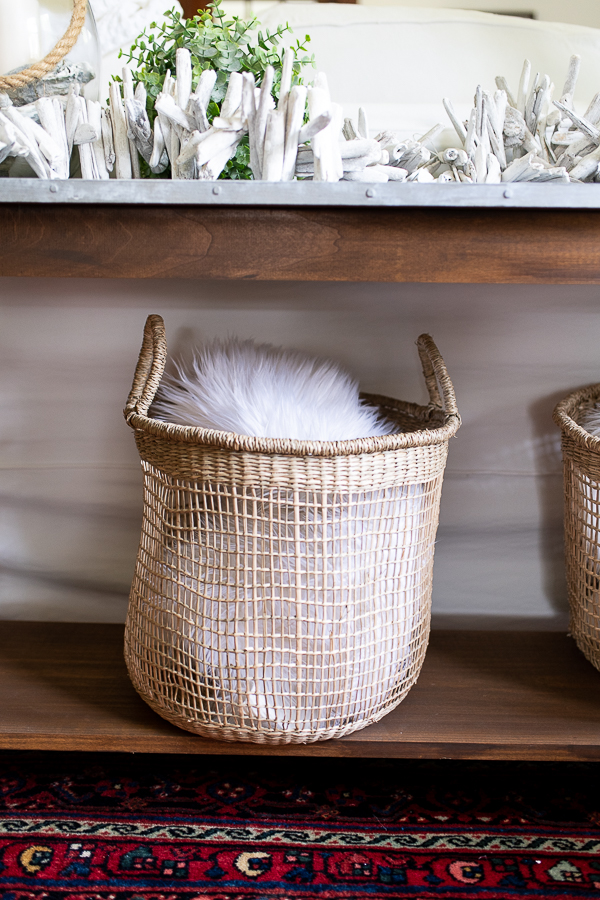 These baskets are from Target, in the new Opal House Collection. They were actually on clearance. So I couldn't resist buying more baskets. Ha! Ha!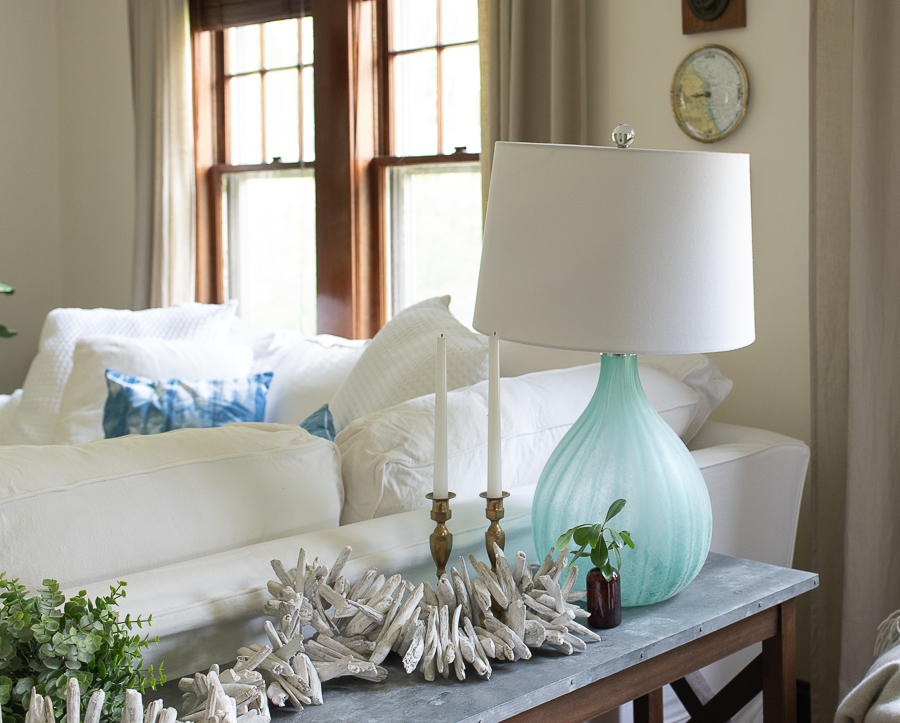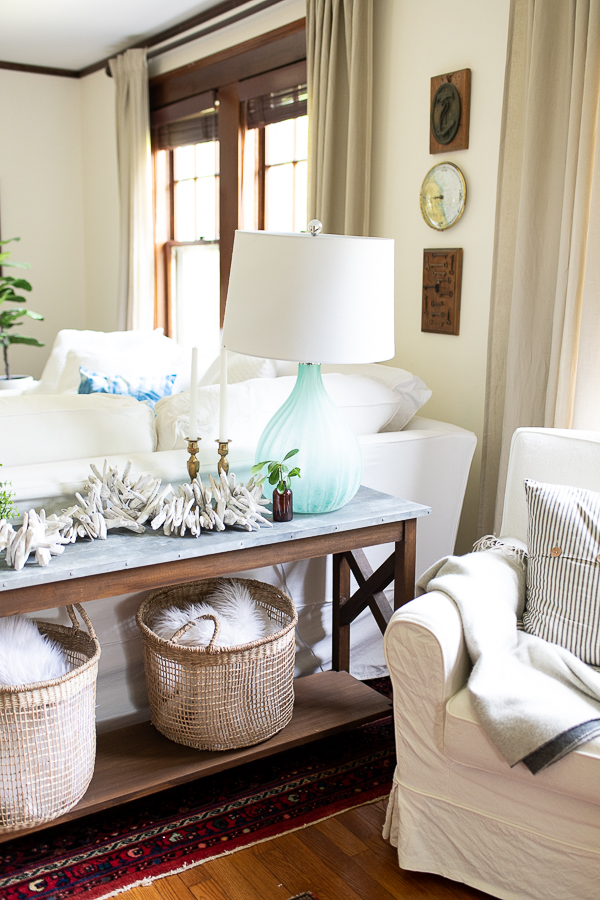 This is my favorite spot to read the Sunday paper.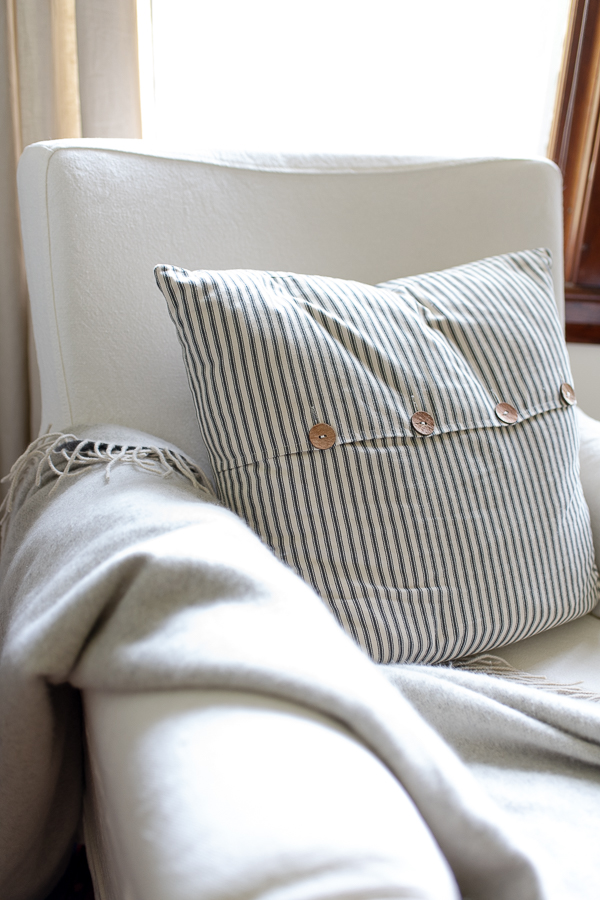 I try to decorate my home with meaning wherever possible. My 12 year old drew the owl.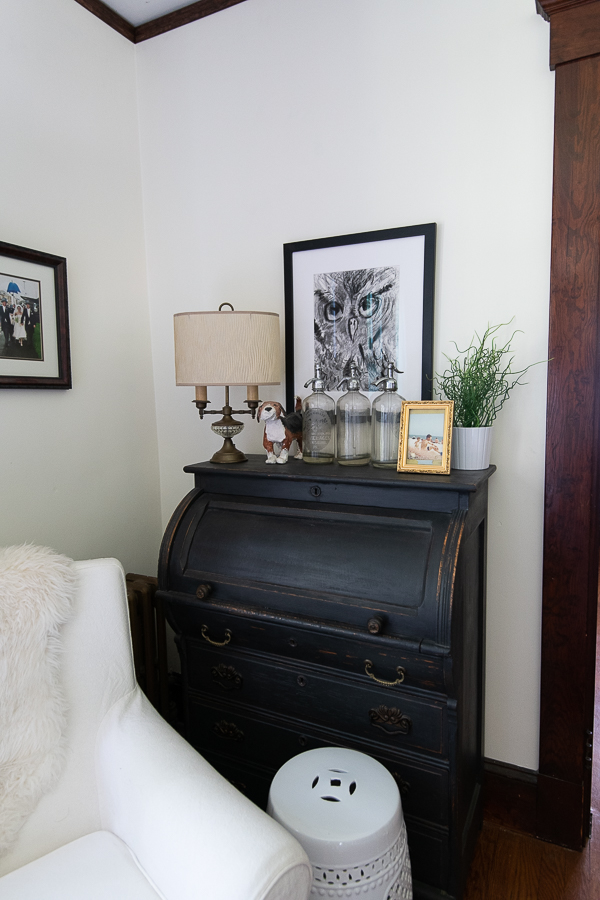 This is a photo of me and my dad at the beach when I was very little. I'm not sure I was even a year old there.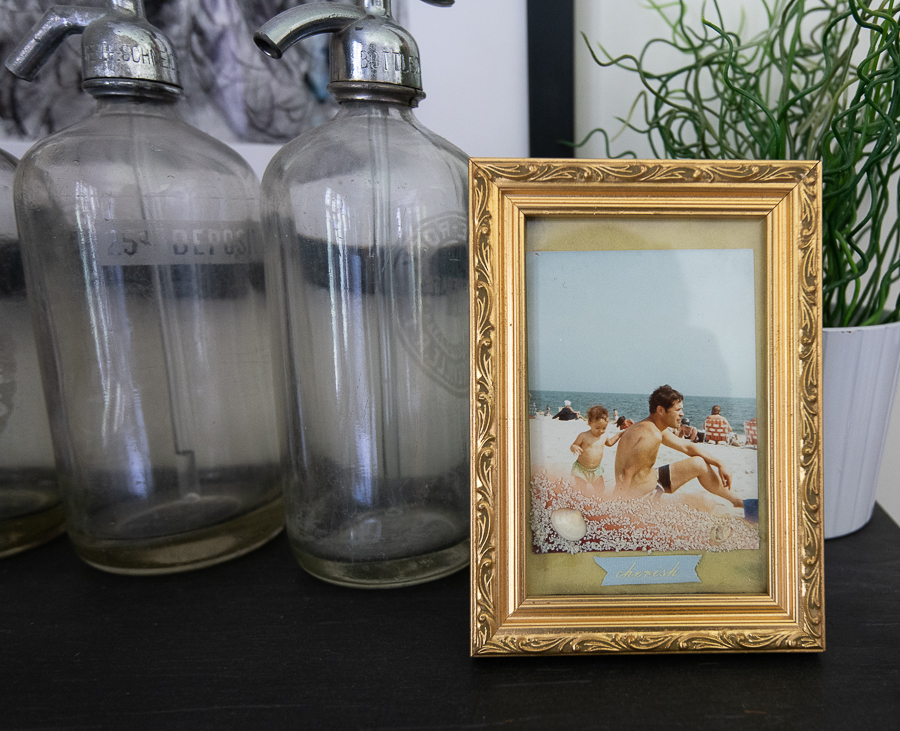 Wasn't he handsome? He passed away in March and I miss him every day.
So that's the living room.
Shop The Room

Kitchen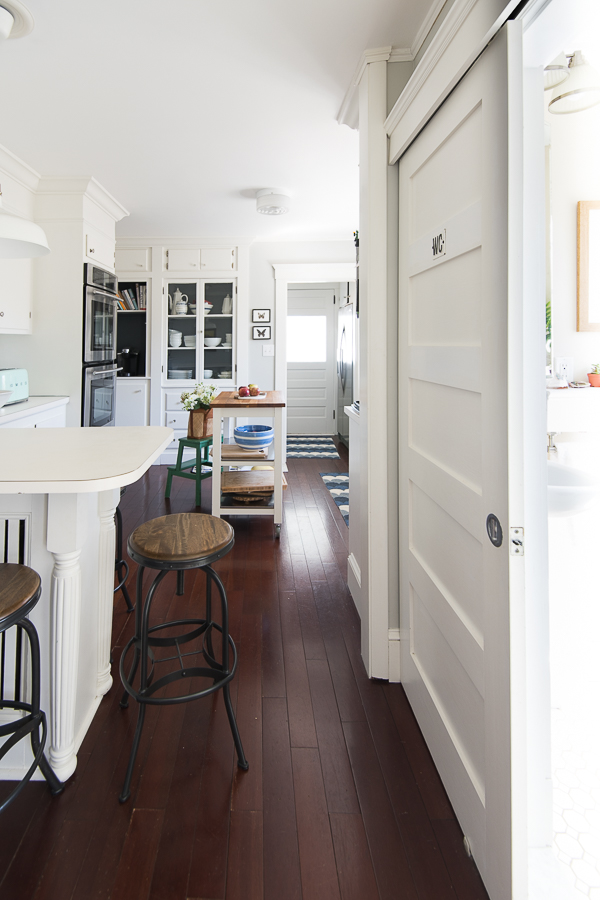 Nothing has really changed in here. I shared a few ways you could refresh your kitchen without breaking the bank by completely renovating. One day we'll redo the kitchen but for now I love the charm.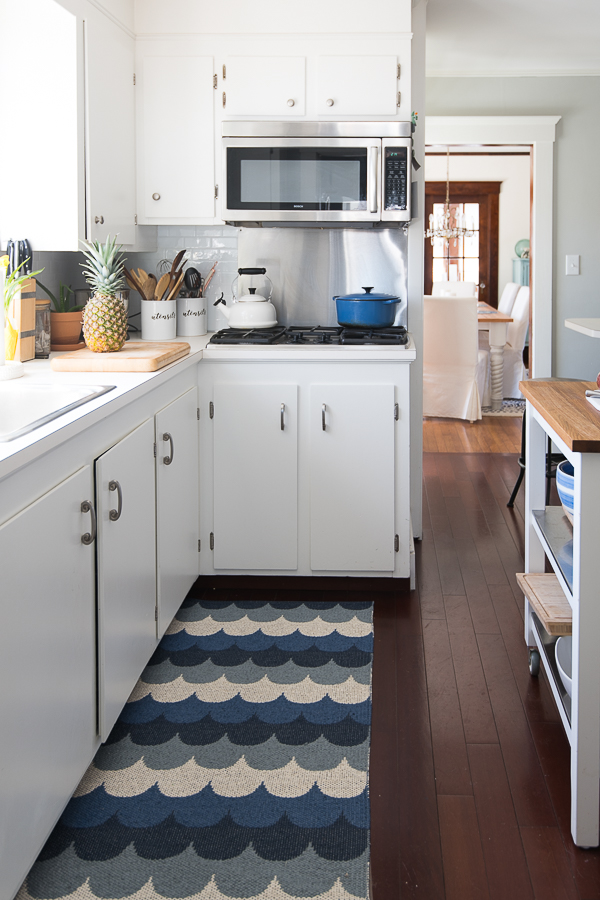 These fun blue, white and gray rugs are durable – they're woven polypropylene – and can be vacuumed and washed. Perfect for muddy paws or sandy feet…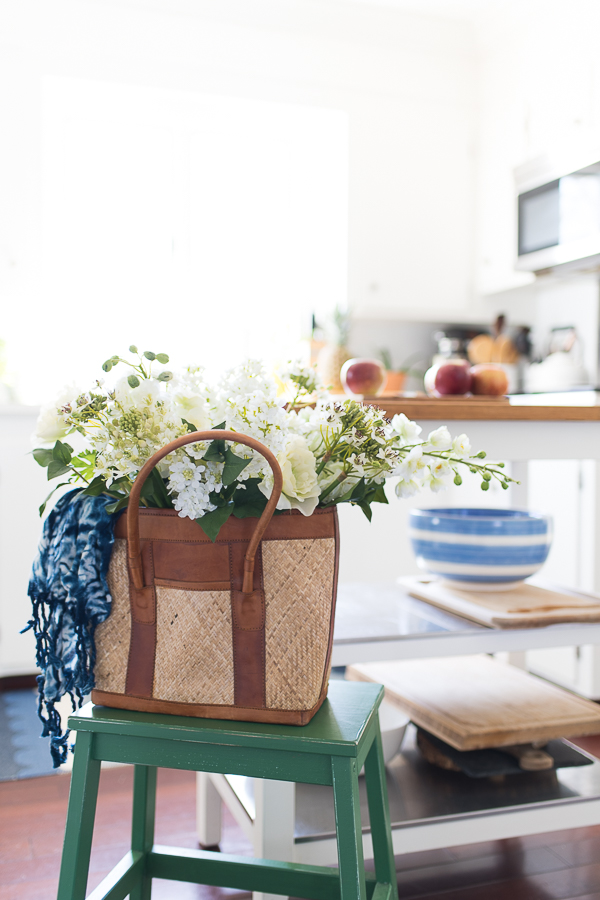 Shop The Room

Dining Room
Just off the kitchen is our dining room. We spend so much time in here and this is another room that has undergone some makeovers. My husband built us the gorgeous farmhouse table with reclaimed wood and I painted the legs and apron. It is such a lovely piece. You can read about it here.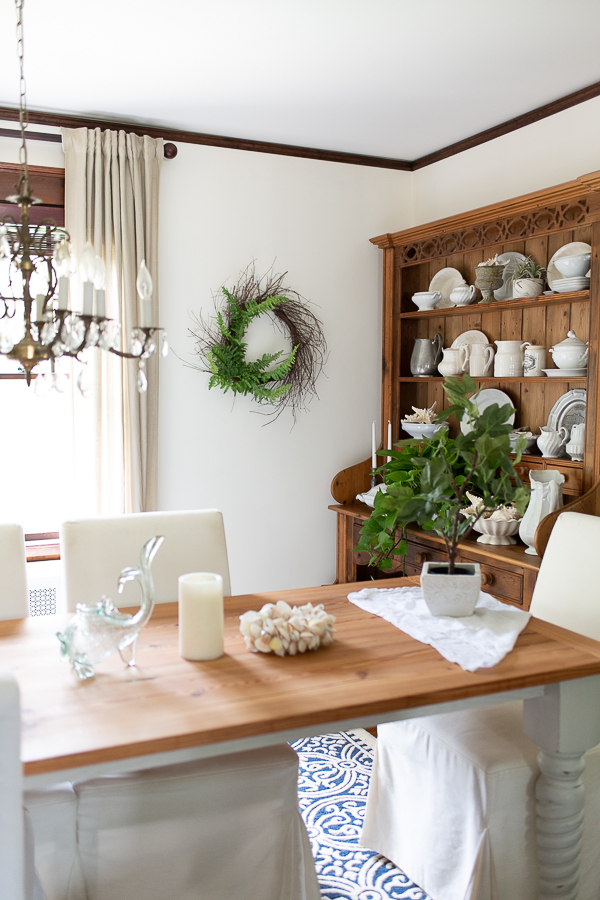 The fern wreath was a DIY and it's been hugely popular on Pinterest.
I've decorated the table simply with a beautiful blown glass fish.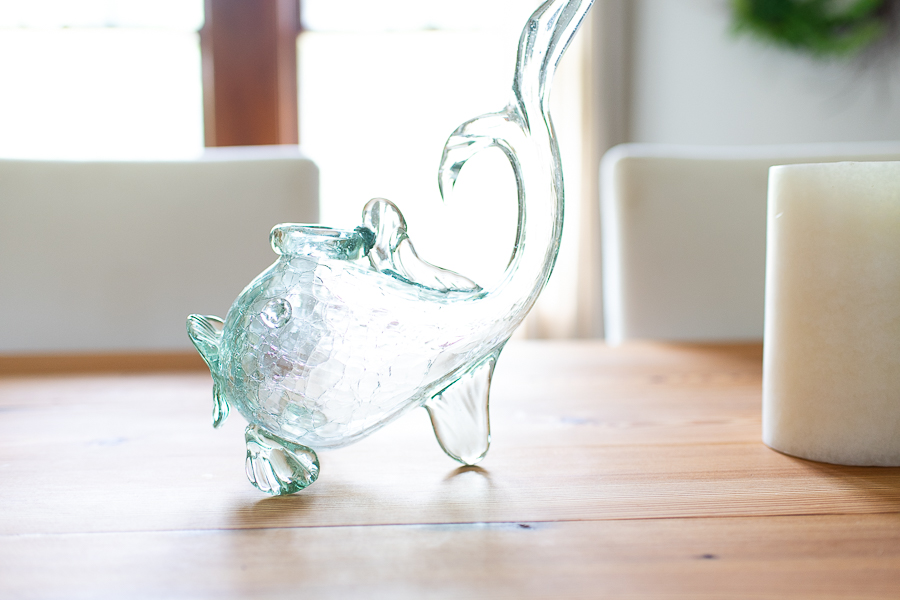 Isn't it a pretty color?
Also on the table a fragrant candles from Magnolia Home at Target and pretty shell wreaths.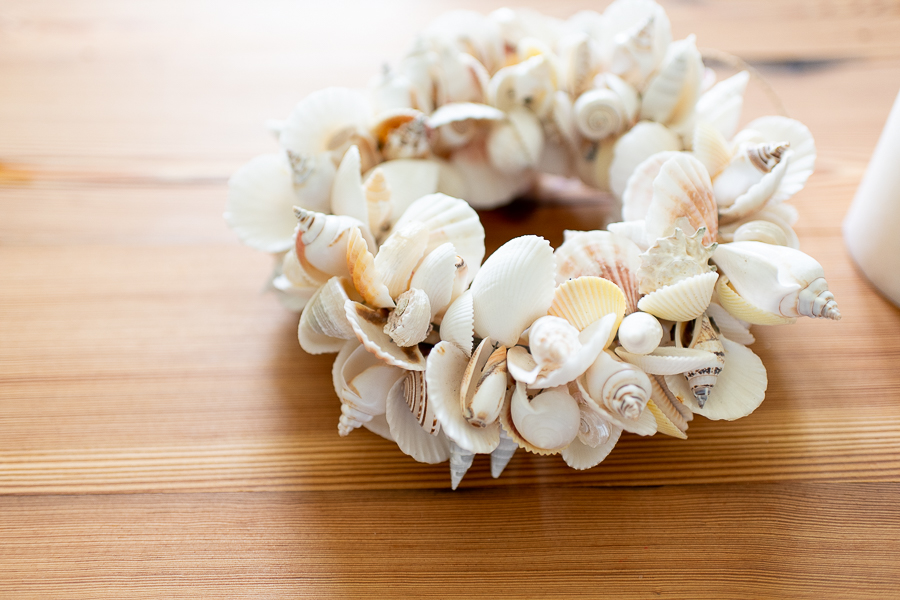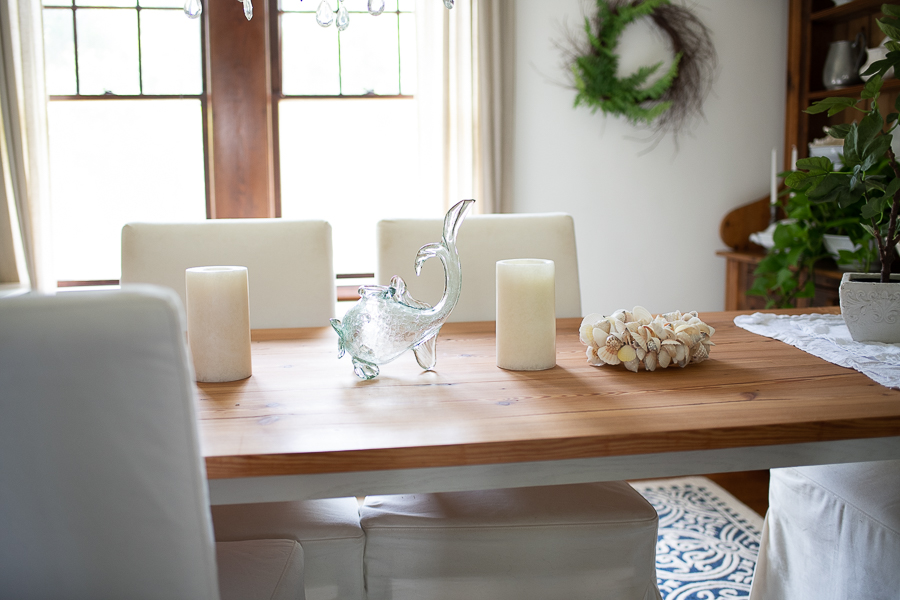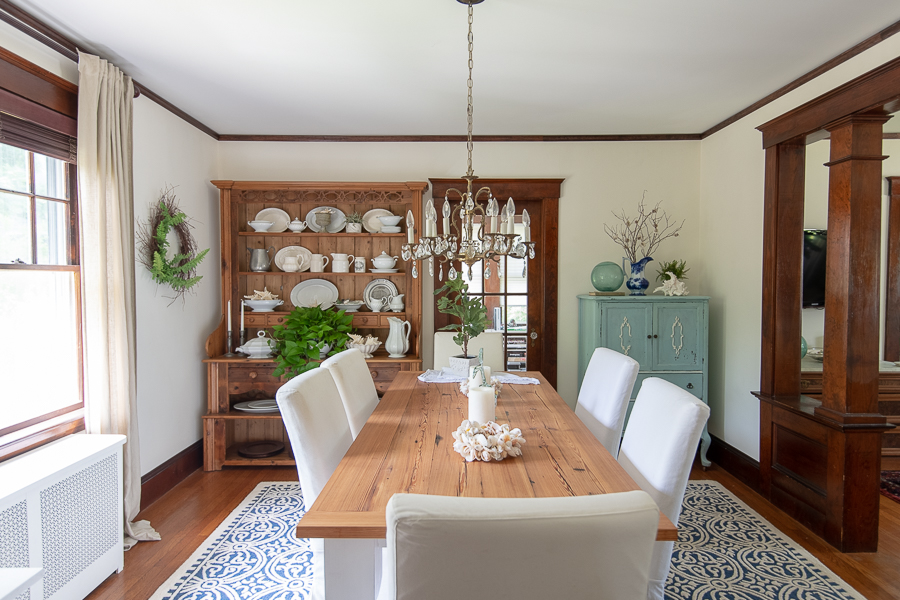 This room gets all day sun. I really love this room so much.
We added the Welsh dresser and love how it adds warmth and a lovely place to display collections. I love ironstone as I use it when serving but I've also added in some pewter and shells for summer.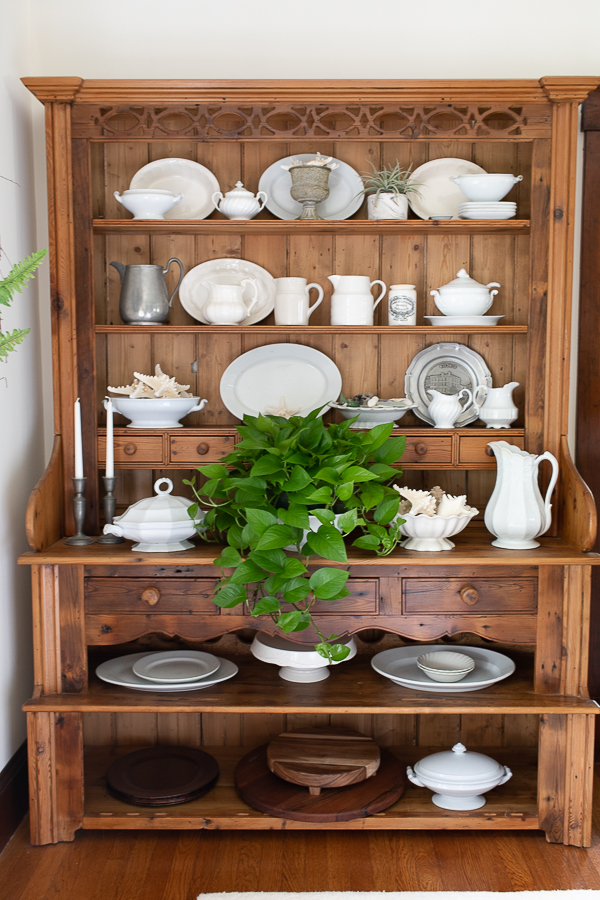 The plant is a Pothos and I put it in some ironstone. I found it at the grocery store one day while shopping.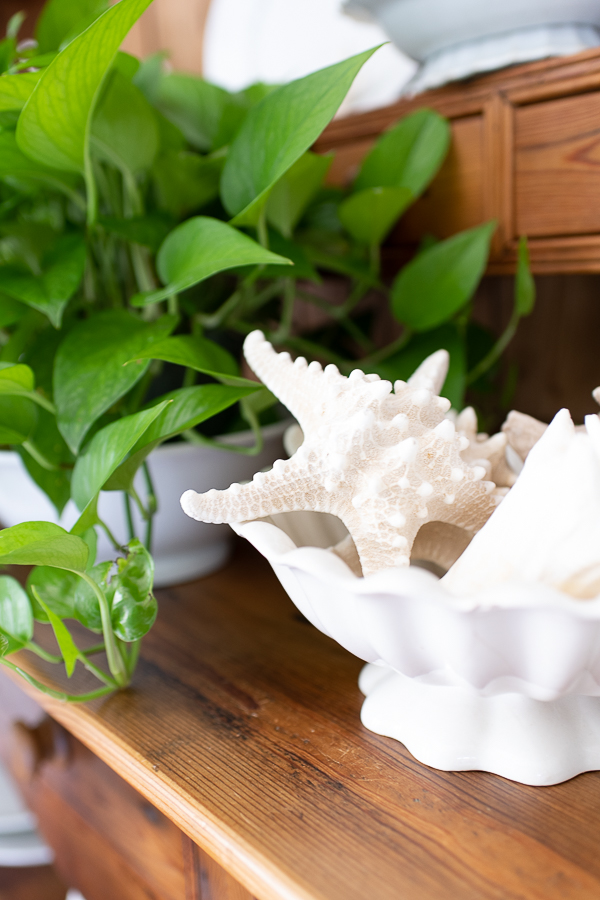 The pewter pitcher was my grandmother's wedding gift.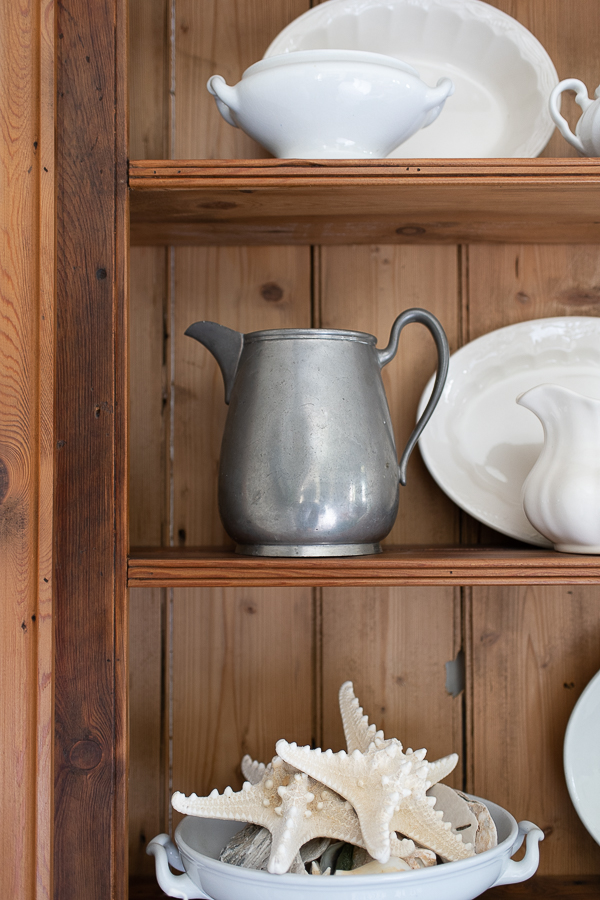 I think I've told you guys this before, but my parents owned a beautiful restaurant when I was growing up. It was a colonial mansion. I worked at the restaurant – first as a bus boy, then a waitress and then as a bartender. This pewter plate is from my parents' restaurant.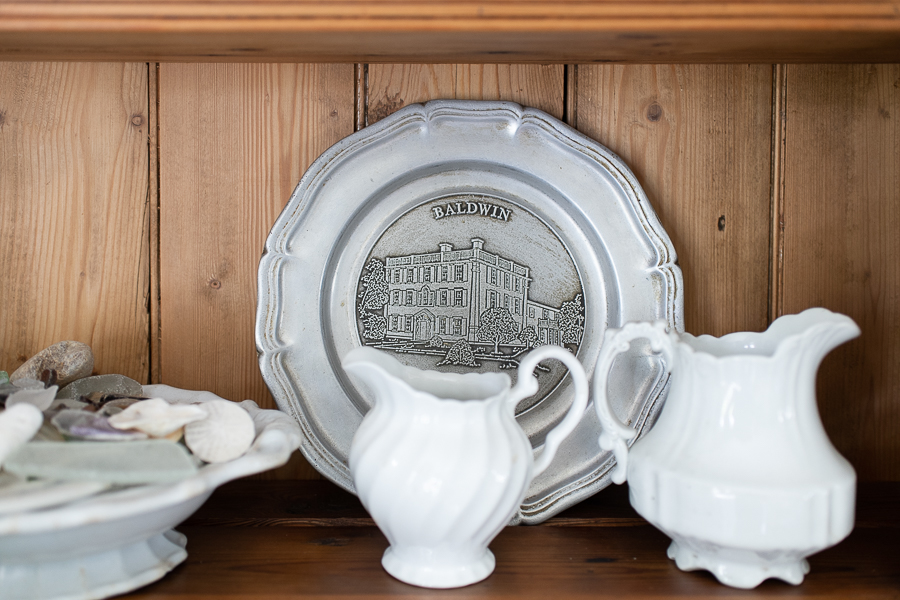 I still have the paper roses on display the boys and I made a few weeks ago.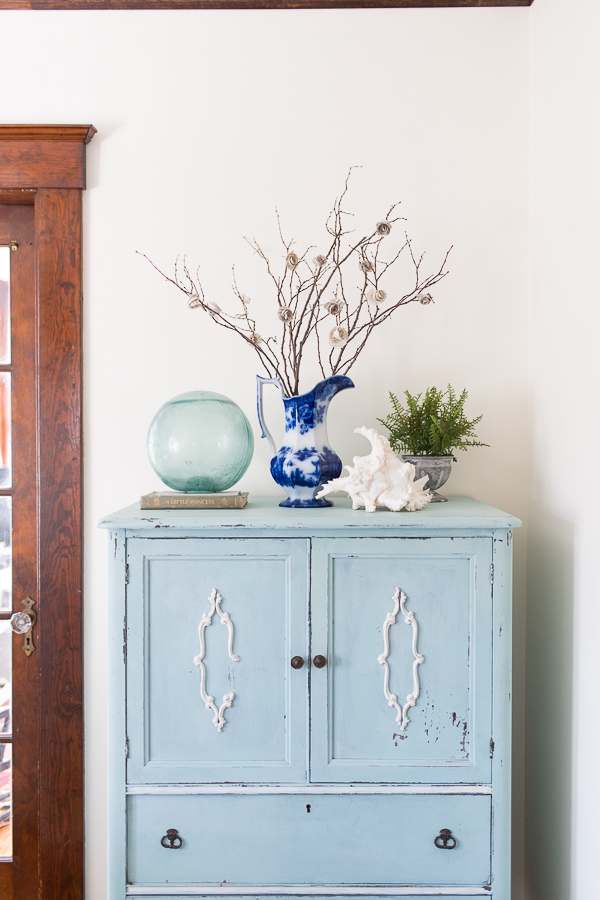 This little cabinet was a yard sale find that I painted in my favorite shade of blue.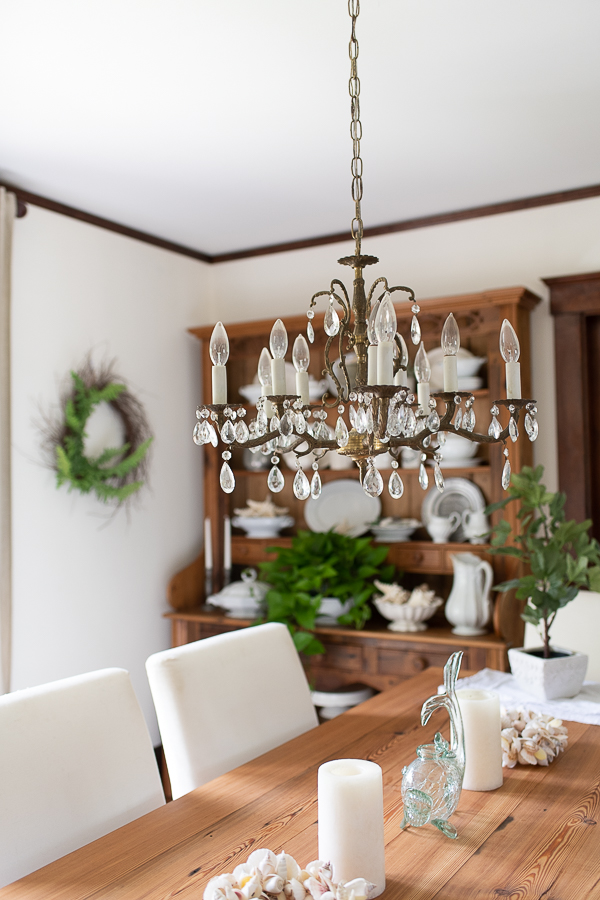 I love how the light dances around the room and glistens on the crystal and brass chandelier.
Shop the Room

Boys' Bedroom
We're gonna skip the offices on this tour as they're both in a very messy state – papers and books everywhere. Instead let's look quickly into our boys' bedroom. This room says seafarer to me! Our kids share a room and are so close. It was important to me to create a room that they could grow with. We replaced the ceiling and took down an faux wall in this room two years ago and you can see the makeover here and here.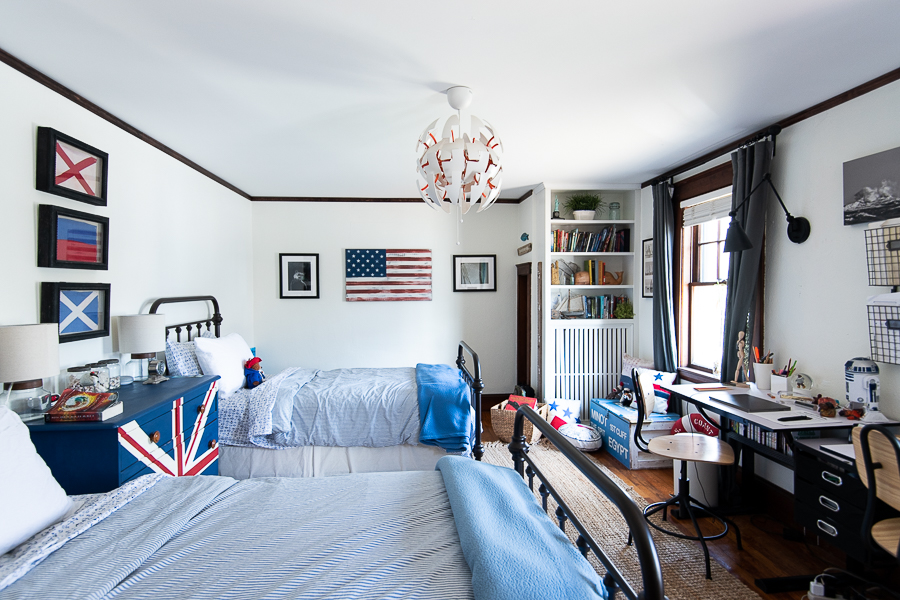 This is the largest bedroom in the home, it was originally the master bedroom. The color palette is white and blue with a few pops of red. I've mixed textures – linen, jute, metals and some sleek modern lines.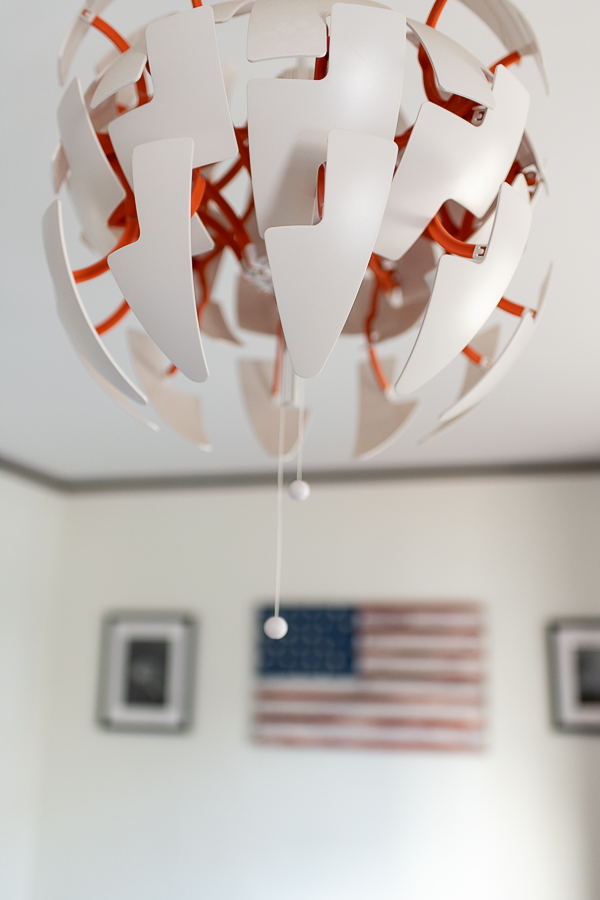 The boys LOVE the light that is from Ikea, as are these stools.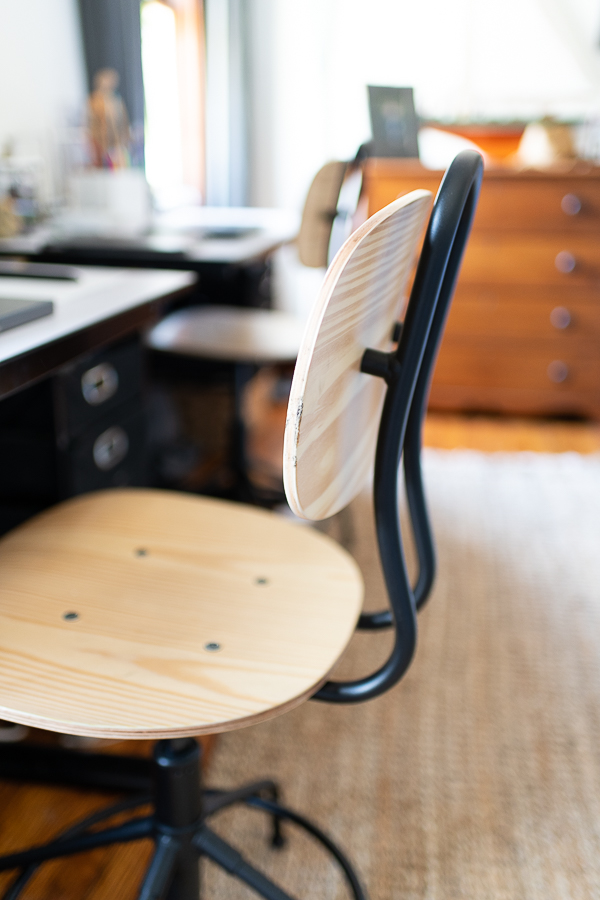 I shared a detailed update on their room here including a full source list.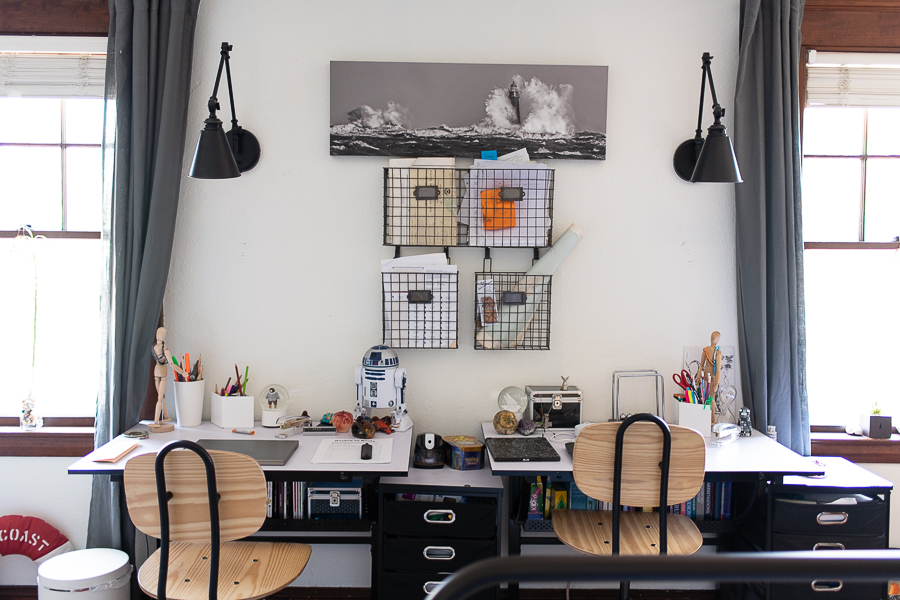 Shop the Room

Master Bedroom
The last bedroom, is our bedroom. We extensively redid this room last summer. We added beautiful French Oak Floors and board and batten walls.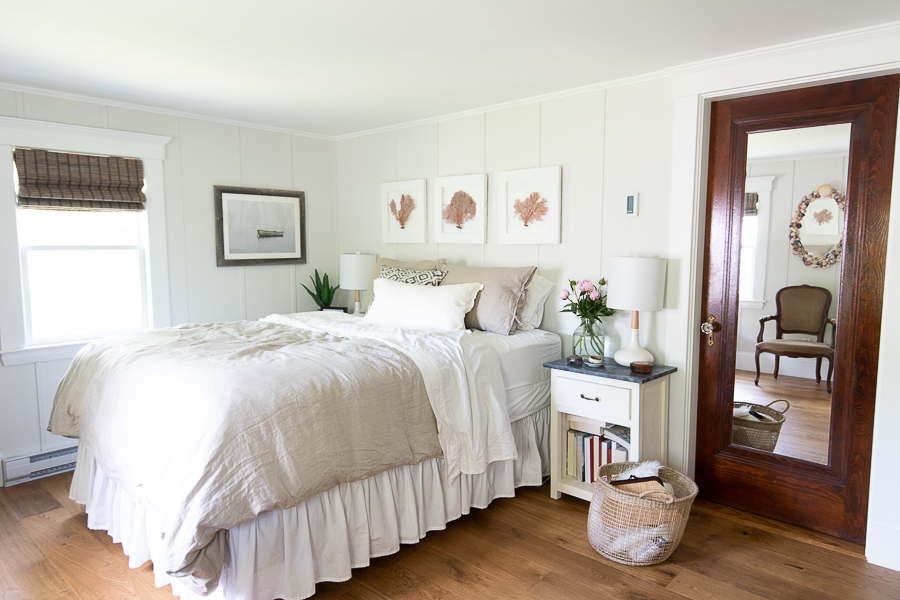 The room isn't huge so I wanted to create the feeling of an airy, coastal retreat.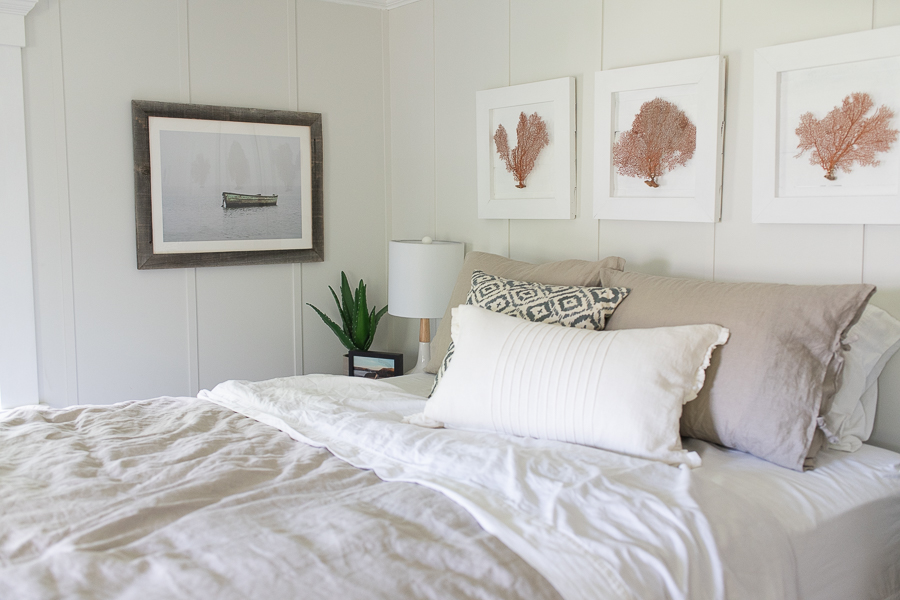 The linen bedding and pillow is from Ikea while the other pillow and boat artwork is from Minted. Instead of a headboard we decided to create our own sea fan artwork using real sea fans from Amazon 😉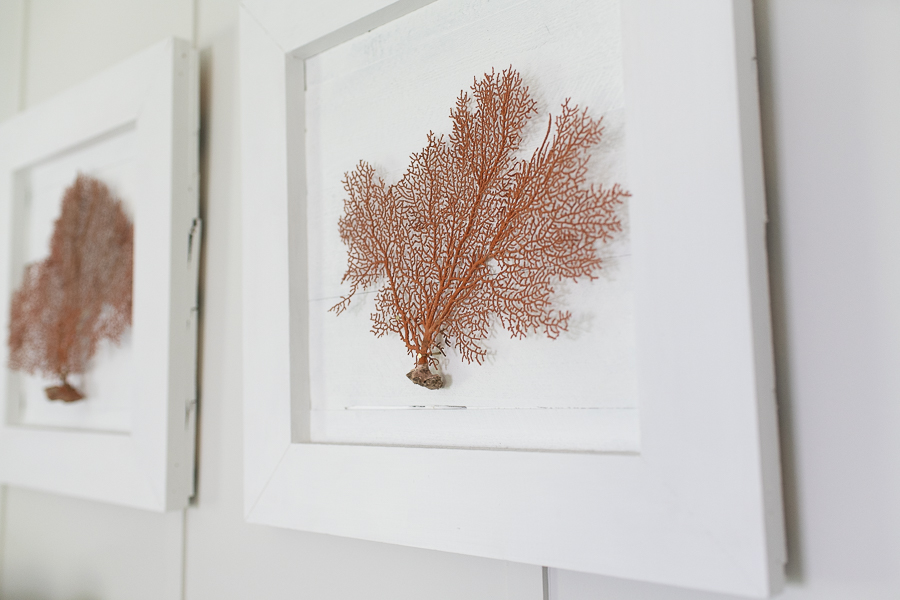 Luke built the bedside table and I did a faux soapstone affect with paint.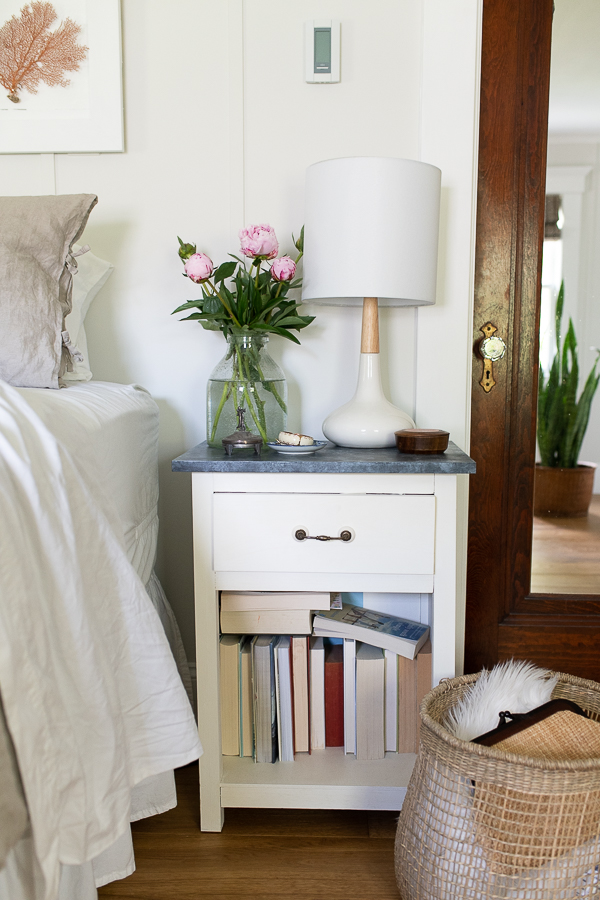 Peonies are fragrant next to our bed. The pewter trinket was a gift from my grandmother. I love how rich the dark wood door looks against the neutral color palette.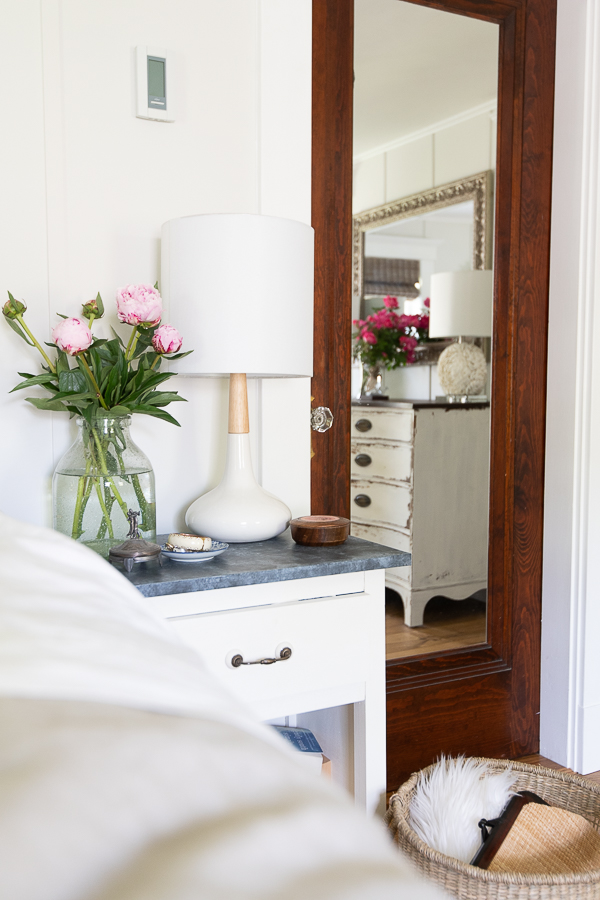 Lots of straw hats for summer! How fabulous is the sailcloth bag? It was a present from my mom.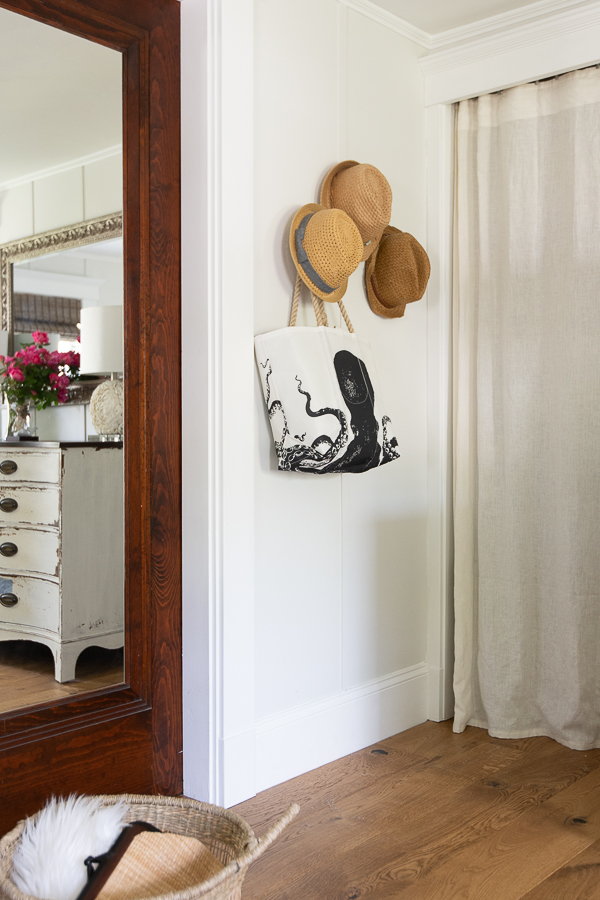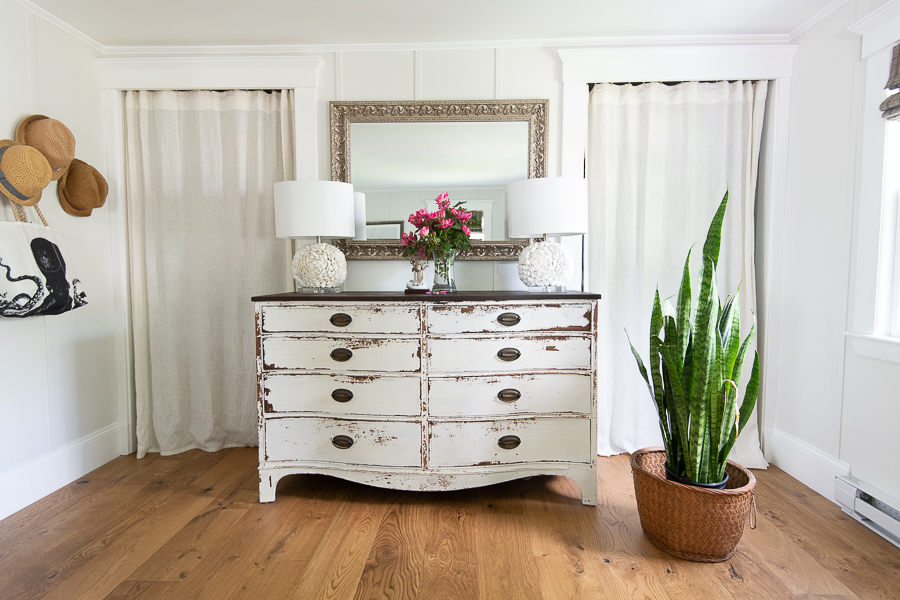 Fresh roses from our garden are placed between two shell lamps.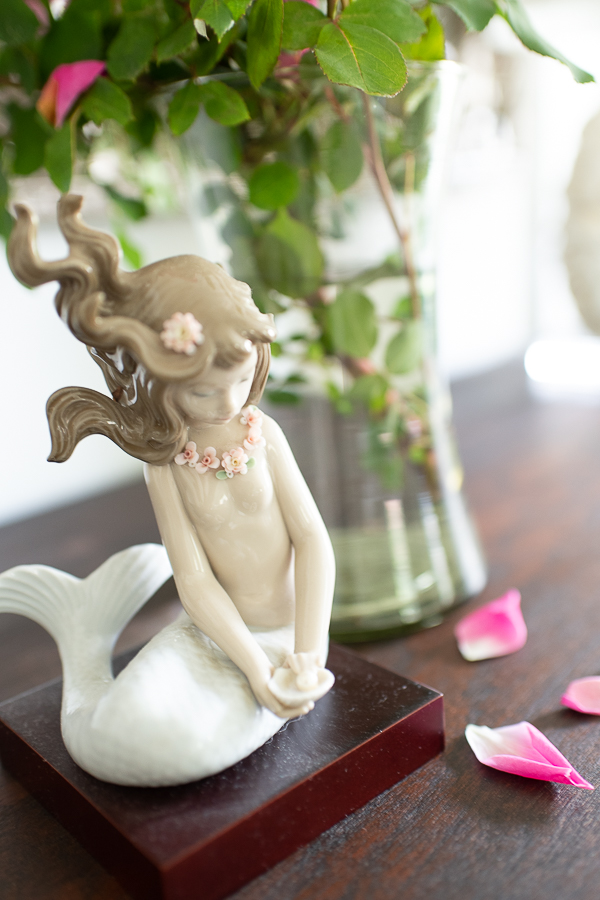 This beautiful Lladro mermaid is from my childhood.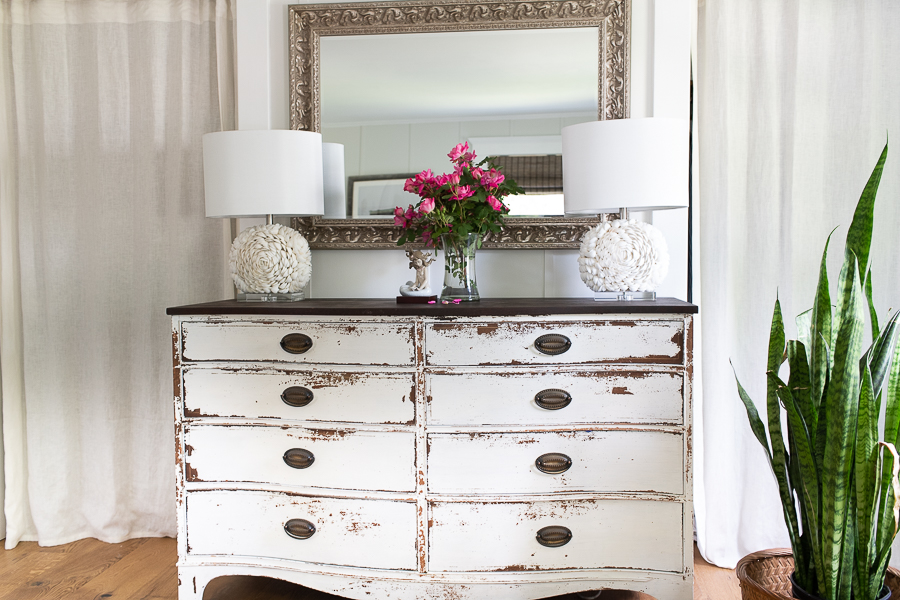 The dresser was a roadside find that I painted with Miss Mustard Seed Milk Paint in Ironstone.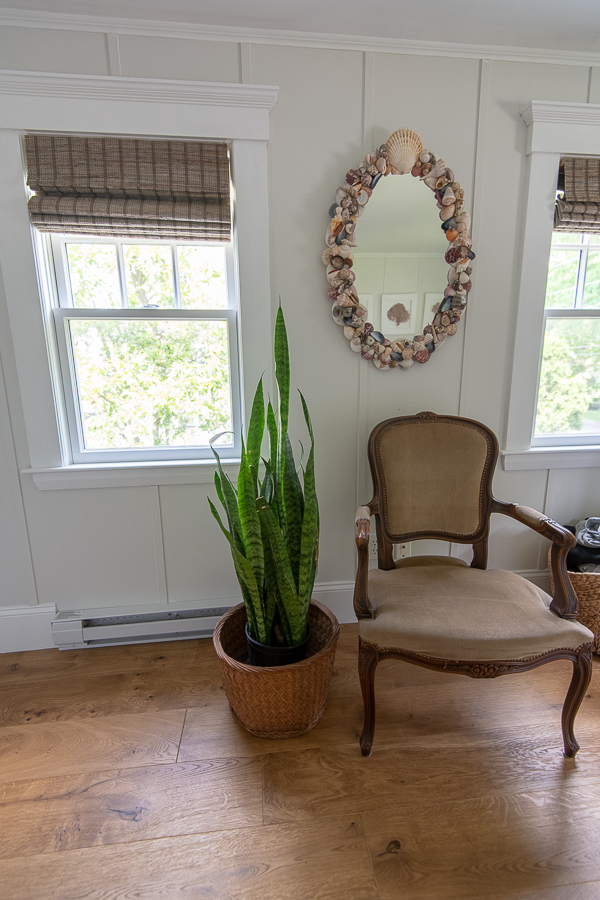 One of my favorite things in our room is this shell encrusted mirror.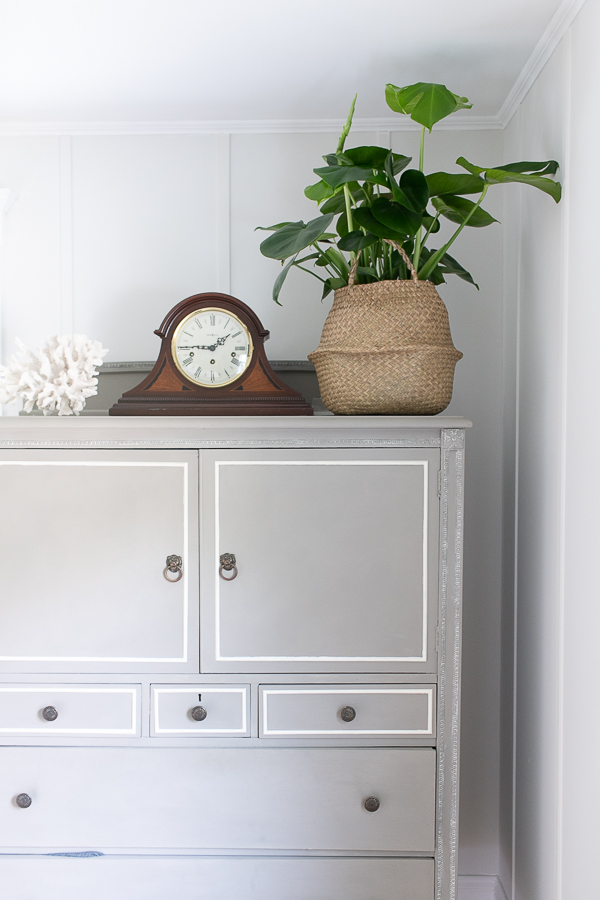 Luke has all his clothes in here. This was another yard sale find that I painted, it's done in Chalk Paint® and the color reminds me of driftwood. I moved the monstera plant up here for the photo.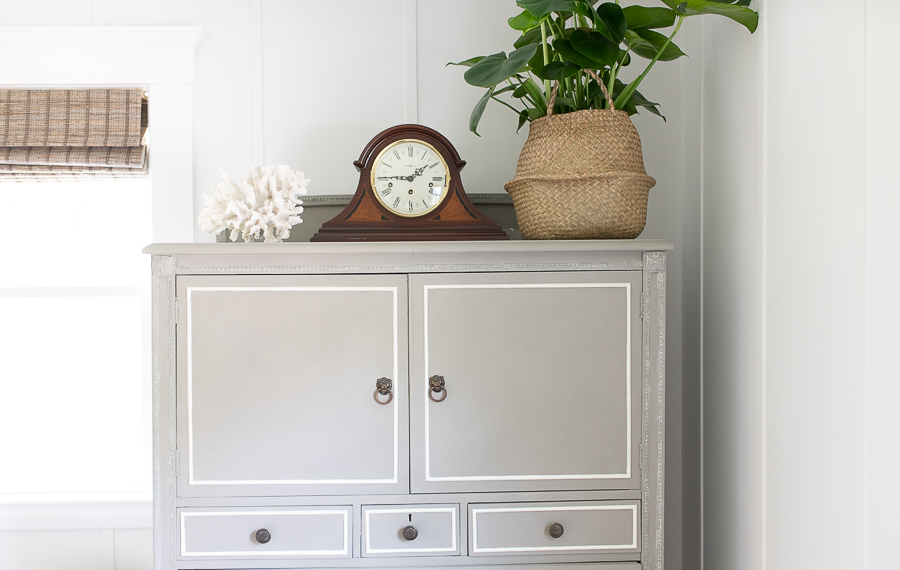 The woven blinds are from Smith & Noble and add so much texture.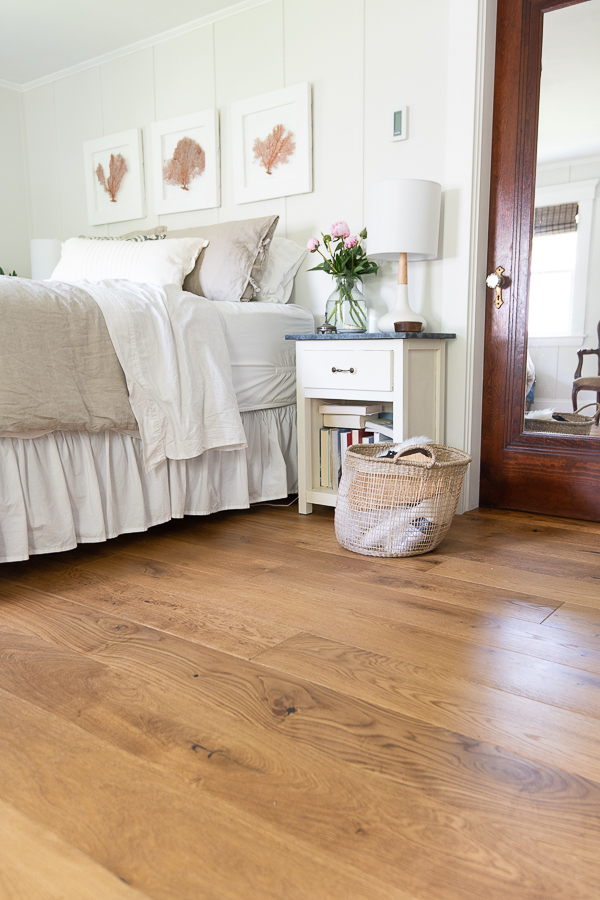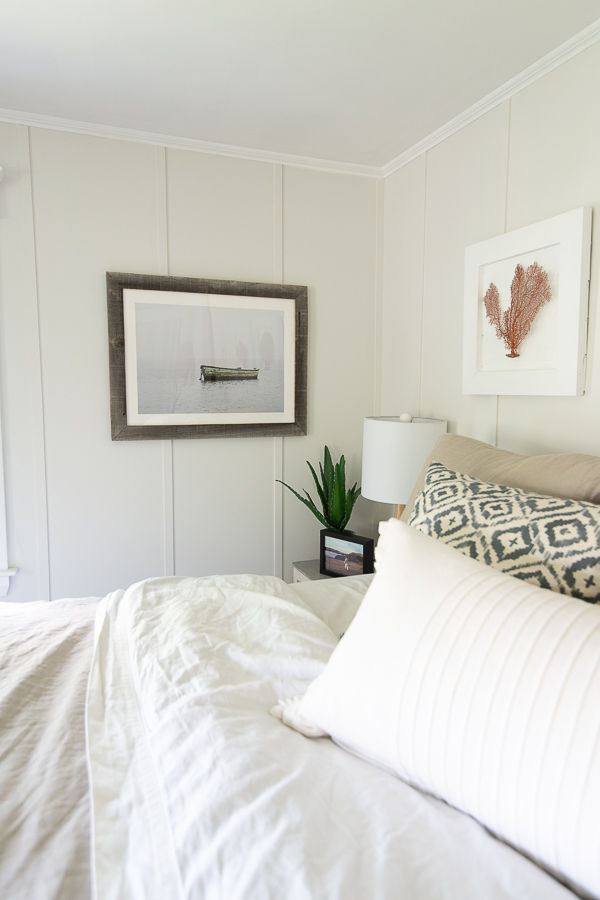 Our coastal life is reflected in every part of our room.
Shop the Room

Our Yard
I feel like I've inundated you guys with photos already but I just wanted to share our outdoor spaces with you. We spend most of our time in the summer months enjoying sea breezes outside.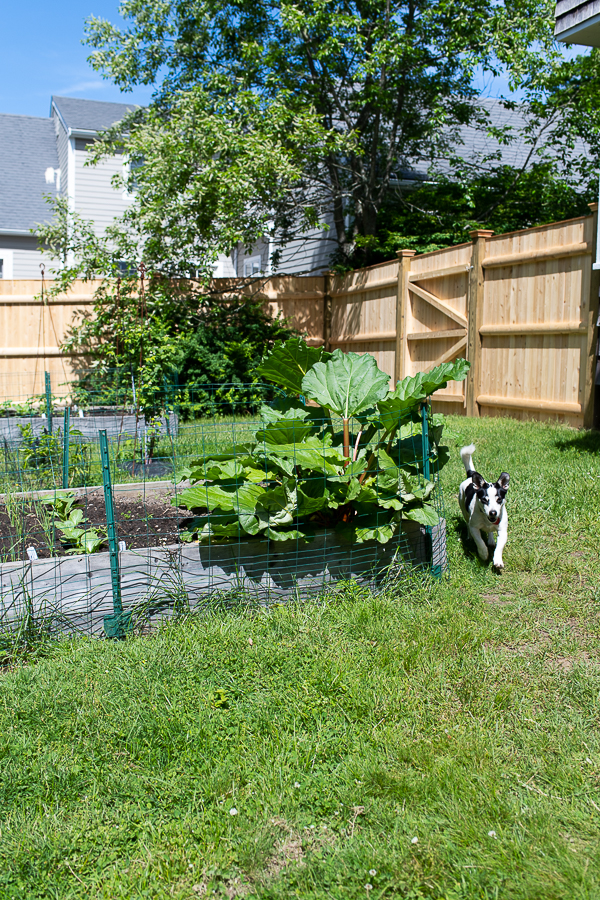 We enjoy tending our garden and using what we've grown in food, like this delicious rhubarb cake.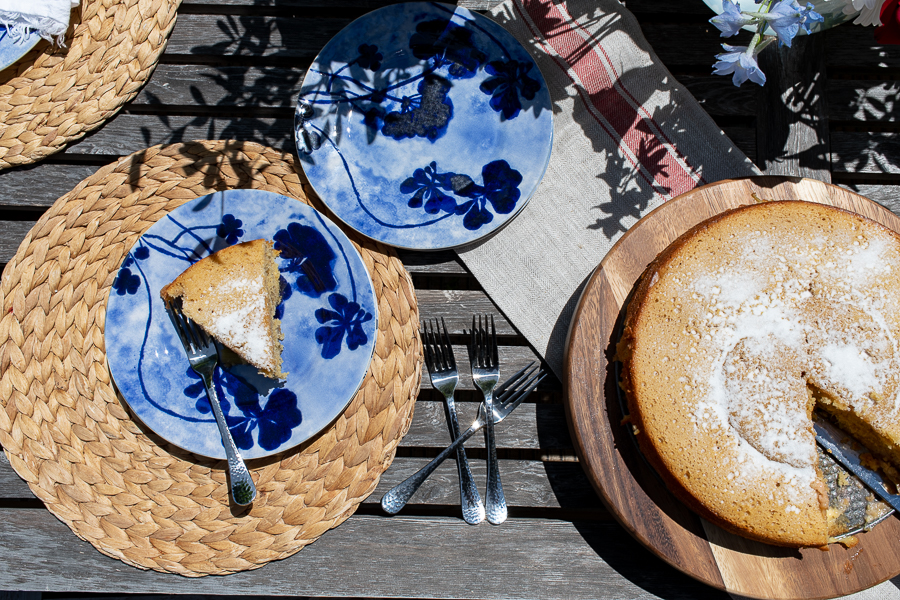 We love to sip rose in the sunshine.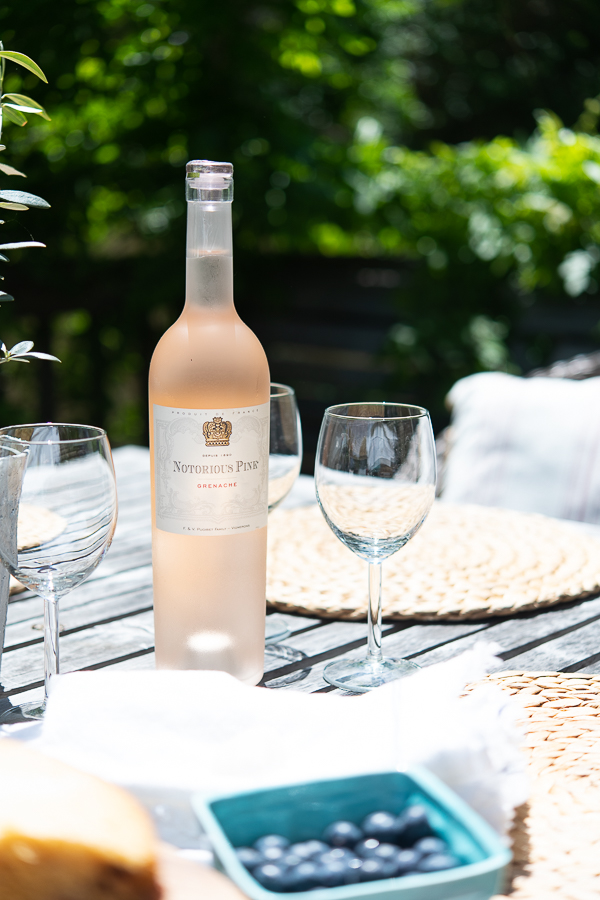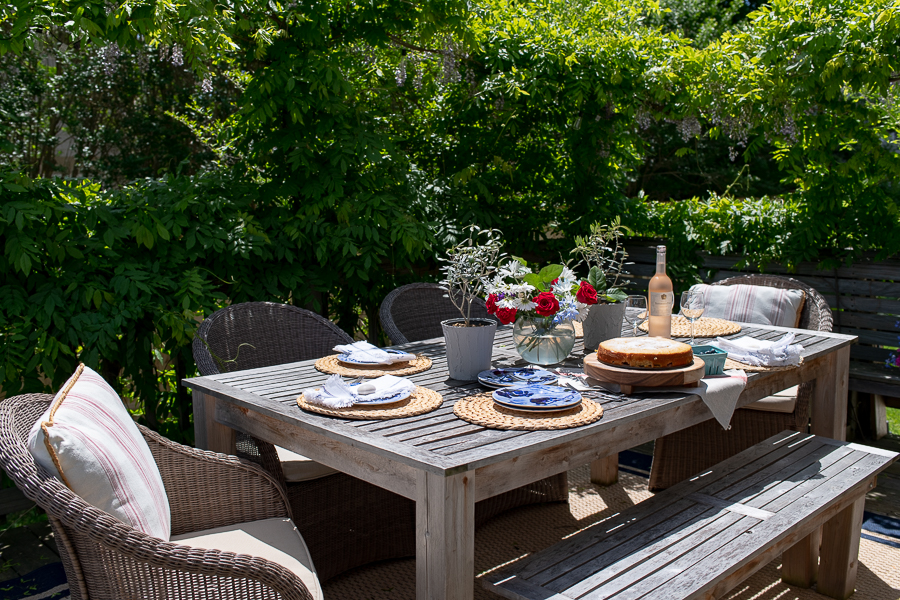 While our dogs frolic in the grass.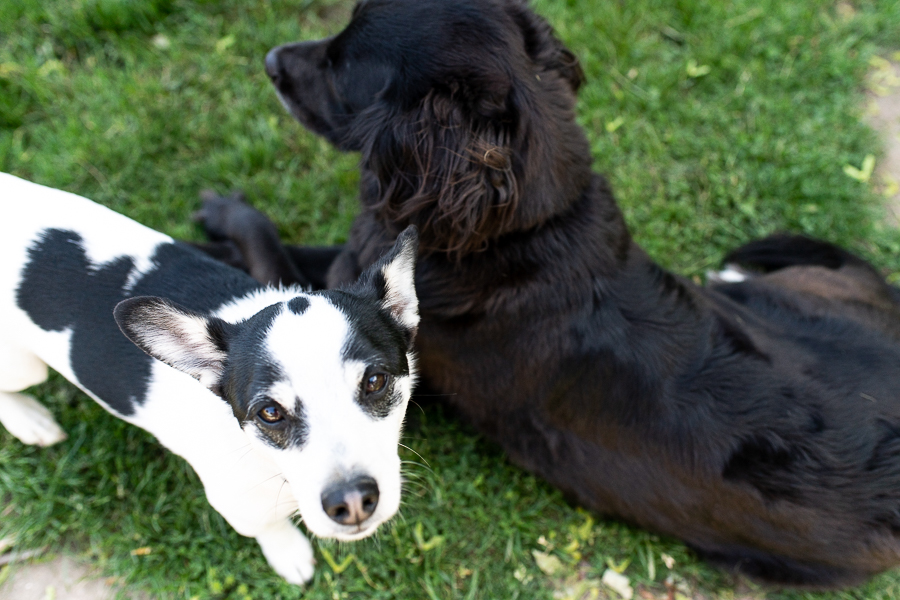 Unfortunately, I can't really share the She Shed or the Sunroom with you as both are in a state of disarray. The last two months we've been putting in a pool and it's almost done. You can see the pool progress here, but I thought I'd leave you with a few photos of the pool area and our family enjoying it.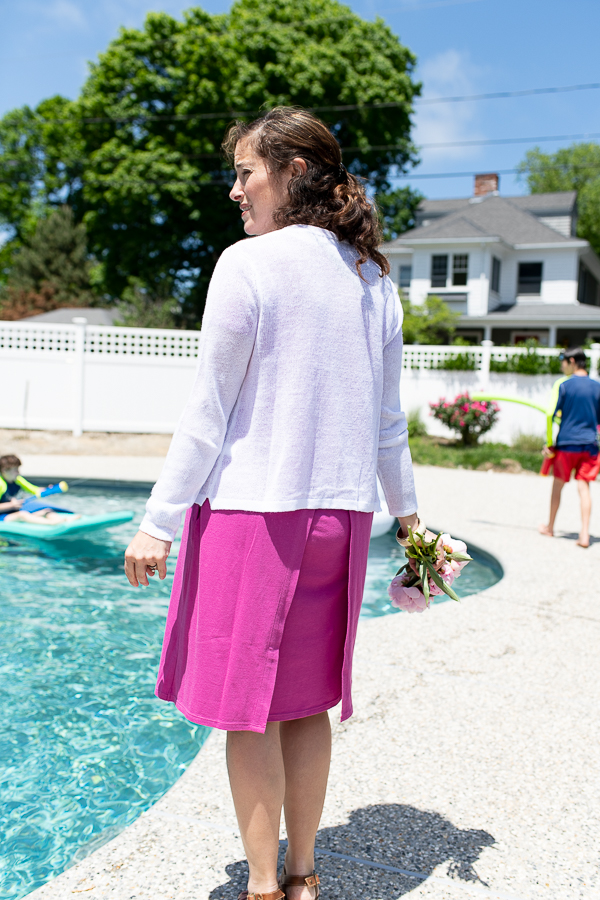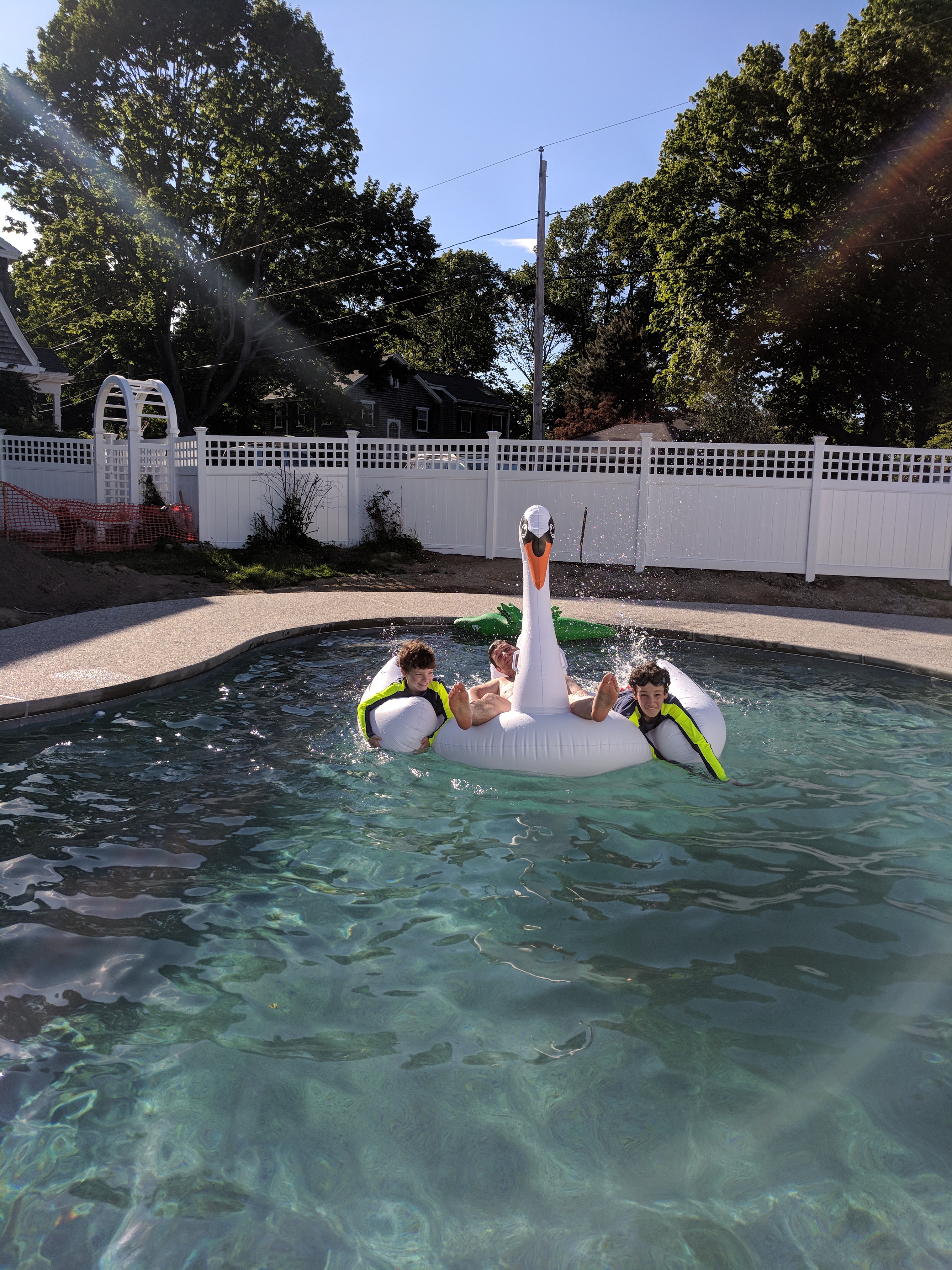 I snapped the above photo with my phone. John found this swan at HomeGoods and it's GIANT. I can't believe my three guys can fit on it!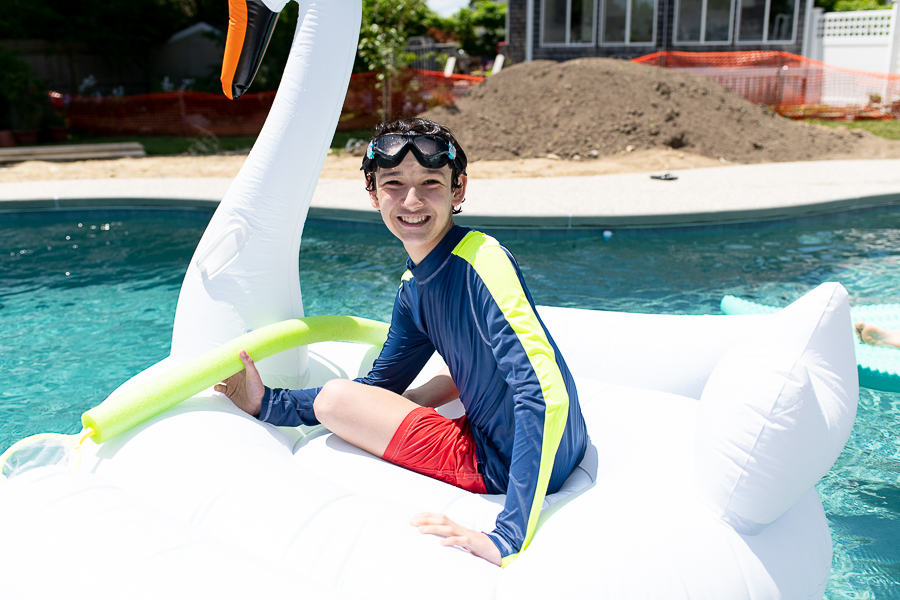 Still lots of landscaping to do out here but I know you'll mostly find us at the beach or the pool this summer…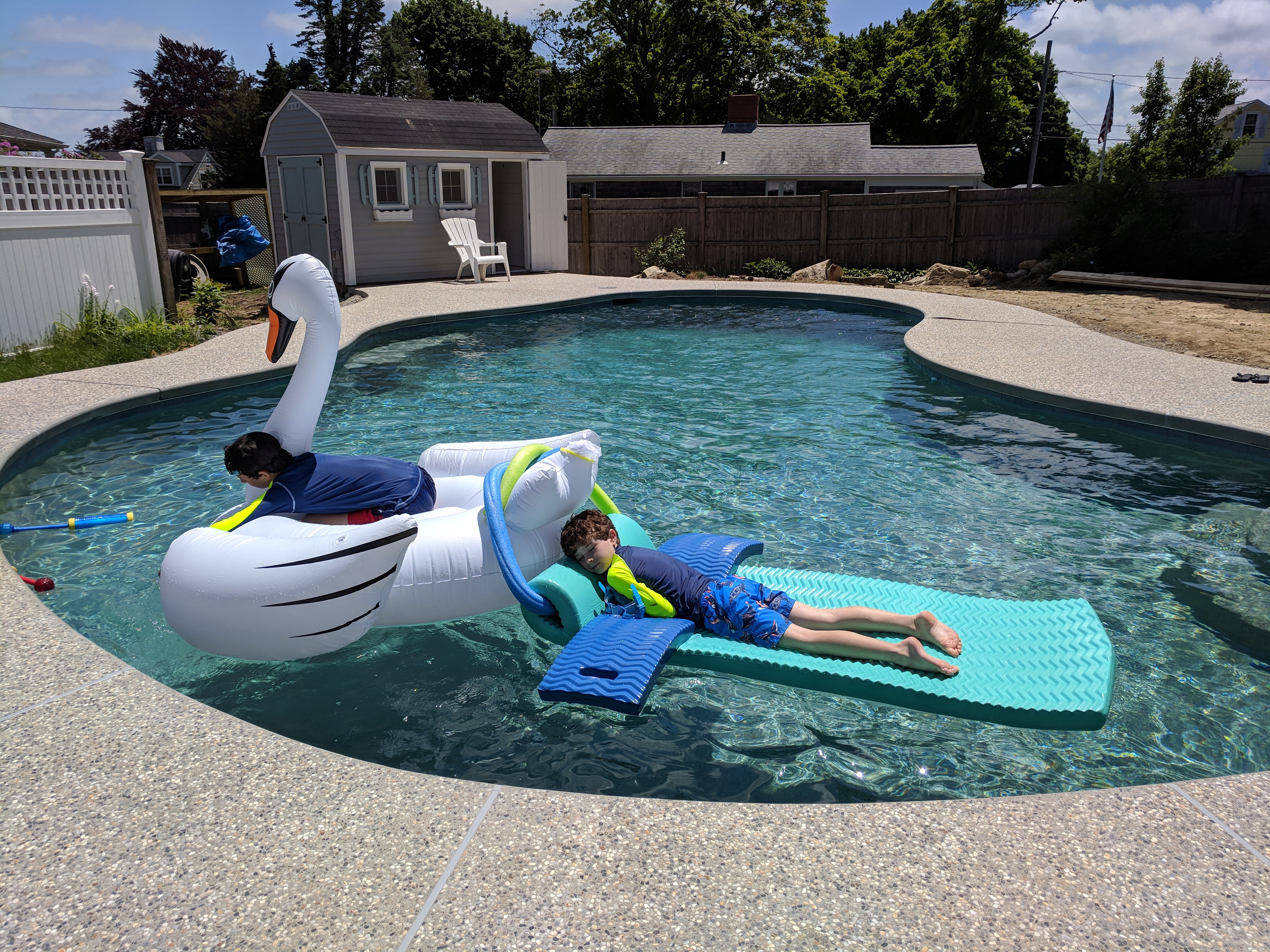 Sipping some delicious cocktails, of course.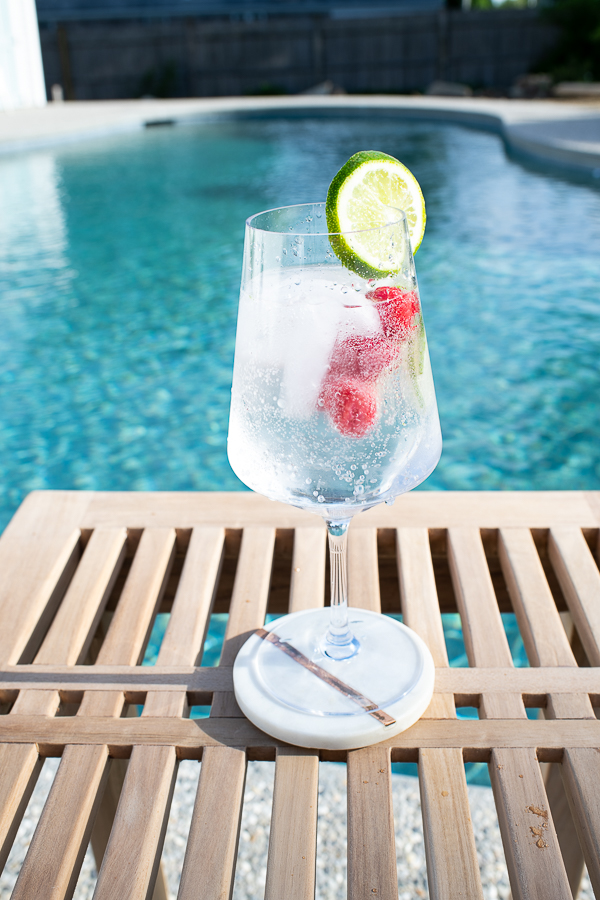 Shop The Look

Thank you so much for taking the time to stop by our home and see how we've decorated it for summer. I so loved having you visit.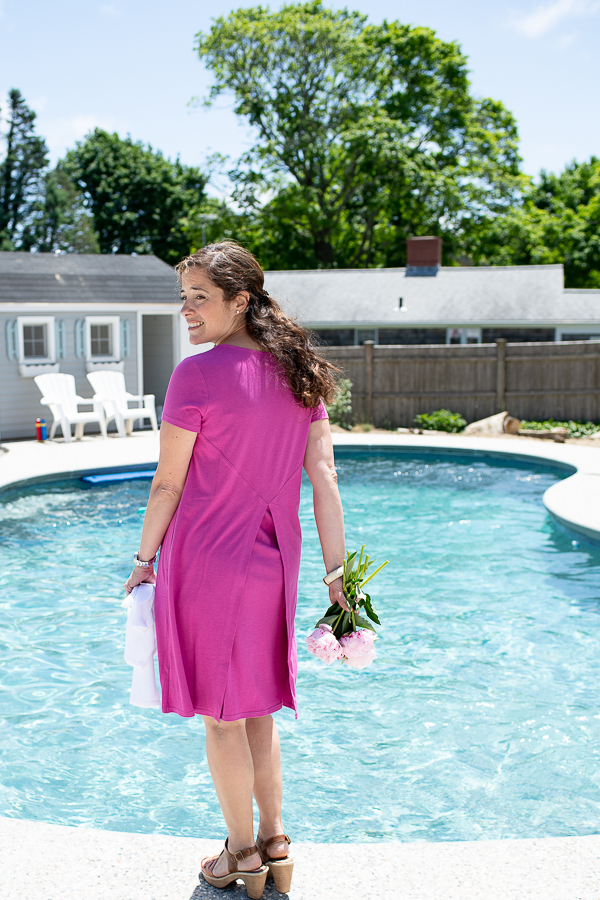 The next stop on the tour is Amber Tysl and I love her coastal home. I know she'll have so many beautiful ideas to share with you.
Be Sure to Visit All My Friends Below
The Seasonal Simplicity Home Tour series is back; and this time we're all about simple summer decor touches! All week long, my talented blogging friends and I are sharing part of our homes. I can't wait to take in all the gorgeous inspiration…
Sharing today…
Bless'er House // Finding Silver Pennies // Rooms for Rent // Amber Tysl
Deeply Southern Home // Two Twenty One // A Burst of Beautiful // Making it in the Mountains
And sharing the rest of this week…
Monday
The Happy Housie // Maison de Pax // Shabbyfufu // Just a Girl and Her Blog
Inspiration for Moms // Clean & Scentsible // House of Wood // Summer Adams
Tuesday
Sincerely Marie Designs // House by Hoff // Rambling Renovators
Town and Country Living // Newly Woodwards
Craftberry Bush // On Sutton Place // Designthusiasm // Zevy Joy
Thursday
The DIY Mommy // The Turquoise Home // Nina Hendrick // Home Made Lovely
So Much Better with Age // Maison de Cinq // Paint Me Pink
Southern State of Mind // Jenna Kate at Home