Kitchens. The most expensive room in the house to renovate. What if it's not in the budget? Here are 7 Ways to Refresh Your Kitchen Without Renovating.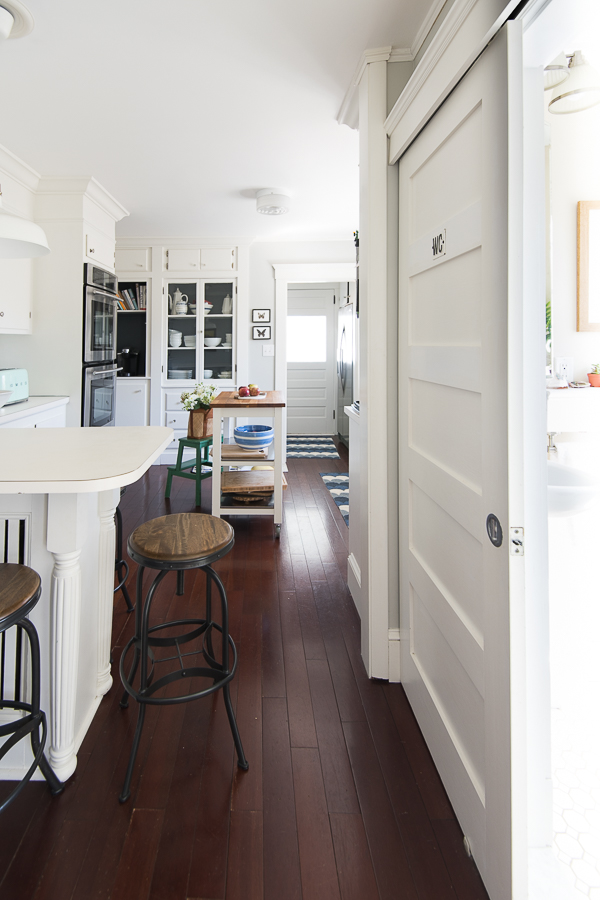 The kitchen is the heart of the home. It's the place where people congregate, even if the fire is crackling or the appetizers are spread on the dining room table. For some reason EVERYONE wants to be in the kitchen. That's how it was in our old home, too. This is our kitchen.
It has a timeless quality with the high ceilings and the gorgeous crown moulding. One day, I'd love to really redo the flow of the kitchen as it isn't ideal. We don't have that "magic triangle" they discuss on DIY and Home Makeover shows. If you look closely you'll see the fridge is in a separate room. The double oven is slightly too high for me, too, (I'm 5 ft and 1/2 inch – that half inch is very important!!!).
Over the last 5 years, we've done bits and pieces here and there which has made the kitchen look classic New England. I also just got a new camera (a full frame). I'm still  learning to use it, but the full frame means I can fit more of the room in shots and when you live in an older home the rooms can be slightly smaller than newer homes so you all might get a new perspective of our kitchen in this post.
Before I go any further let me show you a BEFORE photo, I snapped this right before the movers arrived: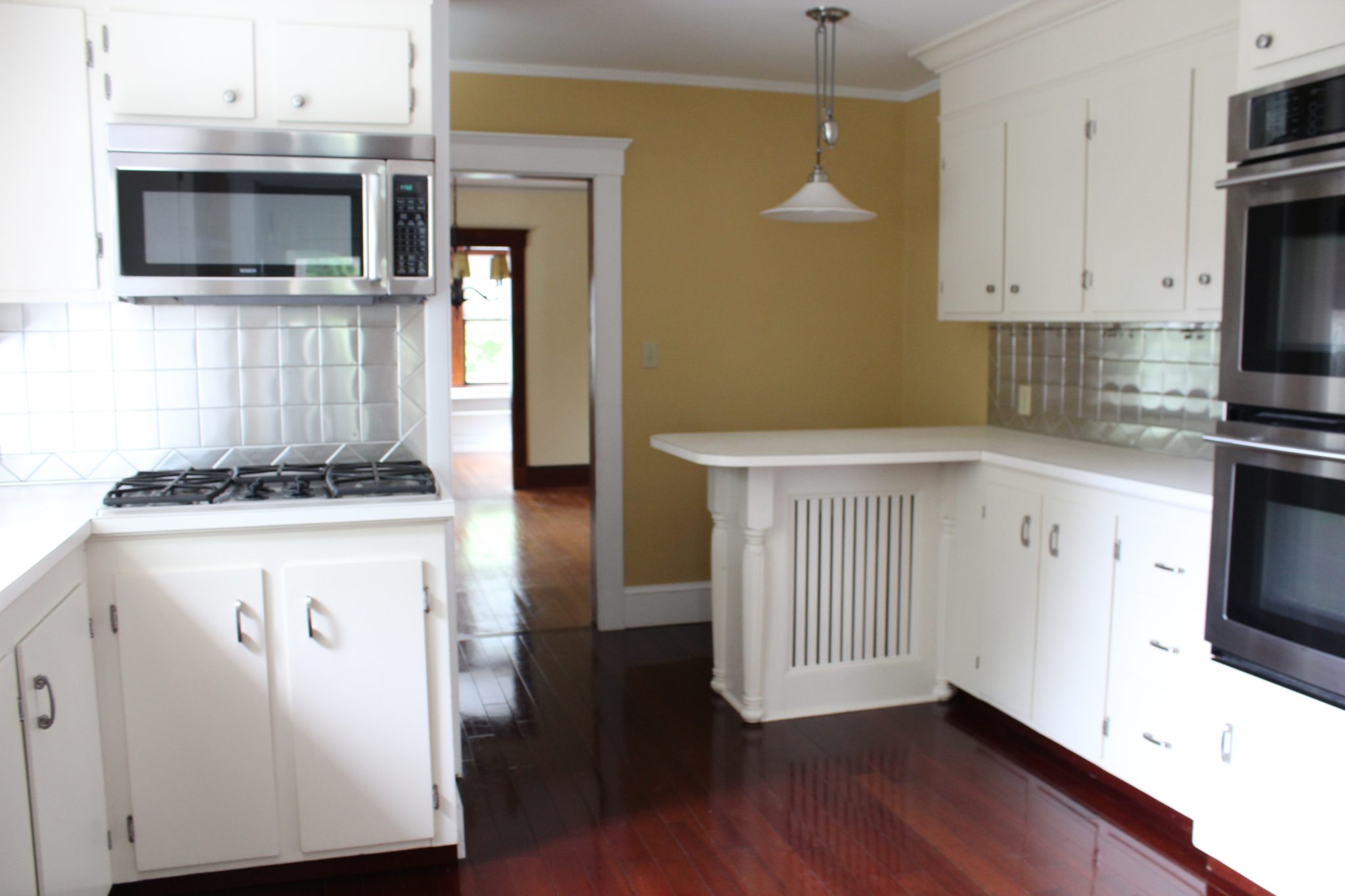 Here's how the kitchen is looking now: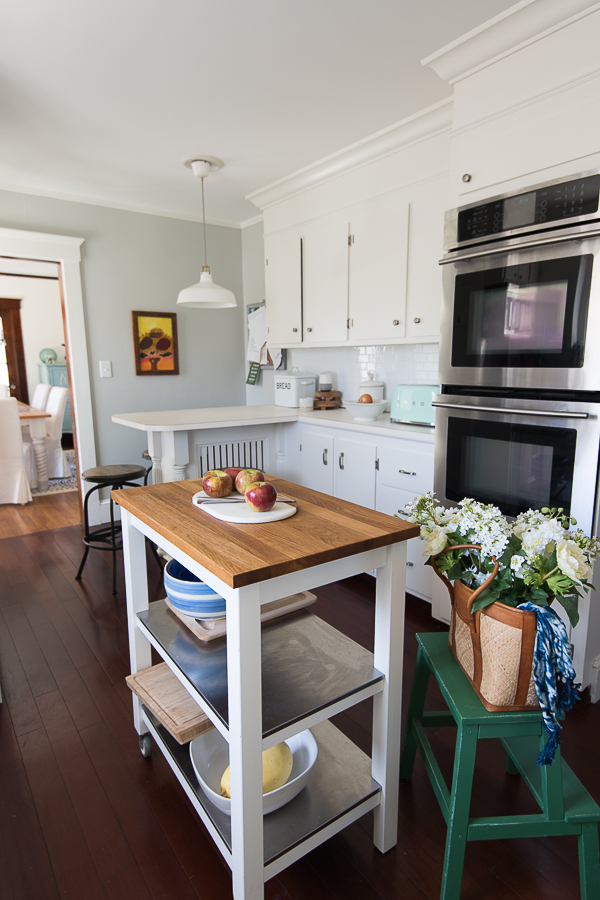 It's the same kitchen but it looks A LOT different. The changes and updates we made were affordable and I'm excited to share what we did, as I think you can utilize these cost-saving tips in your own kitchen.
7 Ways to Refresh Your Kitchen Without Renovating
Paint Your Walls
I'm not a big yellow person and the kitchen walls were previously a golden yellow color. I gravitate more to cool tones. The first update I made in our kitchen was painting our walls a pale gray, it's called Gray Owl and it's by Benjamin Moore. I really love matte paint, even in a kitchen. You can read more about painting the kitchen here. The gray walls made the space feel a whole lot bigger and brightened up the room.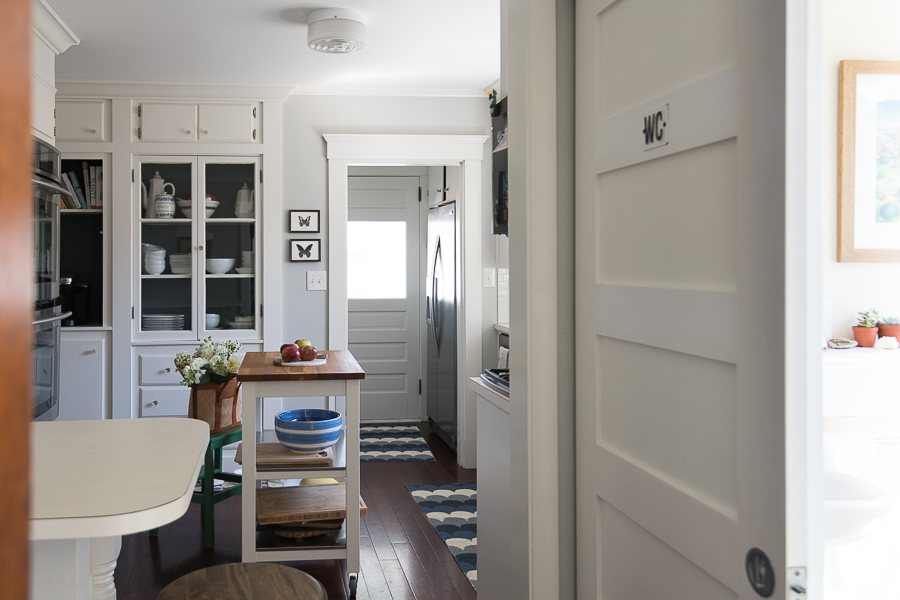 Update the Backsplash
Previously our kitchen had silver tiled backsplash, which had a fun retro vibe but I really love classic. Knowing that tiling would be very time-consuming, I opted for stick on subway tiles. We shared the tutorial here and also shared how they are holding up here. Honestly, this was such an easy DIY and 2 years later the stick on subway tiles are still looking great. If food splashes on, I just wipe down with warm water. You can't use abrasive chemicals on them because it will affect the adhesive.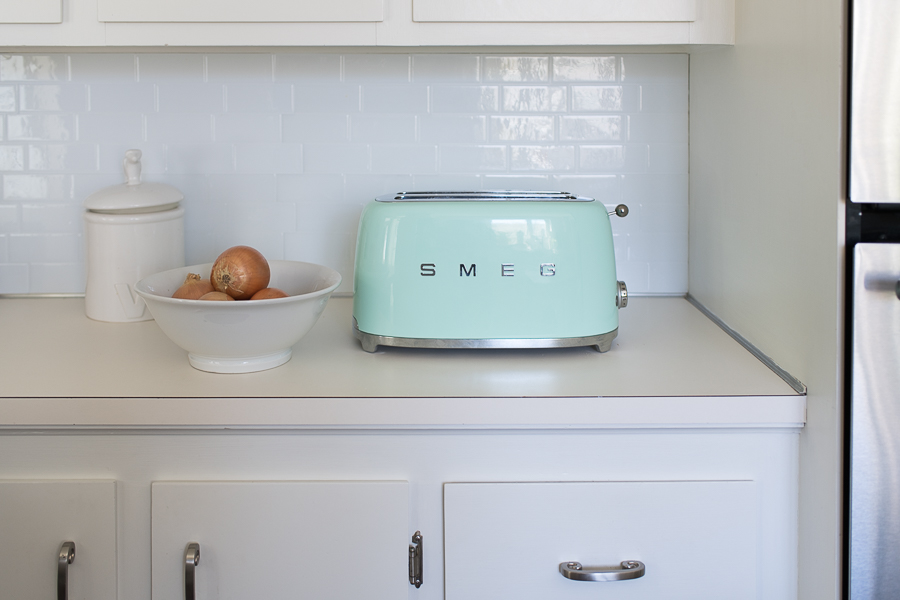 Wouldn't you think these really were subway tiles and not stick-on? We applied them in one afternoon….
Paint Your Cabinets
Our cabinets are not original to the home but were added, I think, in the 1960s. They are built for the kitchen and installed in large pieces so it's very hard to remove one or two as they are all one unit on the inside. At some point, we will replace the cabinets as I'd like to change the flow, but a coat of glossy paint does wonders for tired cabinets. I think it's a huge transformation when you go from wooden cabinets to white but our cabinets were painted a creamy white by a previous owner. Adding bright white cabinets to our kitchen last year made it feel like a BRAND NEW KITCHEN. You can read that post here.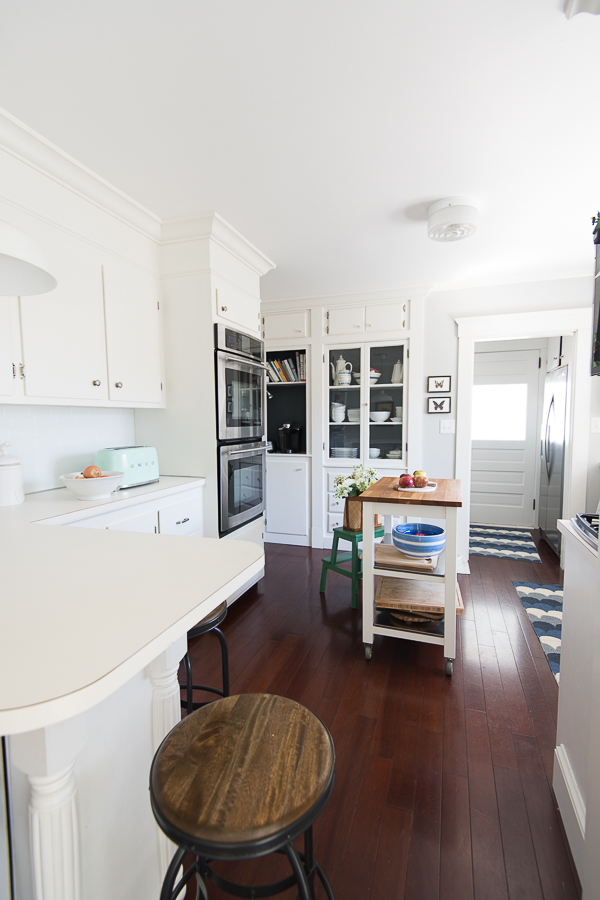 It really refreshed the space. We used Benjamin Moore Advance and the paint is still standing up great, especially with kids and dogs.
Add New Rugs
New rugs can tie colors in a room together and also distract ones' eye away from areas you don't like as much. I feel like our kitchen floors are very dark but these pretty Papellina Rugs from the Welch Company draw my attention. I wrote more about these rugs here.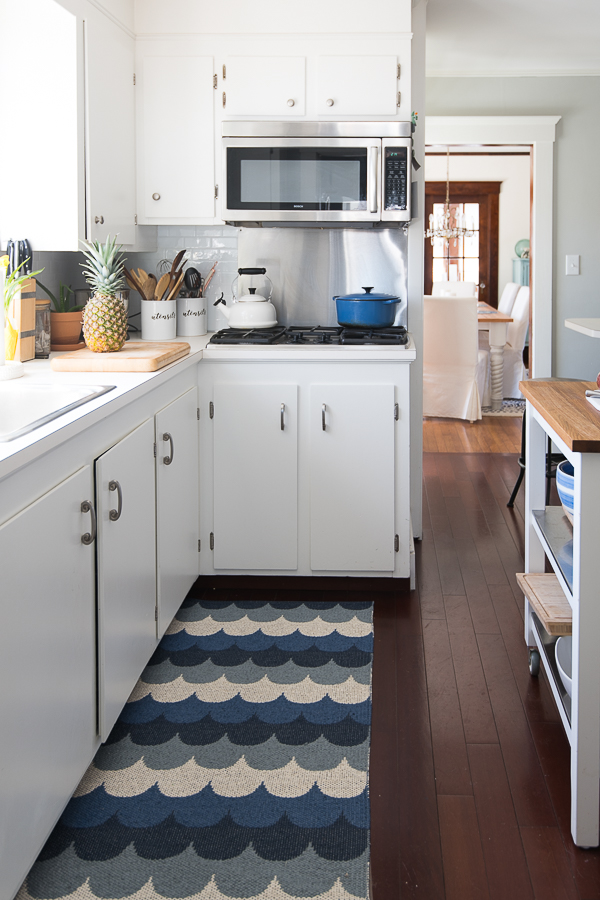 I added these just after the holidays and three months later they still look great. These rugs are very durable as they are woven plastic. I simply vacuum them, but they can be put in the washing machine, as well. The scalloped pattern seems to make the room feel more spacious, so don't be afraid to add some pattern to your kitchen.
Clear Your Counters
I know this probably sounds super obvious, but our counters become nesting places for school papers, catalogs, magazines and whatever else. I try to make time each week to clear the counters. Doing so makes the kitchen feel tidier but also clean and fresh. I've stored bulky kitchen gadgets that we don't use on a daily basis in cupboards and I try to file away school papers and bills (after paying them, of course).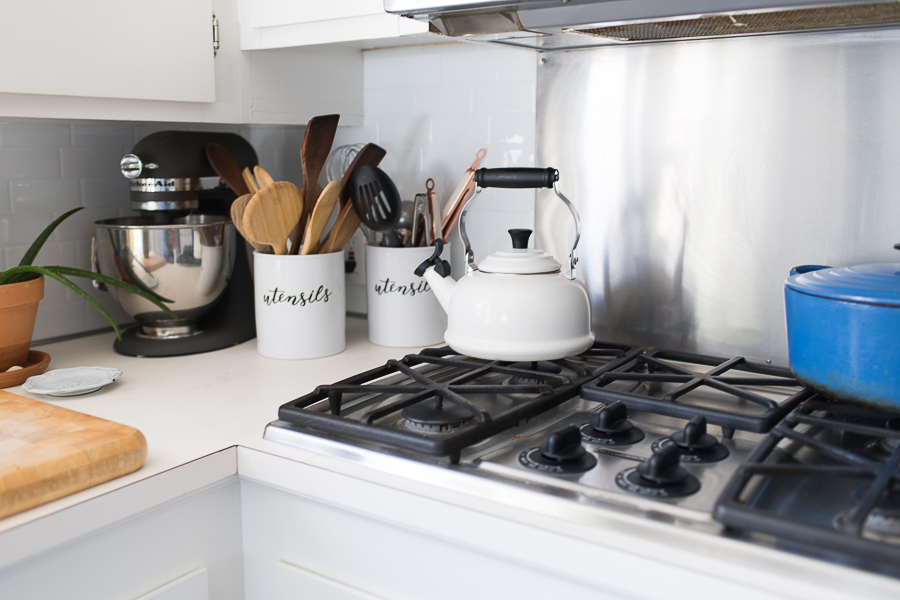 Canisters are great way to store your cooking utensils and can be found at most home improvement stores. I keep our kitchen aid out because Conor loves baking.
Mix and Match New and Old
Our kitchen island and stool are both from Ikea. I updated the stool with green paint here and this kitchen island cleans up well with woca oil. We just refreshed it this weekend and it's looking as good as new.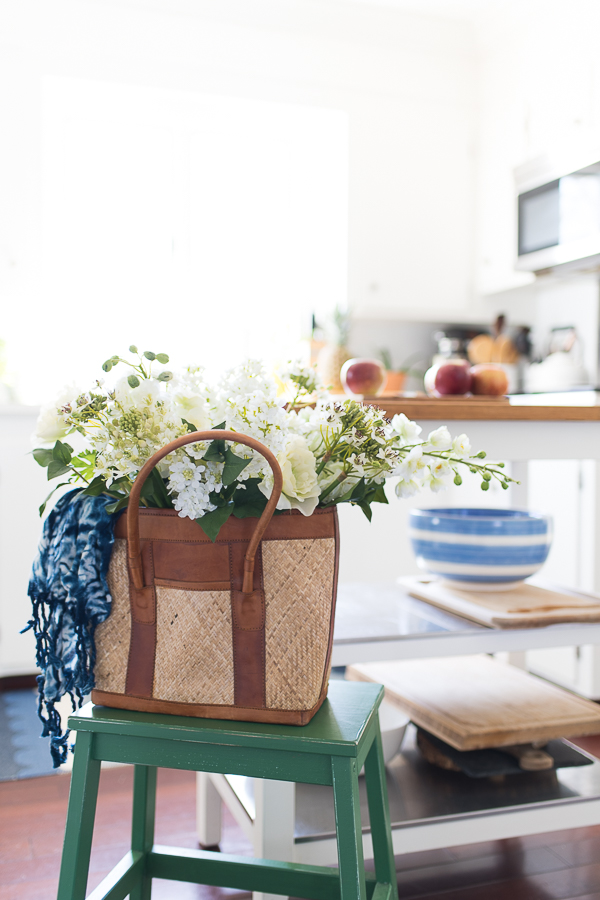 The stool, painted in green, adds a pop of color to our sunny kitchen.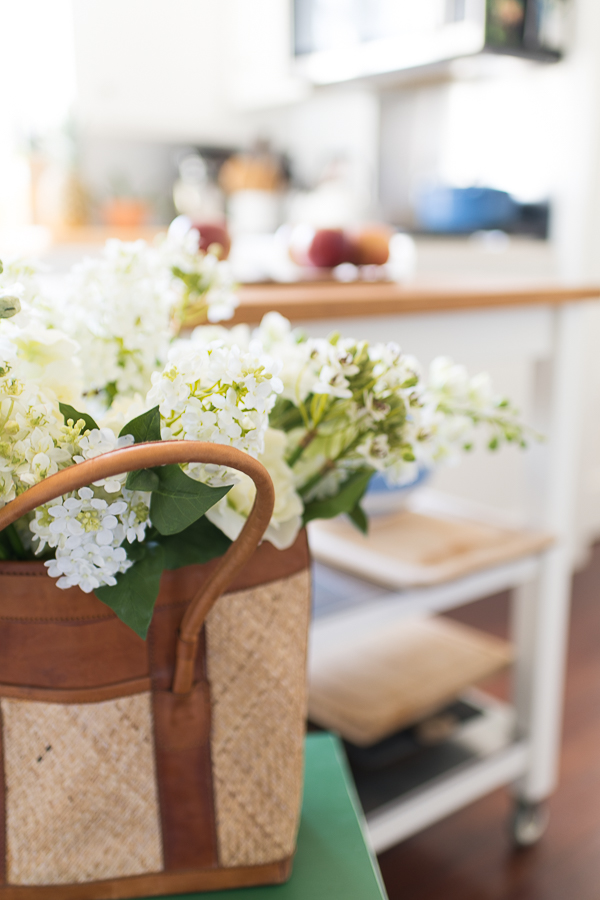 The island is durable and such a great price at $149. I love the added storage underneath and light reviving of the wood makes it as good as new.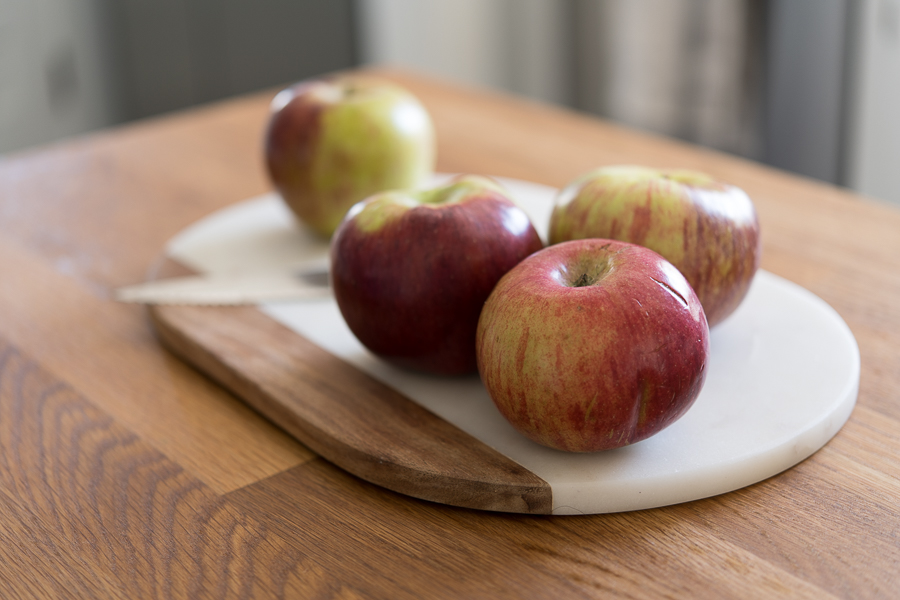 I've mixed and matched antiques in with new finds. In our china cabinet Ikea white dinnerware is happily stored with vintage.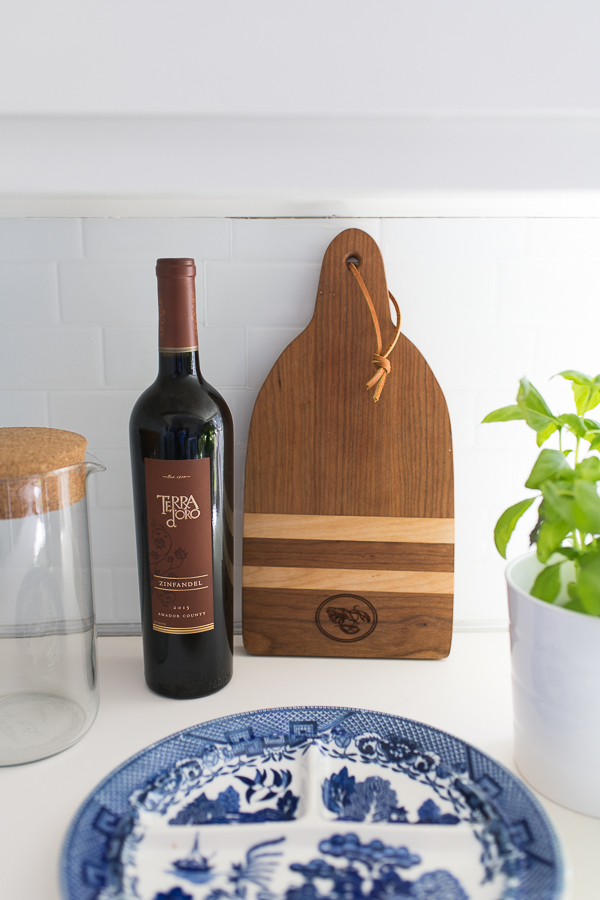 My mom gave Conor this willow pattern plate after he told her how much he loved it. Conor doesn't like his food touching. The pitcher is from Ikea and the buoy board is hand crafted by my friends at 163 Design Company.
Antique butterflies (a yard sale find at a friend's house) grace our walls.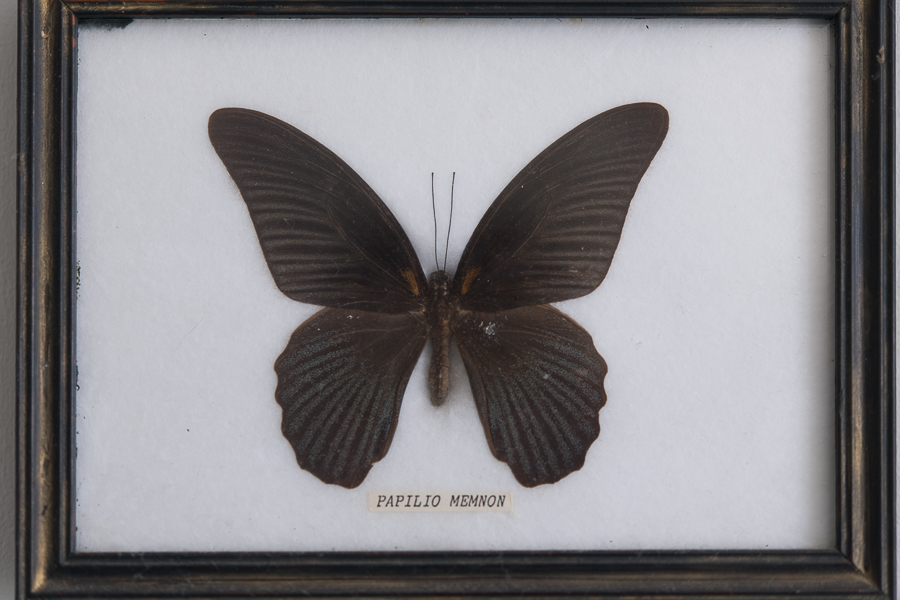 My latest charity shop find – this vintage French bowl holding onions. It was $10 and a steal. For some reason, I always buy bowls and bottles when I'm out antiquing.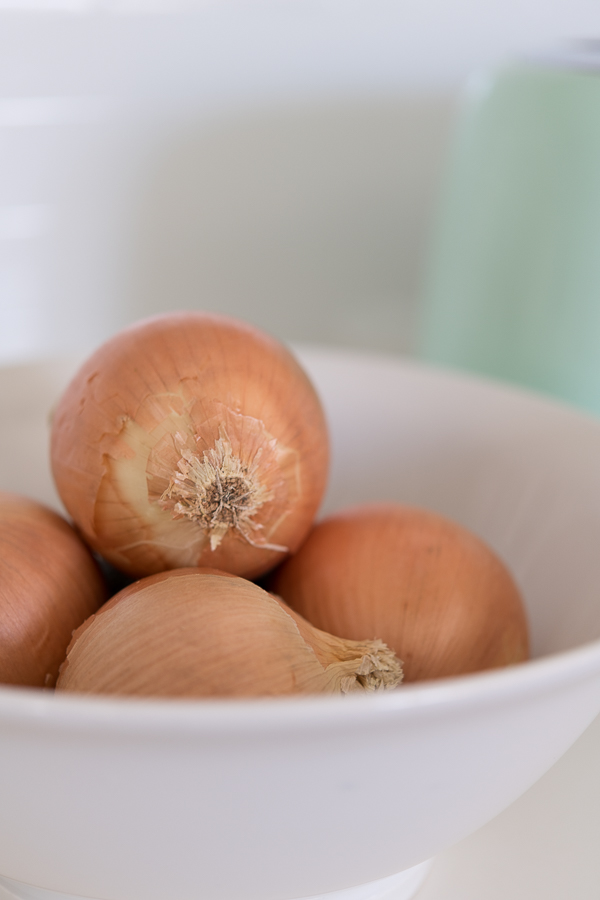 Update the Lighting
Swapping out old light fixtures can make a room feel new and fresh. You don't need to spend a lot on them, either. The ceiling mount light is from Habitat For Humanity and the pendant is from Ikea. Luke swapped them out in an afternoon.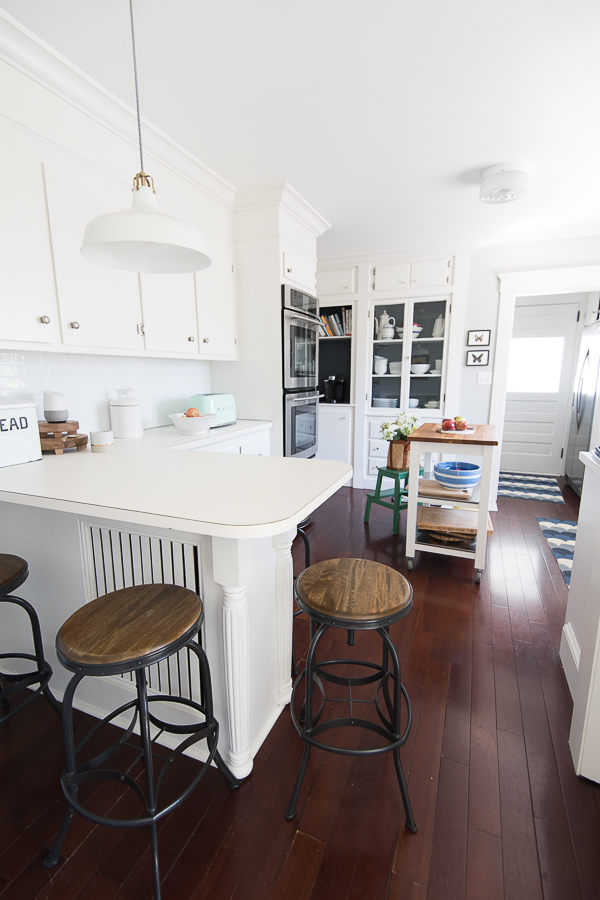 Well, I can't believe I'm already at 7 ways! That went quick. Here are a few more.
Add Kid's Art, or Any Art For That Matter
Art elevates a space. Even if it's art done by someone who isn't a professional. I love framing art my kids have done and celebrating creativity in our home. I share more about this here. Conor painted me these sunflowers and every time I look at them I think of the beautiful sunflowers we grow each summer, his painting makes me smile.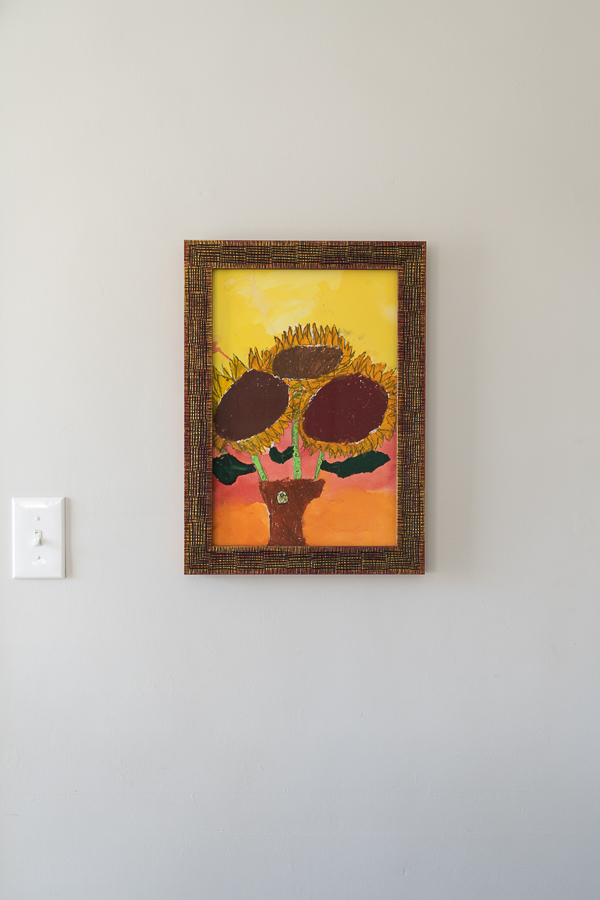 Add Life with Potted Plants and Herbs
Trader Joe's has a wonderful assortment of fresh herbs and small plants. Adding a plant here and there adds life to your room. Pops of green make a kitchen feel fresh and alive. Bonus: with herbs is you can use it in your cooking and homemade salad dressings. So it's decor with a purpose! You can read more about house plants here.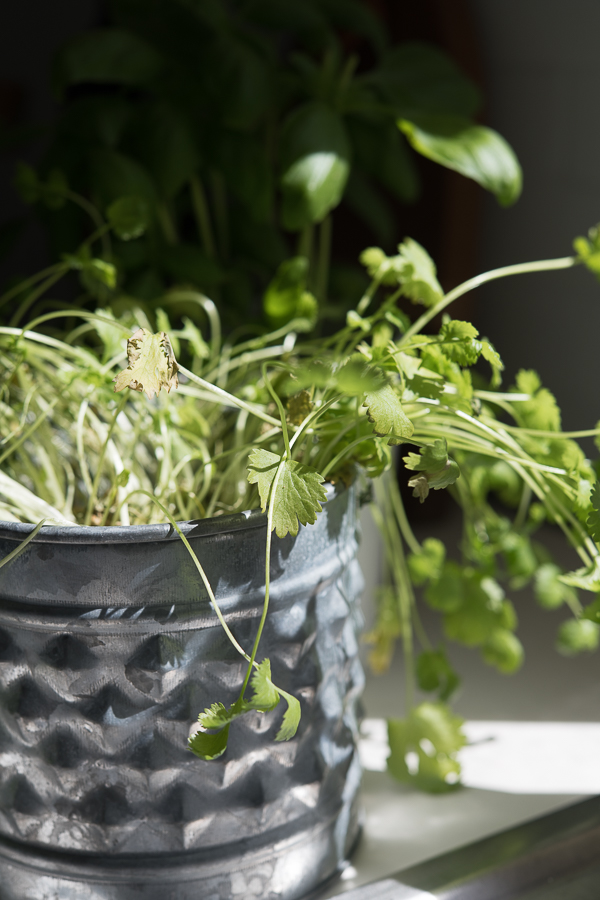 A few other ways to refresh a kitchen, that we haven't tackled in our home, but have huge impact are: replacing hardware on cabinets, painting worn floors, and painting or resurfacing counters.
I hope this post gave you a bunch of ideas to refresh your kitchen without having to renovate. If you enjoyed it please pin for later and share with your friends. I'll include a full source list below.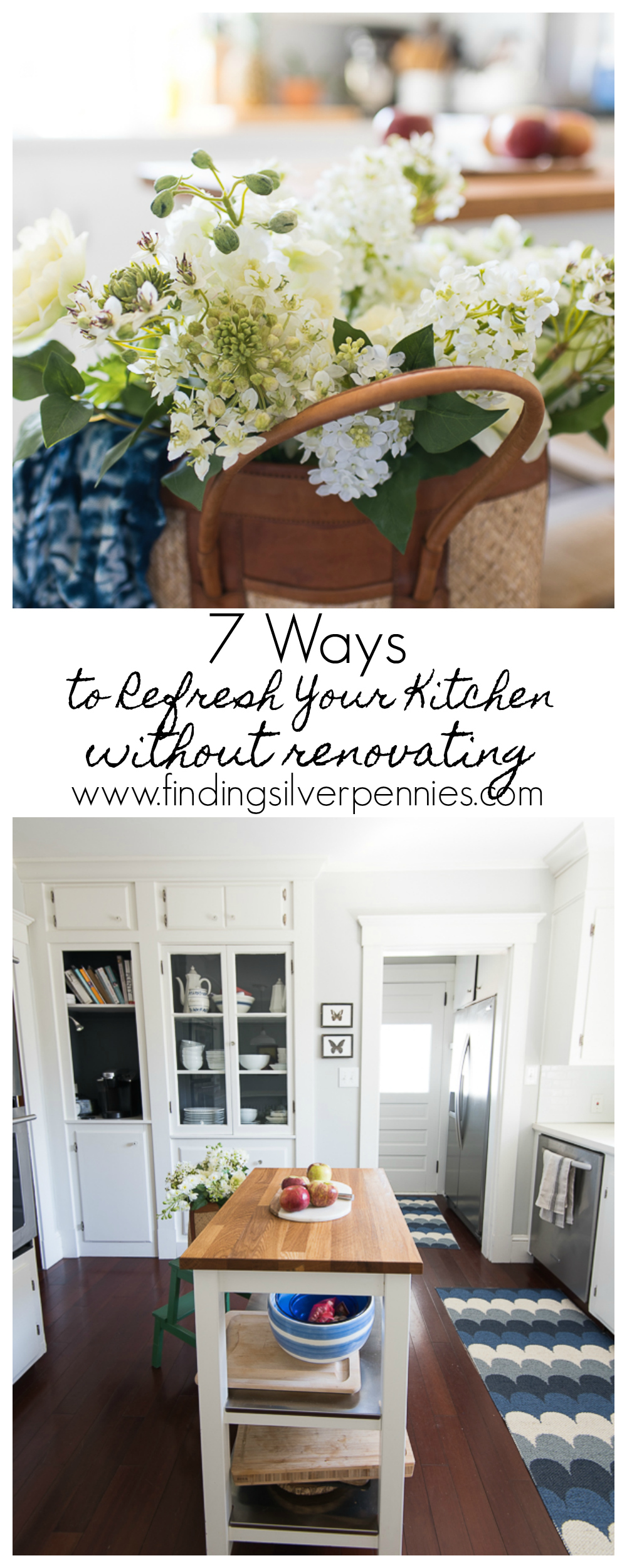 Included in this are some affiliate links for your convenience, you can read my full disclosure policy here.
Kitchen Source List