On Sale Now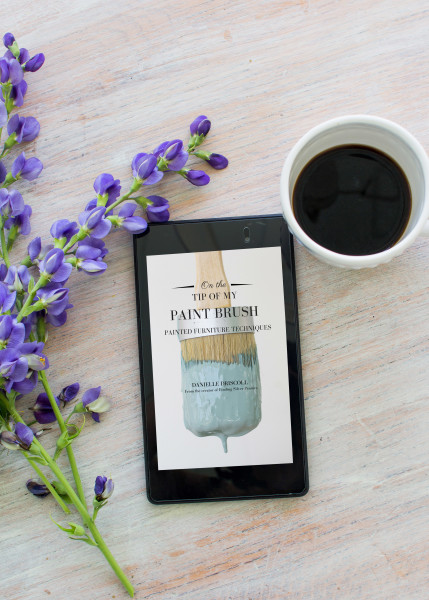 Let's paint furniture TOGETHER!
TWO of my favorite things – PAINT and FURNITURE.
Painting furniture, can feel overwhelming. How should you prep your furniture? Should you paint it? What color should you paint it if you do paint it? What top coat is the best?
These are all questions I asked myself before I started painting.
My NEW eBook:
On The Tip of My Paint Brush – Painted Furniture Techniques takes a closer look at painting furniture from novice to the advanced furniture painter.
Inside I share my tips and tricks that I've picked up over nearly 5 years of painting furniture.  I don't sell paint or painting supplies so this is a completely unbiased look at the paints and products I enjoy and what I think works best for various jobs.
WHAT'S INSIDE?
What paints I love
How to Prep your furniture successfully
How to Strip Furniture
What Furniture to Buy and What To Leave on the Side of the Road
Everyday Products You Can Use to Refinish Furniture
How to Stain
What's the Difference Between Furniture Wax and Poly
Hands On Techniques with Step by Step Tutorials
Full Color Illustrations
Sources for Furniture, Paint and Hardware
Over 100 pages of tips
Before & Afters to Inspire Your Own Creativity

Techniques include: Faux Finishes, Weathered Finishes, Distressing, Crackle, Decoupage

Affordable Methods to Create a Home You Love

This book takes the guess work out of painting furniture so you can get on with creating a home you love by breathing new life into old pieces. Let me help you personalize your thrifted finds and old treasures.
100+ page PDF is desktop, print and mobile friendly instant download.
What People Are Saying:
"A new go to paint bible. Well done!" – Matthew Mead
"You'll find oodles of inspiration within the 154 pages of "On the Tip of My Paint Brush." You won't believe all the tutorials Danielle includes for transforming your own furniture into works of art!  I know I'll be scouring the pages and practicing for months to come!" – Jennifer Zuri (Town and Country Living)
"On the Tip of My Paint Brush is so well done I wanted to stand up and clap after I read it. Seriously. Danielle has always been very thorough in her sharing of and how to's on her blog, but she goes into beautiful details in her book."    –Wendy Batten (Front Porch Mercantile)
"I just finished reading your new book. I have painted some furniture using Annie Sloan, Valspar Chalk Paint,Velvet Finishes and a few lesser known brands. However my experience with wax and poly has been limited. LOVE your book. Lots of visual information and inspiration. I found it non intimidating and down to earth. You have covered so much in such a way that any novice could produce a wonderful piece for their home. It will be the best $15 they have spent that is neither paint or brush!!!" – Deb Finn (Customer Review)
"Loving your book by the way!  It's wonderful to have so much information in one place.  Great job!"
– Janet Billings
" Danielle is a powerhouse of upcycled furniture projects…The pictures are absolutely gorgeous and the tips were so insightful. Every DIYer needs their hands on this before they start a furniture piece! "
–Nicole West (Paint + Pattern / Royal Design Studio)
"I purchased the e-book a few months ago and have learned so much. Danielle has included information on just about everything that concerns painting. I am so impressed and I continue to refer back to the e-book for information to help with the projects I am working on. I love this e-book!"
– Angela Cash Dooley (Customer Review)
"If any readers out there haven't gotten your book……I highly recommend it. It is a great source whether painting your first little stool or your fifth chest of drawers."
–Deb Finn (Customer Review)
"I don't know how to express my appreciation for your putting all your knowledge and experience to share with others in this eBook.
This is the perfect book for a beginner or anyone who just wants to start painting and don't have much time to research information from countless sources on the internet. It is comprehensive and contains essential information that one needs to know all about painting furniture.
I love that you shared about various types of top coats, what to use to fix furniture, how to tint wax and where to buy pulls and moldings. This is a big bonus and a time saver as it points us in the right places to shop.
This book is simple and necessary, one that I am so happy to have purchased and one that I will be referring to for various possibilities that I can do to furniture."
-Jenn Chin (Customer Review)
"I purchased this book and am so glad I did. If you are interested in painting and/or flipping furniture this is the book for you. Danielle oozes knowledge and experience and it comes through in every page of this book. The best $15 I spent in a very long time! Plus….I love the title!!"
-Wendy Jamieson (Easy Peasy Paint)
"I have this ebook and belong to the group and it is amazing! It is full of great tips and ideas. It will give you inspiration and encouragement and that right there is priceless!"
-Juli Ann Pellett (Customer Review)
" This is a fantastic book. Full of great tips and inspirational examples. I'd thoroughly recommend it."
-Ben Clinch (Customer Review)
About the Author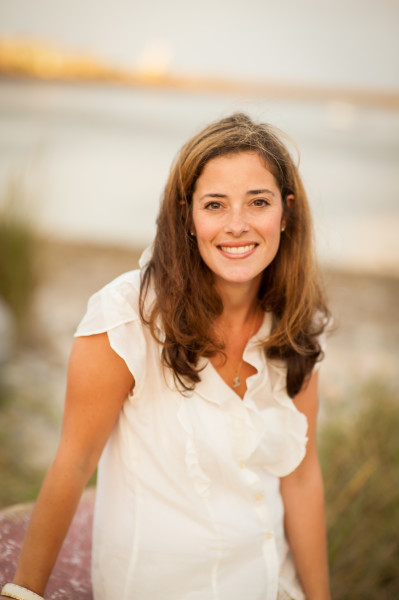 Danielle Driscoll is a New England based writer and designer, with a love for all things coastal. She started her blog, Finding Silver Pennies, as a creative outlet nearly 5 years ago and it has grown into a career. Before blogging she worked in TV in London and enjoyed working on shows and coming up with program ideas. She specializes in faux finishes on furniture and loves to upcycle. She also enjoys designing furniture with her husband and believes your home should tell your story. Danielle's projects and home have been featured in Better Homes & Gardens, Matthew Mead's Upcyled Style, domino, South Shore Living, House Beautiful and Country Living. She is a contributor to eHow, Paint + Pattern and domino. It was a dream to write a book about painting furniture to share what she's learned over the last 5 years. Danielle lives in the quaint, seaside town of Scituate with her husband, two sons and their rescue dog, Poppy.  When not working on DIY projects you can find her yard sale-ing, painting or spending LOADS of quality time on the beach.
---
Looking forward to painting with you all real soon!