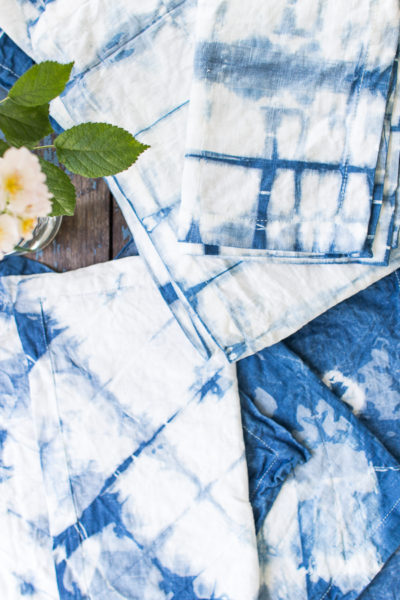 I've wanted to do Shibori for so long!
Over the weekend, the boys and I dyed fabric and it was so much fun.
This color blue is my favorite. Isn't it gorgeous?!?
Have you always wanted to Shibori too?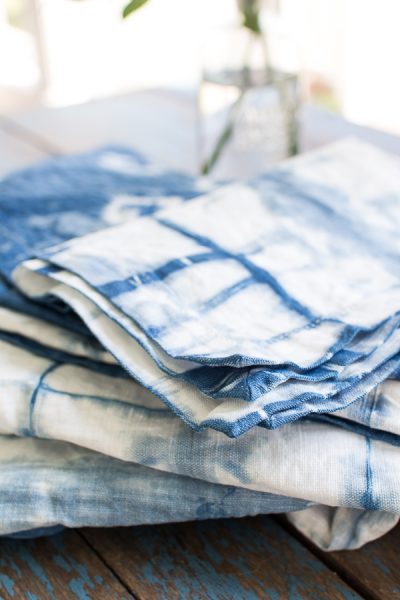 What is Shibori
Shibori is an ancient Japanese method that uses resist dyeing techniques to form patterns on fabric. The earliest known example dates from the 8th century. Often indigo was used or red madder.
Folding the fabric, using stones or planks of wood or twisting fabric all make patterns on the fabric when placed in dye. The fabric is white but where the dye touches it turns blue.
Today, I'm going to share with you how to Shibori using Indigo Dye. Indigo dye is one of the oldest dyes and used for coloring fabrics and is still used today to color blue jeans (my favorite color, by the way). Dying with indigo is unique compared to other dyes. In its natural state, indigo is insoluble in water. It must go though a process where it is "reduced" and put into a liquid state with the oxygen removed. All dye vats vary but all are based on reducing the oxygen in the vat. When the fabric is removed from the vat, the dye will oxidize and turn a brilliant blue shade.
The boys and I had so much fun with this and it was like magic watching the patterns and blue appear before our eyes.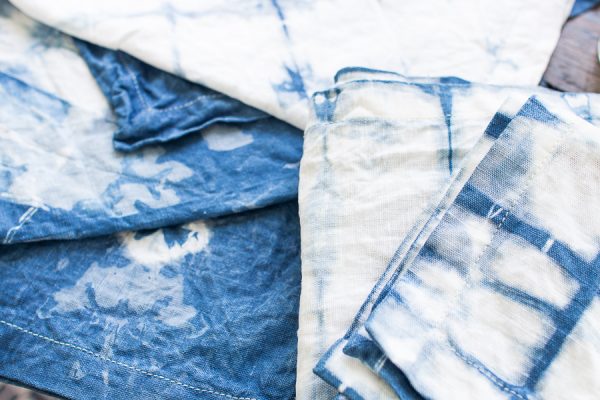 How to Shibori Dye Fabric
This post contains a few affiliate links, if you make a purchase via my link, I will get a percentage of the sale. Thank you for supporting my blog in this way.
Materials
Objects to dye – we used cotton t shirts, linen table runners and placemats from Ikea.
Beach Rocks, Rubber bands, wooden blocks (the kit has some rubber bands an some wood but you may want more)
Wooden Stick (for stirring)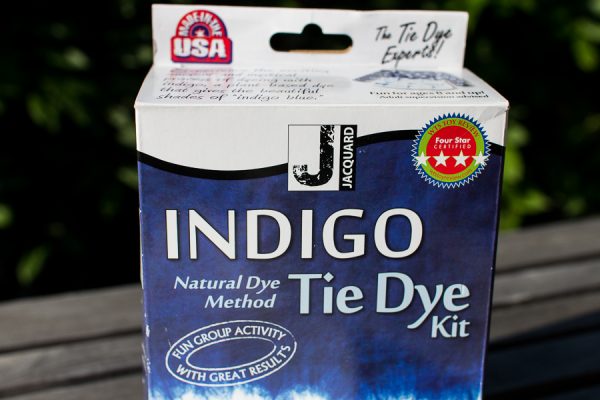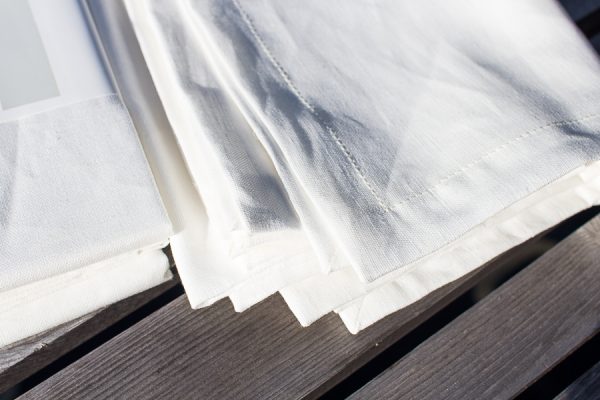 Method
I highly recommend the Jacquard Indigo Dye Kit because it came with all the essentials and a great booklet on different folding ideas.
Step 1 – Fill your bucket with 4 gallons of warm tap water. Follow the directions in the indigo dye kit and pour the indigo dye packet in while stirring. Gently add the Soda Ash and reduction agent (both came in the kit). Continue stirring until well mixed. Put the lid on the vat. Wait at least 15 minutes before dyeing. We waited over an hour.
Step 2 – It's fun to play with different folding methods and resists. We did all different ones. The boys decided to do rubber bands on theirs shirts which gave the look of a tie-dyed t-shirt. Here you can see John working on his: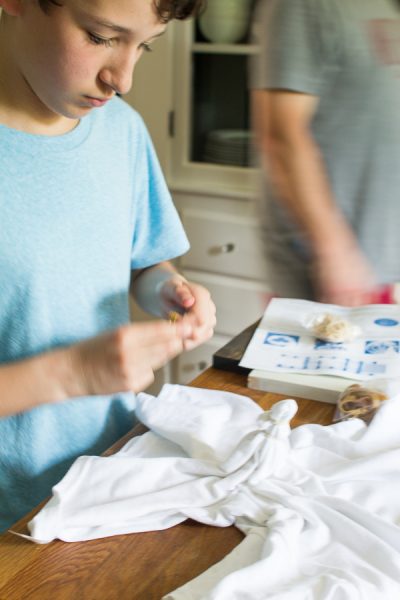 The dye will not penetrate where the rubber bands are placed. We used both fat and skinny rubber bands. Further down I'll show you a few different binding methods.
Step 3 – Once your fabric is ready to dye, wet the fabric and squeeze out excess water, submerge in the vat (do not drop it to the bottom as there is sediment at the bottom). It will look a yellow / green but don't worry.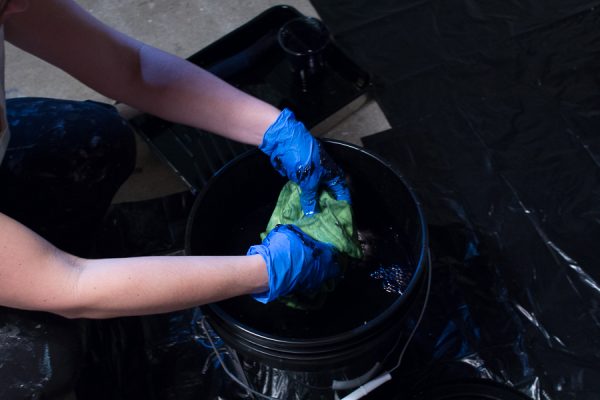 I placed trash bags on the floor to protect it from spills. I also placed the dyed fabric there when I took it out of the vat.
Step 4 – Wait about 20 minutes before rinsing and washing your dyed fabric. This allows the fabric to oxidize and turn blue.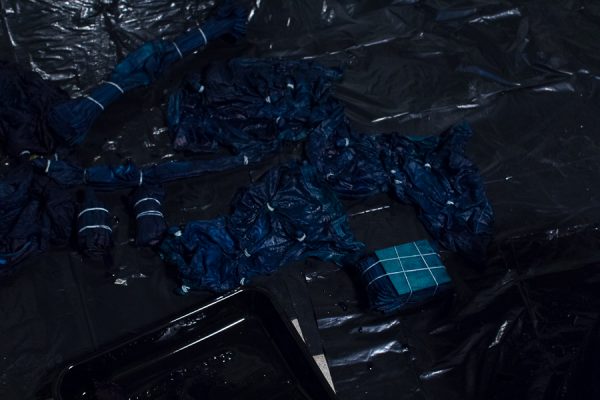 Step 5 – Once dry, you can enjoy your new indigo pieces!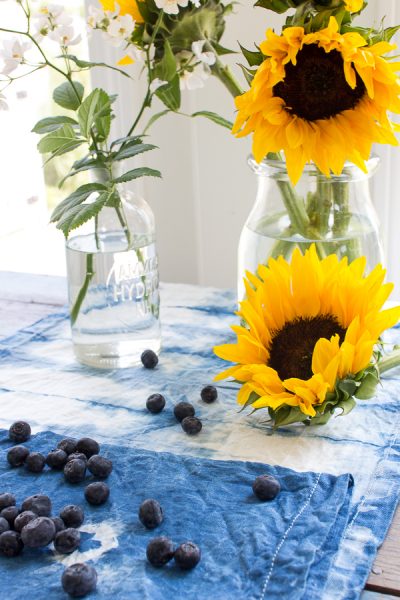 Pattern Ideas for Shibori
Concentric Circles
Both my boys decided to do concentric circles. Alternating thick and skinny rubber bands. John also did this on the arms of his shirt.
To create this look you want to bunch the fabric from the middle: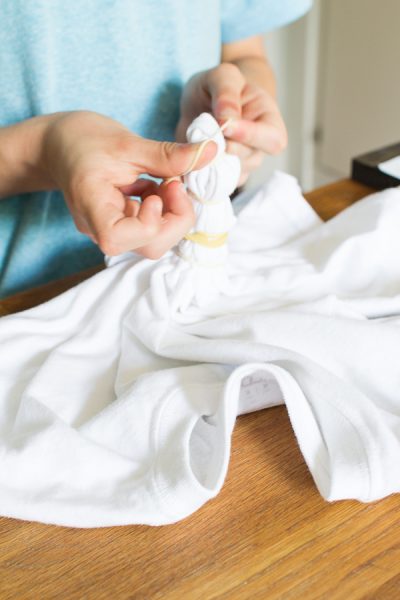 This is how the shirts came out: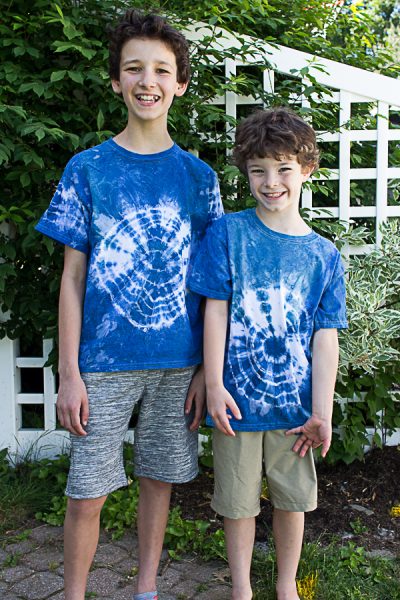 They are so proud of them!
Small Circles
To create small circles place a bean or small rock and bind just under the rock. We used beach stones.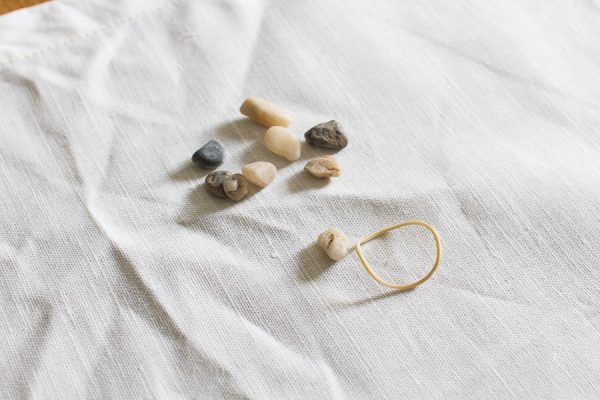 That is the one on the left: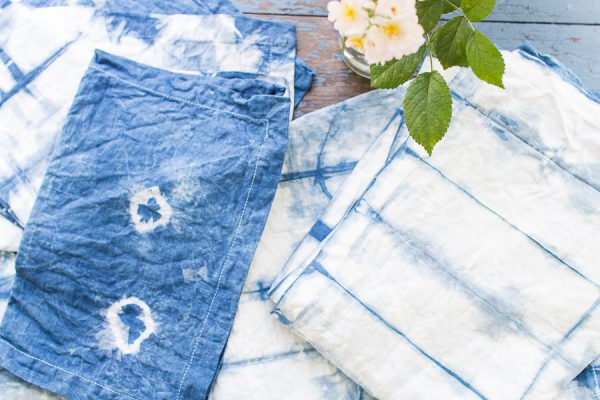 I did three placemats like this.
Basic Accordion Fold
Fold as if your folding a paper fan.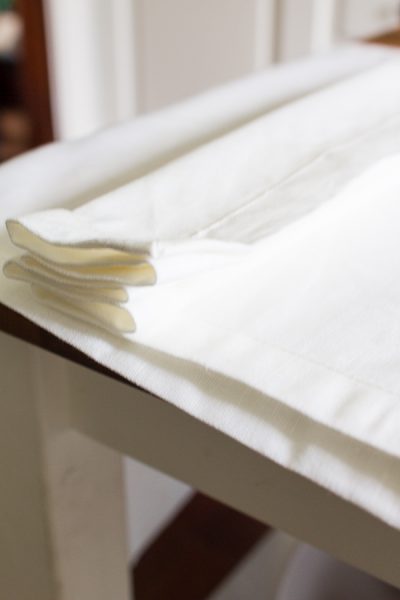 Bind with elastic bands.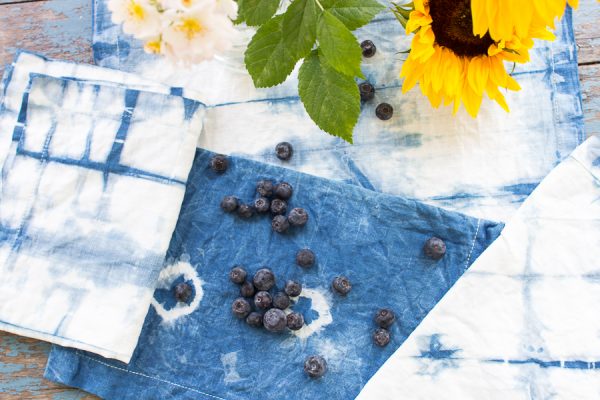 We added blocks and popsicle sticks.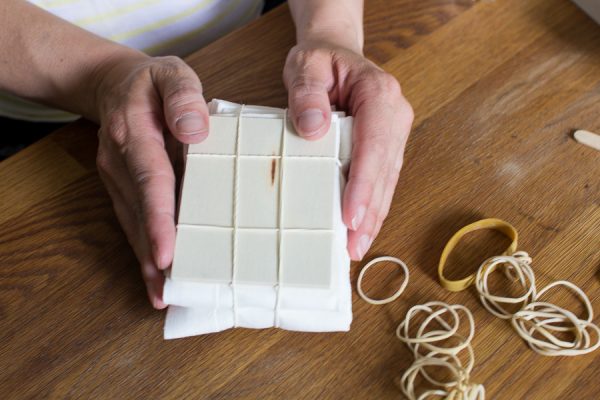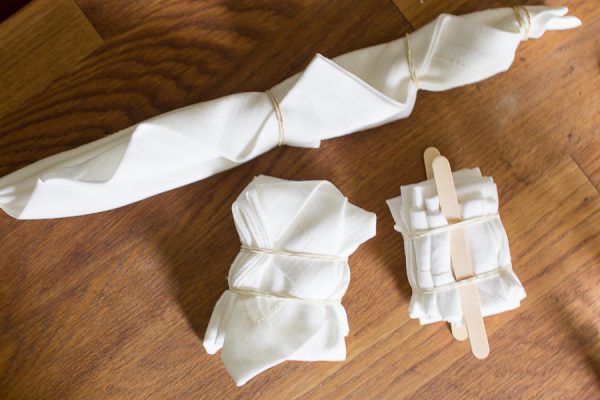 It was so fun to open them up and see how they came out.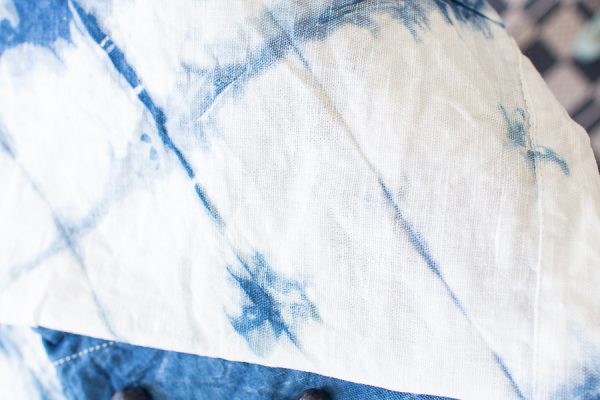 I love that one. That was folded on the diagonal.
I have one on the table in the sunroom.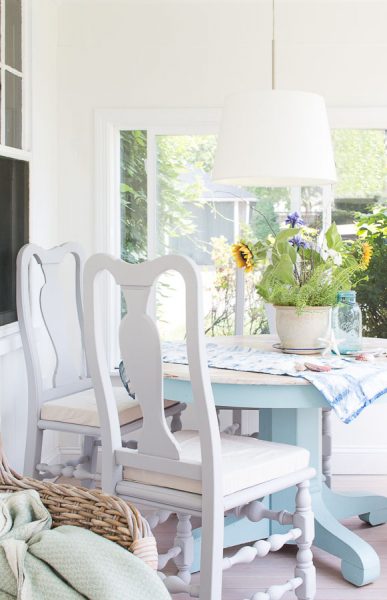 I love the relaxed feel it brings to the room.
Shibori reminds me of your favorite pair of jeans.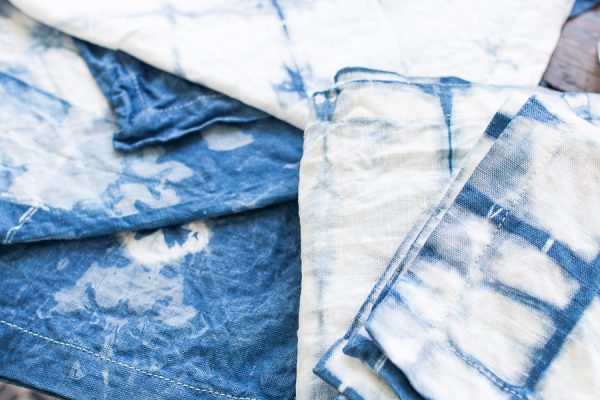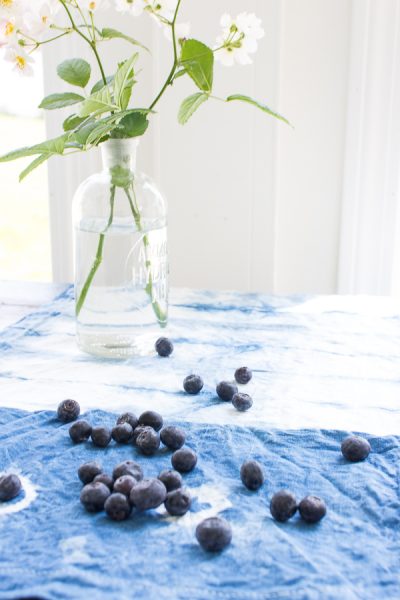 Unassuming and so simple.
But elegant.
Soft, gentle and warm.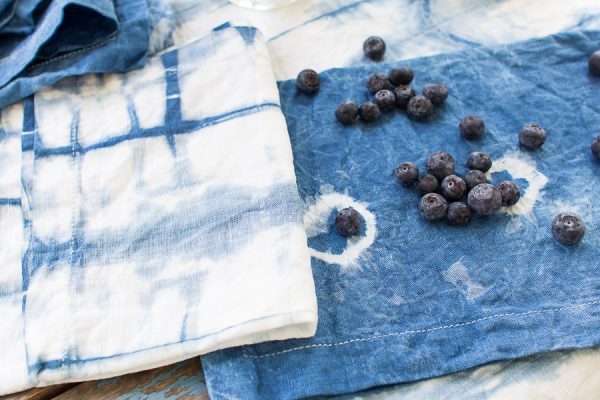 Creating these beautiful patterns together was so much fun and perfect for a warm summer day!
It was like magic working with the dye.
Before we did it, I was kinda scared we'd mess up or it wouldn't work, but it was so fun!
I have a feeling I'll cherish these runners and placemats for many years to come.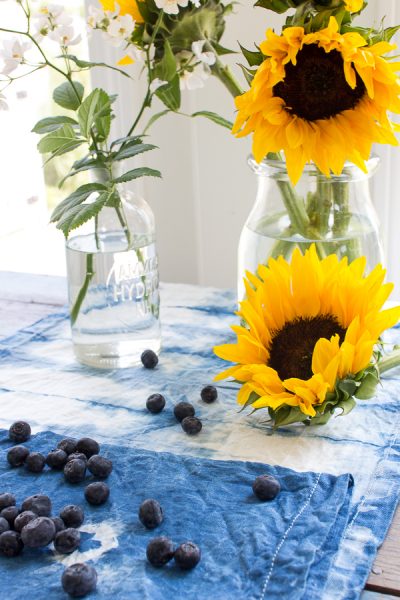 The vat is still set up in the basement and I saw these wonderful cotton pillow covers so I'm gonna dye some pillows next!
I think they'll look wonderful on the living room couch or out in the she shed. I'll share them once they're done.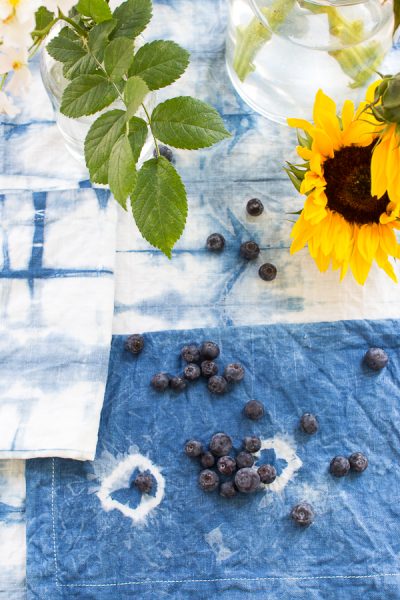 I'll also share an indigo tablescape too! Stay tuned for that.
Do you think you'll give this a try at home?