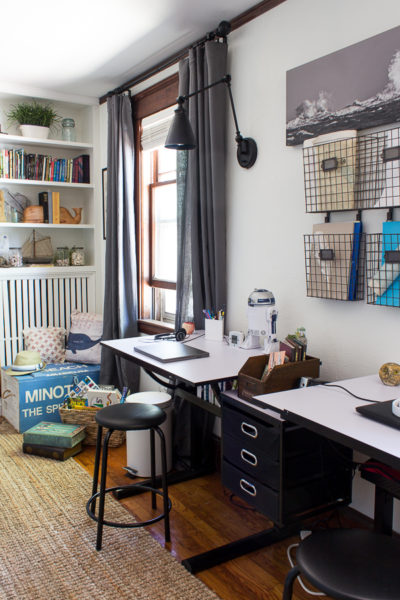 Guess what? I'm finally sharing the boys' bedroom today (well part of it). I'm so excited to share this workspace I created in partnership with Wayfair! I can't believe school starts in just over a month for our boys, and with that in mind we wanted to give them the perfect area: to play, create and study in their bedroom. This post is sponsored by Wayfair and I'm going to share the details of what went into this kids' modern vintage workspace.

In the spring our house underwent some renovations which included taking the ceilings down and supporting the joists and also taking a wall down. Before we go any further into the post. I want to show you some "before" photos.
Here's how Conor's room looked: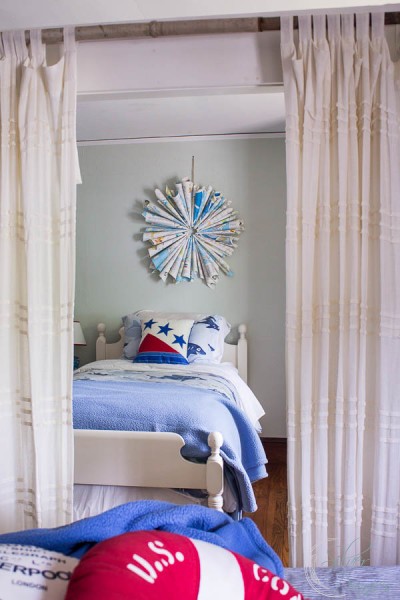 Here's how John's room was before we did any renovations.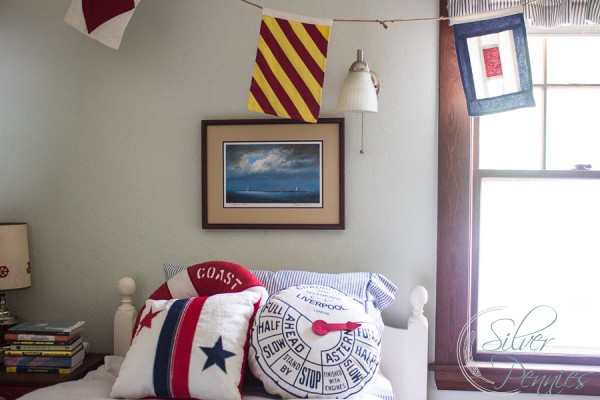 We moved here three years ago and this set up was fine when they were really little, but as they're growing up, the space felt almost claustrophobic and their ceiling was cracked and sinking….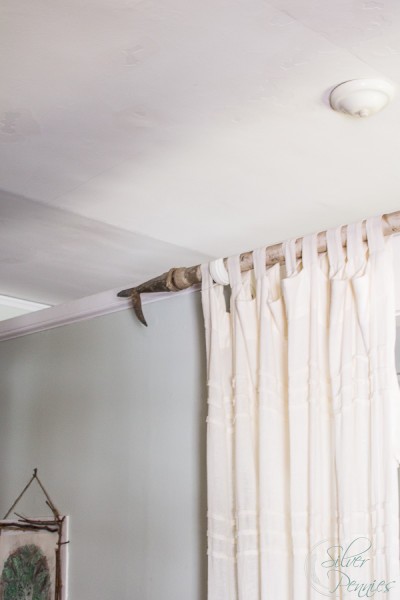 The perfect time for a renovation!
EVERYTHING came down – the ceilings and the faux wall with it LOTS of dust…. I'm not gonna lie. There were some tears shed. My oldest, John, doesn't like change and this was severe change (even though we had discussed it in depth before the demo was actually done), when he saw the wall down he cried for an hour.
Here's some demo photos: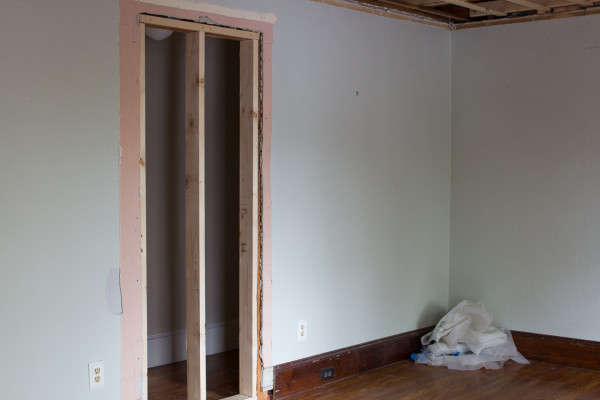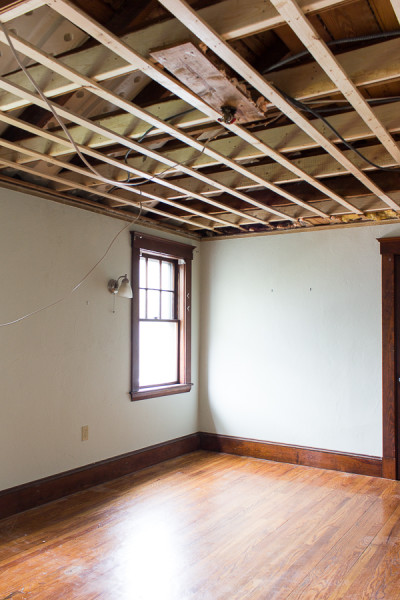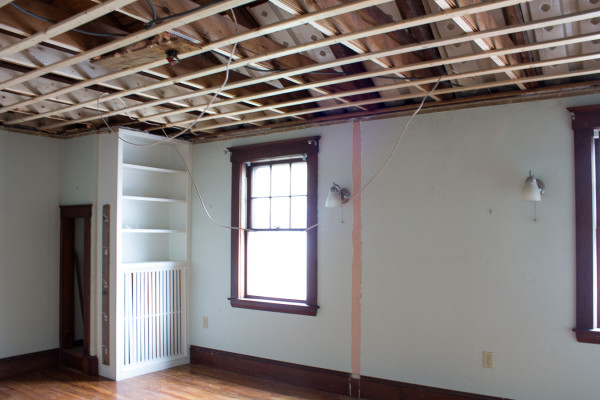 I, on the other hand, was delighted. That pink line is where the wall was. Can you see just how tiny the space was before?
And how it's looking now: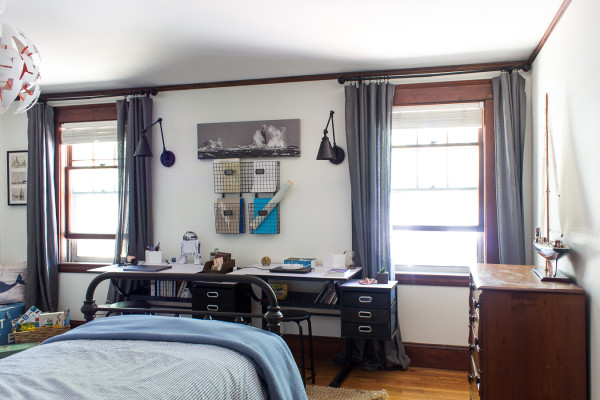 Removing the wall and adding Simply White paint by Benjamin Moore really brightened the space up. This also gave us the perfect area for a workspace for the kids. Previously they had a little craft area in the playroom but it was just too tiny. A few weeks ago I shared the inspiration for their bedroom makeover. I've included a few affiliate links in this post for your convenience.
I knew I wanted this area to have side by side desks. My boys have completely different tastes which was the first hurdle. Conor loves vintage and antiques, while John loves modern. He loves clean, straight lines. The Wayfair Harvard Three Drawer Writing Desk by Safavieh was the perfect dimensions but both boys loved the shape. Hooray! Win win! Conor loved the industrial nature of it while John loved the modern lines and the white tops.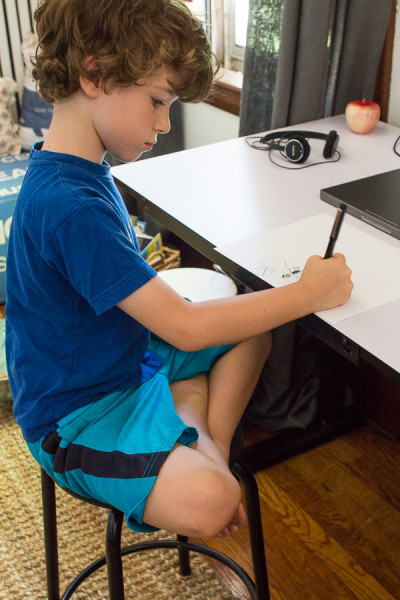 There's plenty of room to draw even with a laptop on the desk.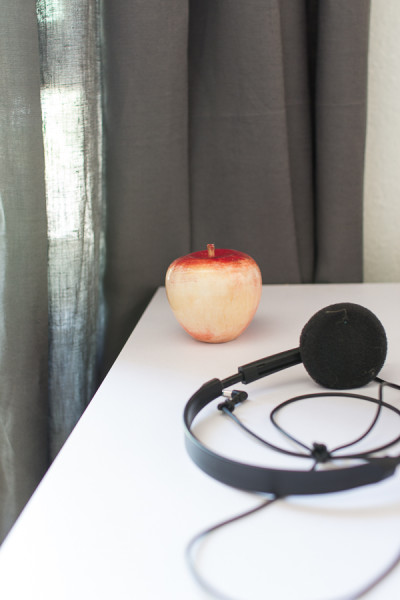 The desks also come with plenty of storage in drawers which I love, so we could keep the clutter to a minimum, and put school work and papers in the drawers.
The stools are sturdy and work nice with the desks, and they were included with the set. I thought it was a great price point for such a sturdy workspace.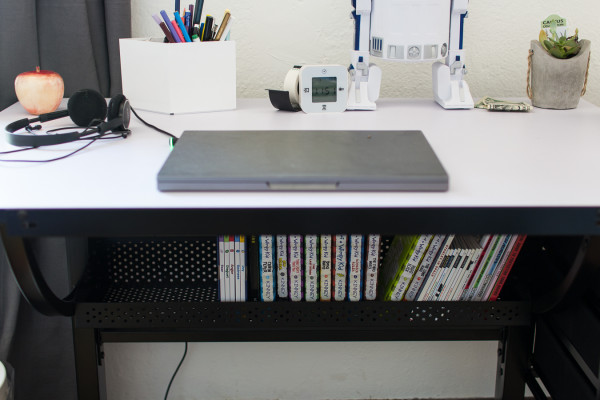 Two other things I love about these desks are the bookshelf underneath, perfect for favorite books or crafting items, and that the desks can turn into drafting tables, perfect for my little artists.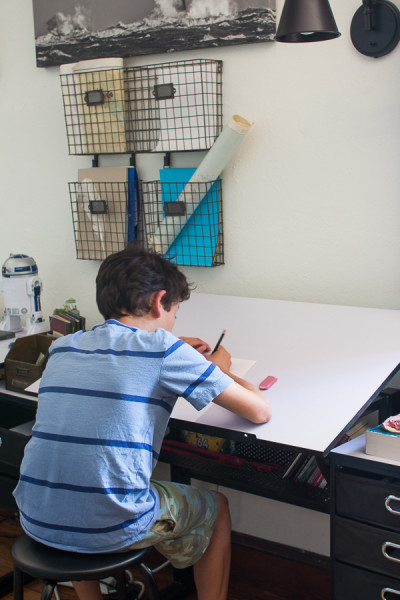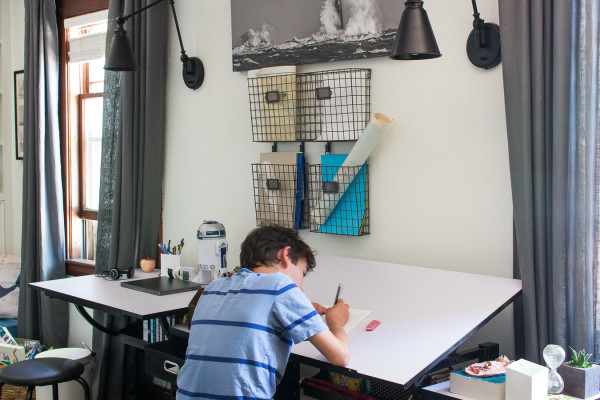 Simply raise the desk to an incline for instant drafting capabilities, there's even a built in pencil holder for while it's inclined! This is perfect for my son who is an amazing artist. He enjoys cartooning on the side!
As you can see his desk area is very minimalist compared to Conor.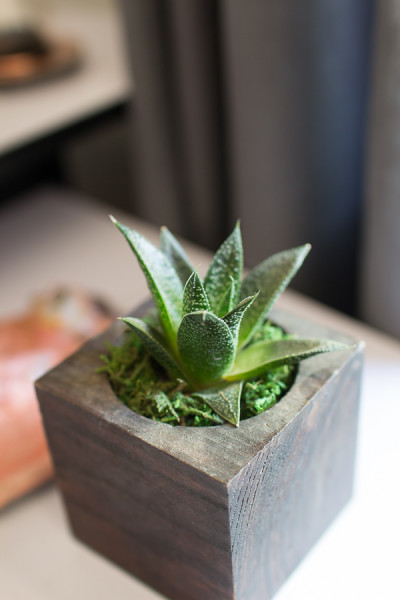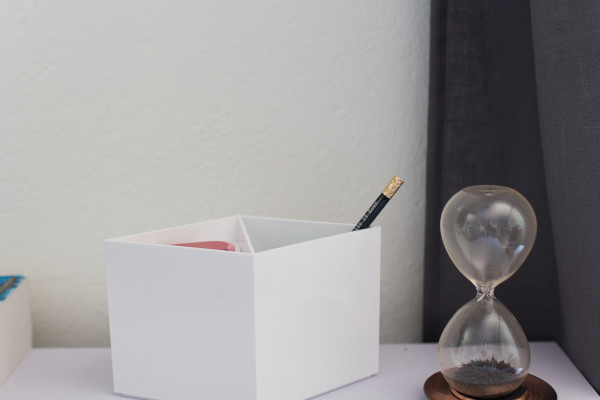 One pencil, one eraser in this cool desk organizer. Wayfair's Rhombin organizer makes organizing easy. It comes in several colors but we chose white to go with the neutral theme in their room. John of course loved the modern lines!
Conor also has one on his desk but he's filled it up with pencils and markers!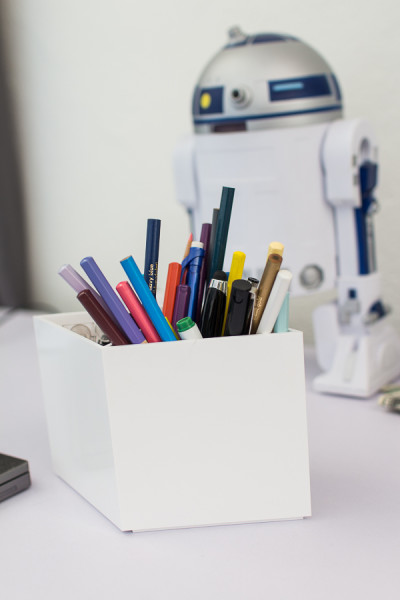 Knowing Conor's love for vintage I couldn't resist this sweet vintage inspired piece.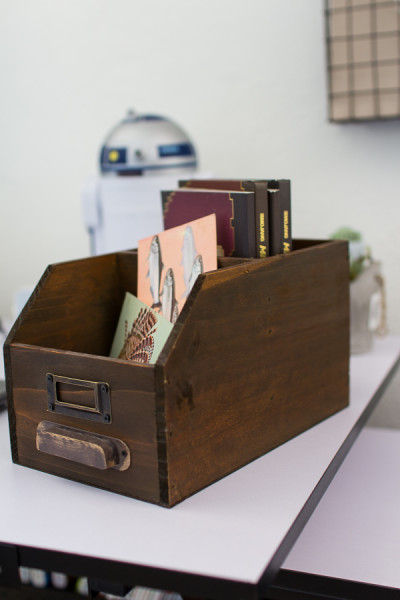 Wayfair's Card Catalog Keepsake Box offers the perfect storage for extra books, postcards or other treasured possessions.
Good lighting is so important for a workspace. We opted for the Wayfair's Golden Oaks 1 light wall sconce in English Bronze.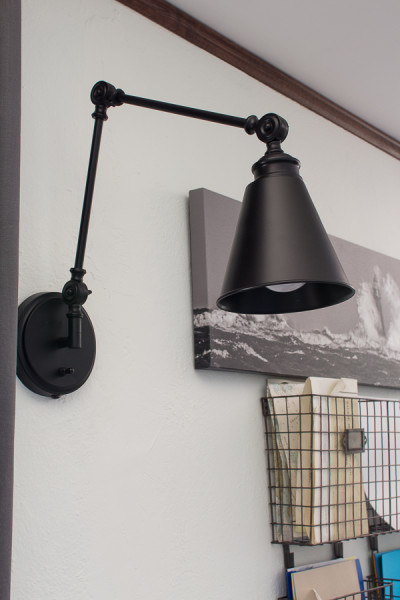 These angle poised lights are perfect and allow to direction the lights in three separate ways. They create a bright worskpace which is fantastic at night. I love the industrial lines and this plays in nicely with the boys beds, I'll share more on the beds in a later post.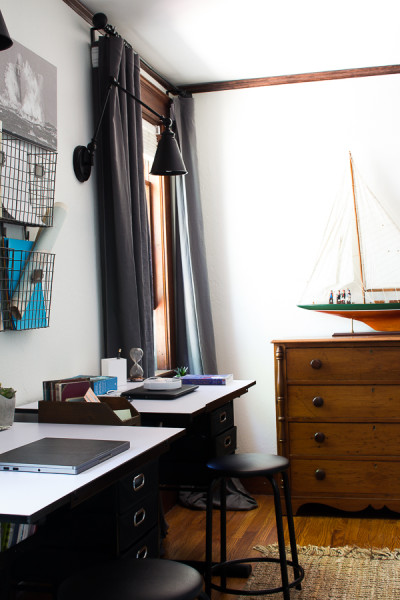 The hand woven jute rug offers the perfect texture under foot and adds some light into the room. I chose Wayfair's Coxswain Beige Loop Handmade Area Rug for the knobby texture and color. I fell even more in love when we rolled the rug out in the room. This rug instantly grounded the space but also gave the coastal look we love. I know it might not look it but the jute is so soft under foot.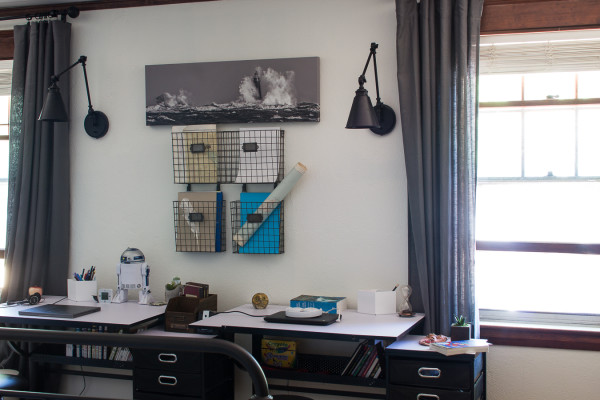 One can never have enough storage in a workspace! I added Wayfair's Wire Basket Wall Organizer above the desks and LOVE it. Doesn't it look vintage?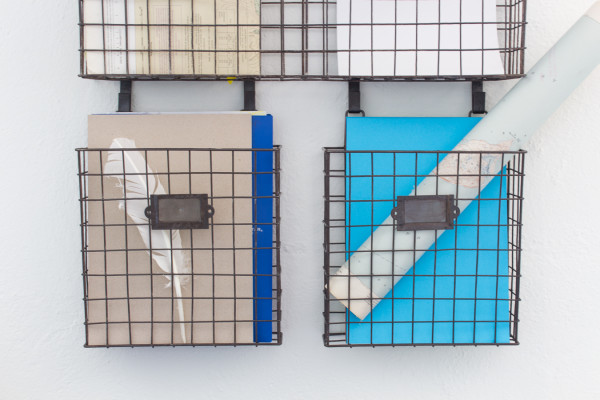 The perfect spot to store extra paper, school work or beach treasures!
Just above the organizer is a beautiful photograph by my friend and photographer, Kjeld Mahoney. It's of Minot Light which is a local lighthouse to us and the colors perfectly go with the boys' desks and lights.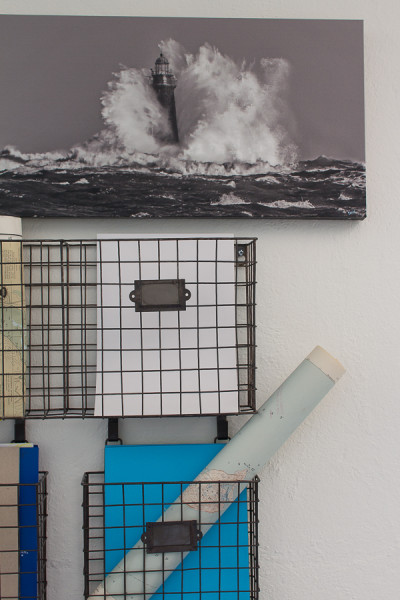 There's one more aspect of this work area that I'd like to share. The kids' built in bookcase. I love built ins because they add instant to charm to a home.
This one also adds plenty of storage. My boys love reading and books so we need lots of space for their collection.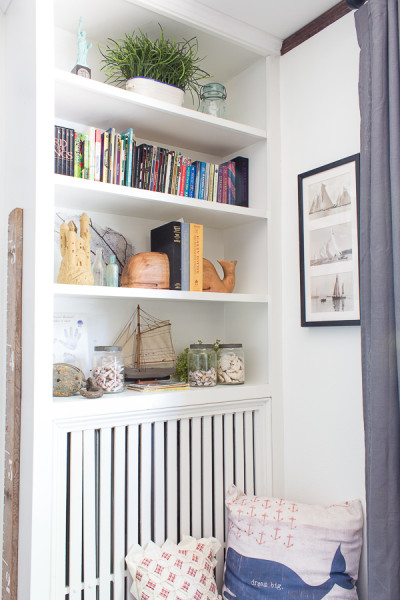 Seaside treasures and keepsakes are also displayed!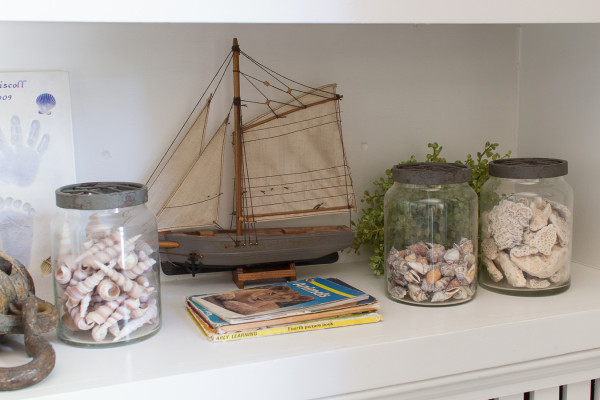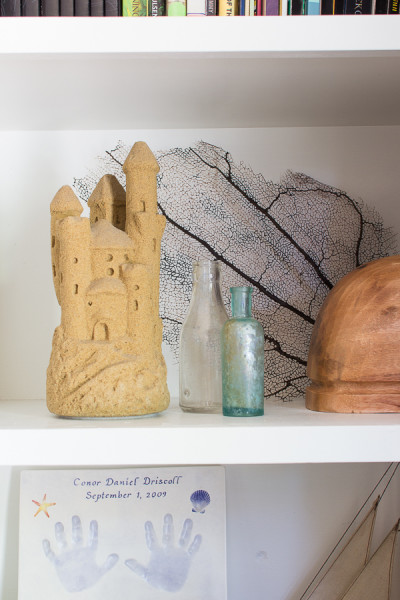 The sandcastle my father bought me on a trip to Florida when I was little looks perfect in here with a sea fan and antique bottles.
A favorite on the bookshelf is Wayfair's Waterside Two Piece Bookend Set.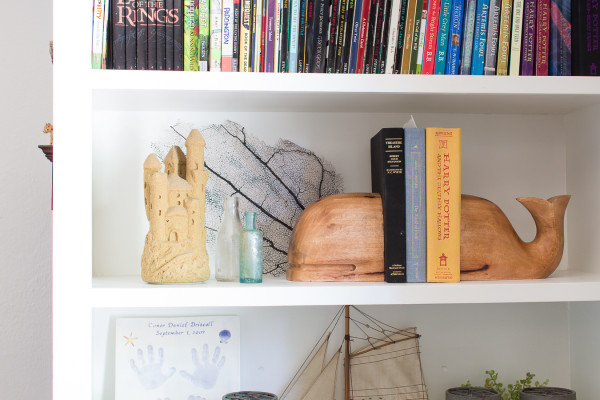 Isn't that whale just the cutest? Conor and John love it.
They also adore their new bedroom. They are in love with it! In fact, the boys have the biggest bedroom in our house! A big thank you to Wayfair for working with me on creating a space my boys love! If you're interested in seeing more great items that Wayfair has they're doing a huge back to school spruce up sale.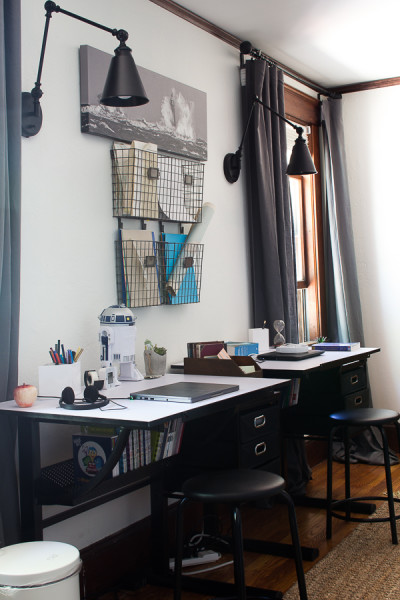 In case your interested in any of the elements which went into their room makeover here's a source list:
Kids Modern Vintage Workspace Sources
Sharing with: