I'm so inspired by Nature. Today I wanted to share how to make sunprints with items in your own backyard.
For years, I've wanted to make sunprints with my boys and thought now was the perfect time to try it. I thought they'd look pretty in homemade frames in our entry.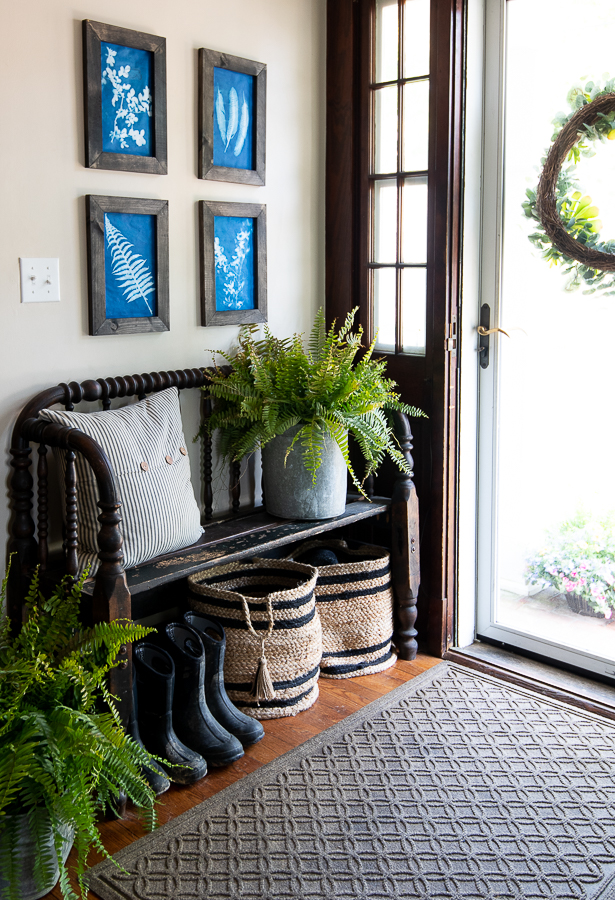 I'm excited to be taking part in Krista's (The Happy Housie) Seasonal Simplicity Series for the next 7 weeks.
I don't know about you but I always feel closer to nature in the summer months: we grow our on vegetables, spend hours at the beach but also enjoy so much time outside in our yard enjoying the coastal breezes. I've always found so much inspiration in our own backyard from ferns, flowering branches, feathers etc. This project is a perfect way to reconnect with nature and it's so easy to do.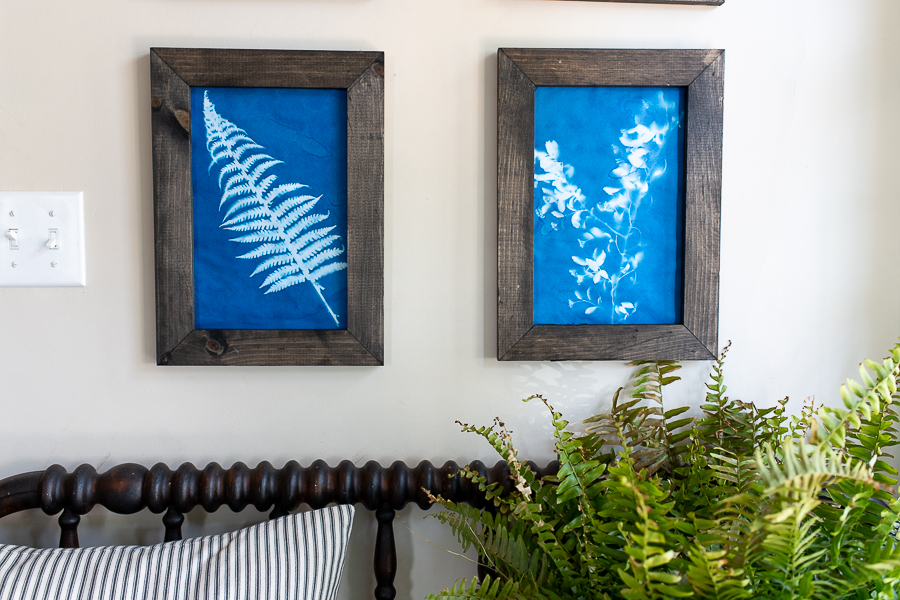 I actually got a kit on Amazon and we made the frames with materials we had in the basement.
I'll share what I learned below.
This post contains affiliate links for your convenience. You can read my full disclosure policy here. If you make a purchase via one of the links, I will receive a portion of the sale. Thank you for supporting my blog in this way.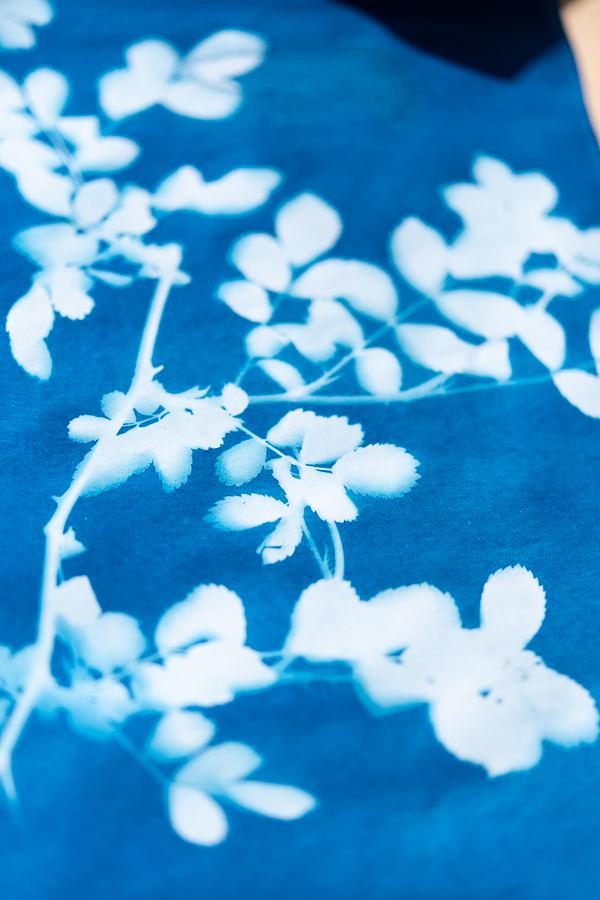 How to Make Sunprints
Materials
This kit is incredible because it includes EVERYTHING you need except for the cardboard. It really is so much fun finding things to make prints with. The sunprint solar paper undergoes a chemical change when exposed to the sun and leaves a silhouette print of the object. Included in the kit are 15 pages and an acrylic sheet.
Method
Step 1 – Collect a variety of items you want to make prints of. I found that things with lots of detail worked best. I tried a Monstera leaf and it just looked like a heart on the page.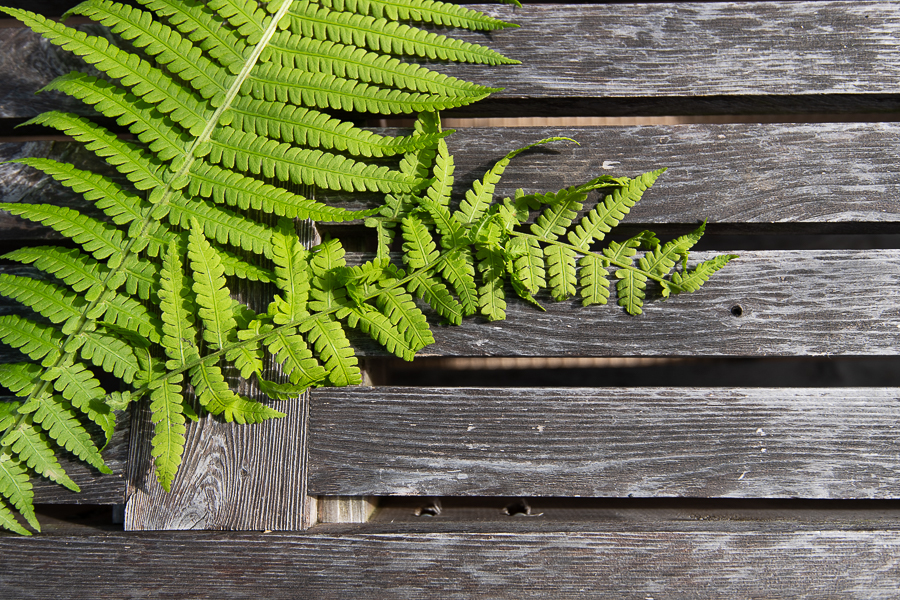 Step 2  – In a dark area take a piece of cardboard then the blue sunprint paper, carefully place your object (see the fern below) and add the acrylic sheet on top (this is included in the kit). I did a few different ferns, as I loved how they came out. There's something about ferns, don't you think?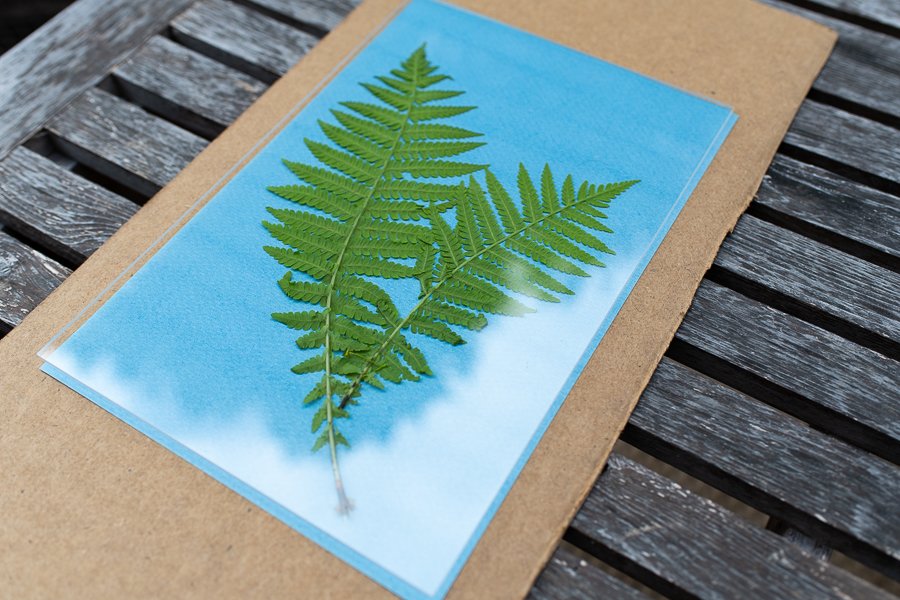 Step 3 – Allow the paper to sit in the sun for up to 5 minutes. Just keep an eye on it. Just before it goes white bring it inside and rinse with water to set the image.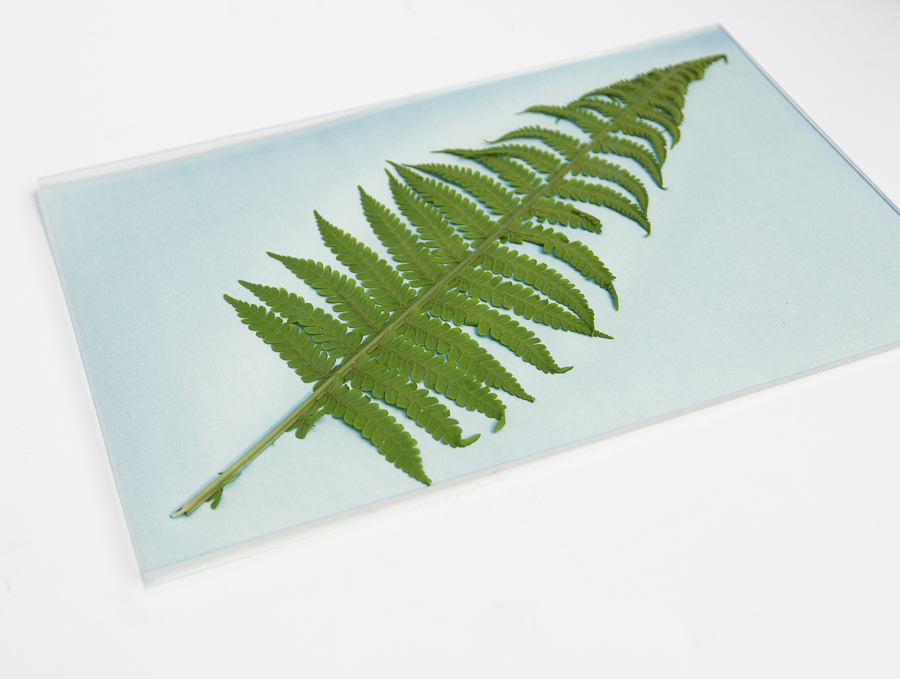 Here the paper has turned almost white on another fern.
Step 4 – Soak the paper in water for a minute. I tried initially running it under the tap but that made the paper rip. I filled this basin with cold water and soaked for a minute to make the image set. I held the paper over the basin after a minute and allowed the excess water to drip off.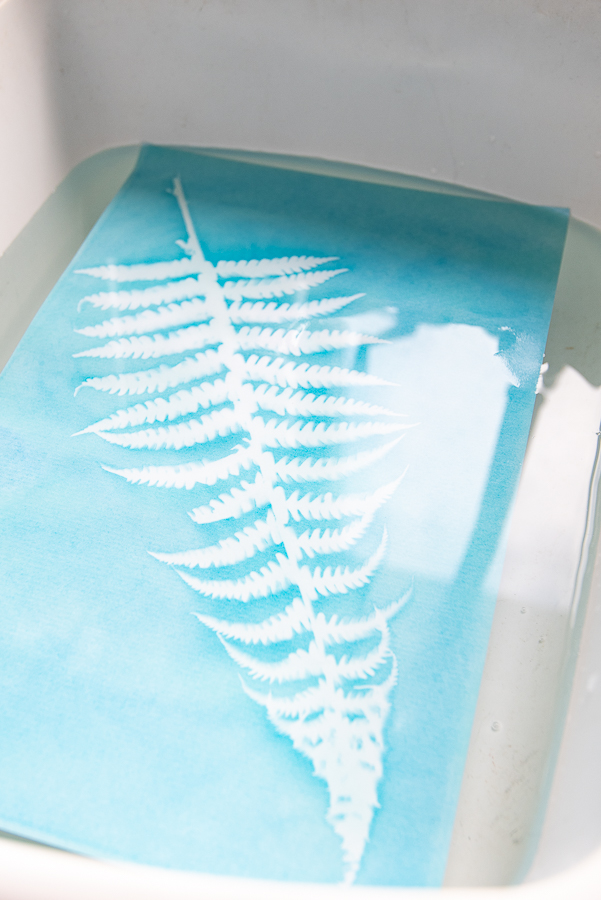 As the paper is wet it brings out the blue to the page and will get more blue as it dries.
Step 5 – Allow to dry flat. I used paper towels to allow the prints to dry.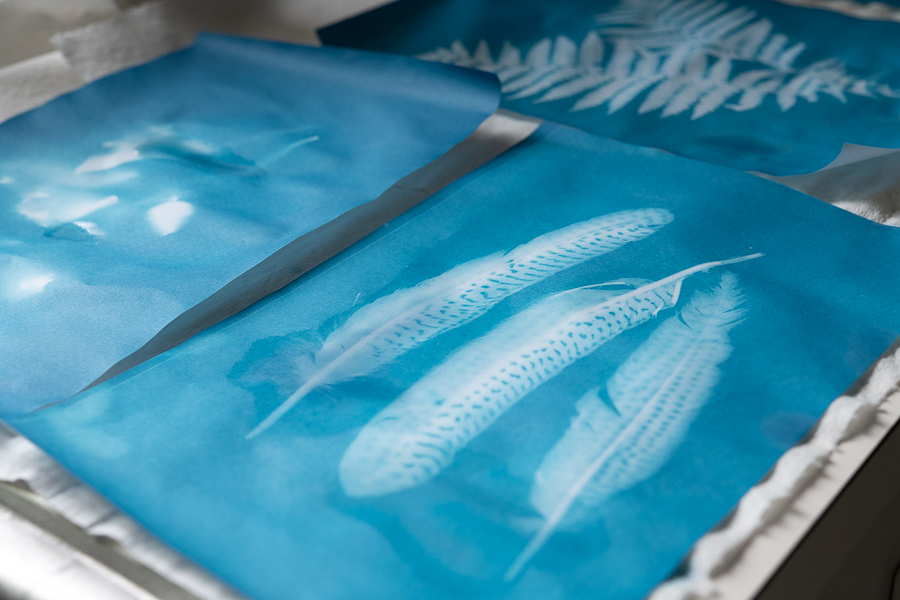 I will say that some water pooled in areas and left watermarks. I'm wondering if using a hair dryer would prevent this but I'm not sure. I don't know if it would affect the chemical reaction. I also wondered if drying on a wire rack would prevent the watermarks. If anyone at home knows, let me know because I want to make more!
But to be honest the watermarks don't bother me that much as it adds Wabi-Sabi. These are handmade and those watermarks show that. Here's how the fern came out: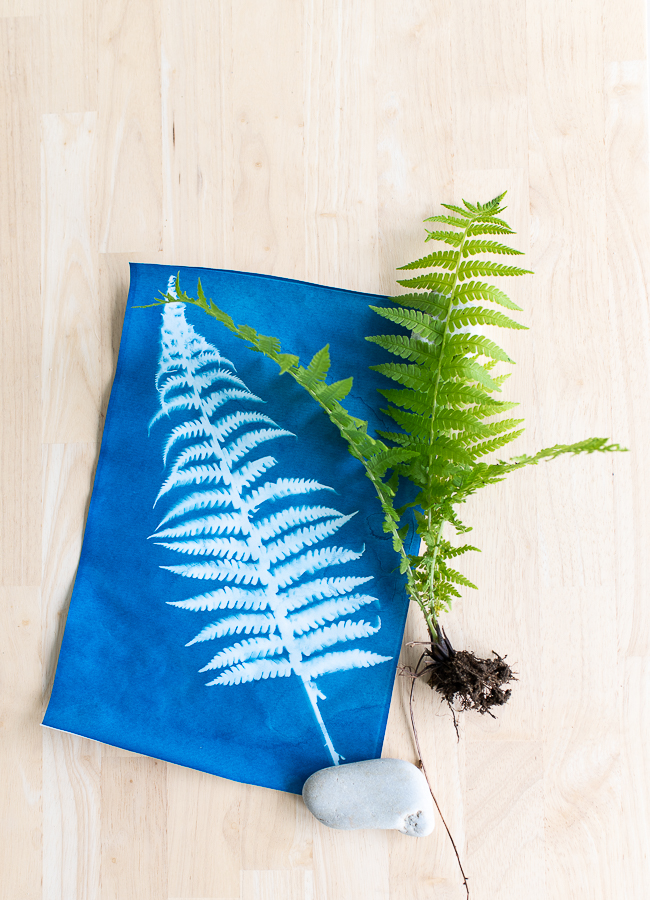 Okay, before I tell you how to make the frames, I wanted to give you a few tips on sunprints. The kit says that you don't need to use the acrylic sheet if you're doing a sunprint of something three dimensional. I tried the Korean Spice Bush without the acrylic sheet and you could only see the stems, petals and a few white specks.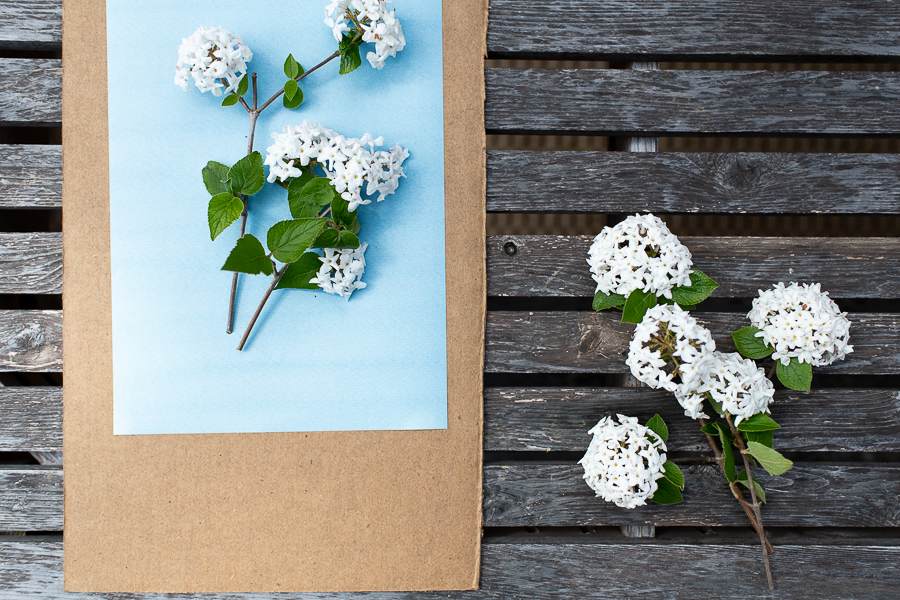 Then I did it with the acrylic sheet and it made all the details and pretty flowers show up.
I tried apple blossoms on a branch but there were just too many flowers and leaves to really show the detail.
Oh, one more thing. I read on Amazon that these prints can fade so you can use this spray to make them last. I didn't spray our prints yet, but I think I might.
For our entry I framed a climbing rose, feathers, ferns and bridal wreath (from top to bottom)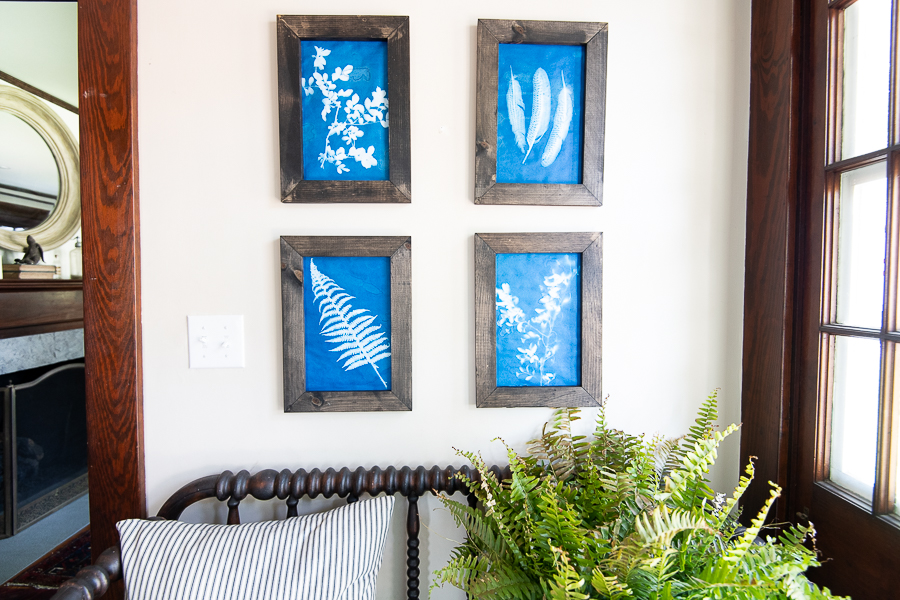 Okay, wanna learn how to make the frames?
How to Make Rustic Frames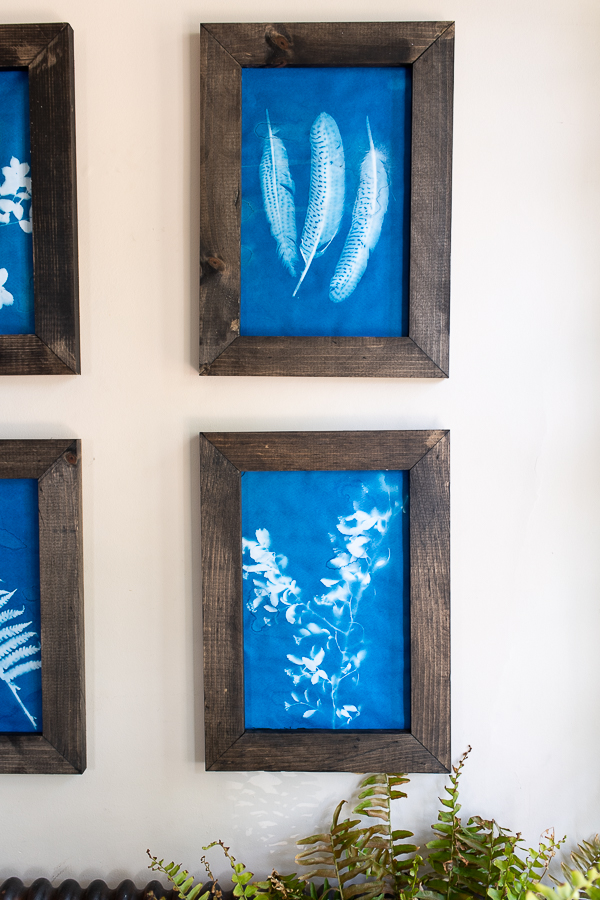 Since the paper isn't usual size (8×12) for frames and because my hubby is so handy I thought it would be fun to make the frames ourselves!
Materials (to make two frames)
Method
Step 1 – Rip the board in half which is 1 3/4″.
Step 2 – Using the table saw and a dado set, or a router, or a hand plane cut a 1/2″ x 1/4″ deep tenon on one edge of each board.
Step 3 – Make 45 degree angle cuts either with a table saw and guide or a compound mitre saw. Making sure the tenon is on the inside. The inside dimensions of the frame are 7″x11″.
Step 4 – (optional) Make biscuit joints in each of the corners. Set out the frame and insert optional biscuits.
Step 5 – Glue the joints the frame facedown.
Step 6 – Staple the corner joints together.
Step 7 – Using a brush apply  Homestead Houses' Finishing Oil in Ebony. After 10-15 minutes wipe the excess off the wood. I only did one coat and like the semi transparent finish. I love that you can see the wood grain through it. If you want it darker you can do additional coats. The great thing about this stain is that it's a stain and finish in one so no need to add an additional top coat. Allow the stain to dry. (I left it overnight)
Step 8 – Frame your artwork and secure the plywood back with these turn buttons and screws.
Hang up your art! We like to use velcro command strips
.
Here's how they look: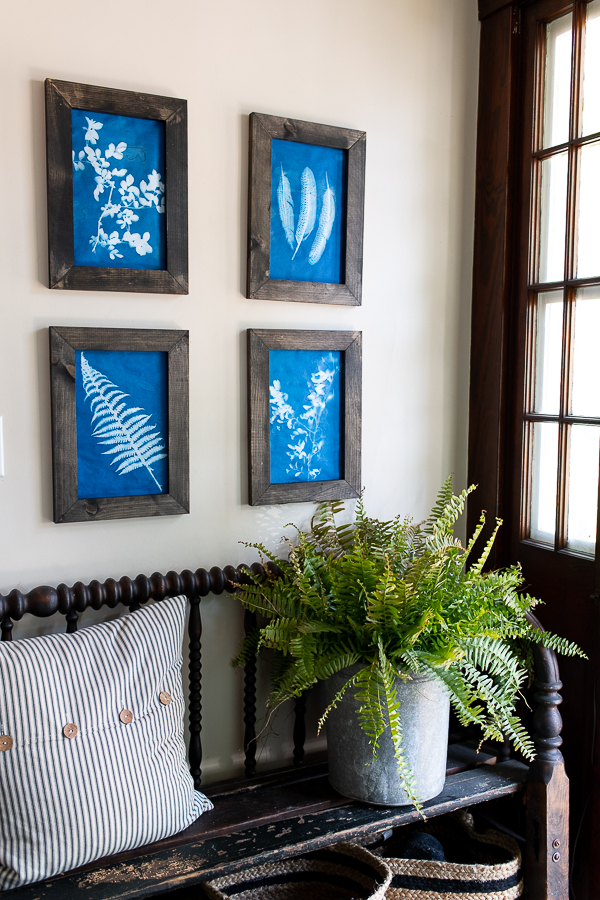 I love indigo blue and white together. It just says summer to me. These prints are the perfect marriage of that color combination. I also love that we made them from beautiful things in our own yard.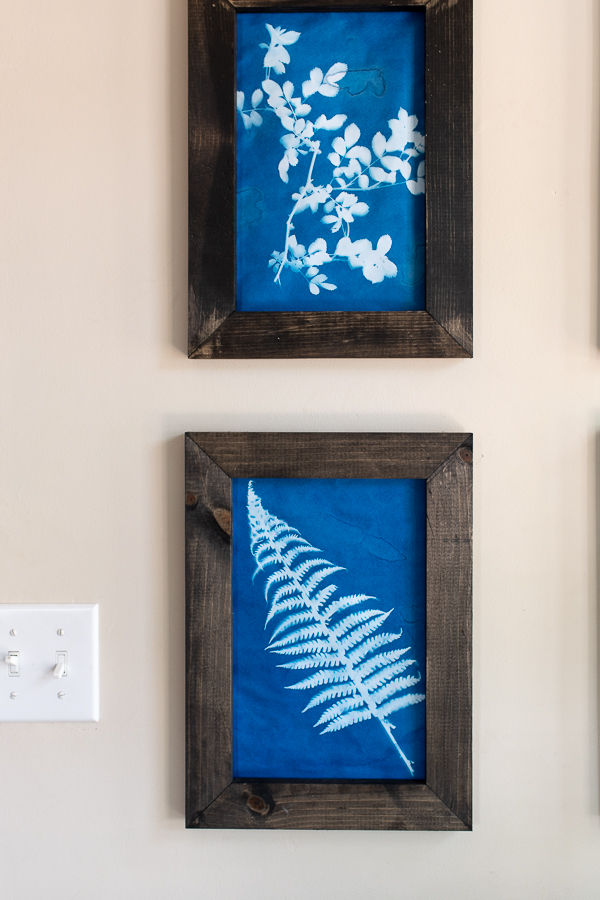 The bench is an upcycled Jenny Lind bed. You can see the tutorial here.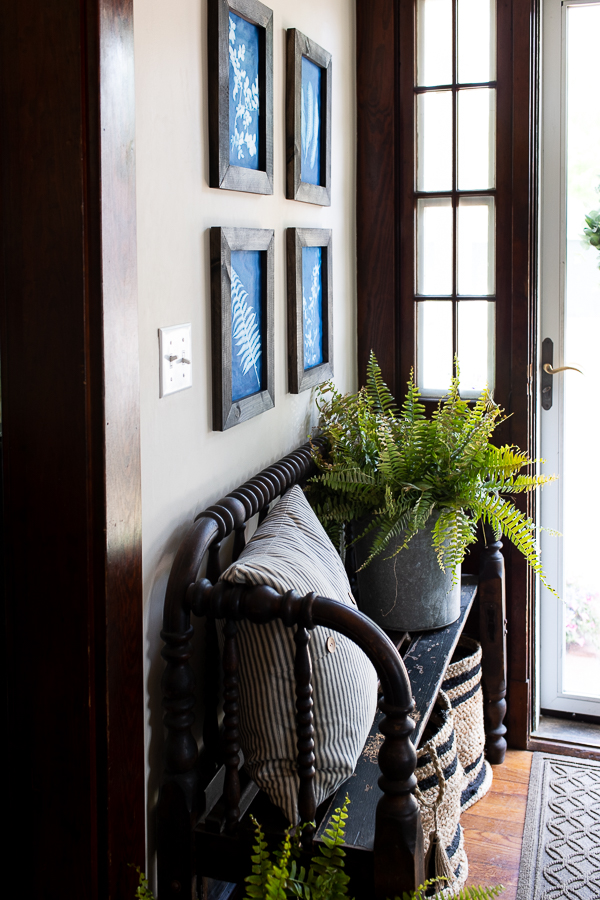 It's narrow enough for right by our front door.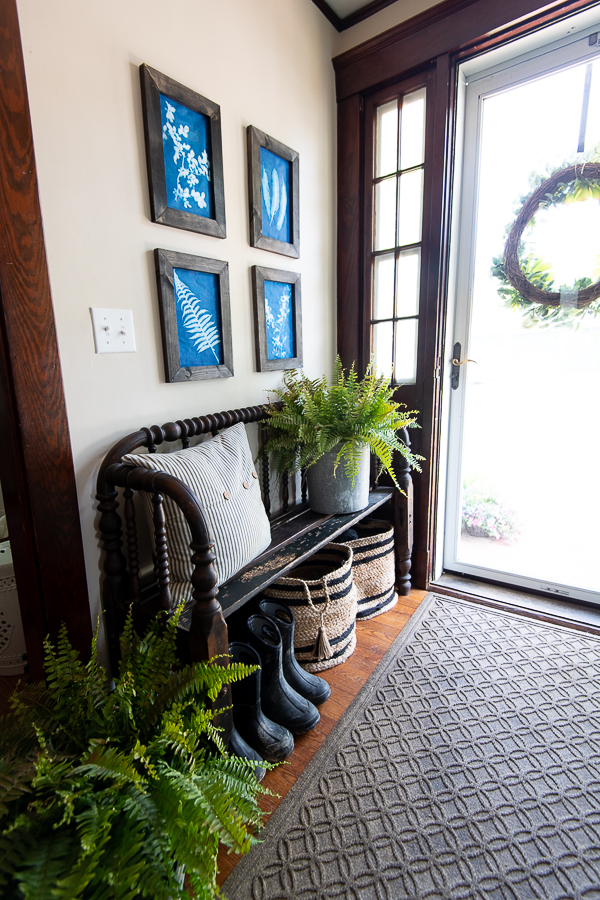 You can see my kids muddy boots above and below 😉 !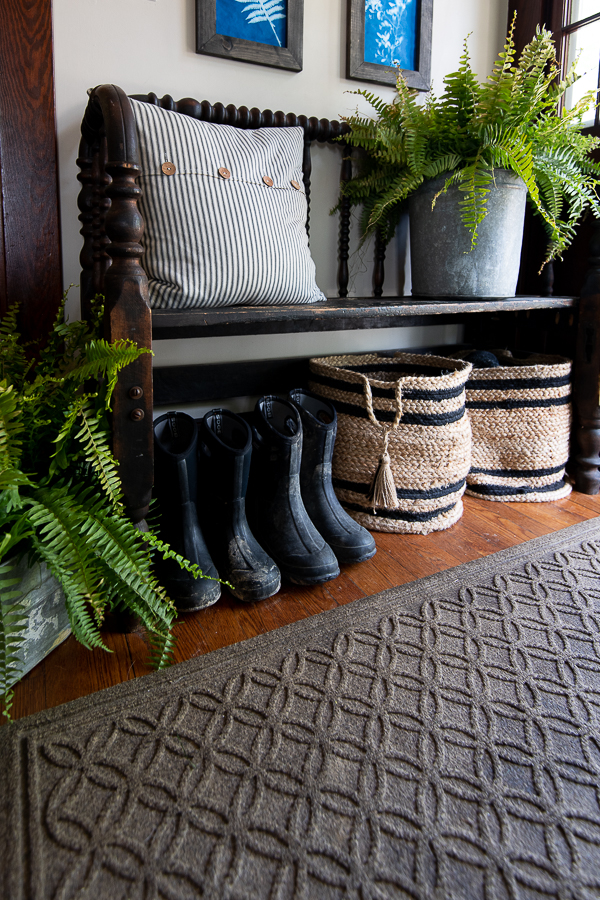 I will be sure to include a full source list below as I always get questions on sources when I post.
If you enjoy this post, be sure to pin this idea for later and to share it with friends. It's a great project to do with your kids this summer.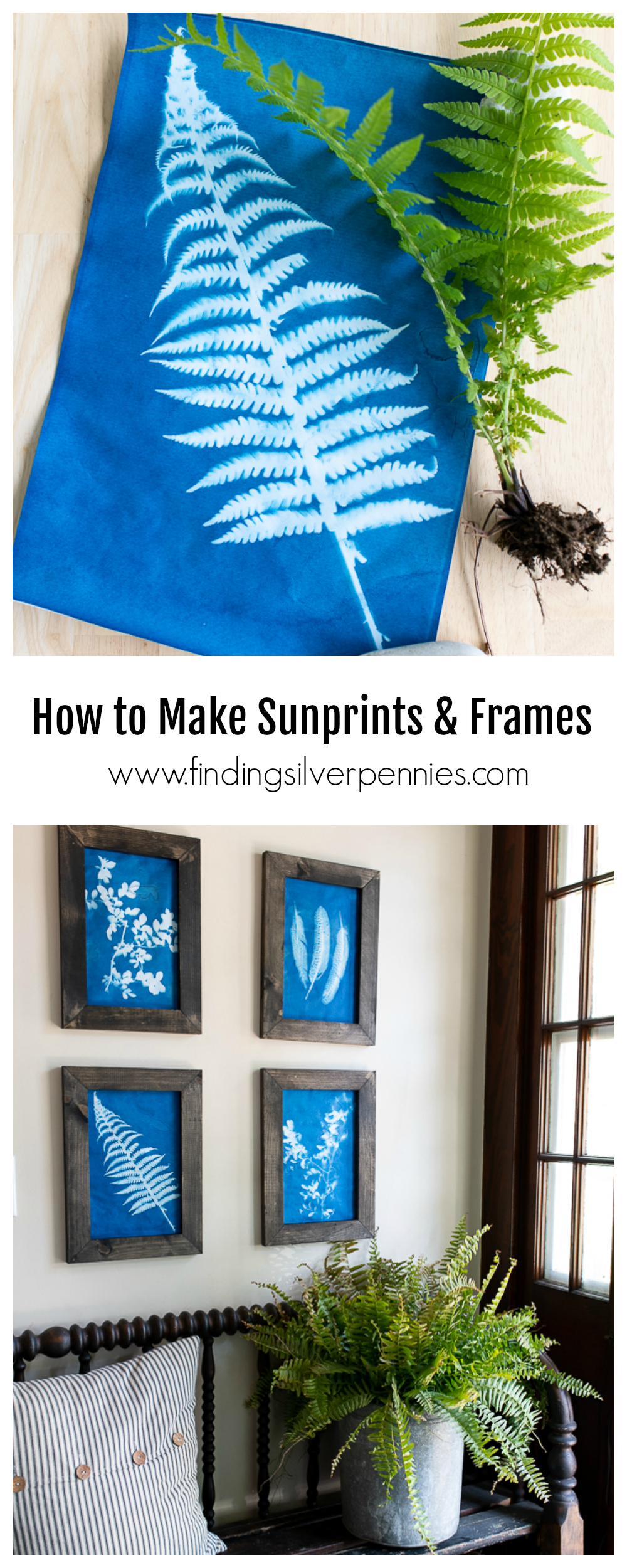 Visit all my friends to see more Simply Summer Crafts & DIYs
The Happy Housie / Home Made Lovely / Taryn Whiteaker / Craftberry Bush
The DIY Mommy / Duke Manor Farm / Zevy Joy / Inspiration for Moms / Newly Woodwards
Satori Design for Living / Tidbits / Sincerely, Marie Designs / So Much Better with Age / Town and Country Living
Paint Me Pink / Finding Silver Pennies / Southern State of Mind / The House of Wood / Amber Tysl

Source List
Wall Color – Muslin by Benjamin Moore in Matte
Pillow – HomeGoods, similar pillow here
Ferns – The Home Depot
Jenny Lind Bench DIY – DIY Project
Galvanized Containers – Vintage, similar here
Rug – L.L. Bean
Frame Stain – Homestead House in Ebony
Sunprints Kit – Amazon