Today's post was a labor of love! Luke built me the most beautiful new nightstands for our bedroom. Well, one is done and one is still on the way.  Soon, we'll have two of these flanking our bed. Would you believe me if I told you the top was MDF? Well, it is! Today, I'm going to share how I created my DIY Faux Soapstone with paint!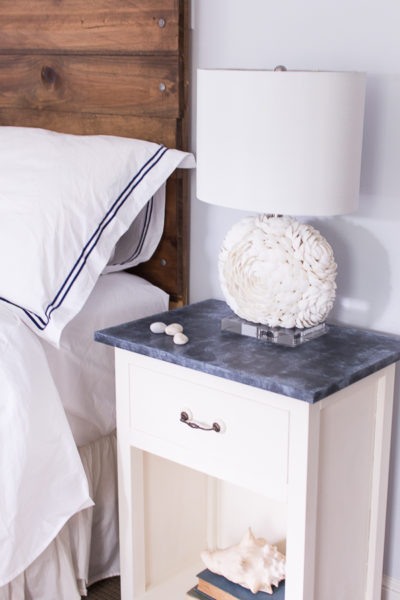 Isn't it stunning!  Luke did such an amazing job.  He really enjoys going down to the basement and building.  I come up with ideas and he comes up with a way to make them happen; each time getting better and better and improving his skills. You may remember last year he built us a new outdoor table and benches. Over the winter he built me a console for our living room. Well, this time I told him I wanted to update our bedside tables; they worked great in our other home but I thought something streamlined with more storage would work better.
Before I share the painting tutorial I have to show you a few more pictures of the table and Luke's artistry. I hope he doesn't get mad! Once he builds the other one, we'll share the plans for the build.
For this project, he taught himself how to do dovetail joints and they are soooooooo beautiful.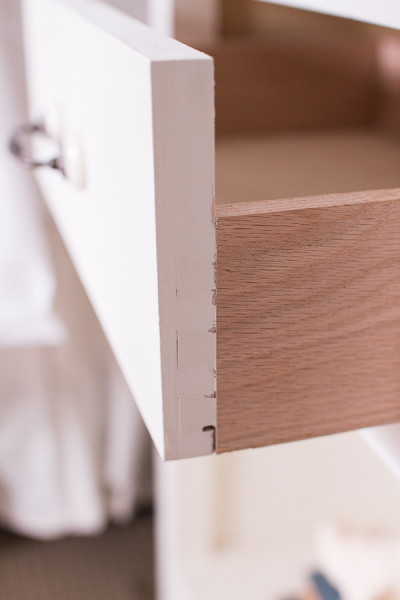 I shared this picture on Instagram: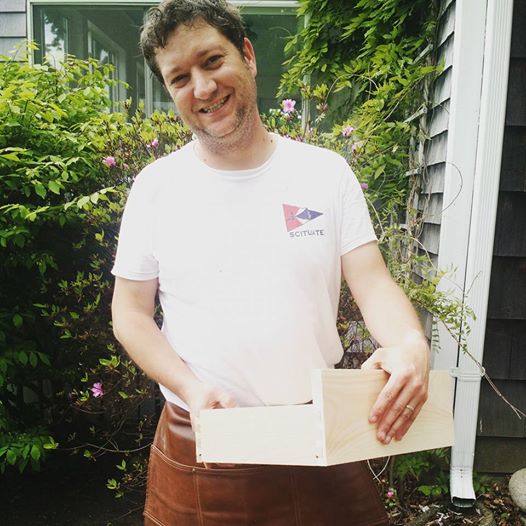 He was so chuffed with himself and so was I. 😉 That hubby of mine is wonderful!
Right, let's get on with the painting!

Note: I've included a few affiliate links in this post. 
DIY Faux Soapstone
Materials
Primer (Optional- I used bare wood and wanted to make sure the paint didn't get sucked into the wood)
Graphite and Louis Blue Chalk Paint®
Annie Sloan Clear Wax
Paper Towels (textured)
Spritzing Bottle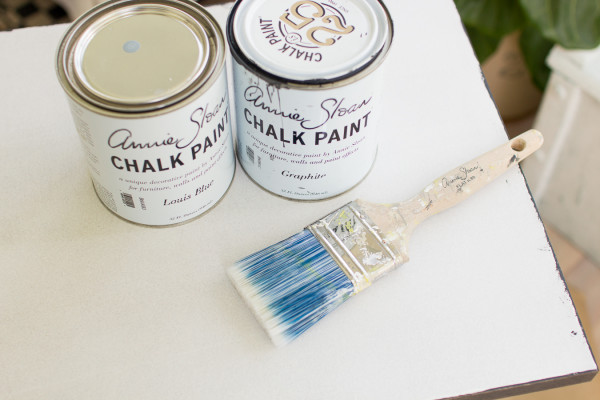 Method
(Optional Step – Priming first)
Step 1 – Graphite Chalk Paint® is the first layer.  Graphite is a soft black or charcoal grey by Annie Sloan. Two coats were applied.
Step 2 – Create a wash using Louis Blue Chalk Paint® mixed with water.  In sections, paint onto surface with a flat brush, immediately spritz with water and blot with a textured paper towel.  Once done move to the next section until finished with the top. Try to avoid leaving any lines, if this happens you can add more paint and spritz with more water and blot.
Special Tip – Work in sections, the paint can dry fast and you want to work pretty quickly.  Do smaller sections.  If it starts to dry before you've finished the effect spritz more water.
Step 3 – Seal with clear wax. Using a wax brush apply a layer of Annie Sloan's clear wax and wipe off excess with cheese cloth.  It is good to work in sections for this step as well.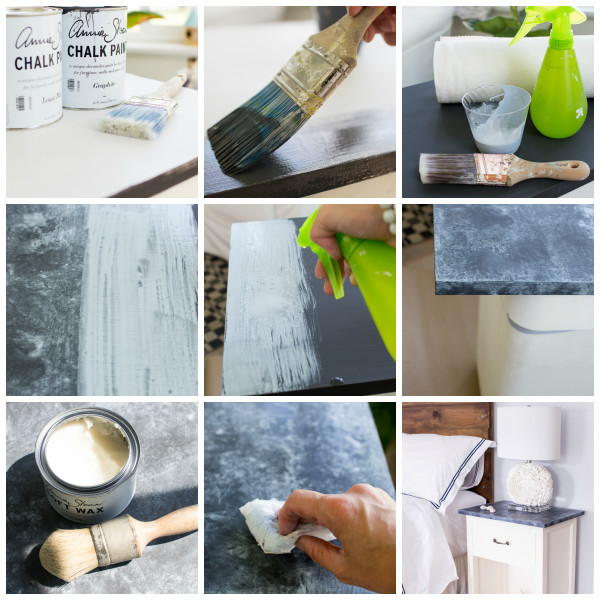 Can you believe my beautiful soapstone is actually paint?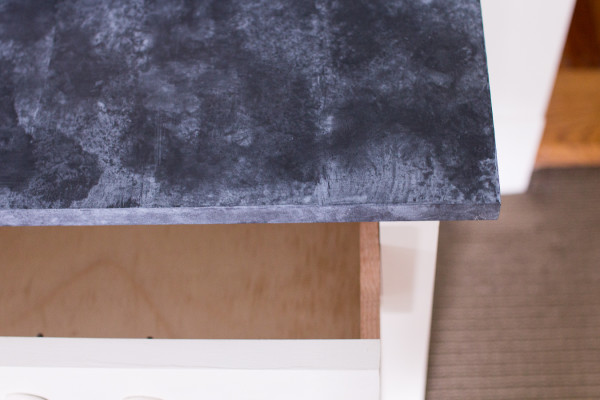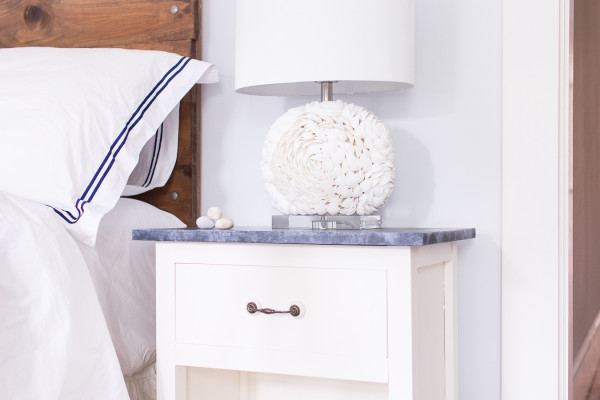 The body of the nightstand is painted a custom white.  I mixed together equal parts of Pure White and Old White Chalk Paint®. This is a favorite white of mine.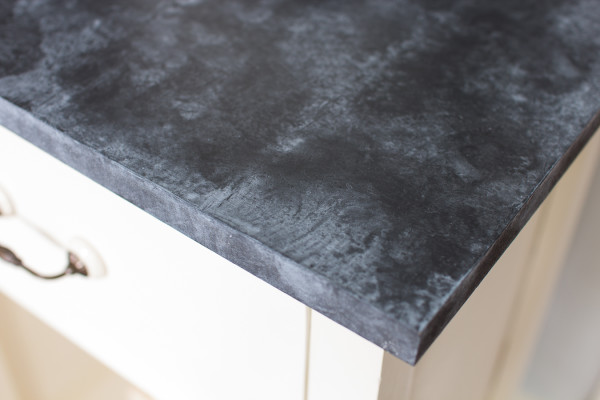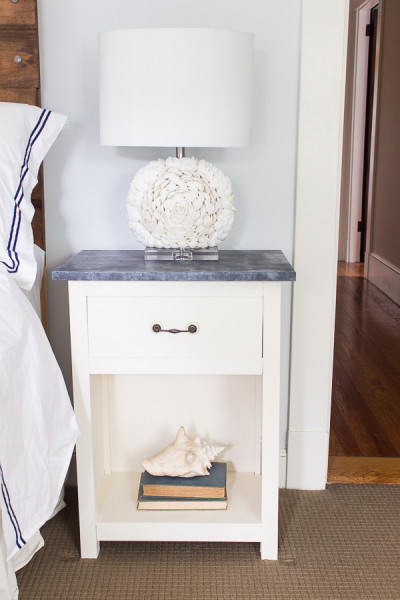 I found the gorgeous shell lamp at HomeGoods! That definitely made me HomeGoods Happy 🙂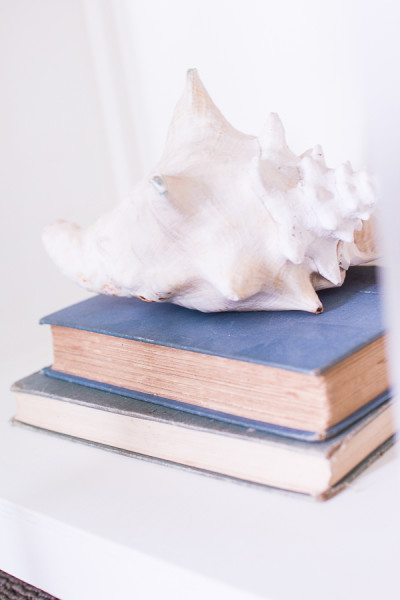 The gorgeous pull by Anthropologie: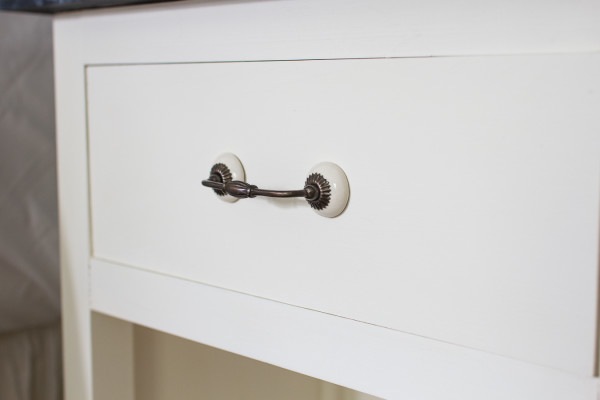 I like how it adds a classic touch to the contemporary feel of the nightstand.
Using paint to mimic nature is one of my favorite things! I've also created faux marble and faux galvanized metal in our home.  I think the only way you'd know it isn't real is by feeling it because these surfaces don't feel cool to the touch.
Do you think you'll try this technique at home?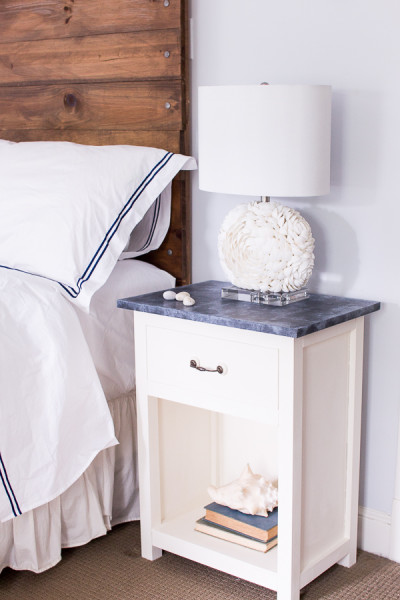 Techniques like this are all covered in my NEW eBook – On the Tip of My Paintbrush: Painted Furniture Techniques. To learn more about the book click here.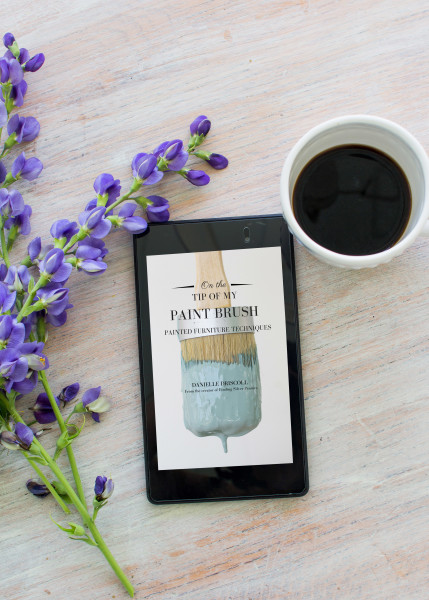 Sharing with: