Soft and serene, the colors of the sea and elements from nature create our coastal bedroom makeover.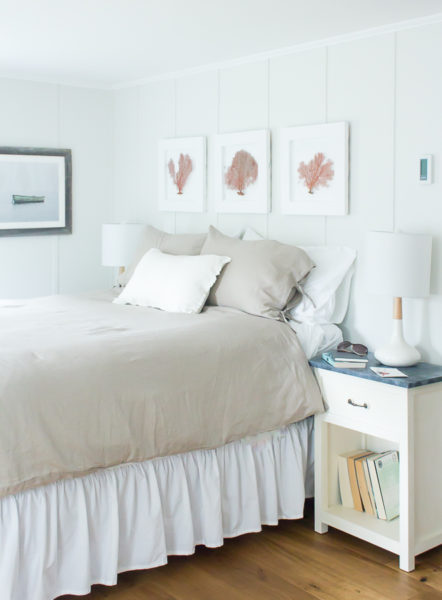 If you've been following along then you know we've been working on our bedroom since July. I'm so excited to share the reveal with you today!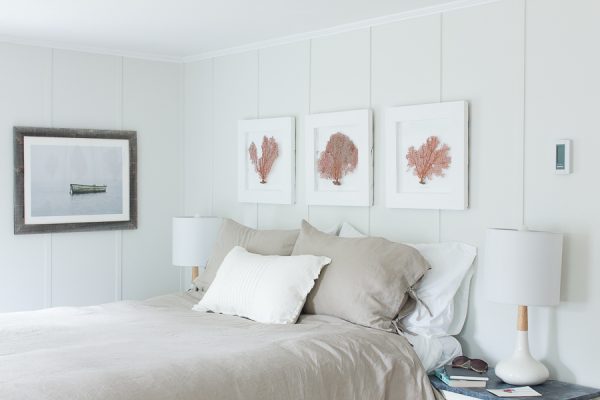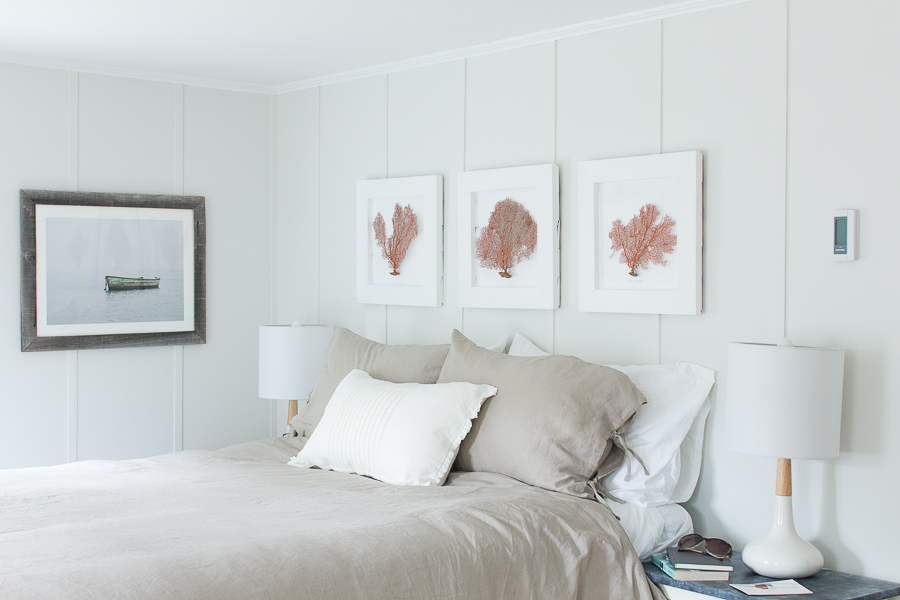 This makeover would not have been possible without the help of a few brands we partnered with. This post is sponsored by Stonewood Products who supplied the beautiful hardwood floors, RYOBI who supplied us with tools and Kilz who supplied us with Magnolia Home Paints. I am so grateful to these brands and absolutely loved using all of the products. All thoughts, images and opinions expressed in this post are my own.
This post also contains a few affiliate links. If you purchase via the link I receive a percentage of the sale. Thank you for helping support our blog in this way.
Let me step back and share how our room looked when we first moved into our home 4 1/2 years ago.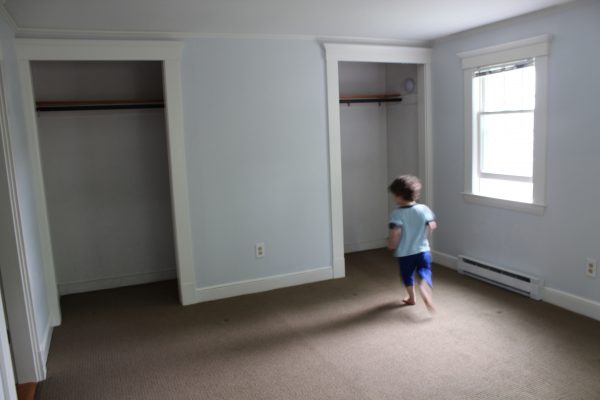 That is the day we moved in right before the movers came. Conor was so excited he was running all over the house!
Here's how our room looked right before we began the makeover: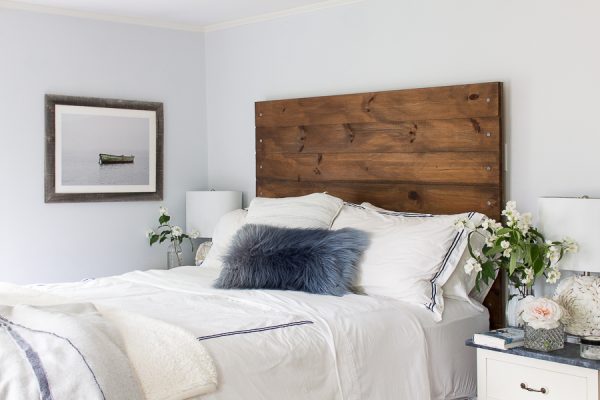 I never loved the brown rug in this room and although I loved the wall color I really wanted to make a change and create a soft coastal vibe. Our bedroom isn't large but I wanted to create the illusion of space with wood flooring and paneled walls. I shared my inspiration here and you'll see that some things have changed since I wrote it and I also changed my mind a bit too.
The wood flooring is stunning. It's engineered wood. We installed this ourselves and I shared the step by step here.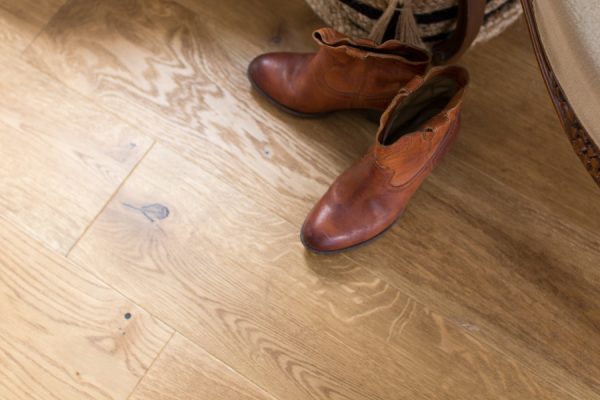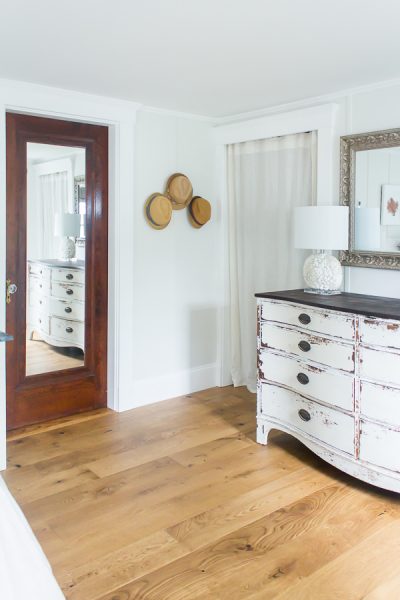 The flooring is wide planked French oak. We went with the Sierra finish by Sawyer Mason. The wood has added so much warmth to our space.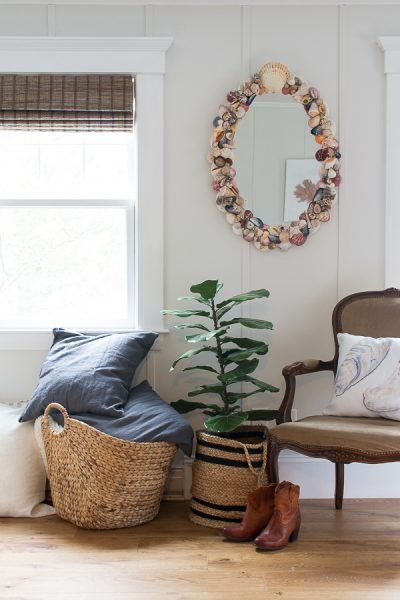 You can see how the light just bounces off the floor and makes the room appear larger.
We laid the planks along the longest edge of the room so it gives the illusion that the room is much wider.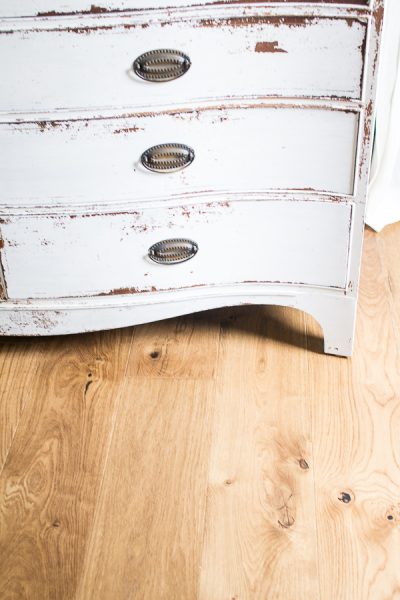 I adore the knots and the texture of the floor. It really is so beautiful. I love it so much, I'd kiss it a million times 😉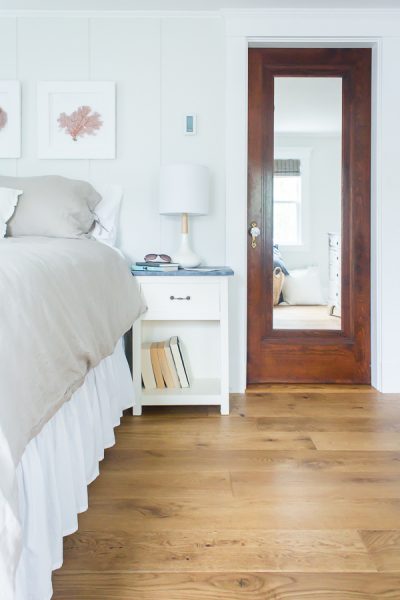 While in England, I fell in love with some magazine images of board and batten walls. I really loved how the paneling created visual interest but also makes a room appear to have higher ceilings. Our home has quite high ceilings but our bedroom was an addition done in the 1960s so the ceilings are not high. We used this technique here to apply the board and batten. It was really quite easy and affordable. We used primed lattice
we got from The Home Depot. The RYOBI airstrike
was perfect for this job!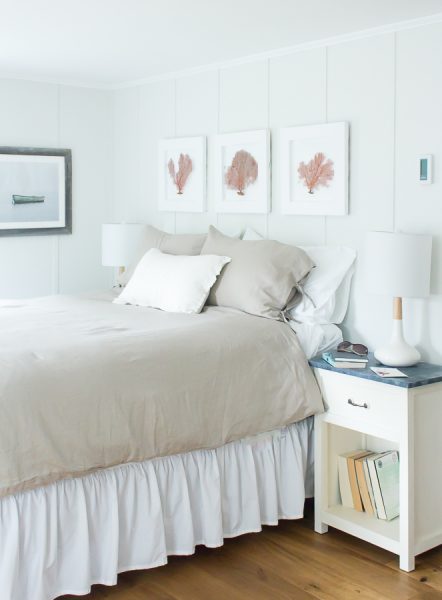 The wall color is Magnolia Homes' Shiplap and the trim is True White. I talked a bit about the paint selection here and here. This was our first time using the paint and we loved it for so many reasons – easy application, beautiful palette of colors and there was no real smell to the paint.
The color is perfect! It's a grayish white but warm at the same time. The white makes the trim around the windows and molding really pop.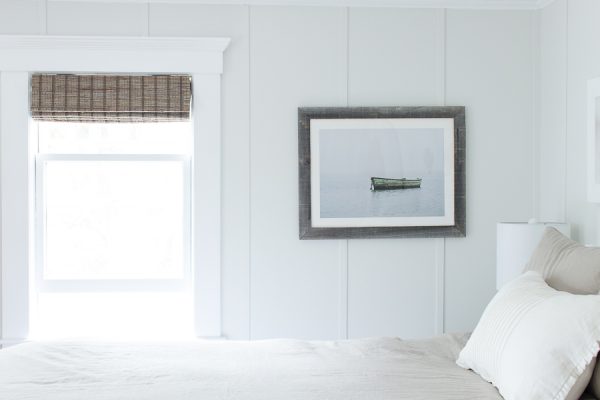 The woven blinds are from Smith & Noble and the boat photograph is from Minted.
Luke built the bedside table and I created a faux soapstone finish on the top, you can see a tutorial for that here.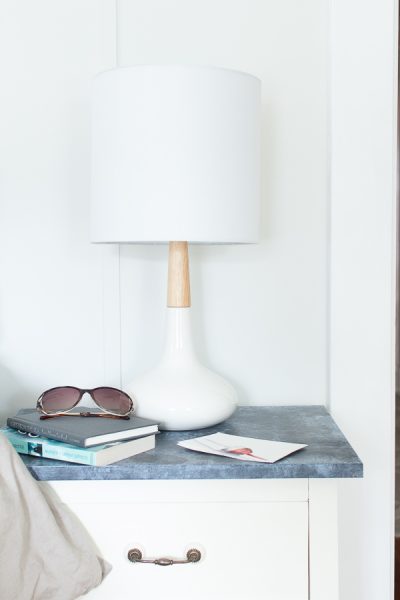 I found these lamps at HomeGoods and I love the mix of wood and modern shape. I love that the ceramic base has a slight sheen to it. I'm currently reading Murder on the Orient Express
to the boys and next on my "to read" list is A Gift From the Sea
. I'm still reading Maine
right now.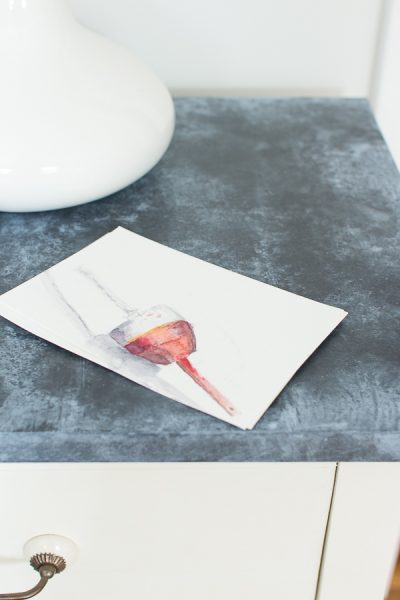 My first attempt at a buoy in watercolor. I'm gonna work on some more of these.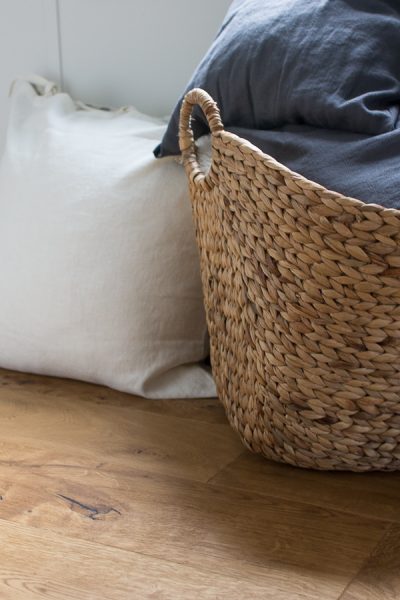 For this room I really focused on texture and how things feel. Sea grass baskets, chippy milk paint, sleek modern lamps, woven blinds, nubby linens on pillows and bedding, shells (lots of them) and gifts from the sea.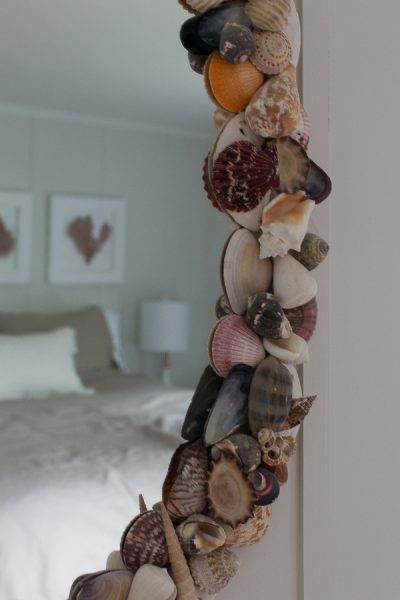 I'm sentimental about things.
I'm a collector of shells, of memories and of treasures from the past.
My mother bought me this seashell mirror on our first trip to Brimfield. I will treasure it always.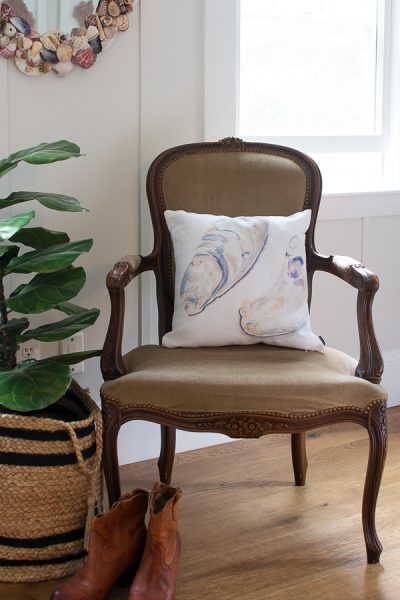 I'm thinking about rehupolstering this chair. Not sure yet though.
Placed on the chair is my oyster shell watercolor pillow.
These brass hooks are from my childhood home in Andover. My mom used them in our entry.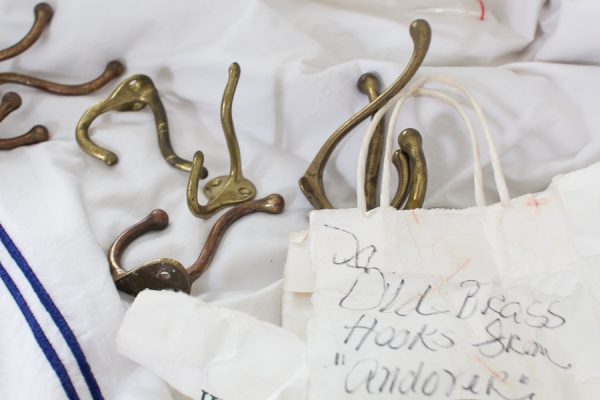 I'm so excited that I found an area to use them in our bedroom.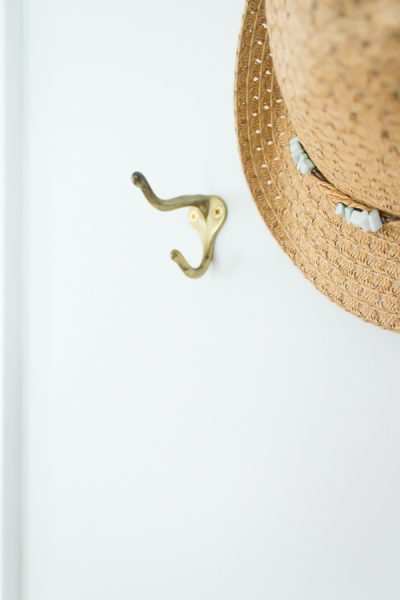 They are perfect for my collection of straw hats.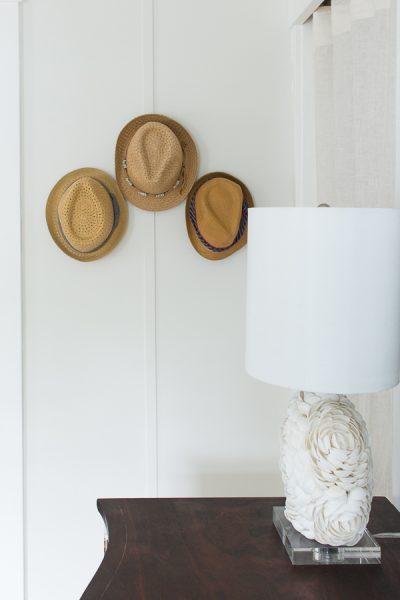 Most of the furniture stayed the same in this room.
Luke's gentleman's dresser, click here to see that.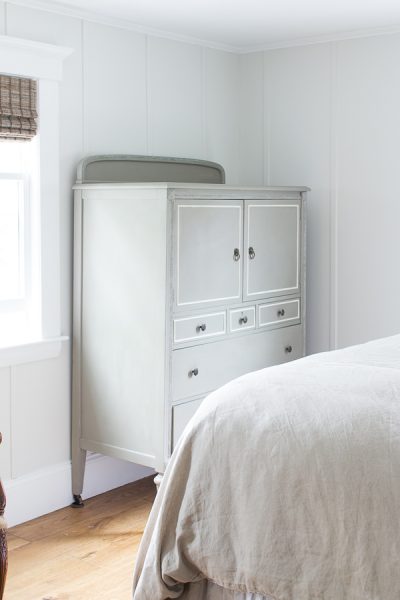 My pretty "Isla"! My chippy milk painted dresser.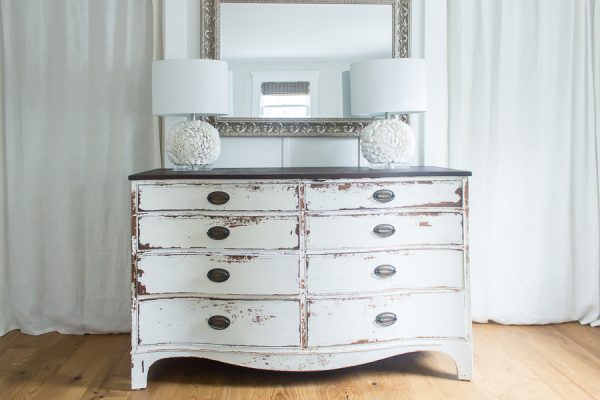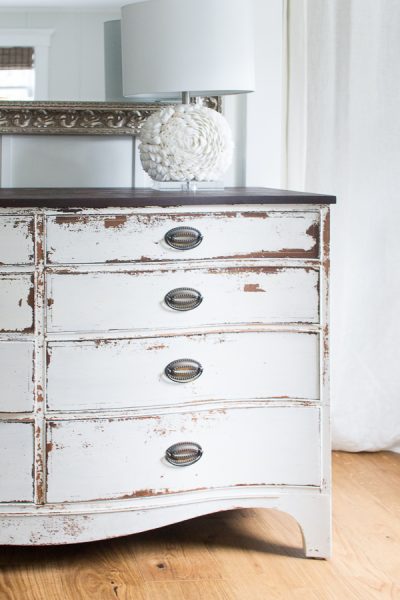 These shell lamps are also from HomeGoods. They used to be on our bedside table but I moved them here.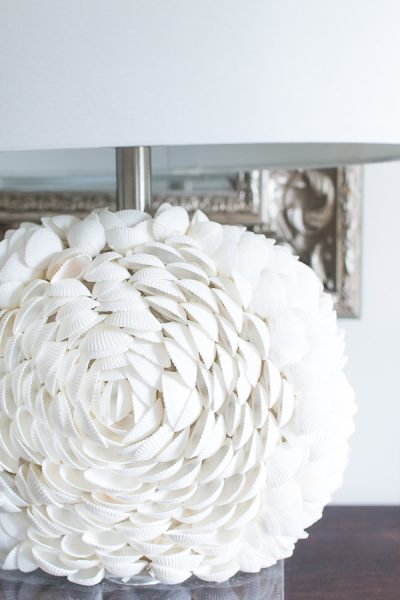 One other change you might have noticed is the bedding and that we decided to get rid of our "reclaimed" wood headboard. This was such a big decision. That was our first DIY together and I love the headboard (we're actually thinking of selling it so let me know if you're interested in it). So we really loved it BUT I felt like I wanted our room to feel lighter, to feel like the sea was just outside our window. I thought bringing that back in might make it feel heavier.
So then I started panicking! What am I gonna do about a headboard….
My friend found an old barn door that I loved but it was lead paint and I just didn't feel comfortable putting it above our heads, especially as I read in here to our boys each night.
So we thought and thought and thought.
We decided that we wouldn't have a headboard. Instead we made this sea fan wall art.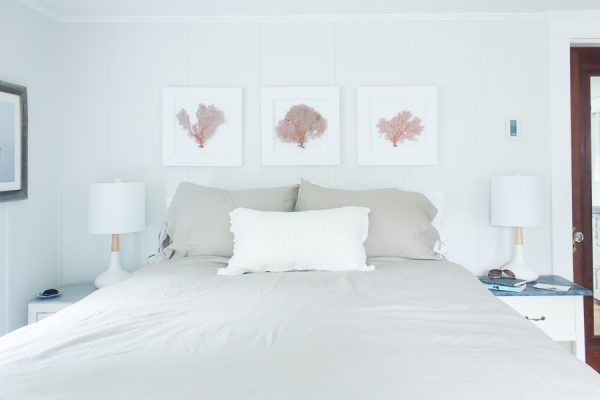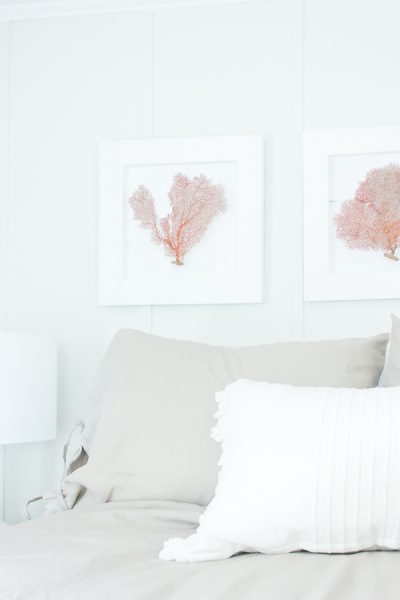 It's so simple and elegant.
I'll be sharing the DIY tutorial for these frames and sea fans next week on the blog.
The bedding is from Ikea. Linen duvet and shams and this sweet little pillow.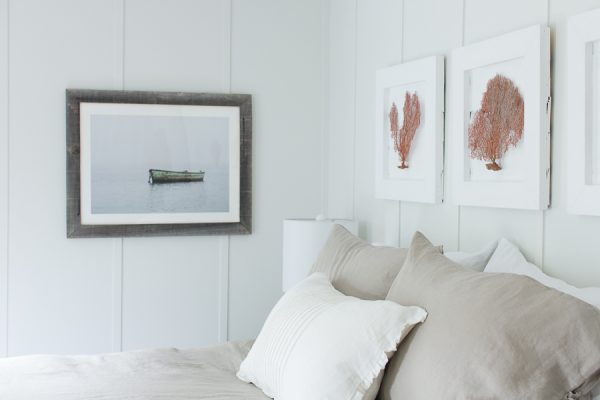 I hope you enjoyed the process of this coastal bedroom makeover. I know it took us some time, but I'm so glad we didn't rush it. It gave us time to do everything properly and also gave us time to make decisions that made sense for us.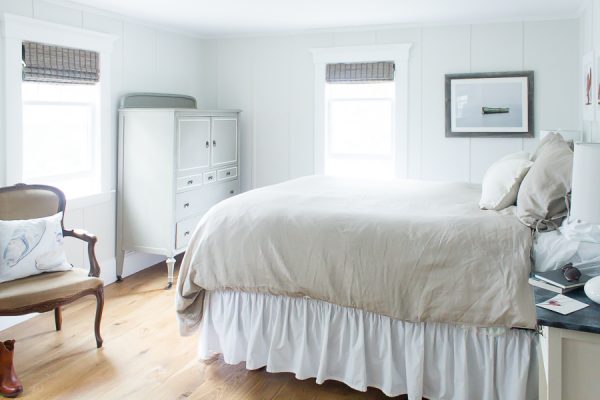 This may now be my favorite room in our house!
A huge thank you to Stonewood Products, RYOBI and Kilz for helping make my dreams come true.
I've included a full source list below.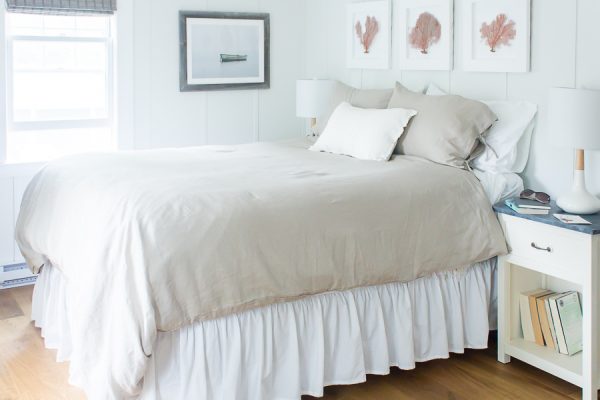 Source List