I partnered with Smith & Noble on this post. I'm so excited about the new window treatments in our half bath and bedroom.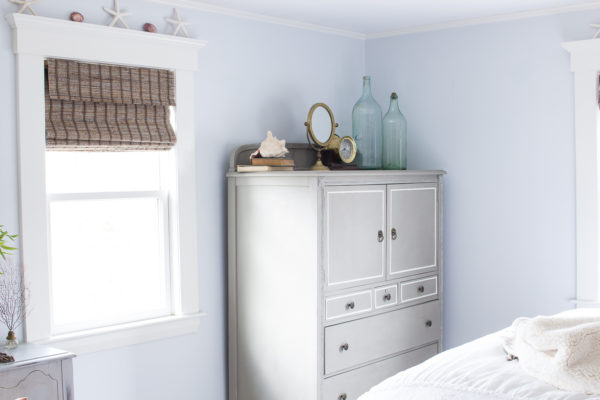 You guys I'm so excited to share the new shades I chose from Smith & Noble.  Last time we chatted about these rooms, I was asking for your help.  If you missed it click here.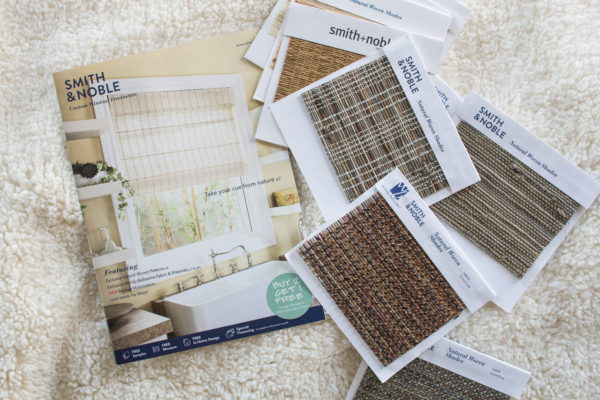 Smith & Noble actually has such a huge selection that it was really hard for me to choose just one I liked.  I really loved so many of their swatches.  I'm so glad they offer the free service of swatches directly sent to your home.  It really helps seeing it in your space.  You guys were so thoughtful with your comments and some of you know me soooooo well. For the bedroom, I really thought we were going to go with the Wendy Bellissimo Sutra/Grey but after seeing it in our home, I wanted something with more definition.  We ended up choosing the Wendy Bellissimo Santa Barbara / Natural Grey.  They are soooooo beautiful: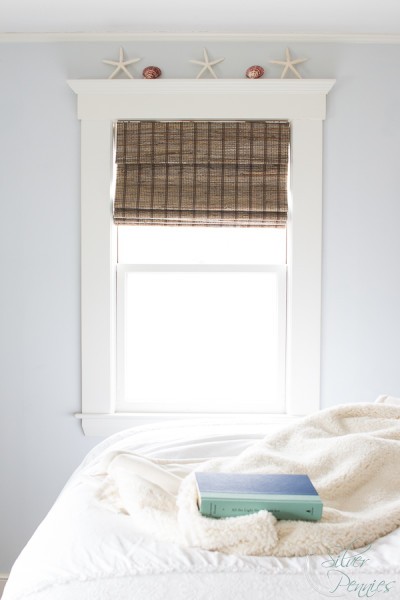 I love the brown detailing that almost acts like stripes and coordinates with our headboard.  I also like that I can vary the length easily depending on my mood (the below image shows it with the blind all the way open – perfect when we want to open the windows and allow the fresh ocean air to come in).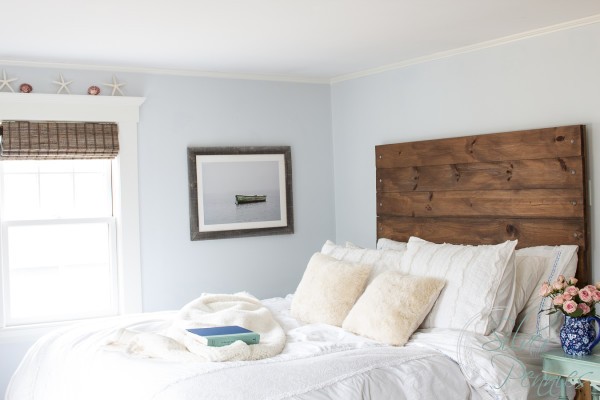 You're probably wondering if these were easy to install, right?
Luke and I found them very easy to install ourselves.  Smith & Noble supplies great directions that came with our blinds.  We simply measured to find the correct location for the brackets, marking them with a pencil and drilled pilot holes.  Then we screwed the brackets in place: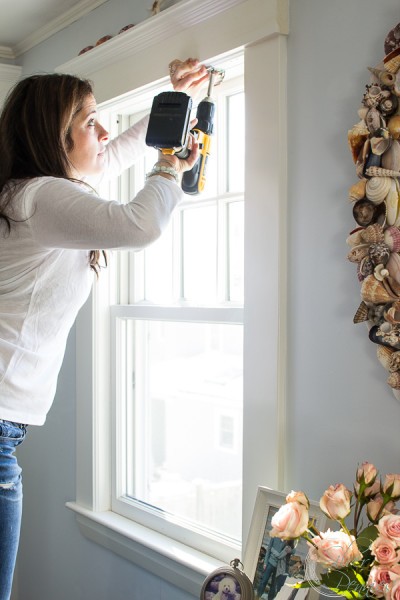 The roman shades easily click into the brackets.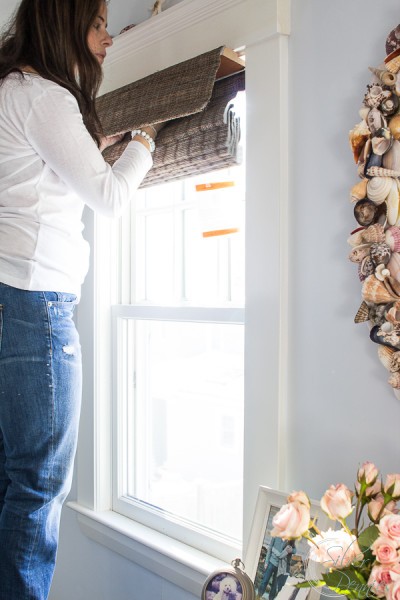 A few clicks and your blinds are up!  We opted for the cordless option as a safety feature with children in the house, but also because they are easy to use (no cords to tangle). These open and close so easily.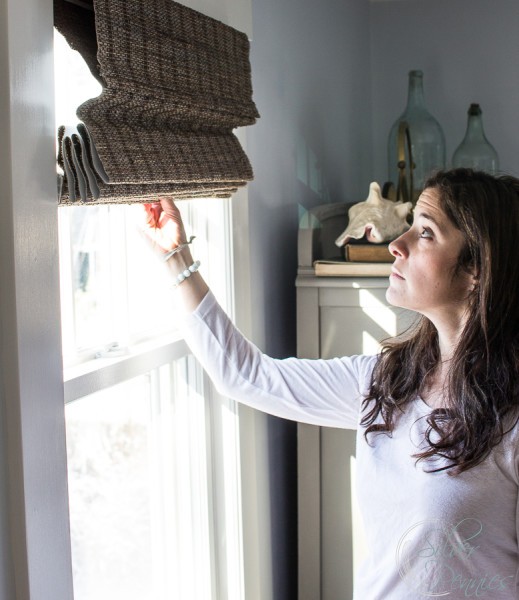 If you feel you're not up to installing them yourself, Smith & Noble also offers a great installation service.
Being our bedroom, we opted for the blackout lining and this makes our room so dark and wonderful for sleeping.  Truly a game changer on days we want to sleep in 😉  It will be fantastic in the summer when the sun rises early too.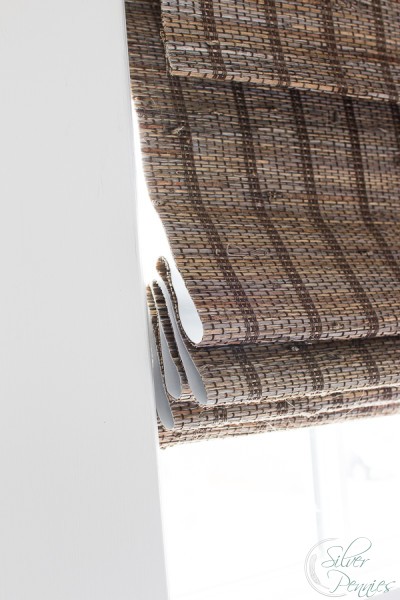 The texture on these blinds is just so amazing!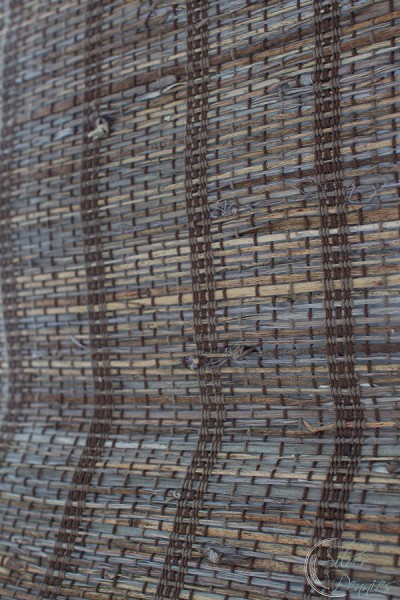 It reminds me of the colors of the driftwood I love so much and picks up all the decor of our bedroom.  It also goes so nicely with our rug.  I must admit I really didn't like the brown rug in our bedroom and I was thinking of replacing it, but now I think I'll leave it!  My hubby is happy about that!
So here's a recap of a before and after:

I did nothing but change out the blinds and add a few decorative elements BUT I feel like I have a whole new room.
Isn't it amazing?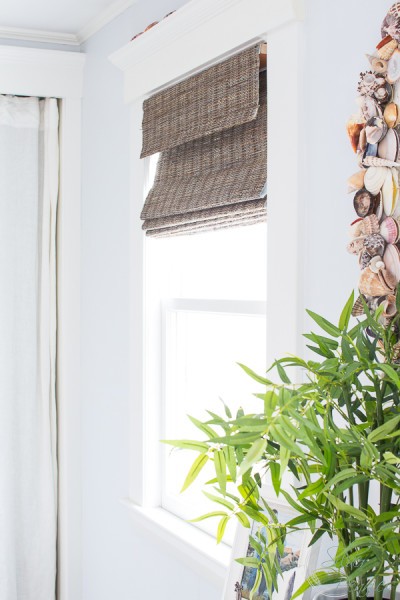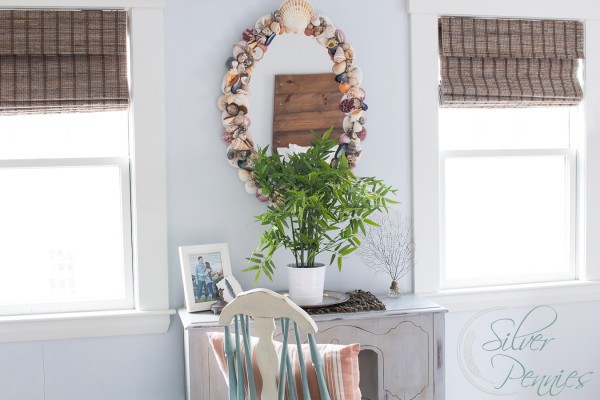 The new texture adds so much warmth to our bedroom and I love that!
Do you want to see what we chose for the bathroom?
We opted for the starfish roman shade in sand: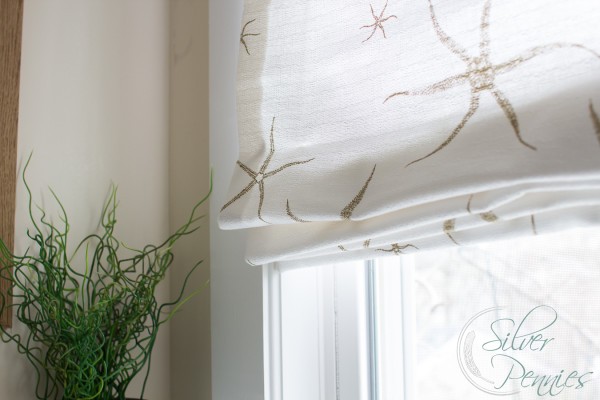 I was toying with the idea of blue starfish or of a blue pattern but I always do blue and I wanted to try and go more neutral.  Also the starfish color goes so well with the grout on our hex tiled floor. You can see how it really pops with all the swatches I was thinking about: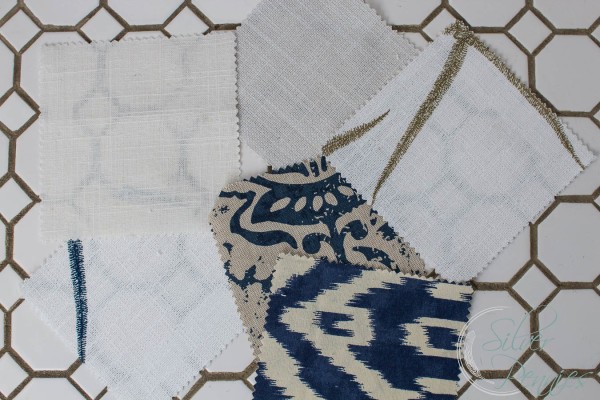 This bathroom is also teeny tiny.  So I thought a pattern might just be too overpowering. The starfish in sand are perfect! What do you think?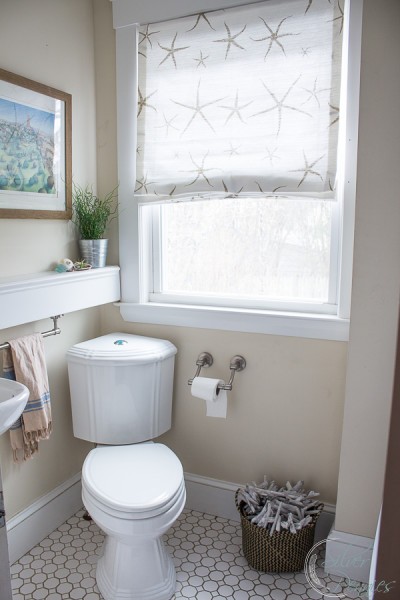 We didn't opt for blackout for this room but did go for the cordless opening again. This blind was also easy to install, simply screwed this one straight into the frame. This tiny space sees a lot of activity being the only bathroom on the first floor and also the laundry room.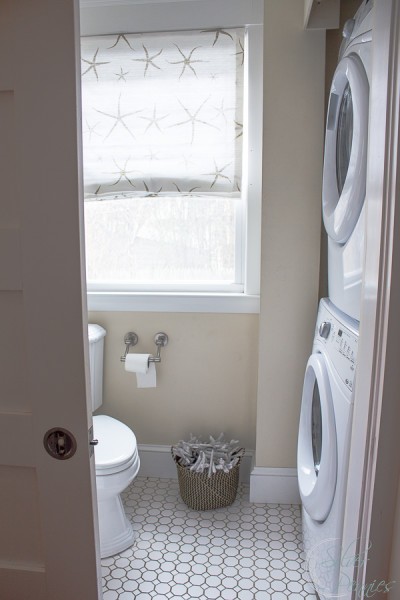 I'm thinking of putting a curtain here in front of the laundry to make the space feel a bit bigger.
The new roman shade is offering so much light into the space and I love seeing the starfish from the breakfast bar in the kitchen (the bathroom is right off our kitchen).
Here's a little before and after:

The texture on this blind is lovely as well.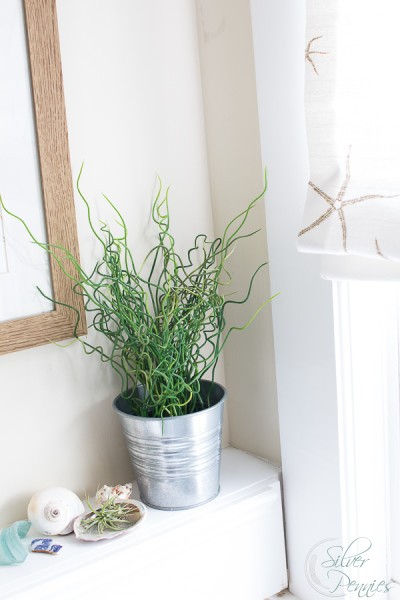 These small changes have made such a big impact on our home and didn't take us long at all.  A huge thank you to Smith & Noble for helping me transform these rooms with their beautiful blinds.  I also wanted to share that the customer service was so great from placing my order, to answering my many questions and my shades arrived so quickly! We are also so happy with the quality of the blinds. They are well made, durable and I know will last for years.
Adding texture in the form of woven cotton and woven natural shades has added more of that coastal charm that I love.

Are you interested in adding some beautiful blinds to your home?  Smith & Noble has created a beautiful and FREE Digital Guide to Designing Beautiful Windows, which you can access by clicking the image below: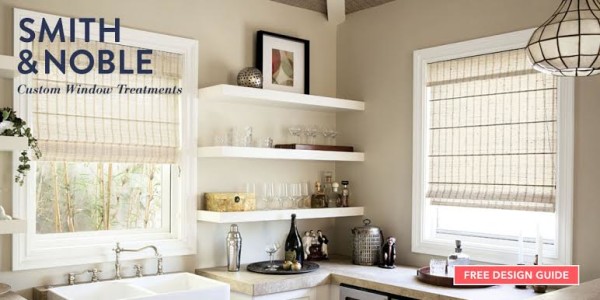 Sharing with: