This post was sponsored by Minted.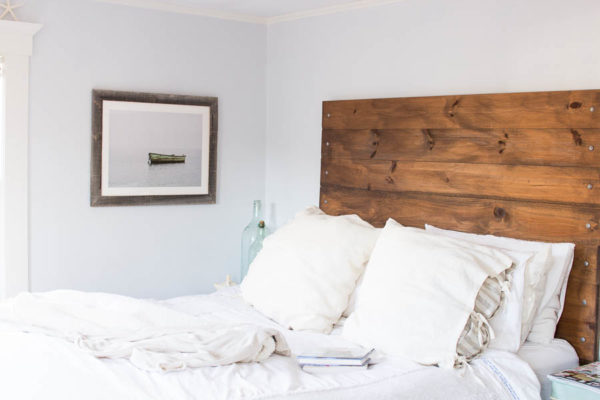 I don't know about you BUT I always wait until I'm certain about artwork before putting that hook in the wall. It might be because our home has horse hair plaster walls in every room (well, all the original rooms) so when we hammer away the plaster can get damaged.
I've waited quite a while to hang artwork in here.  Oh, you know, almost three years.
I NEEDED to be sure.
When Minted contacted me and I saw all their great artwork, well I knew we just had to start making holes in the walls because I was certain.
For your convenience I've added some affiliate links in this post, you can read my full disclosure policy here.
I shared the gorgeous sketch I put in my office the other week, click here.  Today I'm excited to share two other lovely pieces.
I chose this beautiful photograph by Lillian Scull called "Serenity". It is a photograph of a boat in Martha's Vineyard.  I was first attracted to it because I love coastal design and that blue is one of my favorite colors.  You all know how I love that blue in particular. The color of sea glass and old bottles.  It makes my heart happy.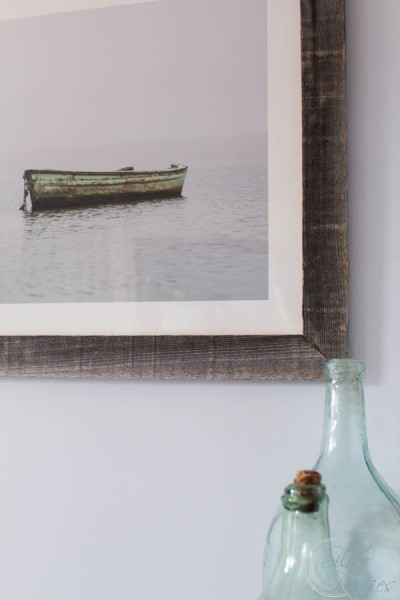 But I also was drawn to Lillian's story of discovering this boat on Martha's Vineyard.
"We were on vacation on Martha's Vineyard in June of 2013. We had driven past this boat several times and it was calling to me…begging to be photographed. One day we were at the beach and the fog rolled in. I knew that was the moment. I made my friend wait on the side of the road with a car full of kids while I waded thigh deep to capture the magic of the moment. I think her name is "Cassandra". Sengekontacket Pond, Oak Bluffs."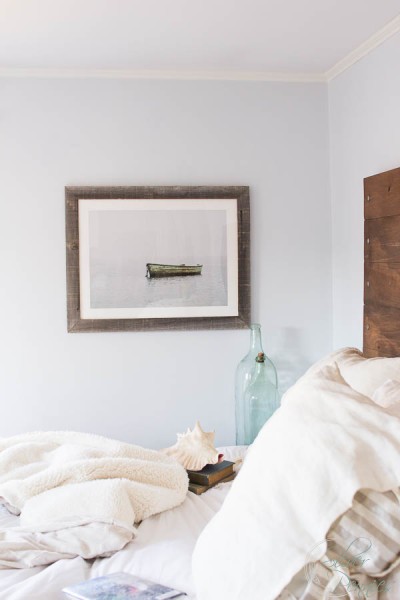 I spent one beautiful summer on the Vineyard working at the Black Dog Cafe and doing theater so I knew this piece of art was just perfect for our home.
The other thing that I like about Minted's artwork is that you get a certificate of authenticity with each one.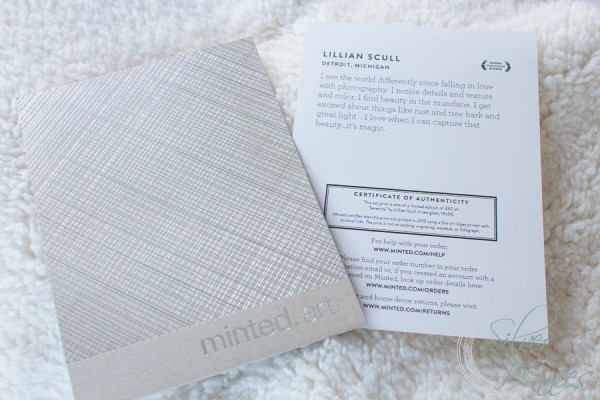 Here's one more look before I take you downstairs: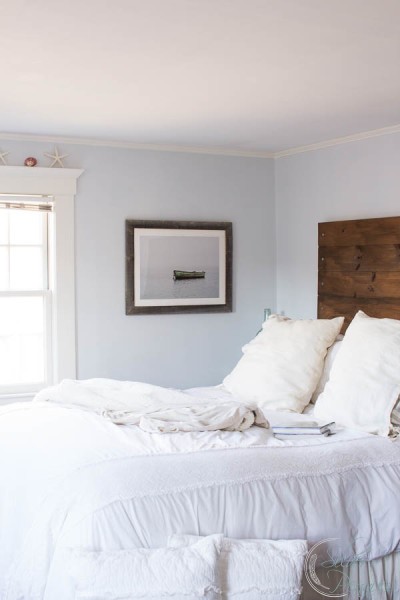 Perfect, huh?  So restful just what a bedroom needs!
The other week I shared our front door and how I'd been working on that for ages.  Wooo.  Well, now I'm happy to share a beautiful piece of art that you see just as you come in the front door!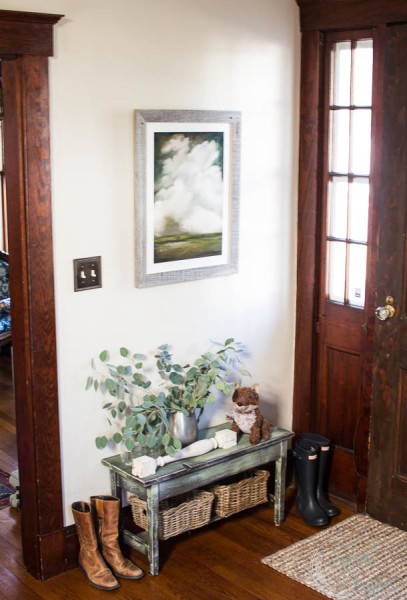 This one is called Gentle Tempest and is by Kelly Money.  I was drawn to her beautiful clouds.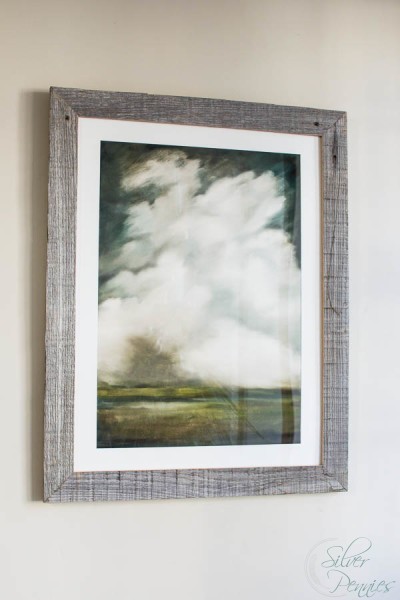 Lately, I've been noticing just how beautiful the sky and clouds are.  Perhaps it is my watercolor classes but I love looking up and trying to capture their beauty.  Kelly says:
"I have been painting clouds for several years now…it gives me peace and I use it as an act of meditation. I love nothing more than to look up at the sky on a perfectly cloudy day! This piece is from a very large painting I did specifically per request. The colors are calm but the clouds are dynamic. I think it fits well in any room but would really look great in a hallway as you approach it."
I have to agree with her.  Stunning!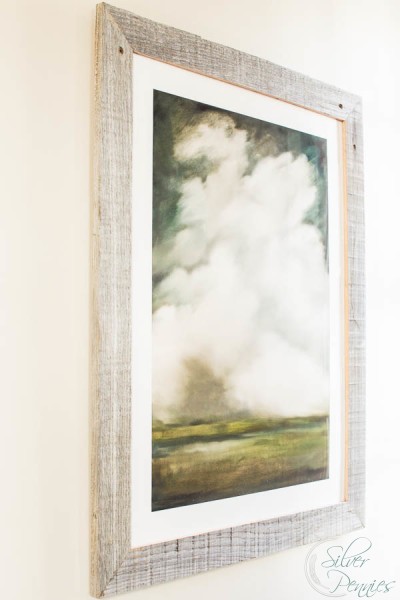 A bit hard to capture the beauty with the reflections coming in through the door.
For both pieces of art I chose the reclaimed barnwood and I LOVE them soooooo much. The barnwood frames are made in the USA and are each unique.  You can see the variations between the one in my bedroom and in our entry. I love all the imperfections and grooves in the wood.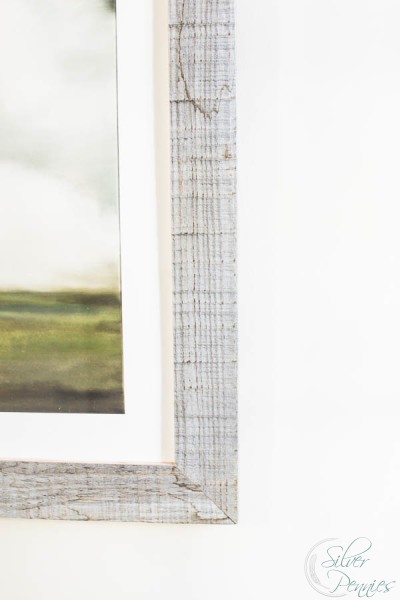 This new artwork is making me so happy!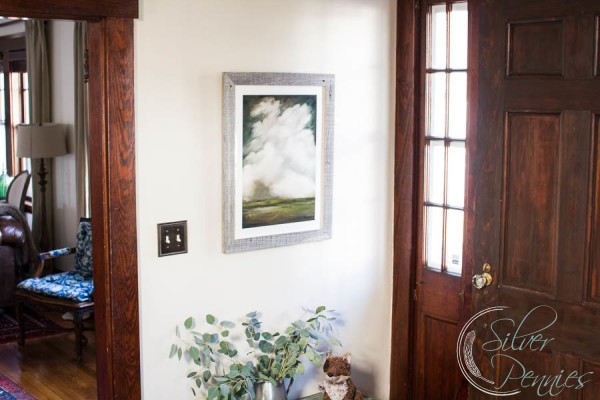 But I think I have a way of making each of you happy at home. How would you like a chance to win a $250 Shopping Spree at Minted. All you need to do is click the image below and you'll be taken to the giveaway!  Yay!
** UPDATE this giveaway is now closed. The winner is:
Laurie Eccleston

Minted is currently having a huge sale on cards and I also thought I'd share a few more favorites from their collection (just case you want to start your shopping before the giveaway ends).

A big thank you to Minted for hosting this giveaway with me and for the gorgeous artwork in our home!