Okay, it's not a big secret that I'm OBSESSED with furniture. I collect pieces of furniture like other people collect bags, or earrings, or shoes. For some time I've wanted to update our dining room to a more English style. I have been searching high and low for a scrubbed pine piece. I wanted a Welsh Dresser but never in a million years did I think I'd find one from ENGLAND.
I was going to wait until I had it all styled for Thanksgiving to share but you know what?
I can't wait!!!!!
Look what I found while searching Facebook Marketplace: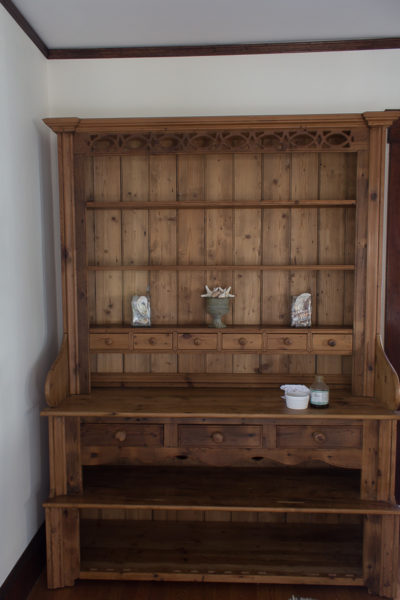 This is before I did anything to it. I just needed to snap a photo. Isn't it gorgeous?
I purchased this beautiful piece from Gina, an interior designer, who had spent some time living in Europe. She imported this gorgeous piece from England. It is two pieces and solid. I actually didn't think it would be as heavy as it is!
This was how Gina's listing looked (to give you an idea of it styled):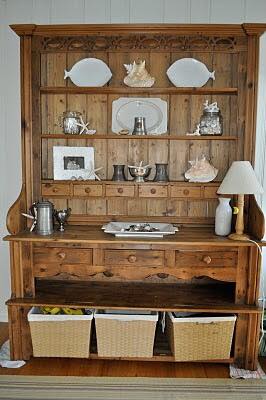 You may remember that I had a French style china cabinet in here before. It was painted Paris Grey with Old White interior. I loved it but I wanted something a tad more rustic and English!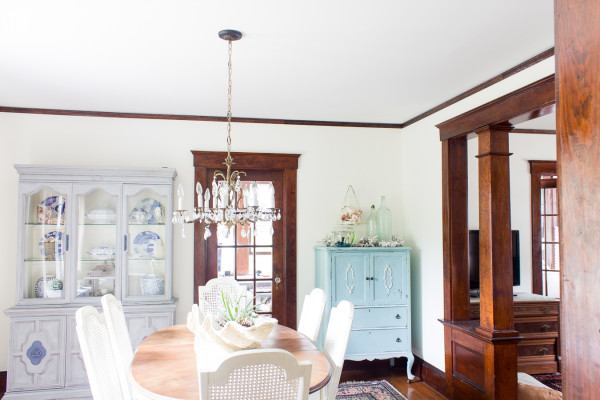 I know many of you are going to be sad that I sold this piece.
I loved it too!
I'm happy to report that it went to it's new home on Beacon Hill on Sunday and is being enjoyed by a lovely couple as I type this.
I will be changing the look here in the dining room but will be keeping the chandelier and the blue cabinet.
Here's how this piece looks: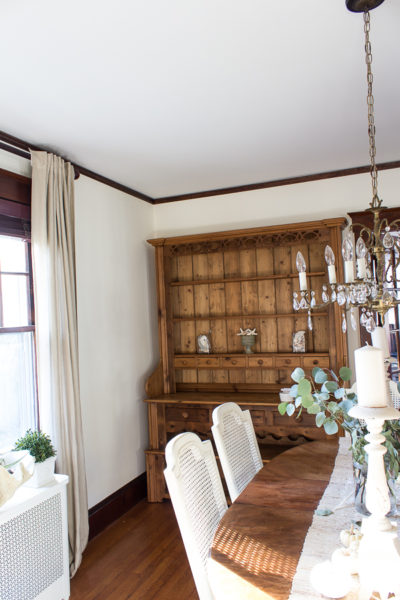 Even un-styled it makes quite the statement. It takes up more of the wall and has plenty of room on shelves for ironstone or beautiful greenery.
I'm dreaming of all the things I can style for Thanksgiving AND Christmas! Ooooooh, I can't wait!
I love all the scrolling detail and the pine.
There's still so much I need to do with it for styling. I need to purchase some baskets for the bottom, I had a quick look at HomeGoods the other night, but didn't find anything.
So I thought I'd share it with you in the state it's in right now.
The piece is in great shape but thought I'd revive it a little as there were some white marks on the top: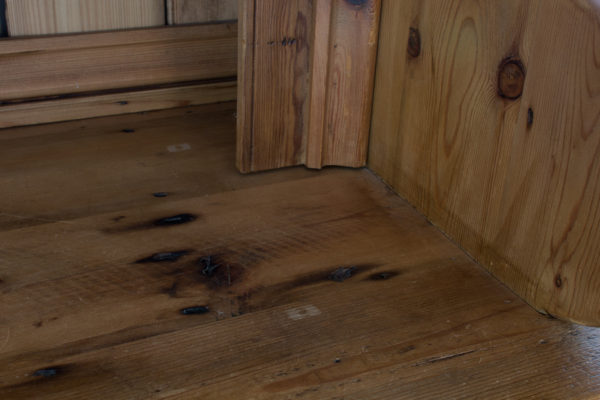 The wood was also feeling a little dry.
I decided to use Miss Mustard Seed's Hemp Oil (affiliate link).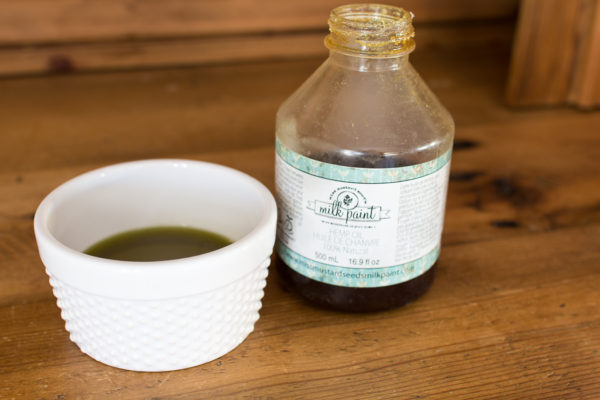 I love this product! It is all natural and brings the luster back to old wood. I also like using it on stained or stripped pieces. You may remember I used it on my dresser after my hubby put a hot coffee mug on the surface (grrrrr!!).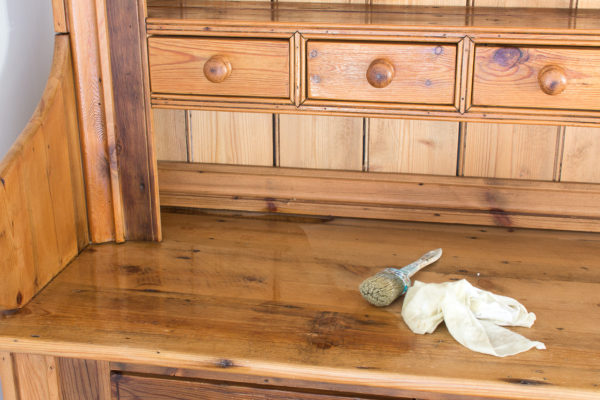 You can see the in-process above and here's the after: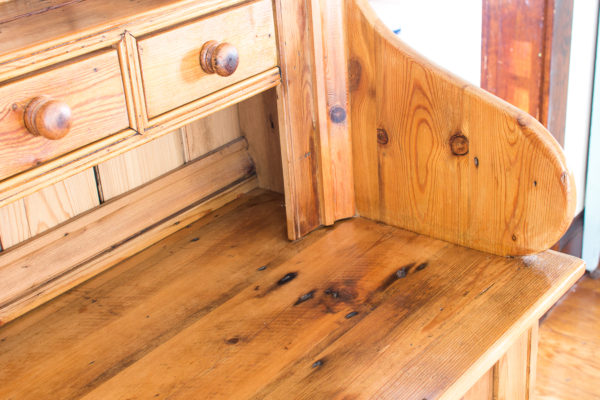 The white marks are gone and the wood is revived.
Here's how I apply Hemp Oil.
I apply with a brush: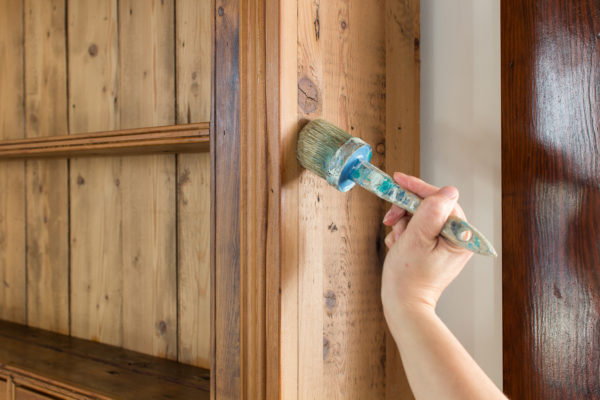 You can wipe on with a cotton cloth too, but I feel like a lot of the oil gets absorbed by the cloth.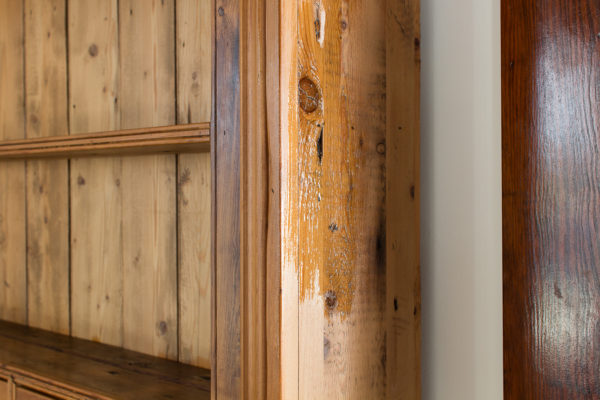 I work in sections and wipe of the excess with a cotton cloth.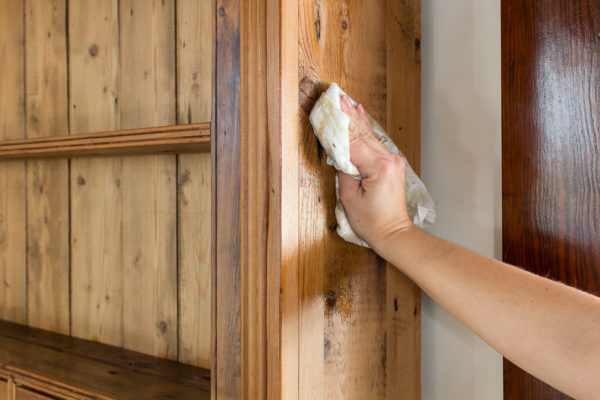 It really did wonders for this beautiful piece.
This English antique is bigger than the china cabinet so we'll be needing to get a new rug (in the New Year) and Luke is building me a new dining room table. Yay! So at some point our current set will be for sale 😉
My vision for this room is to make it more cohesive with our living room which adjoins this space.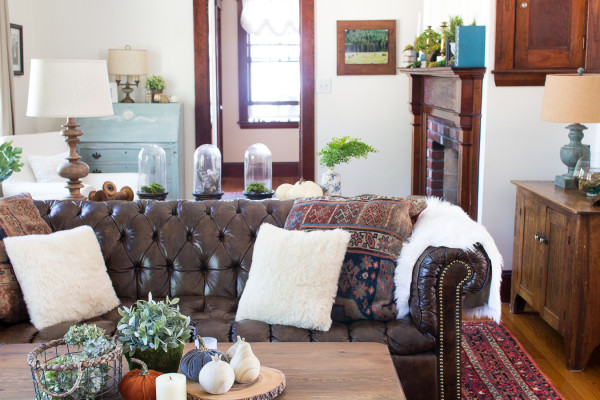 I'm so glad Luke doesn't get mad when I want to pick up furniture or change rooms around. He's a keeper!
Oh, and he also likes having a bit of England in the dining room.
I'm hoping to have a free printable up on the blog tomorrow, you can see a little preview on Instagram.
For some reason, I keep running out of time to get everything done in a day.
I'll leave you with one more look at our new Welsh Dresser!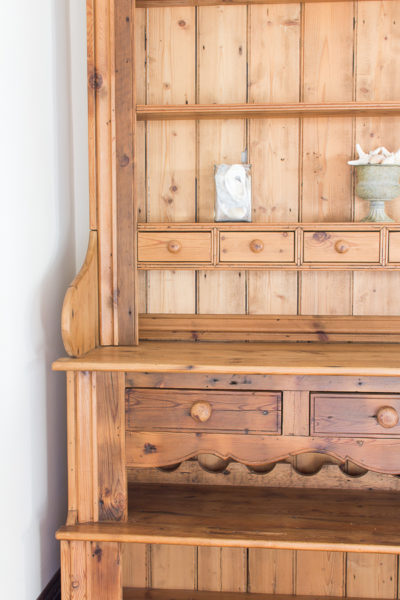 Currently my favorite view in the house! xx
Sharing with: