Today is a bit bittersweet for me. It officially marks the end of summer and the boys start school this morning. This mama loves when here boys are home. I'm mean really, really loves it, but I know they need school and will have a great day. So I thought today would be a good time to share their Coastal Industrial Bedroom!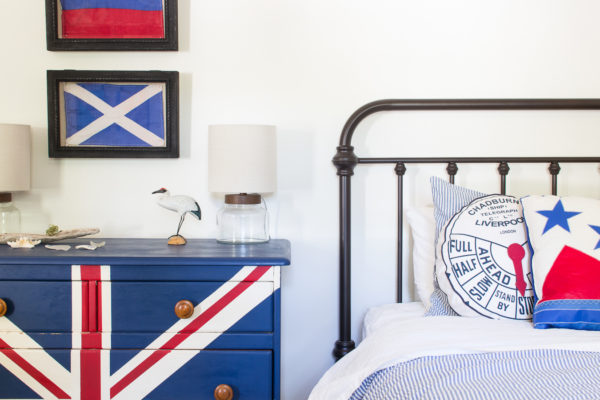 We worked on this space together as our "summer project" and they are tough clients 😉 John likes modern and Conor likes vintage so we tried to mix the two together.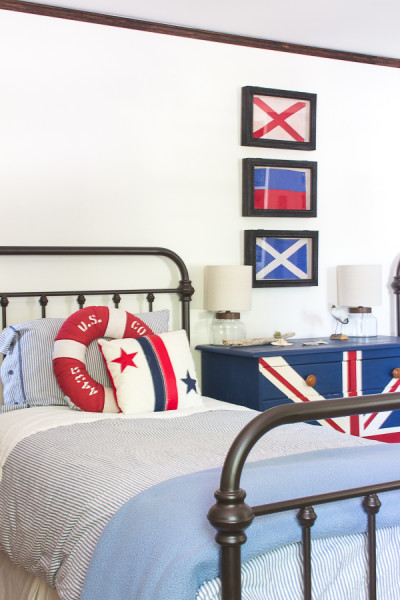 Some elements (like the sail cloth pillows, white sheets, dust ruffles and mattresses) we had already but others were new. We've been in this home for over three years now and their adjoining rooms were sweet a first but the space started feeling a little claustrophobic.  You can see my inspiration post here. I also shared their workspace in this post here.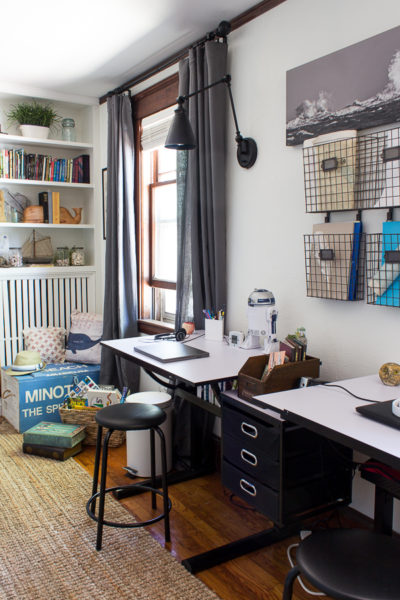 I partnered with Wayfair on aspects of their workspace and they even featured it on their website which made us feel proud, click here to read that.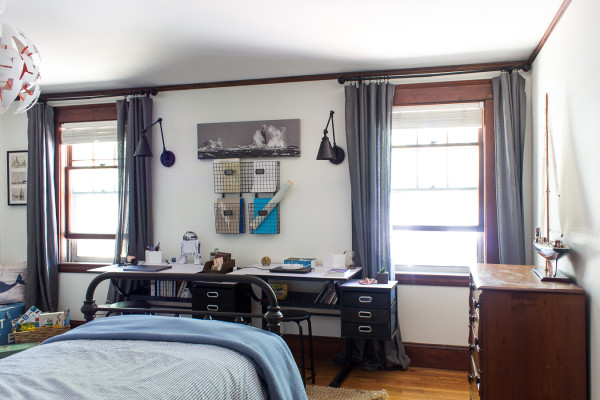 It felt like the perfect time to freshen things up while we were replacing their ceiling. The boys were such troopers, sleeping on an air mattress at my parents for a week then sharing the guest room bed, but now they're so happy with their new improved space. Before I get into all our design decisions, it's probably a good idea to show you a before and after.

A HUGE change, huh? We started by taking down the faux wall between the two rooms, replacing the ceiling and filling in the second doorway into the room. I knew I wanted to place their beds along this wall because it would enable us to have the workspace for homework, drawing, computer games on the other wall with plenty of natural light and also task lighting.
The walls were originally painted a light green, a color I always thought looked a bit off with the woodwork. For their bedroom we went with Benjamin Moore Simply White (the color of the year) and love how this creamy white works with the oil rubbed bronze, black details and dark woodwork.
I'm including a few affiliate links in this post for your convenience. If you purchase products from my links I get a percentage but the cost remains the same for you. It's kind of like a friend telling you about a really great deal. I so appreciate you helping support our blog in this way!
You all know I love vintage and antiques and I tried my best to find antique beds. It was just too hard. I couldn't find a matching set. Just mismatched and the price points were very high. I ended up ordering these two beds from Wayfair and the boys LOVE them. I fell head over heels with the Fulton Twin Beds and they were such a great price.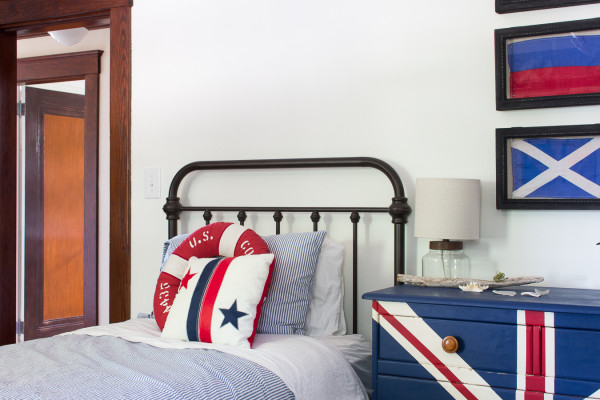 Here you can see the oil rubbed bronze close up.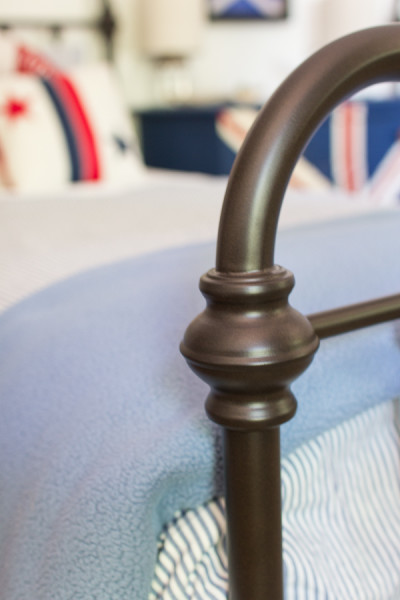 Here's the headboard: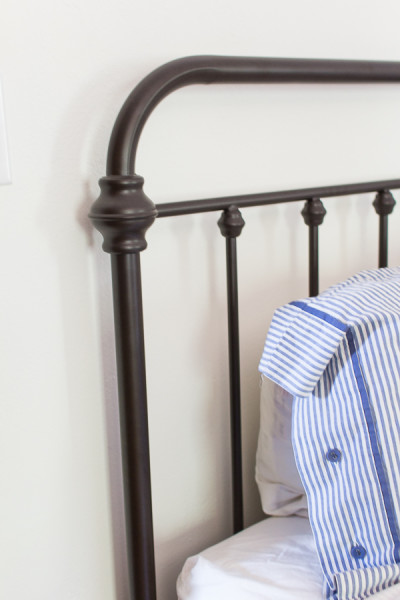 Wouldn't you swear they are vintage beds? I am so thrilled with them and love how they make such a statement against the white walls. The bedding is from Ikea. We already had the white sheets and dust ruffles from Ikea and John already had this ticking stripe duvet that we ended up buying the same for Conor's bed. I have this thing for ticking stripes 😉 They are coastal and timeless and also work well for a farmhouse look too. I love the buttons along the edge of the pillow.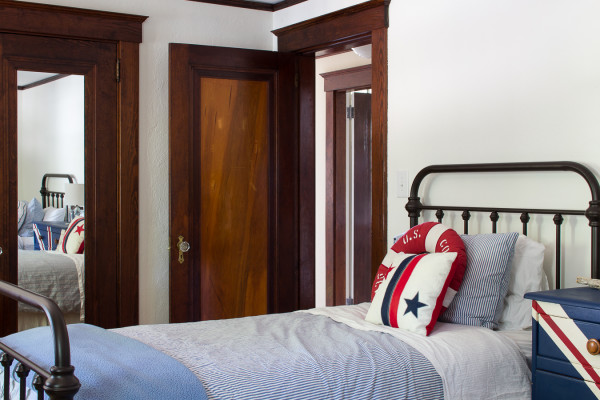 I adore the above image because you can see the the room reflected in their closet door. This was taken from the center of the room.
Between the two beds is the dresser I painted for John nearly 5 years ago. It is special because it was one of the first pieces I ever painted. You can see the tutorial here but please don't judge the photography! This dresser was my childhood dresser so is very special.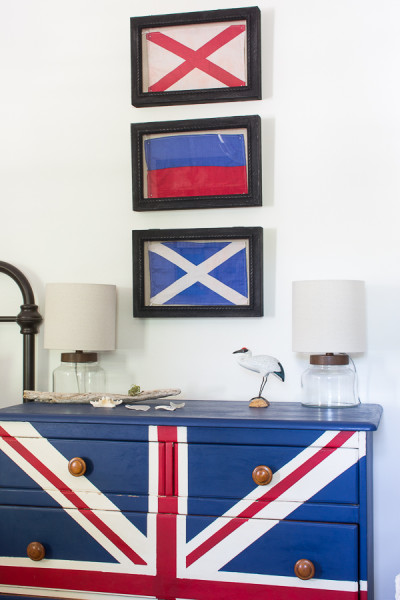 The lights are from Target and the boys helped pick them out. I think it's so important to include kids in the design process. They thought these met both their modern and vintage ideas. These lights are cool because you can fill them with a collection of shells or marbles but we've decided to leave them plain. The nautical pennants are antiques and I created the frames for them. I'll show you how I did it later this week. It's a really easy DIY.
The boys also chose this light for their room. We stood in Ikea for an hour looking and debating. I'm not a lover of orange and I just wasn't sure, but boy do my boys have a great design eye. WE LOVE this light.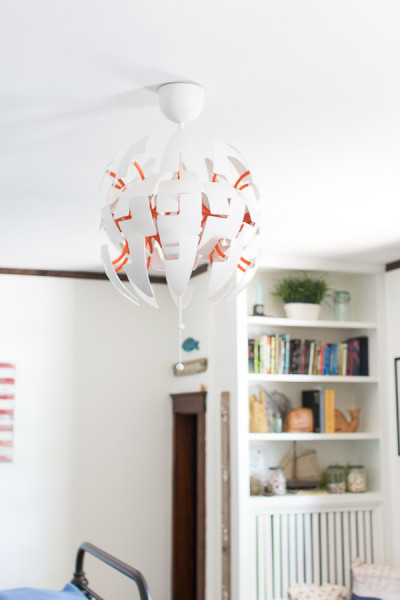 The ball like sculpture can open and close, creating more or less light in the room. At night it looks soooooo cool. The boys were bringing up their friends to show them this cool pendant.
On the wall where Conor's bed used to be is the DIY american flag I created over the summer, click here for that tutorial.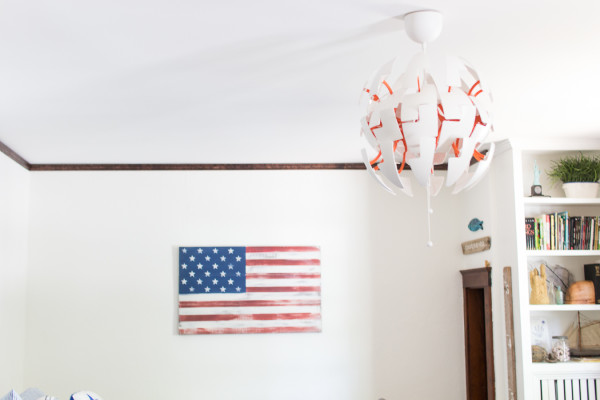 All the blue white and pops of red make us so happy!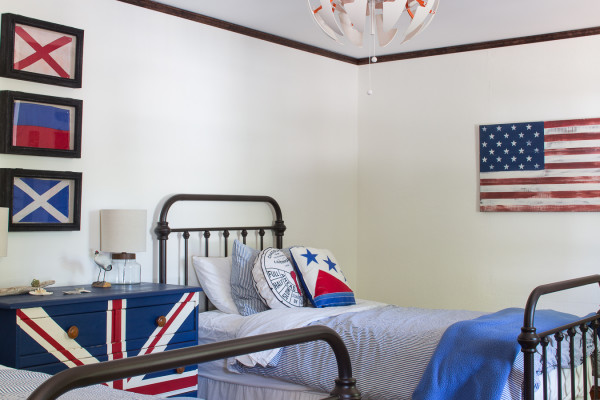 A handwoven sisal rug grounds the room. I also purchased this from Wayfair and am so happy with the construction and the softness. I've had some sea grass rugs in the past and they were not soft underfoot which made me hesitant to buy one for their room when their going to be running around barefoot, but it is lovely and adds so much light and texture.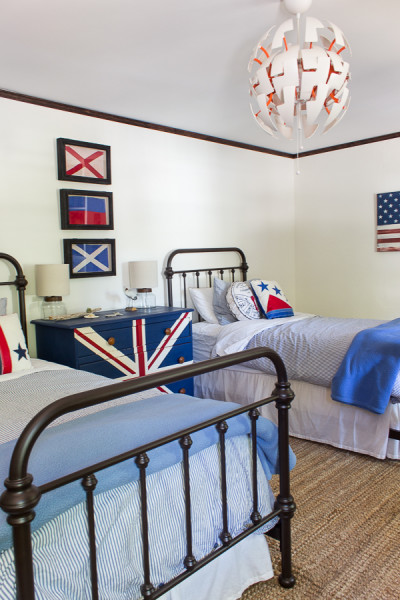 You've already seen the other side of their bedroom but I'll show it to you again! Here's a before and after:

Their bookshelf, which is built in, is filled to the brim with books they love and also beach treasures.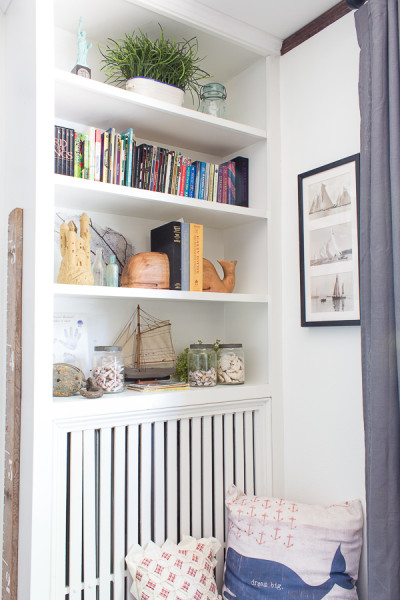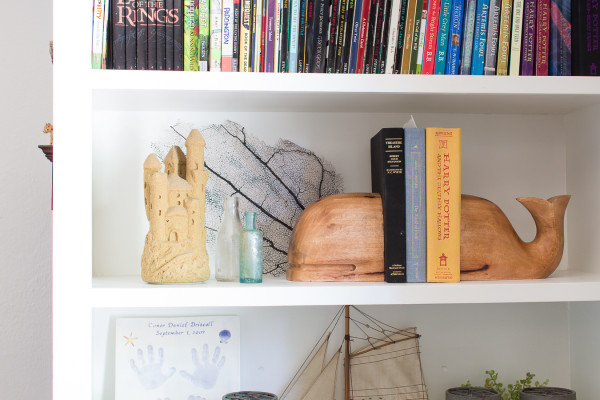 The desks are from Wayfair, the Safavieh desks and stools are sturdy and the work surface is large. The boys love all the drawers on the side and the bookshelf underneath.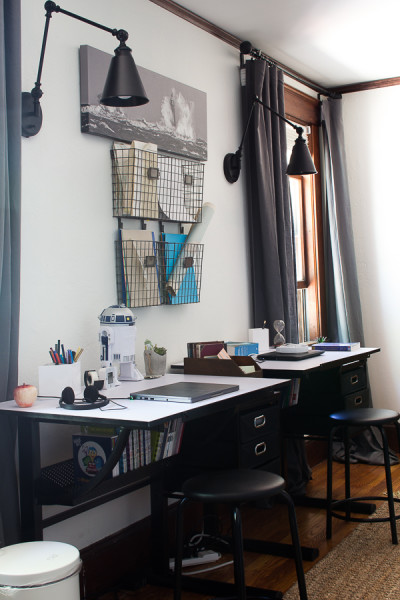 John is an amazing artist so loves turning this flat desk into a drafting surface for cartooning.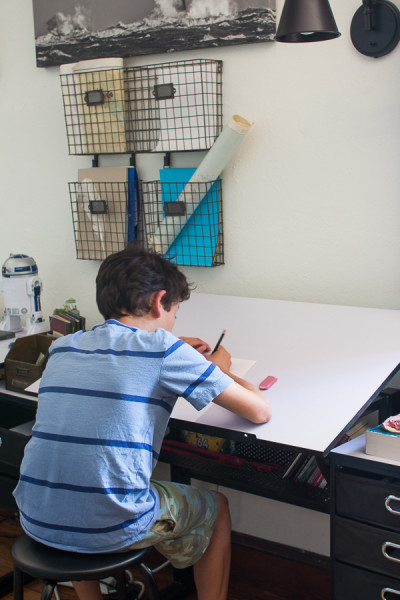 The black and white canvas is by my friend and amazing photographer, Kjeld Mahoney. It is of Minot Light and is perfect because we love going to Minot Beach.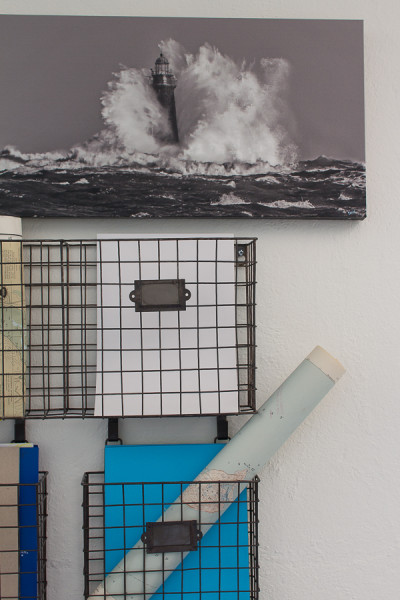 The wire baskets are ideal for keeping the boys organized. This will come in handy with the school year and assignments.
We also added these angle poised lights above their desks and they are wonderful for task lighting while giving an old fashioned but sleek look.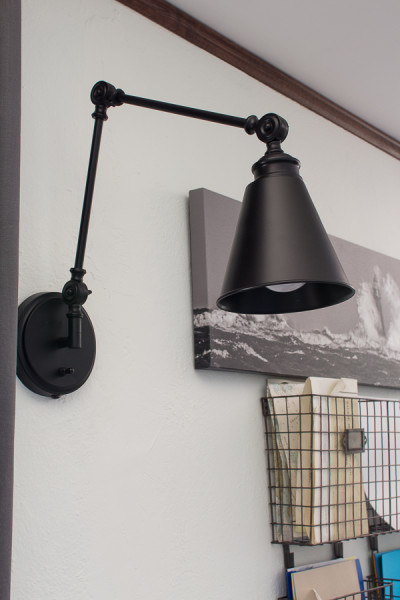 The curtains are from Ikea and you guys probably know I love these linen curtains because I have them in a variety of colors throughout our home. I have them in beige in the living and dining room and in white on our closet in the our master bedroom. They're a great price (I think $54 for the pair) and I love how they are neutral but add a little texture being linen.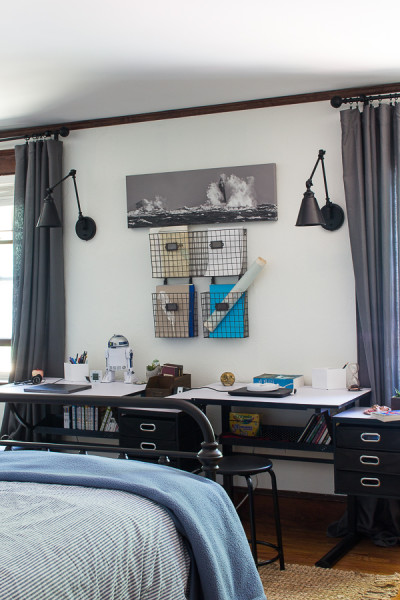 We hung them with rings and clips so it is easy for the boys to open and close if desired.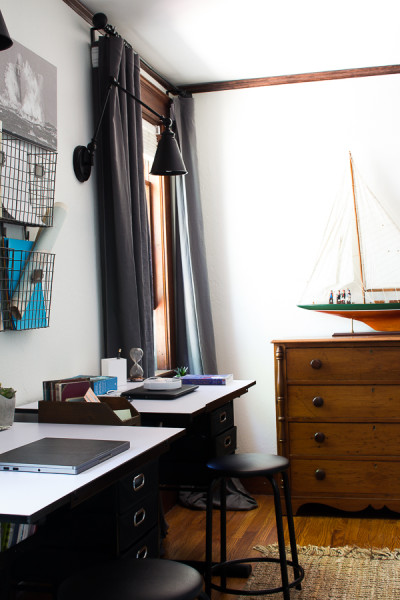 The pine dresser over by the window is a Brimfield find from years ago when we lived in our first house. It is very old and I love how beautifully the patina goes with the white walls and the industrial desks.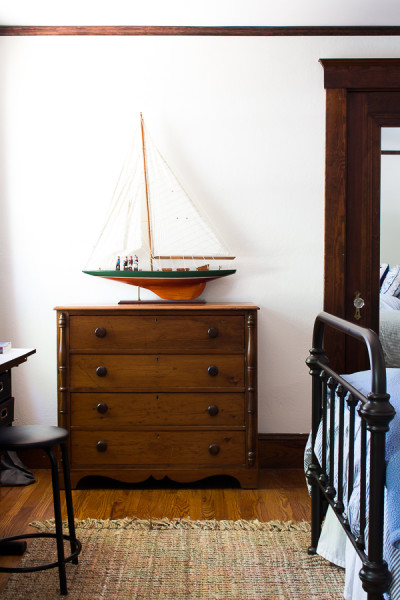 The beautiful sailboat is Conor's! He won it at a fundraiser in the harbor when Kjeld ran for mayor. It is from Sylvia's by the Sea. He likes to put his little sailors on it. So cute, right?
Well, that is their bedroom! Coastal, industrial, a little modern but thoroughly grown up! What do you think of it?

I've included a full source list with links but if I've missed something or you have any questions about their room please email or leave a comment.
Source List
Sharing with: