The other day I shared with you my most read posts from 2017, but my personal favorites don't always make it to that top ten list. I thought it would be fun to highlight my Favorite DIYs of 2017.

Luke and I were busy building, painting, nailing and DIY-ing in 2017. It's only fair to take one more look at these projects before we launch into many more DIYs for 2018. We have some really, really, really BIG plans this year. I can't wait to share more about them, but can't just yet. Our family is certainly excited for this new year as a big dream is coming true.
My Favorite DIYS 0f 2017
(Simply click the title to be taken to the DIY post)

2017 started with a coat of bright white paint in my basement studio. Coating the previously dark paneled walls with lots of primer and a coat of brilliant white paint made my basement studio bright, clean and a pleasurable space to paint furniture in! It made me wonder what took me so long. Matthew Mead shot this space for a magazine which will be coming out in February so I'll share more about that when the magazine is on newsstands.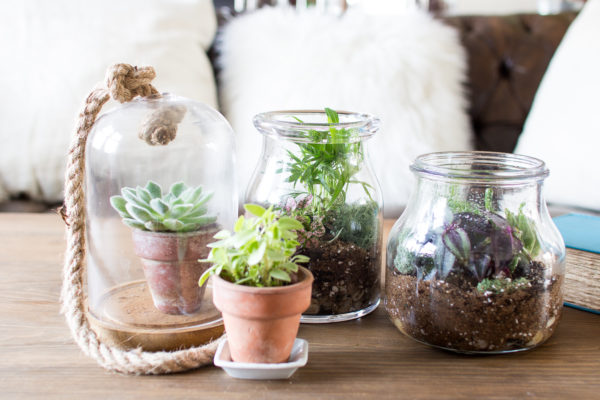 Plants always make me happy. These were so easy to make. I found some affordable succulents and fantastic glass vases from Ikea. Super quick and easy and sure to brighten your mood, especially in the winter months.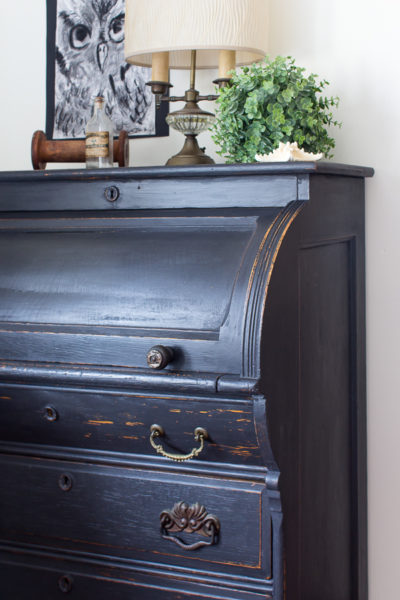 This desk was one of my first makeovers in my newly refreshed studio space 😉 I fell head-over-heels in love with the shape of this desk. I store all the boys' papers from school and my stationery in the top. The black chippy painted finish gives a classic look which says "I was found this way".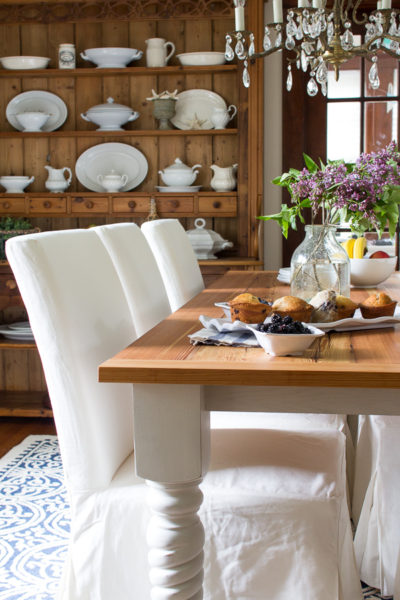 This and our bedroom were my favorite DIYs from last year. Luke built me this farmhouse table. Isn't it beautiful? Our previous dining room set was a freecycle find and we loved it but wanted a more informal / English style dining room. I wanted a space that said, come sit and have some coffee or why not linger a little longer over that glass of wine? The old table wasn't very long and we decided to make this table long enough to fit three slipcovered chairs down each side. The table is made from reclaimed heart pine (previously a floor in Georgia and we found the wood at Stonewood Products down the Cape). Luke planed and jointed the wood and made the table. I painted it with Miss Mustard Seed Milk Paint in Farmhouse White. The chairs are slipcovered chairs are from Ikea so affordable and (if we need to replace the slipcovers – it's just a car ride to away). We love this space. It's perfect for family dinners but also entertaining family and friends.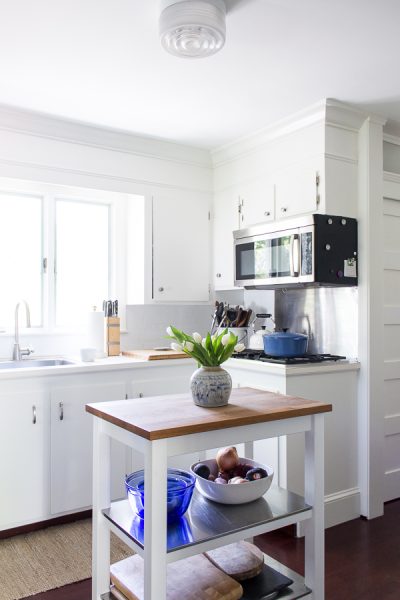 We couldn't afford to completely redo our kitchen but we invested in paint for the cabinets. This made our kitchen so much brighter. Previously the cabinets and trim were painted a creamy color, and the bright white just makes them feel brand new! I'm a big fan of white for the kitchen because it instantly looks so clean and fresh. The kitchen feels so much bigger and brighter. If you're on the fence about painting cabinets, I would do it especially if you can't afford to redo your whole kitchen. These are painted in Advance by Benjamin Moore in White Dove. It's a great color and so clean looking. We probably won't redo our kitchen for a number of years so this will make me happy for the time being.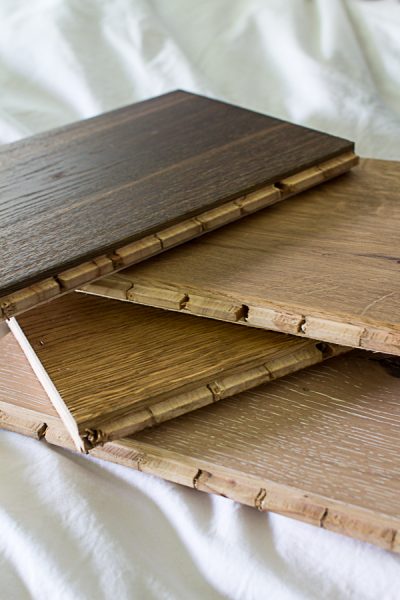 It's been a dream since moving into our home to replace our bedroom's brown wall to wall carpeting. When buying the wood for our dining table we fell in love with the wide plank Sawyer Mason flooring in Stonewood Products' showroom. The French Oak comes in so many colors and is durable for pets and kids. I plan on writing a follow up post sharing how the floors are standing up in the spring, but you can see the post above and also see why we chose this flooring here.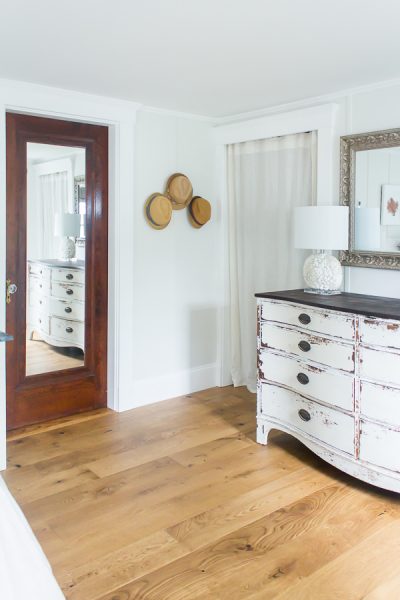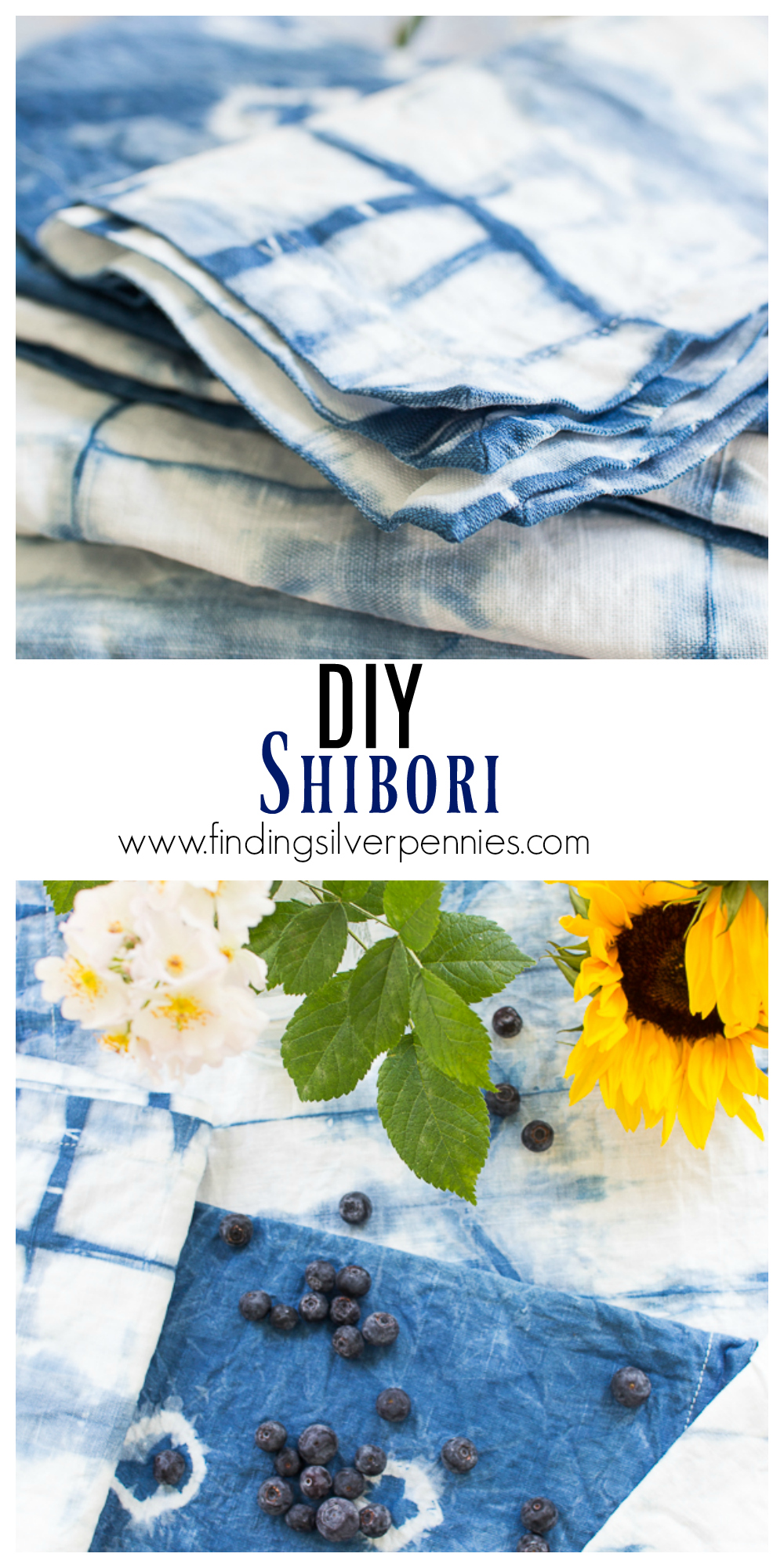 I love blue and white so it only makes sense that I'd love the look of Shibori. For years, I've wanted to try it. The boys and I did some shirts, placemats and runners. We loved it so much we did pillows too! The kits are available on Amazon and there are so many great cloth materials to dye. I'm thinking I want to find a sundress to do this year and perhaps some bedding. Wouldn't that be fun for a summer bedroom?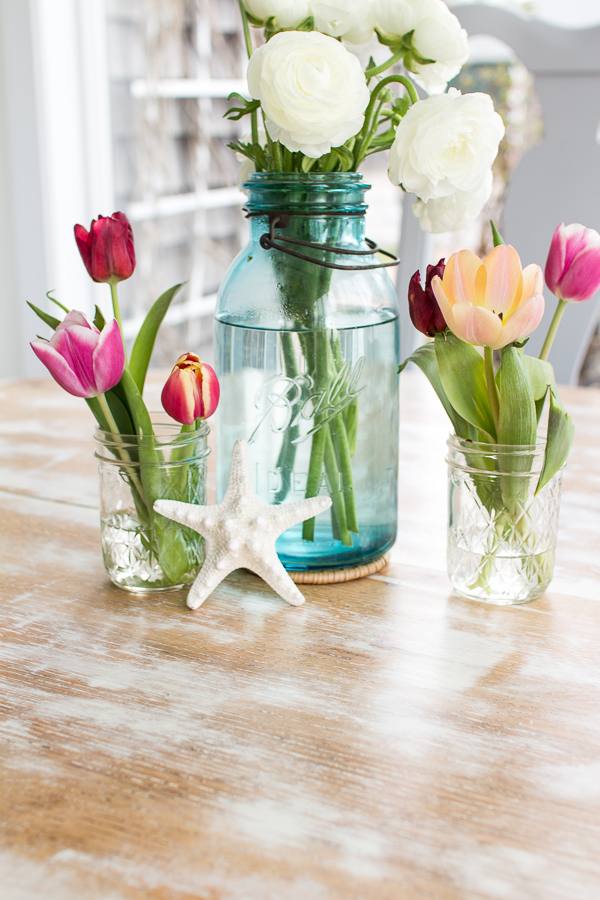 Pretty spring flowers look gorgeous on top of this rustic white washed table. I updated the table in our sunroom with a heavily distressed top. This look fits so perfectly in our coastal home.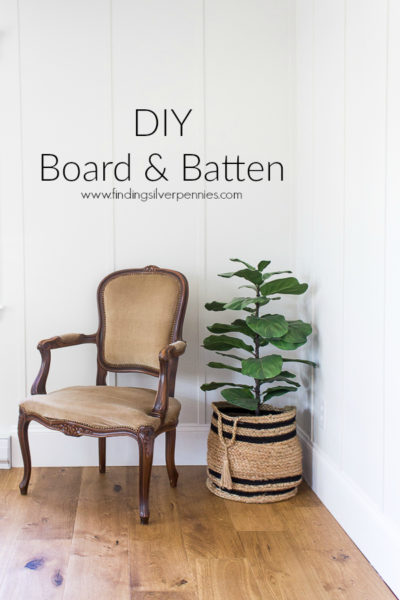 We don't have a giant bedroom but it was my desire to make our bedroom look larger. We achieved this by laying wide plank flooring (see post above) and also by doing and quick and easy board and batten treatment on the wall. This only looks difficult but is really quite easy, especially if you have a nail gun 😉 The wall color is Shiplap by Magnolia Home with Kilz. You can read more about the color selection here.

I LOVE creating container gardens and all kinds of plantings for our home and yard. I thought it would be nice to have a spot to create and store pots, the wheelbarrow and everything else garden related. Luke and I (along with the boys) built this lean-to potting shed and attached it to the back of the She Shed. It's come in handy for so many planting projects. You can find the build plans at the link above.

My friend Jann found this beautiful empire buffet online and asked if I could help her upcycle it. She loves the look of Fixer Upper and showed me an inspiration picture from Magnolia Journal. I thought it would look great in some milk paint colors layered on top of each other and distressed. This piece is now in Jann's dining room.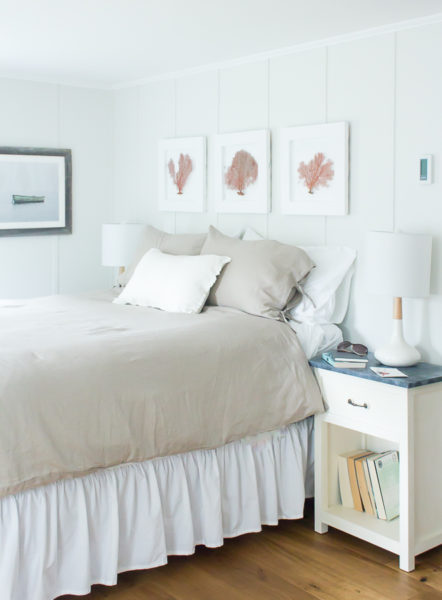 Our bedroom makeover was inspired by life by the sea. Beautiful linen bedding, warm plank wood flooring and easy to create sea fan art make this space restful, relaxing and a coastal oasis to retreat to at the end of a busy day. It turned out how I dreamed and more.

You guys all know how I feel about shells! We thought it would be fun to add crushed shells to shed patio. This thick layer of shells was perfect for our coastal yard and it also keeps the weeds from growing through our patio which is always a good thing!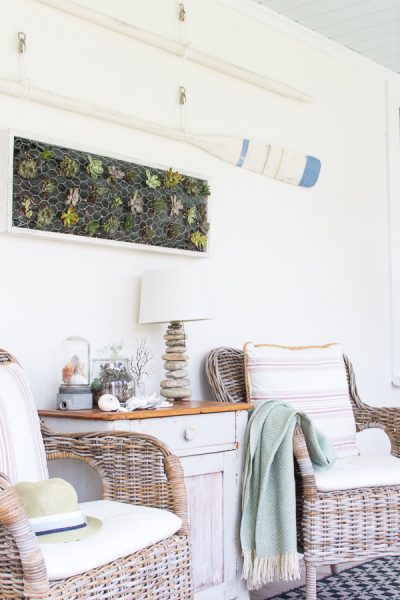 This succulent wall art was so fun and, guess what, they're thriving! We built the box frame and also shared how to achieve a coastal finish with Saltwash powder in the post.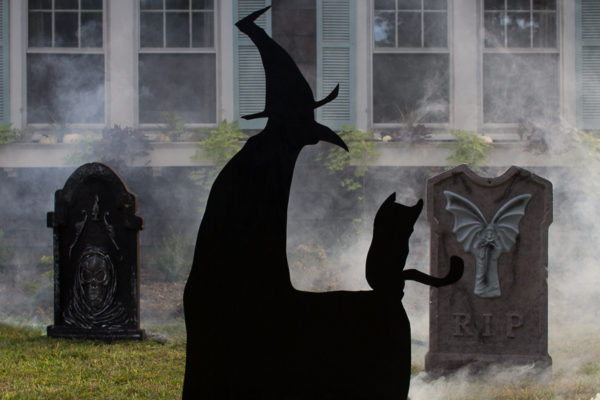 We LOVE Halloween and it's a really big deal in our seaside town (the whole harbor is open for trick or treating). Our oldest drew this witch and we created a silhouette out of wood. I also share some other fun and easy DIYs in this post.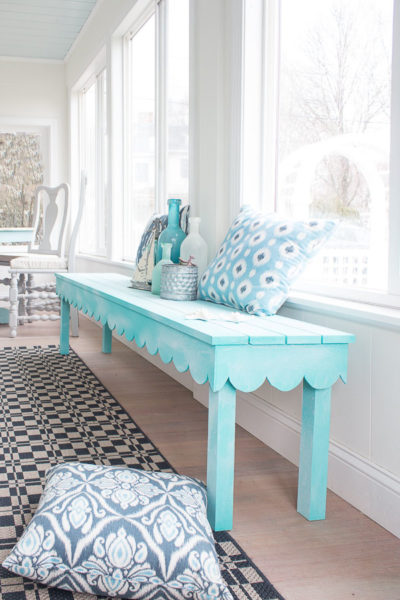 This was another collaboration with Luke. He built this 6 foot bench for our sunroom to add additional seating. I'm really excited to have more seating out here for entertaining. I've always loved the look of scalloped furniture and this was the first time he tried this out. In this post I share the build plans but also how to achieve this salt sprayed look on painted furniture. It's easier than you might think!
Thank you so much for taking a trip down memory lane with me! I hope you enjoyed these 16 DIYs – some big and some small.
Were one of these your favorites from 2017? I hope so! I'll have some new DIYs up on the blog real soon!