So by now, you all know I LOVE furniture. Sometimes I fall head over heels, madly in love without even meaning to. A few weeks back, I made an appointment to visit my friend Colin's Barn, Bent Nail Farm Antiques. I was out of furniture to paint and just wanted a peek at what he had. Colin usually does monthly sales at his barn in Marshfield which is the next town over and posts a painted sign on the side of the road the day of the sale. Well, Luke, the boys and our friend Gav went for a ride to the barn. I ended up filling our truck with lovely items. Some chippy, some wood and maybe a ball jar and a seltzer bottle too.
I know Luke wishes I was a minimalist.
But I'm a hoarder.
Well, I'm getting better.
Anyway, I found this amazing desk,  you may recognize the photo from Facebook or Instagram. I snapped a photo before taking it off the truck.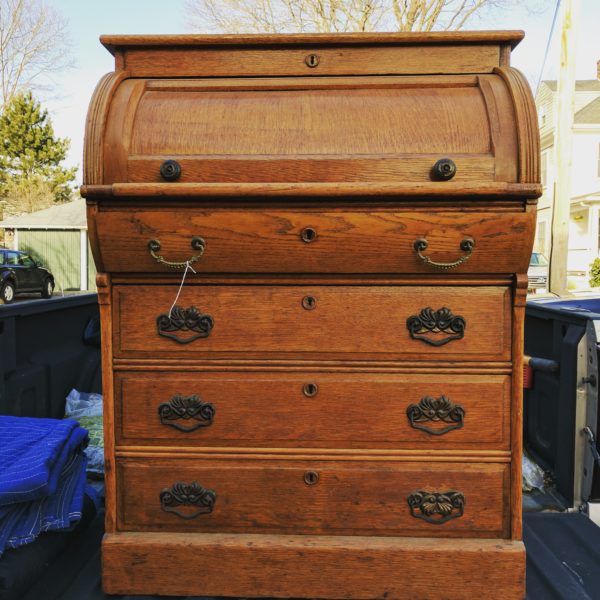 Online people were appalled I planned on painting this. First let me say, I LOVE really good wood but this piece is not an heirloom and is not in the best shape. The panel on the roll top is actually slightly bent which didn't bother me but somewhere along it's life has gotten bashed. While working on it I discovered it had previously been painted white and stripped so the wood was rough and raised in areas. My friend Colin did so much to this desk. He replaced all the drawer bottoms and the back of the desk. I've decided to name this one "Colin" after him.
I thought it would just look perfect in our English style living room and painted black would make our other furnishings like our white Ikea chairs pop out.
I've decided to sell this Governor Winthrop that I painted in a Duck Egg Blue with washes of French Linen and white. You can see the makeover of that piece here and the wash technique here.
If you forget what my Daisie desk looked like. Here it is: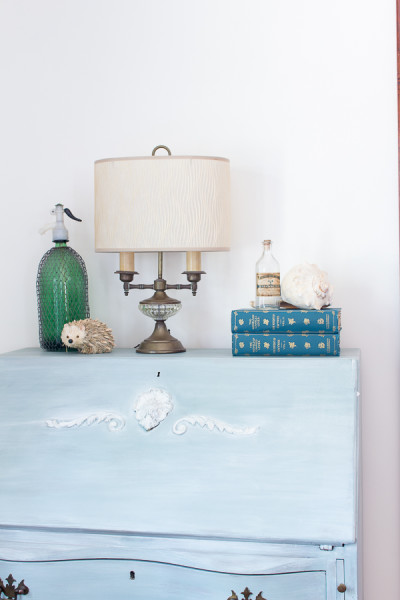 Here you can see the living room before with the other desk: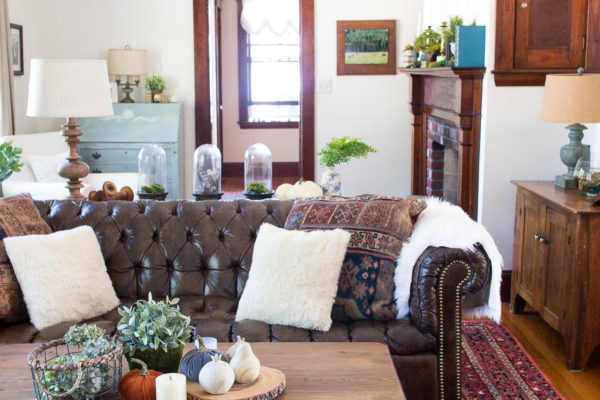 Anyway, I gave you a little peek at the progress on this desk during my studio refresh post, click here: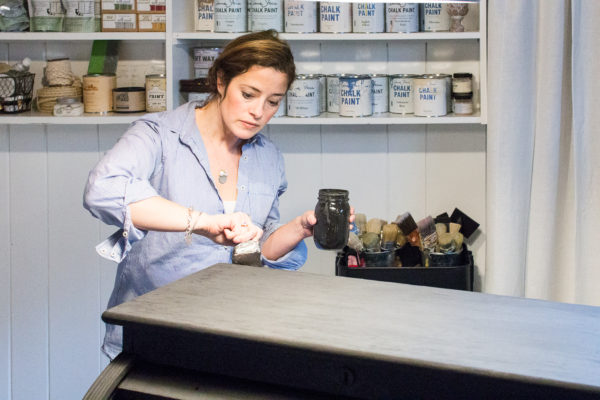 I've included some affiliate links in this post for your convenience if you'd like recreate the look.
For this desk, I used Miss Mustard Seed Milk Paint in Typewriter. I was really hoping for an ultra chippy finish. Milk Paint is a paint that comes in powder form and you add water to create the paint.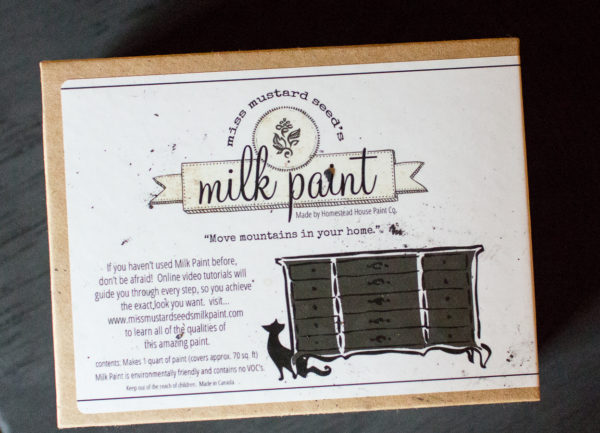 When mixing Milk Paint I like to use a milk frother as it makes mixing the milk paint easier. Ikea has them so reasonably priced. I also like to use ball jars so that I can seal the paint between coats. I only mix up how much I need for the piece. On this one I did two coats. I didn't add bonding agent because I wanted the piece to chip and flake. If you're planning on recreating this look at home and don't want distressing then you'd add bonding agent.
Here's how the desk came out: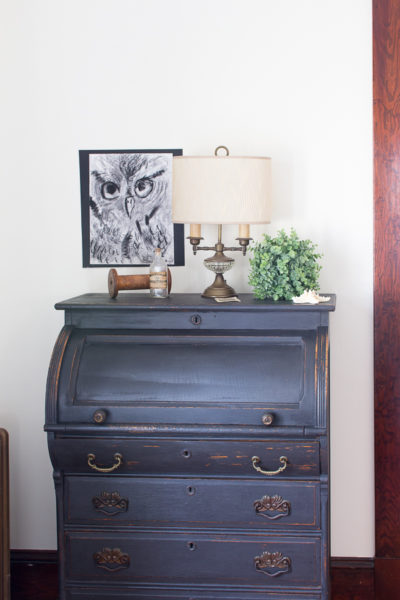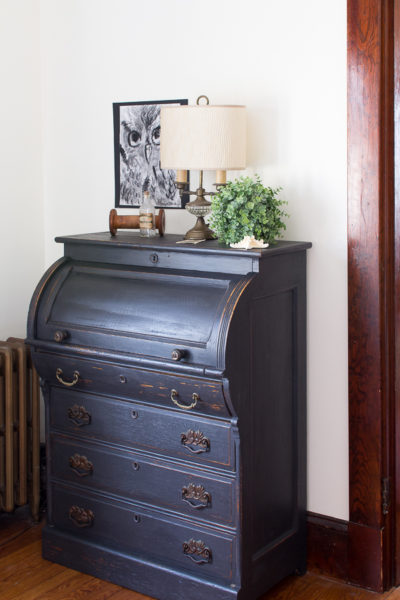 As I mentioned the desk, had previously been painted so the wood grain was more porous so absorbed the milk paint more like raw wood. I ended up using a sanding block and paint scraper to distress the desk.
I distressed along the drawers and high points.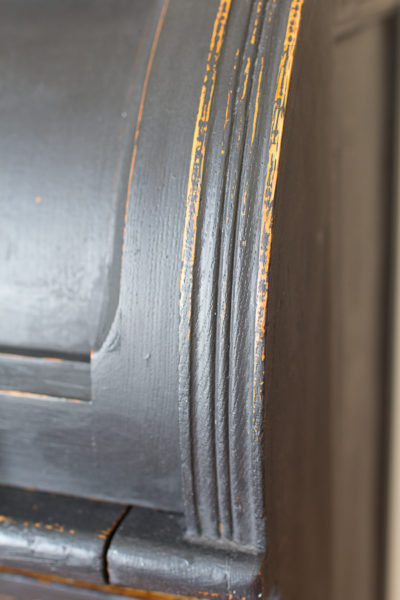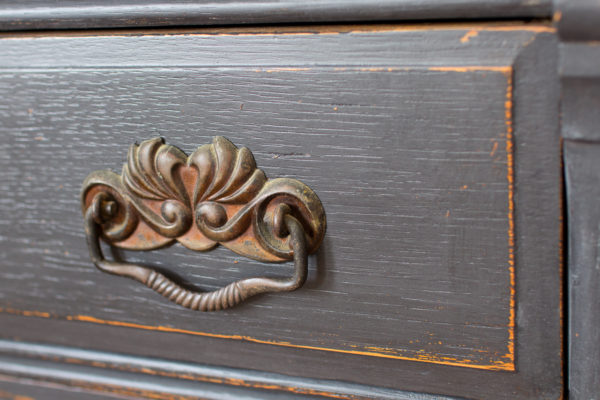 I adore the old pulls and knobs.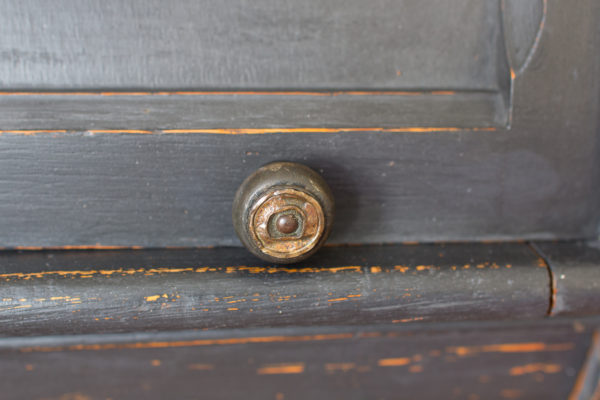 The knobs are really banged up but I think it adds to the piece's character.
There is one pair of pulls that don't match. I did try to find some online but didn't have much luck.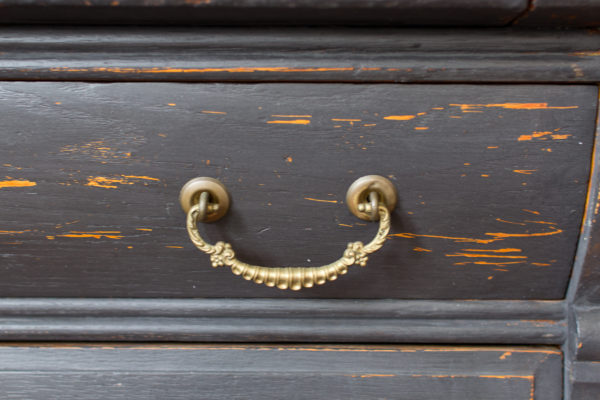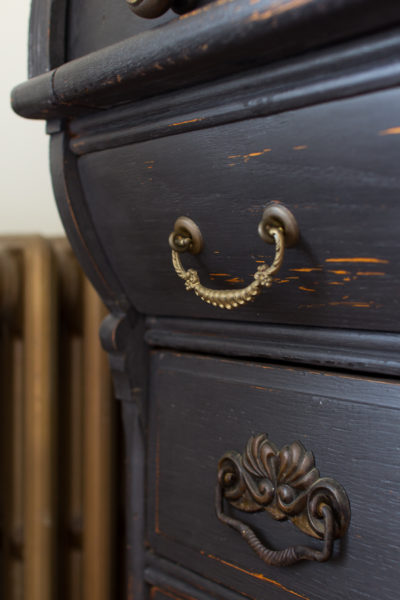 I like that it isn't perfect. 😉
The other cool feature is the inside of the desk.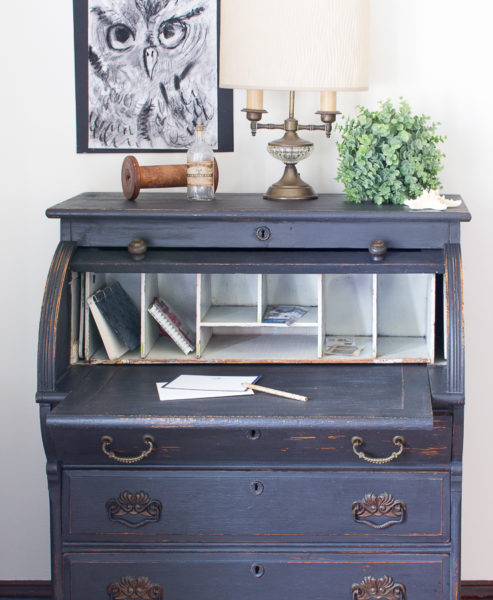 I decided to leave the chippy white paint that was already inside. I love how it contrasts with the black.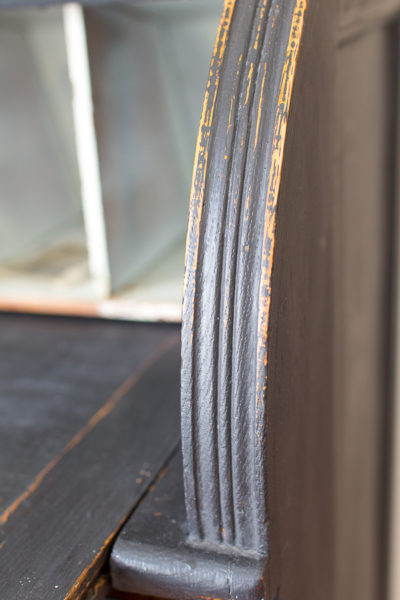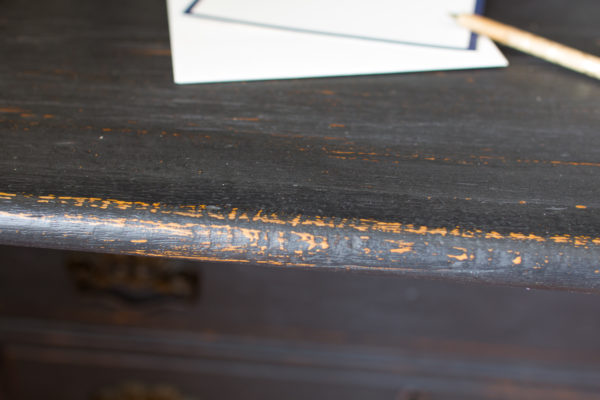 I'm excited to sit here and write letters and journal.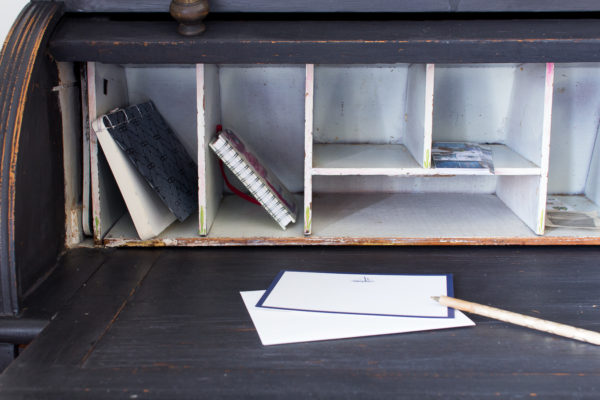 While working on the piece I actually found an old newspaper photo of a similar desk tucked inside the compartments: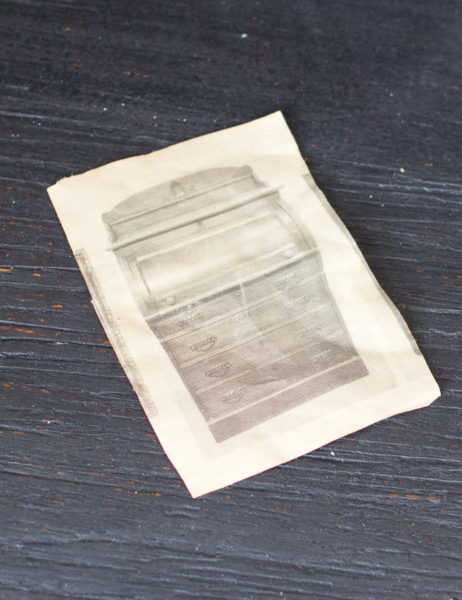 I wonder if this one used to have that top piece?
I decided to use Fusion's Tough Wipe On Poly to seal the whole piece. I simply wiped it on with a wet rag. I applied two coats, allowing to dry in between. I love that you can wipe it on because there are no brush strokes. Another thing I love about this product is it dries matte and is non yellowing which doesn't matter on black but does matter on lighter colors. I'm usually a wax person, but I LOVE this product. I thought it would be good to have added protection as the desk surface will get lots of use. Miss Mustard Seed also has a tough coat which is virtually the same, both products are made by Homestead House.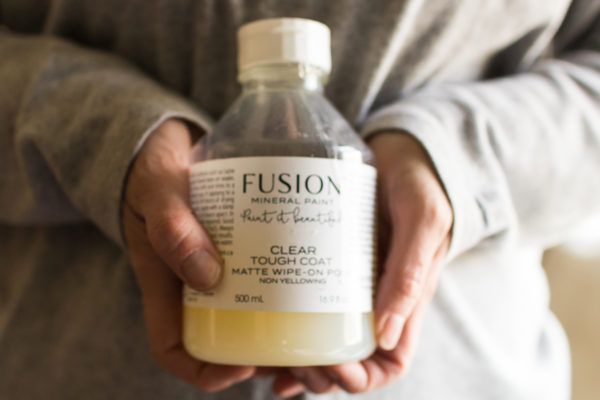 Alright, do you want to see how the piece looks in the room?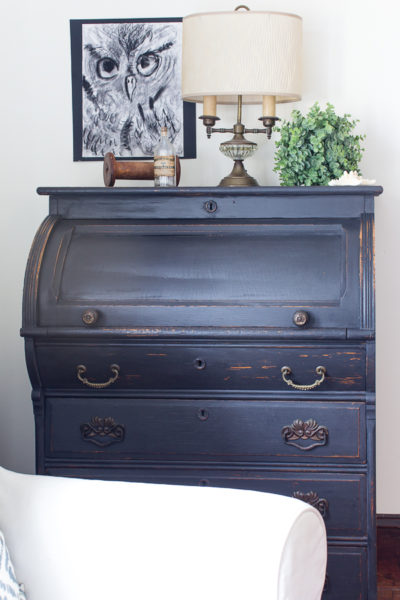 My son, John, drew the owl in charcoal last week and I just love it so much!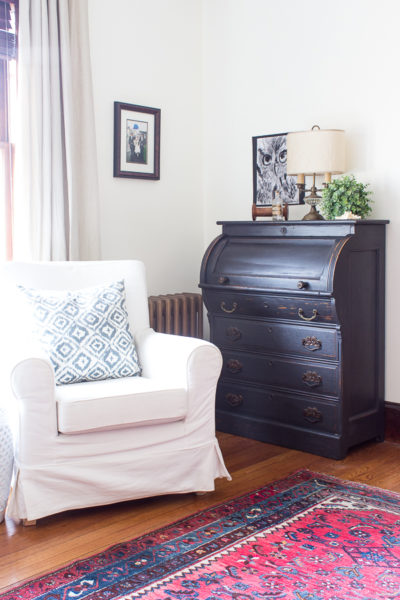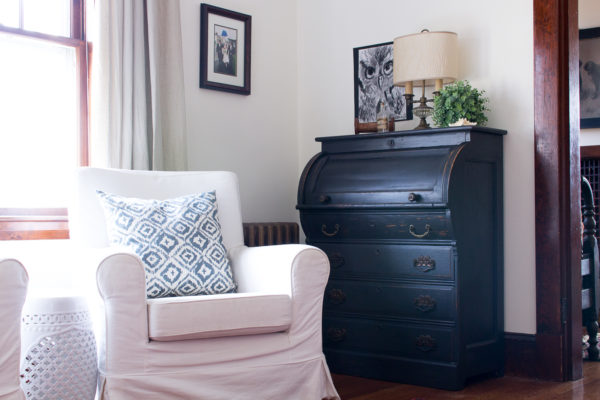 I love how the black milk paint makes such a statement now. It's rich and sophisticated but also neutral.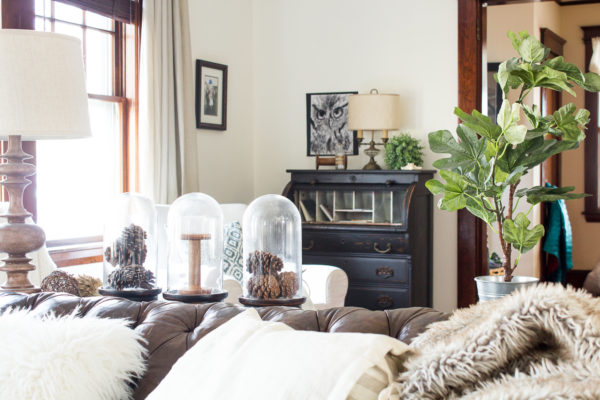 Doesn't it look nice from the other side of the room too?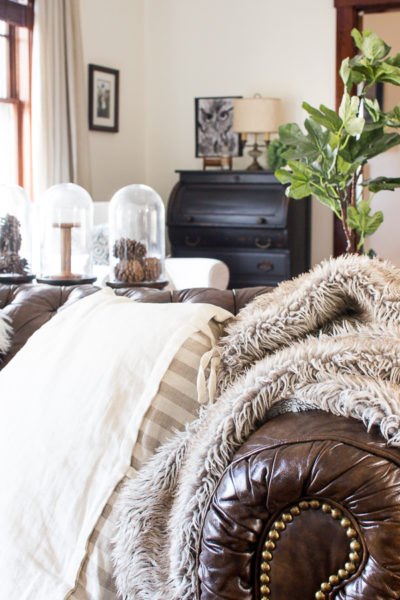 I'll share more about our winter decorating tomorrow (I've been a bit slow with winter decorating because I'm in denial). What do you think of my new (old) desk? Do you love the "Colin" Roll Top Desk as much as I do?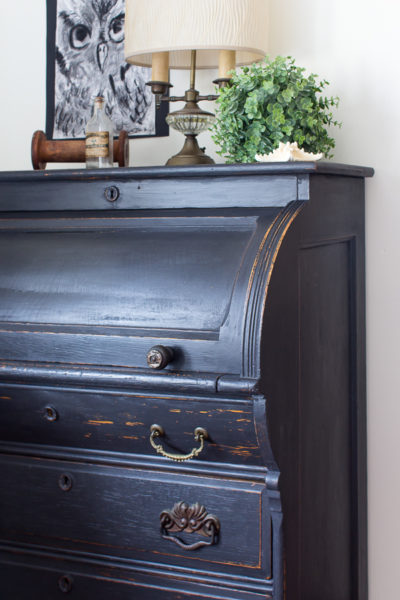 If you enjoyed this post, then you might like my eBook on painted furniture. It's packed with tips on painting your own pieces.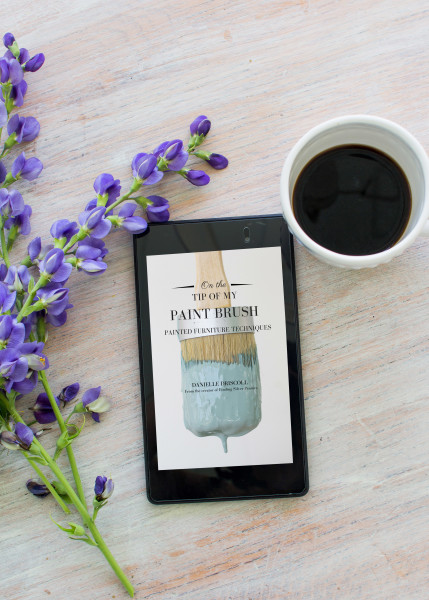 Sharing with: