All you need are succulents, paint and some bits of wood to create this beautiful DIY coastal succulent wall hanging.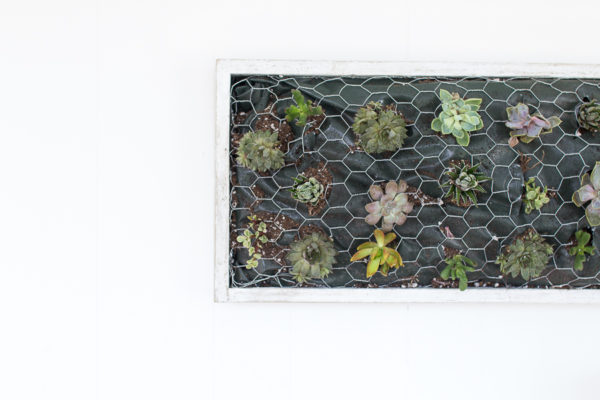 This is a sponsored post with Saltwash® Powder. and contains affiliate links. All thoughts, words, pictures, and ideas are my own.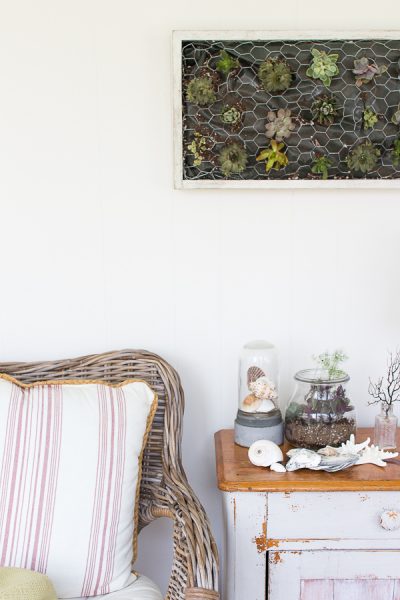 I've wanted to create a succulent wall hanging for quite some time and then I realized there was some wall space between this little table and my painted oars.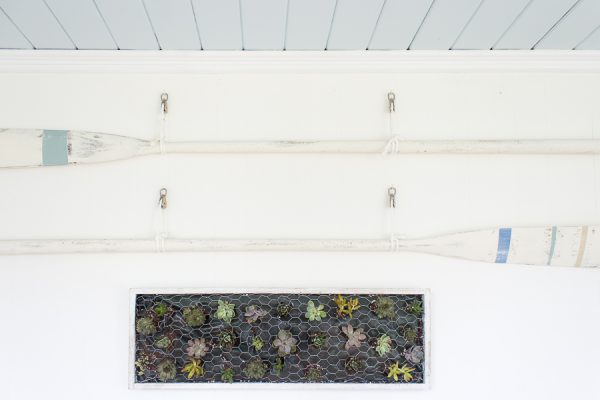 We already had spare wood and paint in the basement.  I added Saltwash® Powder to the paint to create a textured coastal finish. It instantly gave the frame we made an old, weathered look. I'm a brand ambassador for Saltwash and love this product. My readers can click here to get a 10% off discount with Saltwash® cans or click the sidebar.
The assorted succulents are from The Home Depot. You can buy them individually or in smaller sets but I ordered a hundred and have had fun decorating my home in all different ways.
Succulents are one of the easiest plants to care for. Simply mist with water. Really that's all there is to it and I love the colors and shapes. They say informal and coastal to me.
This project took a few hours (plus dry time) from start to finish.
I'm breaking it down in steps as there are about three DIYs in this post – making the box frame, creating a coastal painted finish, and planting the succulents vertically. I hope you'll read each one. Eek! I'm so excited to share how we did this:
DIY Coastal Succulent Wall Hanging
Making the Box
Materials
Cedar or Pine Wood
¼" Plywood
Kreg Jig
Saw
Kreg Screws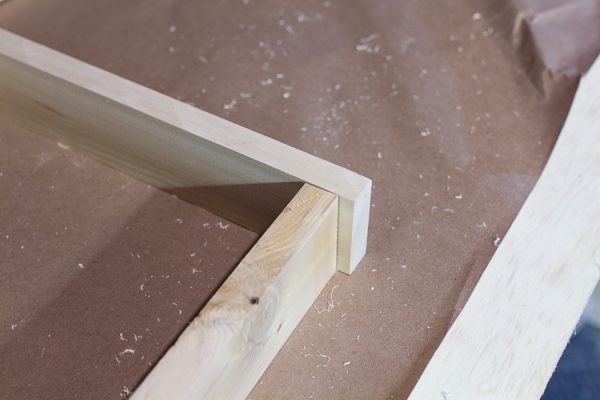 Method
Cut wood to size, I wanted my box to be long and narrow. Attach sides together using Kreg Pocket Hole Jig. Attach plywood to the back of the box with nails.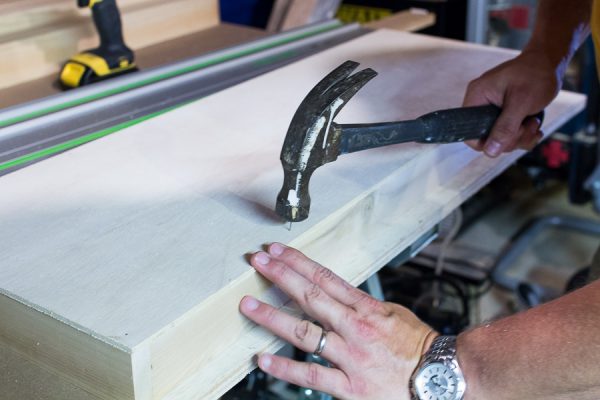 Coastal Finish on Box
Materials
2 Contrasting Paint Colors, I used Fusion's Casement and Putty
Sandpaper (300 grit)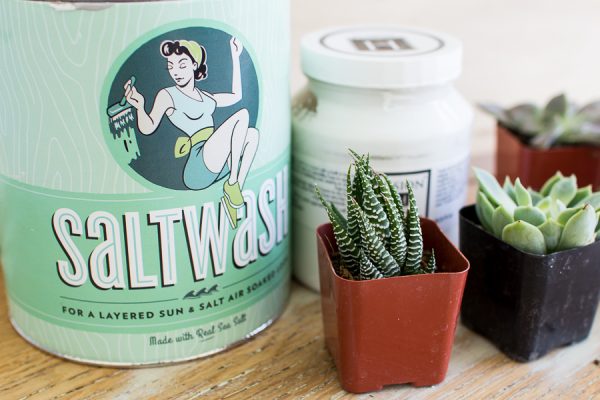 Here you can see the materials in the finished box.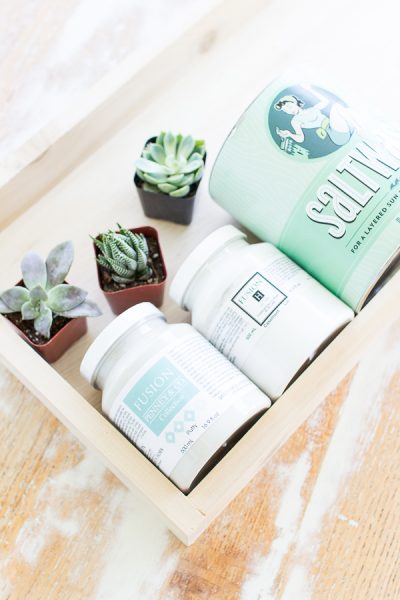 Method
Step 1 – Mix together Saltwash Powder with first layer of paint. My undercoat was putty – a pretty, neutral taupe by Fusion Mineral Paint. You want the paint / powder mixture to have the consistency of thick frosting.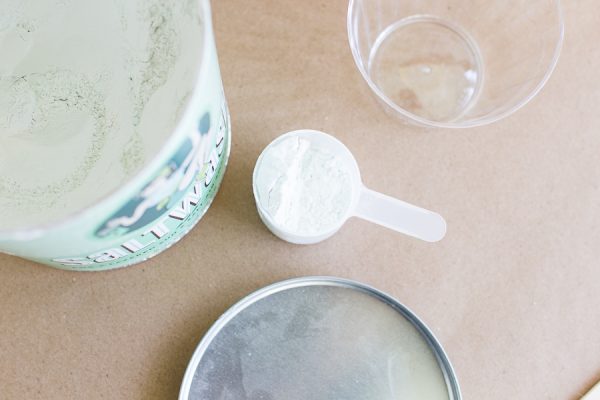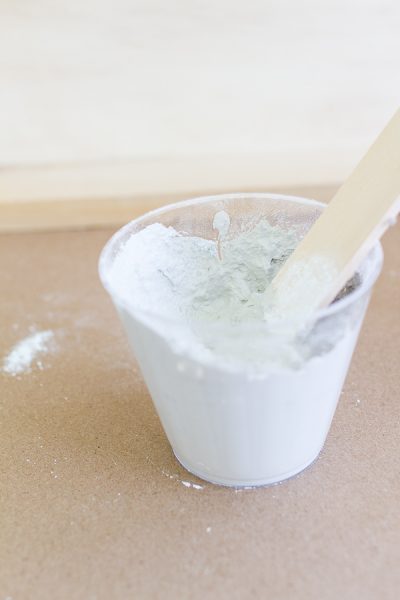 Step 2 – Stipple the paint on using a the tip of the brush. Make sure to knock down any high peak by going over the paint with the bristles while it's drying. Allow to dry.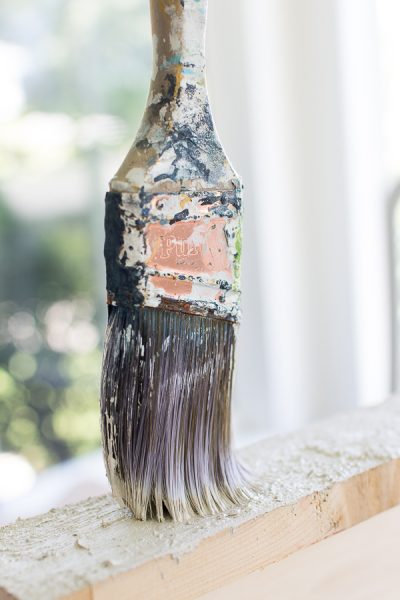 Step 3 – Once dry, apply a second contrasting color. I painted on Casement, a pretty, creamy white. Allow to dry. I painted inside the box too, even though it wouldn't be seen.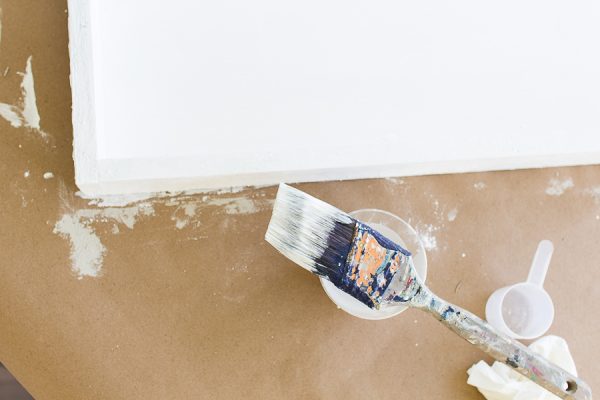 Step 4 – Once dry use your sand paper and distress. You'll get a wonderful coastal texture. Since this is a frame and Fusion has a built in top coat I didn't apply a topcoat or poly but if you're doing this on a piece of furniture or a high traffic item you may want to put a protective topcoat on it.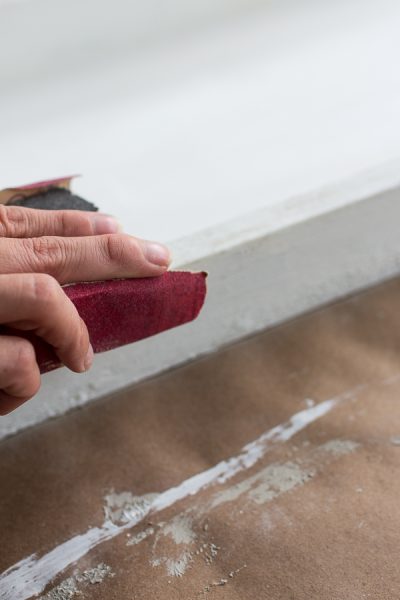 Here you can see a close up look of the distressing. It has a nice farmhouse feel to it.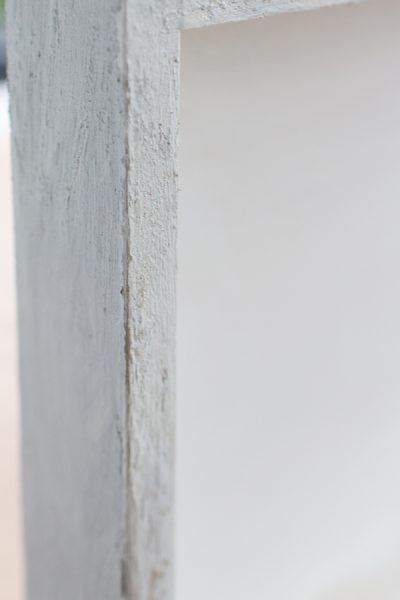 Important – before you plant your succulents, make sure to put hooks on the back of your frame. It will be very messy and difficult to do this "after". These are the hooks we used: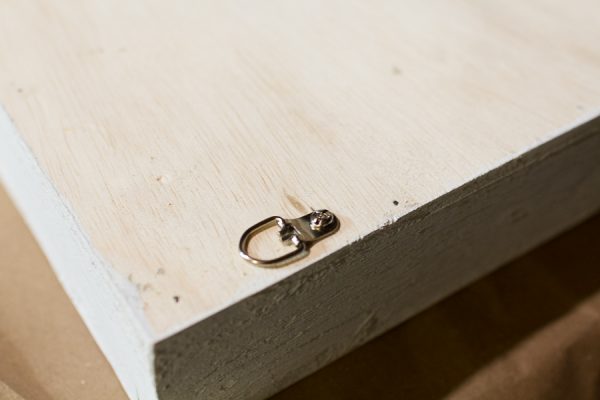 How to Plant Succulents Vertically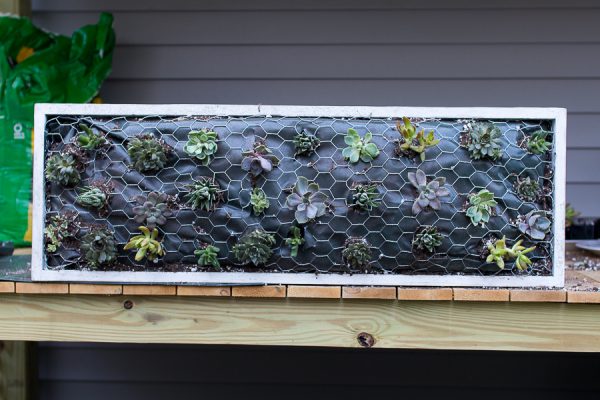 I did this out in our potting shed because it was a little messy 😉
Materials
Heavy duty plastic bag
Succulents
Cactus Soil
Chicken Wire
Wire Clippers
Scissors
Staple Gun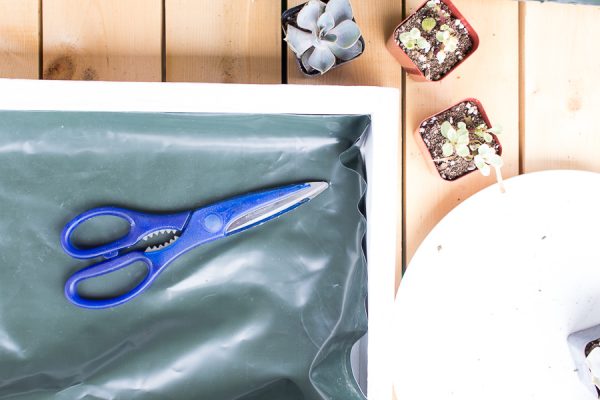 Method
Step 1 – Cut a heavy duty plastic bag (we used a watering bag that came for our cherry tree – Max had chewed at it so was unusable for our tree), you could also use a black trash bag. Just make sure it's heavy duty because you're going to put a lot of soil in it.
Step 2 – Attach the top side of the bag to the box using staples.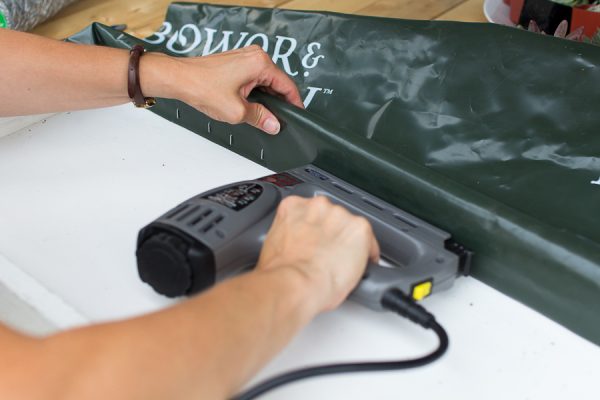 Step 3 – Fill the bag with cactus soil.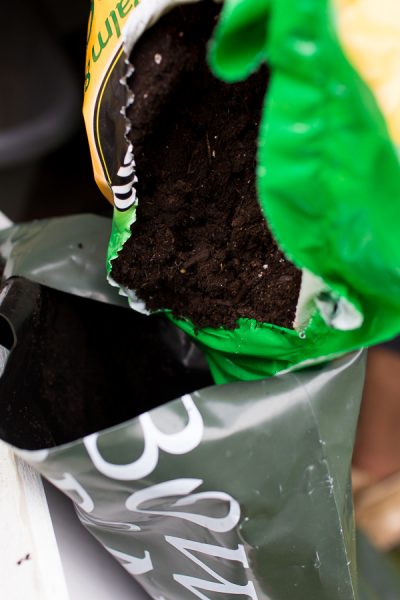 Once filled staple the rest of the bag to frame.
Step 4 – Attach the chicken wire around the inside of the frame using staples. This will hold the succulents and bag of soil in place while hanging. Be very careful the chickenwire is sharp!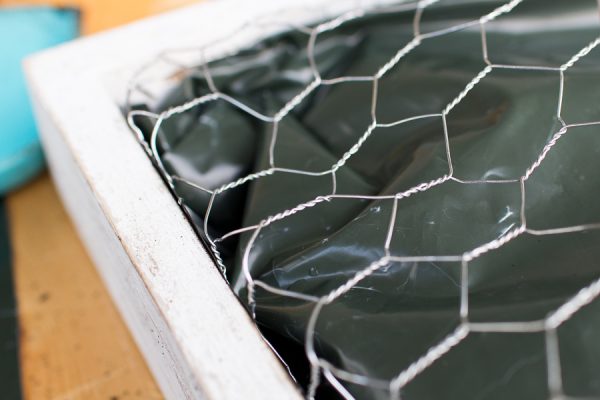 We attached the top and the sides and then the bottom.
Step 5 – Place your succulents about where you'd like. I found I couldn't put as many in as I'd like and I also found that some succulents tend to fall apart while trying to get them positioned while others were easier to work with and held together a bit better.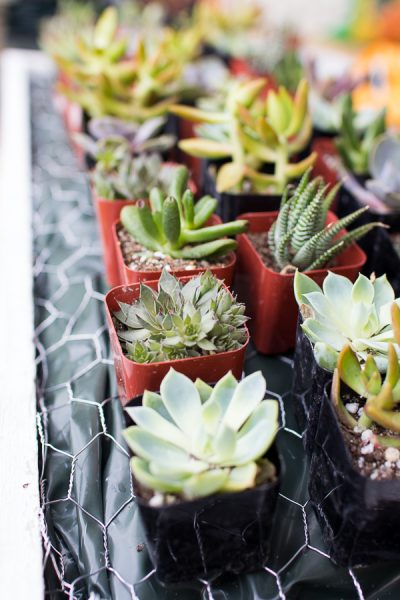 Step 6 – Find a spot where you want to place succulent. Cut chicken wire carefully with a wire cutter and then cut plastic bag with scissors, place succulent in the hole.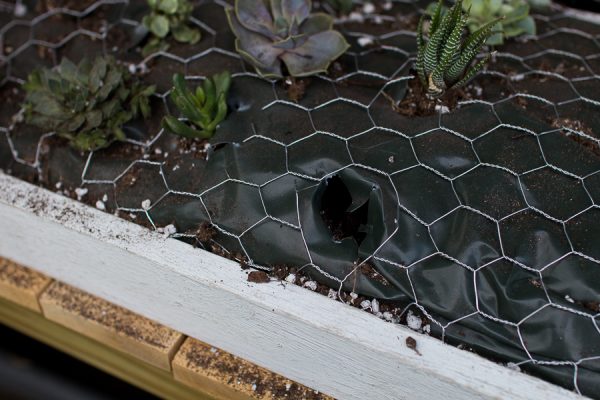 Step 7 – Bend the chicken wire into the succulent to try and hold it in place.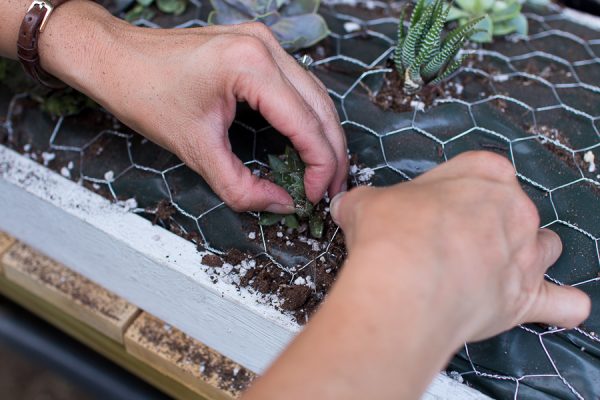 Carry on with this process until you're done!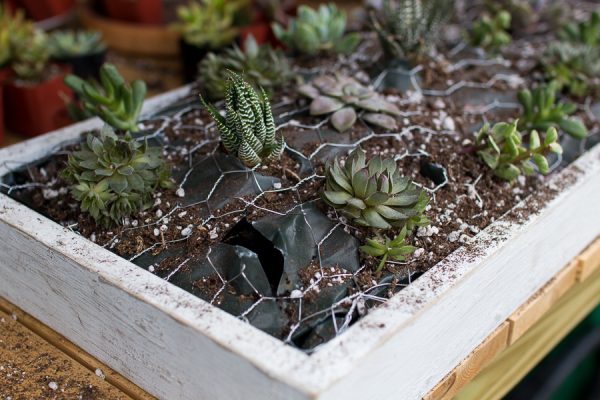 Once done, it's time to enjoy your new DIY succulent wall hanging!
The succulents are pretty heavy. Luke actually carried it into the house for me.
You can place it horizontally on a table top as I did here in the dining room: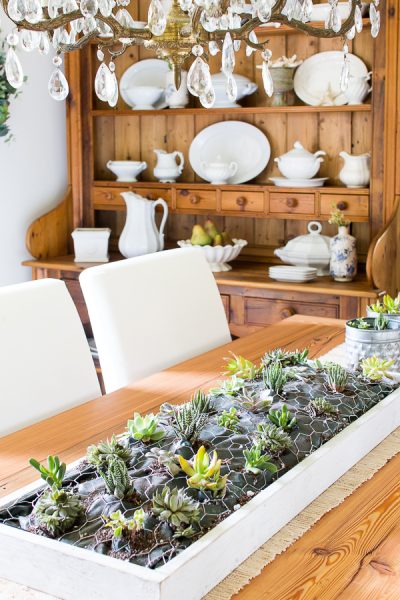 So pretty and rustic, right?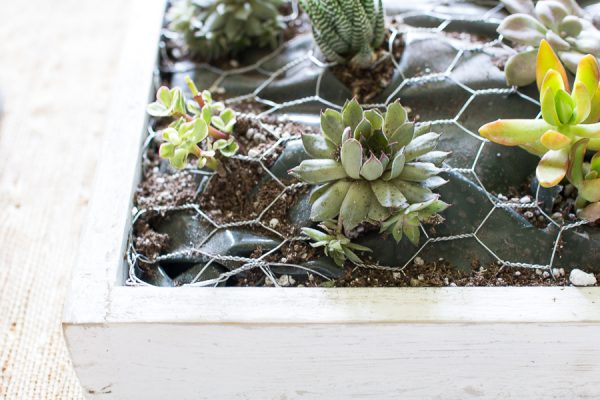 But I actually like it best hanging in our sunroom.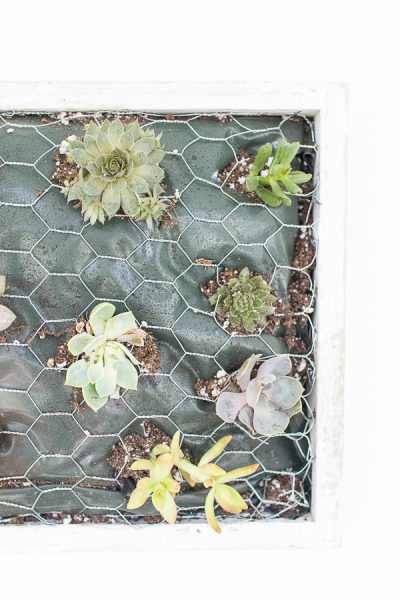 Every time I catch a glimpse of it, I smile. It's nice having something you created with your own two hands (well in this case, 4 hands as we built and planted this together).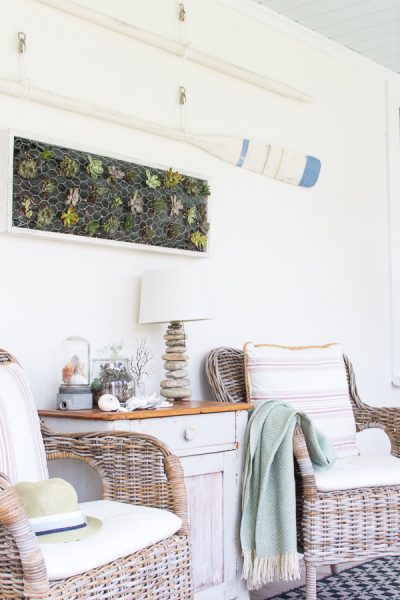 Luke and I love to work together to create special pieces with special meaning for our home.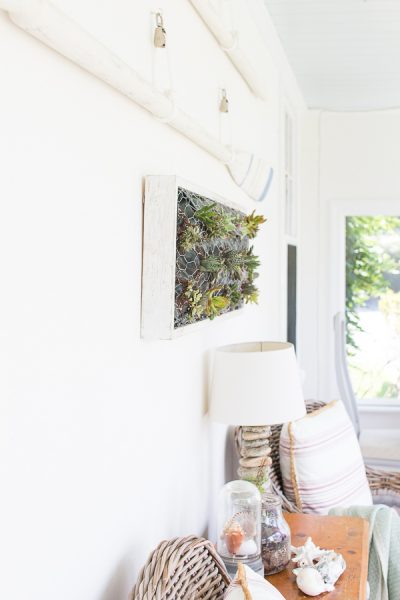 It looks so pretty hanging under our oars (another DIY).
Here's a view from the other side –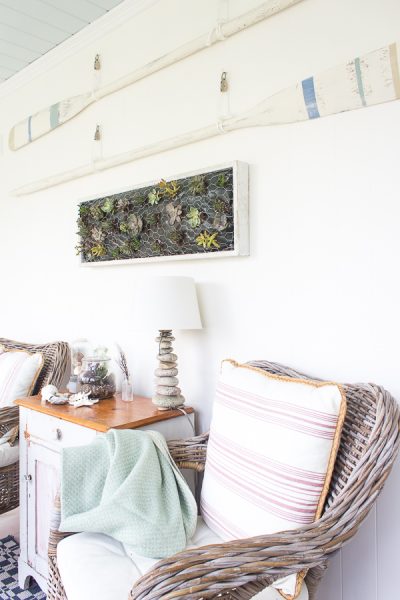 Do you think you'll give this a try at home? I hope so! I sure do love this little DIY Coastal Succulent Wall Hanging.
I think I might try and create some smaller versions which would be super cute in small spaces – like powder rooms or offices. You can see more of my Saltwash projects here.