Nothing makes me happier than a white kitchen. I love how clean and crisp white cabinets look and our little kitchen got a bit of makeover with bright white cabinets.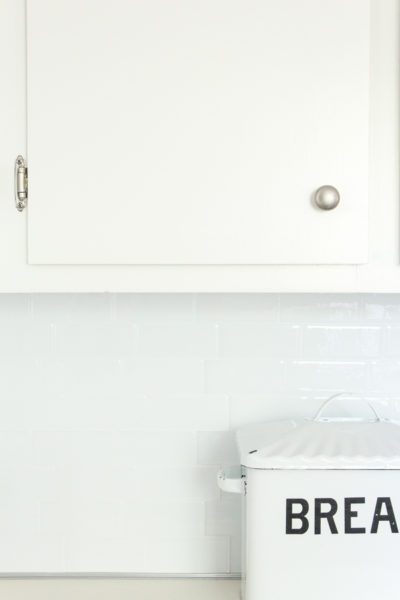 It's funny how when you know a magazine is coming to shoot your home you get very excited BUT you also get very critical and start noticing all those little things that maybe wouldn't bother you otherwise. As many of you know, Fifi O'Neill is coming to my home this weekend to shoot it for an upcoming issue of Romantic Country. One area that was really bothering me in our home was the kitchen. The cabinets, really. They were looking very distressed (not in a good way). Part of it is due to having a puppy who went through some teething stages here and there but the other part is wear and tear. I know in photos a space can look good, but here's a close up of some of the kitchen cabinets.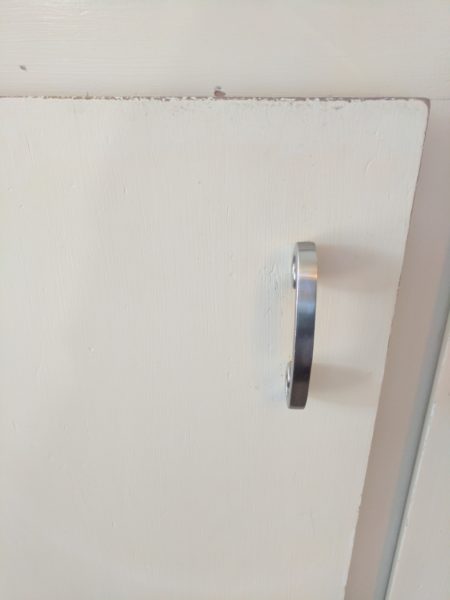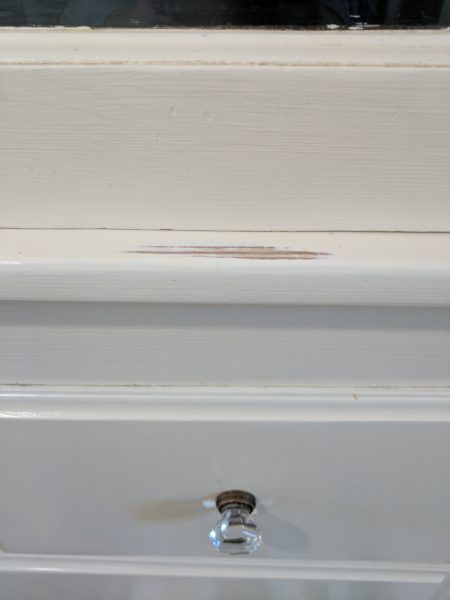 I've already done some work to this room. I painted the once yellow walls gray. Click here to read that post. We added stick on subway tile which were so easy to put up and have really stood up well. We painted the walls a year and half ago and did the stick on tiles a year ago. I didn't paint the cabinets and trim because I thought we would redo the kitchen.
Well, friends, it's just not in the budget right now. I had one quote that was $70K and got another that would be $34K to reface the existing cabinets and some new counters and tiles, but that would be the same current layout.
So, those weren't an option. Sigh. I'm sure some of you can relate.
I dream of having a pretty range with a hood, quartz counters that look like marble and bright white cabinets.
I decided we'd paint the cabinets and trim for now. Luke and I are thinking in time (once we've saved up), we'd like to change the layout and move the fridge so that it's into the kitchen. We're also talking about turning our tiny half bath back into the kitchen. We're thinking about doing the majority of work ourselves, but I'll share all of this with you when it happens which probably won't be for a few years.
I ended up having my good friend and professional painter, Andy Lane, come with his crew and they knocked out our kitchen in two days.
You can see here just how much brighter the primer is than the cabinets were. Please excuse how messy my cabinets are on the inside!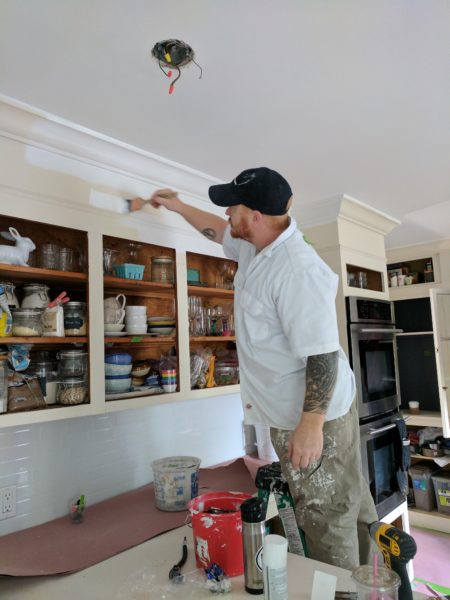 AJ Lane Painting is wonderful. Andy is very tidy when working and an excellent painter. His team are great too and so great with our boys and dogs. They all love dogs. 😉
They came and took all the doors and hardware off and primed and did a few coats on the body of our cabinets.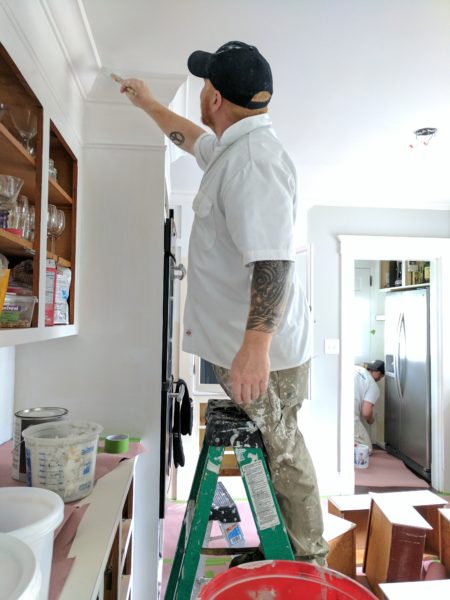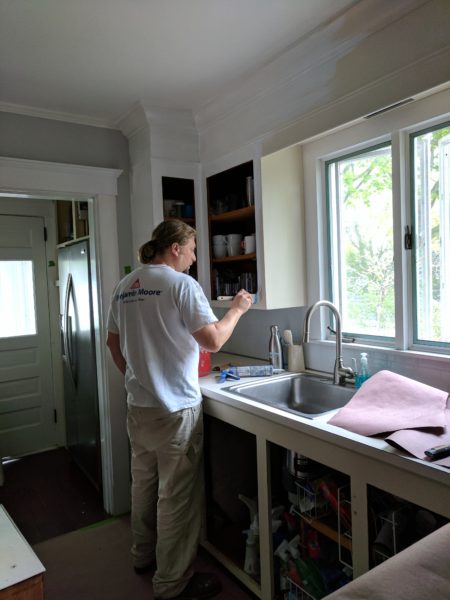 I love that they still use proper brushes rather than spraying everything.
Then Andy brought our doors back to his workshop and sprayed them with primer and the cabinet paint. I believe he did three coats in all.
You can see them here on a drying rack: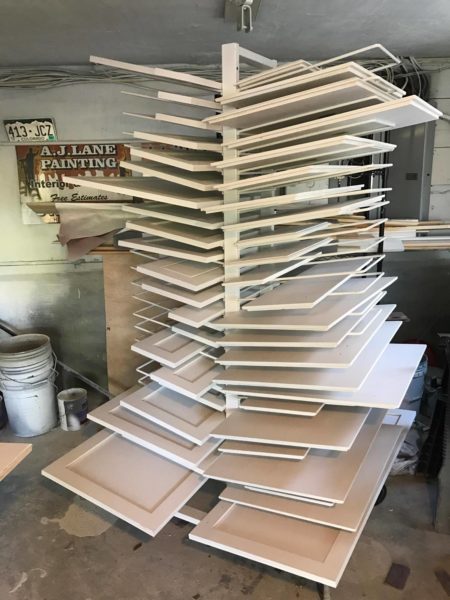 Here they are being wrapped up to deliver them back to our home. On Monday it was my birthday (thank you for all the birthday wishes by the way) he said he was wrapping them up for my birthday present. Ha! Ha!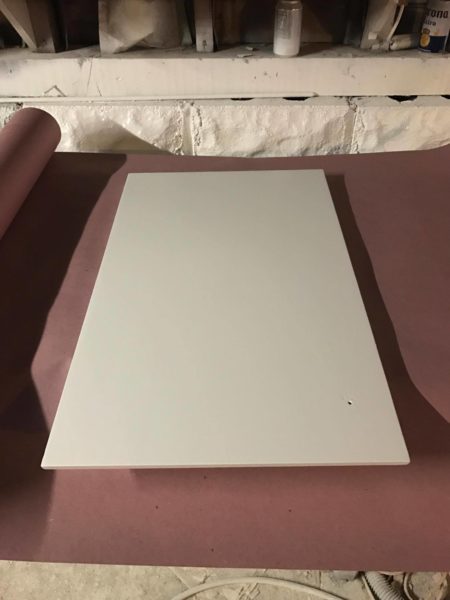 They are so smooth and the satin finish reflects the light in our kitchen.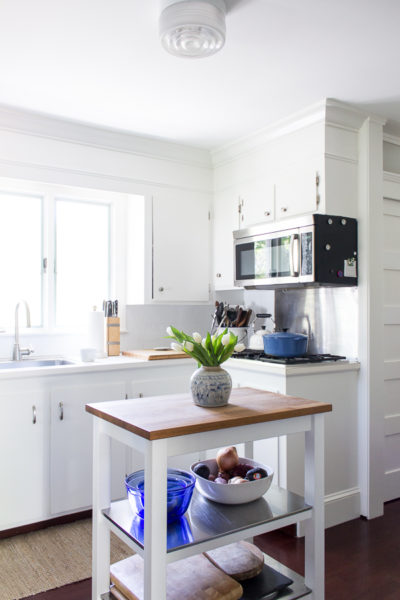 Maybe I should show you a before and after so you can see just how huge the difference is:

Here's one more before and after photo:

The only difference in these photos is the cabinet and trim paint. Before the cabinets were painted in Benjamin Moore Bone White Semi Gloss while the trim was White Dove. Now both the trim and cabinets are White Dove in Satin.
It is amazing to me how magical paint is. A few coats of paint have drastically changed up this room.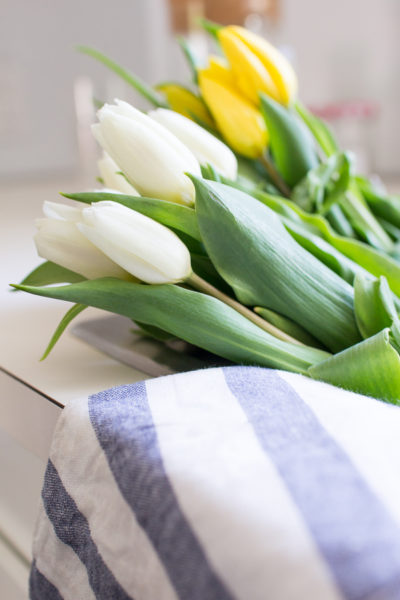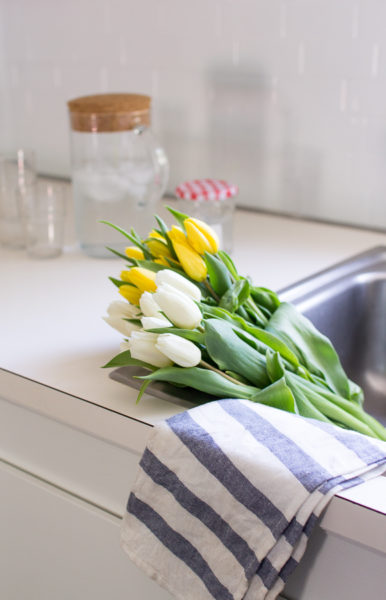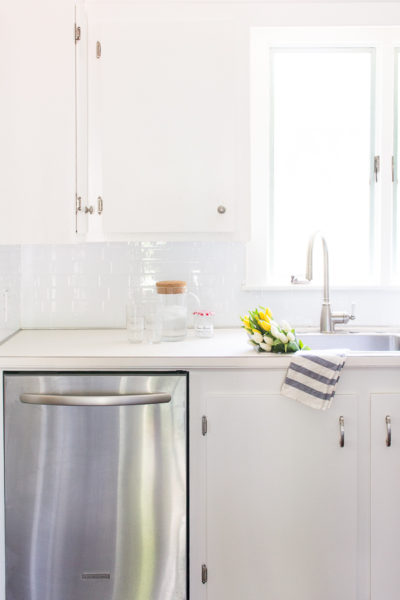 The white just looks so perfect.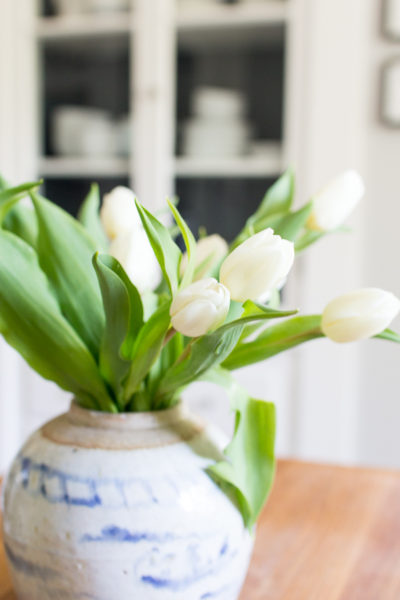 It even makes our old china cabinet pop.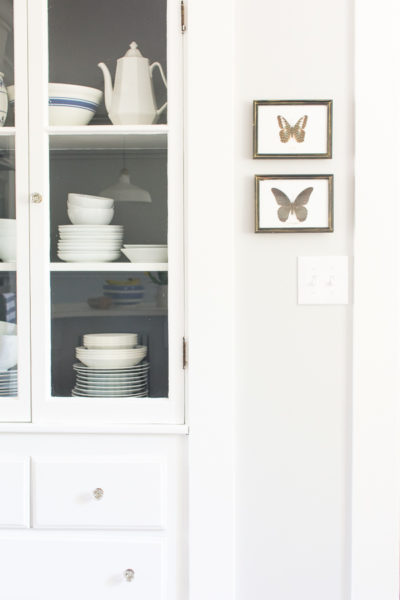 We spend so much time in here from breakfast around the nook to after school snacks.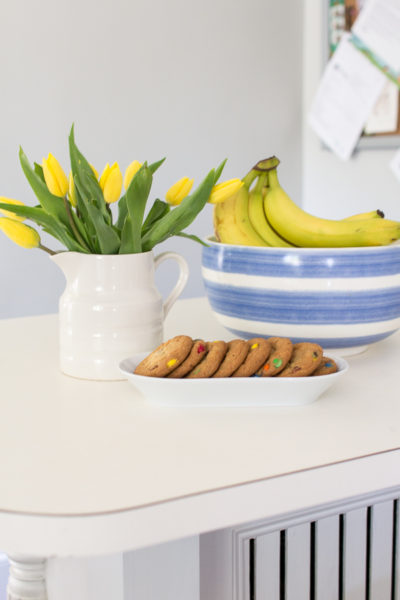 The boys enjoy fruit and cookies when they get home from school. I wish I could tell you these were fresh baked.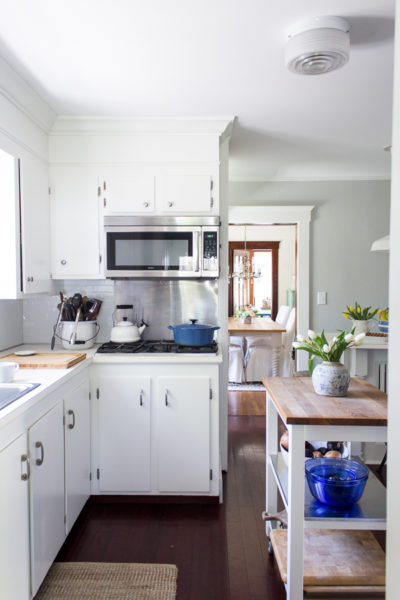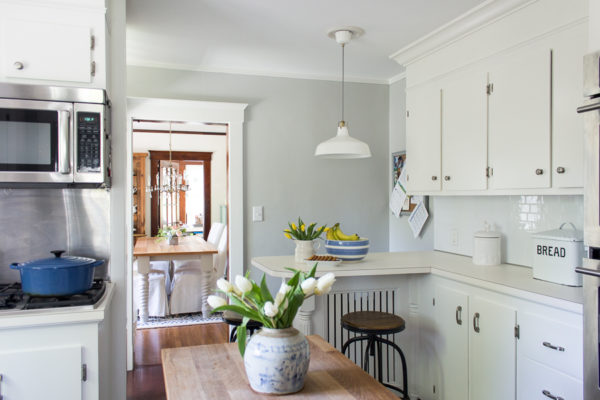 You can see right into our newly decorated dining room. If you missed that post click here. I'm still IN LOVE with that farmhouse table my hubby built.
I'm constantly in here cooking dinner or making lunch.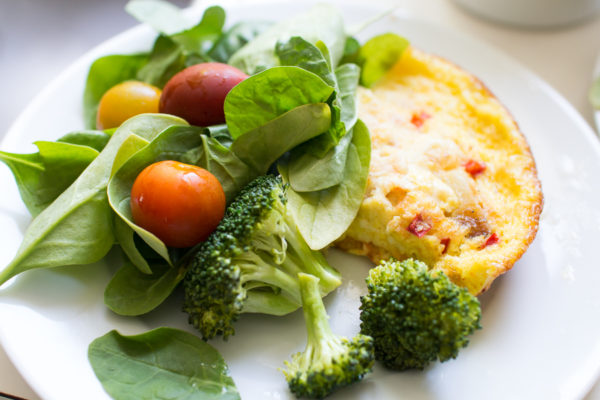 Luke snapped this the other day while I was getting lunch ready. Can you see just how happy I am with my newly painted kitchen? Yay!!!!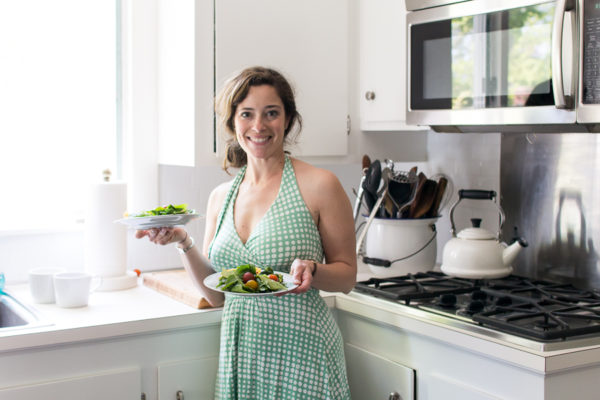 Okay, I know it's a bit of photo overload but here's a few more photos: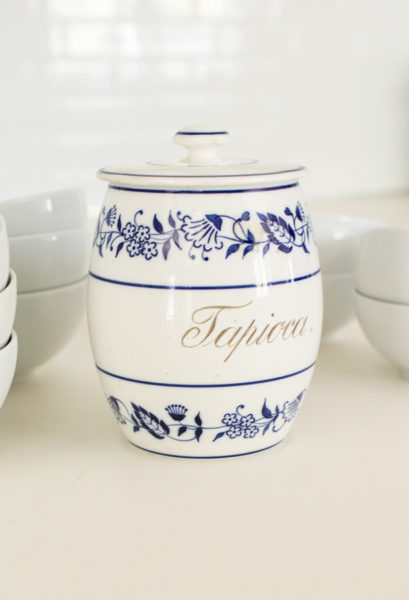 I love this little jar I found at an antique store. I store candy in it 😉 It usually lives in the china cabinet along with some Ikea dishes and some antiques.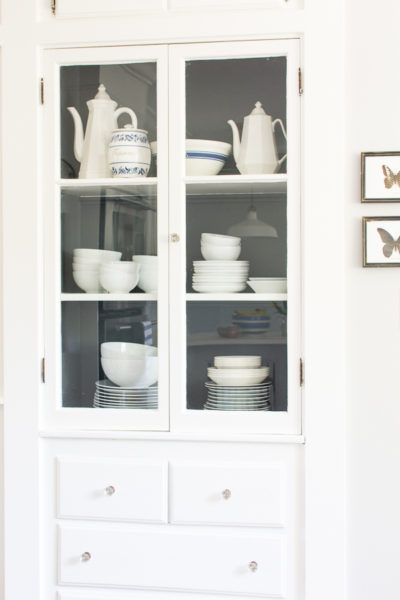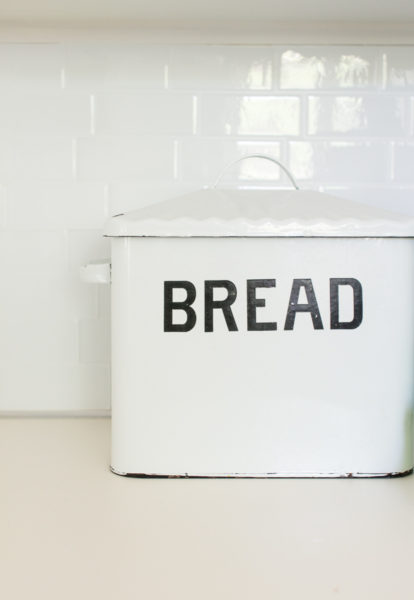 Can you believe those aren't real subway tiles?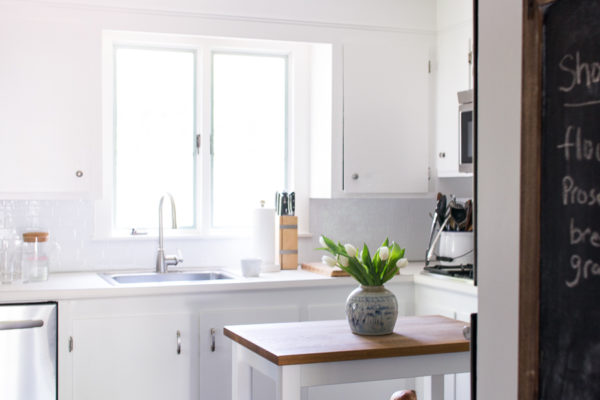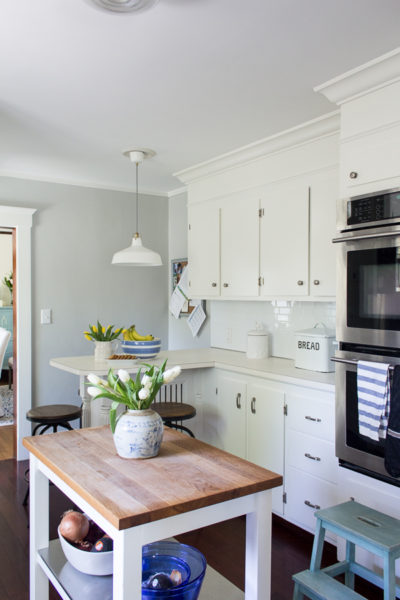 Here's a view of the room from the dining room: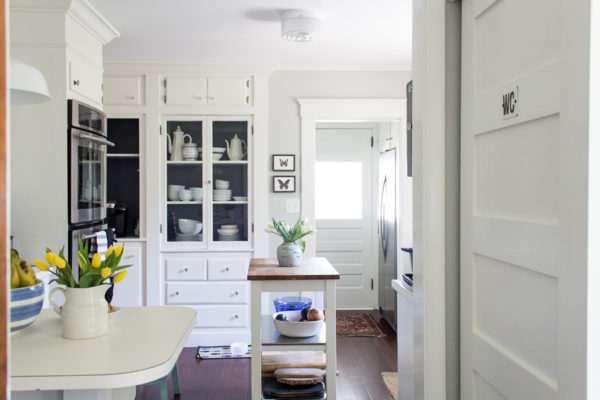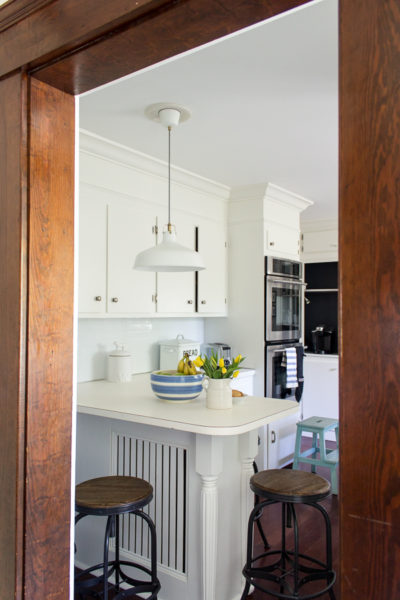 A huge thank you to Andy Lane for helping us with this project! We love how it came out. Perhaps, if you're not loving your kitchen a fresh coat of paint will do just the trick. He used a special cabinet paint by Benjamin Moore Advance which is durable enamel paint for cabinets and hardens over time. I hope you enjoyed our new bright white kitchen cabinets as much as I do!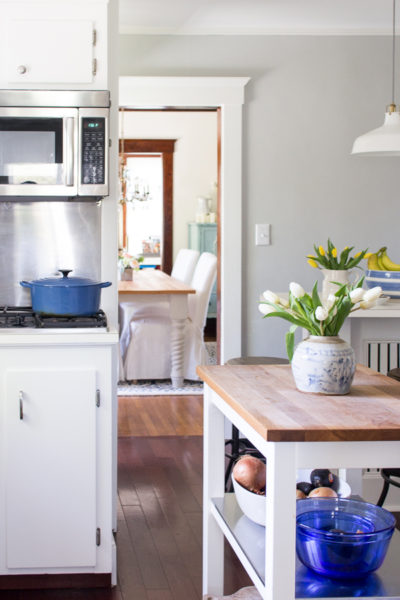 I thought I'd include a source list for our kitchen below.
This list contains affiliate links. If you purchase from these links I receive a percentage of the sale, to read my full disclosure policy click here.
Source List
Wall Color – Gray Owl in Eggshell by Benjamin Moore
Cabinet and Trim Color –  White Dove in Satin by Benjamin Moore
Interior China Cabinet – Soap Stone by Fusion Mineral Paint
Pendant Light – Ikea
Ceiling Light – Habitat Restore
Plain White Plates and Bowl – Ikea
Bread Bin  – Amazon
Kitchen Cart – Ikea
Tea Towel – Ikea
Striped Bowls and Coffee Pots – Vintage
Butterflies – Vintage, Similar here
Jam Jar with Tulips – Vintage, similar here
Throw Rug – Target
Kitchen Aid Mixer – Amazon
Cook Books we love (from Amazon) – Plenty, Everyday Italian, Giada's Feel Good Foods, Jamie's Dinners, Happy Days with the Naked Chef, Soup Bible, The Silver Spoon Cookbook, The Joy of Cooking
Stools – Ballard Design, similar – here