This post is sponsored by Aquascape. They sent me a fabulous fire fountain to try out and we love it.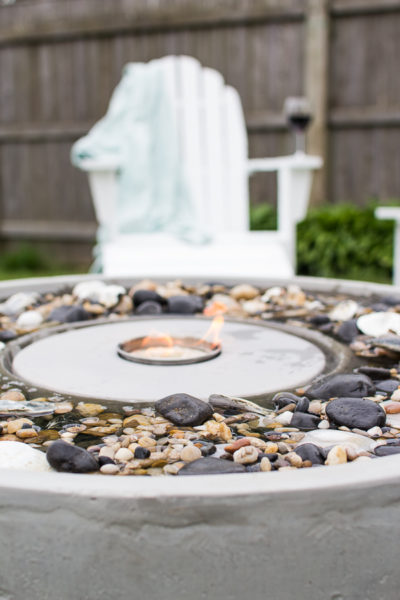 I'm sooooo excited that today I can share some pretty pictures! Yesterday I shared our new plastered ceilings, let's head outside and look at the beautiful coastal scenery.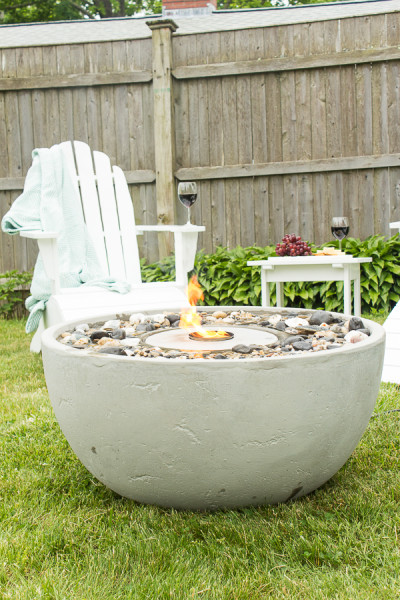 Okay, first of all let's chat about water features.  I was telling our neighbors and kids about the fire fountain, before it arrived, and they all looked at me with a perplexed look, asking if I meant a fire pit. Well, not exactly. A fire fountain is a water feature but that also has a flame. Click here to see the ones made my Aquascape.
We opted for the large fire fountain which is 32″ in diameter and large enough to make quite a statement with some adirondack chairs. They also make two other sizes if you're looking for ambiance but on a smaller scale.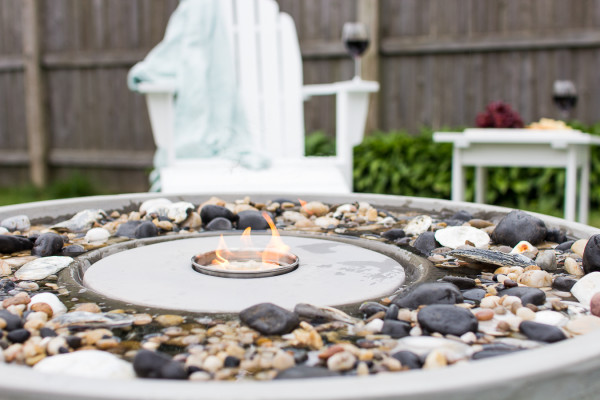 The fire fountain arrived on Friday and we set it up Memorial Day weekend to enjoy. We were pleasantly surprised that it was quick and easy to set up – ready to go in minutes!  The fountain comes everything you need apart from with paraffin fuel and you can add rocks of your choice to decorate.
We filled the fountain up with river rocks and river stones. It was my oldest's idea to include the smaller stones too. I think it adds a nice texture.  I also added some of the beach rocks and oyster shells we collect with the boys our trips to the shore.  You know how much I love my oyster shells!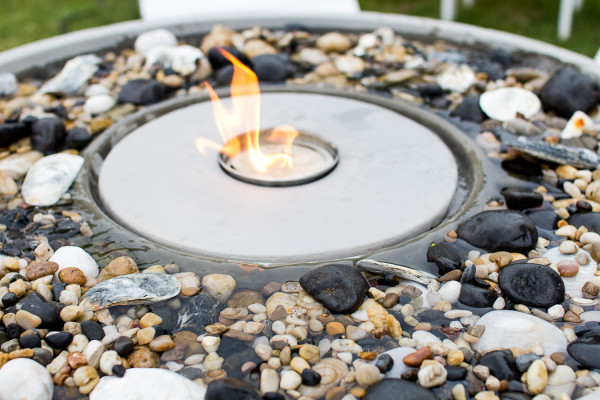 All the muted colors look beautiful together and the collected rocks and shells hold special memories for us of treasured times at the beach. The water trickles through the rocks and makes the most relaxing sounds.
All we had to do was add some water to the basin which is made out of durable glass fiber reinforced concrete and plug it in.  Instant ambience!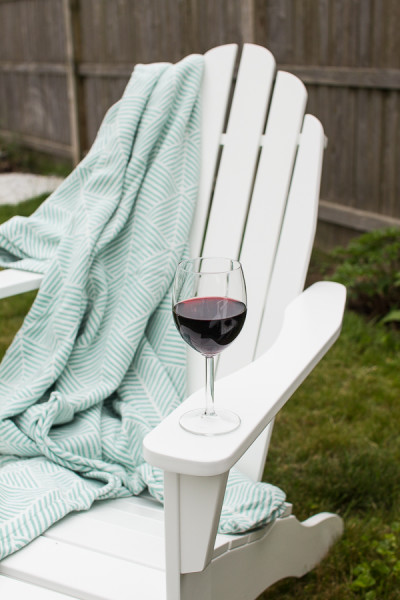 The flickering flame is mesmerizing.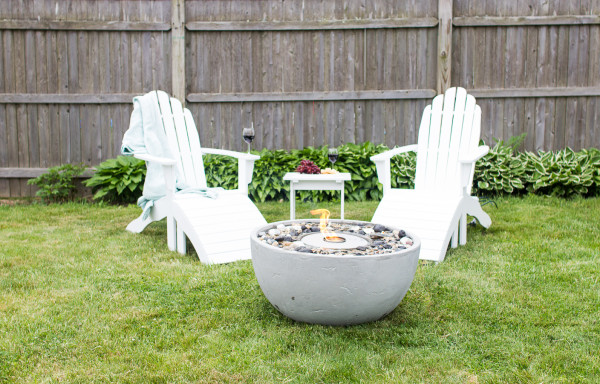 The perfect spot for after beach cocktails and snacks.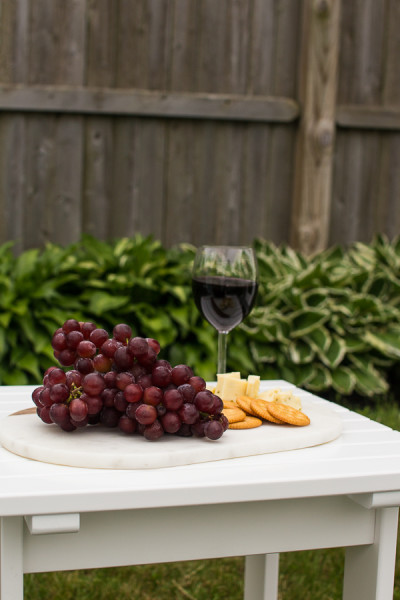 John and Conor couldn't wait to tuck into the cheese and crackers 😉
I have a feeling we're gonna make some great memories around our fire fountain. In fact, we already have!
The chairs and blanket are new – we got them on sale! Luke also put them together for me last weekend. I'm so excited to have this new little outdoor room in our garden.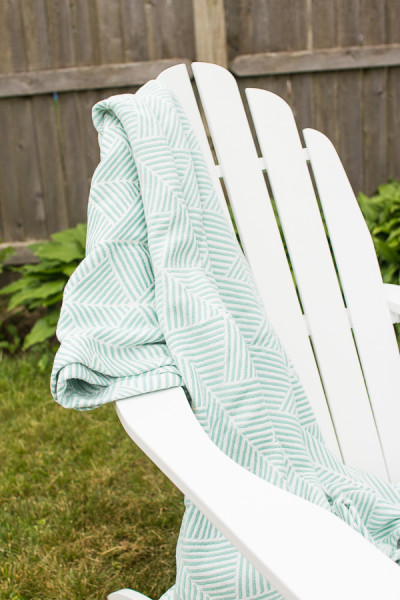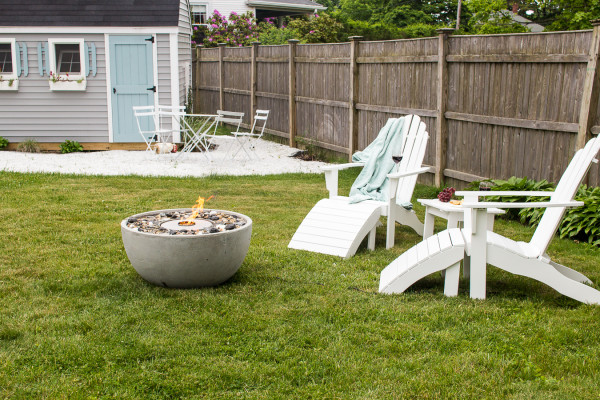 It's tranquil and functional. Great for some alone time or with the family and friends to celebrate.
I snapped a few photos once the sun went down too.  You can see the beautiful dancing flame a bit better: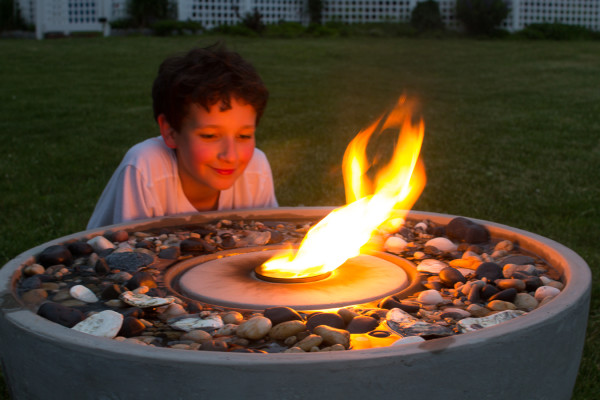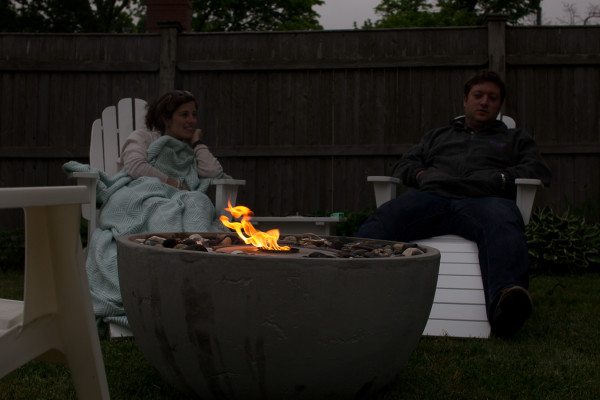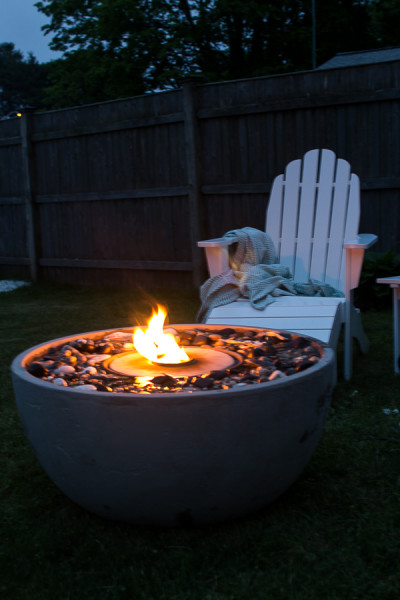 So relaxing!
As I type this post, I am sitting out here with Poppy enjoying the trickle of water and the dancing flame. It is beautiful at night or in the daytime. It's gonna be hard to leave our yard to go to the beach. Ha! Ha!

I thought I'd include a little source list as I've been getting loads of questions on Instagram about some sources out here. There are a few affiliate links in this source list.
Source List
A huge thank you to Aquascape for making this such a special place to be enjoyed! They have a large range of decorative fountains and ponds on their website.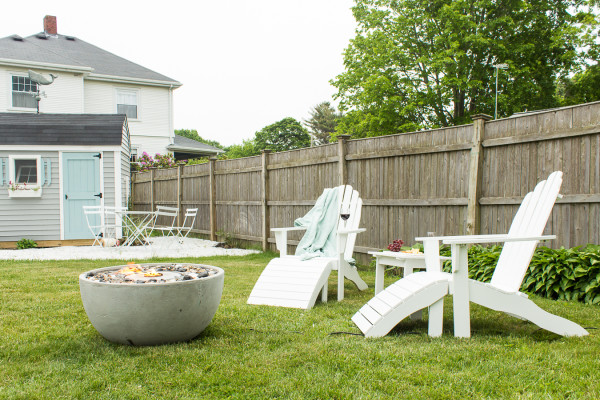 Sharing with: