It's February which means we're in the dead of winter and also Valentine's coming up! I'm sharing a Romantic Breakfast and Our Winter Bedroom.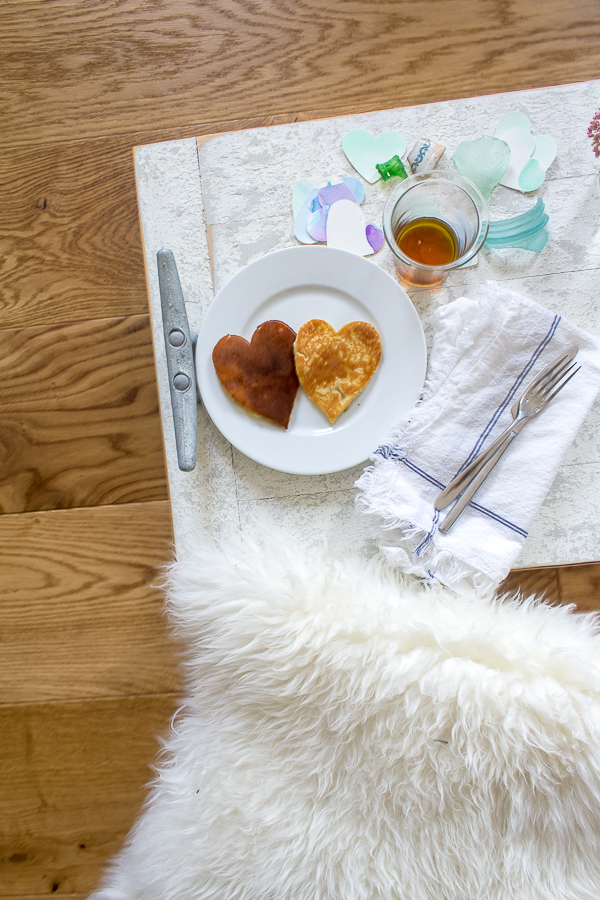 Now, I don't want you guys thinking we laze around here all week eating breakfast in bed. Although that would be really nice. Ha! Ha! I thought it would be fun to share a few winter updates in our bedroom along with this fun romantic breakfast.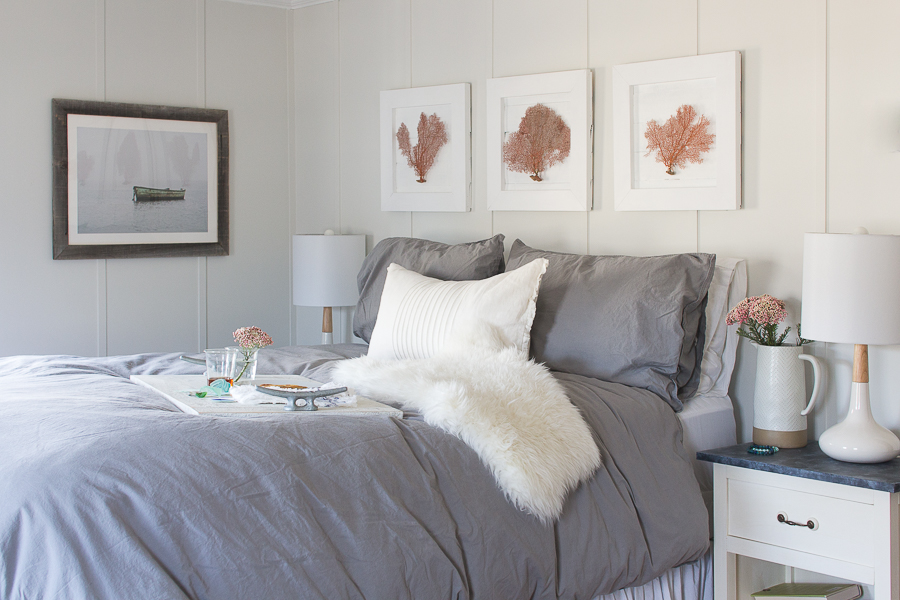 As you can see, we swapped out the previous tan linen bedding for this cozy gray bedding. Both sets are from Ikea. When we did our room over I couldn't decide if I liked the creamy linen or gray duvet set, so I did what any Ikea loving girl would do, and bought both. I thought I'd return the other one after seeing it in the space, but guess what?!? I liked them both. You can see how the tan bedding looked in the reveal and in the fall.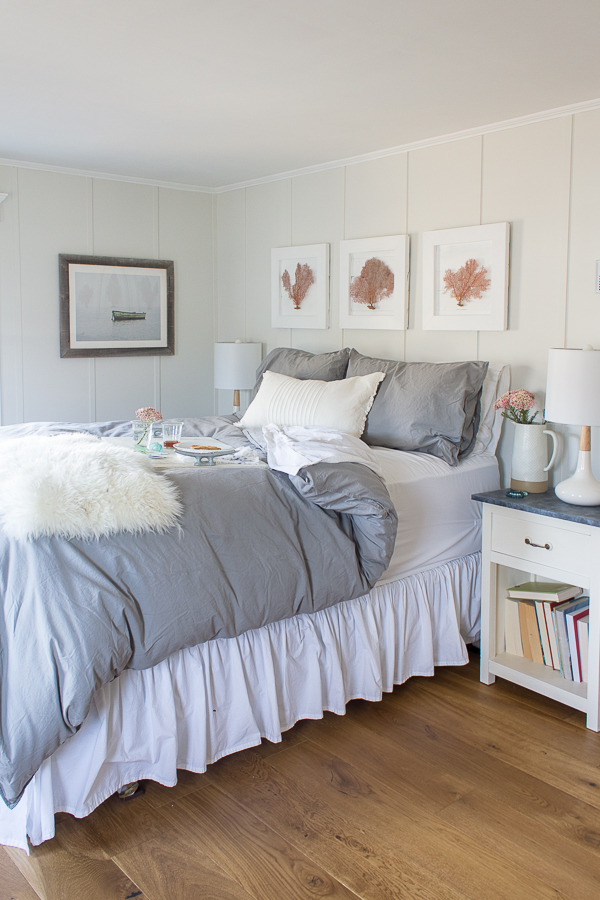 Which set do you guys like better? I really love these for the winter months because they are so cozy and they were a great price point at Ikea. $40, I think.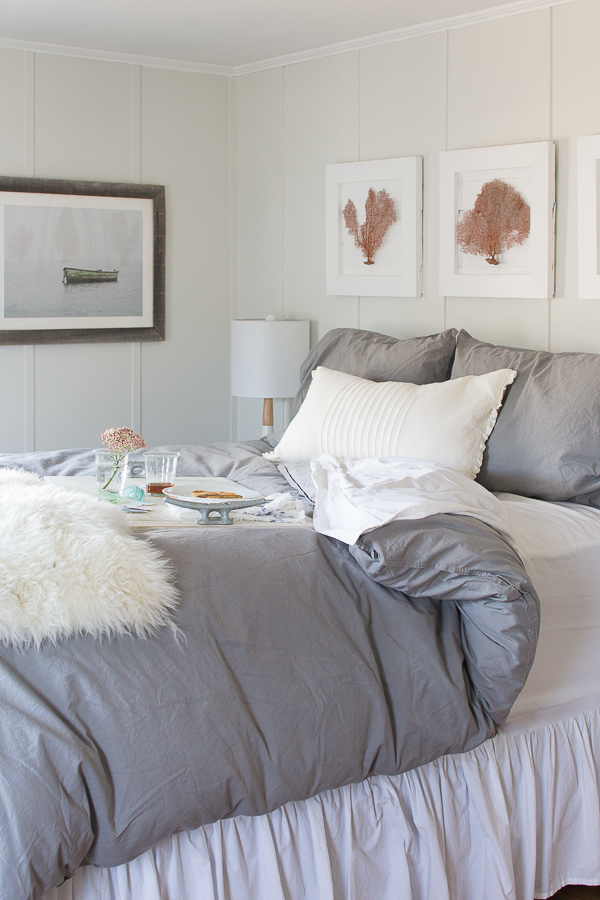 The bedding also coordinates nicely with our bedside tables. These are actually faux soapstone. I created the look with Chalk Paint. You can read the full tutorial here.
These rice flowers have actually lasted weeks and weeks. Just if you're thinking of getting some pretty flowers for your Valentine.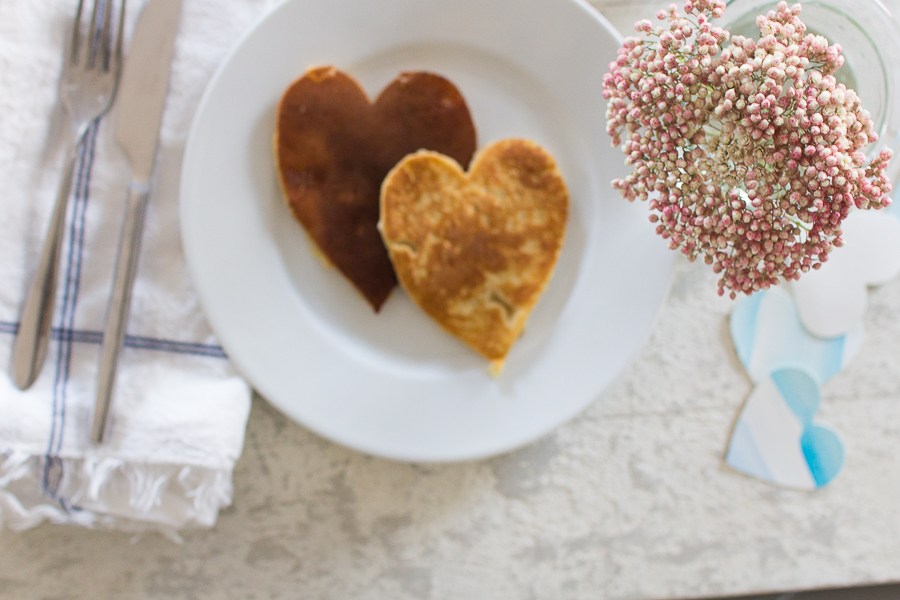 Aren't they pretty and they have a soft fragrance to them as well.
Let me share a few more photos of how the room is looking right now and I'll share the recipe for our heart shaped pancakes further down along with a full source list for our bedroom.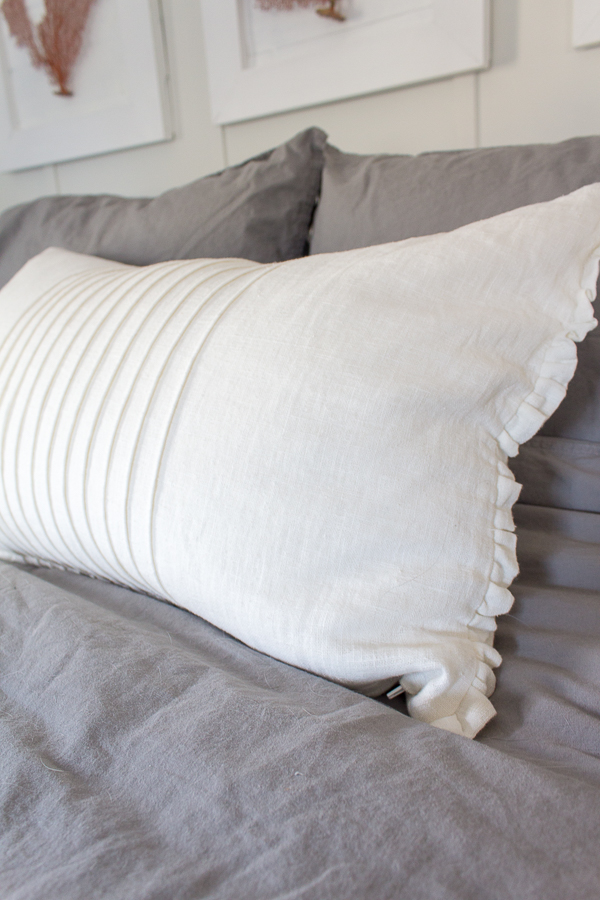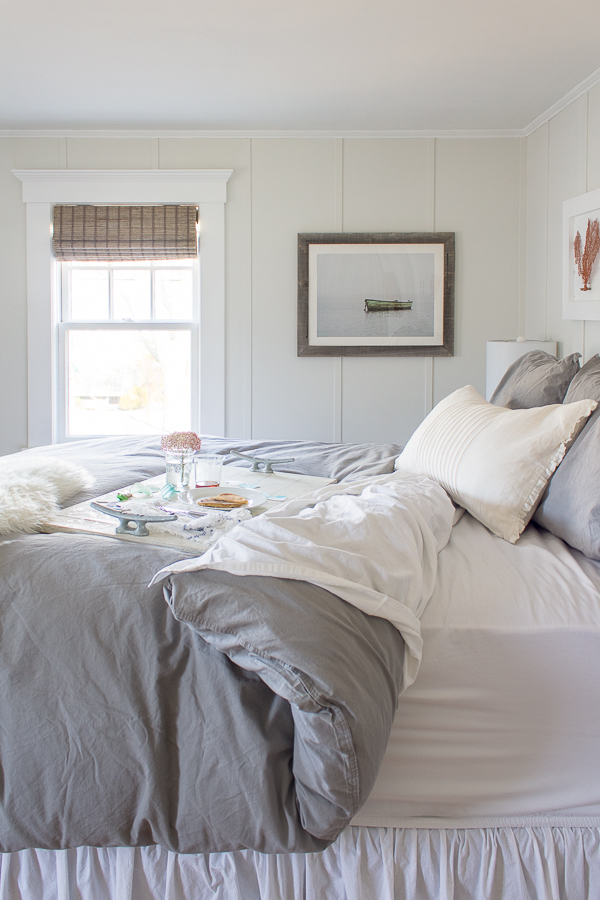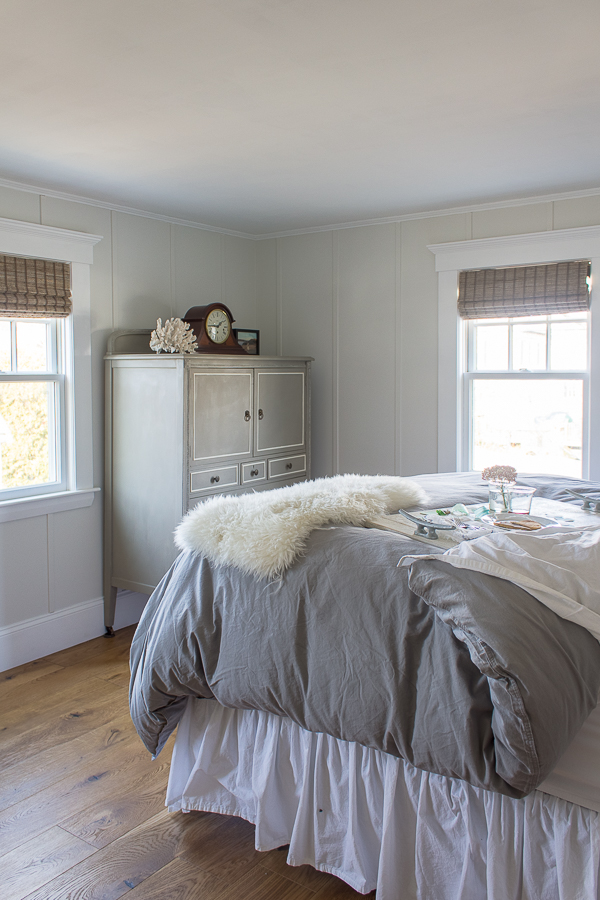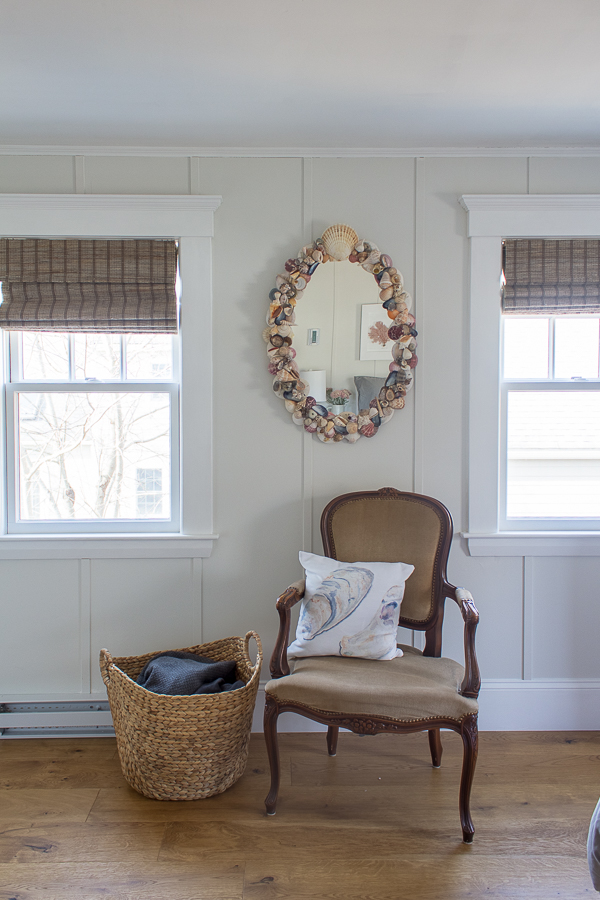 I still have to do something with this chair. Haven't gotten to the upholstery yet.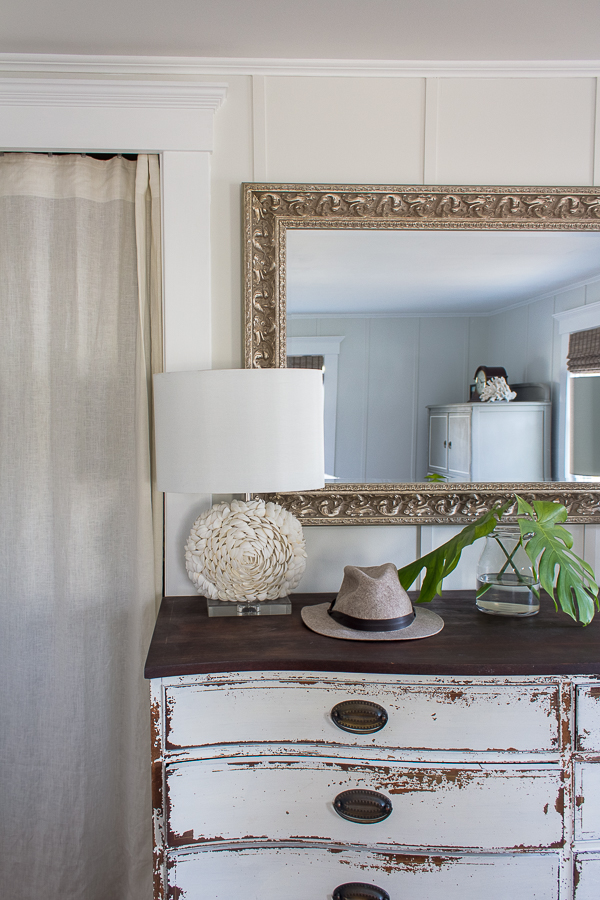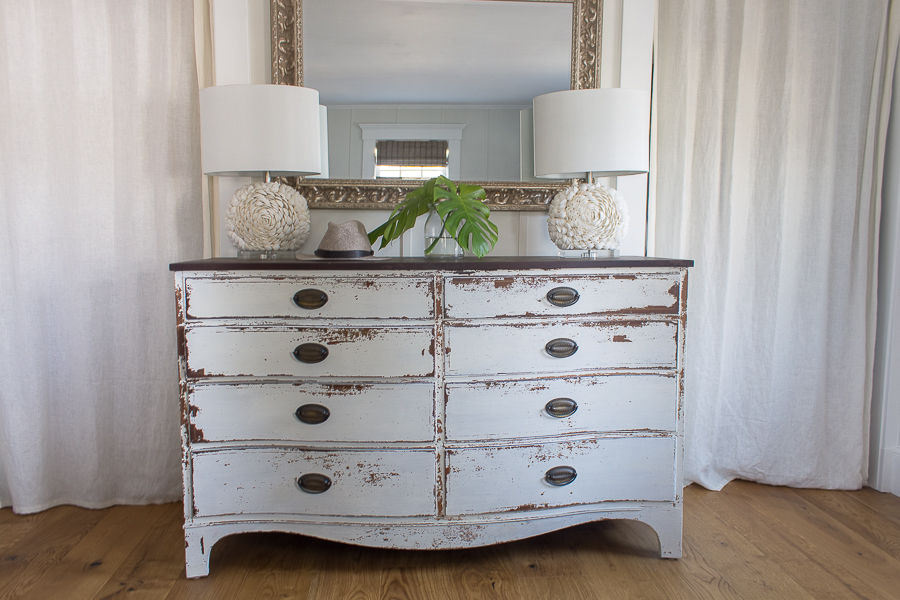 Sea glass is scattered everywhere in our home.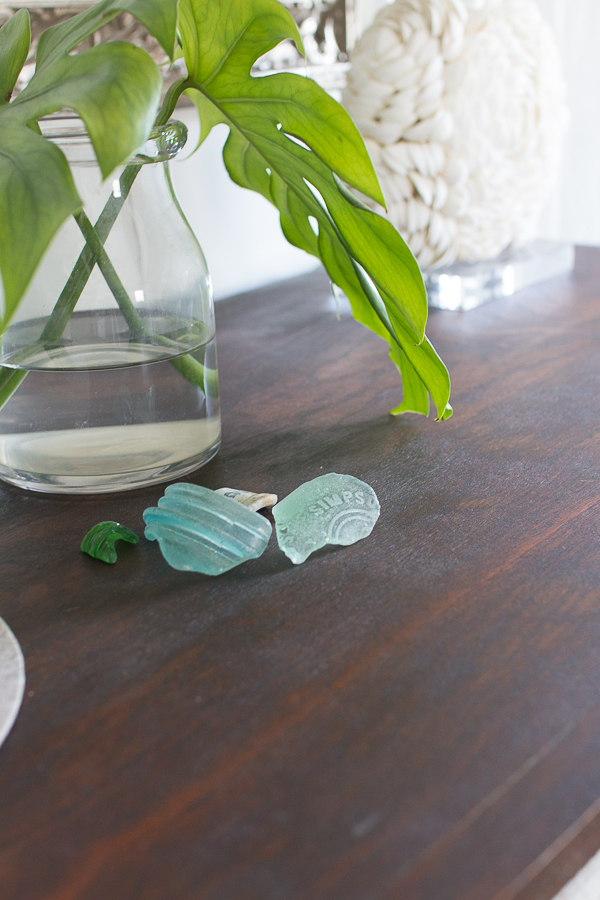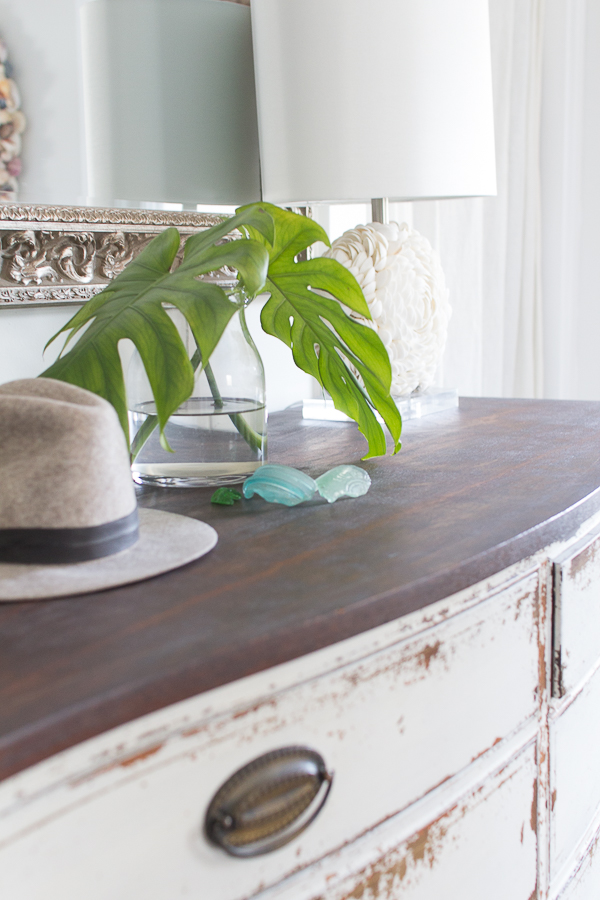 The dogs decided to make an appearance. Perhaps it was the pancakes or maybe it was the dog treats I lured them with 😉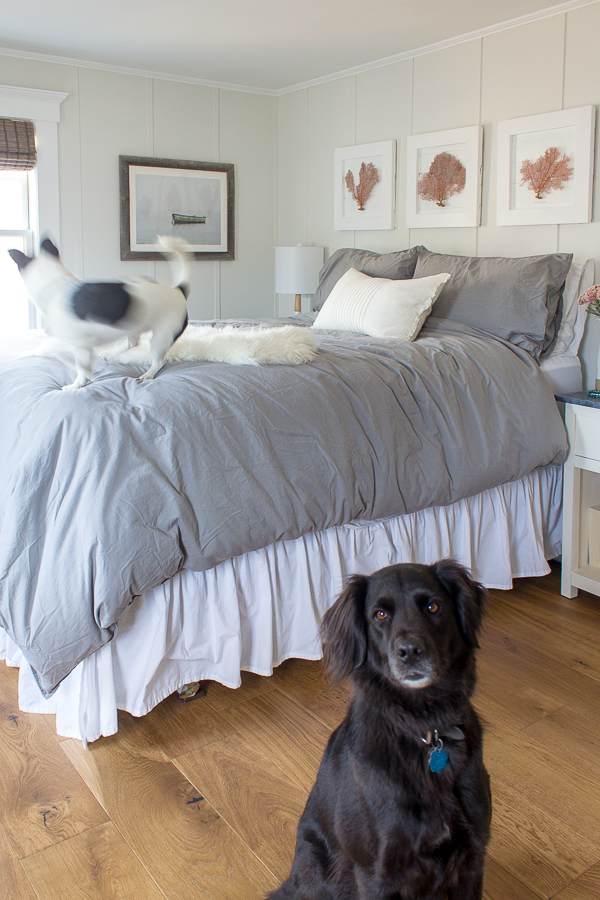 Poppy doesn't go on our bed BUT I thought it would be soooooo cute in photos.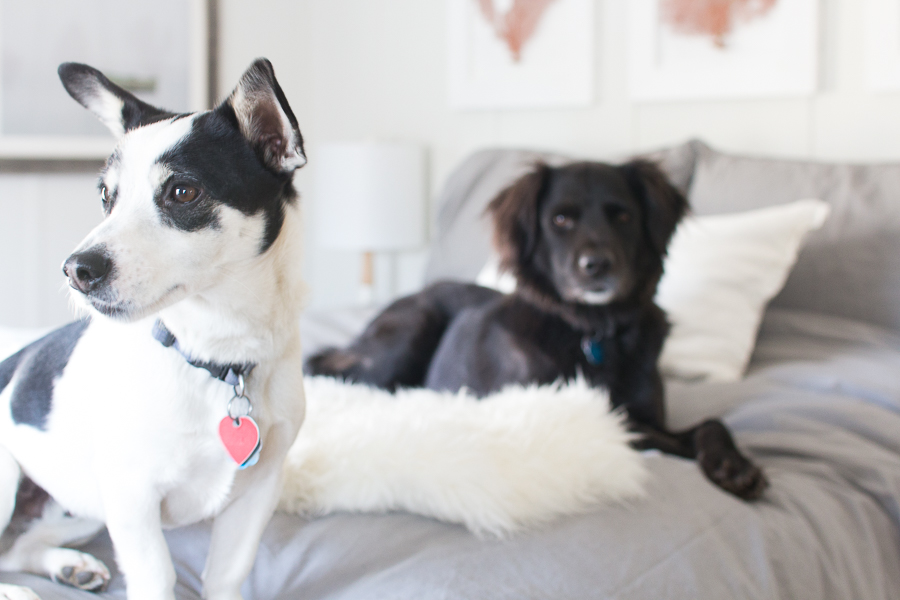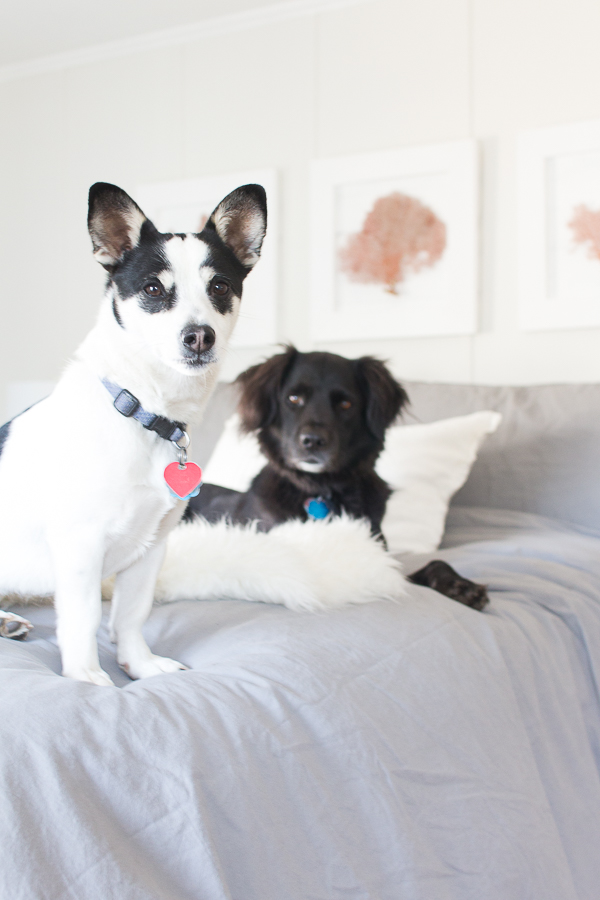 They are so cute together and love each other so much. They often lie together on the day bed in my office and when they're in the yard Max runs up to Poppy and kisses her on the mouth.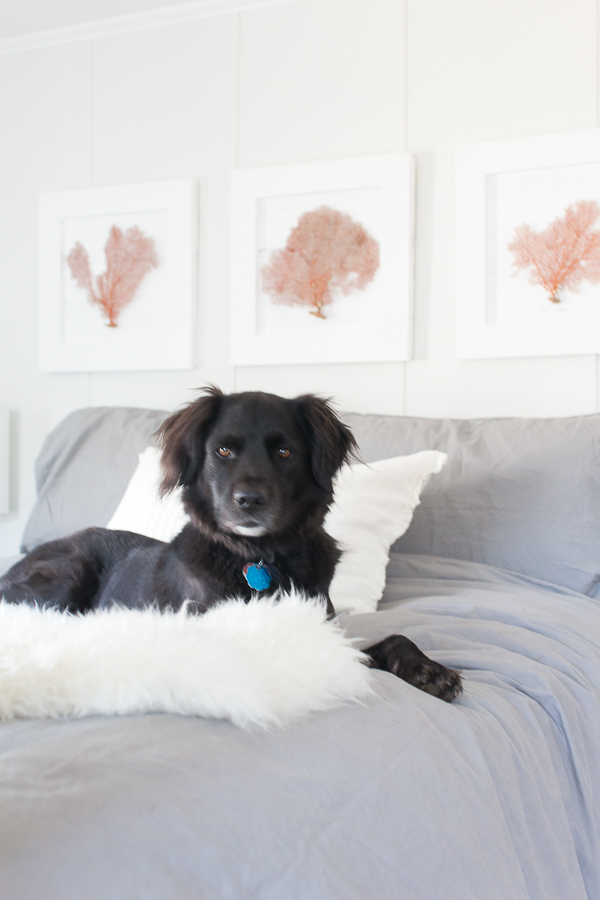 Poppy actually crosses her legs, I didn't pose her like this. That sheepskin she's laying with is actually Max's. John, our oldest, thought Max would love it when were at Ikea so he decided to use some of his saved up money to buy it. He was right, Max loves it.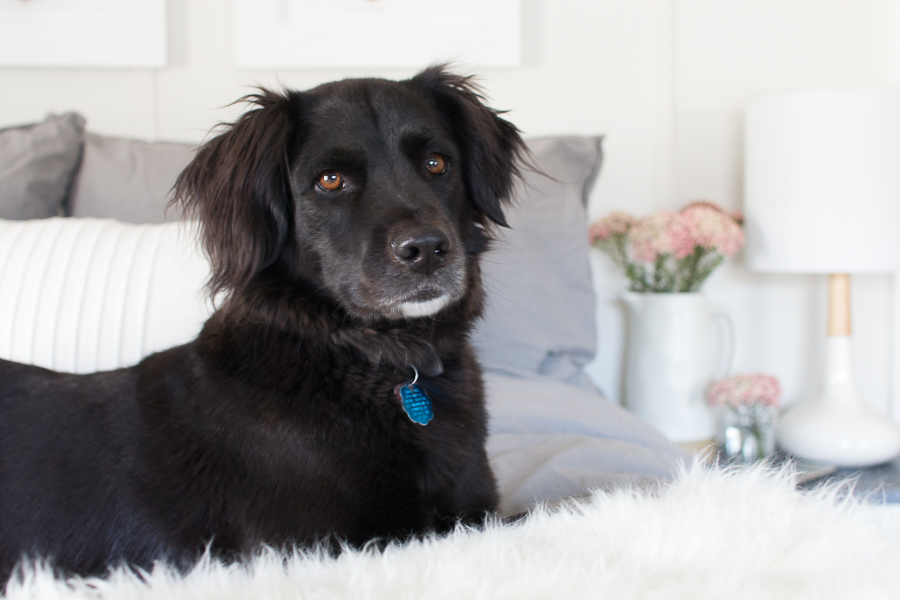 Okay, back to the home decor and romantic breakfast. I just thought those were too cute not to share. Don't you agree? We love our dogs so much and feel so lucky to have them.
Now for the romantic breakfast in bed (preferably without dogs trying to share your breakfast).
How to Make Heart Pancakes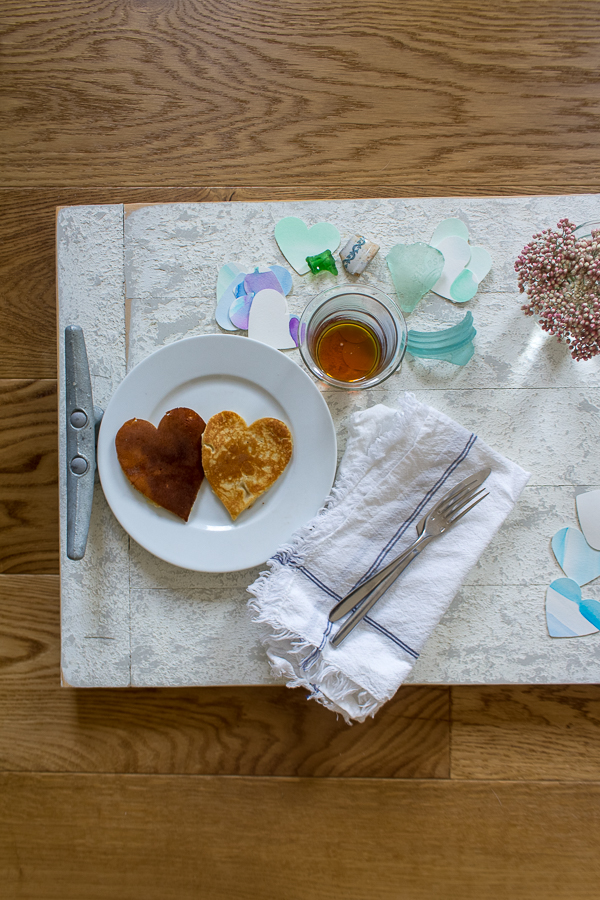 For an extra festive breakfast, place fresh flowers on the tray and scatter with watercolor hearts, we shared how to make them last week, click here.
1 1/2 C All-Purpose Flour
3 1/2 tsp. Baking Powder
3/4 tsp. salt
1 tsp. baking soda 1 Tbsp. granulated sugar 1 Egg 2 C Milk  3 Tbls, melted butter For slightly sweeter pancakes, add 1 teaspoon of vanilla extract. 
We like it this way!
1. In a large bowl, sift together flour, baking powder, baking soda, salt and sugar. Make a well in the center and pour in the milk, egg, and melted butter; mix until smooth.
2. Heat a non-stick pan over medium high heat. Pour or scoop the batter onto the griddle in a metal heart shape cookie cutter, using approximately 1/3 C for each pancake. Brown on both sides and serve hot. Yields 6-8 pancakes.
This is our favorite recipe for pancakes because they're thin and light and fluffy. We serve them with real maple syrup from New England, of course.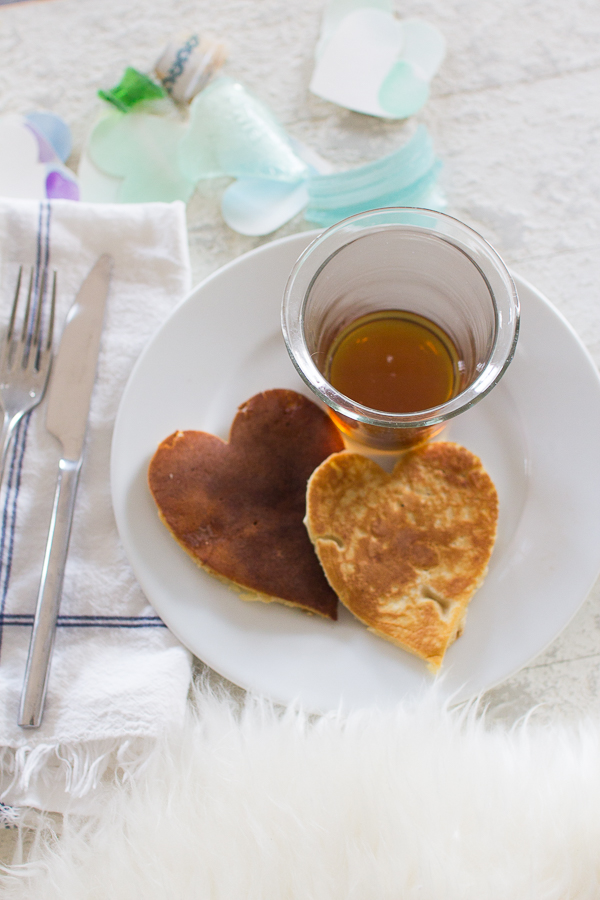 I hope you enjoyed the romantic breakfast in bed and our winter bedroom. Be sure to check out the source list below.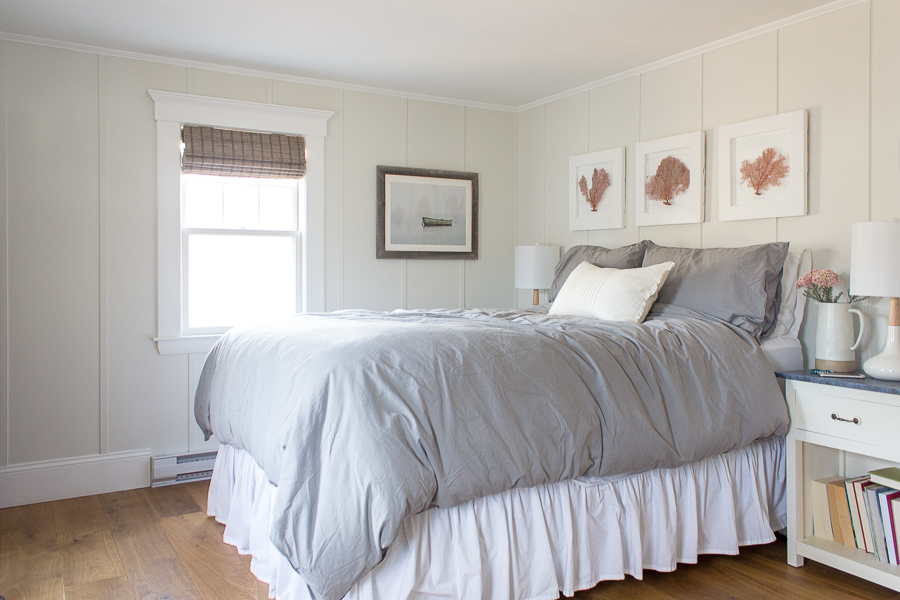 This source list contains a few affiliate links, please read our full disclosure policy here.
Bedroom Source List