Happy Monday! I have a fun makeover for you. These are my favorite posts to write. Today I'm sharing a New Life for an Old Workbench: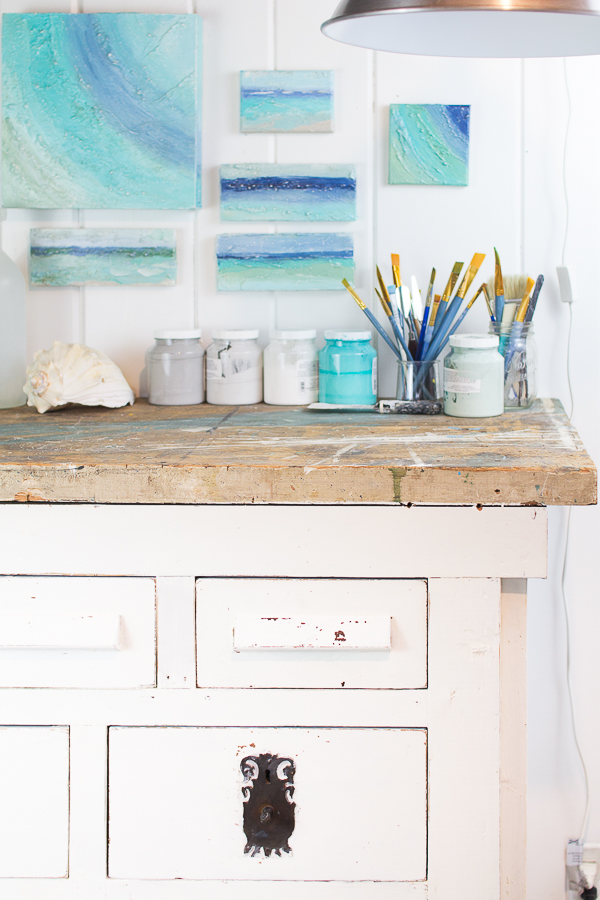 This post contains affiliate links, you can read my full disclosure policy here.
It's a passion of mine to take old things and make them new again. I try to do this in as thrifty way as possible but I also like to pay tribute to the past. This piece I'm about to share with you guys is so special. You guys all know I like to name my pieces too so I'm excited to name this "The Stewart Workbench". This workbench was in our home when we bought it. I was praying the owners would leave it and they did. I took this photo the day we moved in (nearly 5 years ago):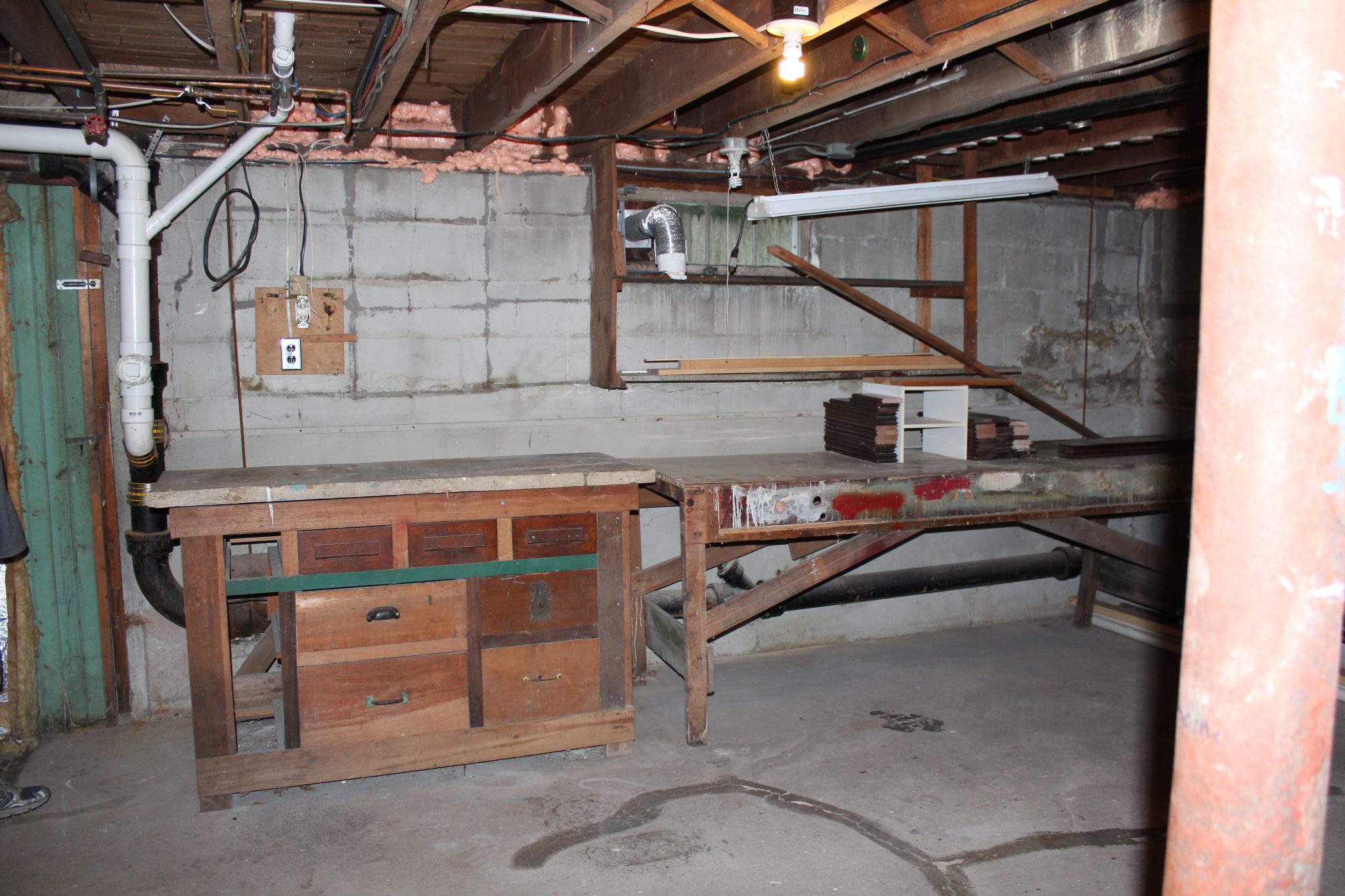 Luke uses this space as his workshop. It has lots more wood and things in here and he's actually doing it all over. For Christmas we bought him two storage cabinets from Home Depot and he's building himself a level workbench as I type this he's working on the legs. I'll be sure to give you a tour of his area when it's all done. 😉
You can see the old workbench in the photo. Isn't it gorgeous? A previous owner built this out of scraps of wood and old drawers. Mr. Stewart was quite well known in our town, he was the fire chief, and I've had the privilege to meet a few of his children who have told me wonderful stories about him and this house. He dabbled in wood working and built some bookcases and our back deck. Despite loving this old workbench it just wasn't flat, and it's a little high, so wasn't ideal for Luke to build furniture on.
We thought we'd repurpose this piece in my studio which is right next to this room. You may remember I gave my studio a refresh last year, painting the previously dark walls white, and updating a cabinet. Well, I now have a wonderful workbench to paint smaller things on.
Here's one more before with the drawers removed: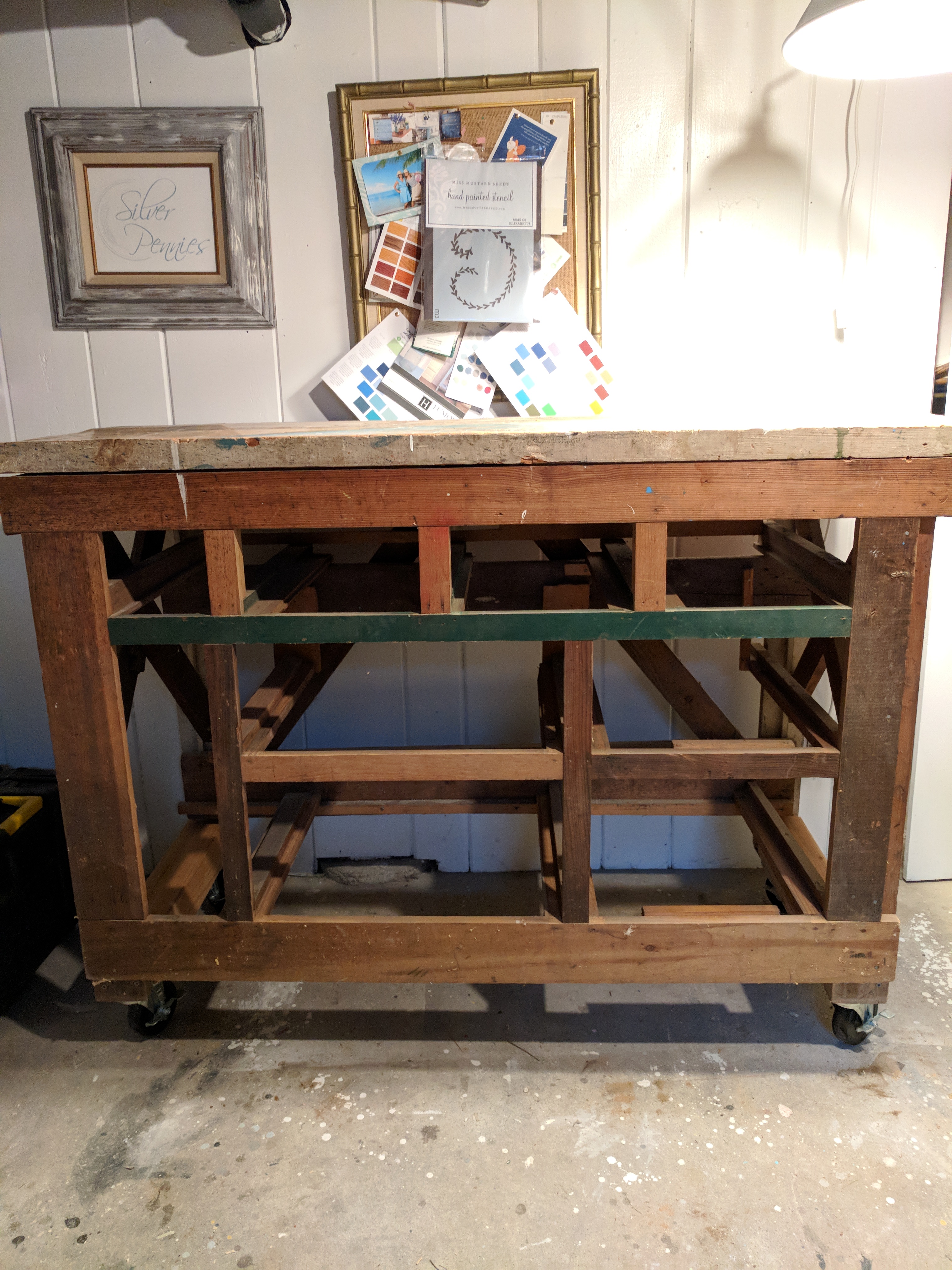 When painting furniture I like to remove the drawers.
Here's how it looks now: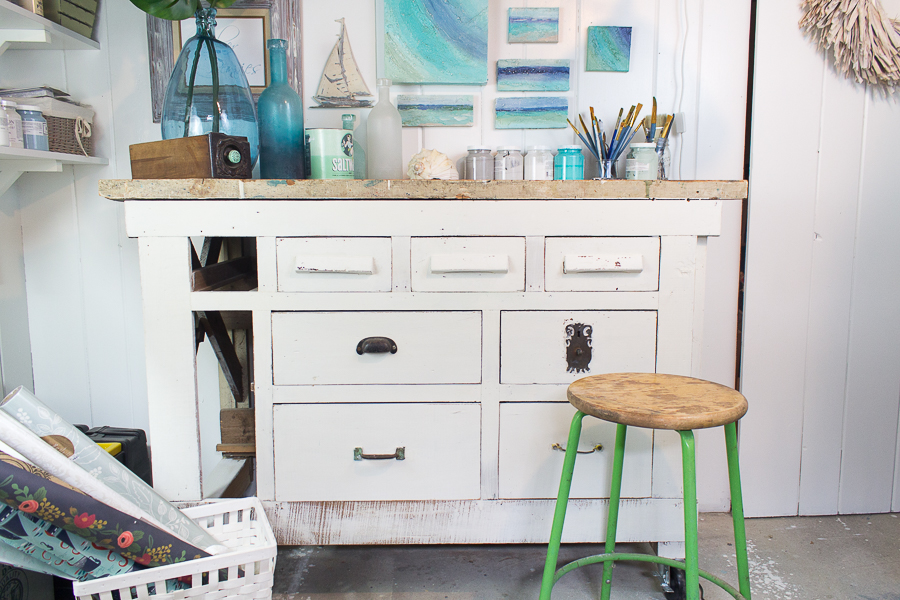 How to Give New Life to an Old Workbench
Materials
Method
Before I started painting we attached casters to the bottom of the workbench. I paint a lot of furniture down here so thought it would be helpful to have this piece on wheels so it could be moved around when needed.
I lightly sanded the whole piece and I gave it a good vacuum and clean. I just cleaned with very warm water. I try not to use chemicals when working with milk paint because it can interfere with how the paint adheres to the piece.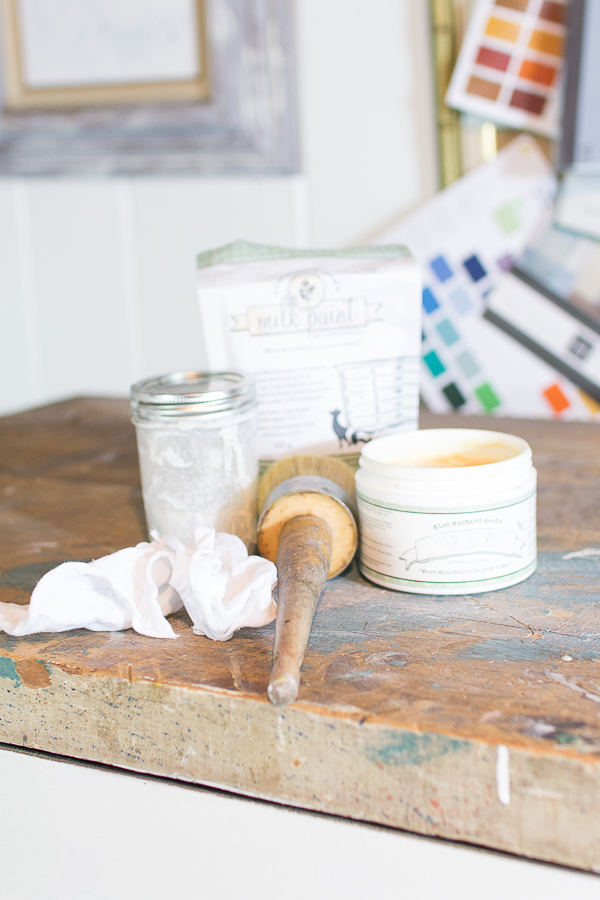 Before painting I also tape off any areas I don't want paint to get on. I usually tape along the sides of drawers and I taped along the top as I wanted to keep the top as is. I plan on using this piece for a work-surface so love the exposed wood.
Since this piece is old, I wanted it to look like it was found this way. I didn't add bonding agent to my milk paint, because I wanted it to peel and flake naturally. I knew that the top drawers would peel a bit more, because they had a shiny finish, and the bigger drawers felt like raw wood. I applied three coats of milk paint in all. Once dry I got to the distressing. I went all over the piece with a paint scraper to remove any loose bits of paint and also sanded the high points with a 220 grit sanding block. After sanding I used a vacuum cleaner to remove all the sanding dust. I also went over everywhere with a wet towel to get any additional dust.
Farmhouse White is such a lovely color. It is a warmer white than Ironstone. You can see it also on our farmhouse dining table.
I love the mismatched hardware on the drawers. To me that makes the piece, and gives it character: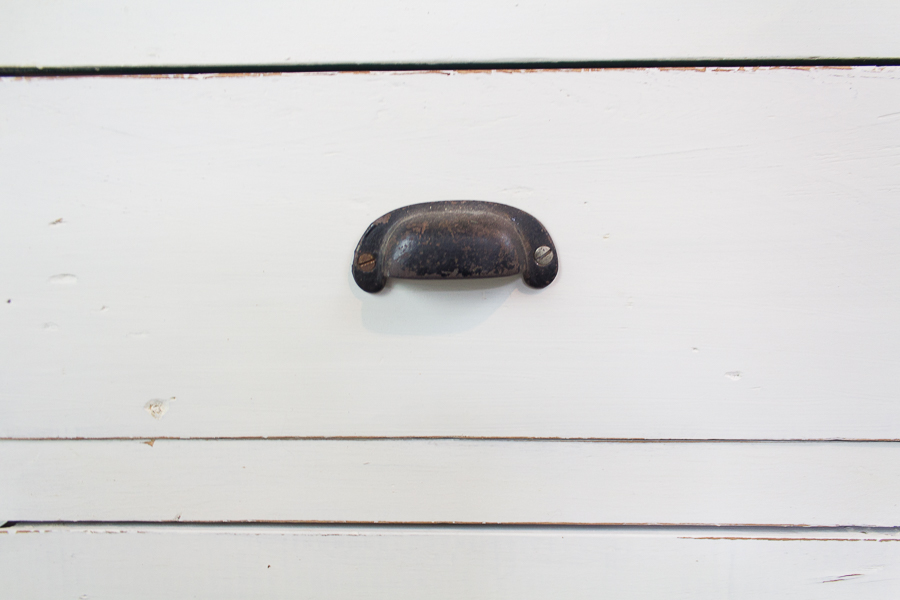 Once finished I added one coat of Miss Mustard Seed Furniture Wax which really wipes on and off nicely. I remove the excess wax with a clean rag. You can buy a bag or I save old t-shirts my boys have outgrown.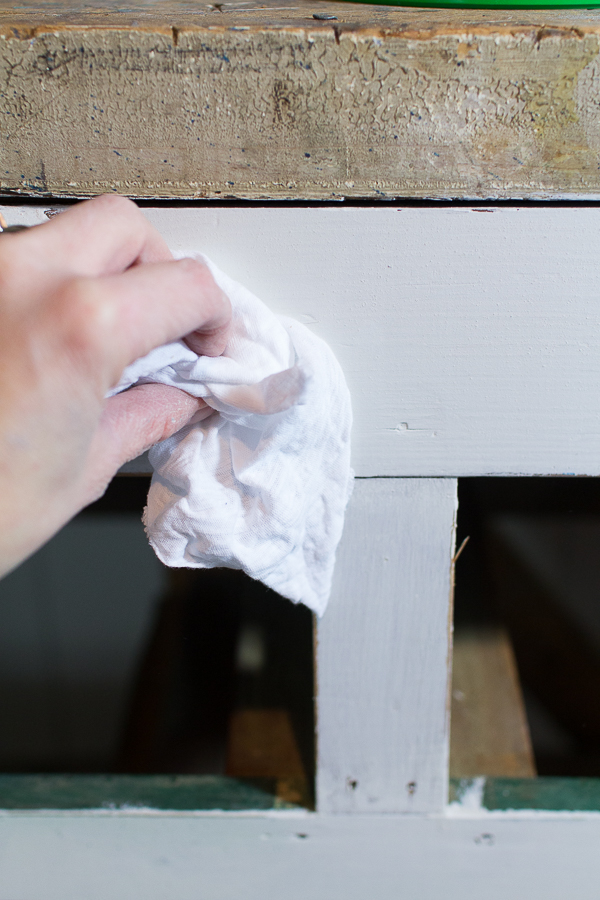 Here's how it came out: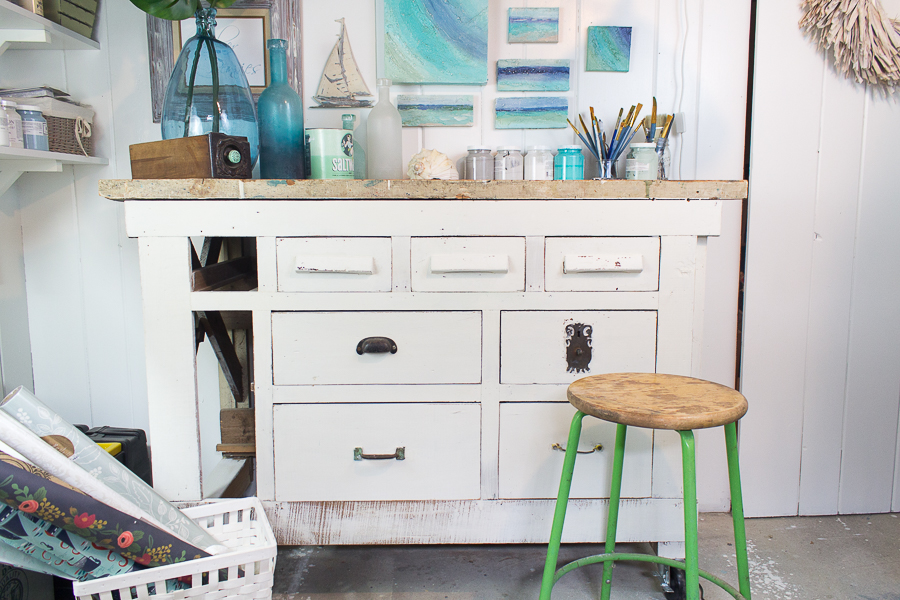 You can see there are two areas which I think must have had some kind of drawer or storage bin. So I'm still figure that out.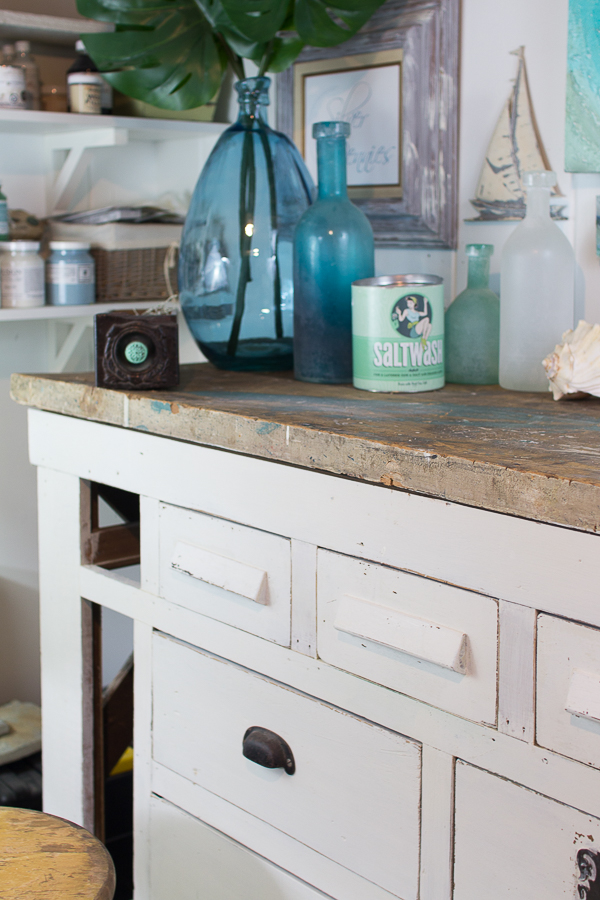 I didn't really have a work surface down here so it's gonna be great for smaller canvases, signs and painting decorative items. I've actually already used this workspace to create Saltwash® Seascapes.They've really brought int the coastal blues I love so much.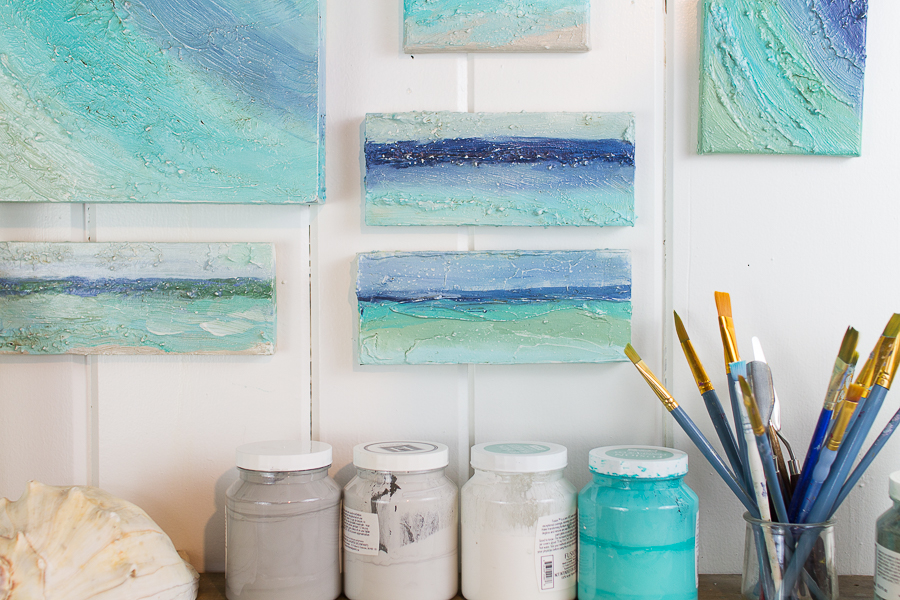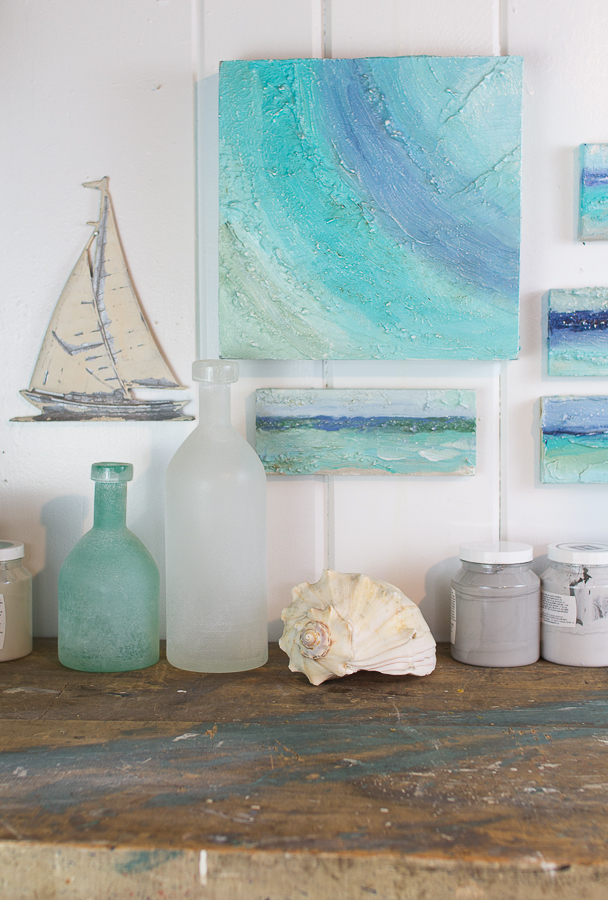 I'm really happiest when I'm creating. I'm so inspired by the sea that I thought it would be fun to create seascapes using beautiful paints I already had from Fusion Mineral Paint and Chalk Paint. I mixed a base layer with Saltwash® Powder
with Picket Fence
by Saltwash and let my imagination run away with me. My friend Carol over at Saltwash has a great tutorial for creating your own seascapes, click here.
These are really so much fun to create and I love that I can feel like I'm at the beach even when I'm "working". Although working on fun projects and painting furniture never really feels like working to me. This post isn't sponsored by Saltwash but I am their ambassador, so if you want to try out Saltwash you can click on their ad in my side bar for a special savings code.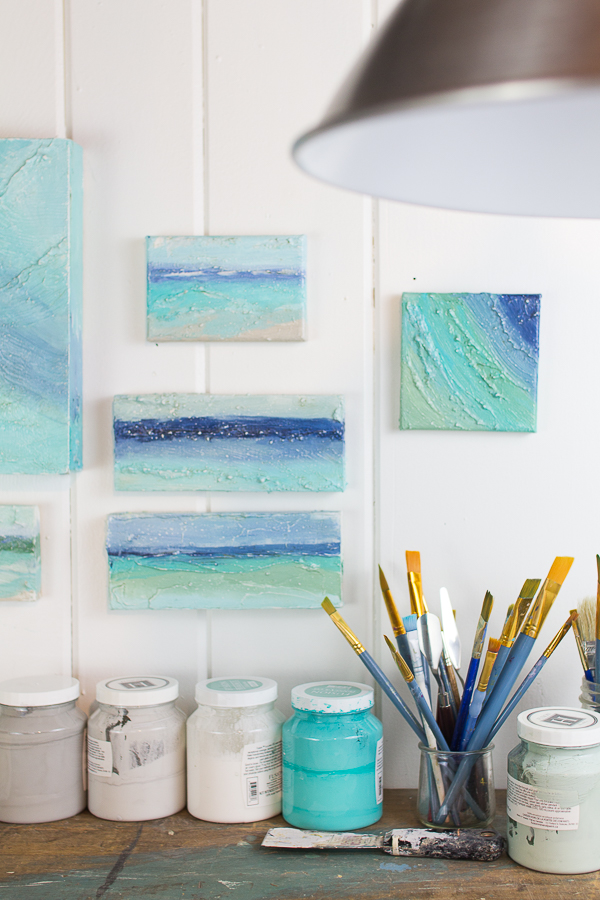 All the colors make me happy.
I think this one might be my favorite.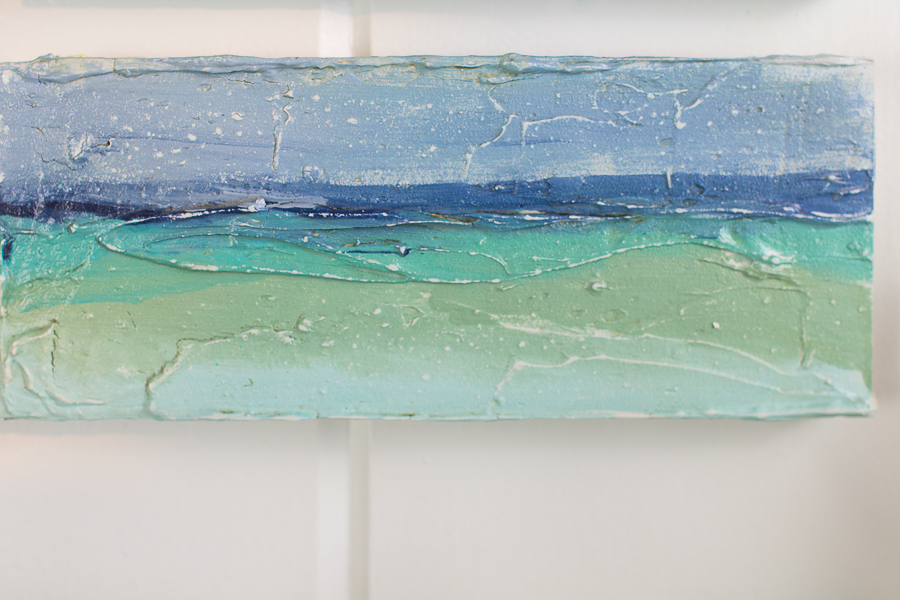 I'm thinking of doing more, and perhaps selling them locally. Let me know in the comments or via email if you guys like them and would be interested in some custom ones. 😉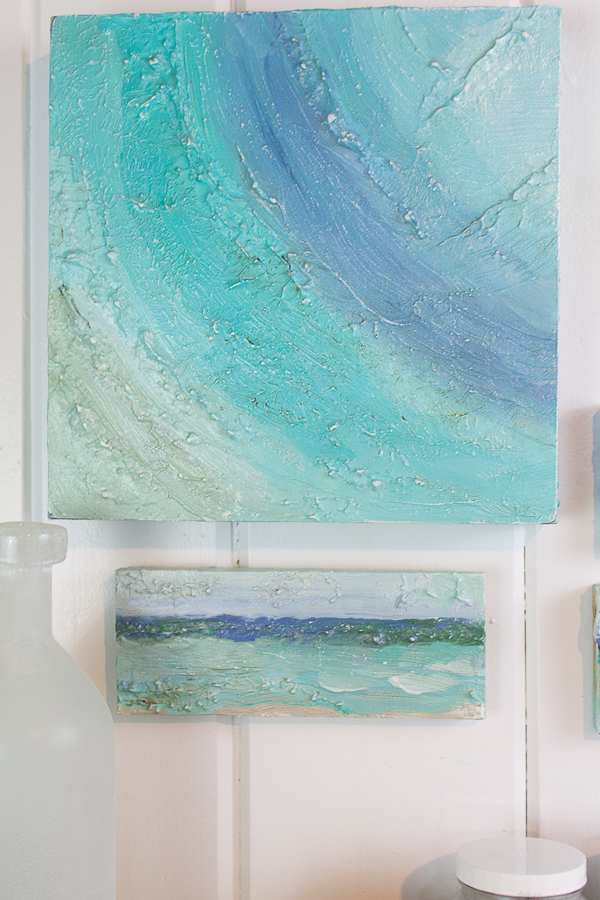 The surface is so great for painting on: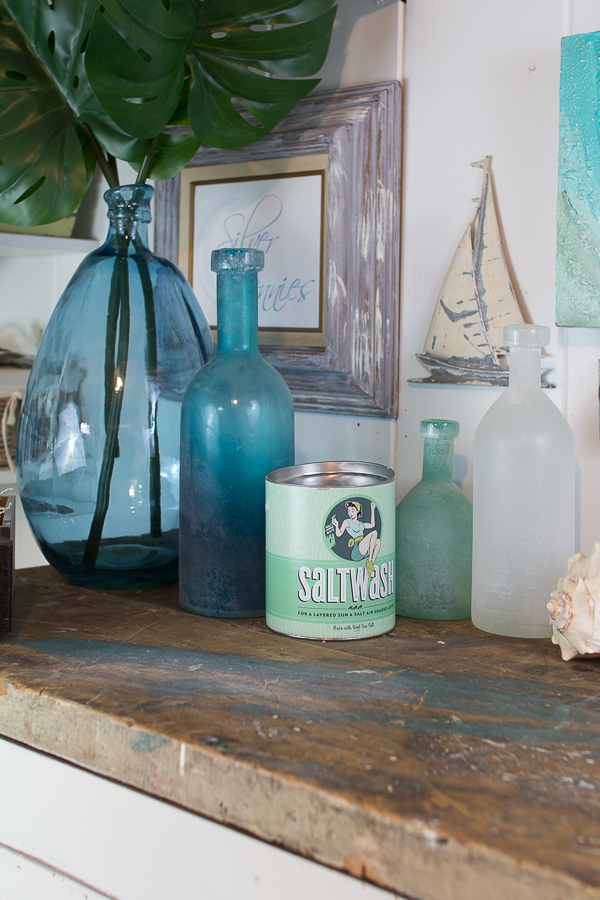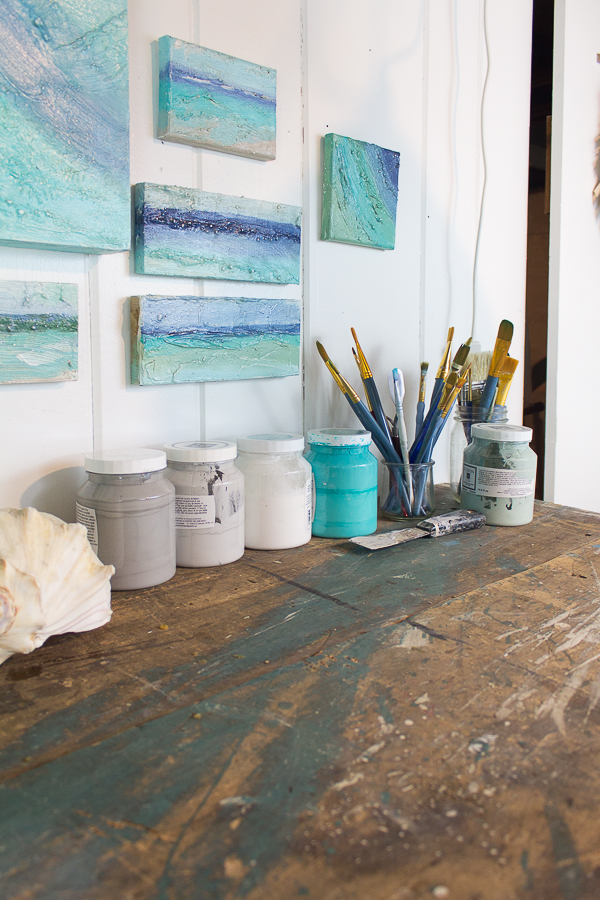 I love all the old paint that's on it!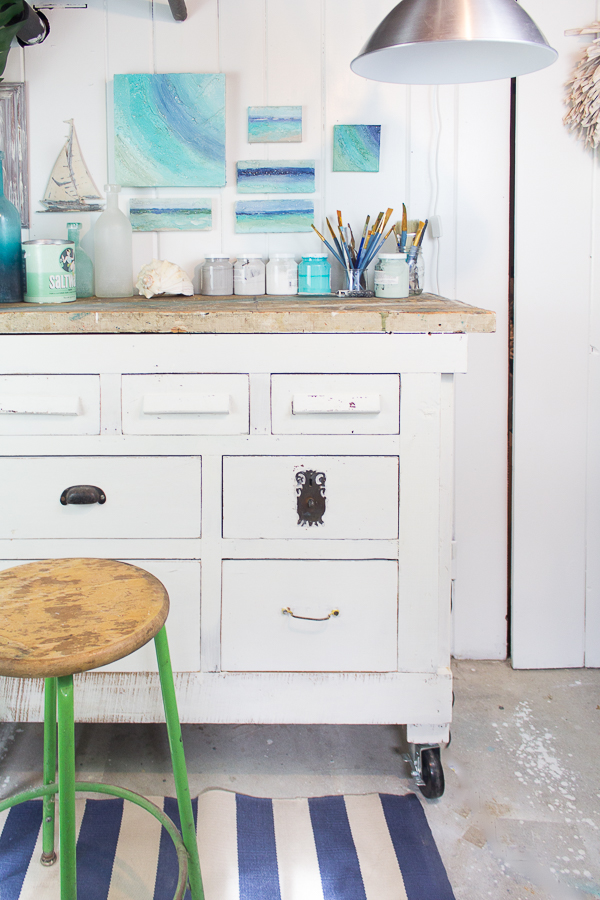 I was chatting to my friend Matthew yesterday and he thought I should paint the floors a fun color. I think I will! What color do you guys think?!? He thought a fun turquoise. For now I've just put a Dash & Albert rug that used to be in Conor's room. You know how I feel about blue and white together.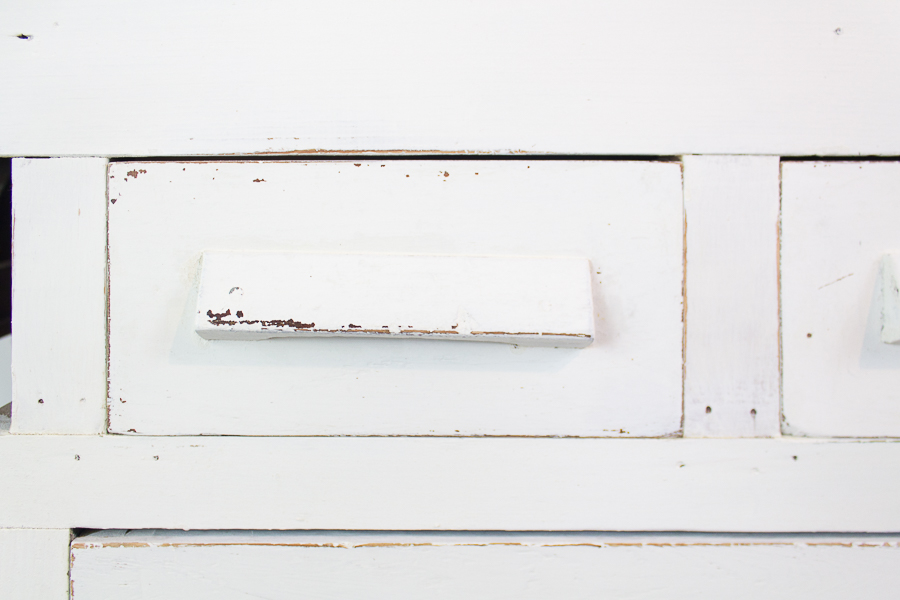 There's now so much extra storage too. Plenty of room for paint, tape and miscellaneous items.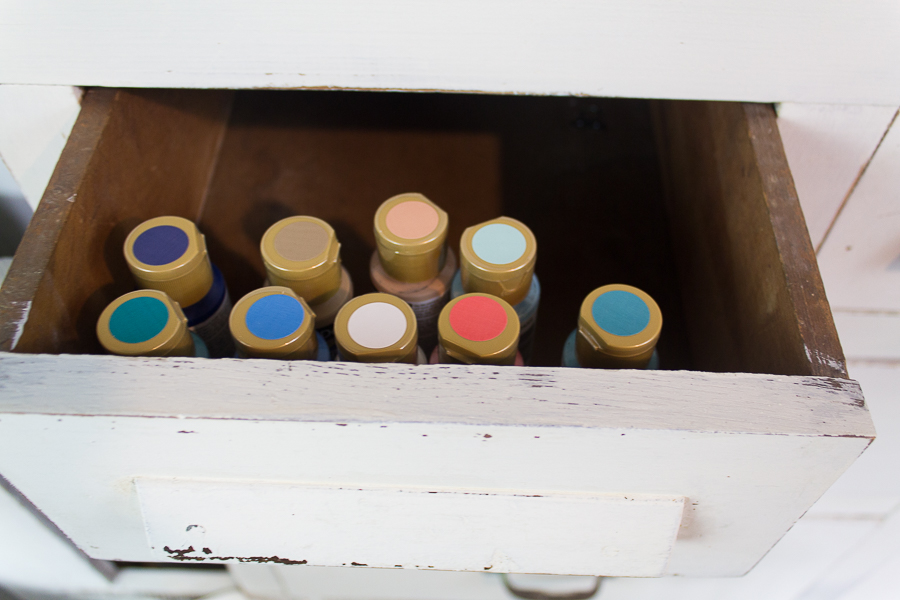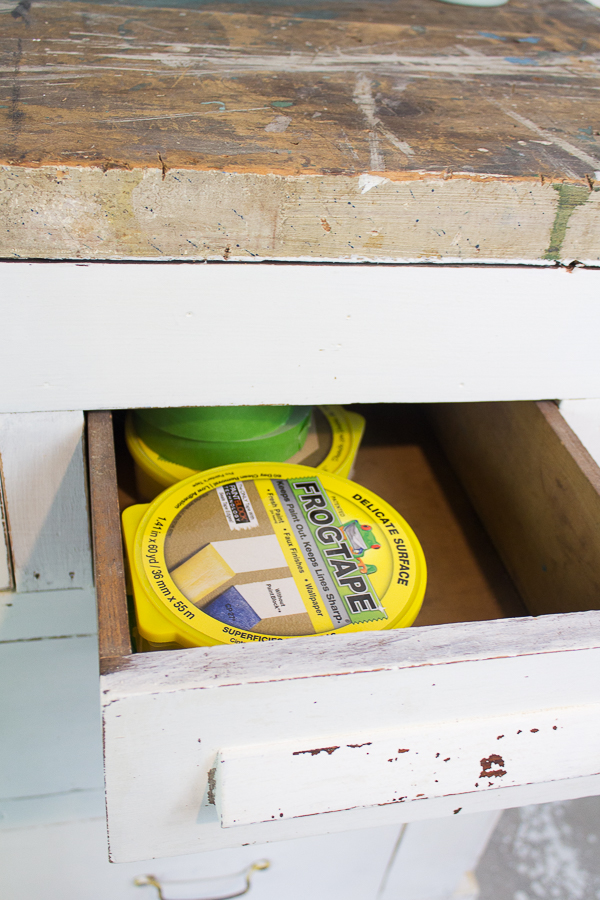 One can never have enough paint or frogtape 😉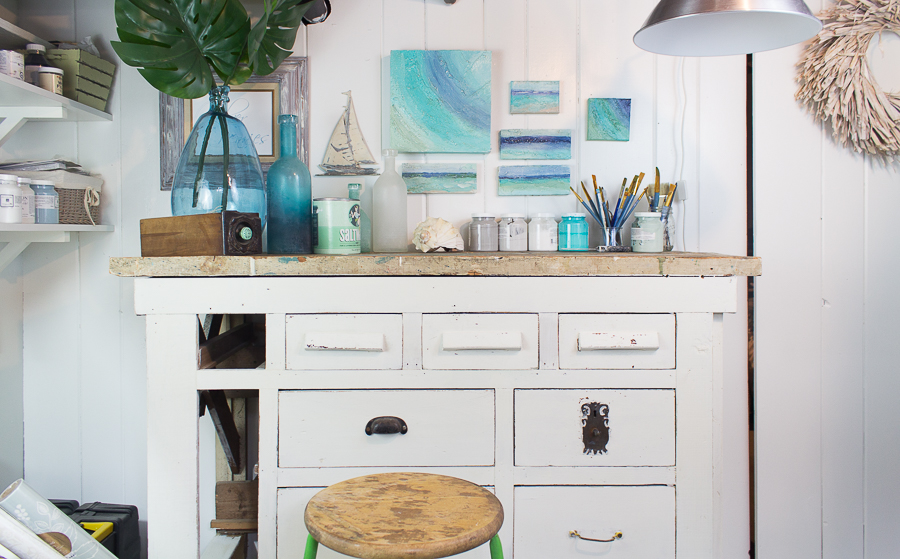 I love how each drawer has a different pull on it.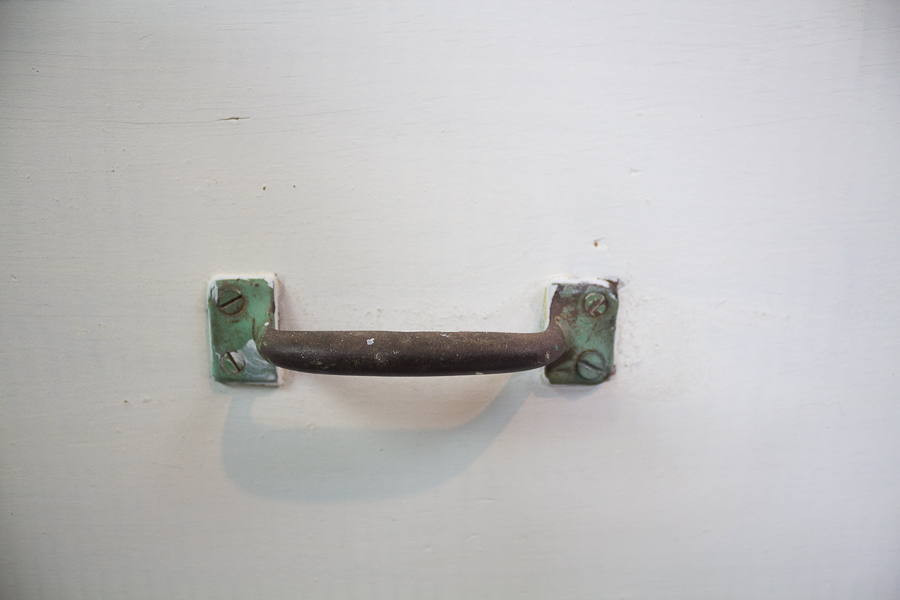 That one has vintage green paint while the one below reminds me of a pineapple.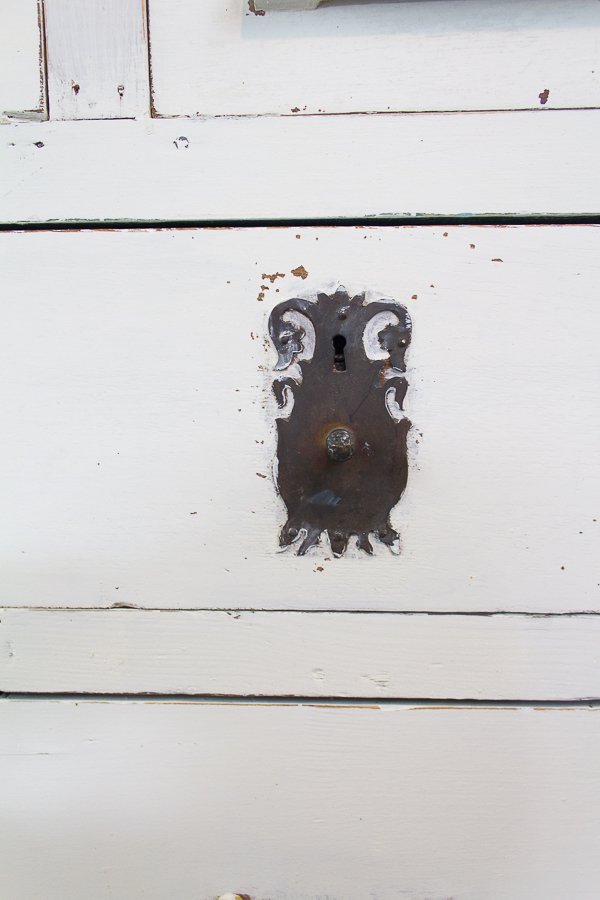 I hope you guys enjoyed how this little workbench came out and also how my seascapes look.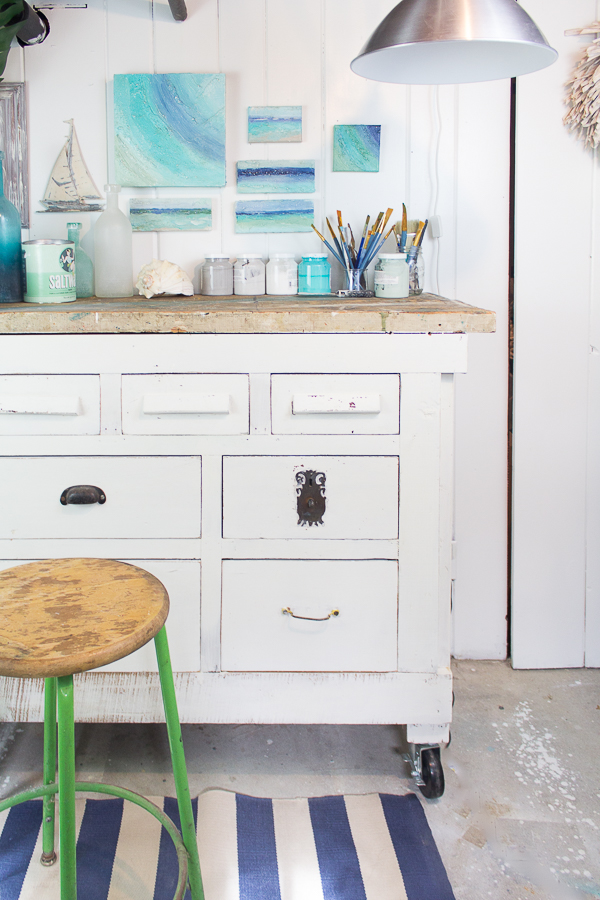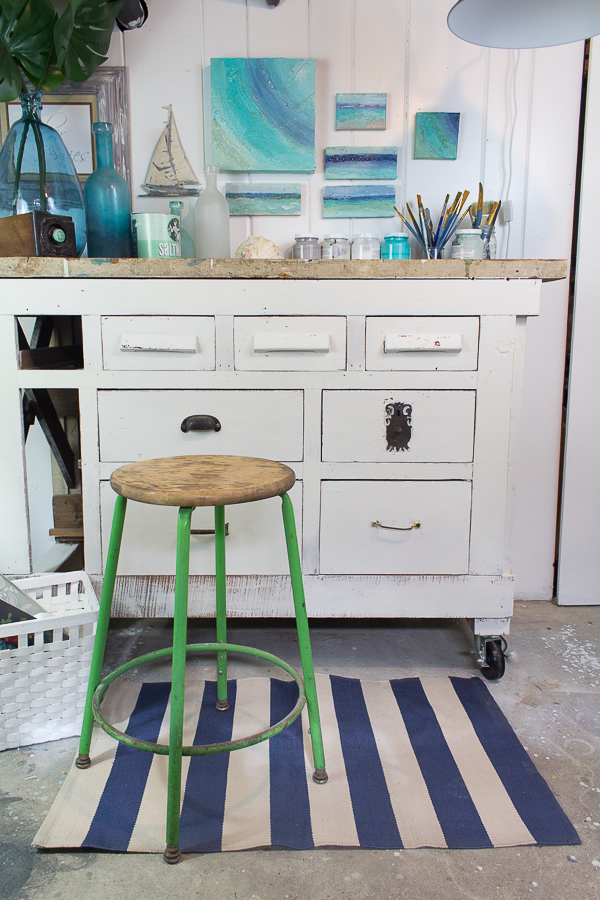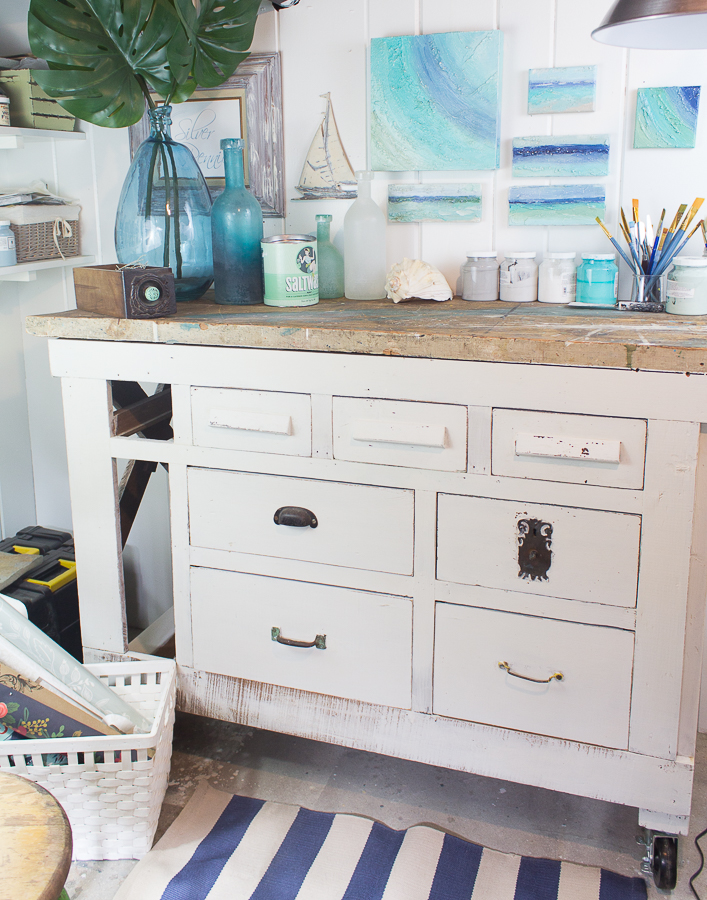 Sometimes it's scary to try new things. These seascapes are new, but the only way I get better is by trying and experimenting. I have a feeling I'm gonna be spending lots of time right here painting, experimenting and listening to Ed Sheeran and podcasts. I'm currently loving Here's The Thing with Alec Baldwin, and How I Built This.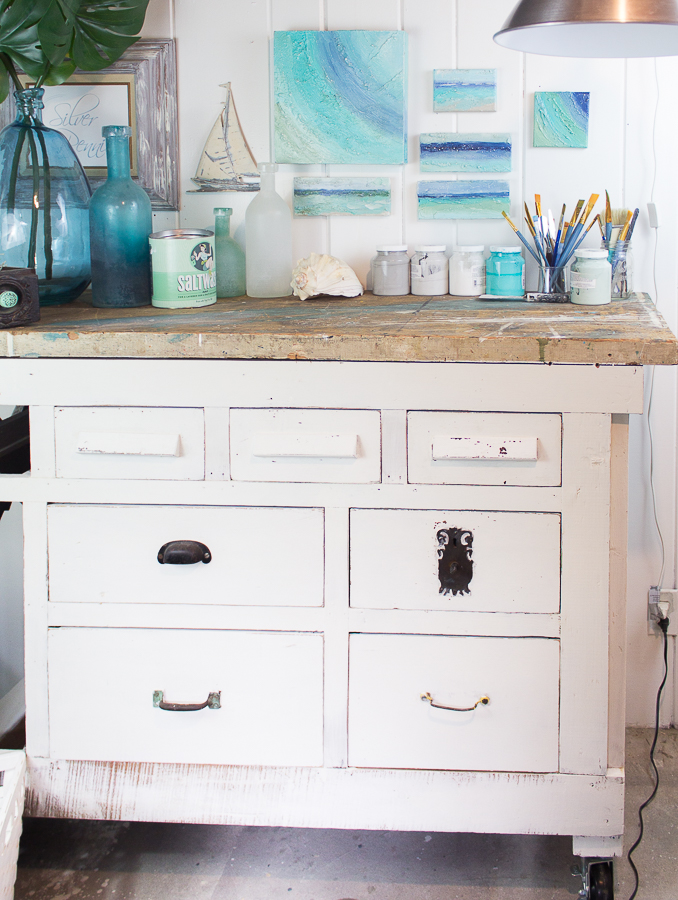 If you enjoyed this post, you might want to pin this for later.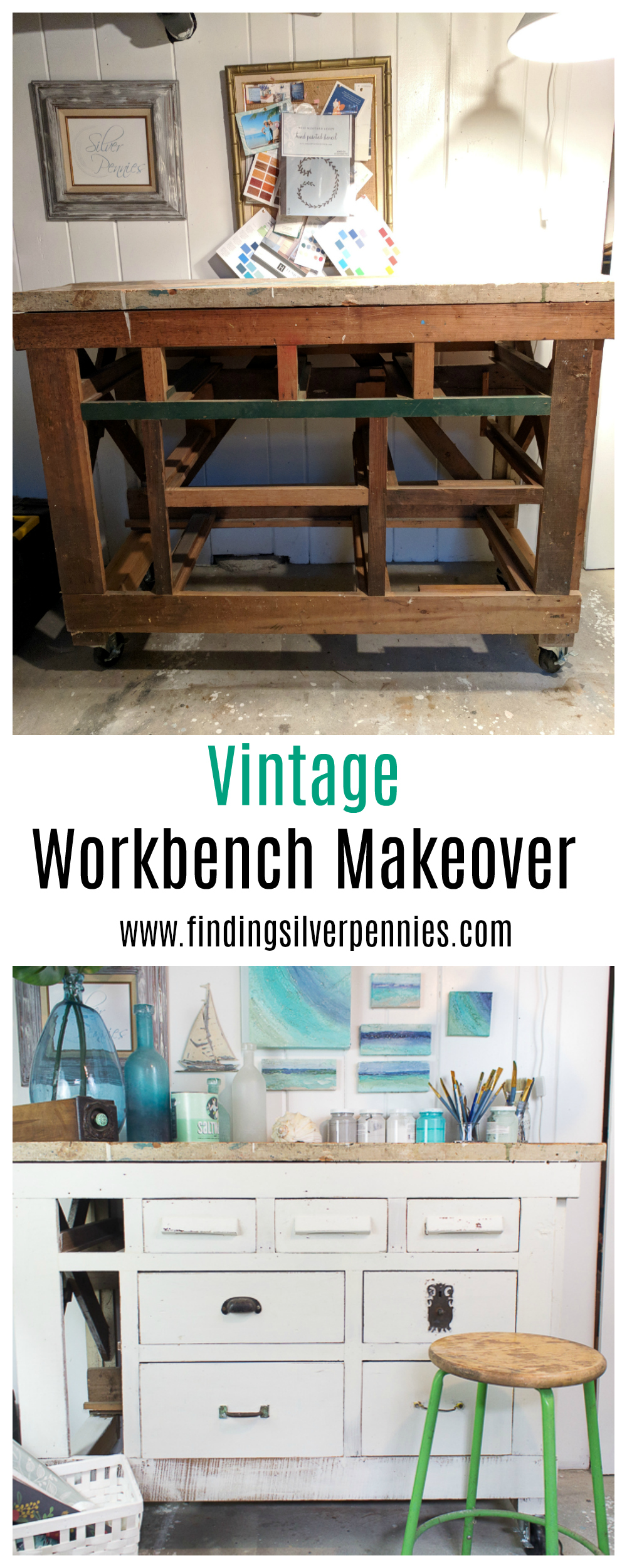 If you enjoyed this post you might also like me eBook on painted furniture. It's over 150 pages of tutorials and tips on painting your own furniture. Click here for more on that.