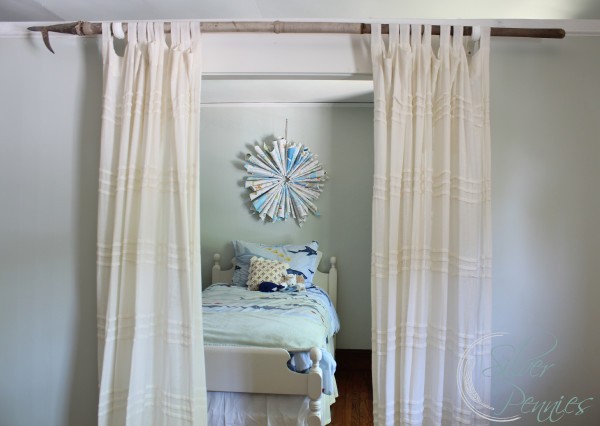 The day after we moved into our home, Conor came down the stairs crying.  Absolutely sobbing and we begged him to tell us what was wrong.  Did he have a nightmare?  Was he scared sleeping in a new house?  No, it was none of that.  He was upset that he woke up in a pink room….We painted his room that weekend.  This is what his room looked like when we moved in: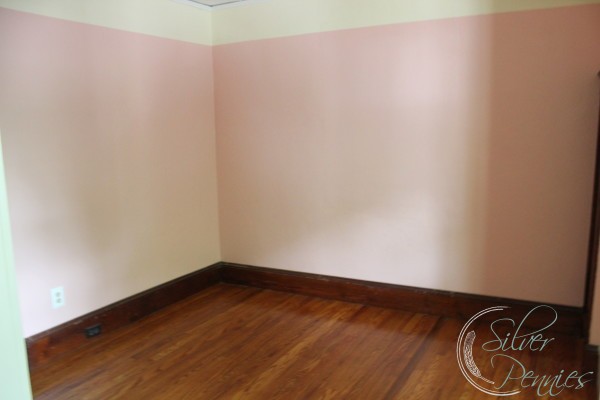 and the boys in the "hidey hole". As you can see they were very excited about our "new" home and "new" adjoining rooms.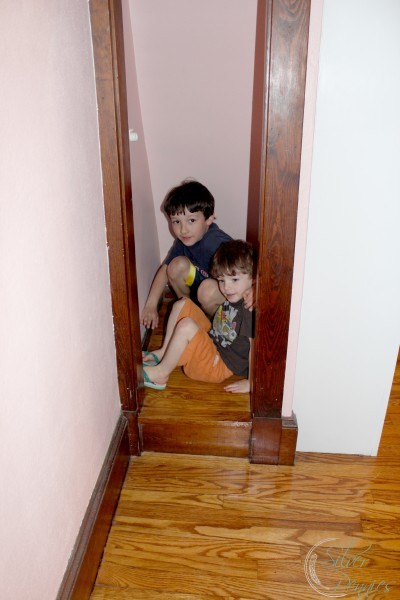 It has taken me a year, but his room is now finished and I'm so pleased to share the big reveal of his beach boy bedroom.  The pink is all gone and it is all beach loving boy!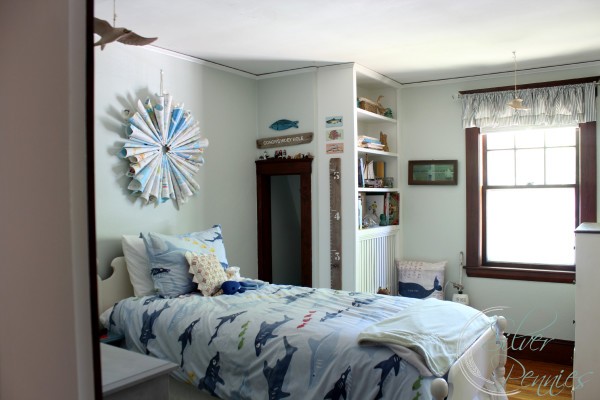 The pale green walls go so well with any color and are so restful.  It is a great color because it makes his small room look bigger.  You may recognize the wreath above his bed.  It is made of map pages and I made it for my open studio last November.  Conor really really wanted it. He begged and pleaded and you want to know what?!?  He got his wish.
Each little addition has made it more his room.  Each project has added a bit of my heart.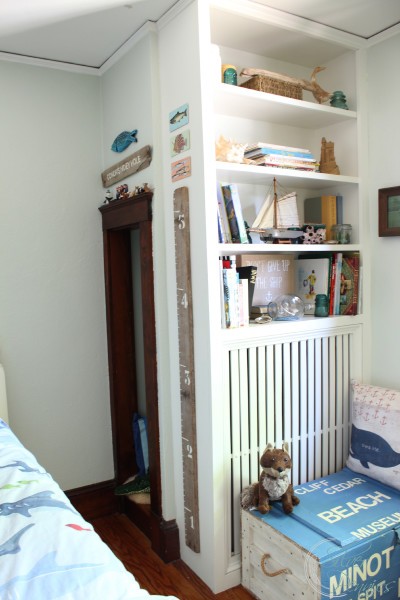 A handpainted sign for his "hidey hole" and the driftwood height chart I shared the other day.  The Scituate subway sign chest adds another spot to cozy up with a good book.
His hidey hole is filled with comfy pillows, a fur throw, his favorite books and a little light from Ikea: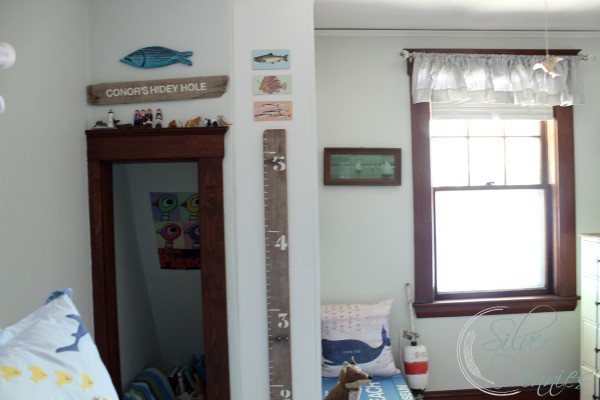 Conor (as you may already know) is quite the collector.  Here are some of his special treasures.  The china leopard we got antiquing when he was tiny and it still watches over him while he sleeps: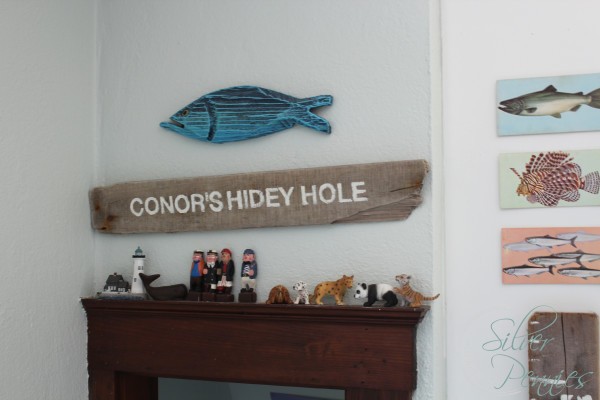 Our love of the seaside is everywhere from the vintage fish flash cards to the gulls that fly overhead.
The bookshelf is filled with books he loves but also with treasures from the beach and ships to set sail in: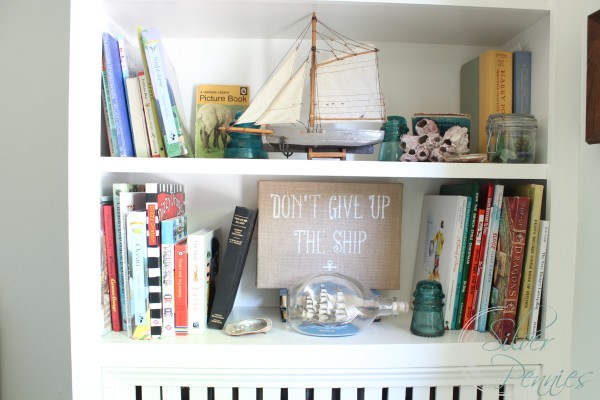 His rooms is whimsical and a place where one can image the possibilities.  To dream of building the ultimate sand castle.  If you sit quietly you may think you hear the sound of the tide softly lapping the shore.
The vintage sailor I decoupaged to the front of an old dresser so reminded me of him and his inquisitiveness: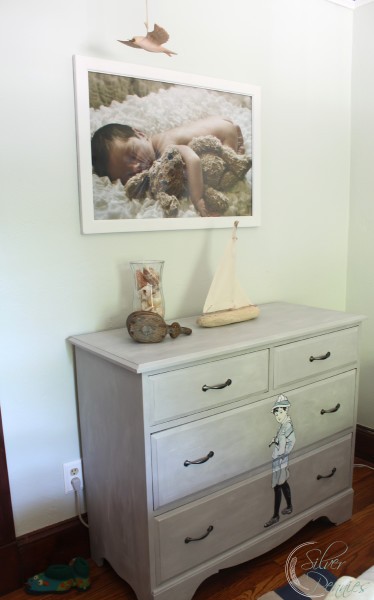 The sailor image ties into the beautiful prints I bought over Christmastime from this wonderful, wonderful shop – Bumble Belly Designs. I'm not sure if you can see them because of the light coming in the window but one is a little sailor in front of the cape and the other is an image of a boy over a map.  These images are so magical.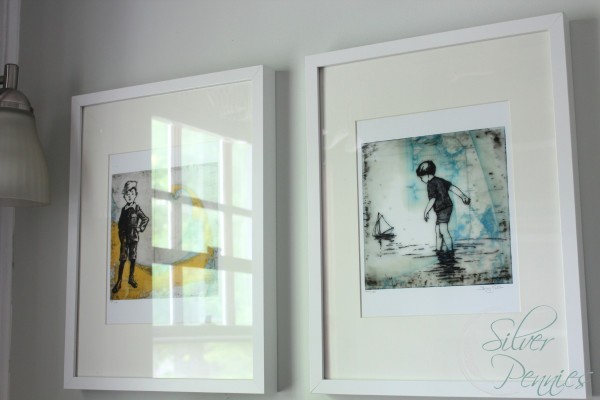 This is another piece I painted for him.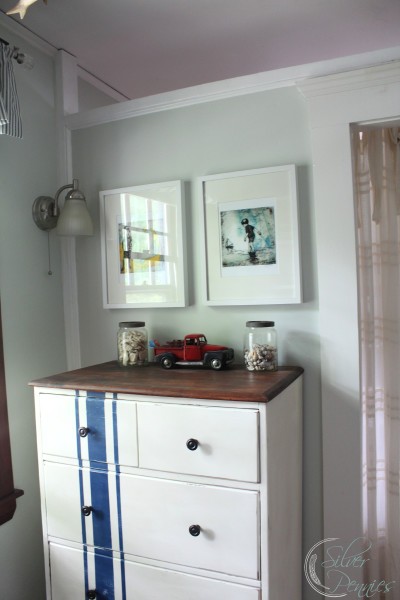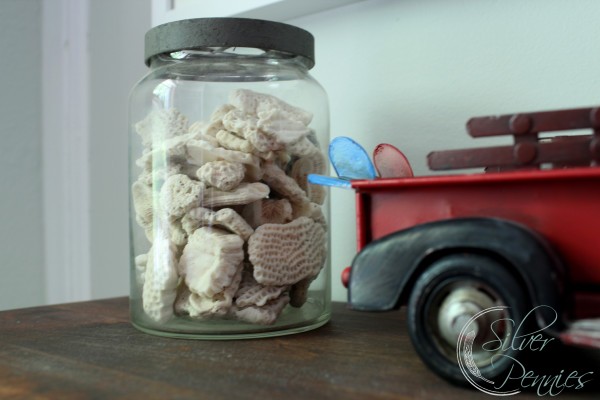 He loves his beach boy room!  Each time I added something new he'd jump up and down with delight and clap his little hands.
This room is for my beach lover and my adventurer.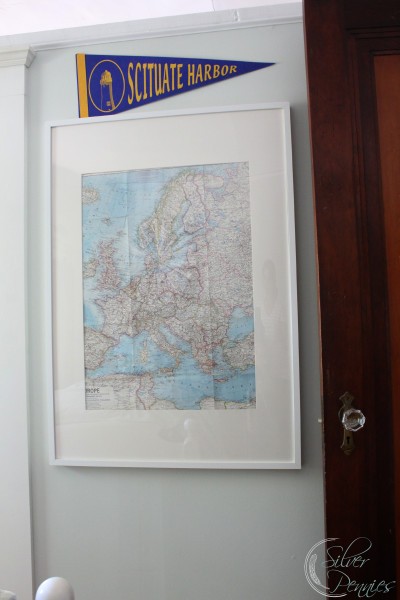 A loving room to grow big: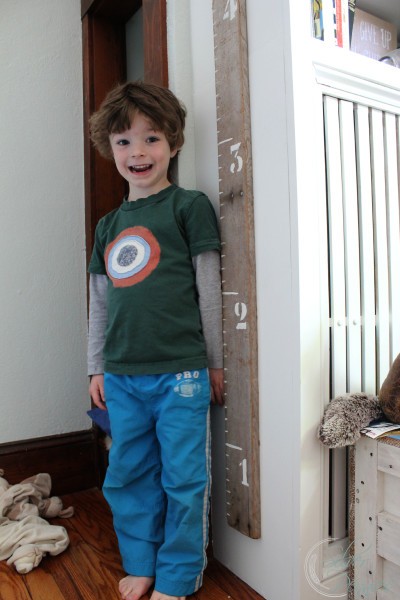 A space for him to rest his weary head after a long day at the beach (an image of him just a few weeks old).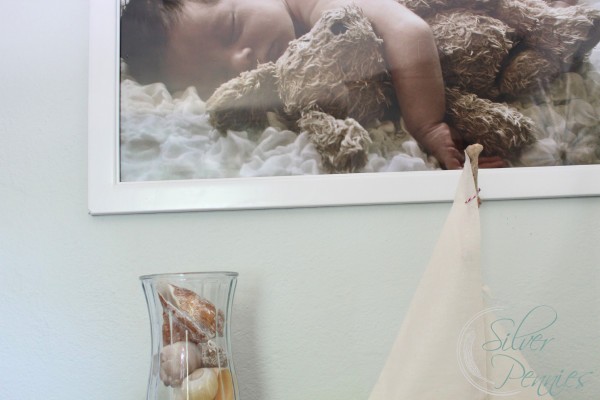 A special spot to dream really big dreams!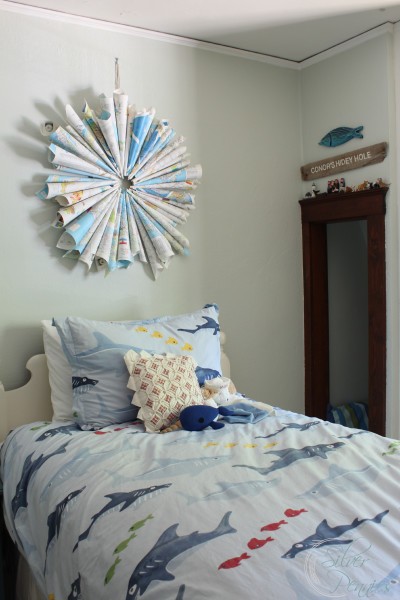 Room Source List:
Wall Color – Benjamin Moore – color match to Farrow & Balls – Pale Powder
Dash & Albert Rug
Ticking Curtains – Country Curtains
Sea Gulls – Flowers & Festivities (Scituate Harbor)
Don't Give Up the Ship Sign – made by me (available for custom orders)
Pillow (in hidey hole) – Ikea
Boat Hook (used as curtain rod) – Bent Nail Farm Antiques
Curtain (on boat hook) – Ikea
Driftwood boat – made by me (available for custom orders)
Mixed Media Art – Bumble Belly Designs
Vintage Buoy & hook – Salvage Chic Antiques
Scituate Pennant & Red Truck – Quarter Deck
White Frames – Ikea
Shark Duvet Cover & Sham – Pottery Barn
Driftwood Height Chart (tutorial)
Sharing with: