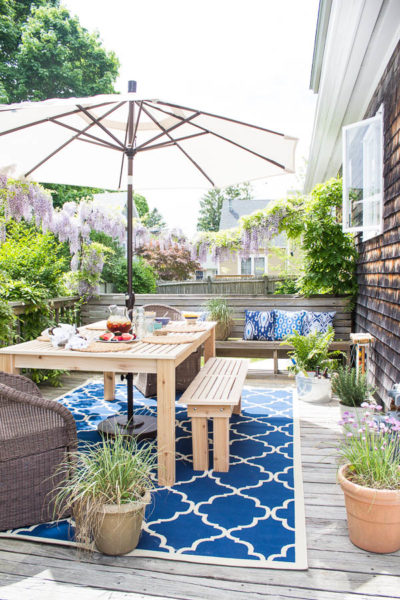 I partnered with Birch Lane and Wayfair for this post.
As I write this post, I'm smiling ear to ear.  Not only because it finally feels like summer in our coastal town but because we have a deck that I'm in love with.  We have already enjoyed a family gathering, a few breakfasts and dinners out here, oh, and perhaps a night cap on Saturday night with fairy lights up in the wisteria.  Today I'm sharing our deck refresh.

As many of you know we had A LOT of snow this year: blizzards, nor'easters, record-breaking-snow-fall and, while our house weathered the winter well, the patio furniture and deck was buried under feet of snow.  All the while, I dreamed of sipping Pimm's cocktails in the summer sunshine, hoping for a little deck refresh.
Here's how our deck looked a few weeks ago: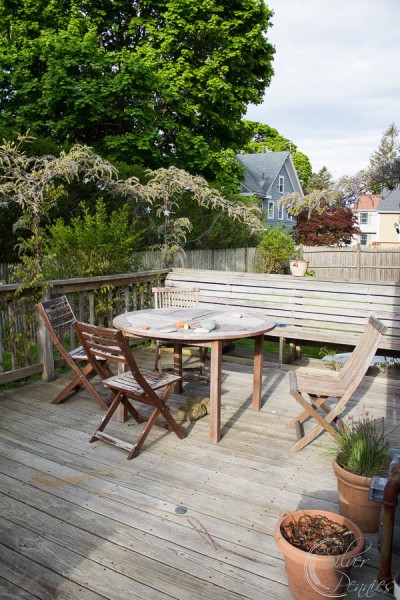 I know, very sad, right?
Here's how it looks now!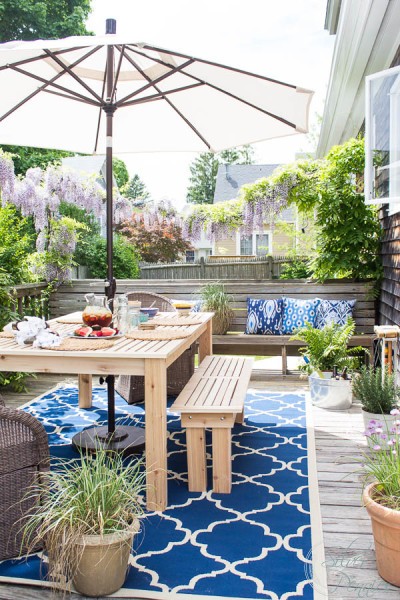 I fell in love with some teak furniture down in the harbor which currently is out of our price range – the whole set is over $4,000.  So Luke decided he was going to make us a set instead.  I knew my husband was amazing before he made the set but, wow, he and my new patio set have exceeded my expectations.  Conor went down to the basement and said the table was "Legendary".  Luke created a large table and benches for either side of the table – the second bench is still a work in progress but you can see how it will look.  We wanted the table and benches to have the look of teak and be durable.  We chose to build the table and benches out of white cedar.  UPDATE – here are the full tutorials for our table and benches, click here and here.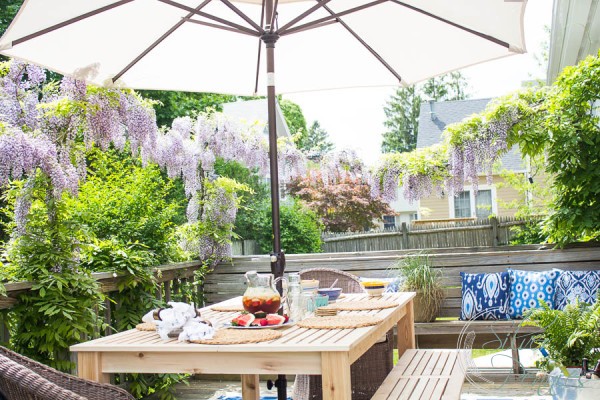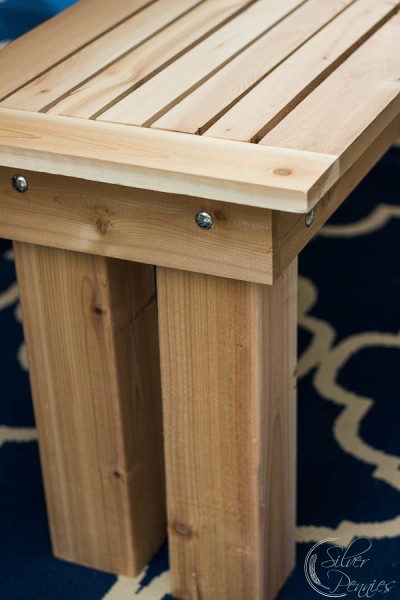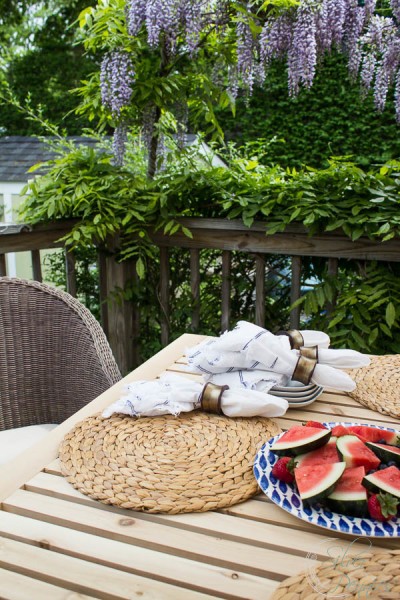 Ah, the wood is so soft and my heart beats a little faster when I look at this furniture. Sigh.
Our deck isn't in perfect shape, the old wood can be quite splintery so I decided we needed an outdoor rug.  I chose this gorgeous one from Wayfair – the Oriental Weavers Riviera Navy and Ivory Geometric Rug.  Click here to see the rug.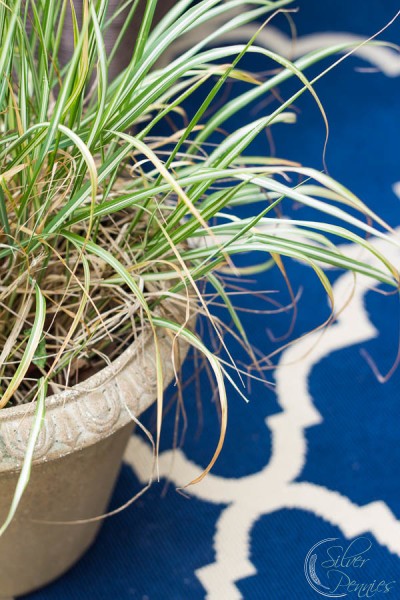 It is an indoor/outdoor so very durable.  This is our first outdoor rug and I have to tell you it adds so much to this outdoor room.  Yes, room, it actually now feels like the deck is an extension of our home.  You know me and blue.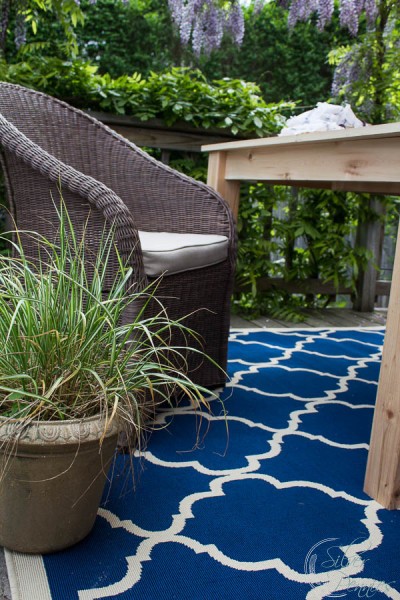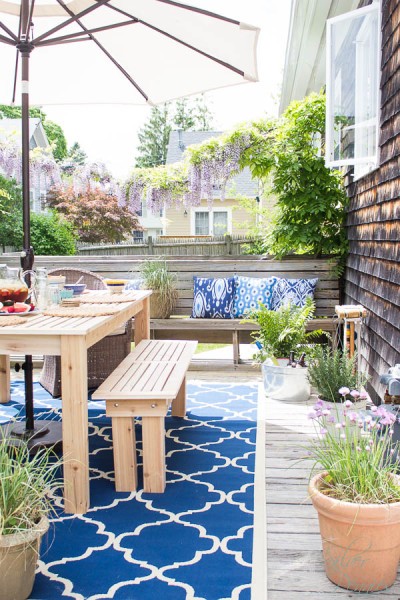 I did look at other colors but I thought navy was perfect for our coastal home.  Wayfair has many, many rugs and you can sort by color, size, style etc.  The rug is soft underfoot and I don't have to worry about the kids getting splinters now.
Birch Lane sent me this umbrella and stand.  I opted for the round bronze umbrella base click here.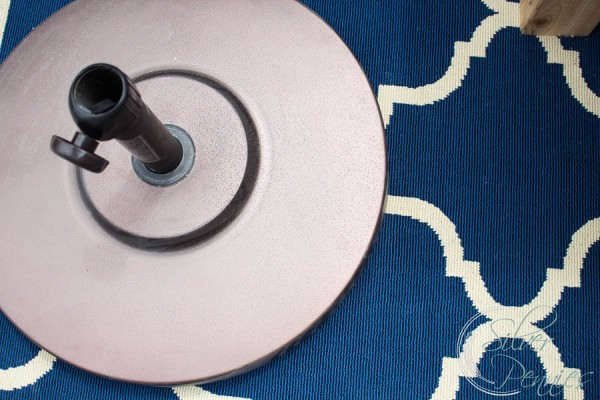 This base offered two heights for our umbrella and is unbelievably study and heavy – even with a strong wind this umbrella won't go anywhere. The sun is strong on the coast so I opted for – the Eastvale Sunbrella Patio Umbrella.  The crank handle makes it so easy to open.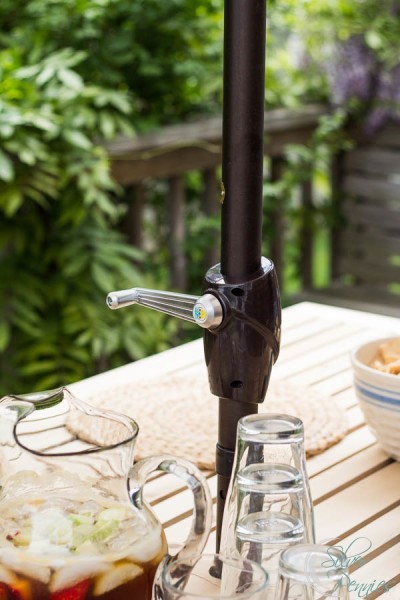 I didn't think we really needed the tilt feature but then when the sun was going down we were able to tilt it to prevent the glare.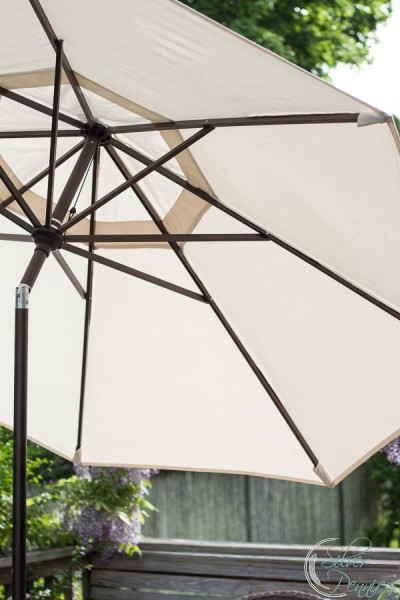 Oh, and the color, I almost forgot.  I chose Canvas.  It reminds me of canvasshoes, beach bags and the sails on boats. It is the perfect umbrella for our updated deck.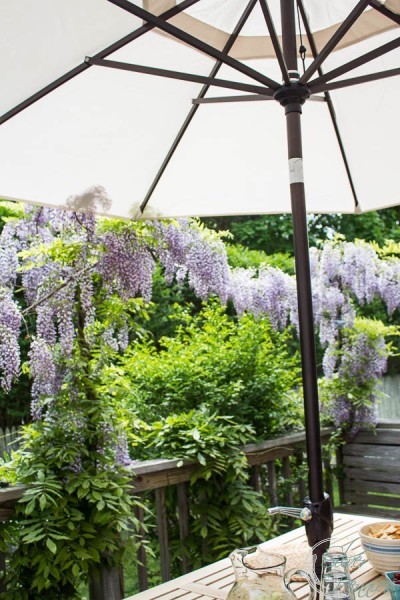 I found the arm chairs at Target and they are all weather material but give the look of wicker.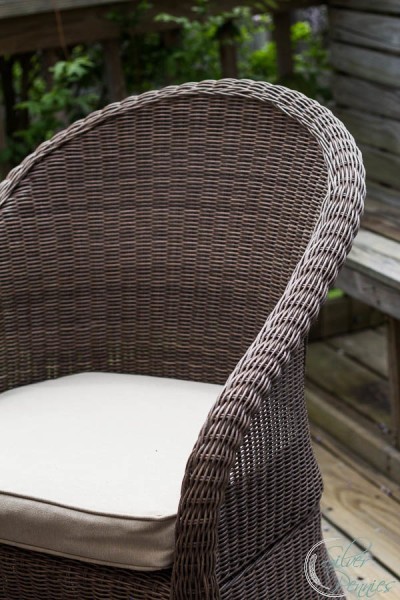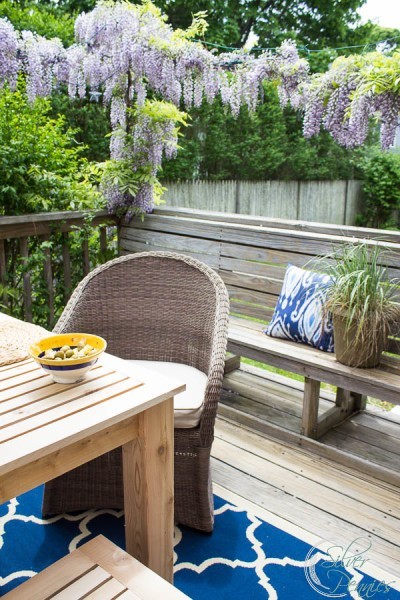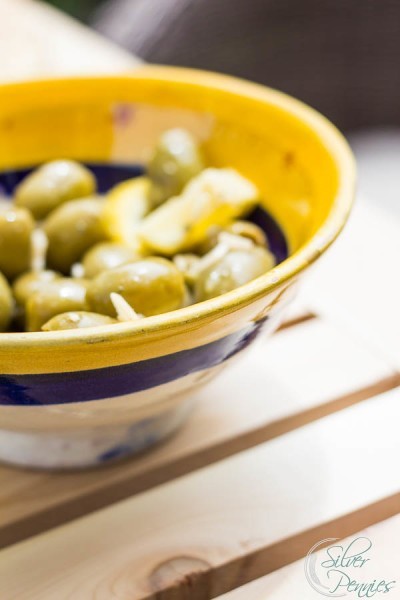 Pretty blue and white ikat pillows nestle on the built in bench and chives, sea grasses and raspberries are growing on our deck.  I plan to add more plants as the temperatures rise.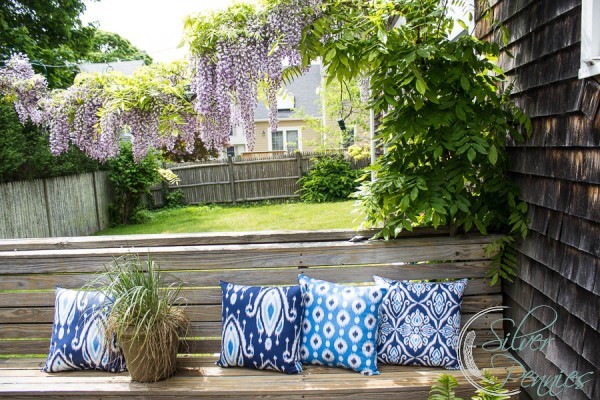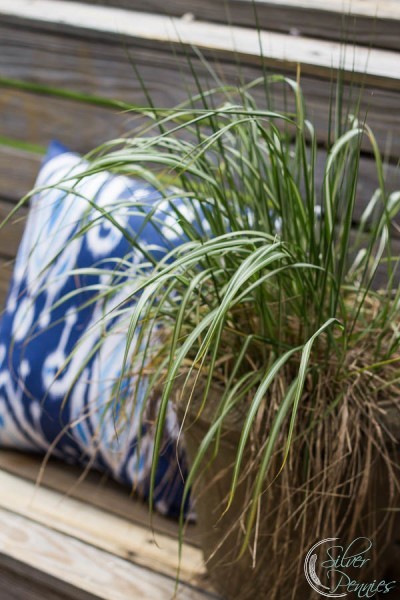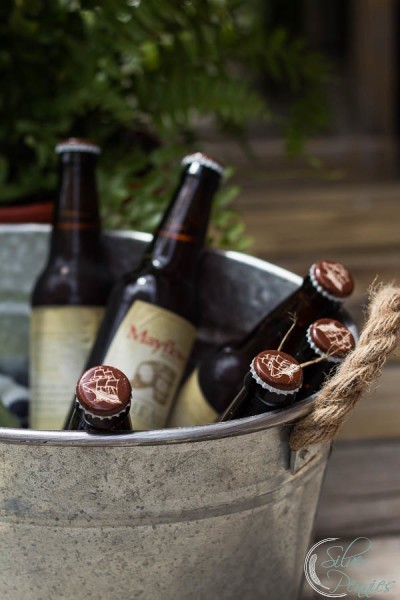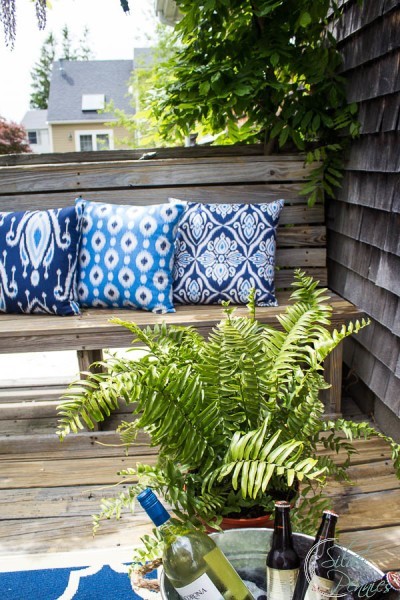 I found this lovely 1940s croquet set down at Goodies II this weekend and we had so much fun playing in the yard.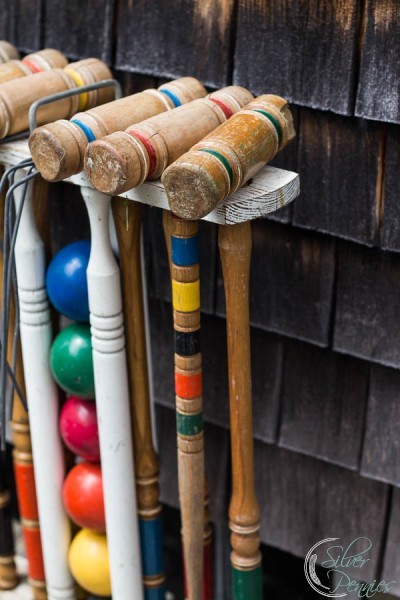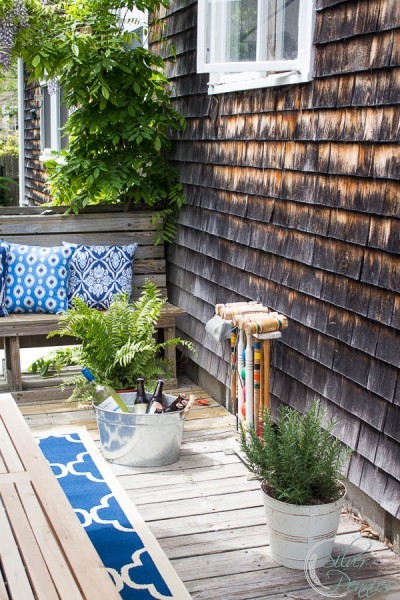 We enjoyed a wonderful BBQ for the holiday on Monday, the first of many on this deck, I'm sure.  We enjoyed fresh fruit, hummus and chips, olives and burgers.  We sipped my absolute favorite summer cocktail, Pimm's and Lemonade, click here for recipe.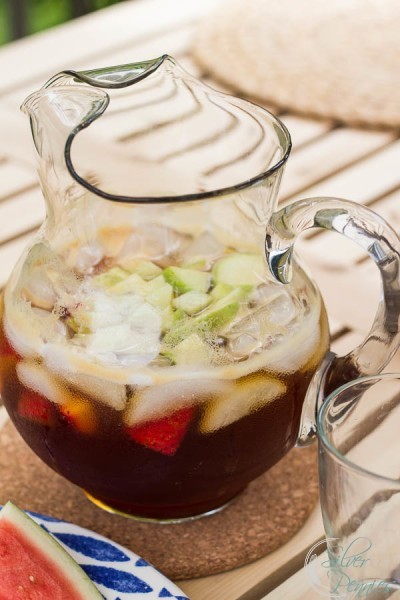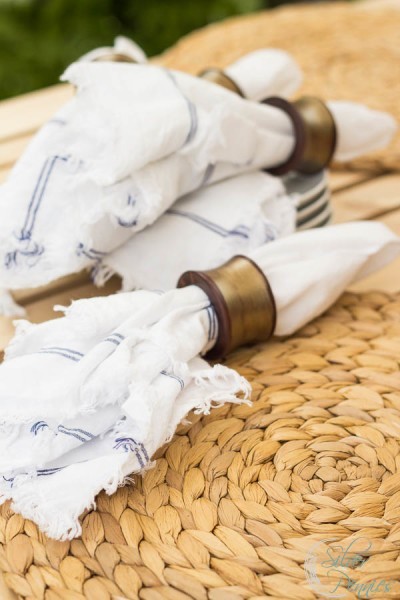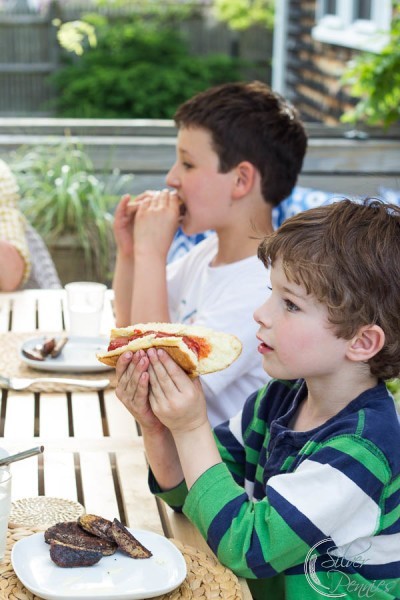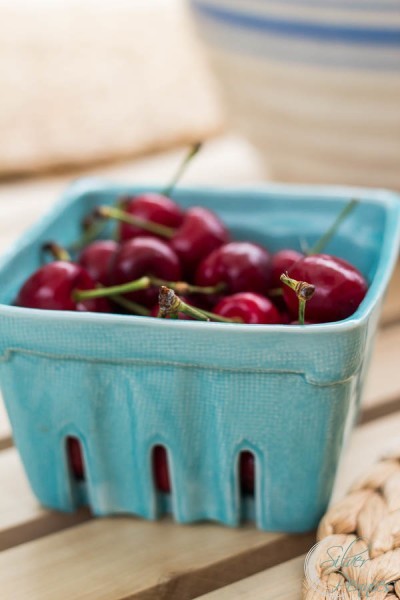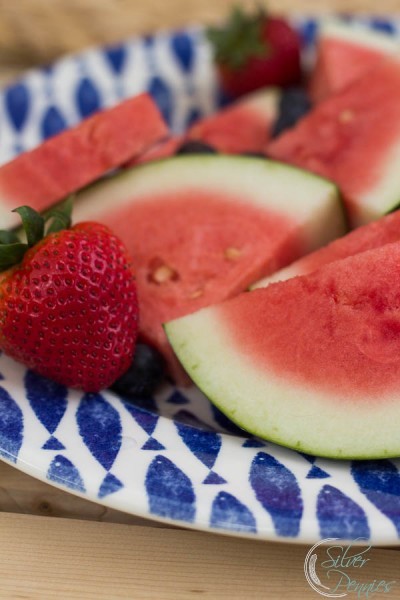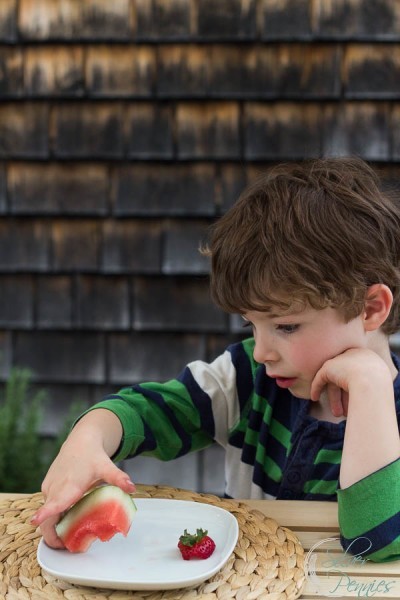 I wish you this blog post came with smell-o-vision because the wisteria that winds its way along our deck smells so heavenly.  The bumblebees are mesmerizing as they fly from flower to flower.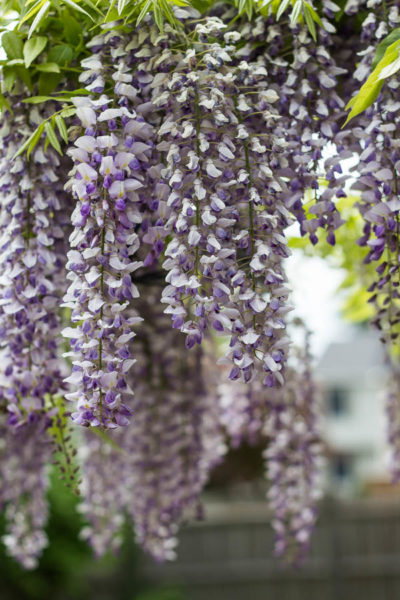 I'm so happy with our little deck refresh.  A big thank you to Wayfair and Birch Lane and a HUGE thank you to my hubby for making my dream come true.  Our deck has added a slice of heaven to our coastal home.  Another place to enjoy the soft ocean breezes and relax after a day at the beach.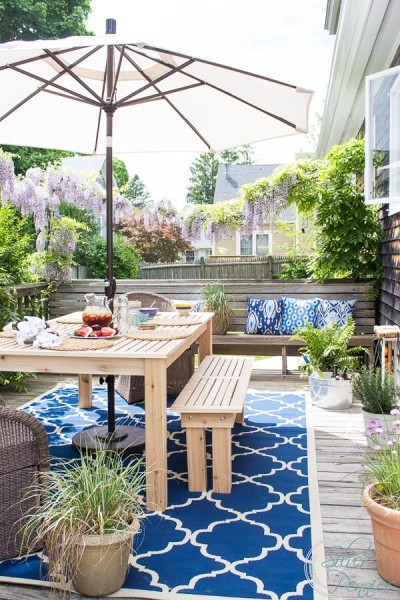 If you're interested in recreating this look, here's my source list:
Source List
Indoor / Outdoor Rug – Oriental Weavers Riviera Navy and Ivory Geometric Rug, size 7'10" x 10'10" from Wayfair.
Round Umbrella Base – Bronze base by Birch Lane
Table and Benches – Luke built. Tutorial coming soon.  The benches and table are made with white cedar boards from Home Depot and legs are from Lowe's.
Fern – Home Depot
Placemats – Ikea
Jug – Target
Glasses – Ikea
Plates – Ikea
Coasters – Target
Linen Napkins – from Chapters in Toronto
Napkin Rings – click here for tutorial
Bowls – assorted from – Pier One, vintage from thriftstores
Croquet Set – Vinage 1940s from Goodies II in Scituate Harbor
Ikat Pillows and Galvanized Bucket – Christmas Tree Shoppe
Sharing with: