Happy Thursday, friends! I have some exciting news to share with you today. I'm featured in the Spring issue of Where Women Create!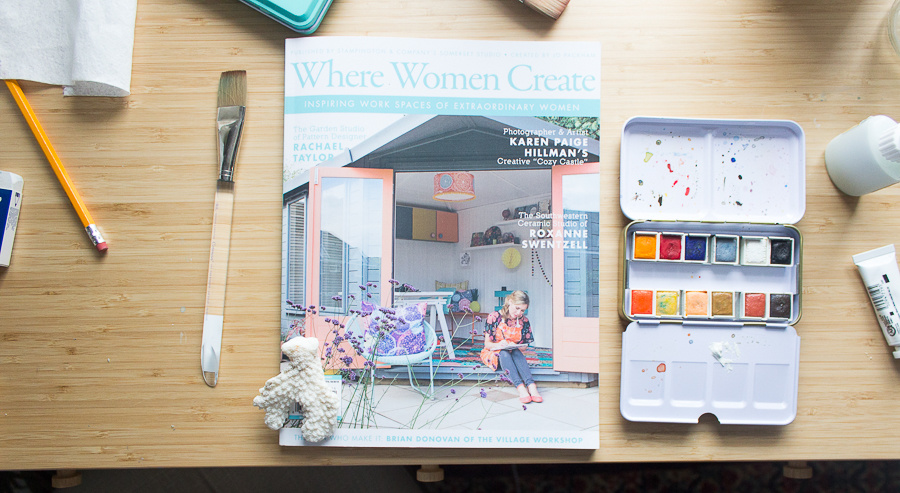 I'm a huge fan of Jo Packhan the creator of this magazine and always inspired when reading Where Women Create. I love sitting with a big mug of coffee or tea and hearing all about creative women's paths and journeys. I find how people got to where they are so inspiring.
"You can't use up creativity. The more you use, the more you have." – Maya Angelou
I have found this is the case with my own life and blog. Honestly, before I started blogging, I felt creatively stifled. I was home with two little boys – cooking, cleaning, wiping noses, going to the playground but I felt like a part of me was missing. It took me going to hear a writer talk at a local bookstore, saying if you want to write you should start a blog. Now, at that time, I didn't really know what a blog was, but I mentioned it to Luke while walking with Poppy and the boys around Minot Beach. Well, I guess you know how things ended up. That very first day when I pressed publish. I was so scared. I'm pretty sure only two people read that post – Luke and my mom, but sometimes you have to start where you're at. For two years this little blog was my hobby. No ads, no sponsored content. Just me and our life here by the sea. I NEEDED to write every day.
Through this blog I realized a love for painting furniture, decorating, photography, writing, watercolor, entertaining…. The list goes on and on. I write down ideas for fear I will forget them. I have a whole journal full of things – to paint, techniques I want to try and lots of recipes. Inevitably I always run out of time. I had no idea I could do any of the above things BEFORE I started blogging. Okay, I had painted a few rooms in our first house, but that was it.
At the time, I certainly would not have thought a feature in Where Women Create would be in my future, not in a million years.
BUT.
Here I am typing those words – I'm featured in Where Women Create!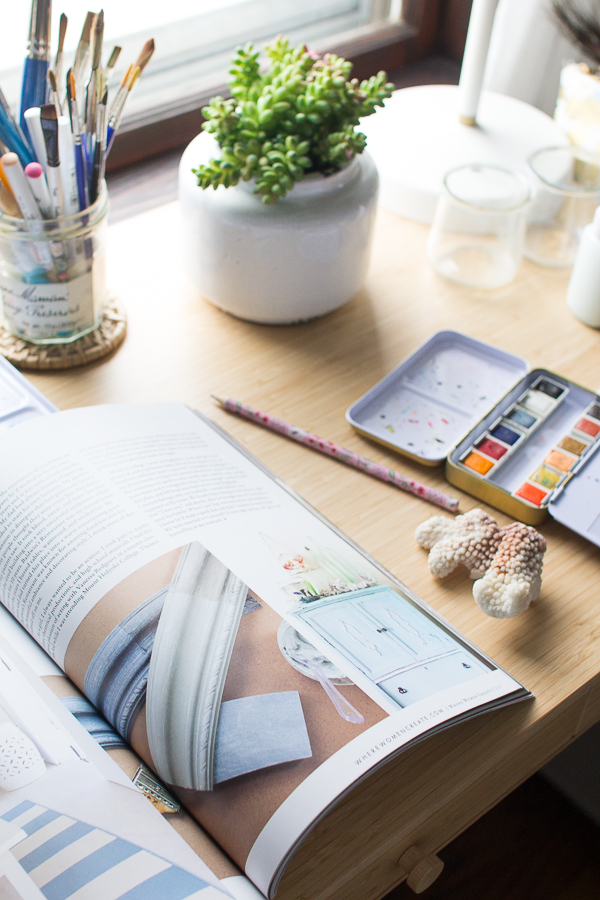 As you know, I'm good friends with Matthew Mead. We speak most days about our dogs, projects or just seeking advice from one another. He featured me in his magazine Upcycled Style a few years ago (that was another dream come true) and when our friendship blossomend. We did the Vintage Bazaar together and I just went to Minneapolis in November for a Design Challenge with him and Wagner. Matthew is such an amazing person. He is so creative. He is so gentle. He has a great design eye and he has the BEST giggle. I am truly lucky for his friendship. He said he wanted to come and photograph my basement studio for a feature in Where Women Create. Would I be up for it?
You may remember I shared my studio refresh here: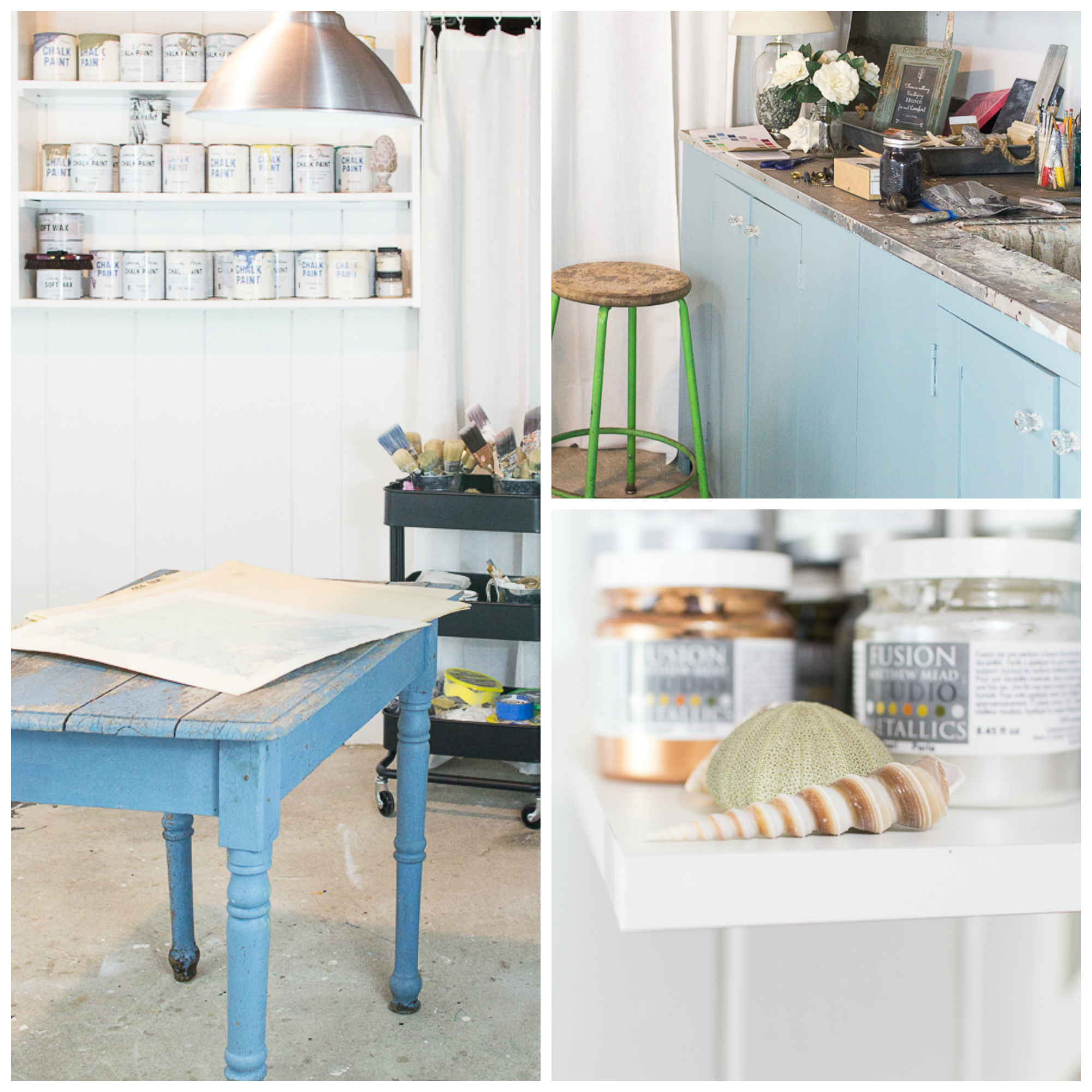 Click here to learn more about the workbench I upcycled and the seascapes.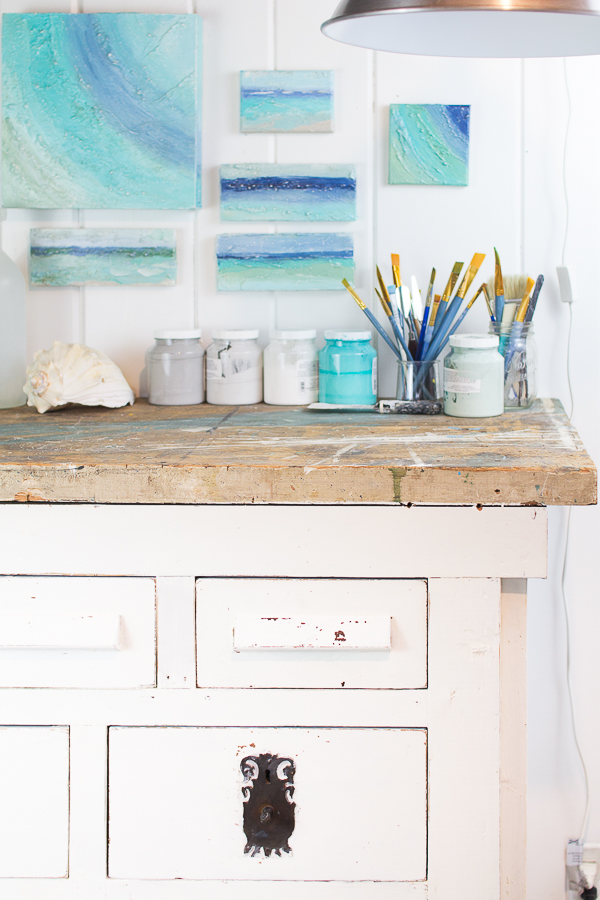 This space has become a wonderful place to work and create.
Anyway, Matthew asked if I would be up for that. Do you want to know what I said to him. "Oh, wow, I'm so honored but I don't think I'm creative enough. I'm not really an artist." He was so kind and he said he thought a story about me would be great.
See? We all have imposter syndrome. After writing this blog for nearly 7 years. I still don't feel like the "real deal".
Matthew came to shoot the photos a year ago. He came on a cold January day. He photographed the basement studio, me painting this black desk and took a couple of shots of the office (which is now Luke's space). We ate chicken cutlets (my favorite meal) in the kitchen and chatted before he drove back to NH.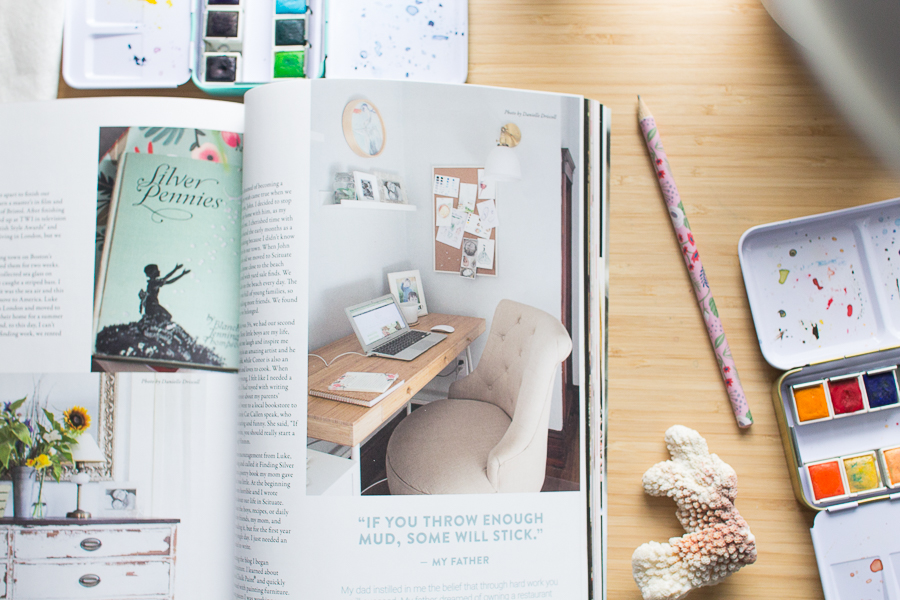 What is truly special about this article; it's my story written in my own words. I talk about growing up in Andover, how my love of antiquing and old houses started, I share about meeting Luke in England and about our move to the States. Like, everyone, my life has had twists and turns. There have been tremendous joys and opportunities but also some sadness and disappointment.  I'm grateful to Jo and Matthew for giving me the opportunity to share my story with you. Matthew recommend I submit some photography which I did.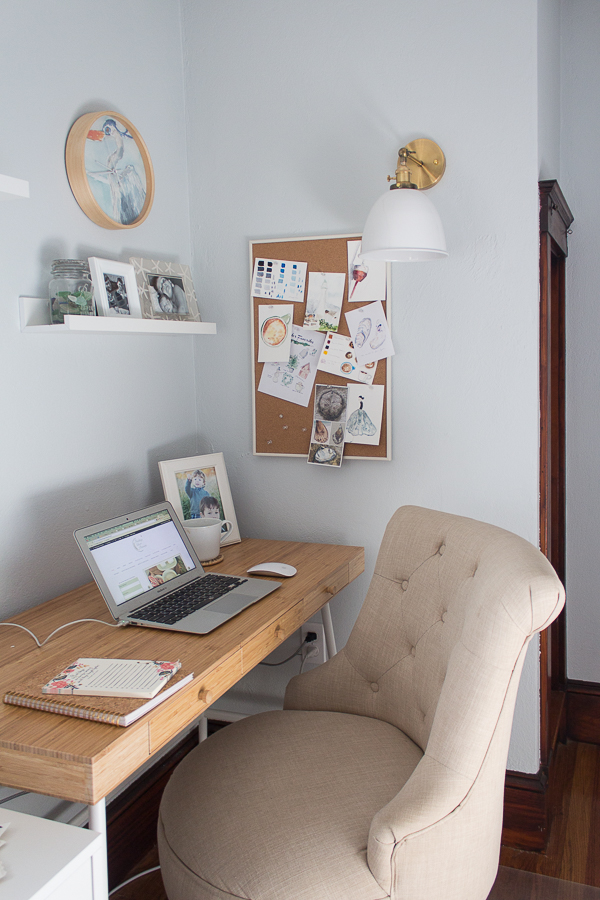 I'm actually sitting right here typing this to you.
In total there are 8 pages with lovely photographs and my writing. I talk about my close relationship to my parents, how supportive my husband is and how my children are constant inspirations to me.
It is my goal with this blog, with this article and with my Creativity Over Coffee series to inspire you to find the creativity that is within you. We are all creative, you just might not have tapped into your's yet, but you will….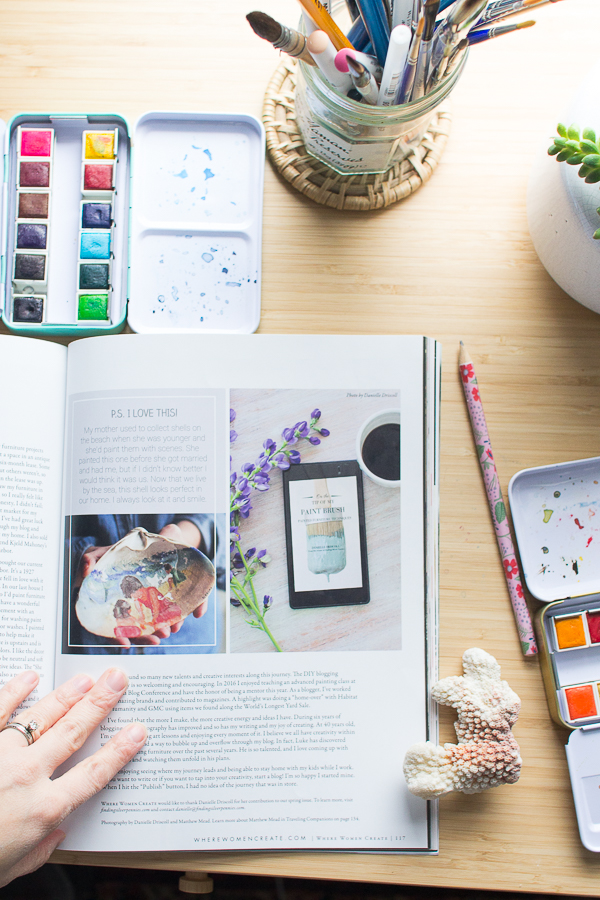 See that shell? My mom painted it before I was even born. She used to collect shells on the beach. If didn't know this, it could be her and I on the beach.
What is so amazing about Where Women Create is that it brings women from all different places, cultures, ethnicities and backgrounds together to discuss one commonality – creativity. I believe women supporting women is so important. I went to Mount Holyoke College for my undergraduate degree. From an early age, I was taught to voice my opinion and I could do whatever I set out to do. My mom used to read me The Little Engine That Could. I think that's where my determination came from, but my work ethic came from both my parents. At Mount Holyoke College, the oldest women's college in the country, I learned the power of ideas and how ideas and creativity can change the world. There is so much that is going on right now in our country and in our world: discrimination, gender inequalities, the #metoo movement and injustices. I know I blog about home and design and how to celebrate one's home. But I also think its important to lift others around us, men and women, who are doing amazing things. I believe it's important to be a voice and not an echo. I believe it's important to share stories and memories and to create hope in this world. For I believe there is more good than bad. I believe creativity is the most important thing in the world. It is the bond that holds us together and makes humans unique.
A huge thank yo to my friend Matthew for coming to my home and thinking of me for this opportunity. An enormous note of gratitude to Jo Packham for featuring my work and life in her beautiful magazines.
The spring issue is now on newsstands! You can also order it online here (affiliate link). I hope you love it and you're just as inspired as I am by all the amazing ladies featured.