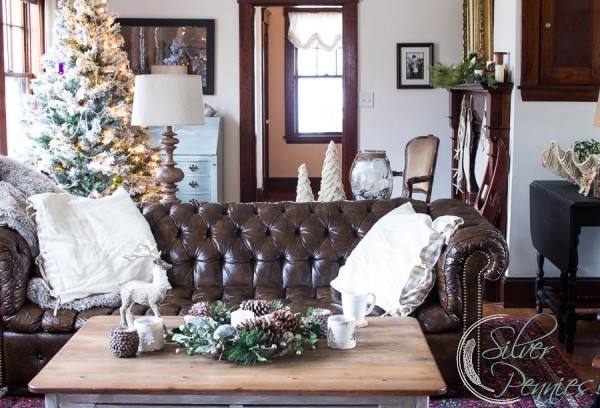 "Those who do not believe in Magic, will never find it." – Roald Dahl
I'm feeling extra sentimental and filled with the promise of magic this year.  This magic was reawakened when we decorated over the weekend as a family. I'm very honored to be taking part in the Country Living Home Tour with over twenty other bloggers organized by my friend Ashley over at Cherished Bliss.  If you're stopping by from Kristin's blog – Yellow Bliss Road, welcome. Go pour yourself a cup of coffee.  I'll wait right here.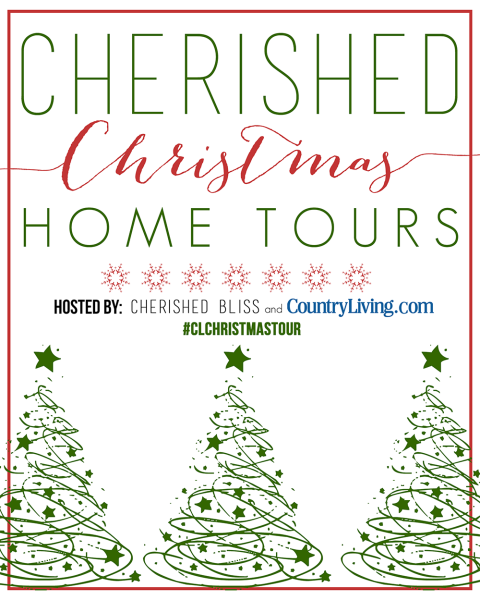 Okay, got your coffee? If it's your first time here, welcome to our home.  We live on Boston's south shore in a little town called Scituate.  Our cedar shingled home is right in the harbor and you will see that it is decorated in a classic, coastal style.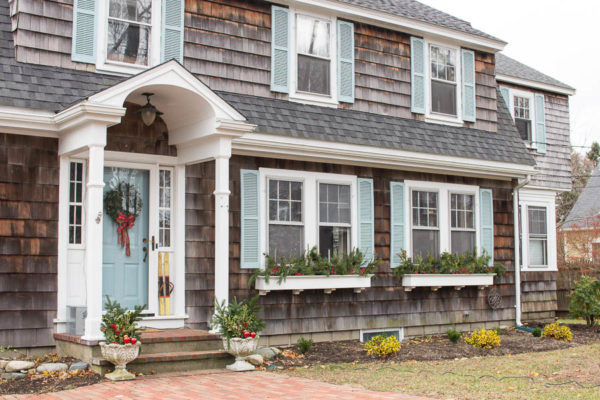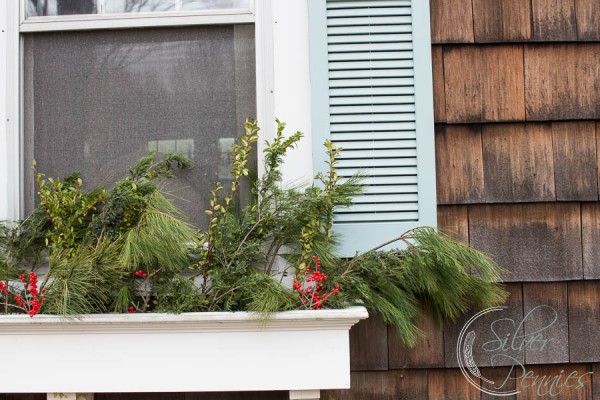 Simple greenery is tucked into extra large window boxes. You will find pine, holly, a green from the west coast and blueberry cedar. The cedar is new this year and I LOVE it.  I have a thing for blue if you can't tell from our shutters.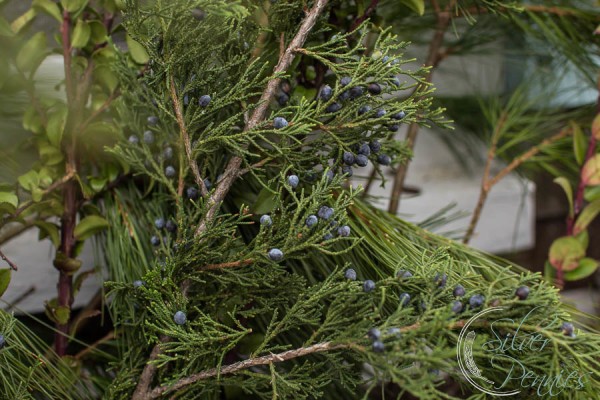 The antique planters my mom gave me are also filled with greenery and some baubles.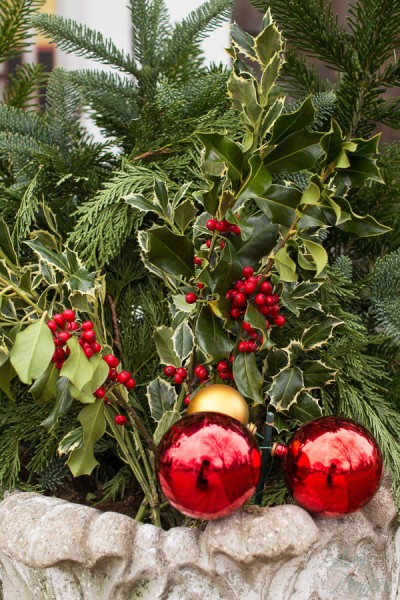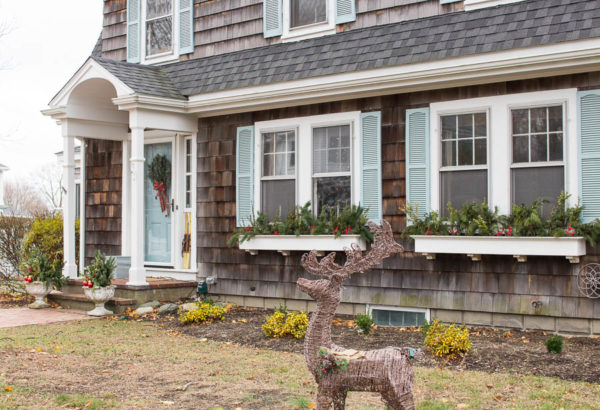 The deer and the wreath and the little candles in the windows look so pretty lit at night.  I'll have to figure out a way of photographing that 😉
This is home.  Oh, before I take you inside, let me show you the "She Shed" which looks like a mini version of our home.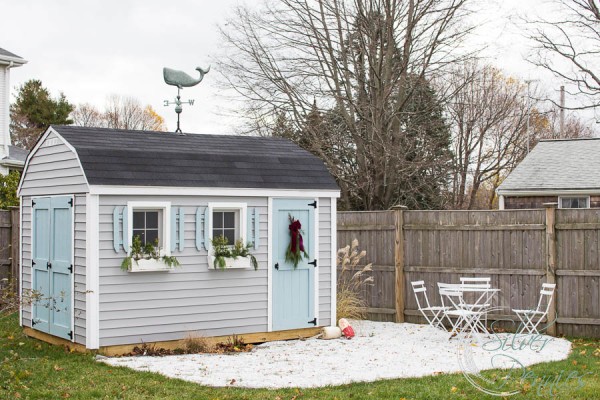 I didn't decorate inside because soon it will be too chilly and cold to be snuggled up out here, but I've been enjoying some quiet time until then.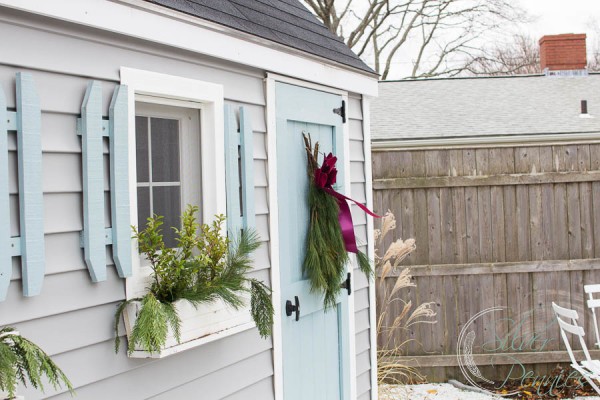 Again simple greens and the prettiest bow adorn the outside.
So please come in!  This is home to my little family; I share with my husband, our two sons and our little dog.  John is 9, Conor is 6 and Poppy, our dog, is 5.  As you can imagine, there's lots of excitement here when the holidays roll around.  Conor, especially, couldn't wait to decorate with me.  He had many ideas of what he wanted and how it should be done.  Our home may not look like a magazine spread but it is cozy and filled with so much magic.  For me, I think the spirit of Christmas is in this love and care.  It is in baking cookies and wrapping gifts and making things together.  I can't wait for you to see our home.  Let's start in the living room.  As a family we spend so much time here and this was the area Conor worked his magic.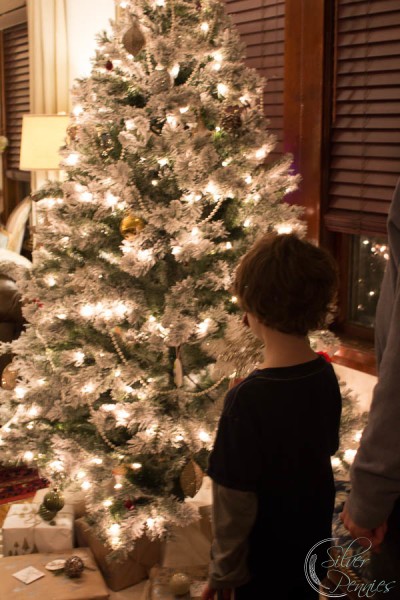 On the tree you'll see pearls, hand made German glitter glass ornaments, hand made kids ornaments and ornaments from when I was little.  Conor likes loading bells on the branches.  Yes, there are four ornaments on that branch.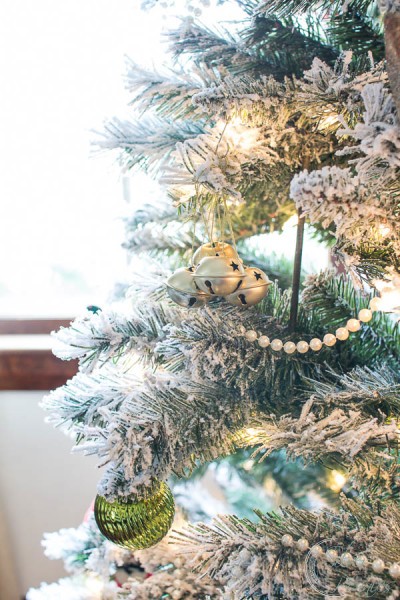 He was so excited to put the star on top!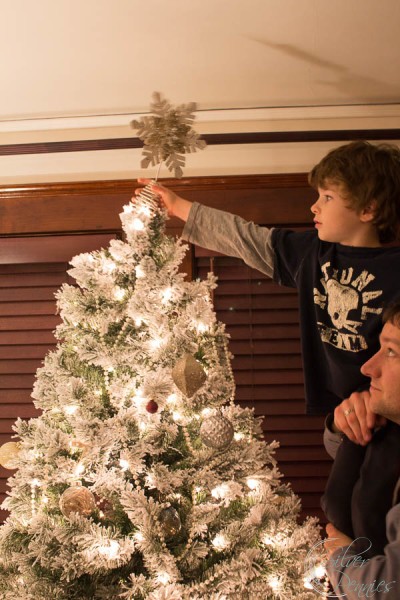 I shared the DIY wrapping paper earlier and made the tree skirt last year.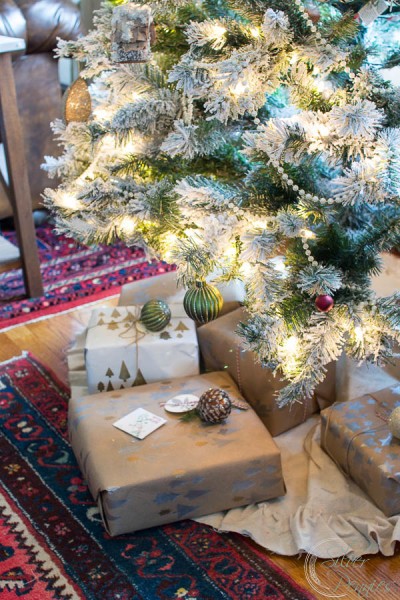 Our stockings are hung by the chimney with care: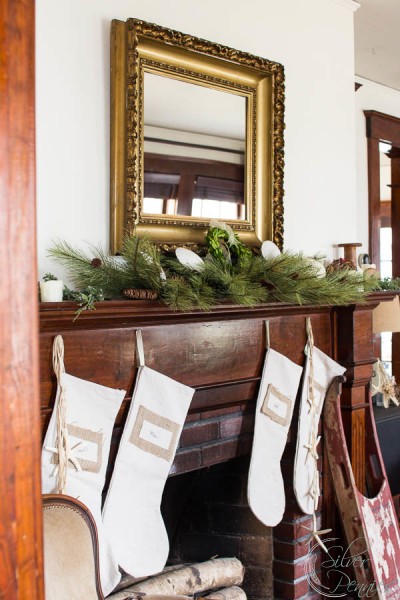 The gold mirror is a new addition this year.  It was a gift from my parents and it used to hang in their restaurant. Over the 11 years they owned the restaurant we welcomed so many wonderful holiday parties and friends.  It means so much to have this bit of the past in our living room. To be enjoyed again and again.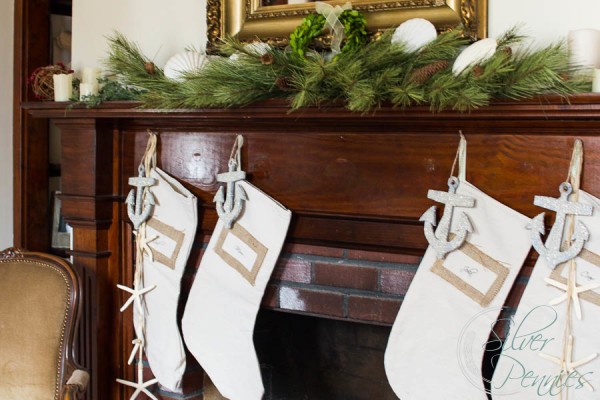 I will be sharing more about these anchors on our stockings soon.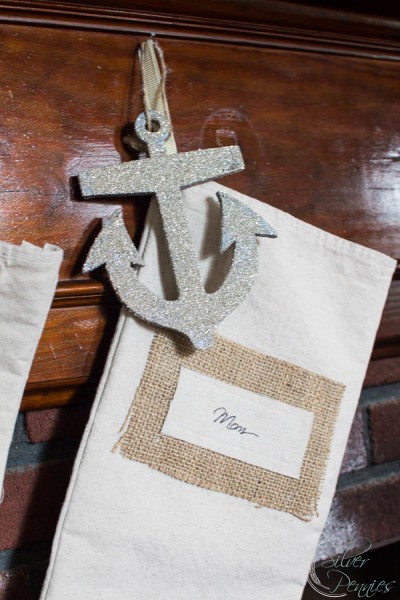 This is the room where we spend most of our time.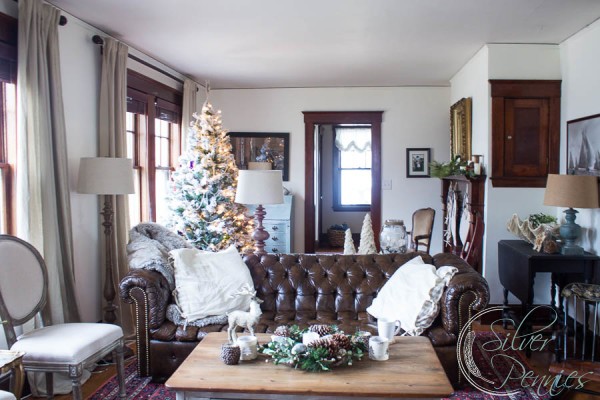 We watch TV in here, we play games and read.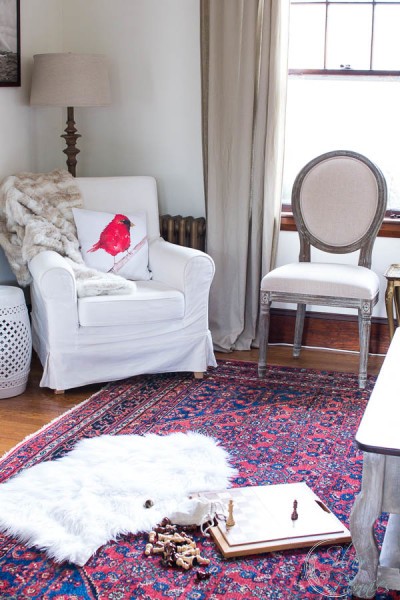 We also nap in here.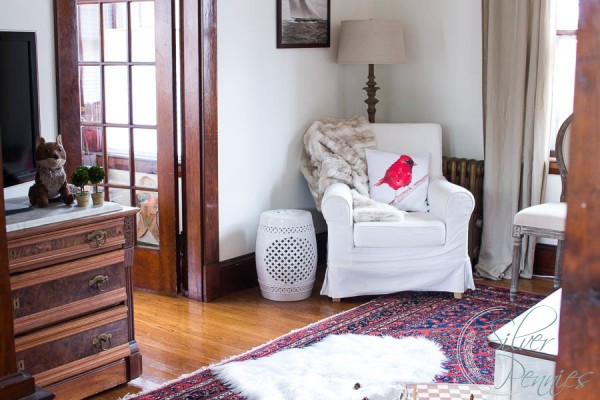 I'm actually sharing a bit more of this room next week, so stay tuned.
Through the columns is our dining room which has been given a bit of a coastal look this Christmas.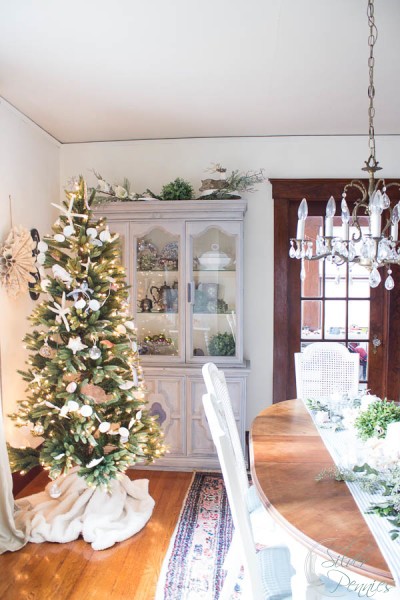 The tree in our dining room is new this year and it is such a welcome addition.  I wrapped a snuggly blanket from the guest room around the base.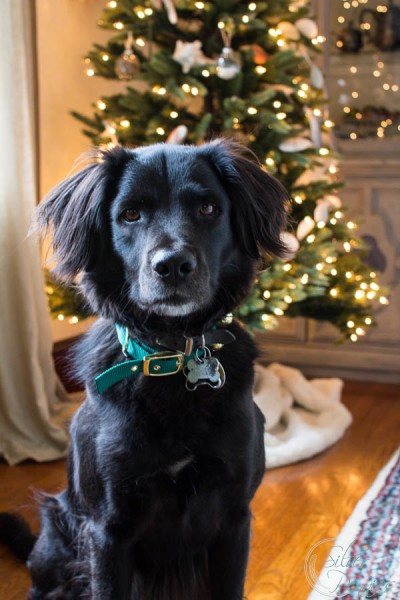 We decorated it with treasures from the beach – starfish, sea fans, oyster shells…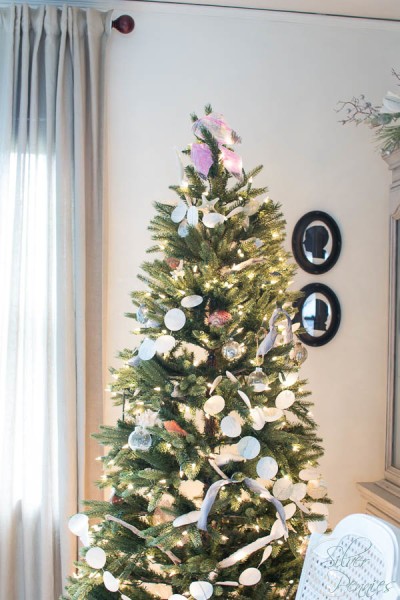 The paper garland is made from nautical charts. Click here to see how we did that last year. Conor created the tree topper.  A drawing of Santa!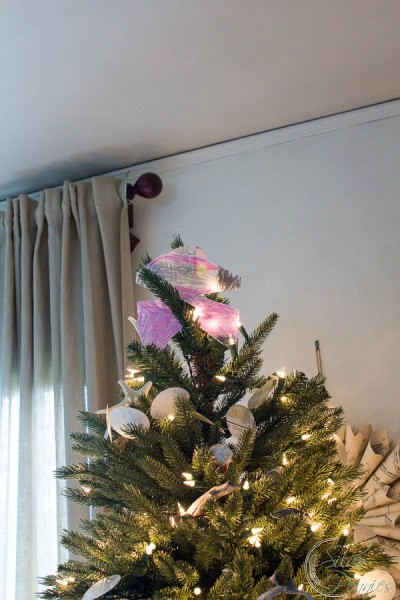 The table is adorned with more shells and snowy branches.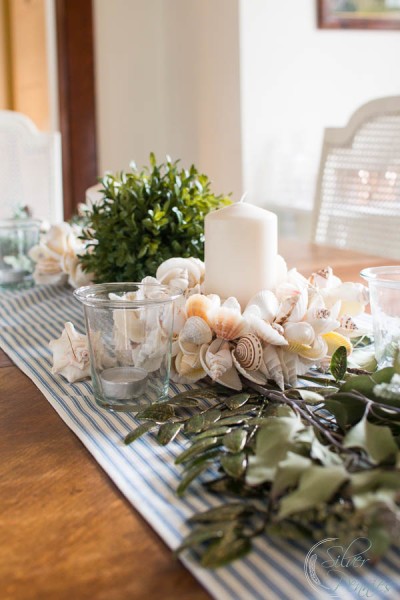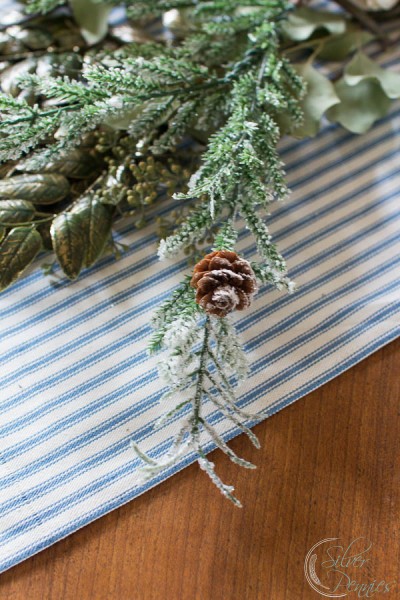 I used the shell wreaths as candle holders and also used hand blown jelly jars from Matthew Mead to hold tea lights. These look so pretty at night.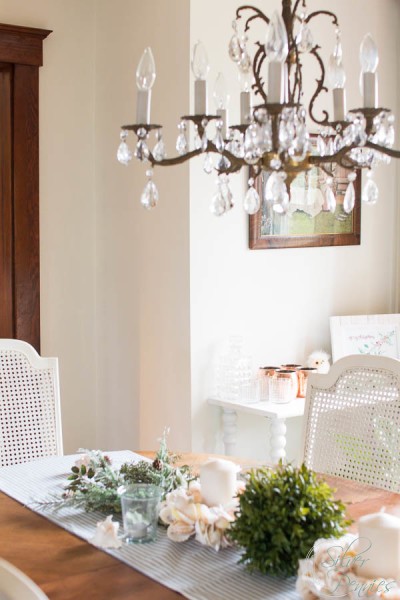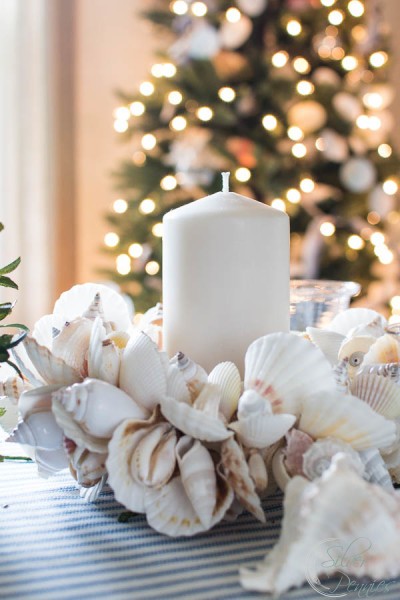 On the vintage armoire I've added real lilies, mercury glass and antique ornaments.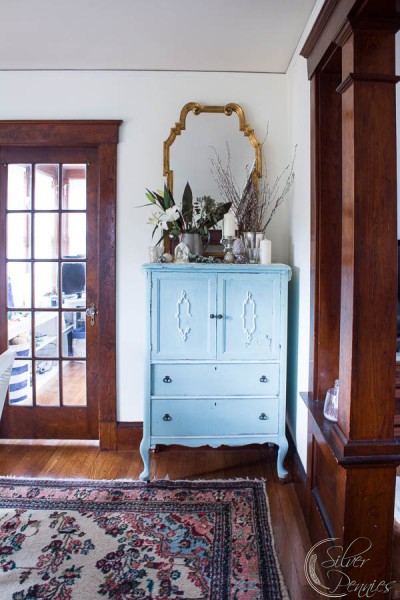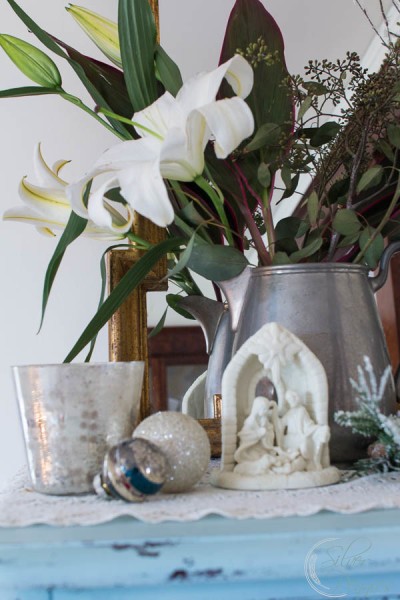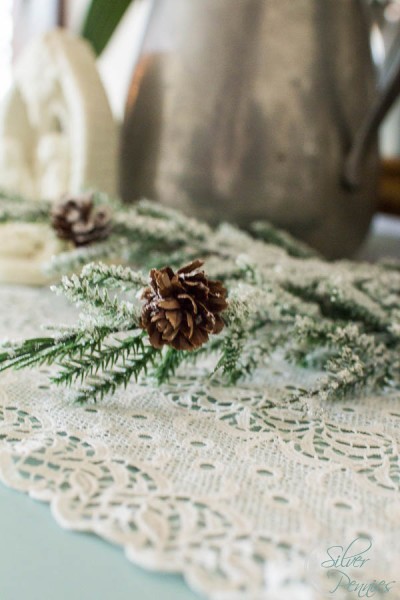 This room is so special because it is where we enjoy our holiday dinners and Sunday roasts.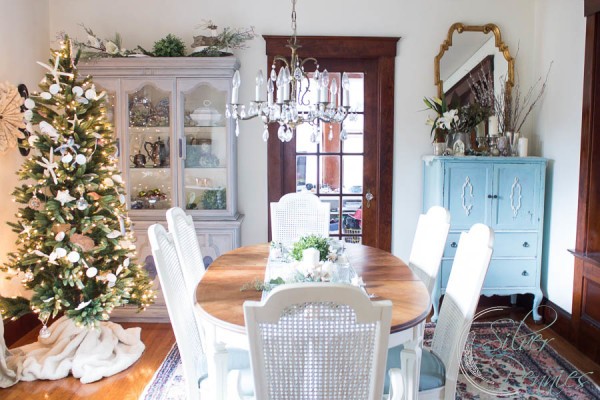 Our front hall has a few sprinkles of Christmas cheer –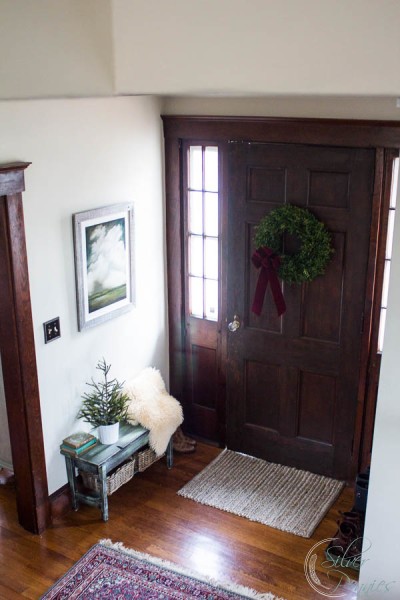 You may remember the newly refinished door and my artwork from Minted.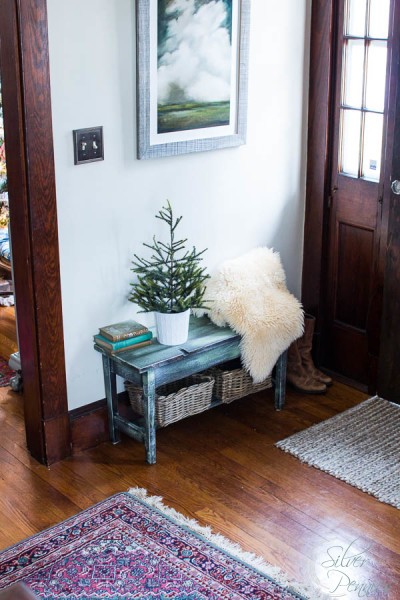 A simple garland lines the banister and my brand new snow boots are ready for blizzards this winter.  (sigh)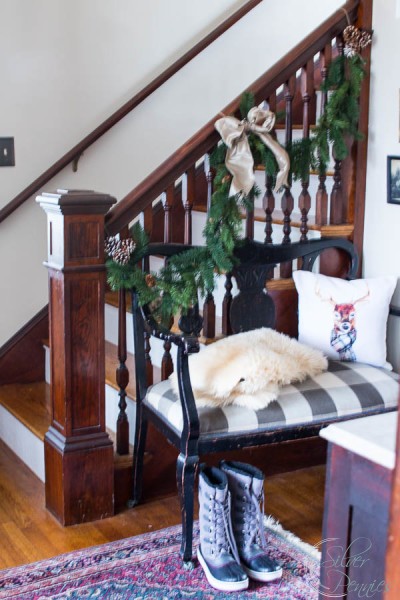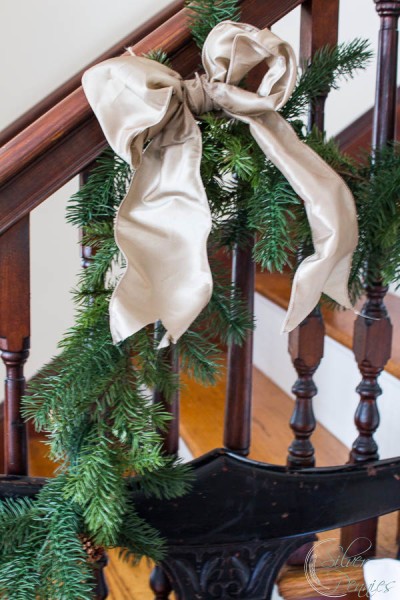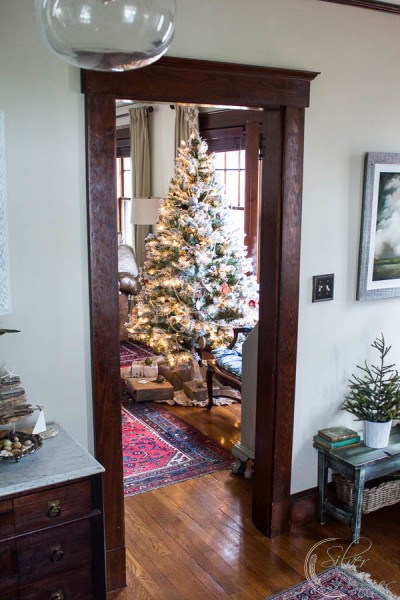 My heart actually skipped a beat as I took the above photo.  I pictured my kids rushing down the stairs on Christmas morning. Unwrapping gifts to the Beach Boys Christmas album is the best.
We made this little boat ornament last year with driftwood we found on the beach.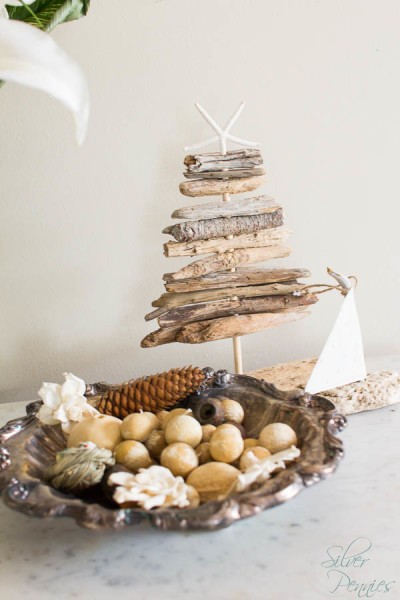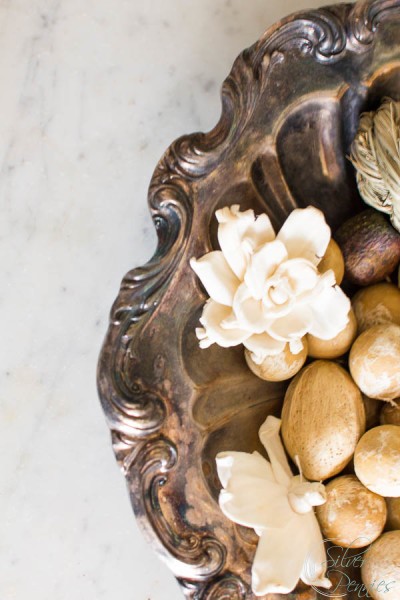 Before we head upstairs to our bedroom, I thought I'd take you into the sunroom.  This room is a three season room and we redid it two years ago.  It is one of my favorite rooms because of all the light. The only problem is there's no heat.  I do have a portable heater which makes it a bit warmer in the winter months, but when there's lots and lots of snow it will be freezing.
This room celebrates Christmas by the coast: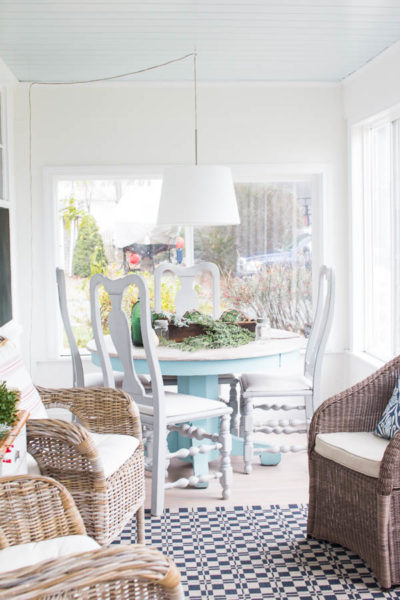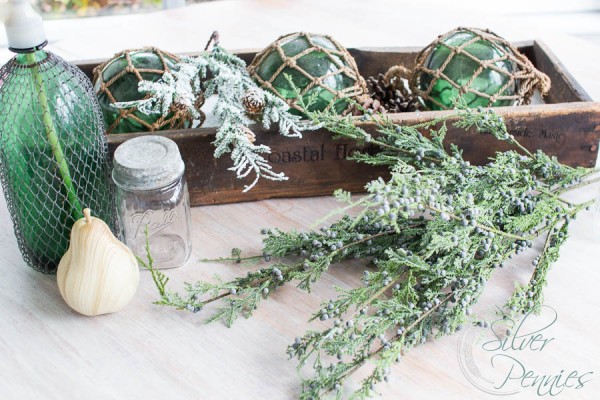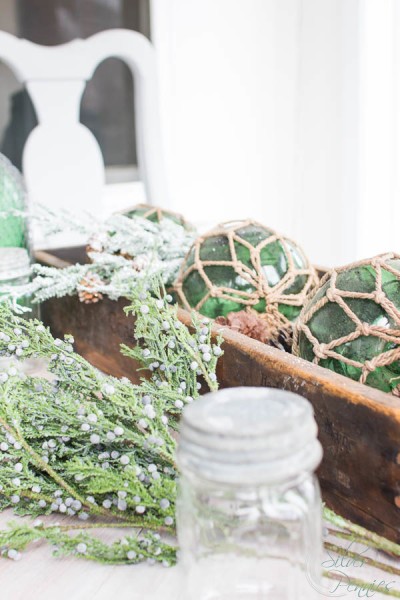 Pops of green are everywhere from branches to antique fish floats to vintage seltzer bottles.
I also shared this sweet coastal tree yesterday: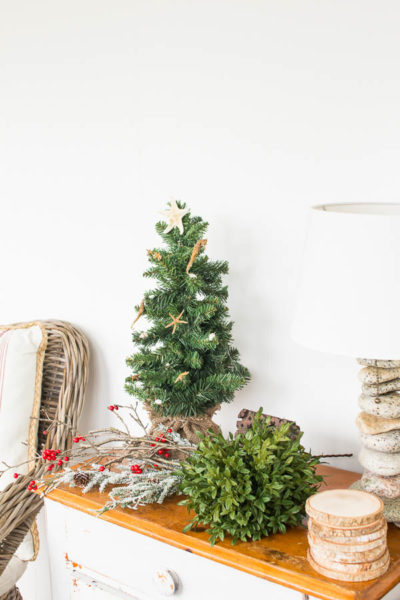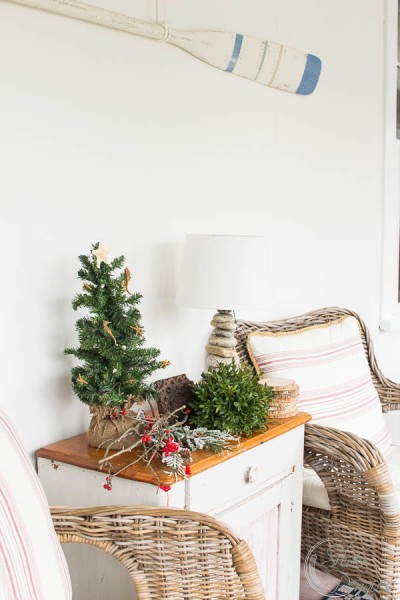 Now for the last stop on our tour.  Our bedroom.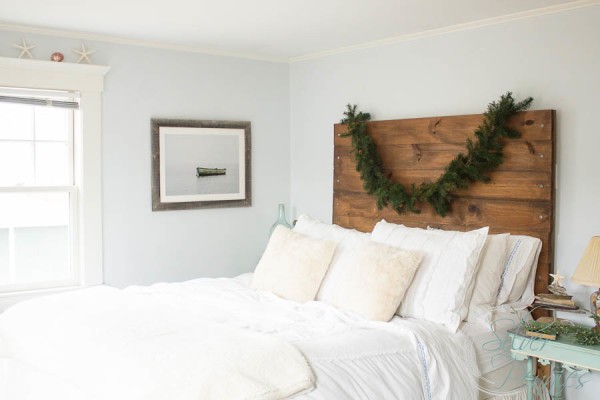 I adore reading to the kids each night here all snuggled up under the feather duvet.  A simple garland hangs from our headboard while glass baubles and a wreath decorate my dressing table.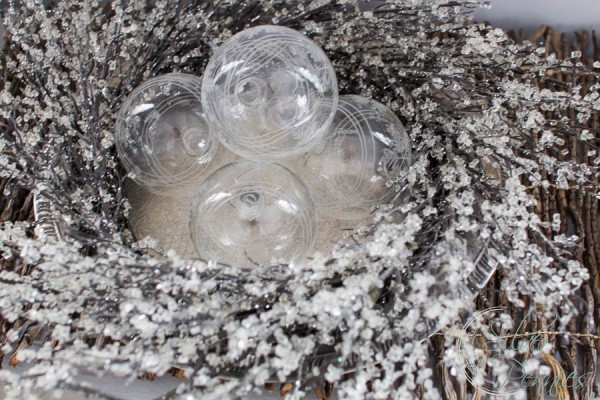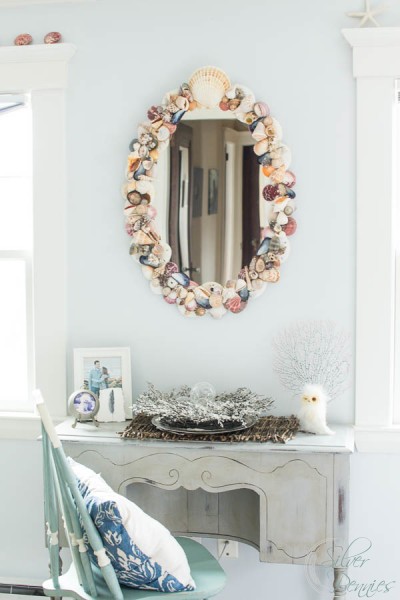 Greenery takes center stage on Luke's dresser: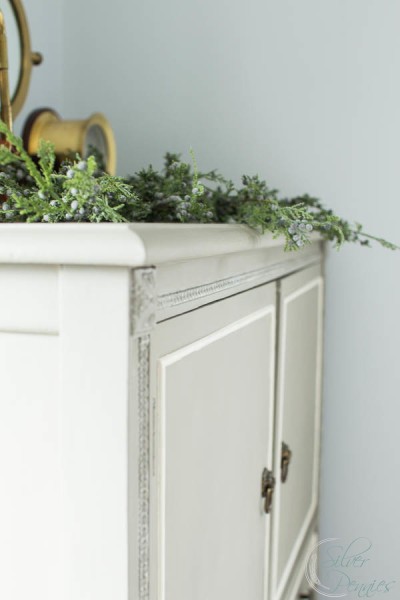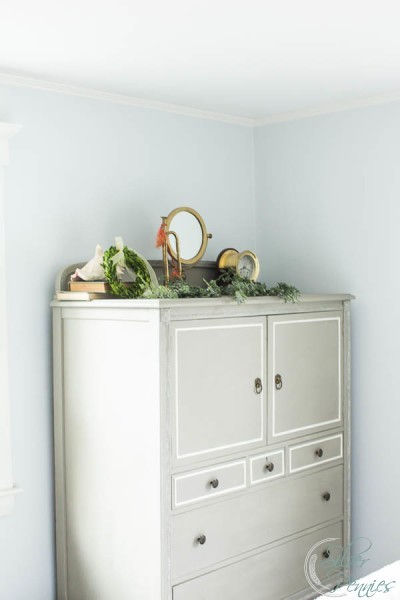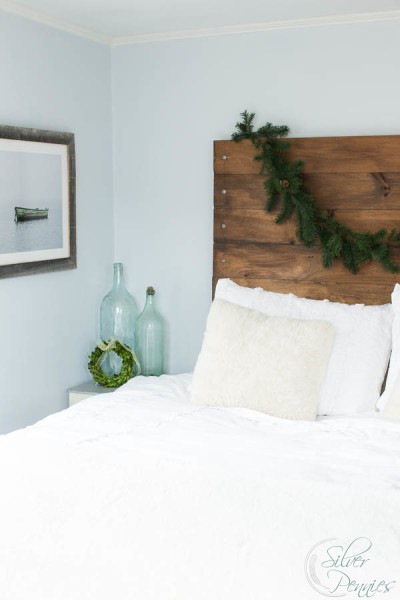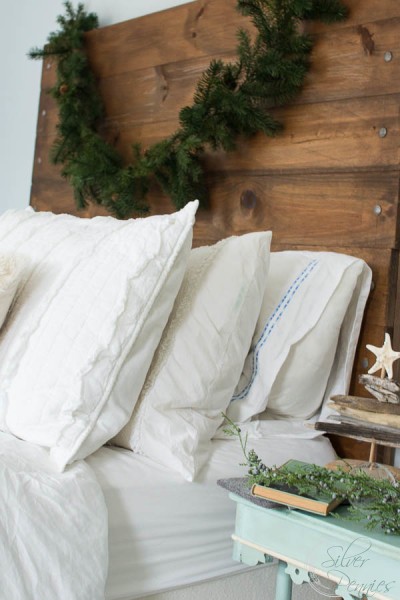 Luke made me this driftwood tree and I always keep my copy of Silver Pennies close 😉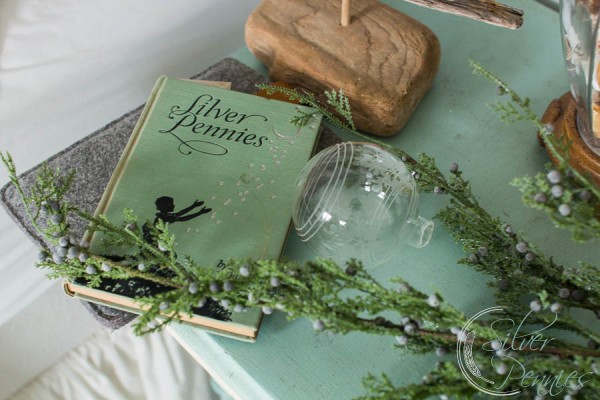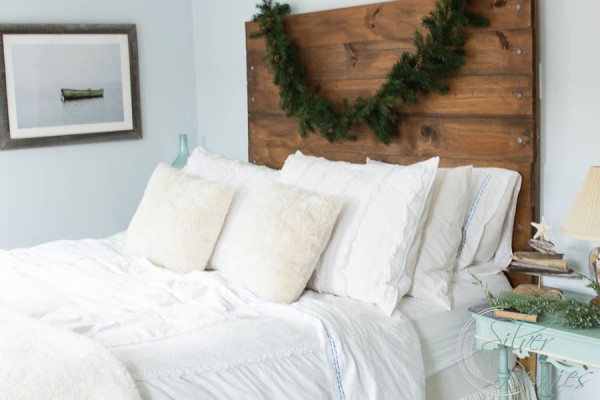 I like to keep my Christmas decorating simple while also honoring the "story" behind treasured items.  That way I can focus on what the holiday is truly about.  I can take time to bake cookies with my kids, sing Christmas carols in the harbor and decorate gingerbread houses.  I know these years will go by way too quickly and I want to treasure each moment with them.
Thank you so much for joining me for the tour of my home.
Next up on the tour is my friend Debbie over at Refresh Restyle.  Be sure to stop by her home and see how she's decorated this Christmas: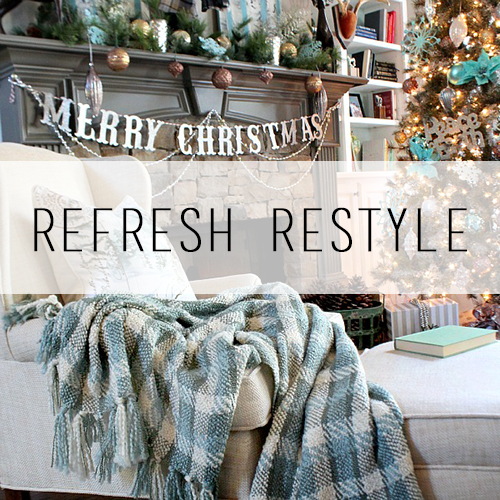 Be sure to check outall the homes taking part. A full list is on Ashley's blog.

Sharing with: