Happy Monday, Friends! I'm excited to share more about the InSPRAYtional Design Challenge with Wagner.
This post is sponsored by Wagner Spray Tech. I had the opportunity to attend this design challenge where I was able try out Wagner's Products and Technologies. All thoughts and opinions are my own.
Back in November I was honored to attend Wagner's InSPRAYtional Design Challenge, hosted by, my friend and style guru, Matthew Mead. It was a multi-day event with several influencers.
The first day we went on a surprise mystery tour. The first stop was a flower workshop. I shared more about that here.
You guys all know how much I love flowers so I was completely in heaven here. I couldn't resist these pale pink dahlias, for my arrangement. At this point, we didn't know what the challenge was going to be just that we were to choose flowers that spoke to us and we'd create a hand tied bouquet from them.
I mean look at these flowers! Heavenly.
That day we also learned about layering with a decoupage artist and sipped the most delicious cocktails at Tattersall Distillery.
It was a great way to unwind after a day of inspiration. I ordered the Salty Dog. A mixture of gin, grapefruit and limonata. So good.
InSPRAYtional Design Challenge
Day 2 was the design challenge at Wagner's headquarters. We were told to pick a paint color inspired by our flower arrangement. I'm usually good at picking colors but I had a hard time looking at the fan deck and choosing a color when I didn't know what it was going to be for. I chose calligraphy by Behr. It's a dark gray with blue undertones and is a striking color. I was inspired by the back wall at the flower studio: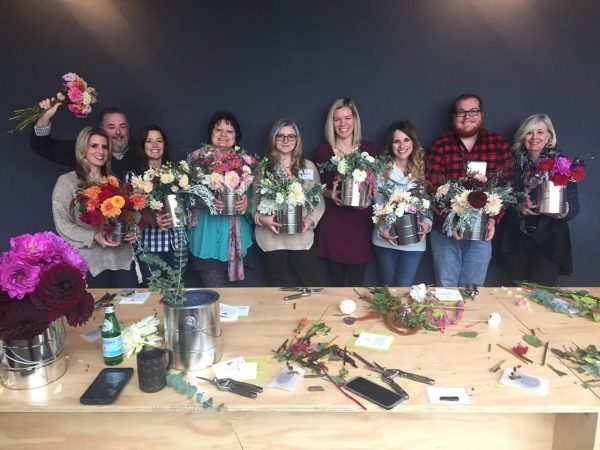 This wall and you can see all the influencers and Matthew in this photo! So much fun!
The Design Challenge
Using Wagner products, and paints on hand, we had to create a room (indoor or outdoor) and we each were given a chair or bench and a door. We could do whatever we wanted in the room. We could use props. That was the challenge and we had a few hours to do it in. We first were given some tips and tutorials on all the products – sprayers, heat guns and rollers.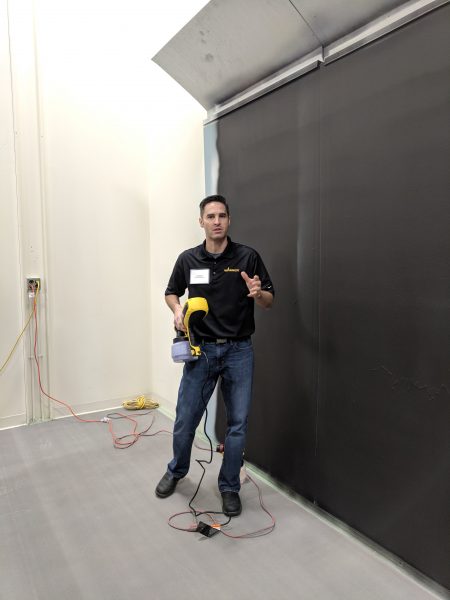 This is Jon Beaton he's the product director, a super nice guy and specializes in all things sprayers. I inundated him with questions because I had some issues a few years ago with the sprayer out in the she shed. It was an older model I was using and was a very hot day. So I was worried about the same thing happening during the challenge. In the shed, the sprayer started clogging out and spitting chunks of paint. John recommended that in certain conditions it's good to thin the paint down a bit with water and also make sure to clean the tip periodically with grime wipes. This is a really great video that they've made, click here.
This post contains a few affiliate links for products. If you purchase a product from the affiliate link I receive a portion of the profit. You can read my full disclosure policy here. Thank you for supporting our blog this way.
We had access to and could use the following tools:
All of these are versatile and make great gifts for the DIY and home enthusiast.
After the tutorials it was off to the races. Quite literally.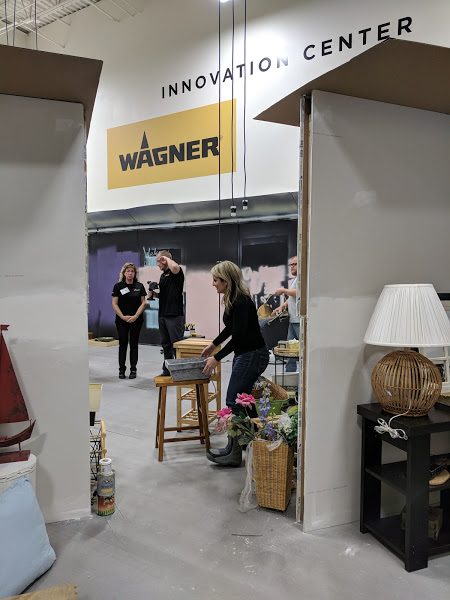 Everyone was dashing around, grabbing props and things they thought would be great for their room.
I got an outdoor room so had an adirondack chair. Going with my love for all things coastal, I chose props based on that. Here's the before of my space and the props I chose.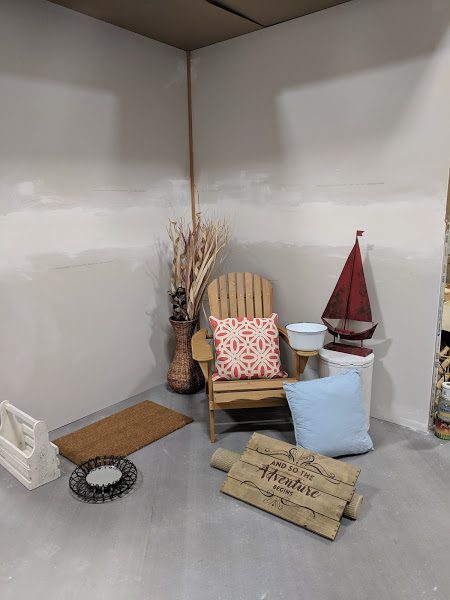 Isn't that sailboat great! I couldn't resist it. Matthew said he found that and knew I would pick it 😉 Gosh, I'm so predictable. Ha! Ha! I decided to do the walls first because that was the greatest area. I used the Calligraphy paint on the walls. At first I was nervous. Can you see? That color looked dark and I was getting used to the sprayer.
The tips really worked and there were no issues with the sprayer.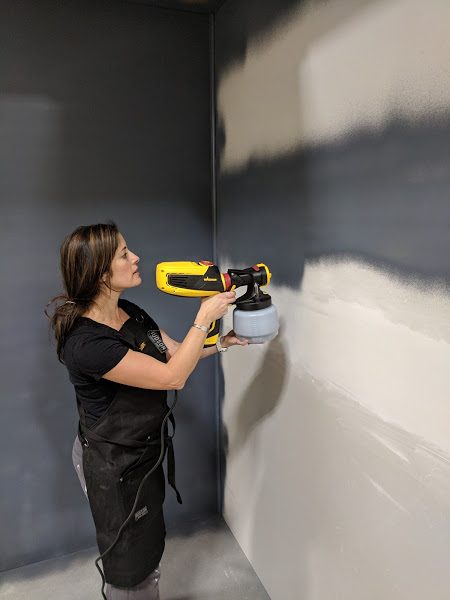 I couldn't believe just how quickly I painted the two walls, and I only needed one coat of paint. The coverage was amazing!
Then it was time to paint EVERYTHING else. I used the sprayer for the door but took it to another area to paint, I sprayed the floors white, and used white paint on the adirondack, the boat, the sun and even some of the dried grasses.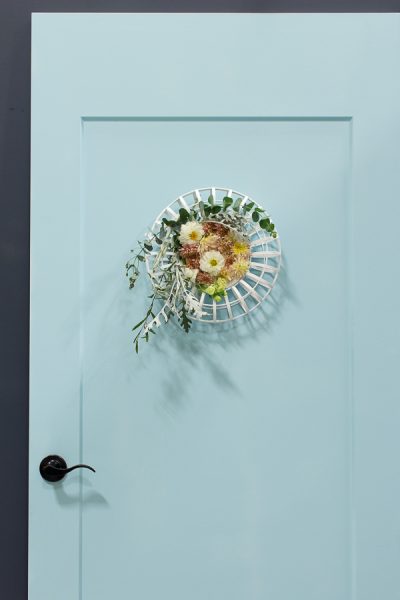 I painted the door blue (just like our front door at home) and I sprayed a mirror white and used some of the my flowers to make a wreath. I used hot glue to attach the flowers.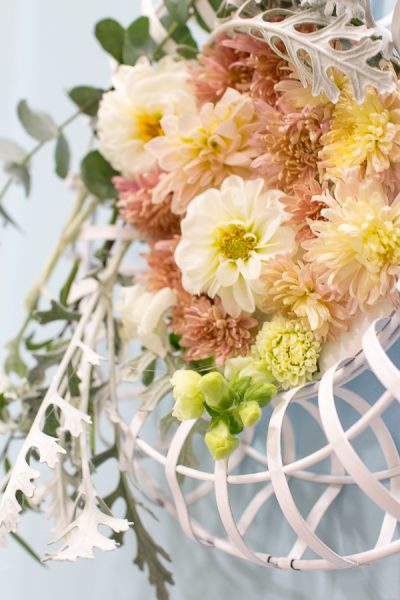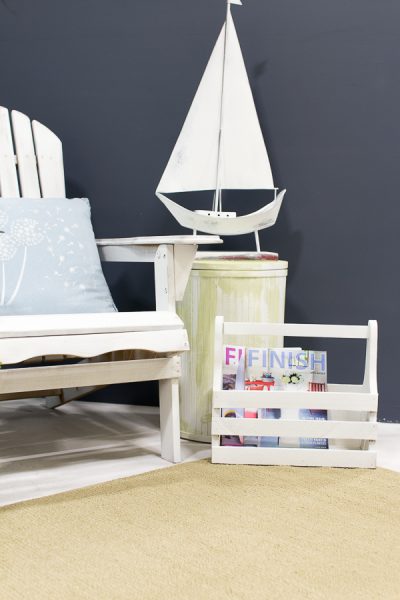 The little boat is unrecognizable and so much more beachy sprayed white. Using the sprayer on the adirondack was perfect. can you imagine hand painting that? It only took me a few minutes. I also added some texture buy using their roller on top with a darker color.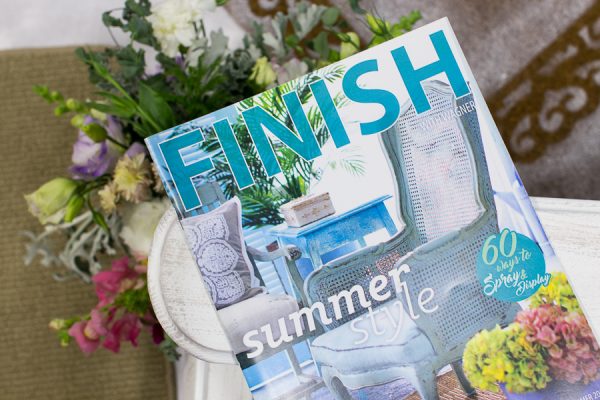 I added a few of Matthew's magazines Finish to the space. Look at that gorgeous coastal cover!
I left some of the red paint too so the boat would look old.
I adore how the pillow came out. I stenciled that on using the sprayer. I just masked the areas I didn't want o get paint on. Isn't it pretty?
Here you can see the entire room:
A huge thank you to Wagner and Matthew Mead for inviting me to participate in this fun event! It was an incredible adventure and so much fun playing with paint. I enjoyed getting to know the team at Wagner but also the other influencers. Everyone was so nice and really helped each other. I also really loved how everyone embraced their own style. Some rooms were industrial, some were farmhouse and mine was coastal. You can see a video here of all of us chatting to Matthew about our process and sharing our rooms.
That's a wrap! I hope you enjoyed reading this as much as I enjoyed the entire experience. Wagner sent me home with some goodies so I'm excited to use the sprayer, heat gun and roller in our home. I'll have some DIY projects with them very soon. We've actually already used the heat gun to remove caulking in our bathroom.