Paint is my favorite way to transform a space, whether it be on a wall or a piece of furniture.
Paint is truly magic in a can. You really get the most bang for your buck with a can of paint. I'm always a little amazed by how much white paint or a neutral color can do for a space. I receive many emails about the colors of our home, especially the shutters and doors. I thought it was about time I did a post just about colors.
Here are my favorite coastal colors along with reasons I love them. Many of them are historical colors too which I think offer a classic look.
This post is a little on the long side but I hope it inspires you to get painting!

White Dove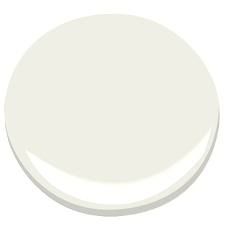 White Dove is a beautiful white by Benjamin Moore.  It's a classic, shaded white. Many people use it on trim.
I just used it on trim in our kitchen and also on the cabinets. This white has made the space look so much bigger and brighter.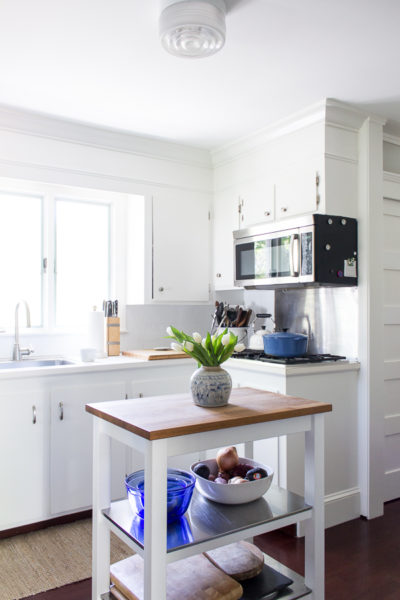 See how bright it is? We used a special cabinet paint in satin for this room.
Revere Pewter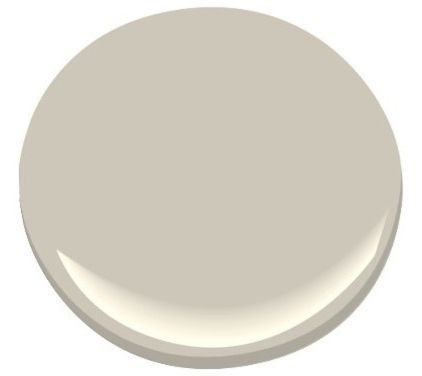 Our home office got an update with this lovely warm gray. It looks great with natural woodwork but also pairs nicely with white trim. For our office I wanted a calming color that could be great to work in. Both Luke and I use this space for work so it is great to have a place that is quiet to concentrate and create.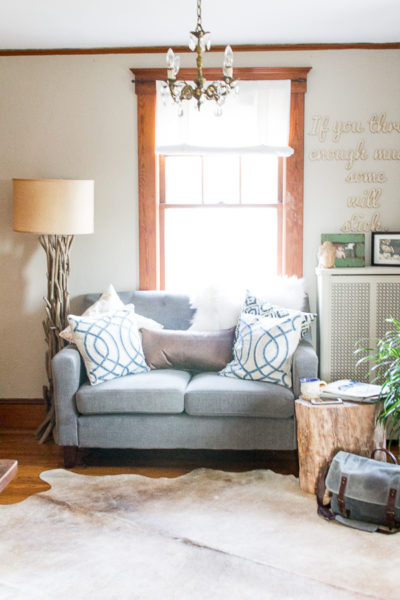 Muslin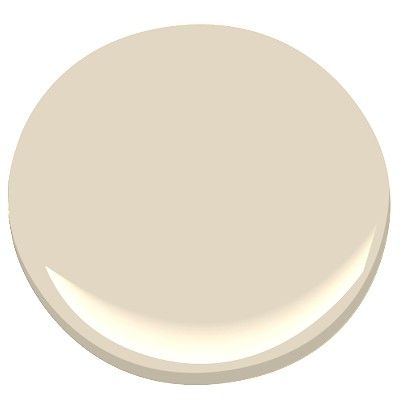 This is a timeless tan by Benjamin Moore. I've used it in our front entry and our upstairs hallway. The color is warm and pairs nicely with our deep, dark woodwork.
Here you can see it in our entry: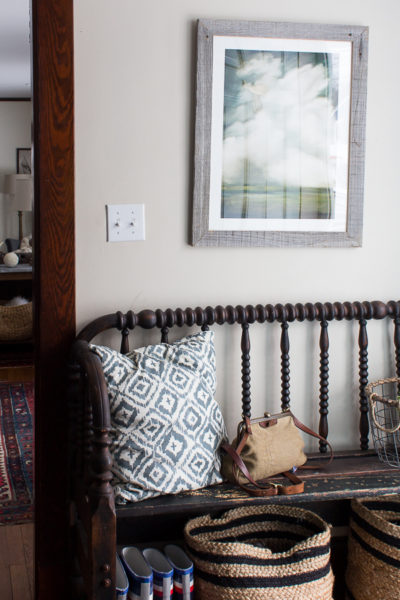 Here's a look at our upstairs hallway: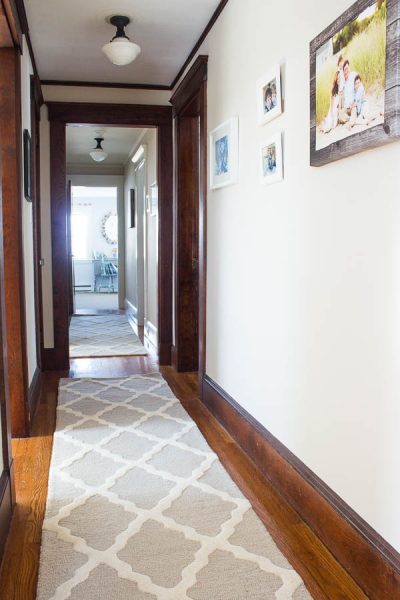 Gray Owl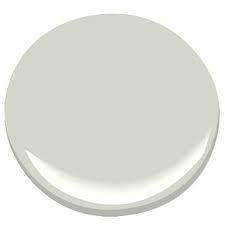 Our once yellow kitchen got a neutral makeover last year with Benjamin Moore's Gray Owl. I find this color restful and looks amazing with our now White Dove Cabinets (see above photo).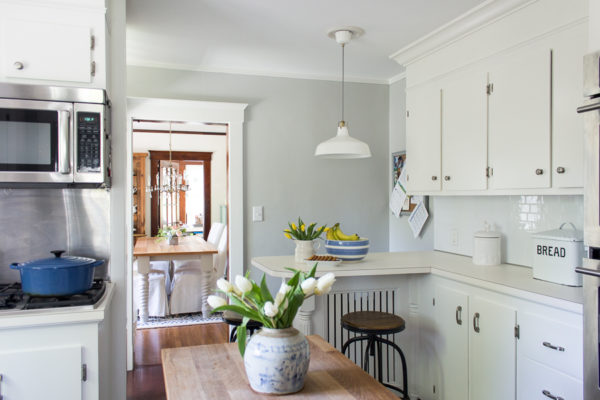 This color is a lovely gray in all lights, even at night.
Mascarpone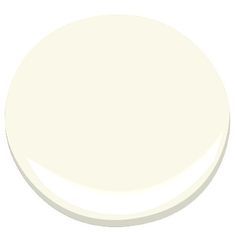 Our old house has dark woodwork, to make our dining room and living room brighter I used Benjamin Moore's Mascarpone. It is a creamy white that makes the dark woodwork look rich and appealing. It's soft and sophisticated and always makes me smile.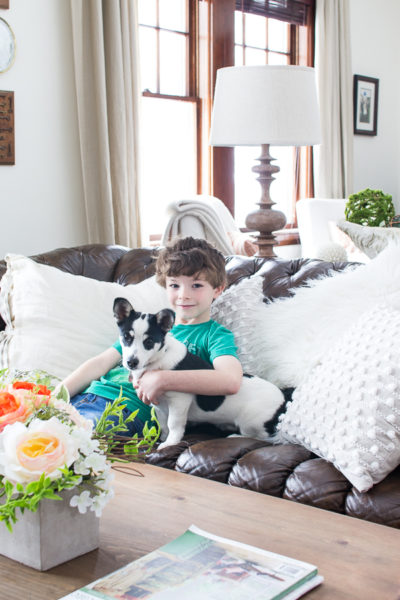 Here's a look at that same color in our dining room: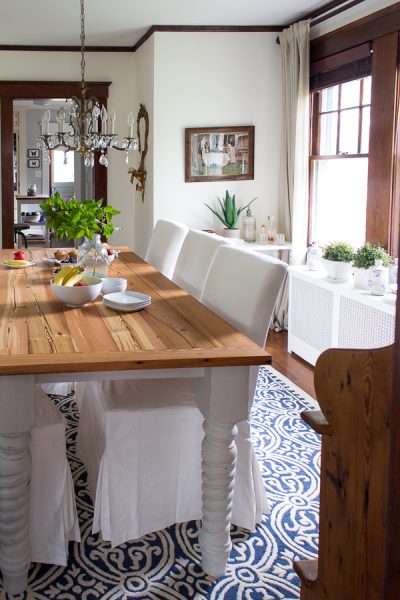 Buxton Blue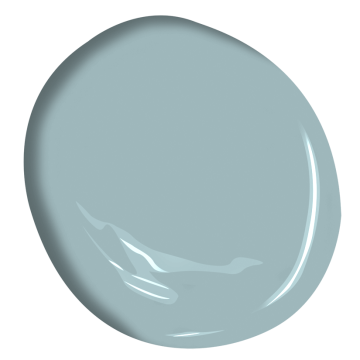 This is a luscious blue and I get so many compliments on it! When we first moved into our home, I struggled over what color to paint our front door and shutters. I wanted a blue, but the right shade was a little elusive. Then I found Benjamin Moore's Buxton Blue. It's the happiest shade of blue and looks so great against weathered shingles. We used high gloss enamel and love how reflective the blue looks. It reminds me of beautiful ocean water. I think it is my favorite color ever! I wish I got a dollar every time someone asked me about it, I'd be rich by now! Ha! Ha! Seriously, this is probably the number one question I get asked, "What is the color on your door and shutters?"
My She Shed's shutters and doors were color matched at The Home Depot to coordinate with our homes.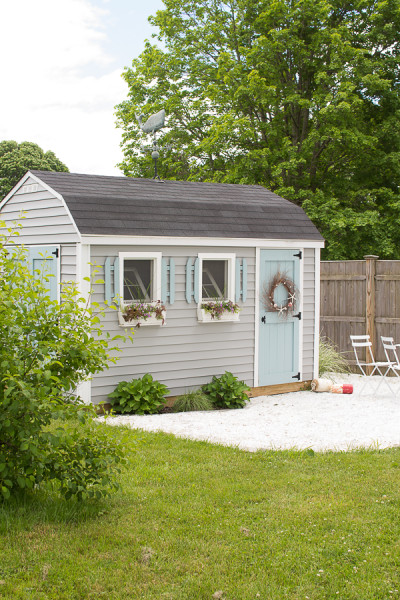 Simply White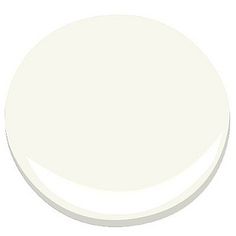 Simply White by Benjamin Moore is a lovely white. It was their color of the year last year and I actually wrote about it here. I love this color so much I've used it a few times in our home. It pairs so nicely with both white trim and with dark wood. It reminds me of the cloth on sailboats.
I used it in our sunroom: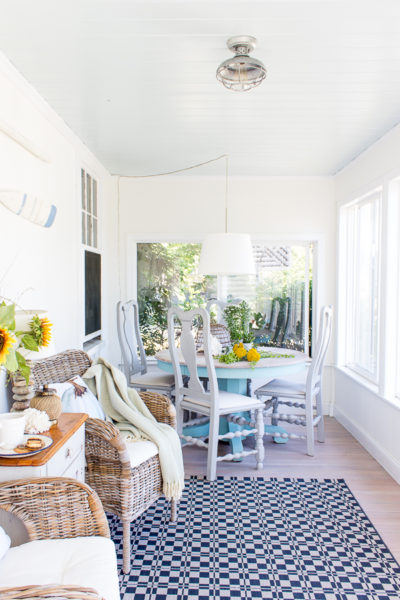 I also used it on our boys' nautical bedroom makeover last year. We took a faux wall down between their rooms and this color really opened the space up and also make the dark wood feel so rich!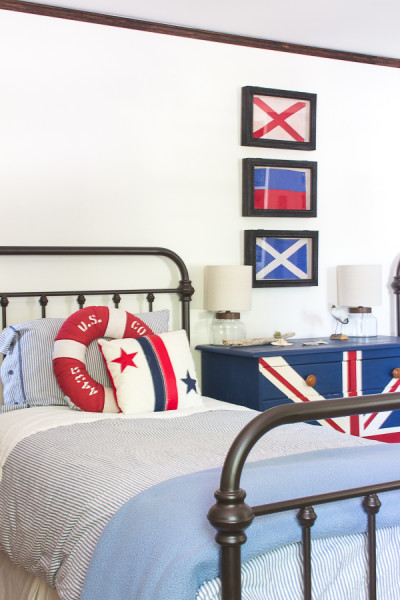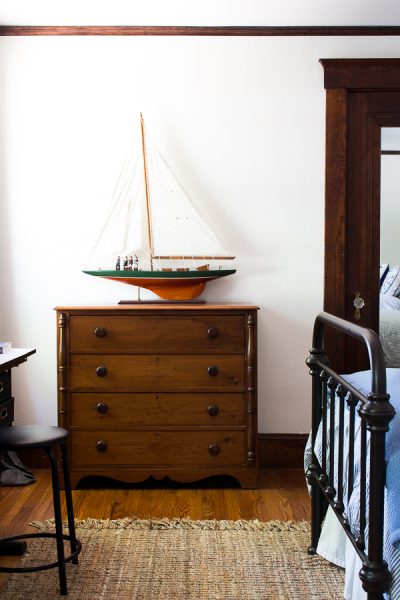 It looks clean with their industrial workspace too: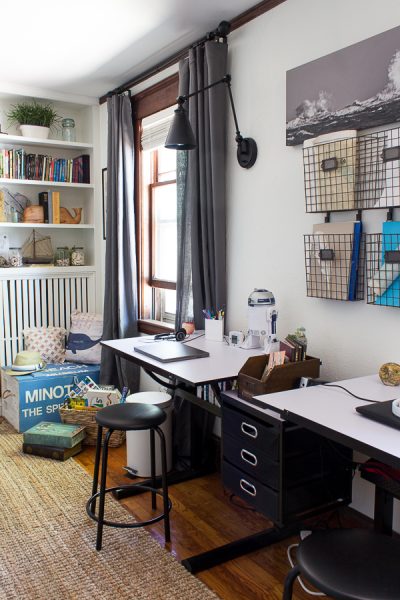 Bone White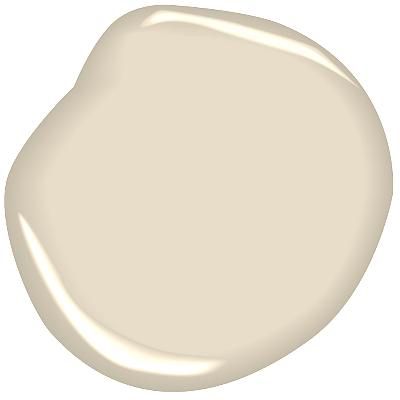 Benjamin Moore's Bone White is in our teeny tiny bathroom. It's such a small space, but the warm white warms it up and makes it feel a bit bigger (if that's possible).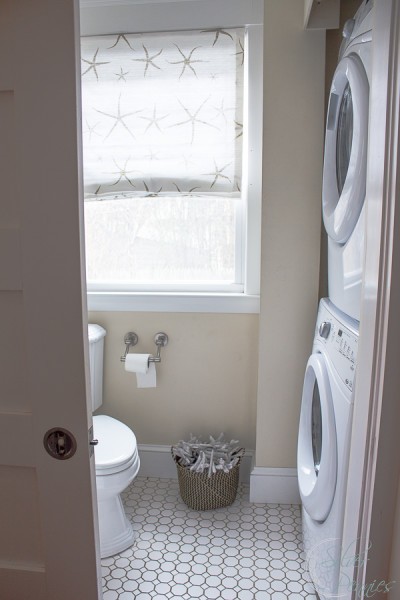 Luke actually built me this little beadboard cabinet to store all my laundry supplies.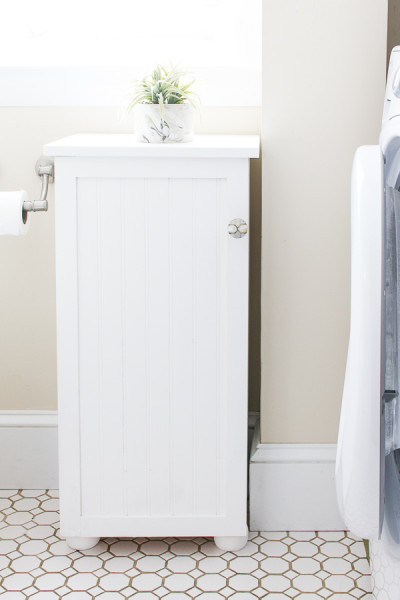 Navajo White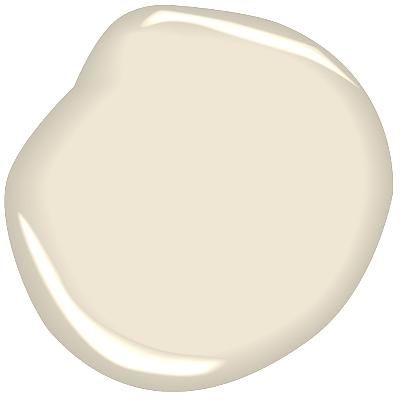 The boys' playroom and shelves are painted in this white. I hardly ever show this room because it's always a mess. But their artwork and toys look lovely with this warm white.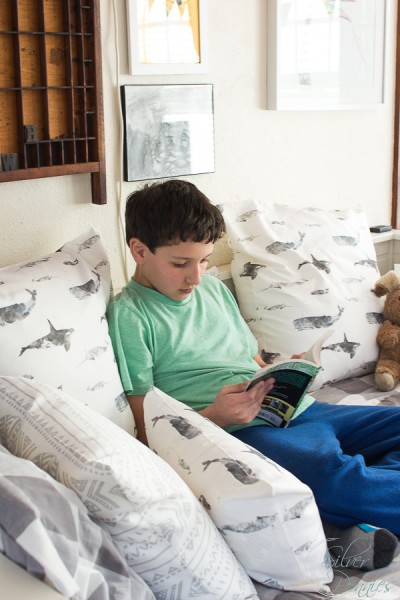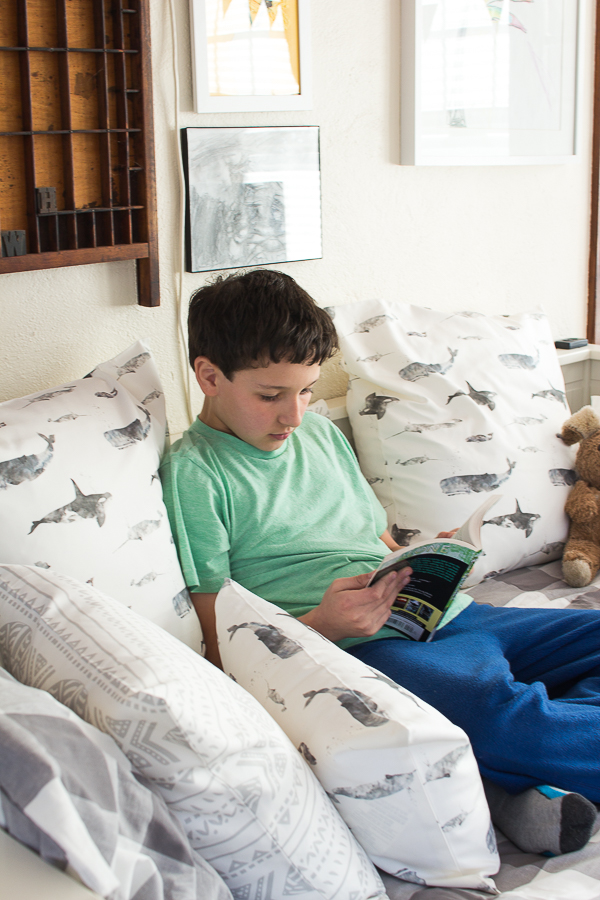 This reminds me that this room has changed around a bit since we redid the living and dining room ceilings. If they tidy up, I'll share the new room arrangement 😉
Glass Slipper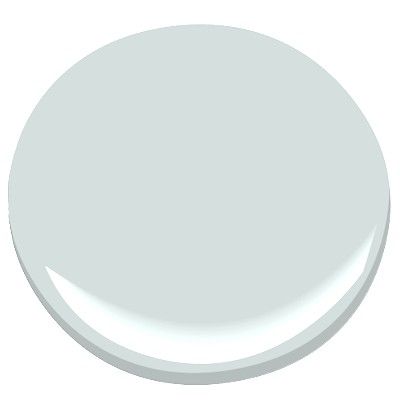 This is such a pretty shade. We decided to use this in our guest room. Benjamin Moore's Glass Slipper is a silvery gray. Instead of just having the wall painted one color we opted to add a pretty stencil to go along with it. It's so subtle. You can see our guest room last summer , this room makeover, and also how we stenciled the wall.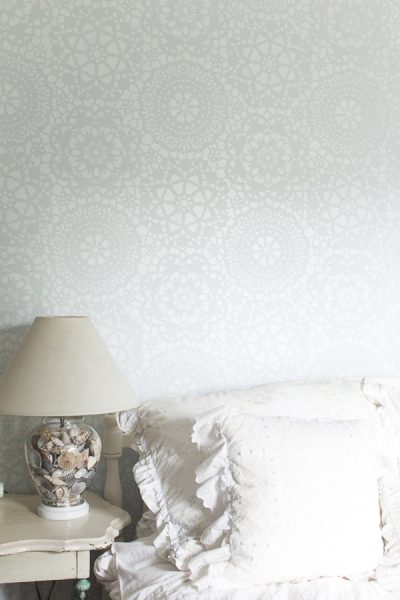 I used the parlor lace stencil (affiliate link) by Royal Design Studios.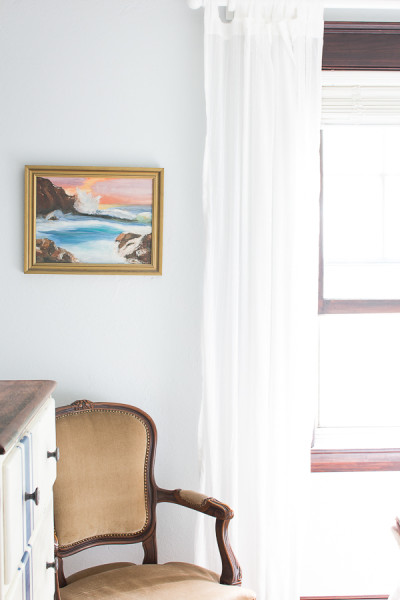 Silver Cloud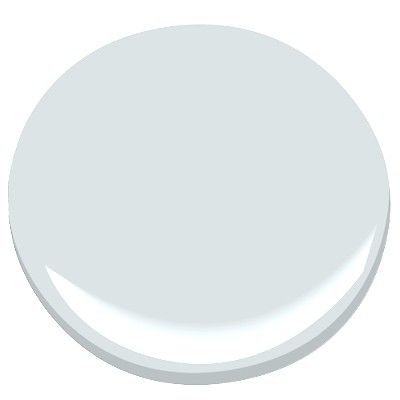 Silver Cloud is in our bedroom. It is such a restful blue gray. It is so soft. I guess I have a thing for blue grays in bedrooms. Ha! Ha!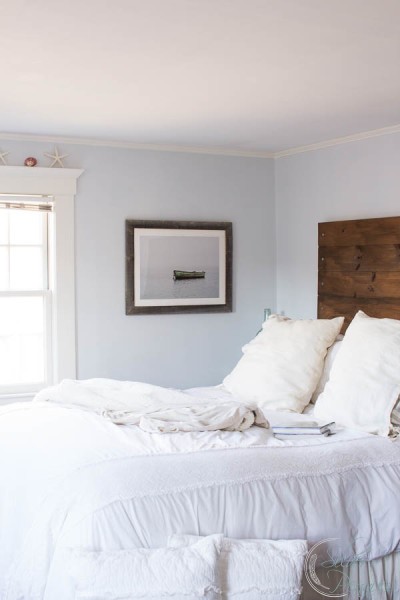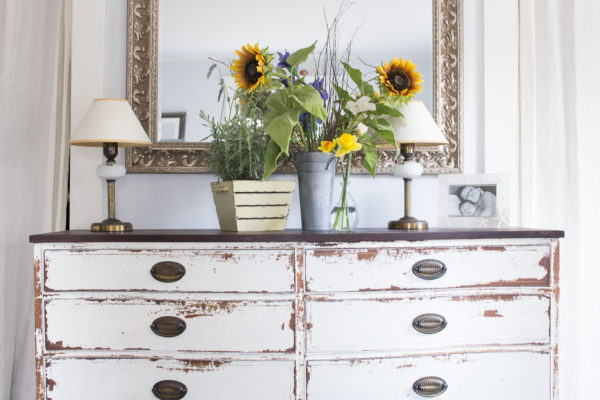 White bedding, chippy furniture and coastal decor all look wonderful with this color.
We've since added these faux soapstone bedside tables: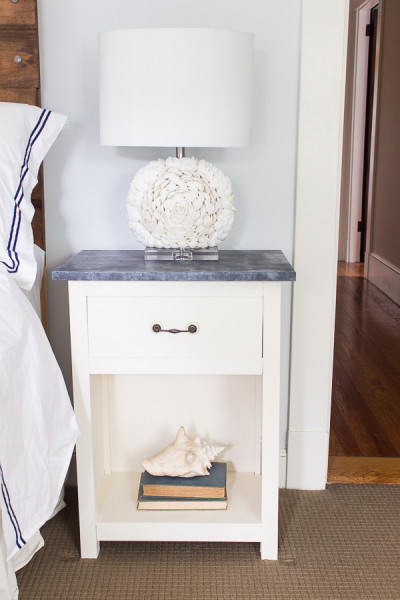 I have a feeling this room is gonna go through a few more changes, but not sure if I should tell Luke just yet.
Update: Since writing this post, we've done over our bedroom and changed the wall color.
Shiplap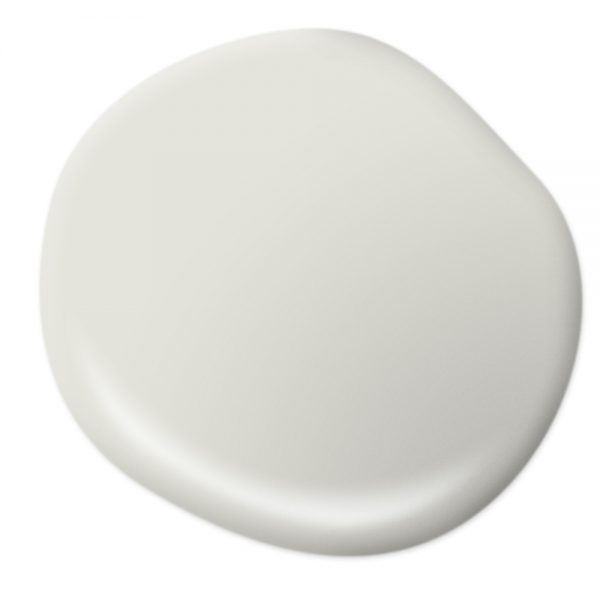 Since we added a faux board and batten to our walls and new wide plank hardwood floors so wanted a warmer neutral for our walls. We went with Shiplap by Kilz with Magnolia Home. It's the perfect warm white with a hint of gray. We added trim in True White also by Magnolia Home. You can see how it came out here: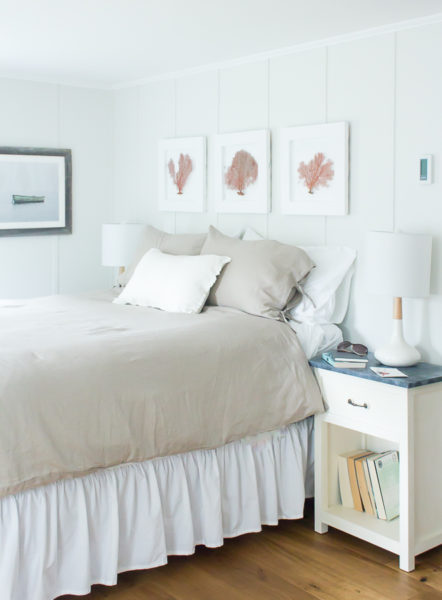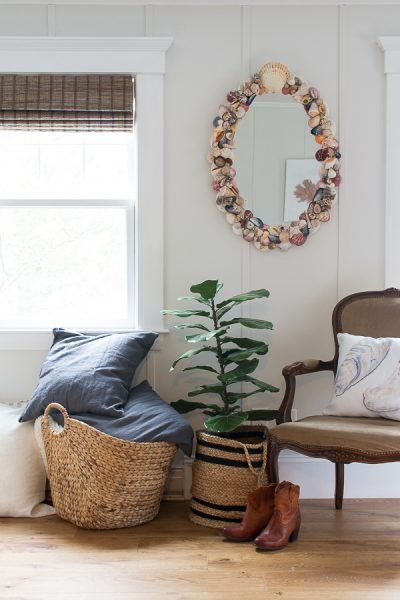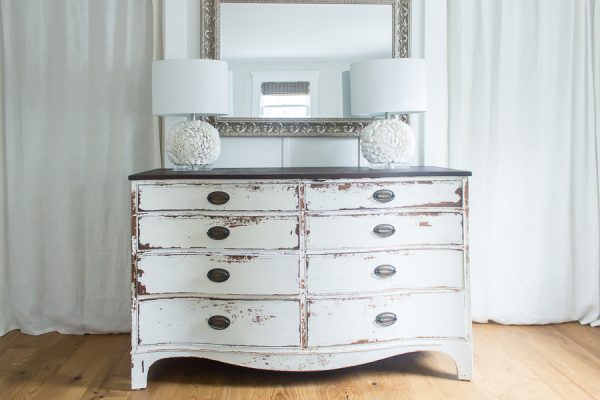 This new color feels more coastal and warmer to me. It makes our white accents pop and feel fresh. I also find the space more restful.
Polar Bear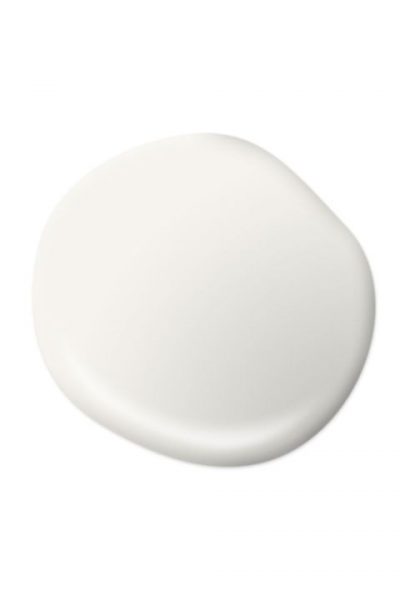 Last but not least! We painted our DIY Shiplap walls in the She Shed in Polar Bear by Behr. It is such a great, coastal white. This isn't a big space and painting the planks this color makes it feel huge: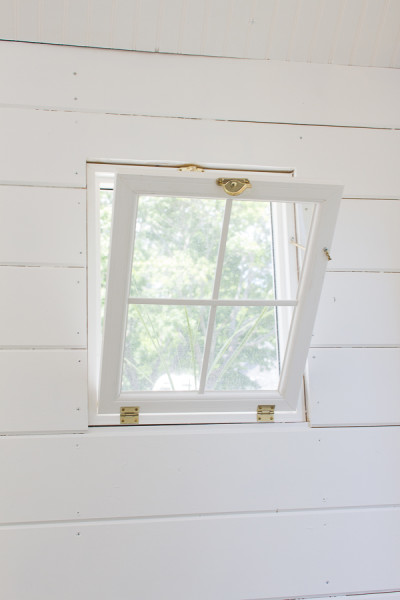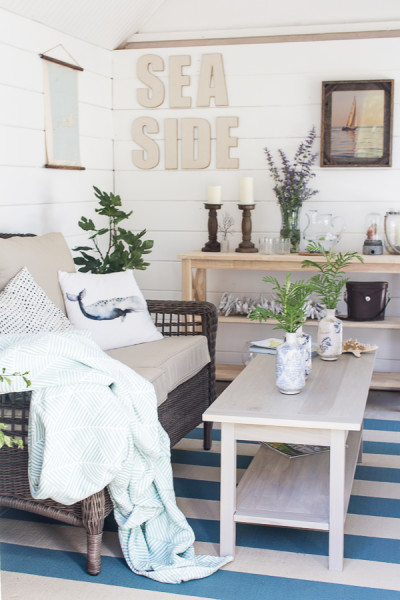 Thank you so much for reading! I hope this gave you some ideas on paint colors that might work for your homes.
A few additional tips before you head to the hardware store:
Before painting, hang large color swatches in your room & make sure to notice the color at different times in the day.
Buy enough paint for your rooms.
If you're painting over dark colors you may need to prime ahead of time.
If you have old ceilings they might be calcimine and you need a certain paint for that. We found out the hard way, click here to read bout that.
Matte is forgiving. I always paint our walls in matte finish. Some of our walls are textured and not perfect. Matte hides the imperfections. It's also easily cleaned with Mr. Clean Magic Erasers (affiliate link).
Happy Painting!