It's only fitting that an Englishman (my husband) have a gorgeous library to work in. I'm so excited to share Luke's English Inspired Office Reveal!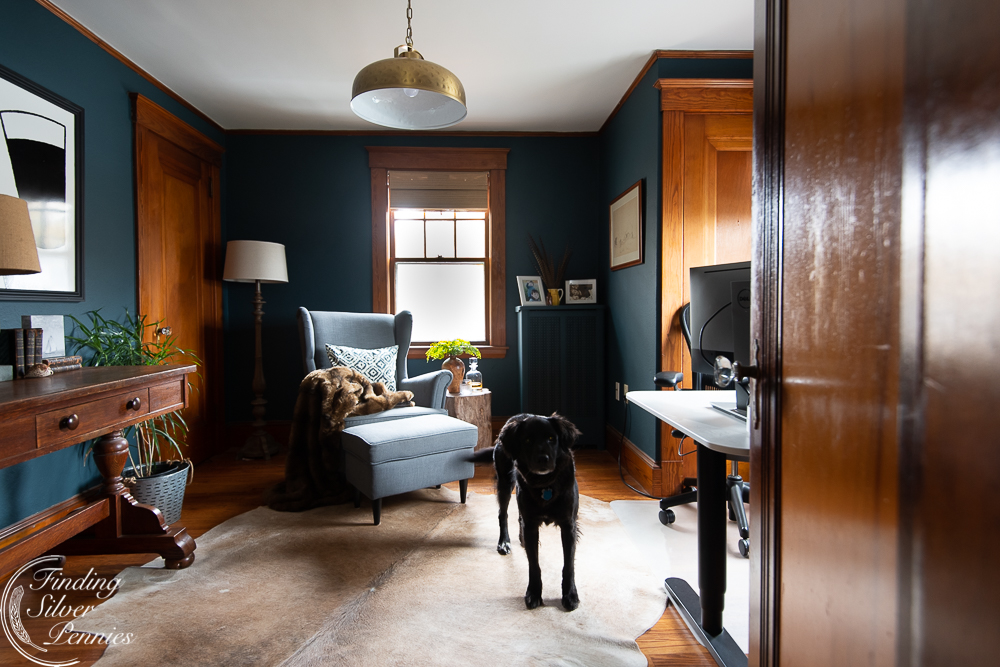 Friends, it's done! Luke's office is finished! I'm so excited to share with you his amazing new office. Luke spends many hours in this room as he works from home. It's really so nice that he doesn't have three hours of commuting anymore. As an added bonus he's able to walk with us to school, and most days we eat lunch together.
For over a year, he worked in a home office that was more French inspired than English. I was using this office before he started working from home. To give you an idea this is how the office looked before I painted it (the first time). The walls were a bright, mustard yellow.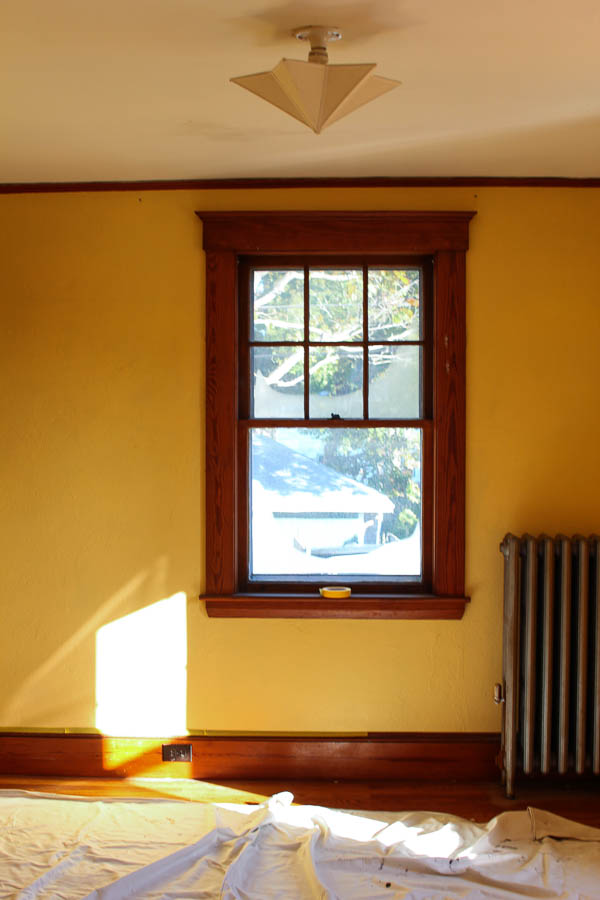 This is how it looked when I did it for myself.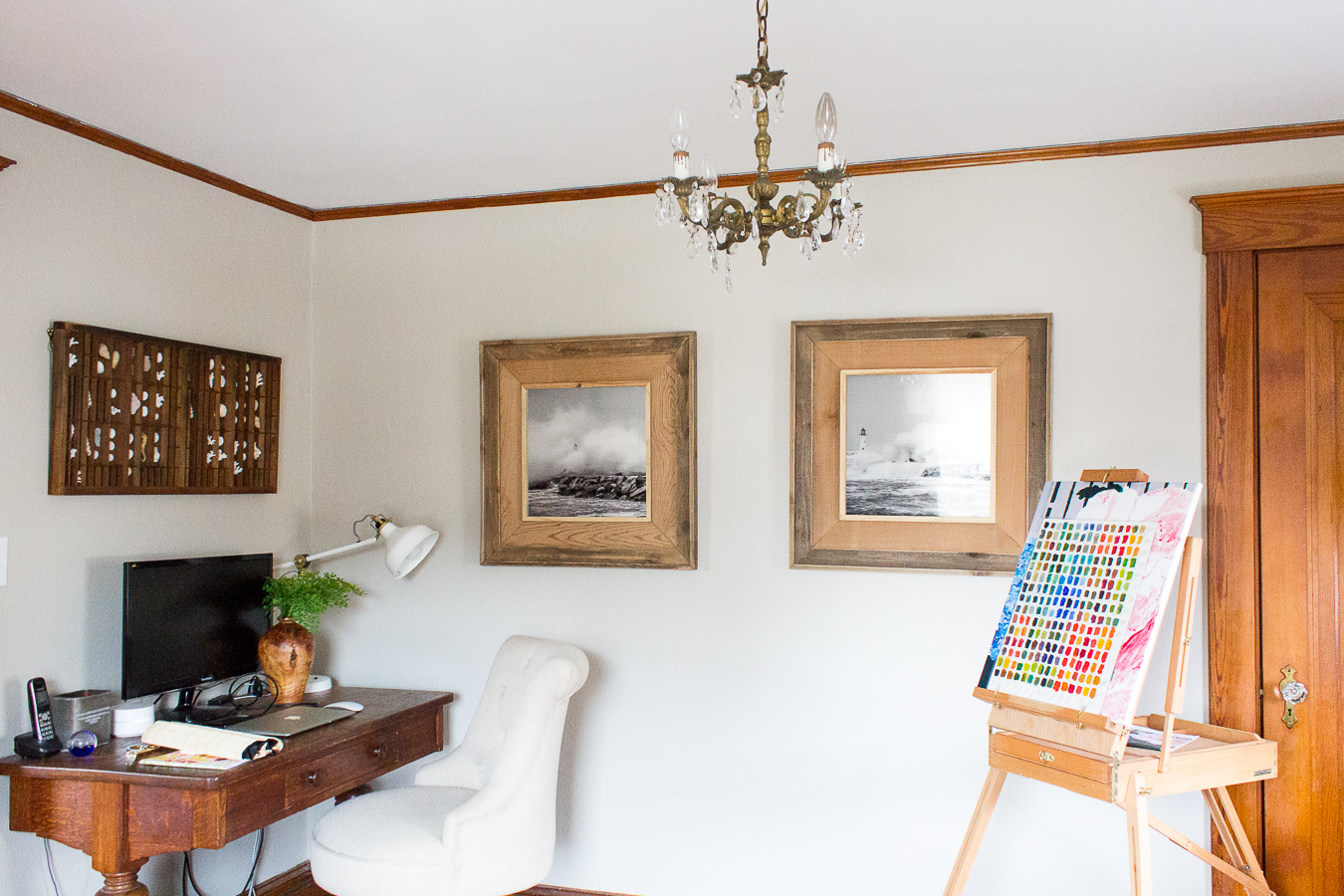 AND here's how it looks now!!!!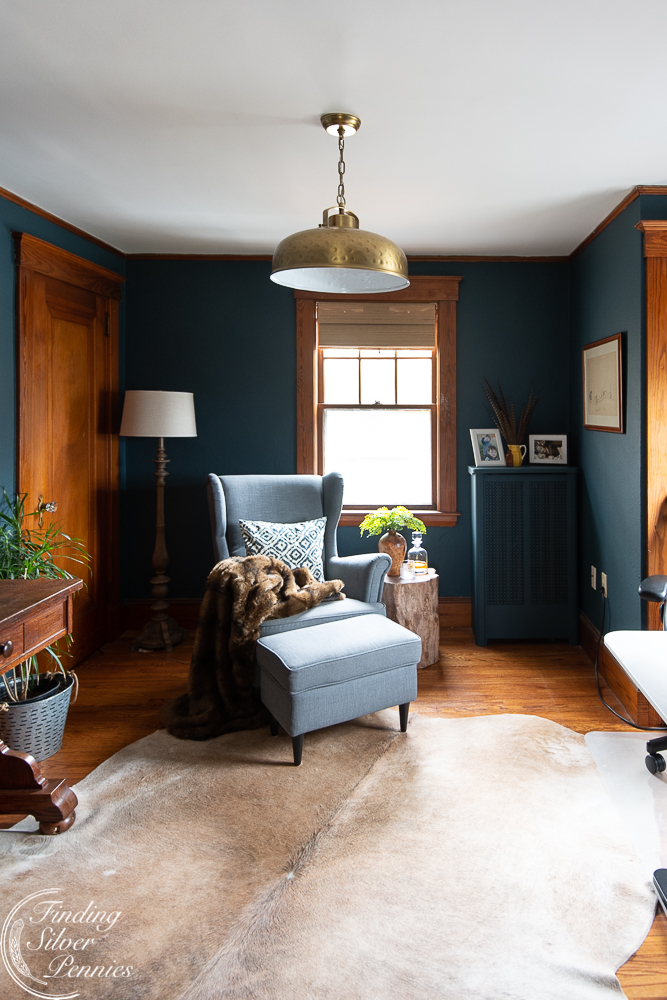 The makeover started back in September. I decided to paint the walls the most beautiful moody blue/green called Seraphinite. It's part of Benjamin Moore's brand new Century line. You can read all about choosing the wall color and how fabulous Century paint is here. The walls actually feel like velvet. Someone asked me if they marked with fingerprints and I'm pleased to inform you that they do not. I'm delighted that this color enhances the beautiful woodwork in this room. It's made it so warm and inviting and cozy. While painting I knew this was the right color, I felt like I was back in England in a wonderful men's club or old library.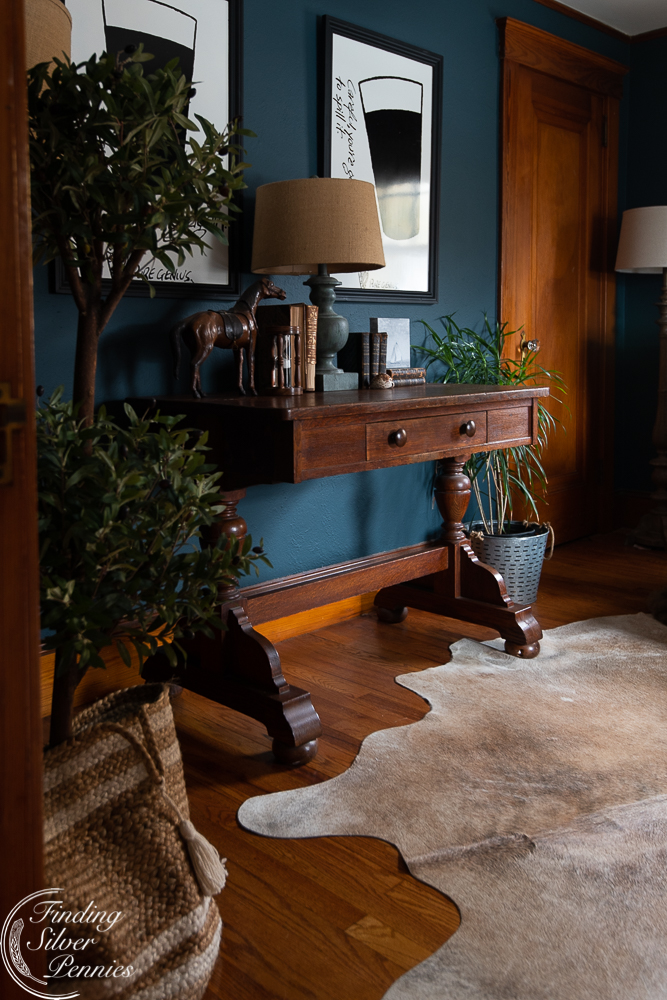 In fact, my inspiration for this room is an old English library or men's club. I've mixed old and new, vintage and modern, and, of course, a few mementoes of our life by the sea.
This post contains some affiliate links, you can read my full disclosure policy here. If you purchase via a link I may receive a portion of the sale. Thank you for supporting our blog in this way.
I'm also going to include a full source list at the end of this post as I always get lots of questions on styling and furniture.
Some of the items in his office, we already owned and moved across the pond with us, or we found them when living in our first home.
The library table I found antiquing years ago. I didn't realize at the time that it's a Stickley library table. It's so sturdy but it just isn't big enough for Luke to use as a desk because he uses two monitors when he's programming. I couldn't part with this piece though, so I revived the wood with some hemp oil
. Conor uses this desk when he needs extra help on his math homework while Luke's working.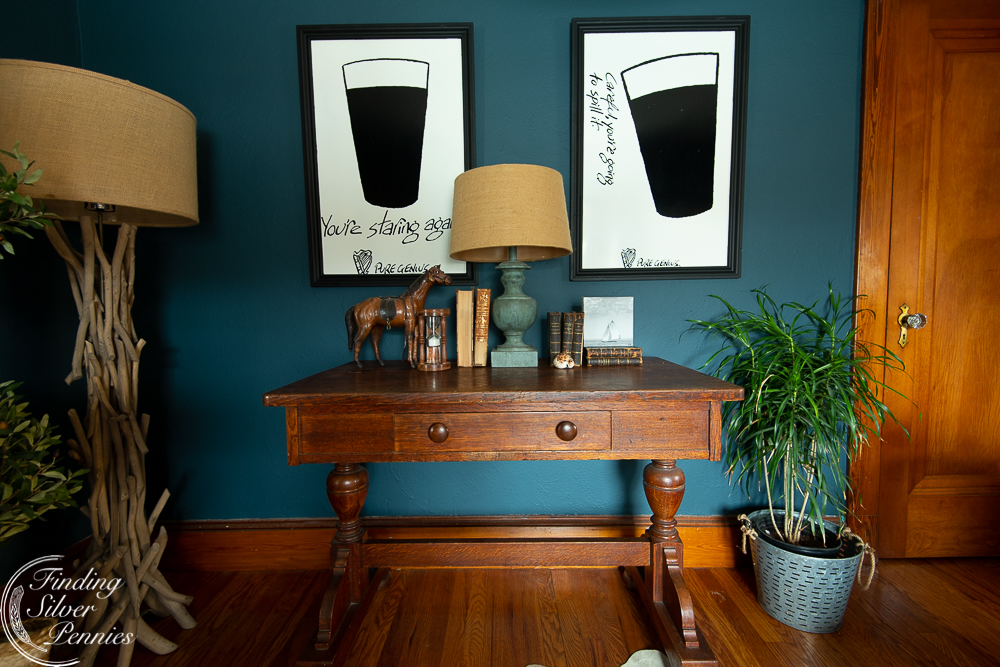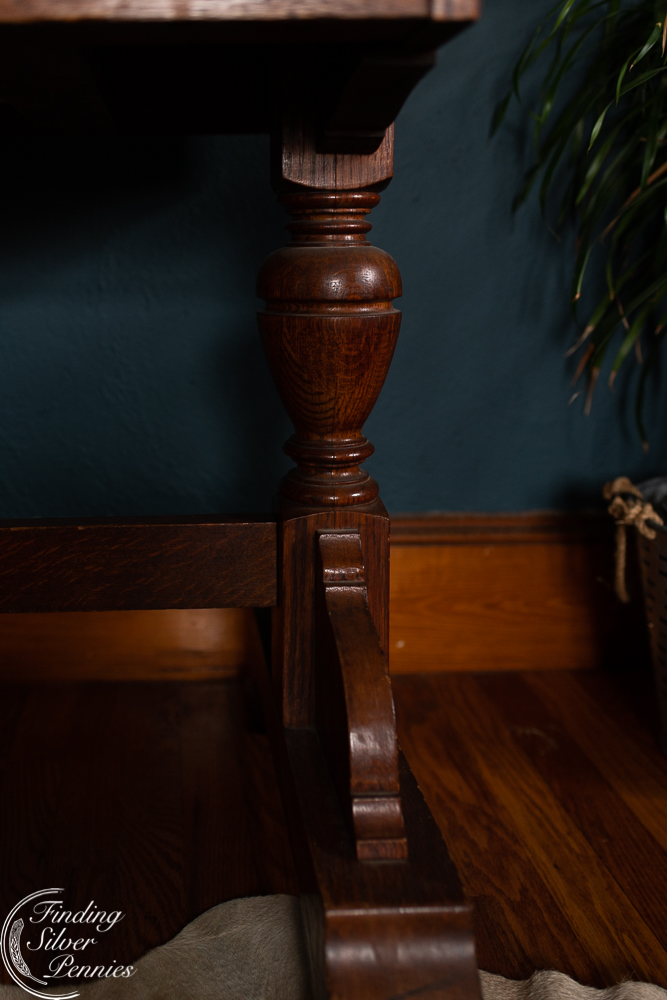 I love the beautiful carved legs. So heavy and sturdy.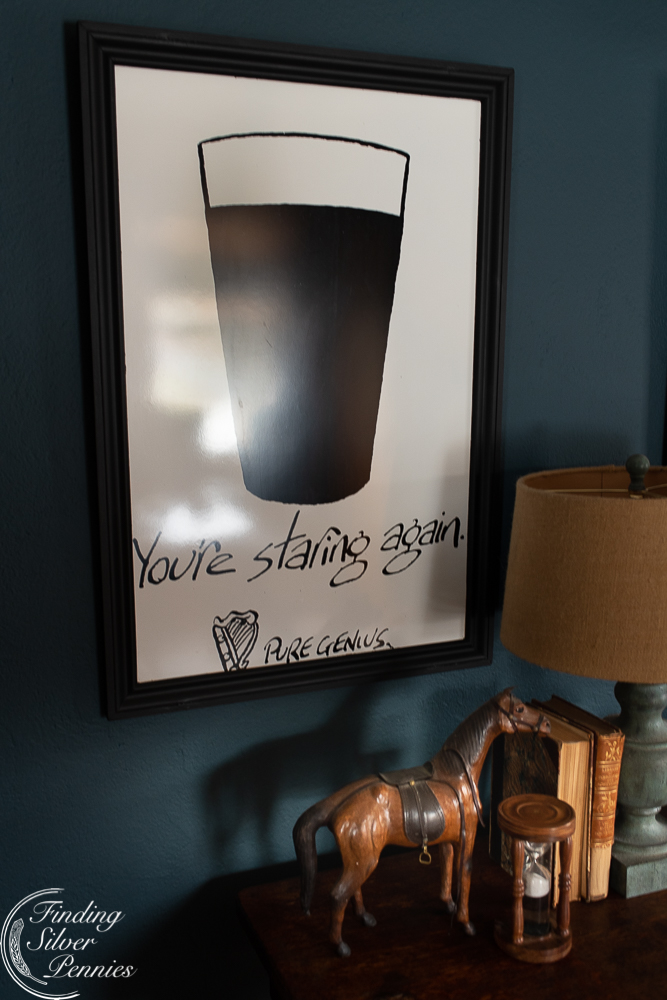 The Guinness pictures are actually from England. We brought them over when we moved. We came with only 10 boxes of things and those were in the boxes. They are actually old metal posters in wooden frames. They came from the pub Luke worked in while we were at Uni. The frames were actually in a bad state, the pub had screwed them to the wall. So we filled the holes and I freshened up the frames with two coats of Lamp Black Paint
.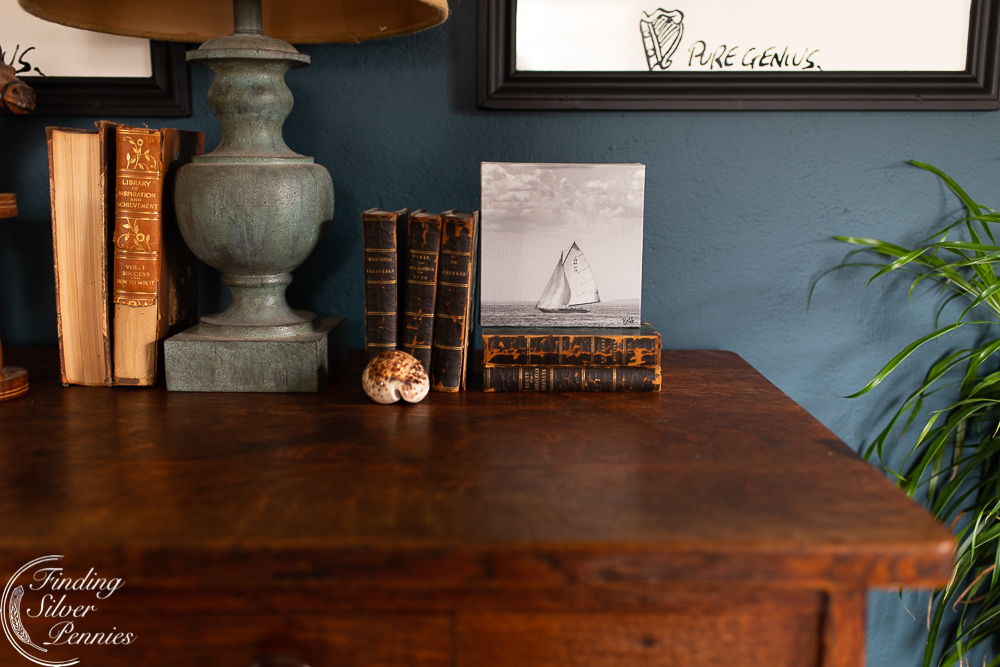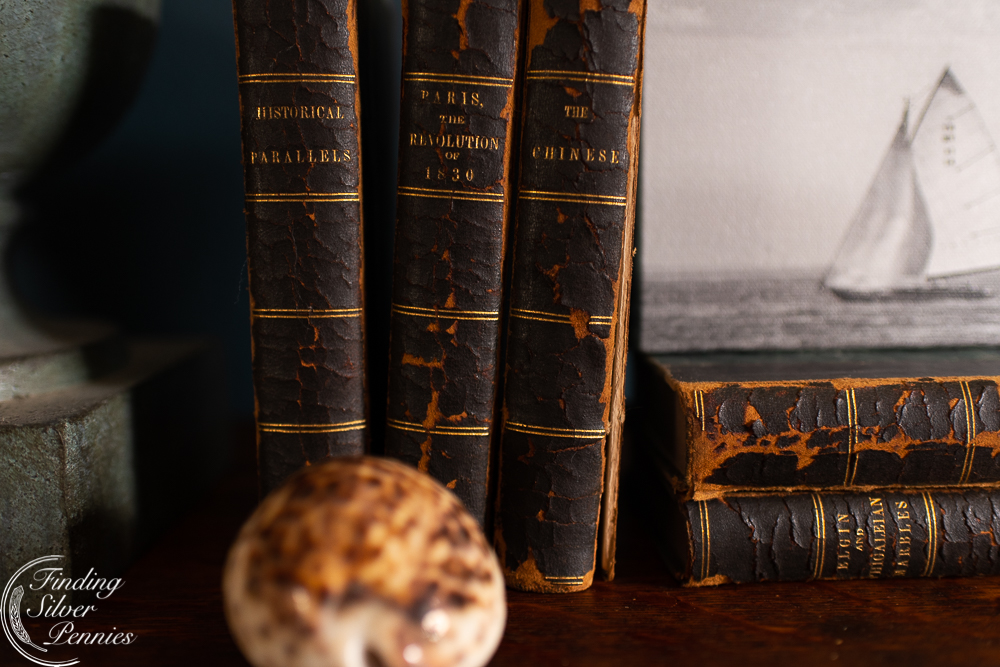 These gorgeous books were a roadside find. Aren't they lovely? The sailboat photograph is from my friend's gallery. I gave it to Luke one year for Christmas because we can't afford a real sailboat.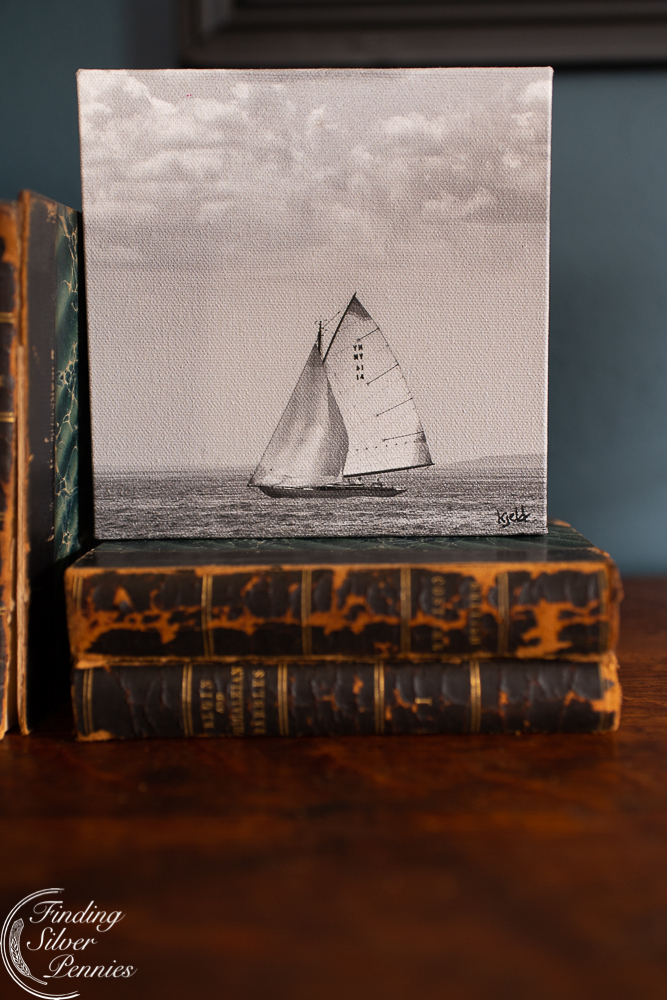 One day, maybe….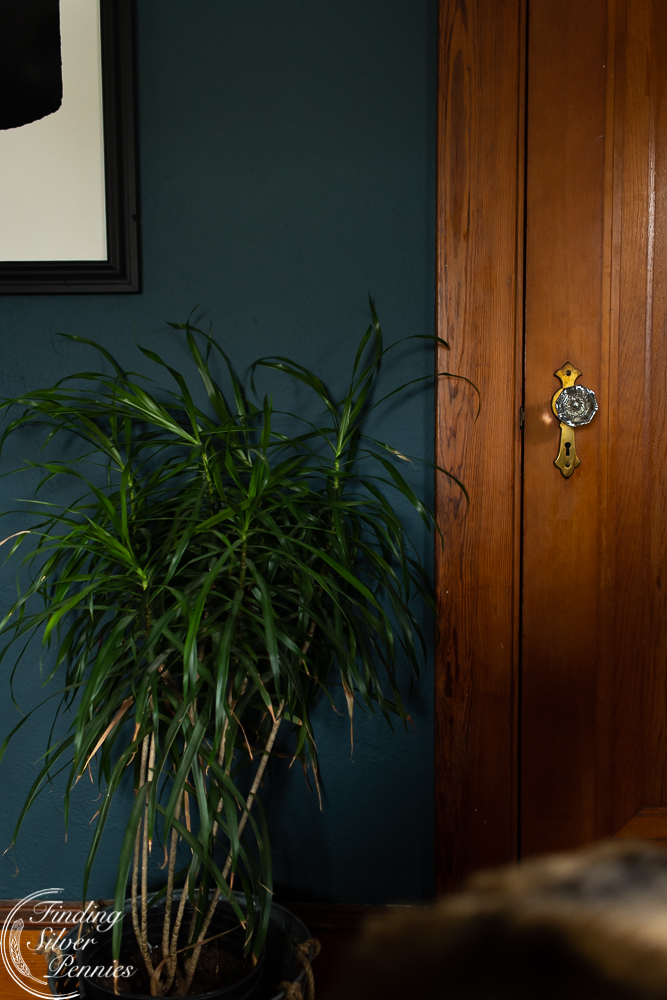 As you look around the room you'll see all different textures: warm woods, soft hides and faux fur, shiny brass, cracking books, velvety walls, cut glass (on door knobs and glasses) and woven blinds.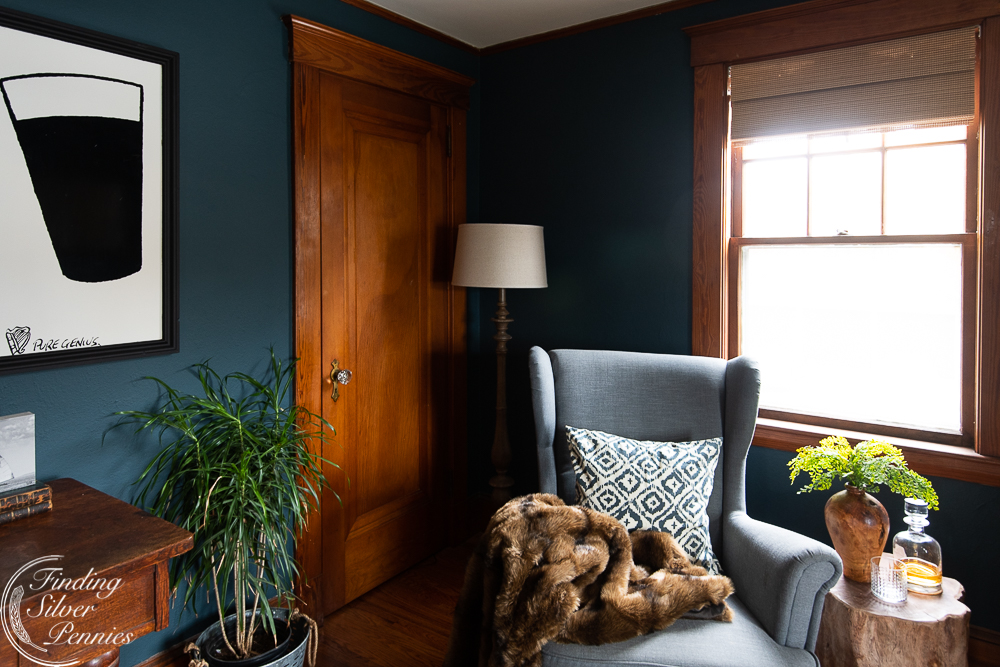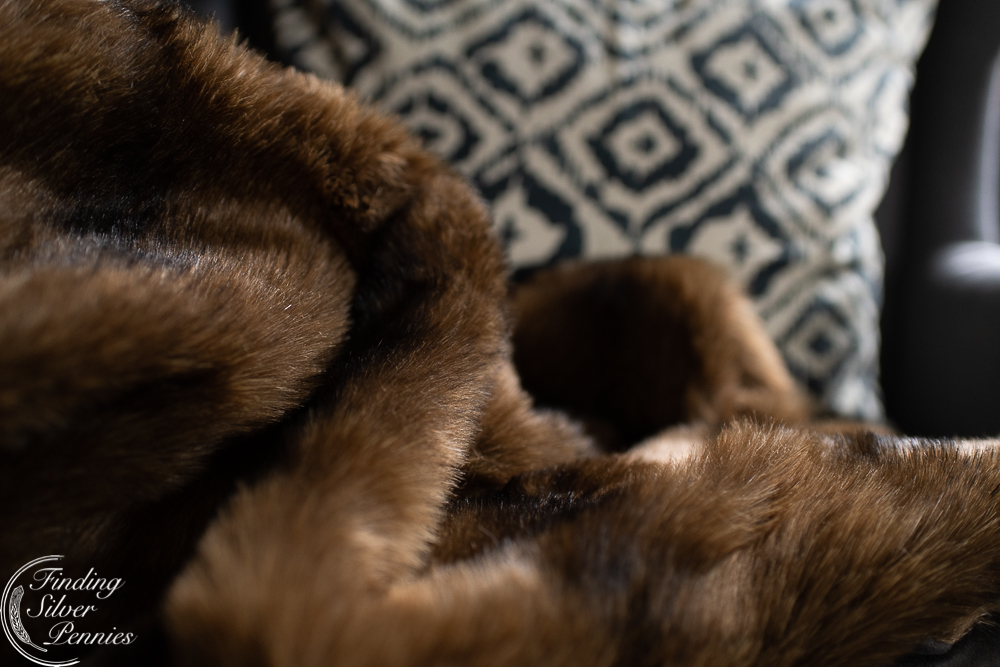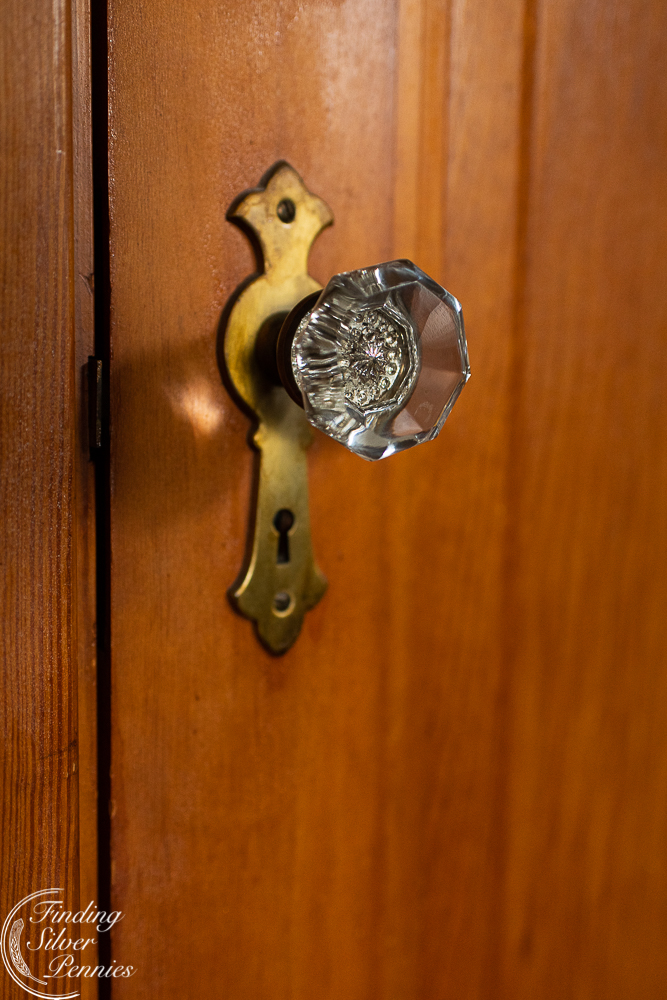 Oh, and don't think Luke's drinking and working (while I know that was okay to do back in the day). The decanter and glass were purely for staging purposes 😉 Honest!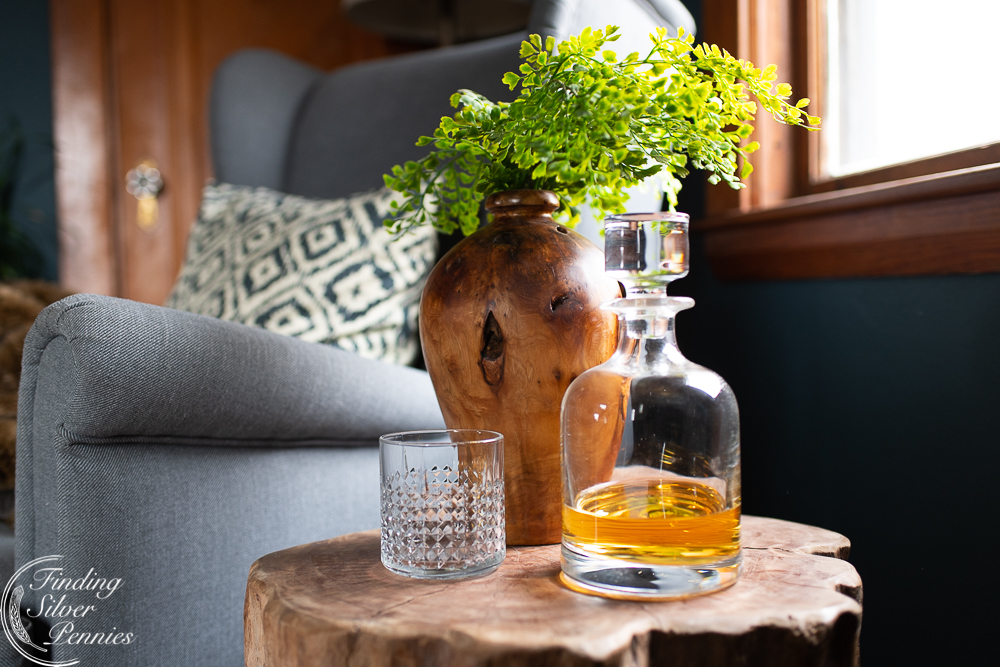 That stump table was such a great find at HomeGoods. It takes two people to lift it and I think it was $70.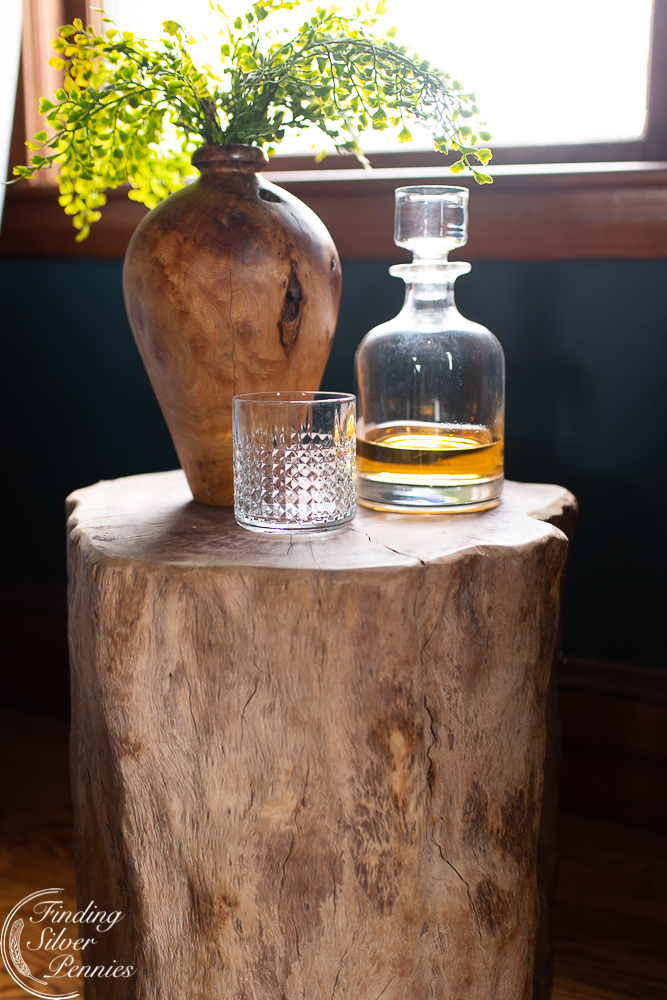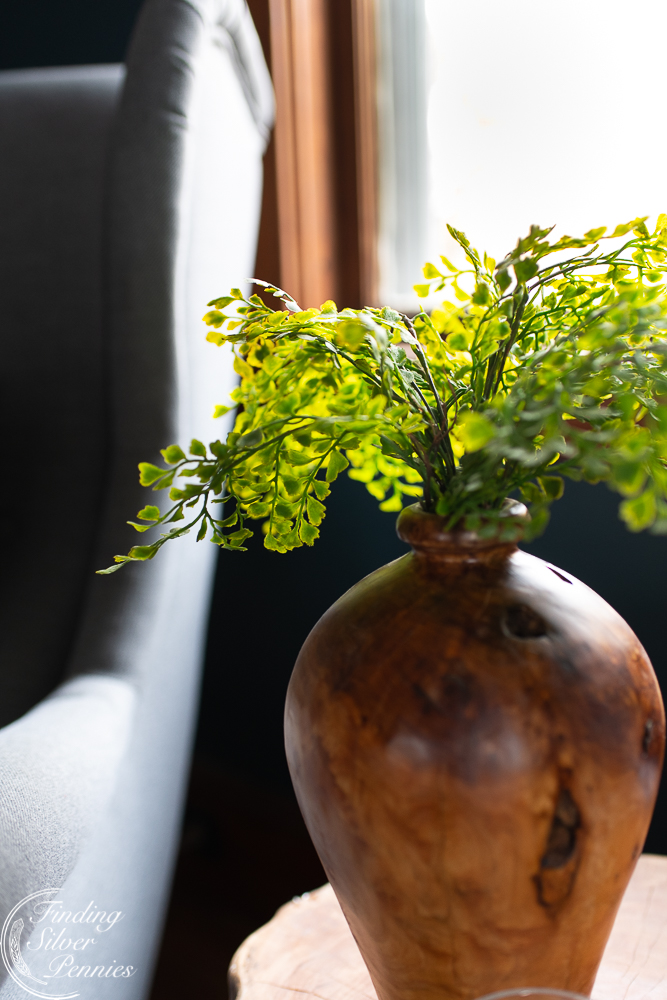 The new woven blinds are fabulous. We're so glad we found affordable and cordless ones for in here. Can you believe they were only $26 each?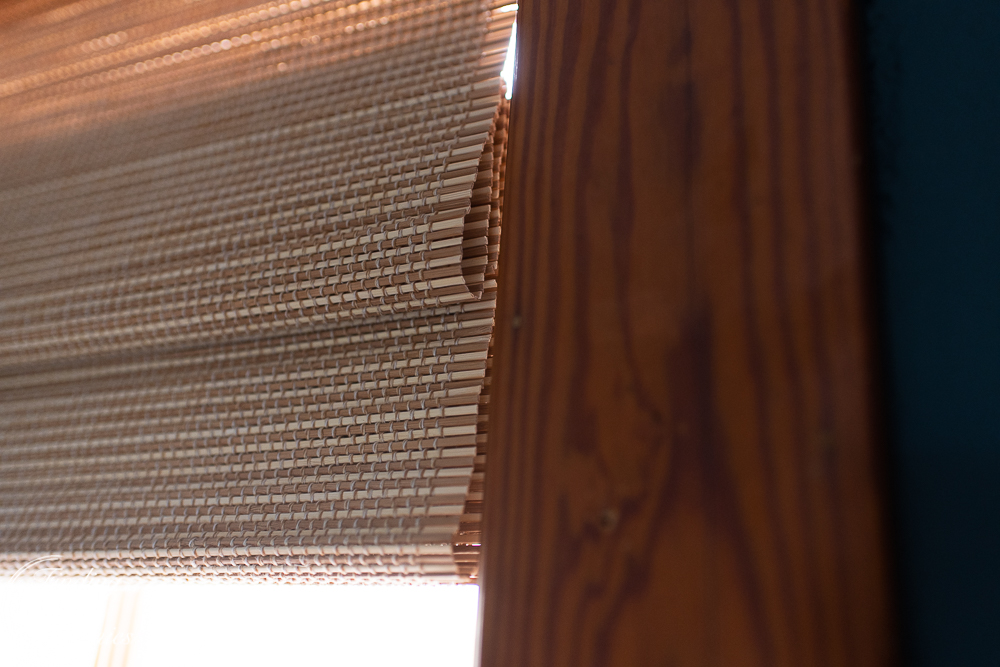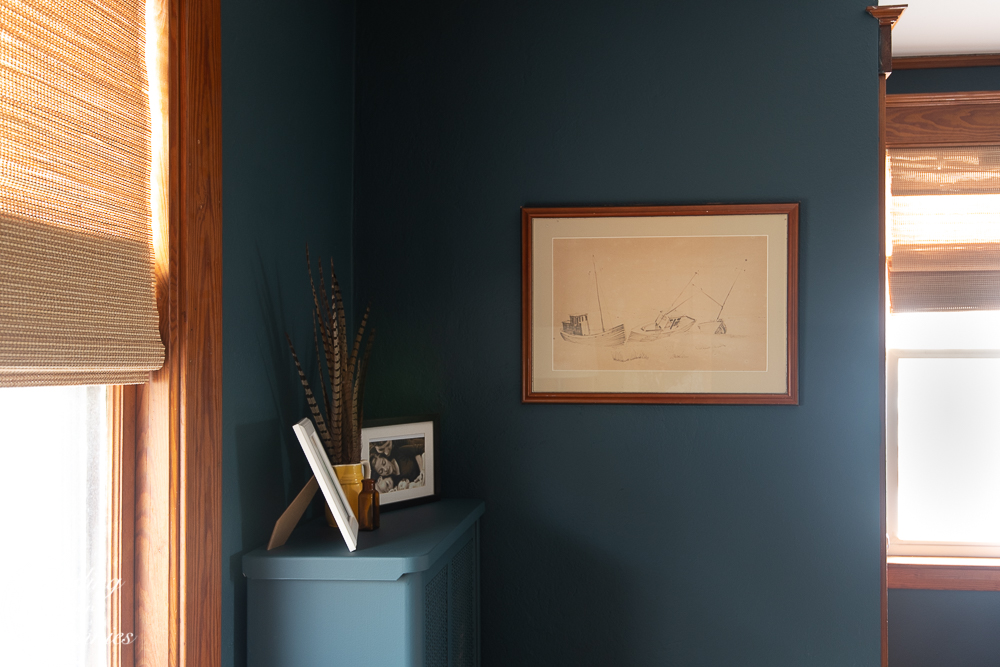 I bought this drawing a few years ago at Goodies in the Harbor. It's of beached sailboats down the Cape. It's signed and has a wonderful description on the back. For years, it's been tucked down in the basement just waiting to make it's debut in our home. So glad we finally found a spot for it.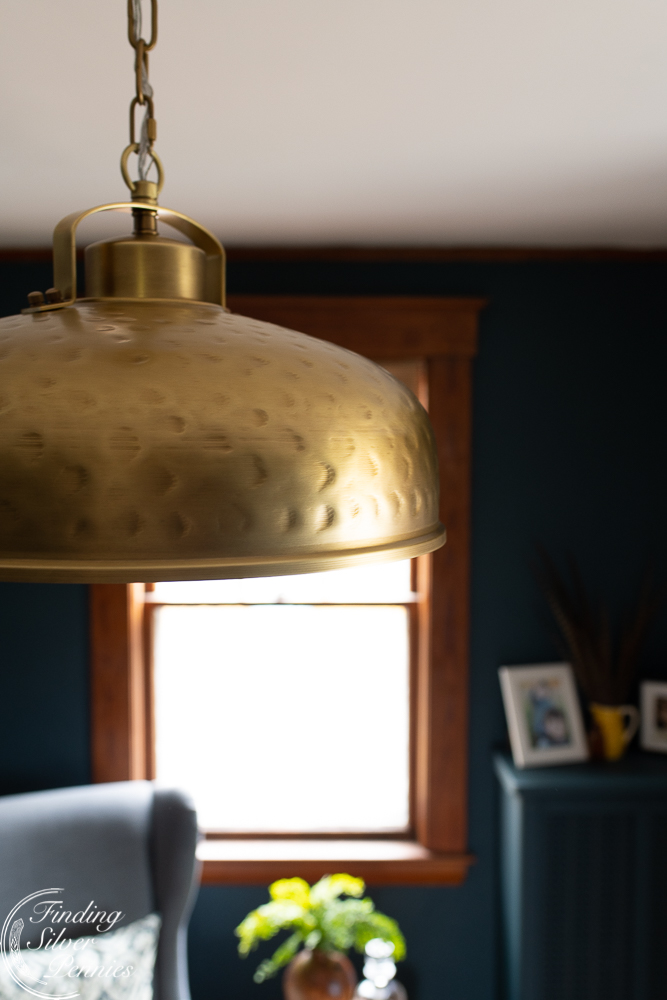 The brass pendant light is new and just what the room needed. I think the warm brass compliments the moody blue wall color. I love the hammered affect, too. It was a really reasonable price. I was looking at two other nautical brass lights but they were too big for our room.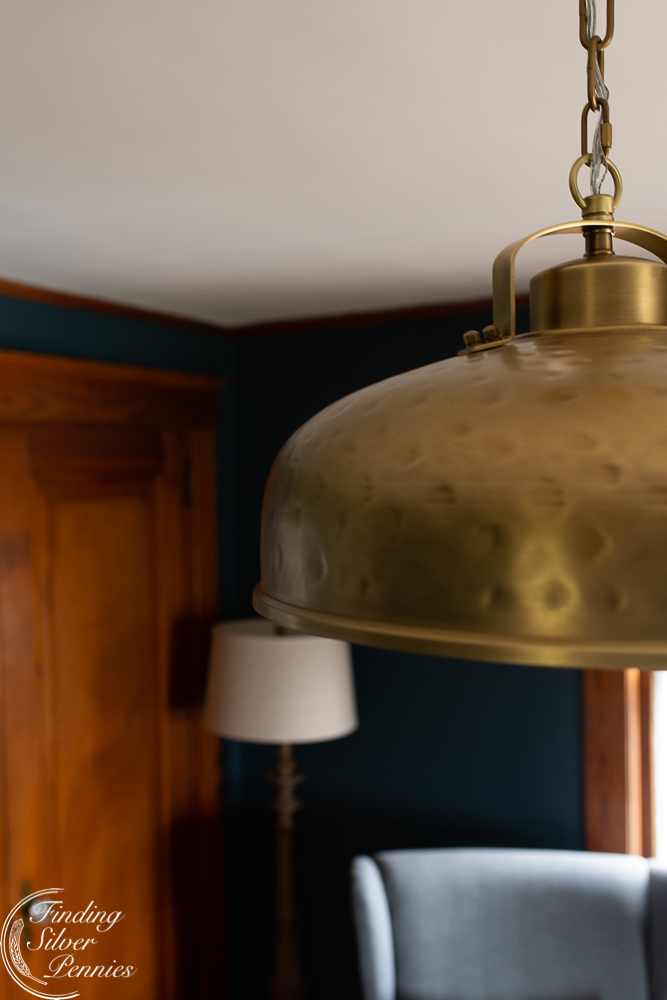 Oh, you probably want to see where Luke works. This is an Aeron chair. Luke bought it for himself (at an office closing sale) and is the most comfortable office chair.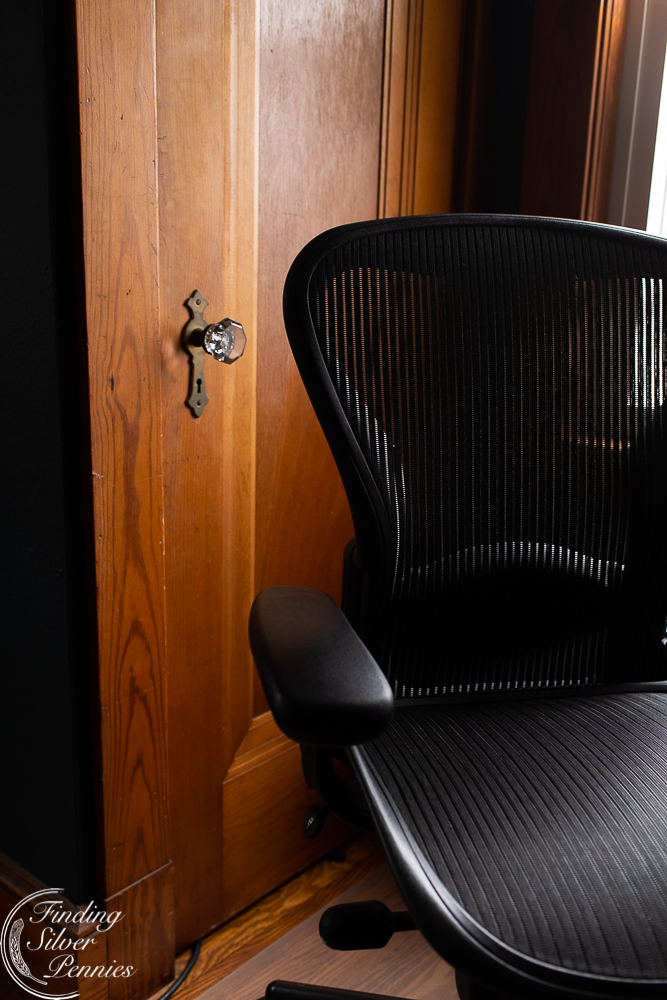 We decided to put his desk over by the window because it has a beautiful view of the pool. 😉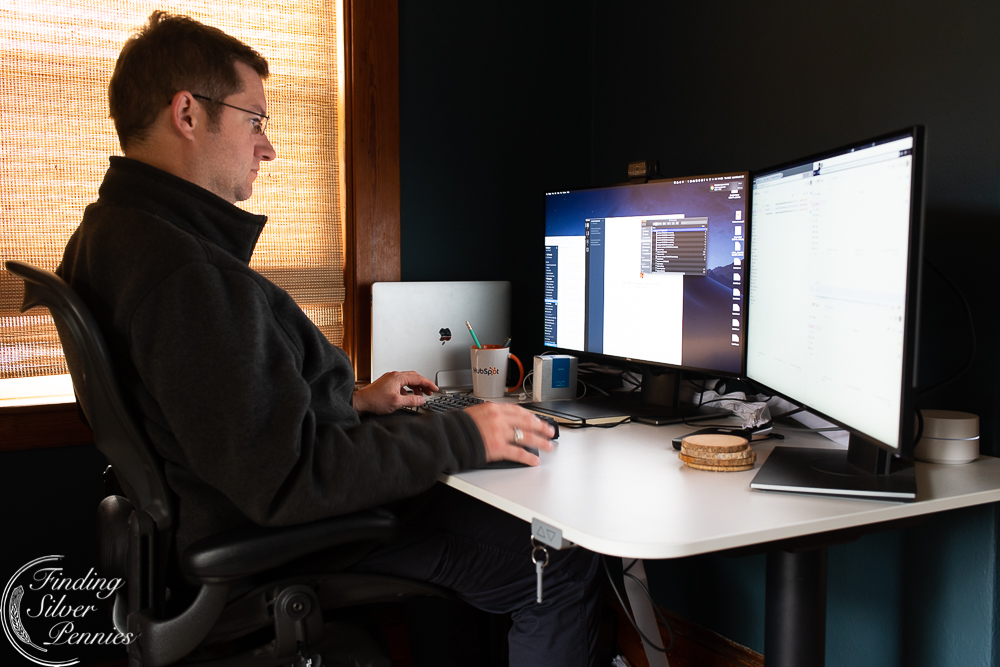 The bonus of this desk is it's a sit down / stand up desk. Luke enjoys using it both ways. Since the desk raises and lowers I decided not to hang any artwork above the desk.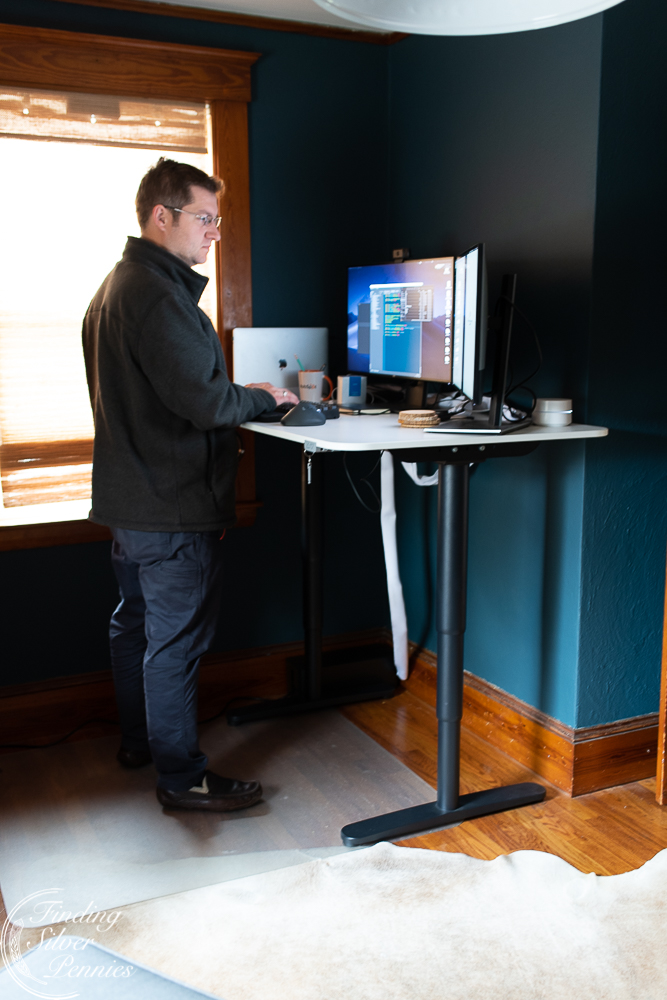 The printer is located in the closet behind him.
There's one area that isn't 100% done. I'm still searching for a bookcase to store Luke's books and decorative items.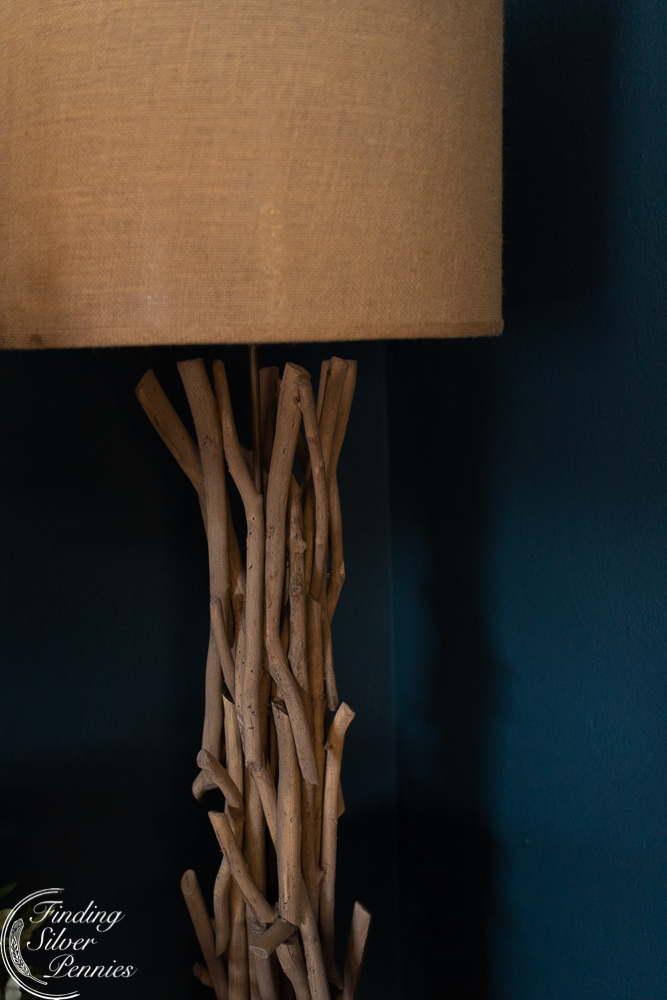 So for now there's this light and a faux olive plant.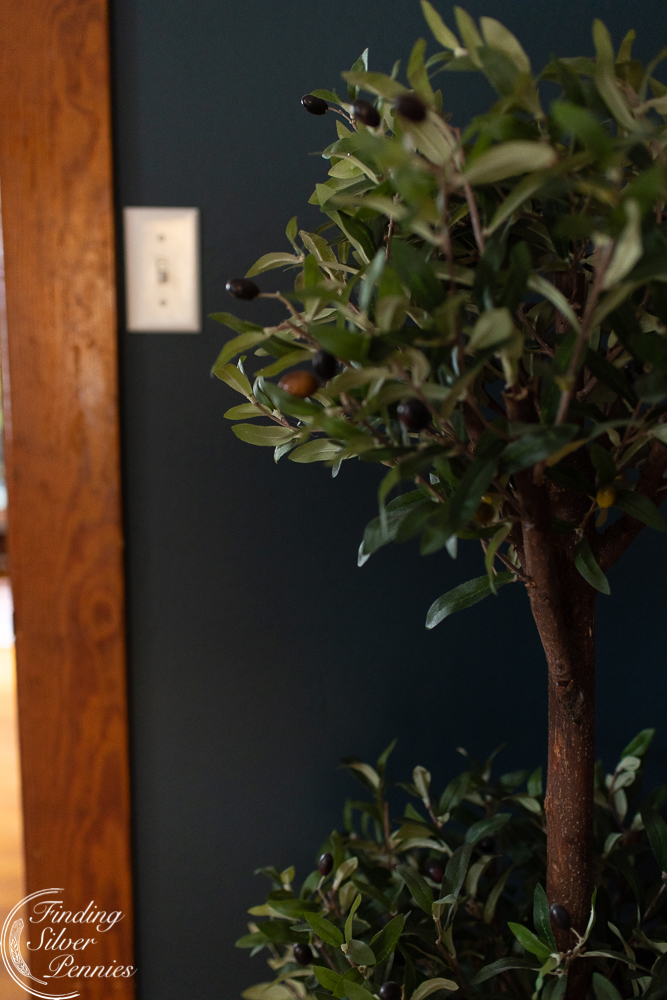 I hope you enjoyed this space as much as we did putting it together. He really loves spending time in here now.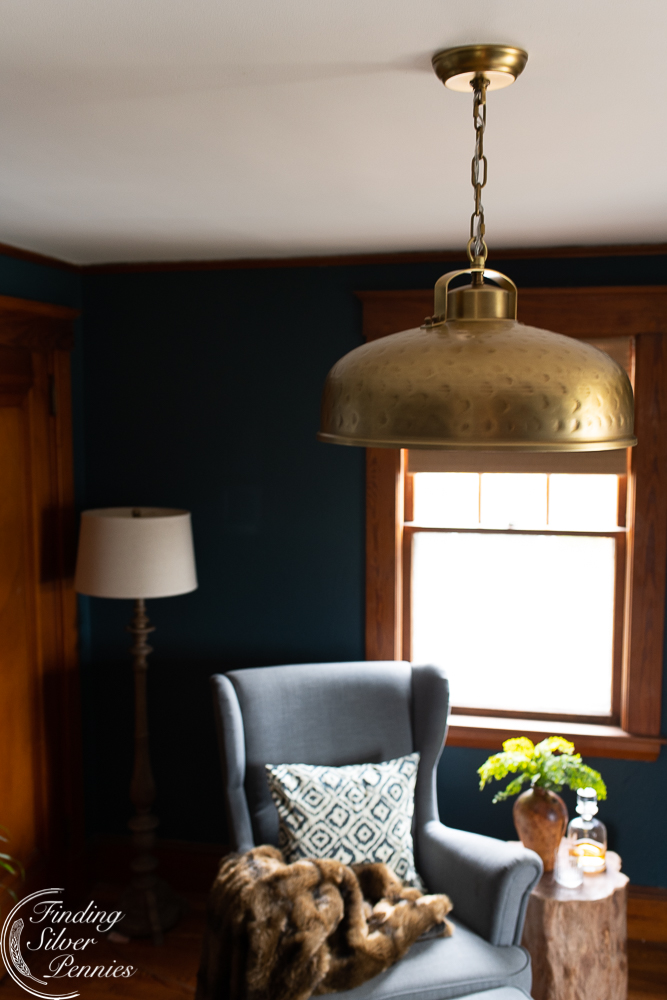 Here's some photos with the lights on. It was so dark and rainy the other day I couldn't resist taking a few photos with the warm glow of these pretty lights. You can see the fall foliage out the window.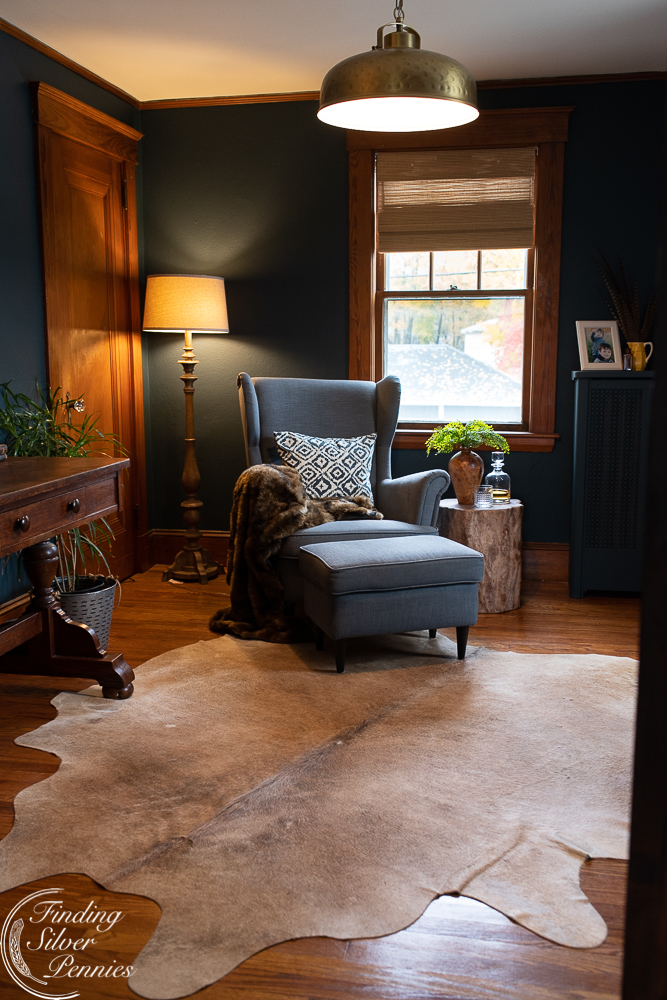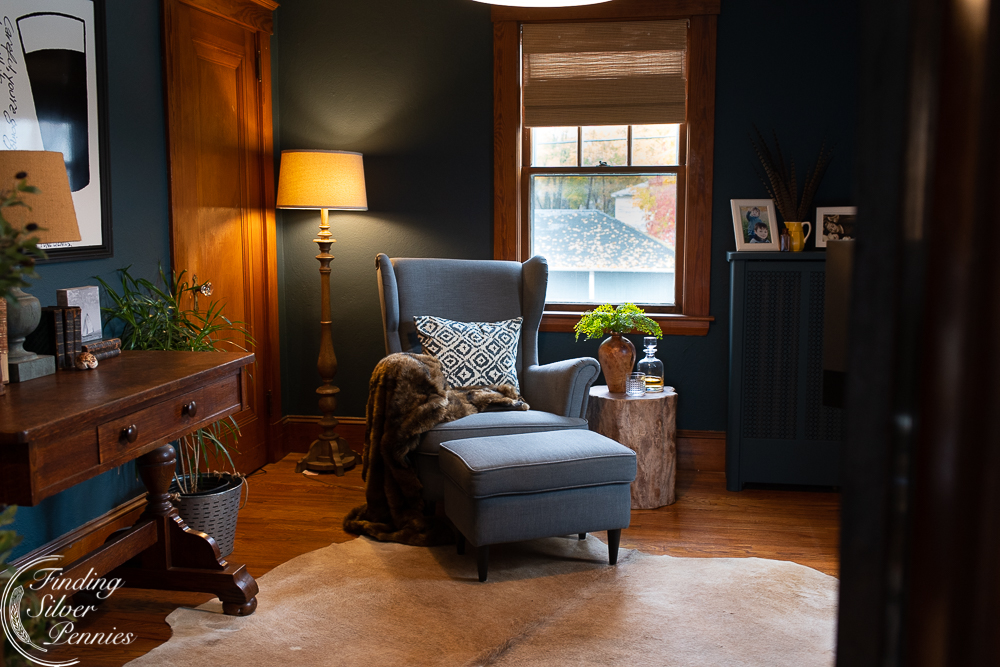 Source List