Happy Monday!  Yesterday it was so gray, wet and windy and I was soooooo worried I wouldn't be able to get any good photos of our newly gray kitchen.  Guess what? I did! Phew!
I'm bursting at the seams to show you photos with our gray walls!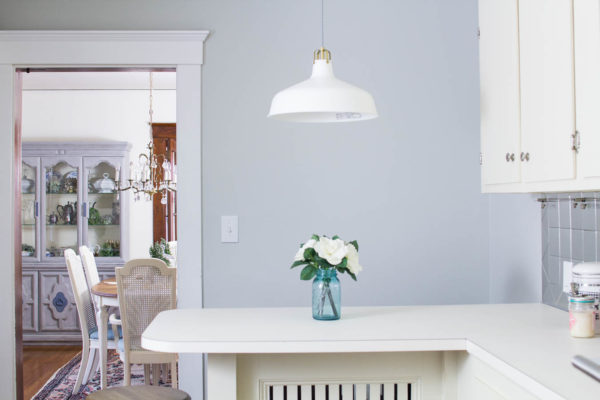 You may remember that we were thinking of painting the kitchen gray.  Here's the photo from Instagram: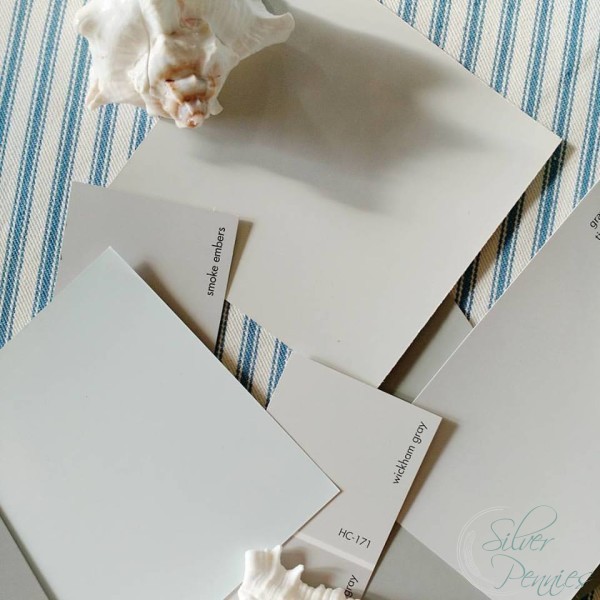 I don't know why it took me almost three years to paint the yellow walls.  Well, yes, I do know. At some point we want to do the kitchen over.  BUT we may want to bump it out a little and make it bigger. So I was waiting.
A year went by.
Then two years went by. I updated the light, I added a clock.  You may remember this photo from our two year home tour (click here for that post):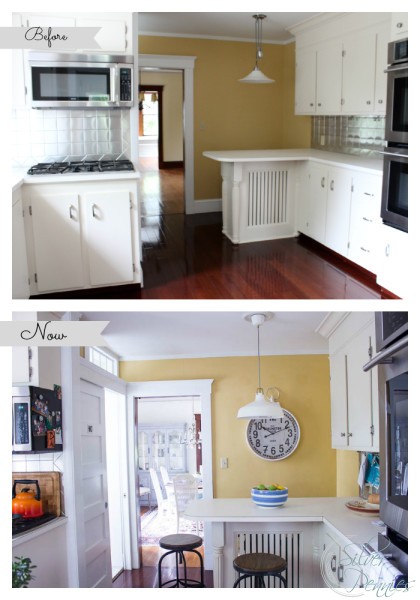 Then a bit more time went by and it's nearly three years (well, it will be in May). I decided THIS year I would paint the walls because yellow is just not my color.
Thank you all so much for all your guesses on Facebook and all the color recommendations.
In the end we went with Benjamin Moore Gray Owl. It is the perfect gray for our space!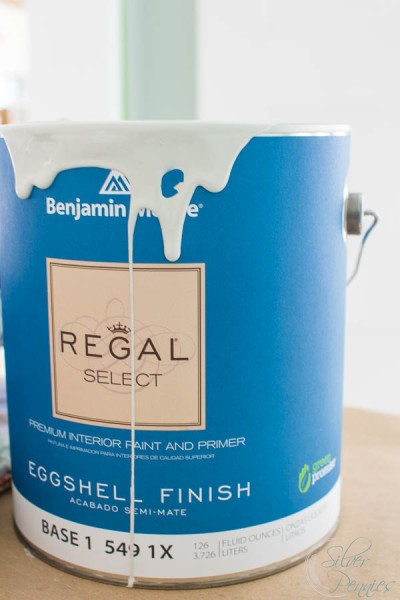 I'll tell you why we chose this color. I really wanted a cool (not blue gray).  The cabinets are an off white and the trim is white and since we're going to be doing our kitchen over at some point, I just wanted something that would go with all of that rather than repainting everything now. I will say I painted the entire kitchen twice.  I painted it with what I thought was Gray Owl and then I said to Luke, "Hmm, I'm really not sure I picked the right color." When he came home we looked at the two coats against the swatch and it wasn't Gray Owl. I went back to my friends at Hingham Lumber and told them I didn't think I had the right paint and they sorted it out.  I tested the color on a card at the shop (which I guess I should have done in the beginning but I always just want to get things done). So I painted two more coats on the wall and ta da!  The right gray.
Here's the kitchen before the day I started painting.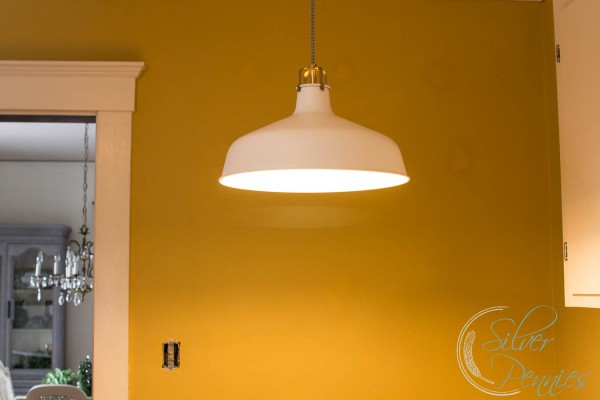 The light makes it look like the yellow is glowing and here it is now: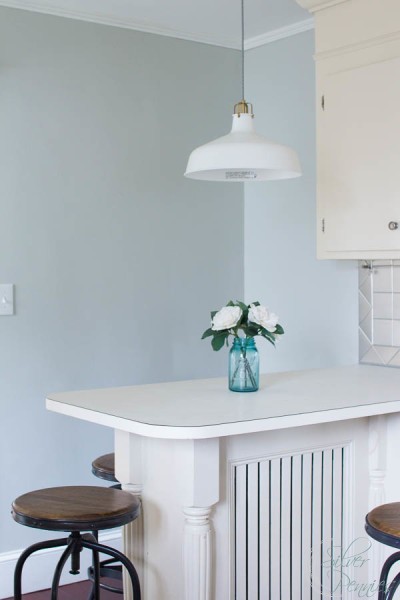 This color looks perfect with the white trim and the off white cabinets.  I decided to take down the clock (perhaps moving it to the office) and I'm keeping my eye out for something industrial to go on the wall behind the counter.
Our switches and plugs were cream and while we were at it we decided to replace them.  Luke replaced the counter backsplash sockets with GFCI compliant ones and white switches. They just look so much cleaner, don't you think?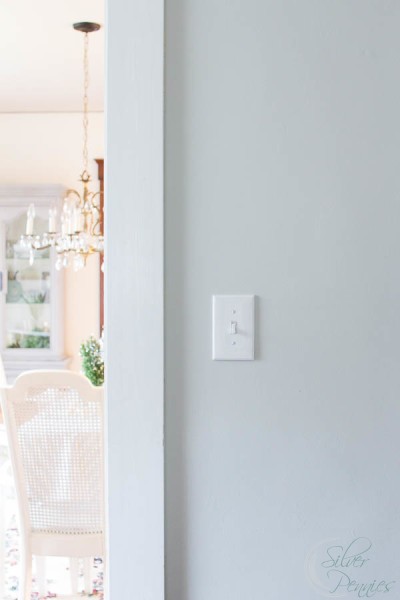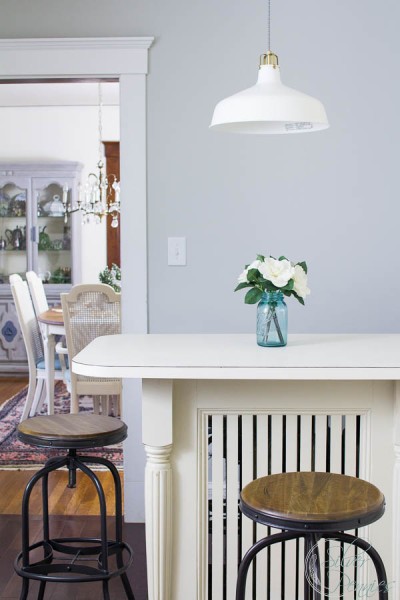 If you look closely you can see our gray hutch in the dining room and I was also thinking about this when picking a color.
You probably want to see the other side of the kitchen too, huh?
Well, this got a little more of a makeover and a tidy up.  I really love the built ins in our home and our kitchen has a fabulous built in china cabinet.  The cabinet was actually in the dining room (its twin is in there still) but was moved by the previous owner to create space for a half bath off the kitchen.
Here's the cabinet before: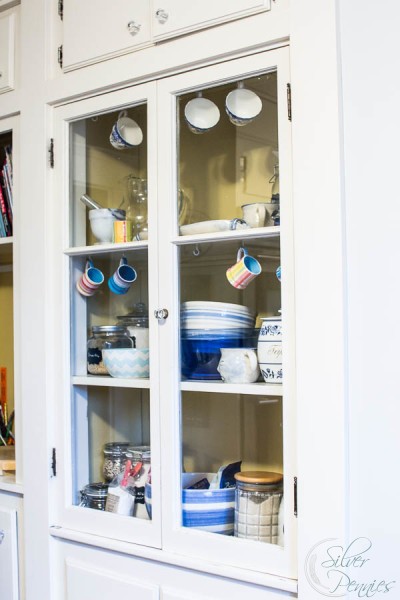 So messy filled with all our stuff!  I cleaned it out and thought about color.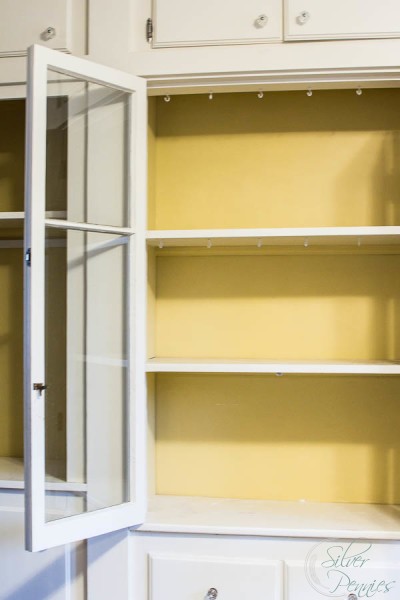 I definitely wanted to cover the yellow for something more neutral and something that would make a statement.
You all know blue is my "go to" color but I wanted something different. I opted to paint it Soap Stone by Fusion Mineral Paint.  Luke took this while I was painting the cabinet and alcove next two it Friday night: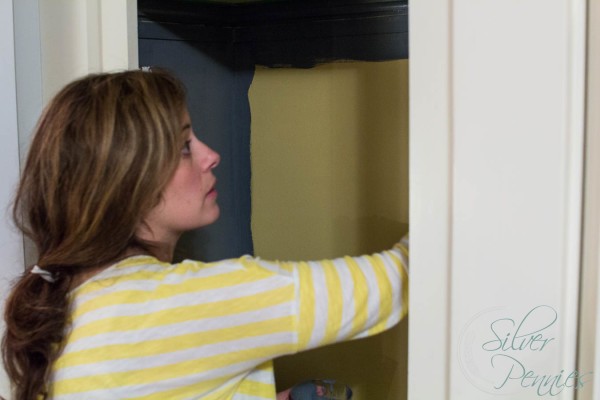 Here's how it came out: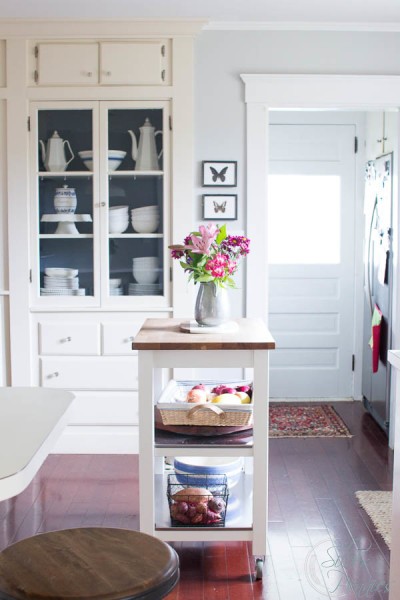 The color makes such a statement, especially with all the white.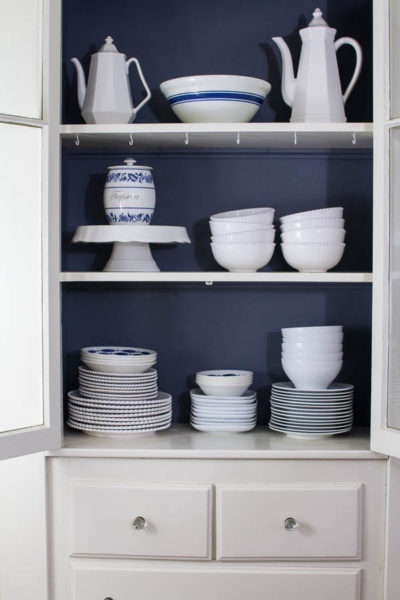 Now all our plates and bowls are in easy reach and I put everything else in the yard sale pile or in closed cupboards.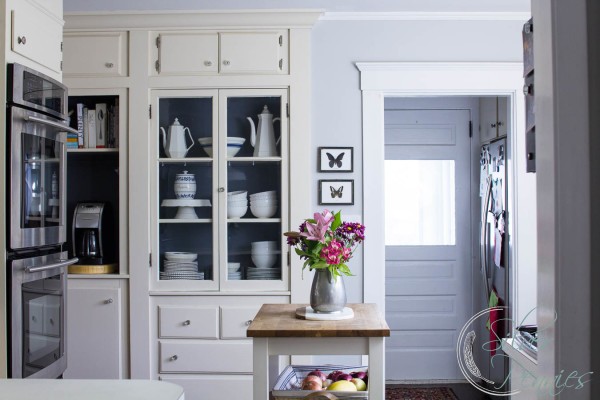 The coffee maker is in the alcove and our collection of cookbooks with easy access on top.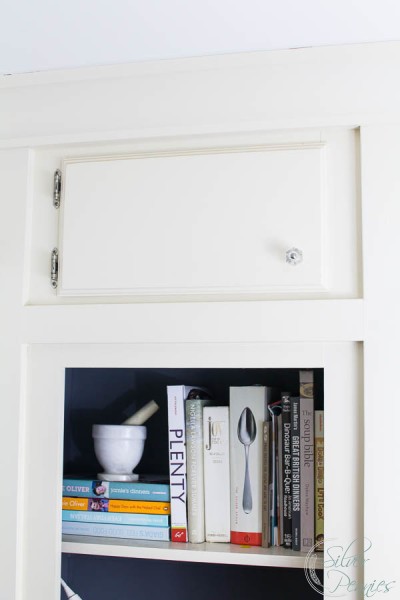 See that little pestle and mortar? That is from Bristol, England. I gave that to Luke 16 years ago.  I loved marble even back then.  It is from Bristol Guild on Park Street if your familiar with that area.  These cookbooks we use ALL the time and I think you can even see some of Conor's up there too.
I know I say this often, but a can of paint is like a can of magic.  You really get so much for your money if you're on a tight budget.
Let me give you one last look at the entire space: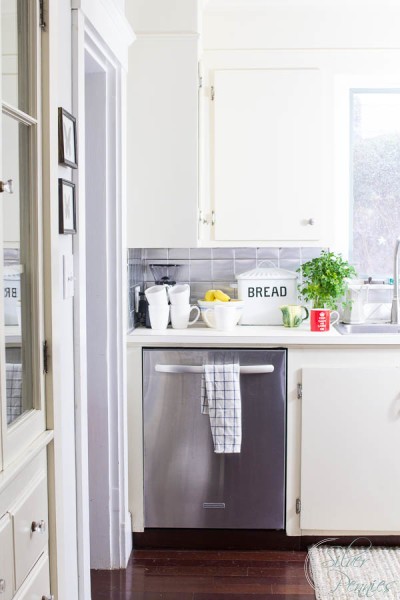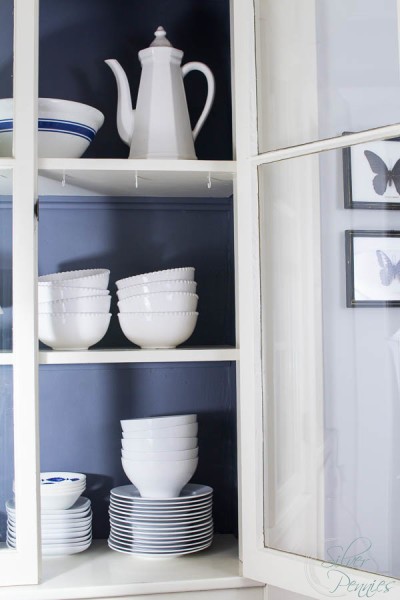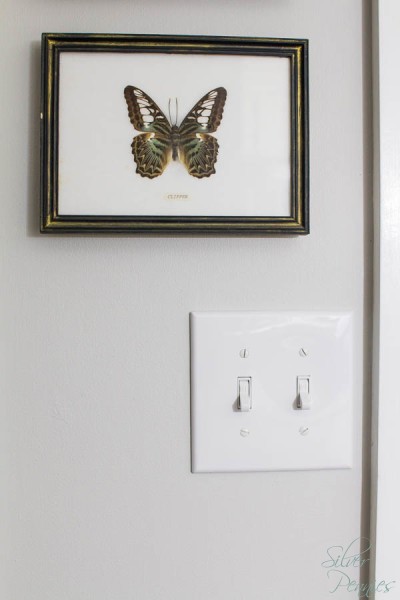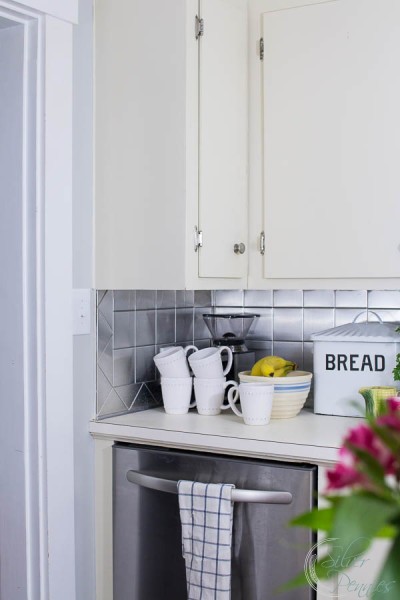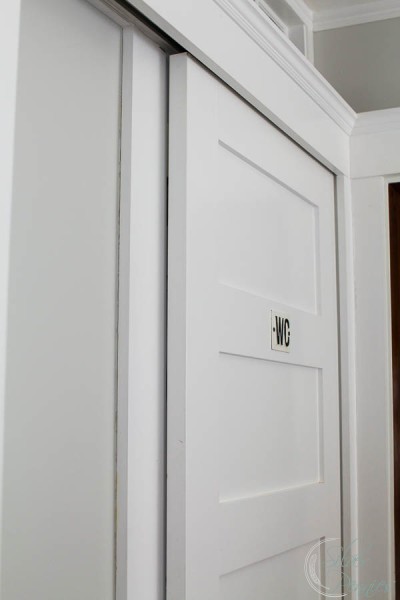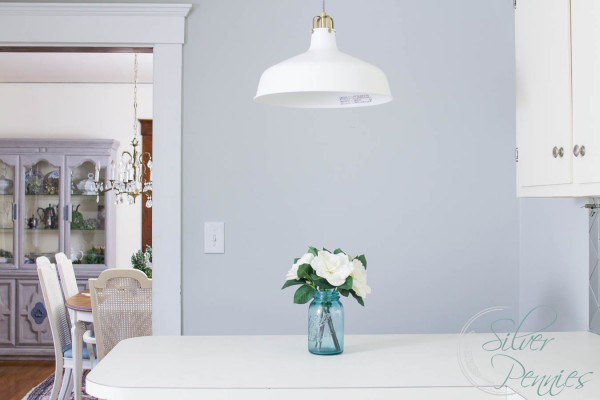 We're planning on taking out the stainless steel backsplash tiles and replacing them with more traditional subway tiles this spring.  Trying to decide between the peel and stick tiles and subway tiles. Hope to do this in the spring.
I thought I'd give you guys a detailed source list for this room even though it isn't completely done. Here are some affiliate links for your convenience, please see my full disclosure policy here.
Source List

Sharing with: