Flower arranging is a real art. I had the pleasure of playing with flowers whilst in Minneapolis.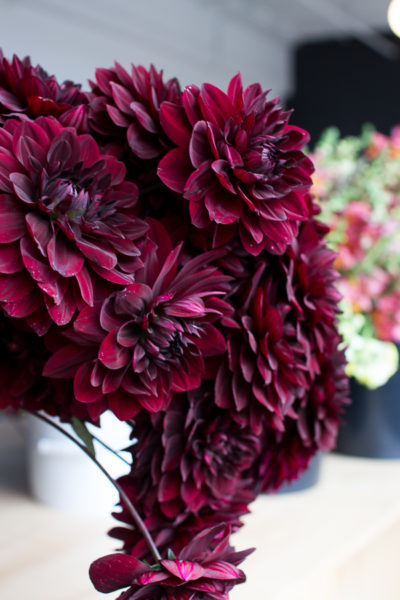 This post is part of a series that I will be writing about the few days I spent at Wagner's InSPRAYtional Design Challenge. I was invited by Wagner to try out some of their tools but also was taken on a magical mystery tour for the senses lead by my friend and mentor Matthew Mead. It was wonderful. I'll share more about the Design Challenge in a later post.
Today I want to talk about flowers.
The first stop on our trip was Spruce. The space was so amazing. I drooled over the painted brick, the Barn Light Electric fixtures and the large windows. The building used to be a factory and had so much charm.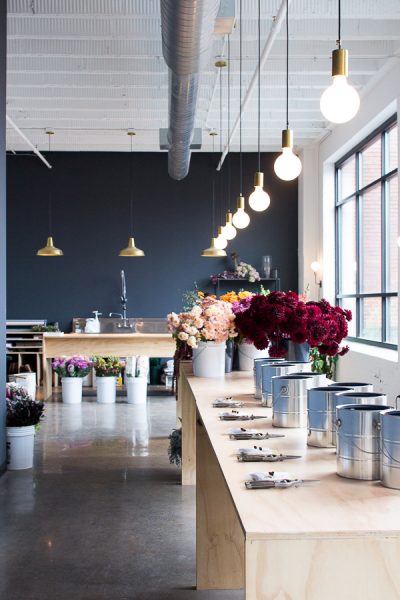 The owners made the work benches and I loved them. Aren't they cool?
We actually arrived slightly early. Debbie Dion Hayes from My Patch of Blue Sky and I shared a ride from the airport. We snapped a few photos before everyone arrived. She captured this one of me.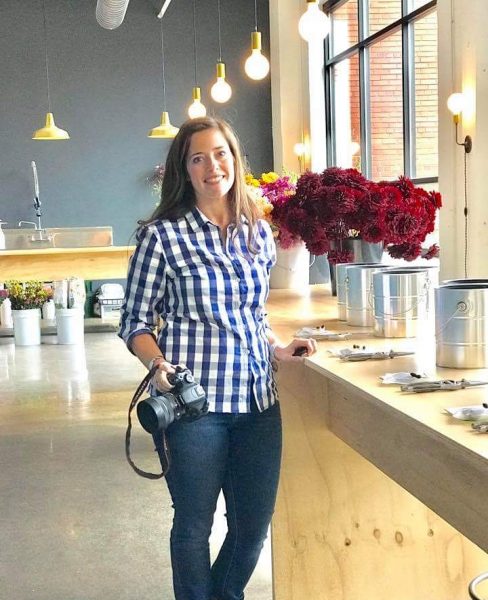 I think I could have spent ALL DAY here. Or maybe even a week.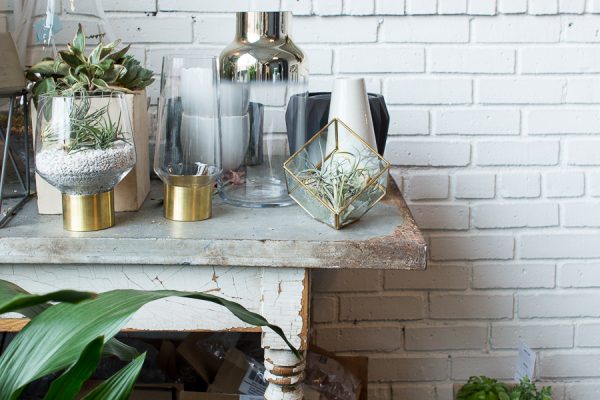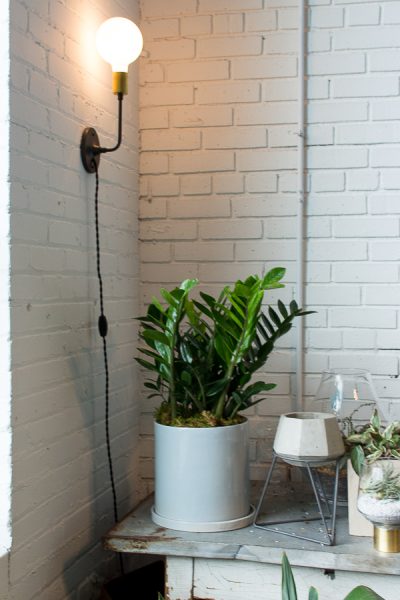 I wanted to take that galvanized table home with me and all those pretty succulents.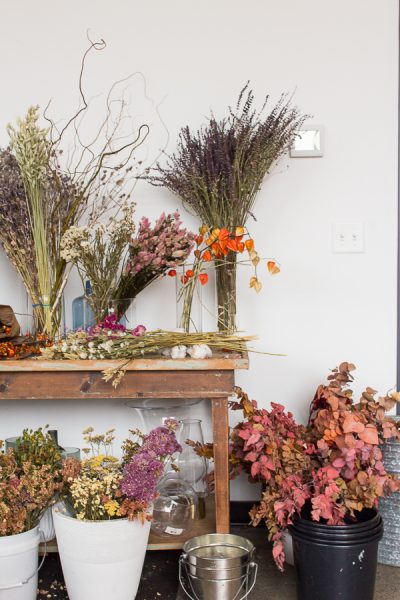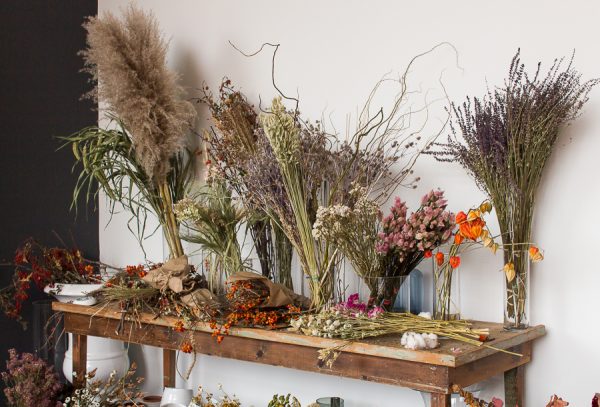 The studio was strewn with flowers everywhere.
I snapped this one of Debbie before everyone arrived.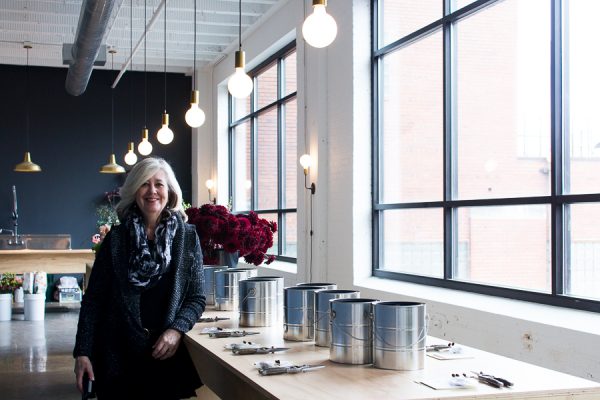 Our workshop was lead by Christine of Foxglove Market. She specializes in intentionally sourced arrangements from small farms and gardens.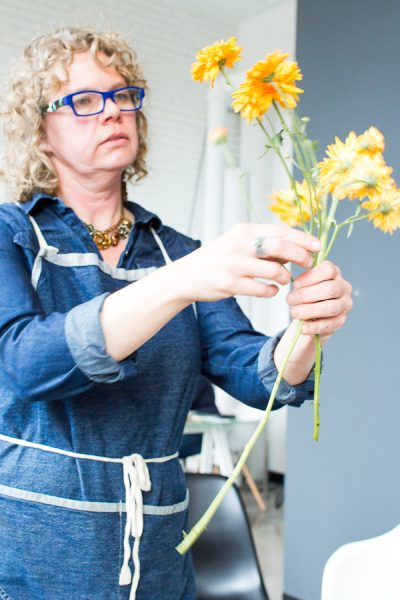 The flowers we worked with were all organic and freshly picked. They'd just come out of the fields and this is probably the last harvest for this year as it was snowing while we were there. The flowers from our workshop came from Duluth Flower Farm, Gullywash Gardens and Minnesota Flower Farm.
We talked a lot about organic and in season. Christine shared with us that the average grocery store bouquet travels around 2,000 miles and encounters up to 127 chemicals before entering your home. Isn't that crazy? She also told us she doesn't use the flower foam because it contains formaldehyde. I had no idea!
She specializes in hand tied bouquest for weddings and parties. She always uses what's in season which I thought was refreshing.
In the above photo she's sharing how to start off your hand tied bouquet. When working with flowers you want to use a few to get the form, then add larger blooms. Christine makes it look so easy but I found it quite hard to hold so many stems in my hand. The idea is to weave the stems together so they don't move and the flowers create a sculpture, even when put in a vase they stay in place.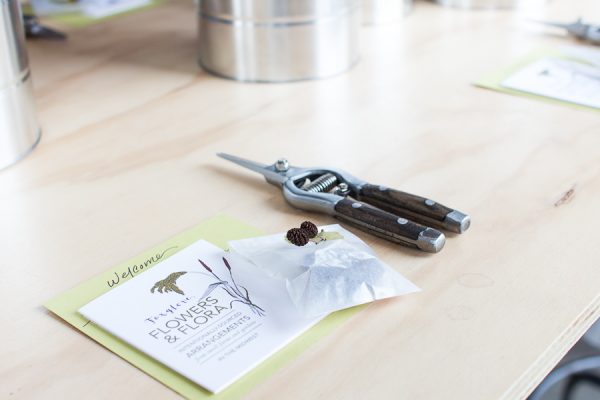 After a brief demonstration it was time to get to work. We could pick any flowers we wanted.
The flowers were all so beautiful.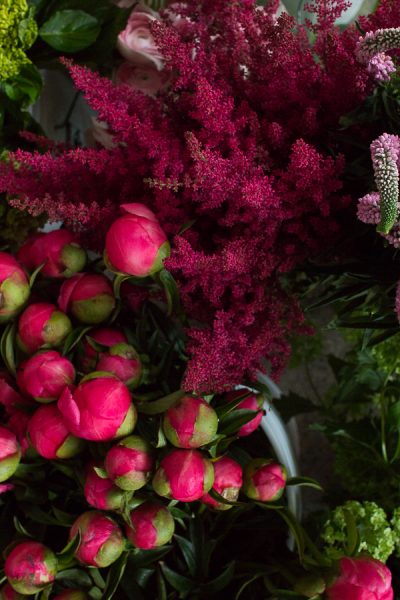 Rich pinks, pale greens, lovely reds. It was so hard to choose…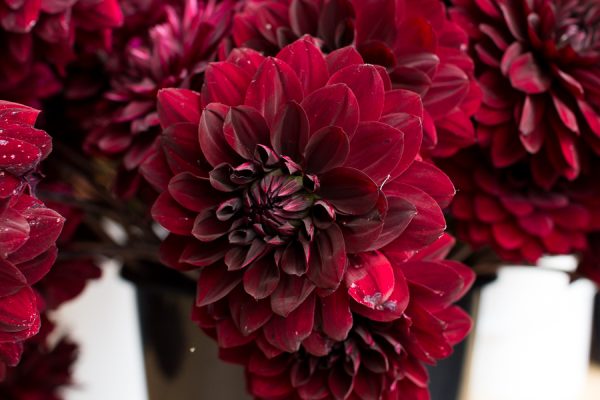 Glorious dahlias in colors I'd never seen before at home.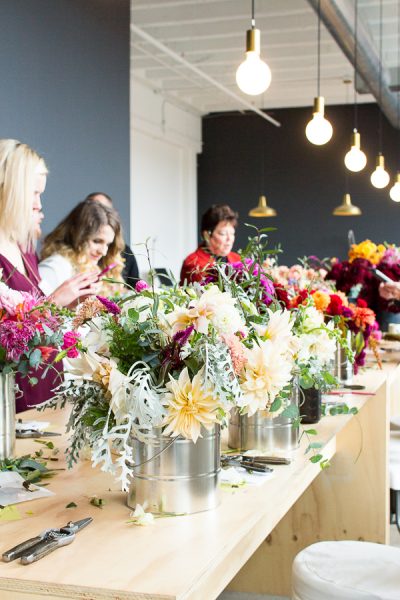 I, of course, was drawn to more muted and pale colors. Eucalyptus, pale dahlias.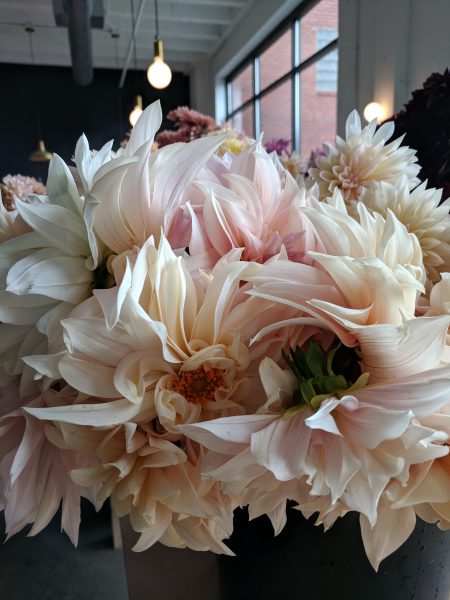 This is what I came up with.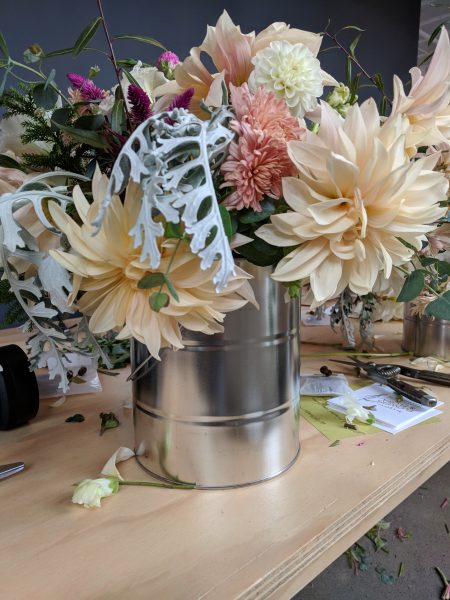 We were instructed that we'd use our hand tied bouquets in our room challenge and we'd also need to pick out a paint color too. It is hard to pick a color when you don't know what your painting. I chose Calligraphy by Behr. It is a dark charcoal with blue undertones. I was inspired by the dark wall in the flower studio and thought things would pop against a similar color.
Starting our first day in Minneapolsis surrounded by flowers was the best gift. I wish you guys could have smelled the studio. It was heavenly. Everyone's arrangements were unique and different and beautiful. We were all so happy surrounded by the beauty of flowers.
"A flower does not think about competing with the other flowers around it, it just blooms."
Here we all are blooming thanks to Christine!
A huge thank you to Christine, Matthew and Wagner for bringing us together for such a beautiful day of inspiration. We also stopped by and did a collage workshop with Stargirl Art and enjoyed a tour and tasting at Tattersall Distillery. I found the process so interesting and inspiring.
I'll be sharing more of this trip and the InSPRAYtional Design Challenge in a later post.