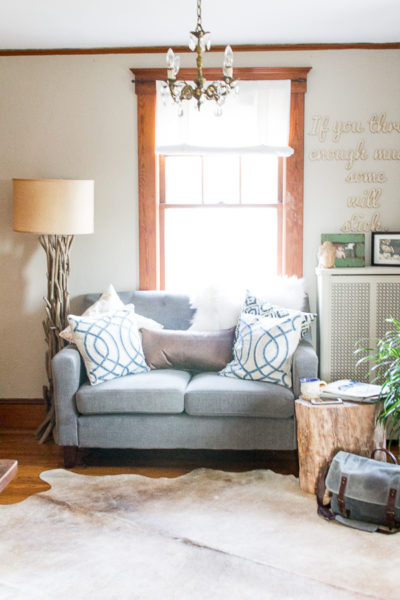 "Creativity takes courage." – Henri Matisse
Well, I'm happy to finally share my home office with you. It's done! I know. This is probably the longest makeover EVER! I actually shared my inspiration for this space nearly 2 years ago and it's been a work in progress ever since then, but I wanted to take my time because I wanted to get it right.
This is a creative space for me.
In this space I:
create
write
edit photos
brainstorm ideas
dream
paint in watercolor
try new art forms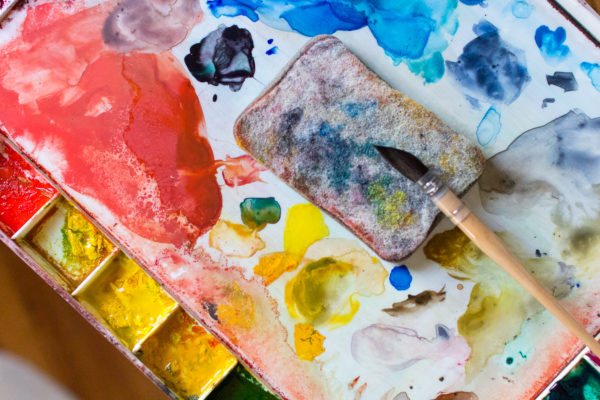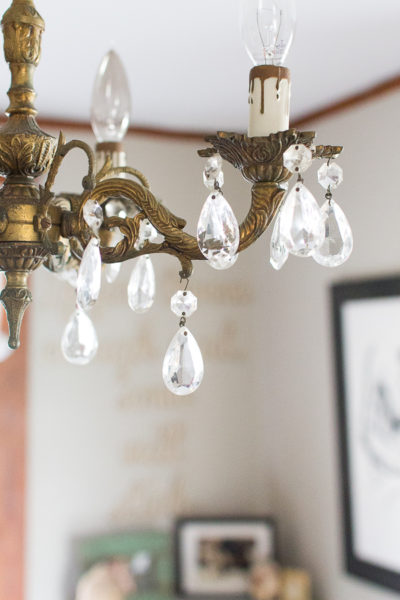 I guess before we get too far along I should share the "before".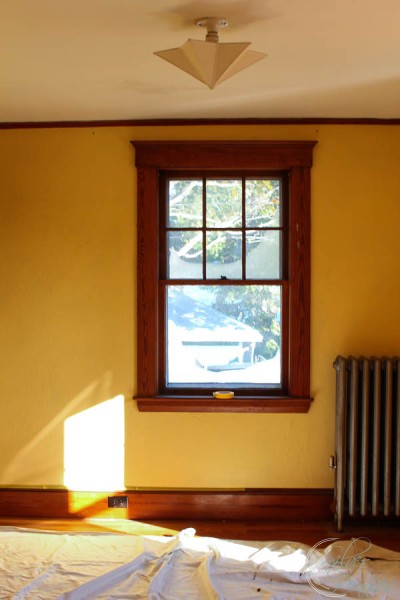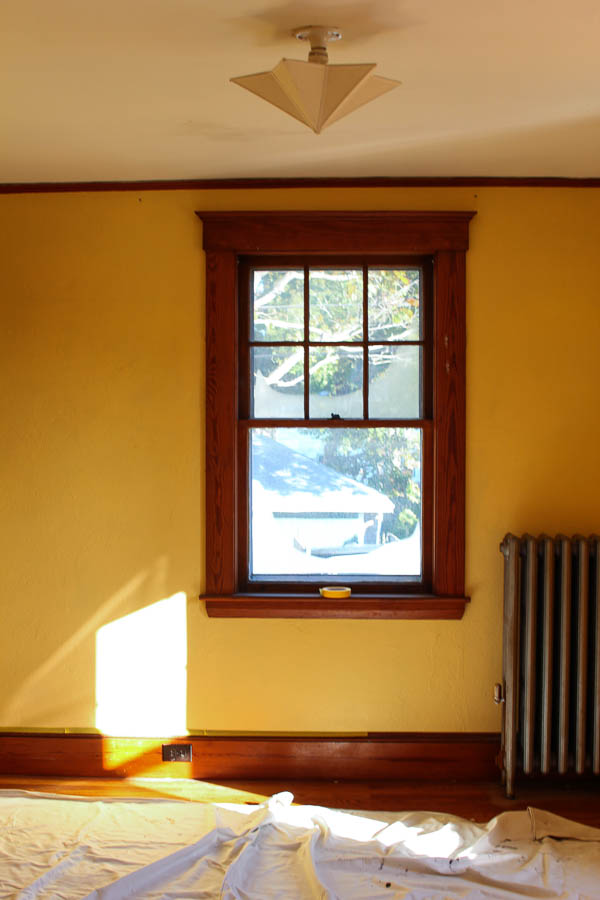 The walls were a bright yellow and there was an old light. I painted the walls in Benjamin Moore Revere Pewter (click here) and replaced the dated ceiling light with a beautiful brass and crystal chandelier Luke salvaged from the dump (click here to read that)!
Please note this post contains affiliate links to shop the look of our home which allows us to make small percentage from the sale. To read our full disclosure policy click here. Thank you for supporting our blog this way.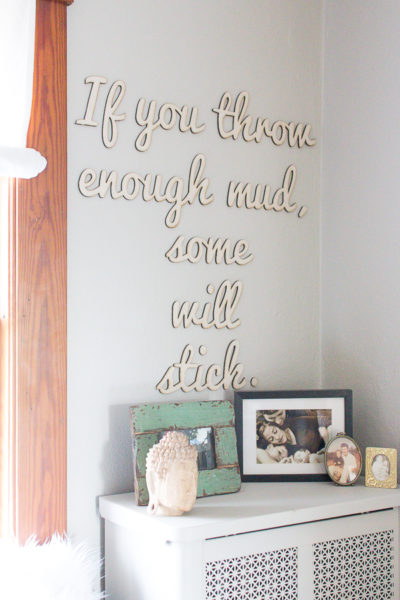 The canvas wall art is something my dad always used to say when I was little. 163 Design Company created these beautiful letters for me as a reminder to never give up. I love them. I shared a little more about them here.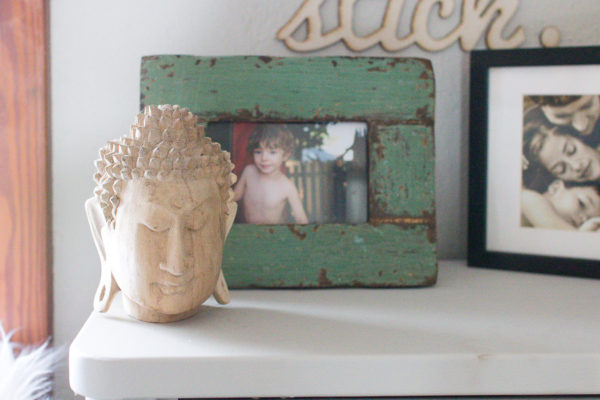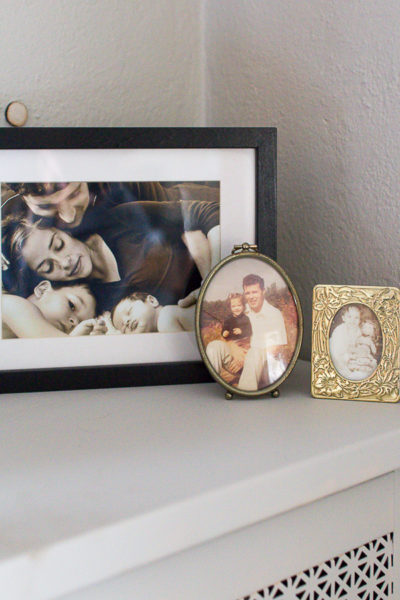 Family photographs from when I was a little to ones of our children growing up. Conor was only a week old in the black and white one. Aw.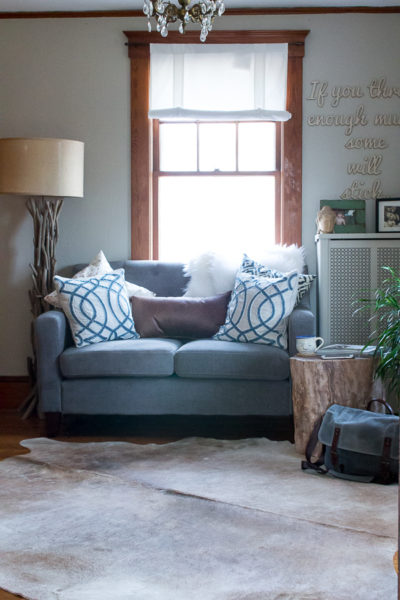 It took me a while to find a just the right loveseat for this space. The office isn't very big but I wanted a comfy place to curl up with some design inspiration or to write my ideas in a journal. I shared more about this gray loveseat here. The pillows are a mix of HomeGoods, Target and Minted finds.
The stump table was a lucky find from HomeGoods. I think I got it for $79 and it is an actual stump. It's so heavy!!!!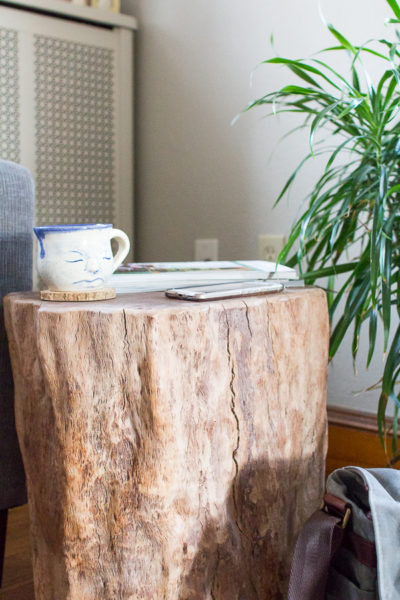 Thank you Luke for moving it into the pod while we were doing work on the house and thank you for bringing it upstairs.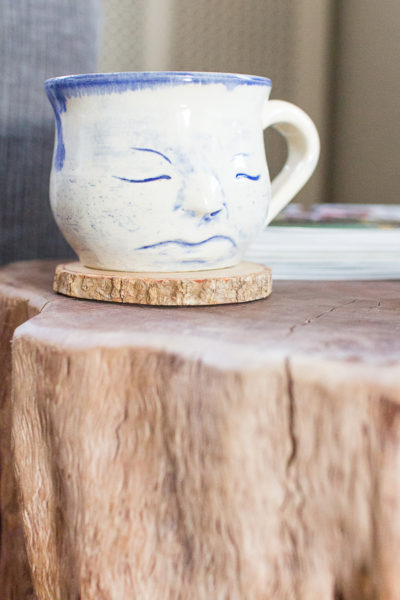 The mug is by a local artist. My camera bag is from Ona and great in all weather!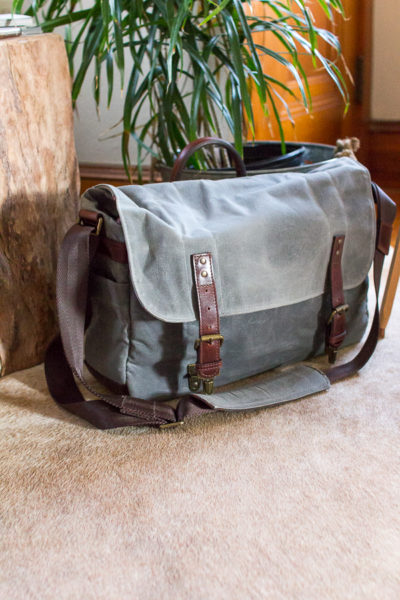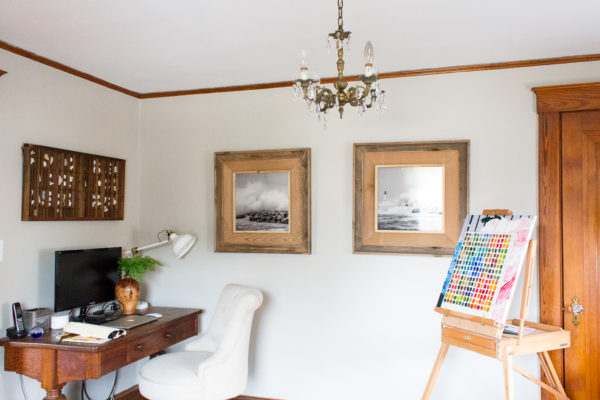 The photographs are of Scituate Lighthouse by my friend Kjeld Mahoney. I shared a peek at them here. They are printed on metal and reflect the light beautifully. I always feel like the waves are crashing before my eyes. The boys gave me the easel for my birthday last year. This is a watercolor color chart.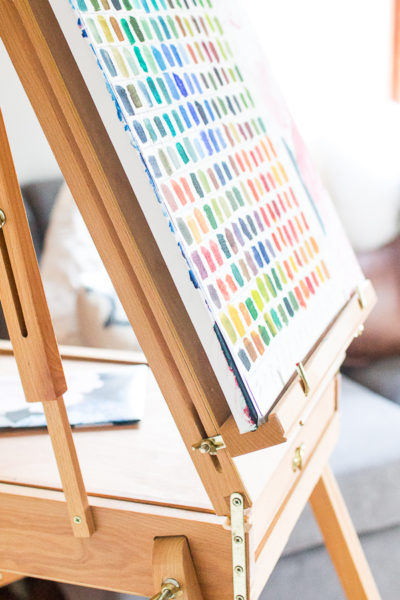 I'm working on my first attempt at acrylic. Very much a work in progress.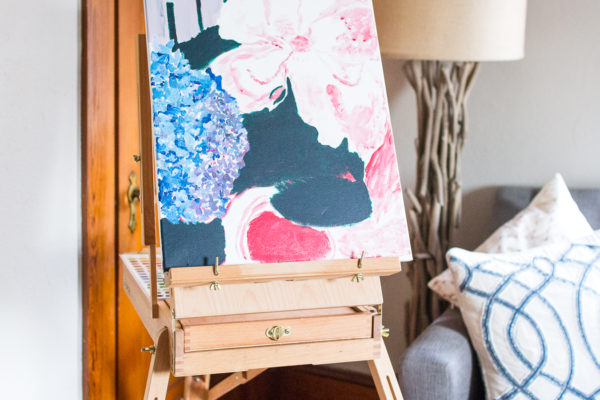 But the hydrangeas are coming along:
The desk is an old library table that I found at an antique store years ago. It's Stickley Furniture.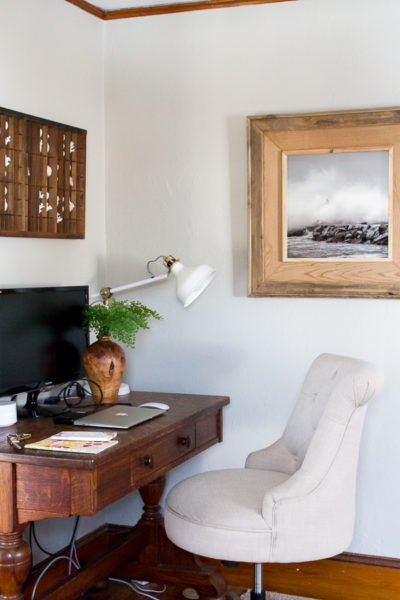 I love how heavy and masculine the desk is. It goes so well with our natural wood work but because it's a library table I can really spread out when working. I'm always writing in journals and scratching off things on my "to do list". I actually write things I have already done so I can cross them off, but don't tell anyone. Hope I'm not the only person who does this 😉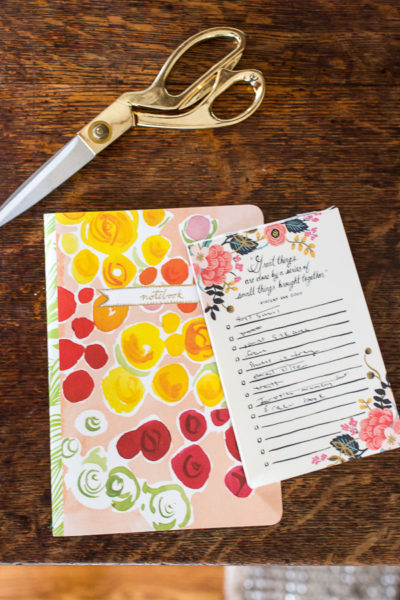 The desk chair is from World Market and is so comfortable. The light is from Ikea.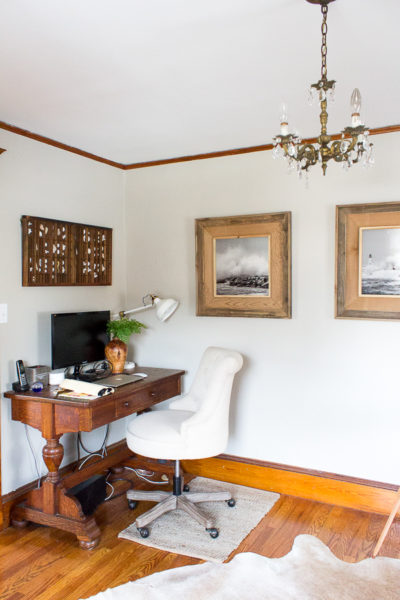 The smaller woven rug is from Target, I love the shimmery bits in it. I wanted to protect the floor from the chair casters.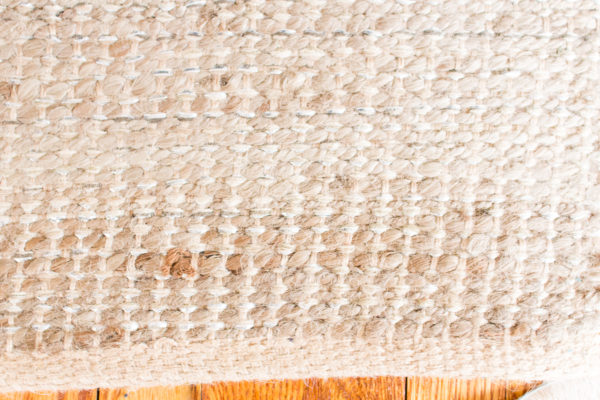 The other rug is a hide rug from World Market and I love the warmth and texture it adds to the space. It's so soft under foot.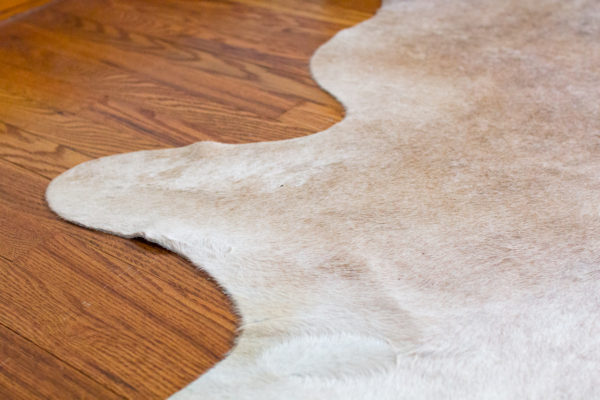 Here you can see the different color variations.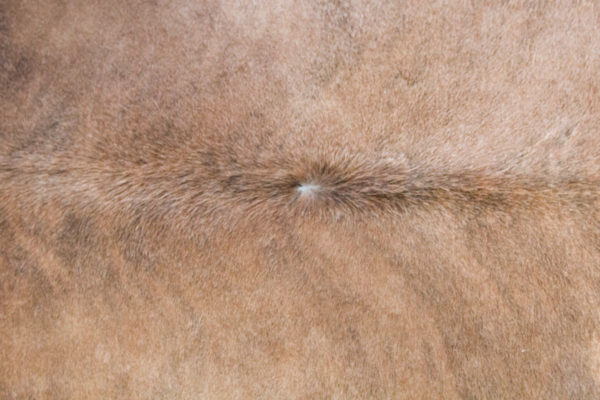 The dogs LOVE the rug! I always get these looks in here 😉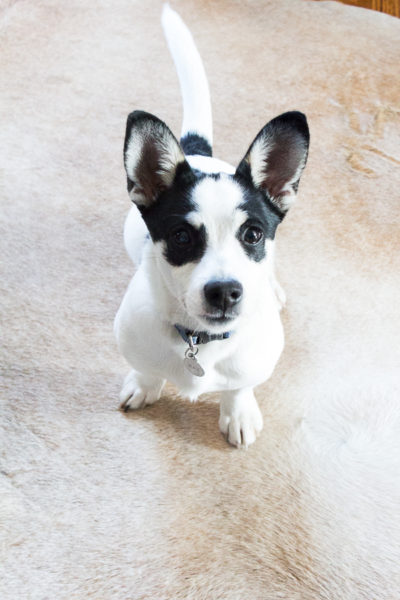 Isn't Max just the cutest?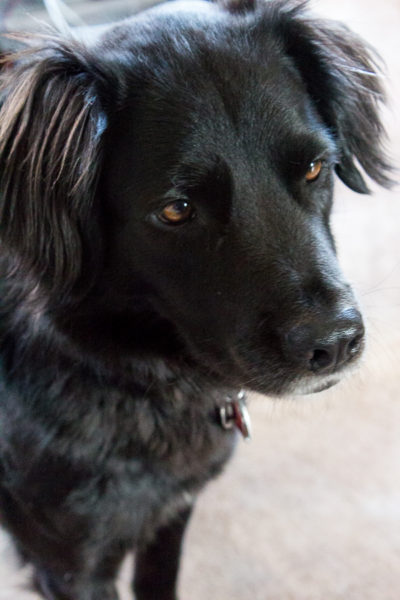 Poppy is such a sweetheart too. Look at those warm, brown eyes of hers!
They both love the rug.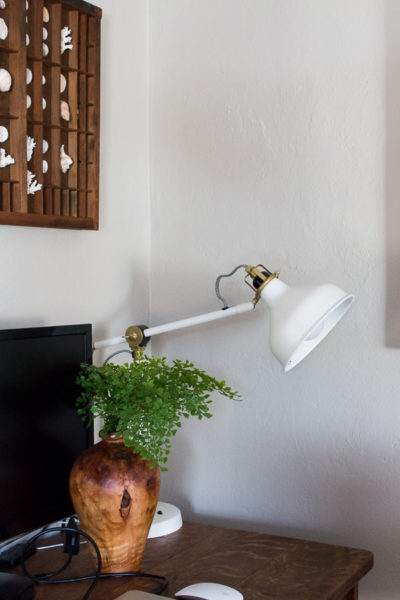 You may remember I stenciled the closet in here. I have the printer and design books in the closet. Click here for the tutorial.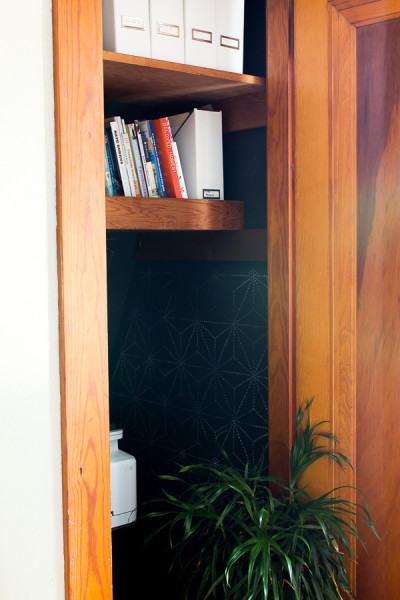 Over on that side of the room, I also painted this farmhouse cabinet, click here to read about that.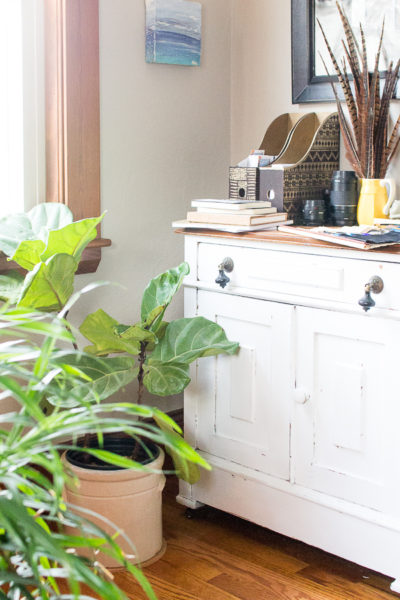 I store all my art things and business cards and blogging paperwork in here.
I painted the cabinet in a farmhouse style because I wanted that beautiful hardware to stand out. Aren't they gorgeous?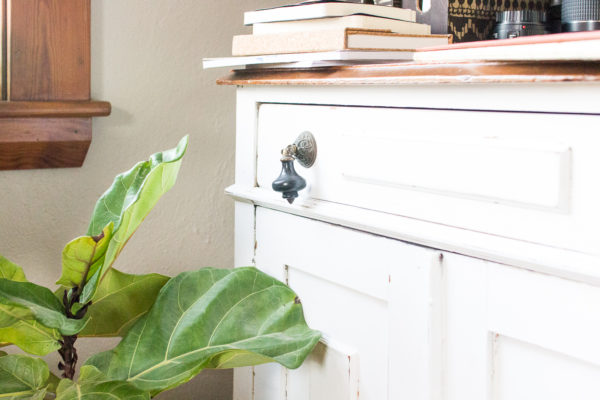 I think this is from the late 1800s. It's perfect for all my art stuff.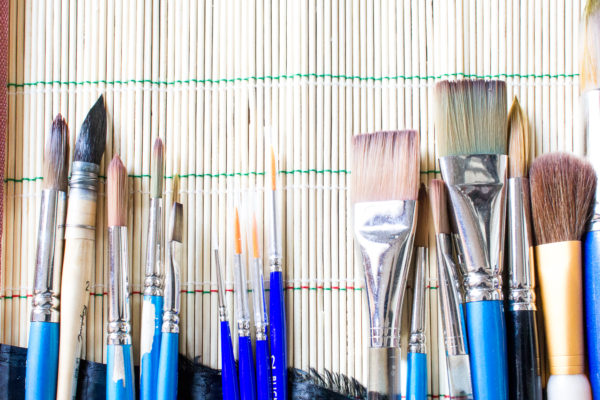 Here's a glimpse of some of my watercolors.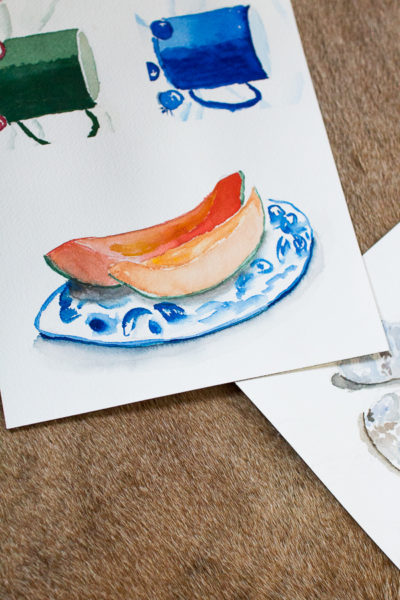 The poppies reminded me of my sweet Poppy dog. 😉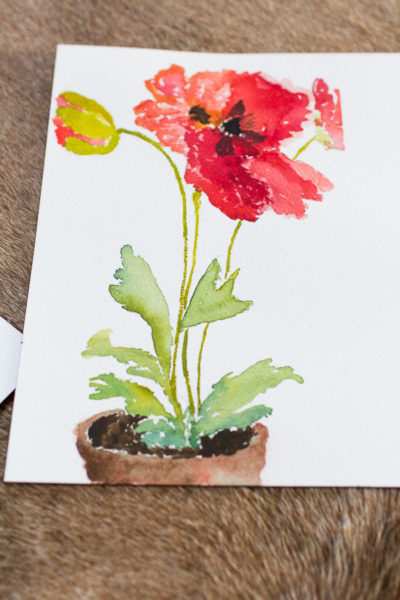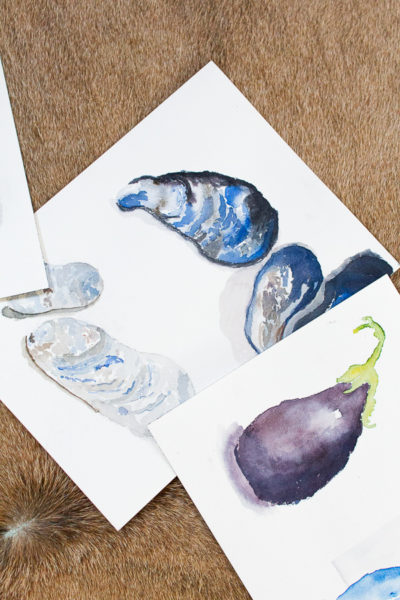 That's my first attempt at mussel shells and I'm planning on doing more coastal inspired paintings this year. I love all things sea inspired. I'm still very much learning and I get nervous to share my artwork because I don't consider myself an artist just a student and someone who enjoys painting. My favorite thing is to watch the paint move across the paper. I love the action of painting. It mesmerizes me.
Over in this corner, I have the artwork of my friends hanging too.
My friend Ellen Kelley McHale painted this portrait of me.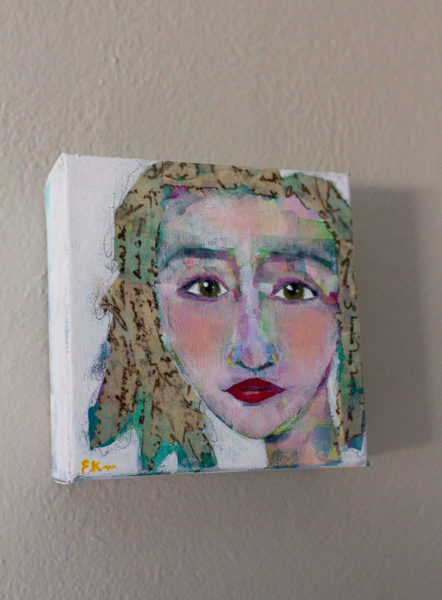 I love the eyes! She really captured the color of mine. I also really love the hair which is from an antique ledger. Ellen knows just how much I love words and to write. 😉 I first got to know Ellen because we were both featured in Matthew Mead's Upcycled Style and I interviewed her here on the blog, click here to read that interview. I think you'll be inspired.
The other piece of art hanging over there is by my friend Carol at Saltwater Salvage. She also owns Saltwash® with her husband.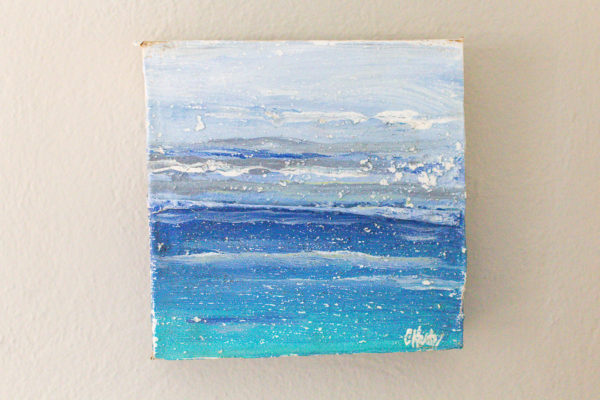 It's a gorgeously textured seascape with all the colors I love of the sea. It makes me happy to look at it.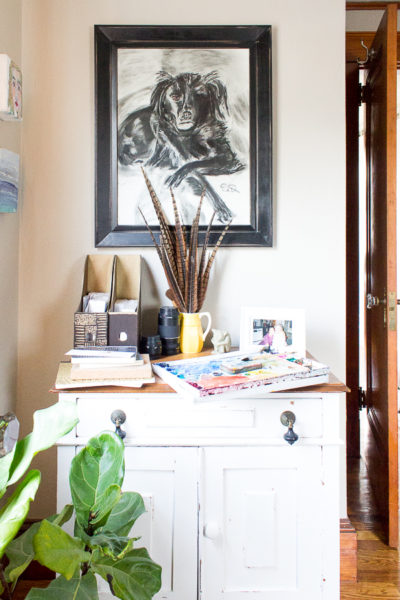 The other piece of artwork is my own. A portrait of Poppy in charcoal. My very first attempt.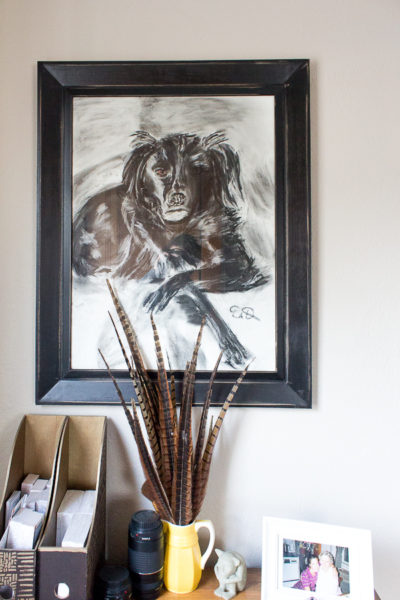 It took me a few classes down at Little House of Arts but I'm so happy with how it came out.
Using family photos and creating my own art makes this office feel warm and safe and let's my creative heart take wing. I told Paul, my teacher, it's probably not the best dog portrait he's ever seen but it's the best dog portrait I can do right now. That is enough for me.
So there's a little glimpse of my home office and studio tucked right at the top of the stairs.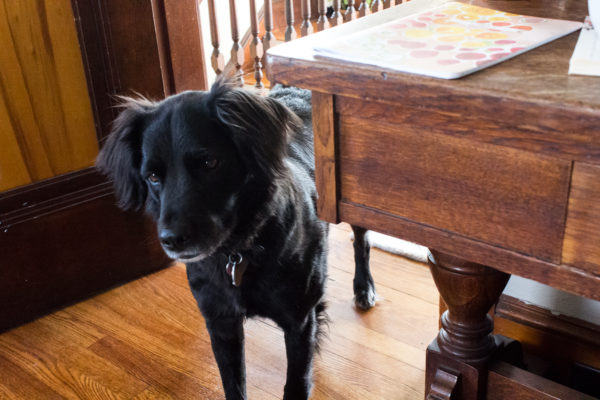 I hope you enjoyed it. I've tried to link to all the tutorials but I'll share a full source list below too.
It really is a wonderful spot to work and create. I hope it gives you some ideas for your own creative spaces. I'll be sharing this shell tray with you soon. It has special meaning to me.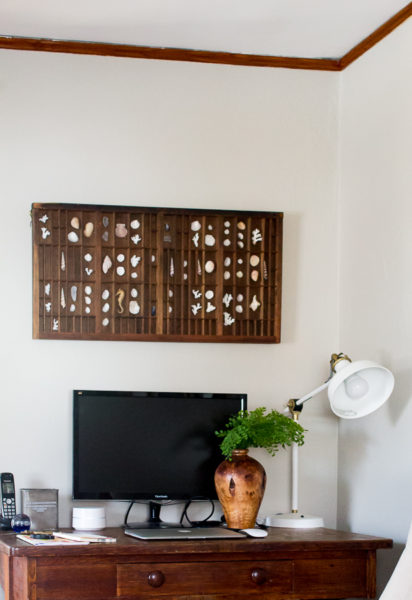 Get the Look!

Full Source List
Sharing with: