You're hosting and you need to pull your house together before your guests arrive? No worries. Today I'm sharing over 20 last minute entertaining ideas for Thanksgiving.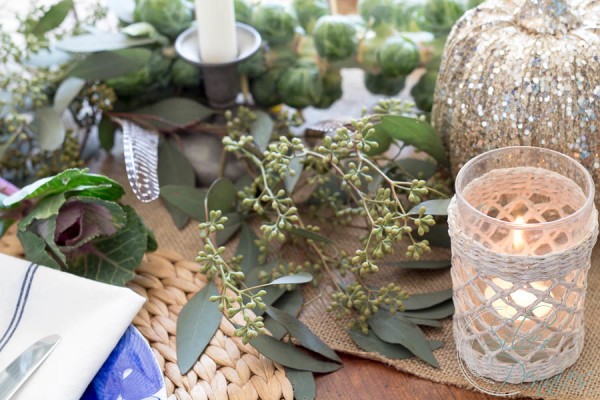 Take a deep breath in and out. In and out. I promise. This will give you a few ideas to wow your guest whether your hosting or attending at someone's home. I'll be sharing simple tablescapes, cocktail recipes, sides, a few desserts, free printables and more.
The focus on Thanksgiving should be each other and giving thanks for what we have. I went to Whole Foods yesterday and picked up our turkey and all our food. It was a pleasant experience everyone was helpful and nice and smiling. I was smiling then I got out to the parking lot and it was a traffic jam. One guy was having road rage.
This was the opposite of pleasant.
I think we've all been there though. Stressed. Trying to organize the house. The food. Make everything.
20+ Easy Entertaining Ideas for Thanksgiving
Be inspired by the grocery store. You don't just have to eat sprouts you can put them on your table! My Brussels sprout Thanksgiving table is from 2014 but I still love this fun and festive look.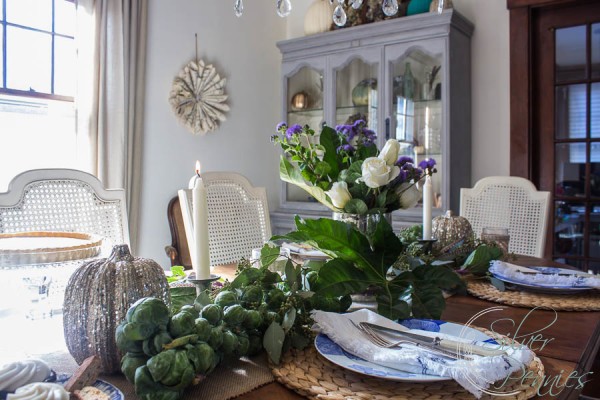 While we're talking about sprouts I have the BEST roasted Brussel's Sprouts recipe.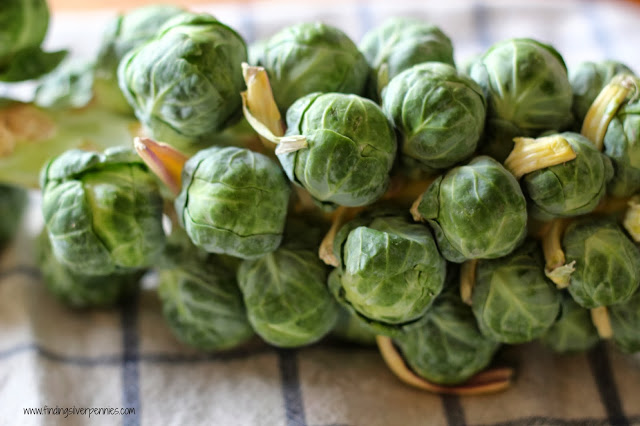 Why not fix your guests a drink when they arrive? This is my favorite G & T.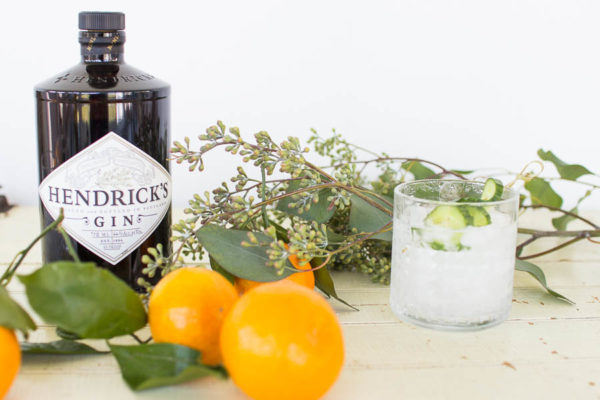 Forage in the backyard for some branches. They look pretty as a centerpiece. This was our fall tablescape last year.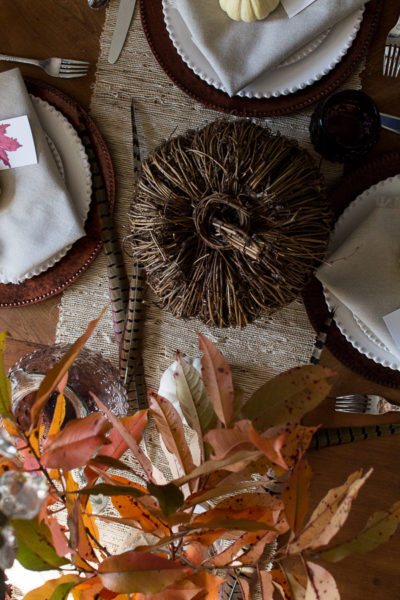 Speaking of leaves. This pretty maple leaf free printable is lovely on place settings. It's also available in my Society6 shop here (affiliate link) on many different items.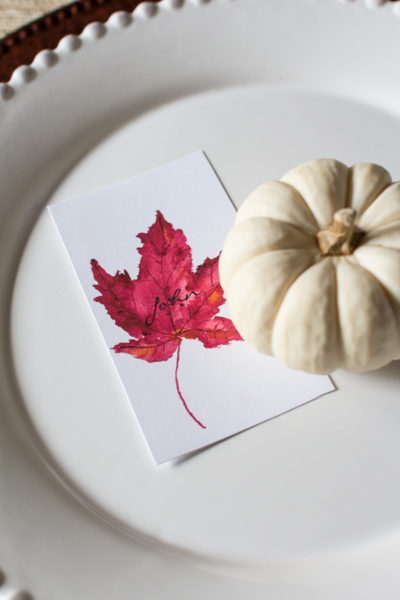 Give pumpkins a coastal look with Saltwash® Powder (affiliate link). I have a little tutorial for it here.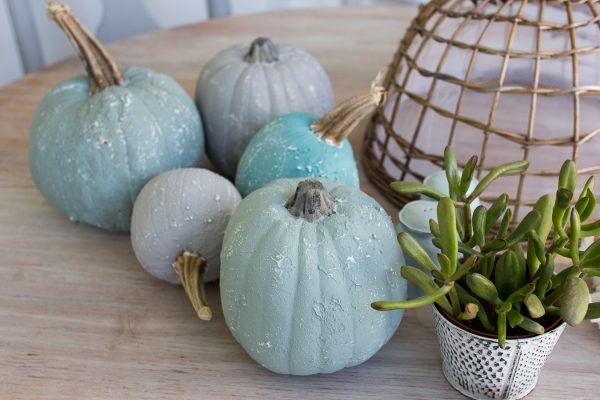 Use air plants as your center piece for Thanksgiving. It makes it so much easier to catch up with family and loves ones.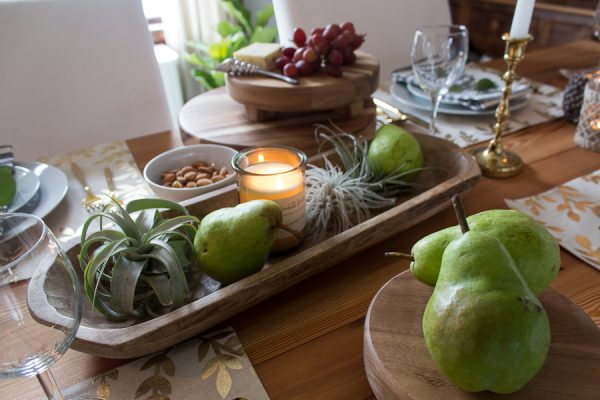 Warming butternut squash soup is healthy but also makes a lovely appetizers on Thanksgiving.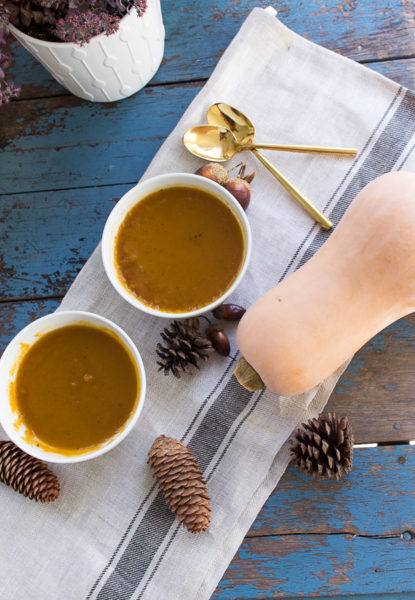 Decorate your front porch with wicker pumpkins. The twinkly lights make such a warm welcome for guest.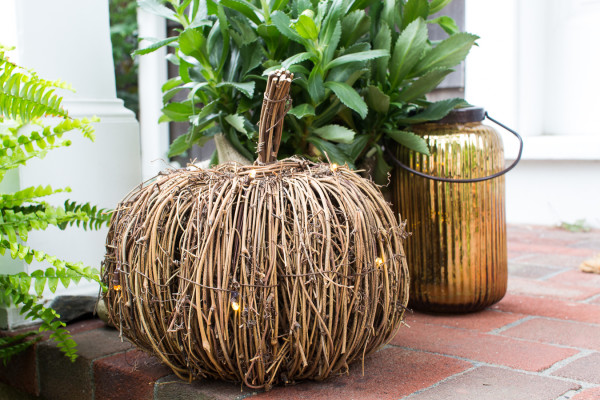 Poppy really loved these!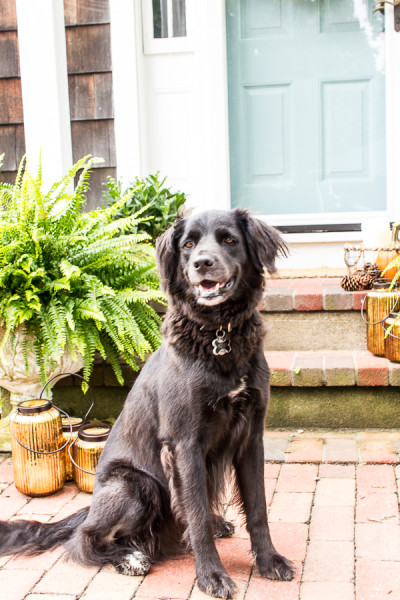 Paint some metallic pumpkins! They're sure to jazz up any tablescape.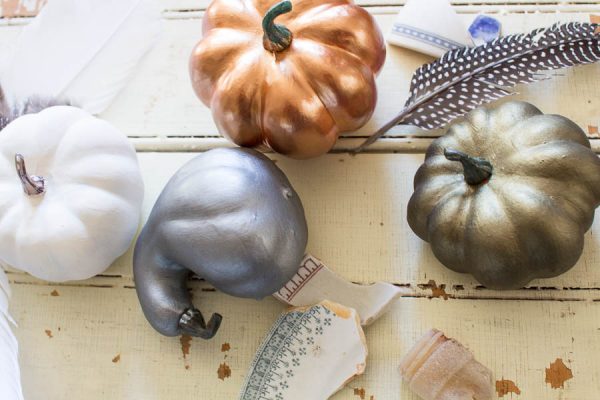 Set a simple tablescape with a striped runner and pretty Thanksgiving Place Card Free Printables you can include your menu on. You can see the free printable here and the tablescape here.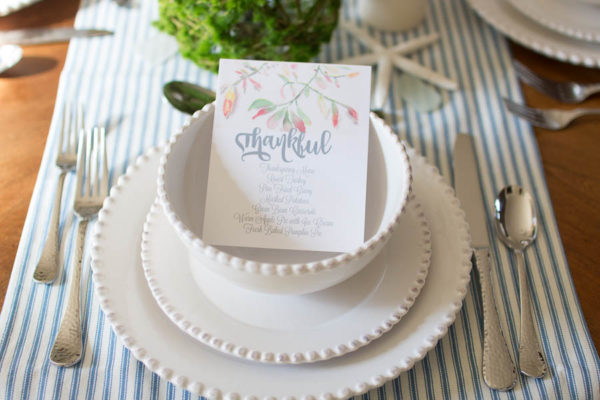 Dried hydrangea is also lovely to add to any tablescape.
Another cocktail I love that's also perfect for Thanksgiving. It's easy get these ready and chilling ahead of time are Moscow Mules. I also love the hammered copper mugs.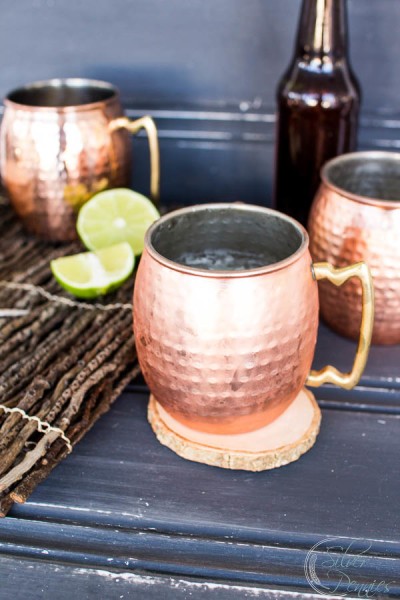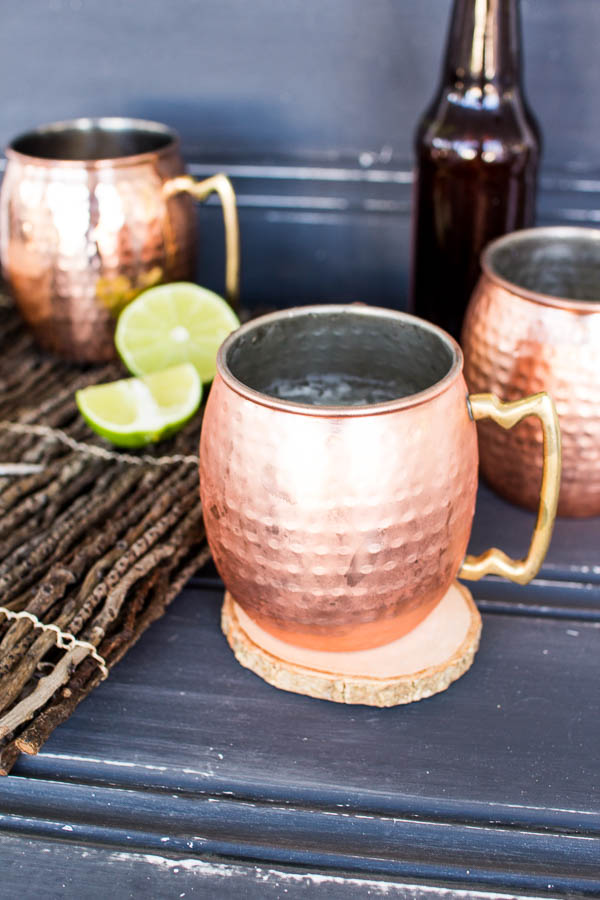 Pretty heirloom pumpkins and eucalyptus are inviting on the table. Easy and quick. You can get everything you need at the supermarket.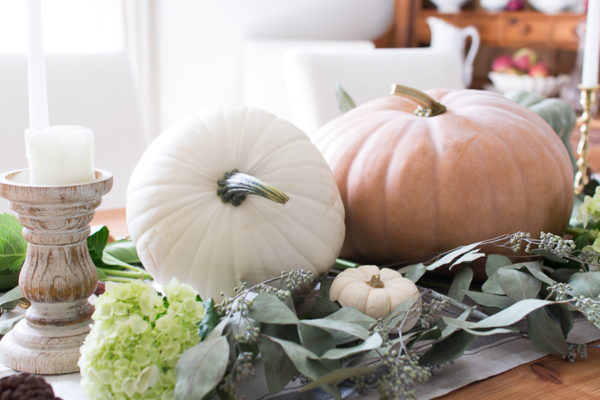 My Aunt Doris used to make the best Deviled Eggs. She wasn't really my aunt but an honorary one. This is a very old post so the photos aren't the best but the recipe really is wonderful so I had to share it again. So I'll skip a photo of the eggs and show you a picture of she shed decked out for fall but definitely save the recipe!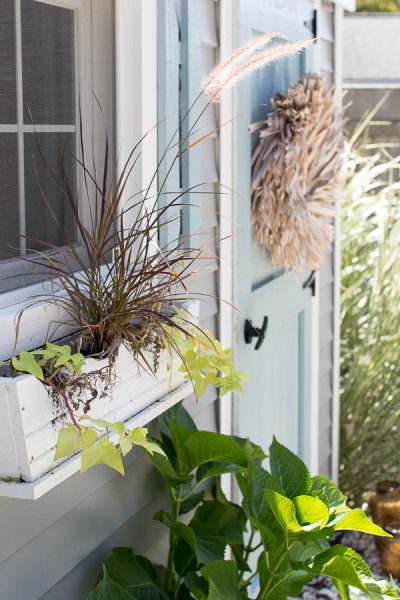 Make your own faux copper chargers. I used dollar store chargers and paint to create this look. Click here for the tutorial.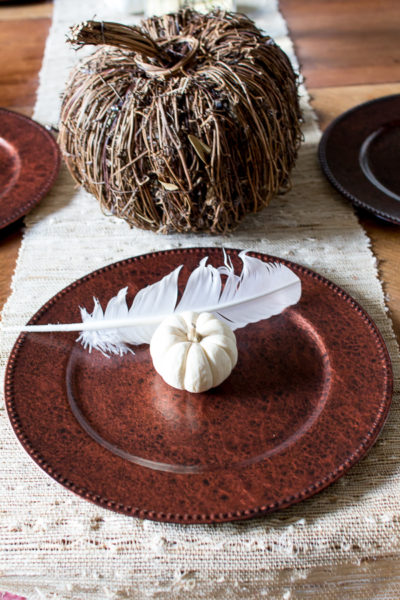 Apples are so lovely this time of year. Why not make my Grown Up Apple Crumble? It's so yummy!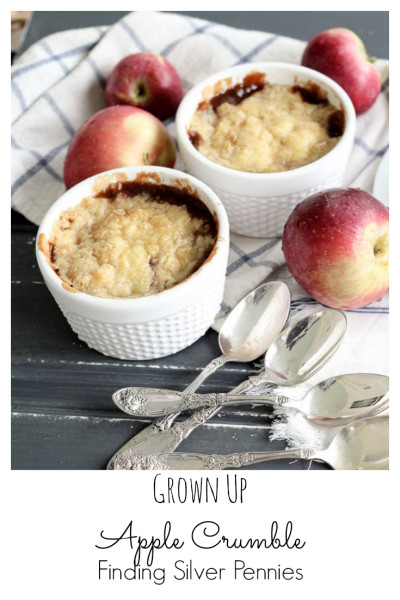 Speaking of apples you could do a whole tablescape full of them! I created a beautiful watercolor free printable click here for that. It's also available in my Society6 shop on all different items here (affiliate link).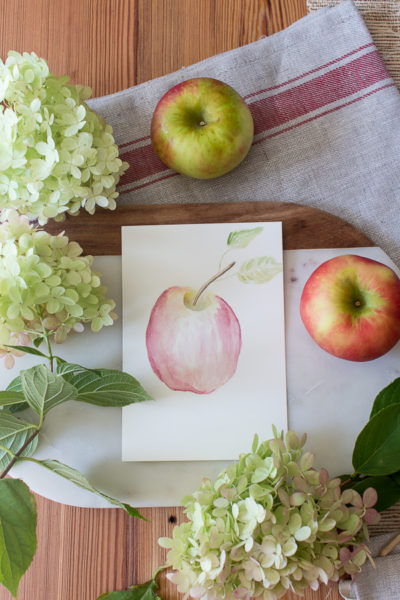 A peek at the whole tablescape: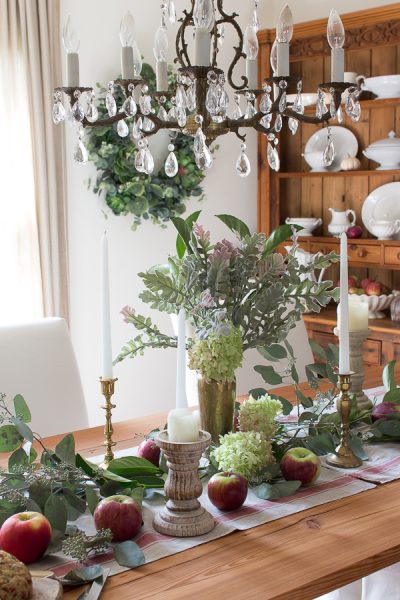 You could keep it simple with just eucalyptus on striped napkins: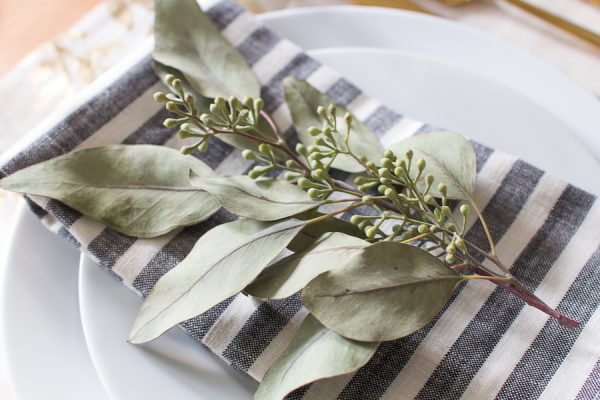 DIY Terrariums would be a fun centerpiece and would last for longer than fresh cut flowers.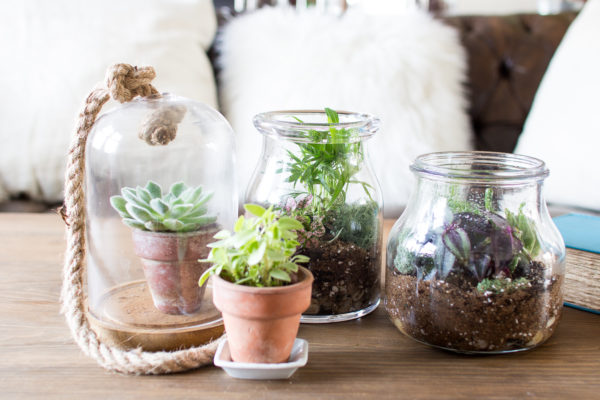 If you live somewhere warm enough a fun outdoor tablescape would be ideal! I wish we could sit out on our deck for thanksgiving.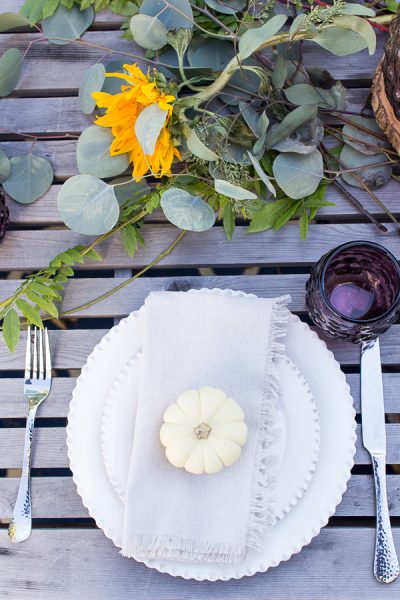 A chef's board is fun and easy to put together. Use your favorite meats, cheeses and jams.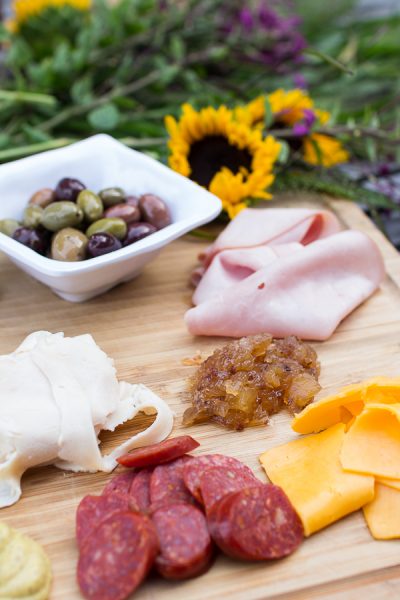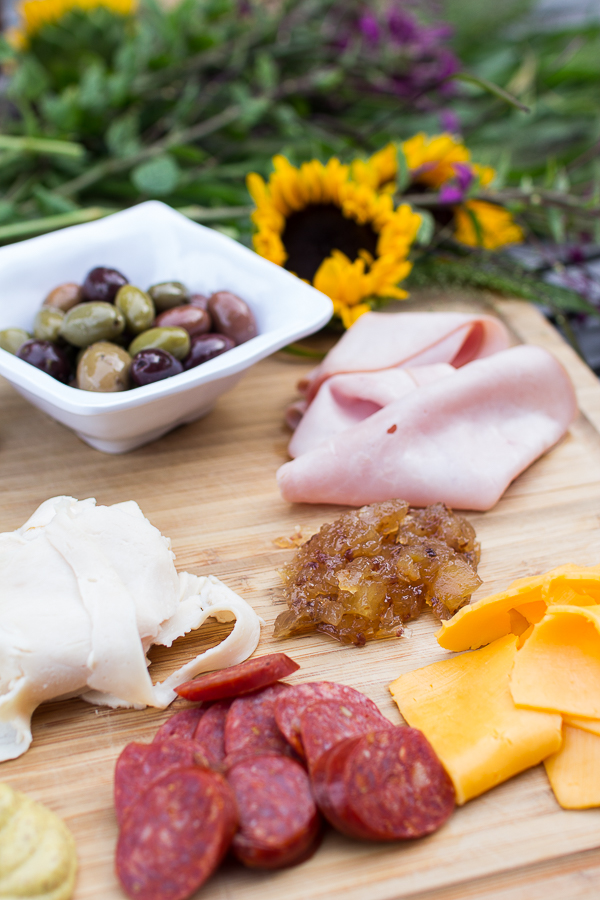 Lastly here's our Thanksgiving tablescape this year. I decided to keep it really simple with gold cutlery and Ikea plates that can go in the dishwasher. The slipcovered chairs look elegant but are easy to throw the covers in the washing machine if any gravy spills.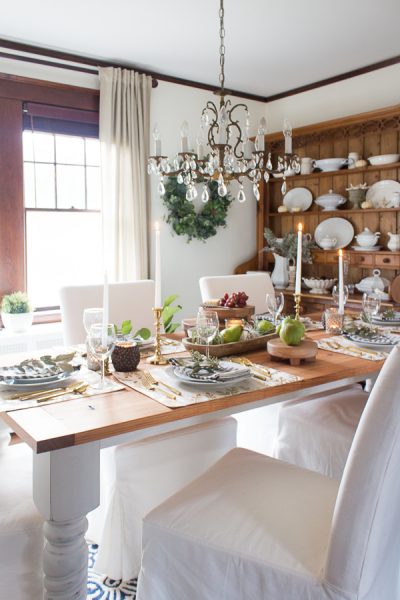 I'm wishing you all a wonderful and very relaxing Thanksgiving. I hope this post gave you a few ideas!
I'll be back on Saturday with my small business and a fun giveaway!