I'm a huge fan of soup, especially this time of year. I'm excited to share my homemade butternut squash soup recipe today!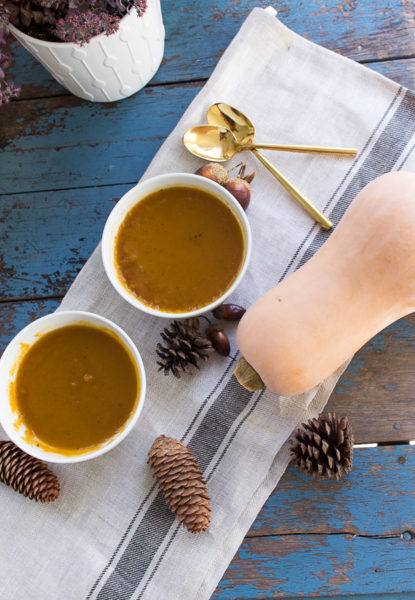 I'm also so excited to be taking part in a monthly blog tour called Cozy Living hosted by my friend Jennifer Zuri over at Town and Country Living Blog. Jennifer came up with the idea of sharing a post once a month on how we embrace hygge in our homes. Are you familiar with the term? Hygge – a danish word pronounced "hue-guh" translates to cozy contentment. How do we embrace hygge in our homes?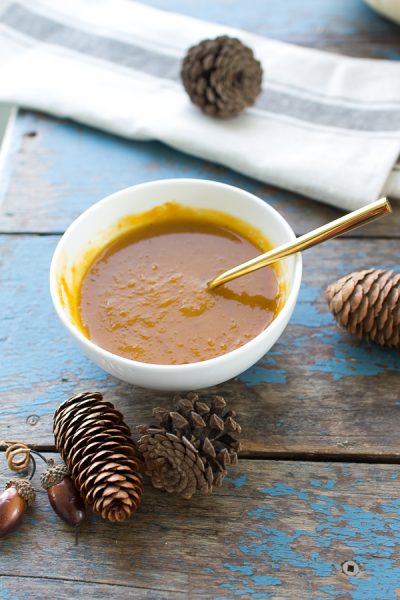 If you're new here I thought I'd give you a little introduction. We live in an historic home by the sea. I painted the shutters and doors blue because it's my favorite color. We live just up the hill from the harbor and life by the ocean is a bit slower. I think it must be something about that salt air…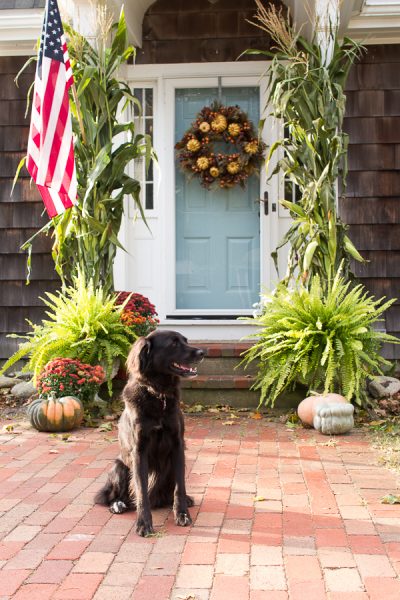 Our home is lived in, and loved, by our family which consists of my husband, our two boys – John (11) and Conor (8) and our two dogs – Poppy (7) and Max (1). Poppy is pictured above.
Here is the rest of my little family.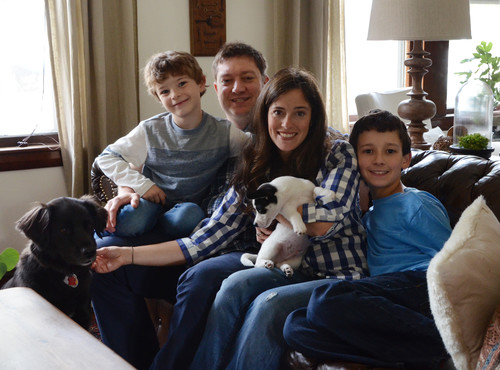 This is right after we adopted our puppy Max, he's now a bit bigger.
Anyway, our home isn't a magazine, it's real life.
There are messes most places.
There is lots of laughter.
Sparks of creativity.
But most importantly love.
Home is by far my favorite place to be. I like to keep things cozy and comfortable here. When people come into our home, I hope it feels like a big warm, bear hug 😉
One thing that I find so comforting is soup.
I have fond memories of going out for tomato soup with my dad after hours skating on a frozen pond. In my high school years I used to go to this one place with my mom and we'd chat over soup.
Now we love feasting on soup at Galley and The Lucky Finn while overlooking the Atlantic Ocean.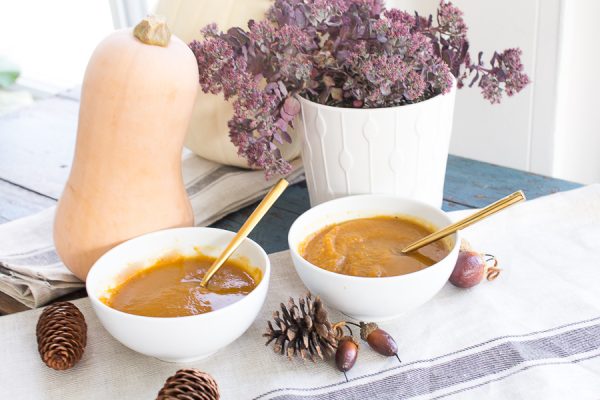 My husband works from home and we eat most lunches together.
The other day I made a big batch of butternut squash soup. The thing I love about this soup is it's so creamy but has no cream in it at all.
There's definitely a chill in the air here in New England so I've pulled on my jeans, traded my flip flops for boots and am sporting my favorite cashmere sweater.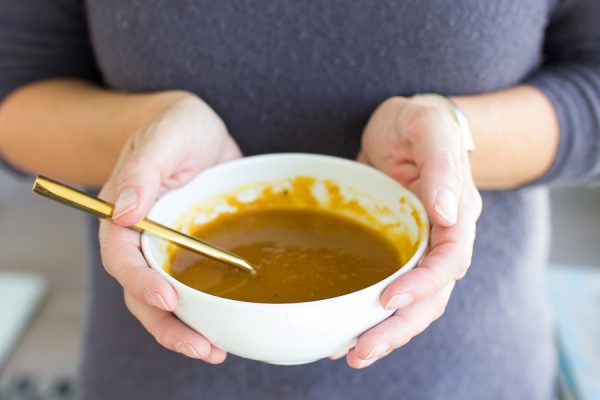 This soup is love in a bowl.
I roasted the squash first which made it carmelized and sweet. The house smelled amazing. So warm and inviting as you can imagine.
Then I simmered onions, chicken broth and the roasted butternut squash. Pureeing it once it was ready with a touch of salt and pepper.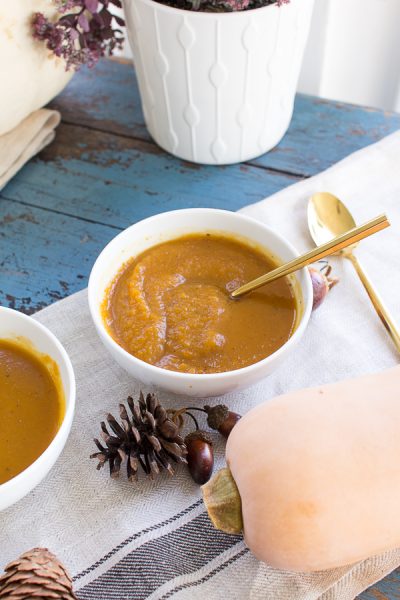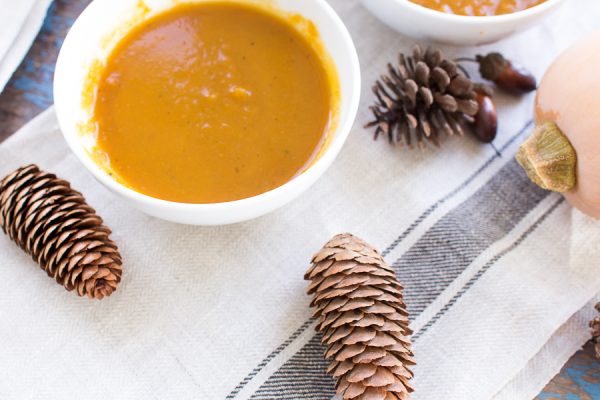 It's so pretty and such a pleasing fall color. I think it would be perfect for Thanksgiving! Or, you know, just for your family on a weekend to say I love you. A recipe card is below. We're currently on the Whole30 and this recipe is fine if you're on that too. We did it a few years ago and thought it would be a good idea to get on track food wise before the indulgence of the holidays. You might also like this hearty ratatouille I shared the other week. Another favorite of mine.
Here's the recipe card:
Cozy Butternut Squash Soup
Soup is love in a bowl. This is an autumn classic using roasted butternut squash. Squash is abundant this time of year and smells wonderful. Perfect for an easy meal or Thanksgiving!
Author:
Danielle Driscoll
Ingredients
Butternut Squash
Olive Oil
Onion
Ghee (we used homemade Ghee)
Chicken Stock
Salt and Pepper (to taste)
Instructions
Preheat your oven to 425 degrees F. While the oven is heating, peel the butternut squash and clean out the seeds. Chop the squash into large pieces.
Drizzle olive oil on the pan over squash and season with salt and pepper. Toss to coat the squash. Roast in oven for 30 minutes or until golden brown. Roasting the squash makes it super sweet.
While the squash cooks in the oven, chop an onion.
When the squash is finished, heat ghee in a heavy bottomed pot on medium heat. Add an onion and sautee until soft, add the butternut squash and three cups of chicken stock, stir to combined.
Simmer for about 30 minutes and puree to serve.
Serve as is or you can add some heavy cream, chopped parsley or toasted pumpkin seeds.
I hope you enjoy this soup and enjoy this tour. Please let me know if you make the soup at home.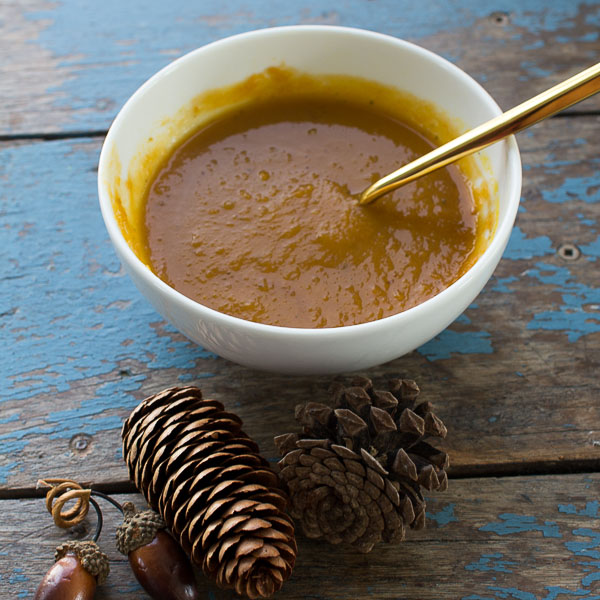 Be sure to visit my friends below:
AKA Design | Bless'er House | Duke Manor Farmhouse | Finding Silver Pennies
Flat Creek Farmhouse | Little Glass Jar | Making It in the Mountains | Sincerely, Marie Designs