It's very exciting having a magazine come to photograph your home. We have been lucky enough to be featured in a few, but this was our first time having Romantic Country come to our home.
As you can imagine, we've been trying to get our home "magazine ready" for about 6 weeks (longer if you include building the dining table). When I'm doing photos for the blog, I don't have to tidy up the whole house but, for the shoot, I did. I didn't know which rooms they'd photograph or if they'd do outside.
So what is it like to have Romantic Country in your home?
Amazing!
There's nothing like spending a day with Fifi O'Neill in your home! For those that don't know she's a stylist, writer, founder and executive editor for four national magazines including Prairie Style, Romantic Country, Tuscan Home and French Country Style.  I met her a few years ago at a book launch down in Rhode Island for Prairie Style Weddings. It's a great book by the way!
Anyway, Fifi pulled up in her rental car with photographer, Mark Lohman, and their assistant, Mark's son, Taylor. They arrived bright and early, just after 9am and the sun was shining here in Scituate (thankfully).
Before they arrived I was doing last minute cleaning, and putting on all the freshly washed bedding and new linen slipcovers for the white Ikea chairs in our living room. I just didn't want dog hair or footprints on anything. I also was preparing fresh fruit and coffee so they'd have refreshments while working. They boys were trying to stay out of the way as it was a Sunday.
They bring LOTS of flowers
Fifi had a bucket full of flowers for our shoot and they all were so lovely!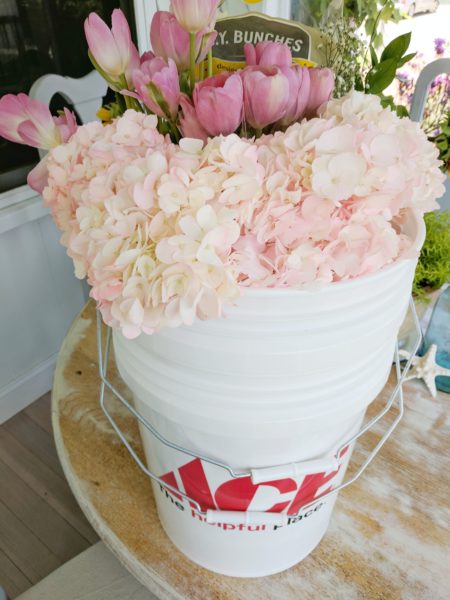 Aren't these pale pink hydrangeas stunning? I LOVE them. She also used those tulips, some gorgeous peonies, fresh greenery and she cut some branches in our yard too. Flowers were placed on tables, but also put in ironstone, mason jars, bottles, vases etc. One tip from Fifi – "Don't just limit your flower arranging to vases."
They Bring Food You Probably Don't Want to Eat
Along with cameras and lighting equipment they also brought food. LOTS and LOTS of food. I think there were 4 bags in all.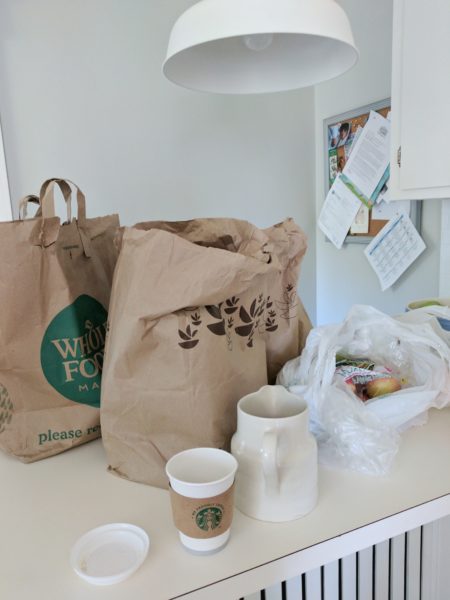 This is all food for staging. Pictures of a home feel more cozy and inviting if the pictures have life in them. Instead of an empty dining table you may see fresh fruit and some glasses with something pretty. The kitchen counter will have a loaf of bread and some cheese along with cookies for the kids. I helped Fifi a little here and there, getting items from the basement or other rooms. I was so surprised when I grabbed the bread it was rock hard. Guess we don't want to eat the peasant loaf! Max actually got hold of the block of cheese because we moved these bags into the sunroom when they were photographing the kitchen. I looked out the window and saw Max racing around the yard with what looked like a sponge, but it was Fifi's cheese! (sigh). Don't worry she laughed. Good thing she's an animal lover!
So what happens first?
After giving Fifi a big hug and saying hi to everyone I walked her around our home. I took her room by room and told her a bit about each space. As we walked she decided mentally what would work for Romantic Country noticing decorative elements in each room. Then she walked through with Mark to decide the order of the shoot. They were going to start in our bedroom but decided to downstairs once I said that our dining room gets afternoon sun.
Setting Up Shots
Mark would take a photo to make sure the framing was right. Then he'd take a series of photos of the room as Fifi styled and then she would add items or take things away based on what she saw on the screen.
Here's an example of our dining room.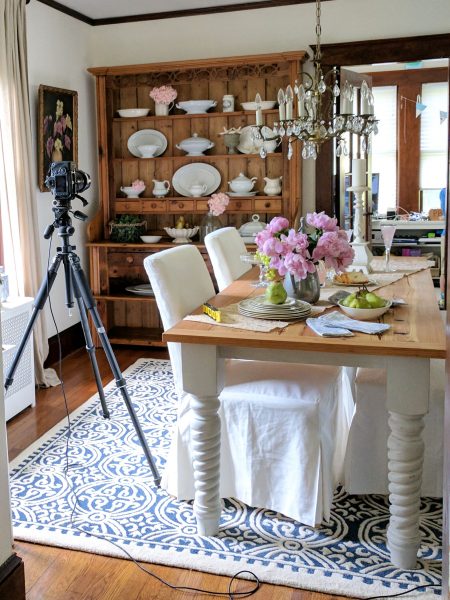 You can see the position of the camera on the tripod. Fifi layered the table with fresh fruit, pink lemonade and moved two dining chairs out of the room to make space. She placed those pale pink hydrangeas in ironstone in our Welsh dresser and bunched some peonies in a pewter pitcher that my grandmother gave my mom.
Small little changes would be noted and photographed until the image was just right, like tilting a pitcher or adding a pear.
Hoarding Tendencies Might Be a Good Thing if a Magazine Comes to Your Home
Okay, I was slightly mortified for Fifi and Taylor to see our messy basement (yes, it's still a mess, but we'll be working on it now that the shoot is done). I have so much extra decorating stuff down in the basement that came in handy for the shoot like vintage ball jars, scatter rugs, paintings, frames, candle holders, bottles driftwood garlands. Pretty much you name it and it's in our basement somewhere!
They Shoot Tethered
Shooting tethered means you have your camera attached to your laptop so you can see the photo larger as it would look on your screen. Mark had it automatically go to Lightroom, a photo editing software, and would lightly edit the photo to make sure they had a finalized shot.
He gave me a good trick in Lightroom, if you're looking or editing photos in Lightroom, you can hit the "F" key and it will enlarge the photo and put a black background under the photo. This is now my favorite tool 😉
Here you can see photo looking at one of the shots in Lightroom.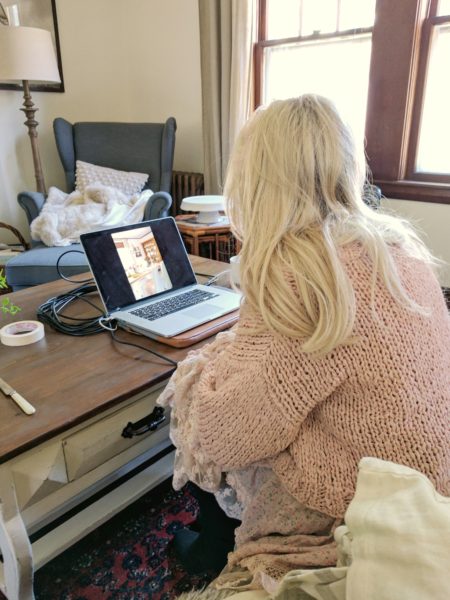 Mark recommends editing in a darker room so you can make sure the photos are good for light and color. I think I might start shooting tethered.
Styling for a Photo is Different than Styling a Home for Real Life
It was amazing to see how Fifi would move things about our home. The painting from the guest room was put in the dining room. The white chairs were placed in front of the fireplace and my chippy blue table was placed between them with lots of blue bottles. Our bedside shell lamps were put on the chippy white Isla dresser. Fifi can look at a vignette and just know what is missing by tweaking it ever so slightly.
I wish I took more photos, but I was so engrossed in what they were doing and watching the whole process. They were here for a full day and I learned so much.
I'm so grateful to Fifi and Mark for sharing so much of their knowledge with me on the shoot. They are both so talented and enjoy their jobs. It was fun to watch them work together. I had so much fun chatting to Taylor too. It was really interesting to learn about their travels and see some of the other shoots they'd done on this trip.
A huge thank you to Fifi for thinking of me and my blog for her magazine. I also need to say a HUGE thank you to my kids and husband for helping me get ready for this shoot. Luke has been a star! We've planted grass, mulched and he shoveled two yards of crushed shells into the she shed patio. I don't know what I'd do without their support.
Before they left, I asked Fifi if we could get a photo together: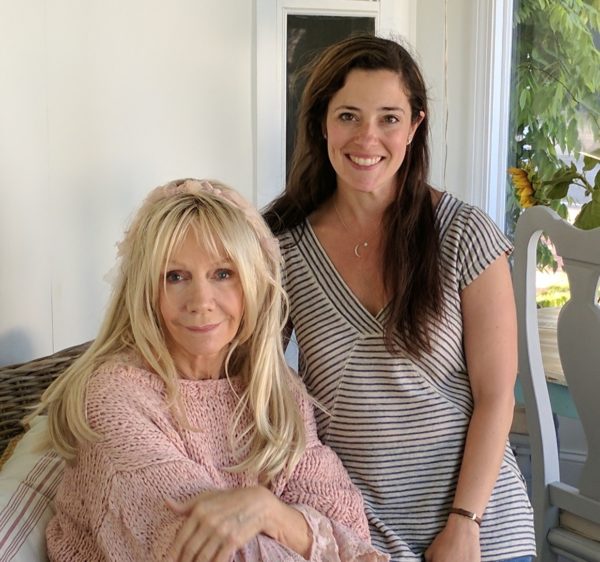 Taylor snapped this in the sunroom as they were packing up.
It was a fun day! A dream coming true to have Fifi in my home styling it for her magazine. When I started my blog I never thought I'd have Fifi photographing it for Romantic Country.
Our home will be featured in the Spring or Summer 2018 issue of Romantic Country, but I'll let you guys know when it's on newsstands! Eeek! Next year can't come fast enough!
Be sure to following along with Fifi if you don't already.
You can find her on Instagram and Facebook.
Here's a peek at her gorgeous home – in LOVE with it.
You can also following along with me on Instagram and Facebook too.