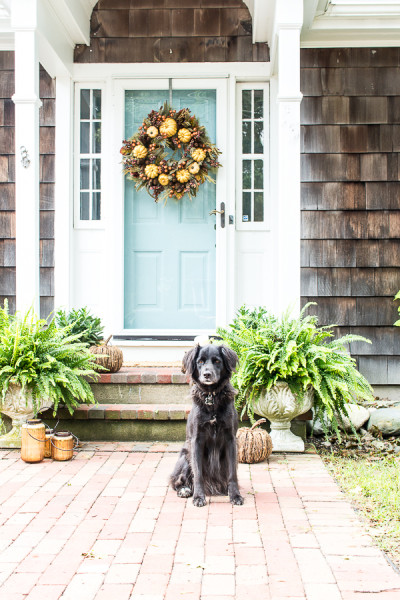 Happy 1st Day of Fall! Poppy wanted to help welcome you to our home! Today I'm sharing with you how to create a welcoming front porch for fall. I'm so excited to share all the details, even though it was considerably warmer than our typical New England fall weather when I took these photos.
I LOVE changing up our entry with the seasons. Today is even more exciting, because I've teamed up with Balsam Hill and 5 other lovely bloggers to share some ideas for fall, using Balsam Hill's brand new fall product line! A huge thank you to my friend Courtney over at French Country Cottage for organizing this "Fall in Love" Blog Hop! If you'r stopping by from her blog, welcome to our coastal New England home.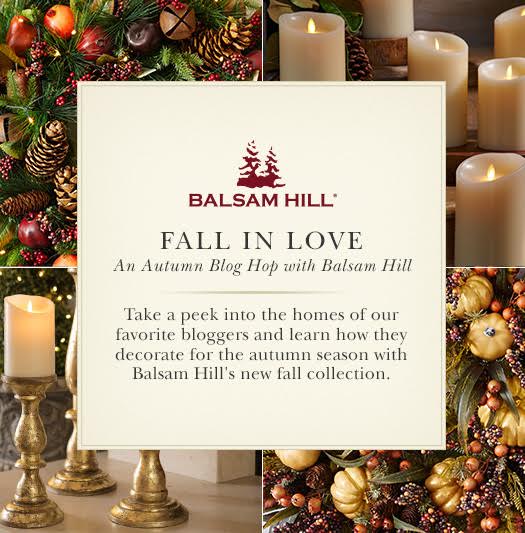 Balsam Hill sent us some products to try out in our own homes and it was so fun to play with some new stuff!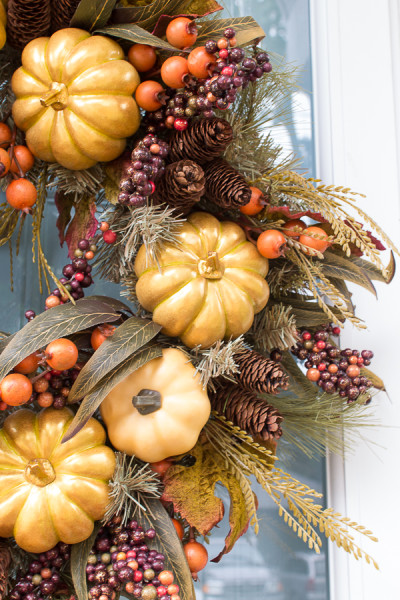 As I told you in my home tour post, I'm really trying to incorporate some warmer tones and hints of orange and copper in our home this year. I loved how this wreath, Autumn's Bounty, paired greenery with copper pumpkins and warm hued berries. I'm so impressed by how full the wreath is (which is why I hung it outside of our door) and by how realistic the greenery looks. It makes quite the statement!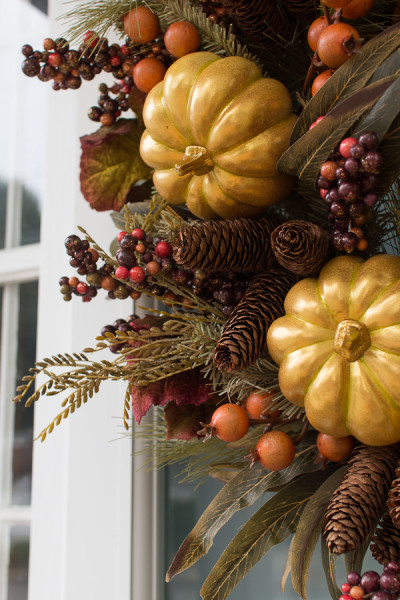 It's so beautiful and really pops against our blue door. I also really loved this fall berry wreath by Balsam Hill. I think it would look stunning on a blue door, like ours, or glossy black, very classic!
Here by the coast, life is really simple and easy going and I like to keep my decor the same way.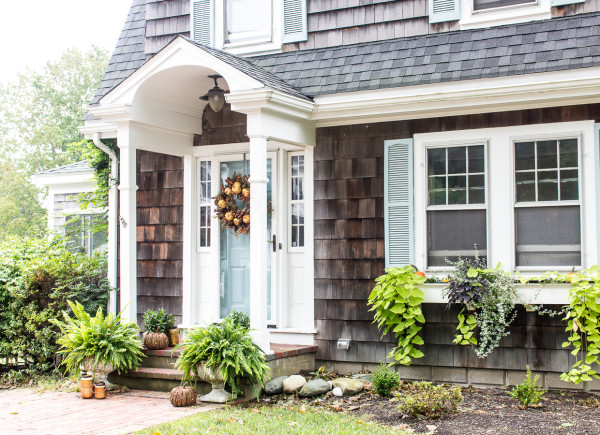 I love lush greenery both inside and out. Our grass is looking a little sad because we're going through a drought but my window boxes are still going strong. The potato vines are from the summer and I added ornamental kale, peppers and some sugar pumpkins.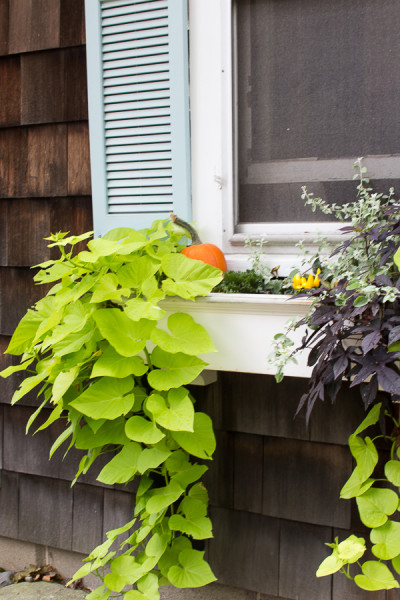 I love when the vines trail like this.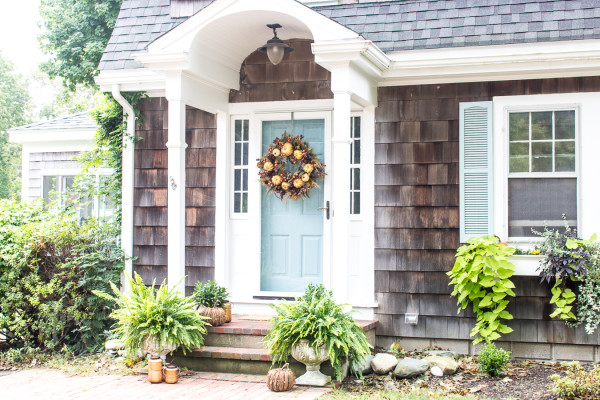 Our ferns, from the summer, are still doing very well too! I added some Montauk daisies from the grocery store which I will plant out in our yard before the frost. I can't wait 'til their white blooms pop open.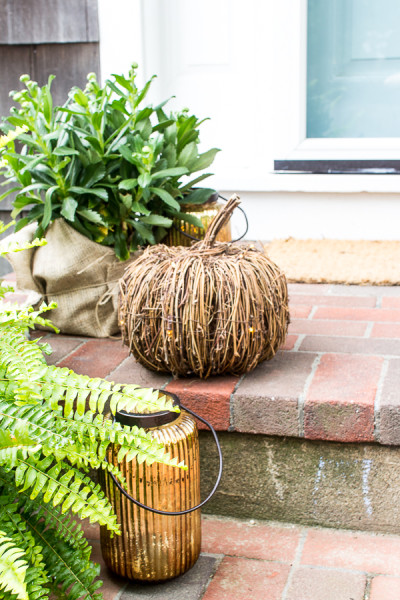 I wrapped some burlap around them and tied it with twine. These sweet twig pumpkins are perfect to add a little festive touch to your home inside or out. I stole some batteries from my kids video game controllers and switch them on. Don't they look sweet?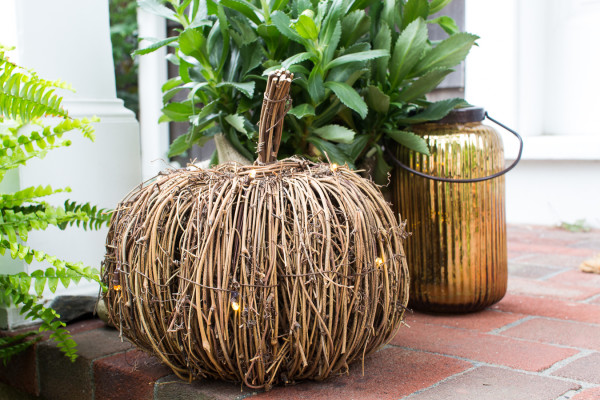 The fairy lights are just so magical. Luke thought they looked so beautiful when he arrived home in the dark welcomed by their twinkly glow. I like that these can be used inside and outside (they should be covered if outside) and that you can use them for early fall, Halloween and into Thanksgiving!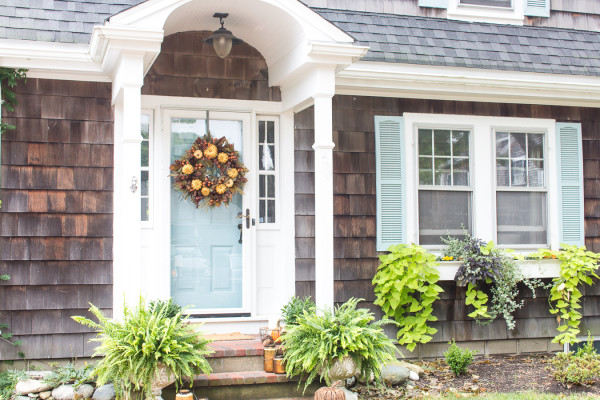 Oh, you want to know more about the lanterns? Aren't they pretty?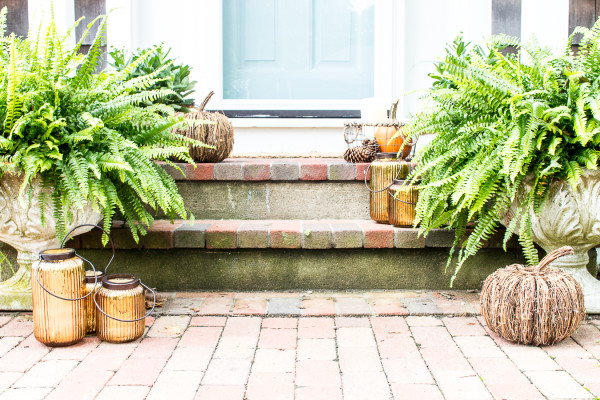 They are the copper mercury glass lantern and come in two sizes. I've grouped them in odd numbers and varied the height for visual interest. These lanterns look so pretty sparkling in the sunshine but they also look beautiful at night with candles flickering inside them. They make such a warm welcome for company arriving!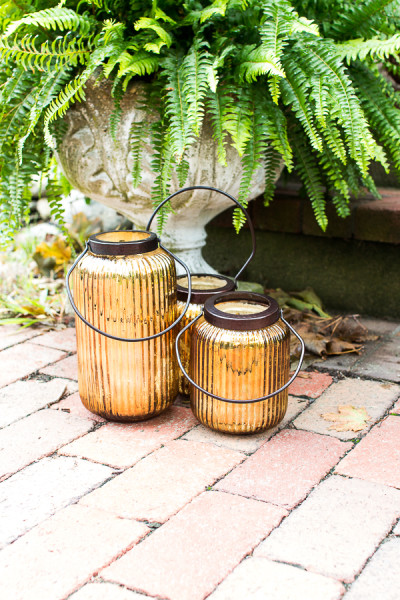 Or maybe just to welcome your own family.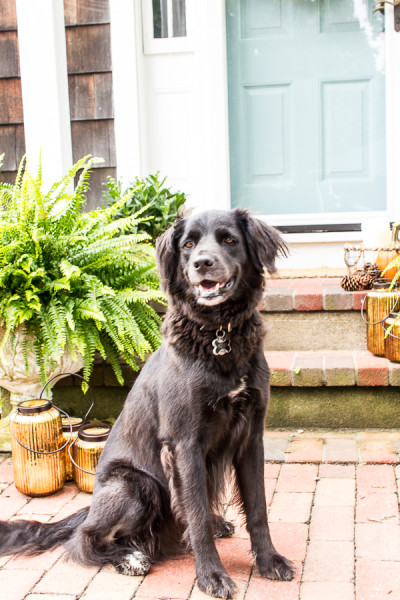 Balsam Hill also has a wonderful array of candles that are made with wax but are artificial so you don't need to worry about the danger of fires. They offer indoor and outdoor and these gorgeous drippy ones that I have my heart set on. All can be turned on with a remote control and the artificial flame flickers. It's so pretty!
I placed a large miracle flame pillar in a wire basket with some scented pine cones, which I will certainly be using on tabletops this Christmas too.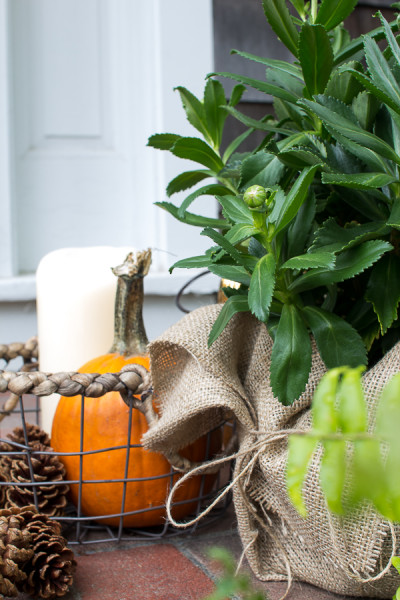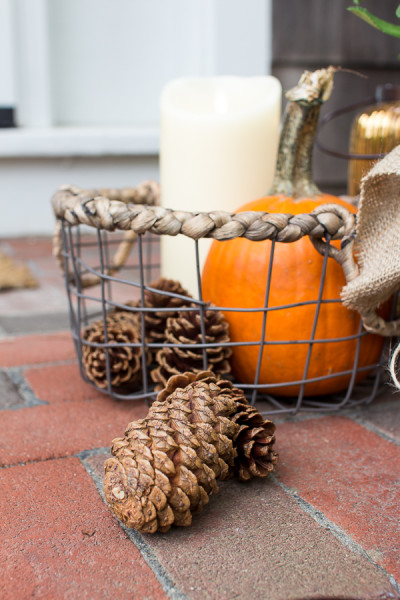 A view from above: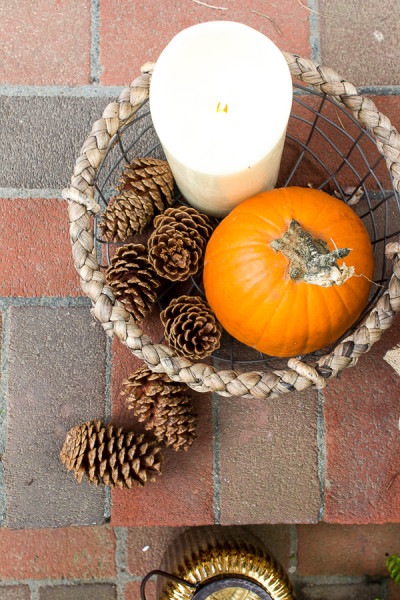 I hope this gave you some ideas of how to create a welcoming front porch.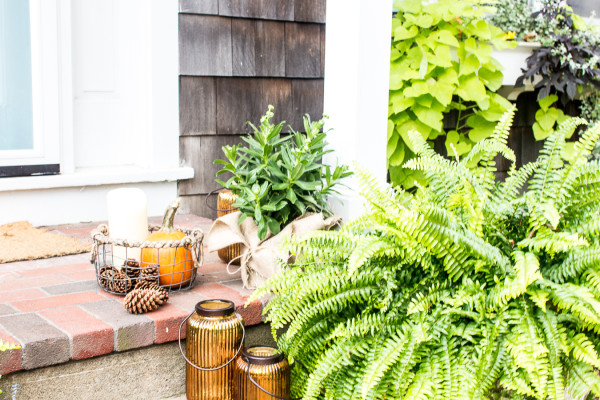 Balsam Hill has such beautiful items for your home, unfortunately Poppy isn't in the catalog 😉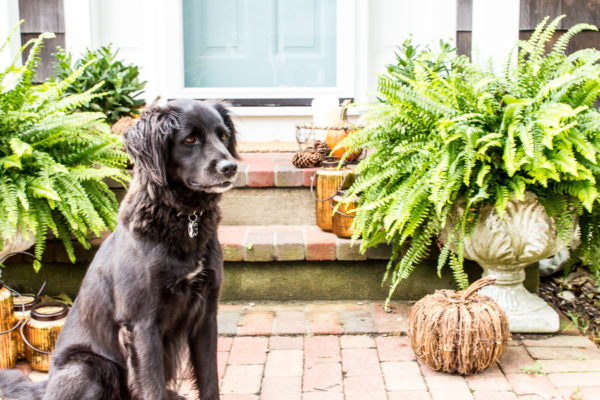 What did you guys like best? How are you decorating for fall?

Next up on the tour is Kim over at Sand & Sisal!
Be sure to check out all the posts by my friends also taking part in this tour: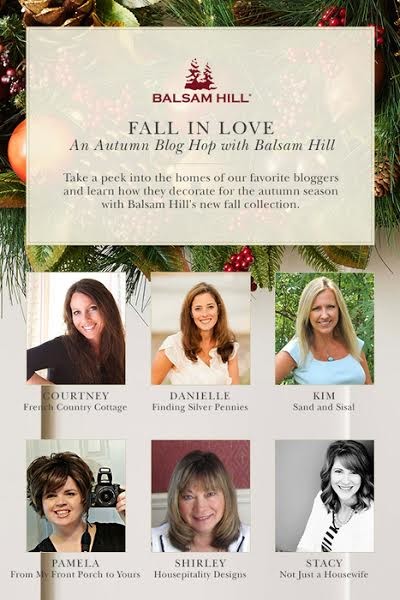 Thursday
French Country Cottage * Finding Silver Pennies * Sand & Sisal
Friday
From My Front Porch to Yours * Housepitality Designs * Not Just a Housewife
Saturday
Sharing with: