Sometimes I get a bee in my bonnet.  I get antsy and want a room done over, NOW!  I've decided that this room: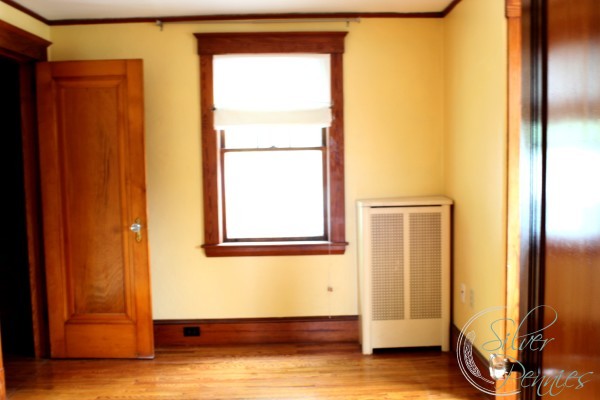 Is getting a makeover this spring!  This was Luke's office (and he uses it if he needs to work from home), but I've now taken it over.  This poor room has become a bit of a dumping ground for everything.  The above photo was the day we moved in (May, 2013).
This room is going to get a complete overhaul.  It's times like these when I wish life could be like an Ikea ad and walls could be painted with a snap and furniture and pictures could place themselves.  BUT we all know life doesn't work like that.
For me, this room is going to be my creative space.  I have the basement to paint furniture, but this room will be for sketching, writing, blogging, watercolor and crafts.  I want a space that is whimsical and functional.  Here is some inspiration I've pinned on Pinterest.
This is the studio of Francois Houtin.  I love the feeling of this room. So much art and inspiration! To me it feels like anything creative is possible in this room.
Shanty 2 Chic built these gorgeous floating shelves and thought this would be a nice addition to the office walls.
I love the mix of neutral walls, fresh plants and the chandelier.
Another pretty chandelier:
I'd love to incorporate my driftwood collection:
Warm wood tones:
Plans for the Office / Studio
I'm going for a French / nautical / industrial look in my office.  I am not a HUGE fan of yellow so the first thing will be to paint the walls and the radiator cover in Benjamin Moore's Revere Pewter.  This is a warm gray, that will be comforting and nurturing.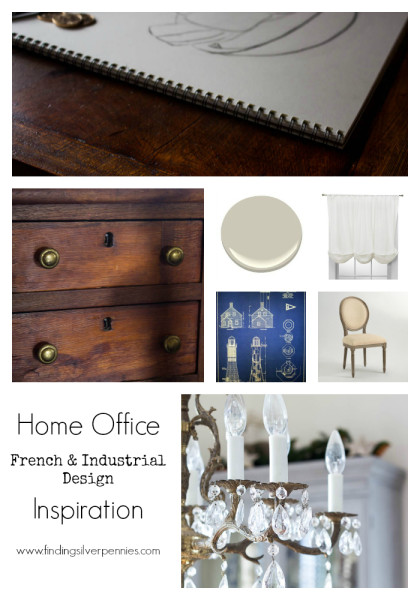 My husband found a gorgeous brass and crystal chandelier at our "take it or leave it" at the dump.  It is similar to the one we have in our dining room, but smaller.  He needs to rewire it and then it will cast the office (hopefully) in a romantic glow.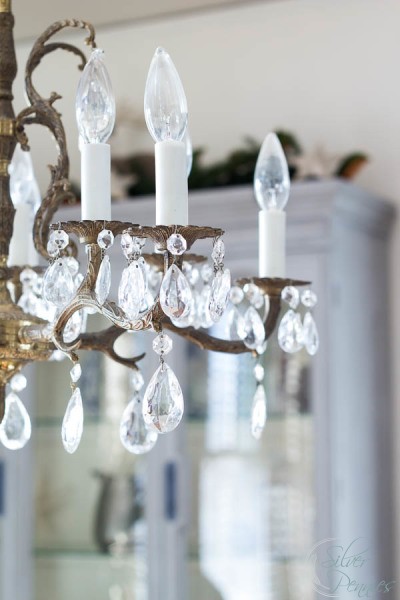 Simple, shabby chic curtains will hang on the windows, allowing plenty of natural light to enter.
The French chair is from World Market.  I had searched and searched for vintage ones but couldn't find any the right height or style.  These are perfect and so heavy.  They are covered in linen fabric.  You may have seen one of these chairs when I shared the secretary last week here.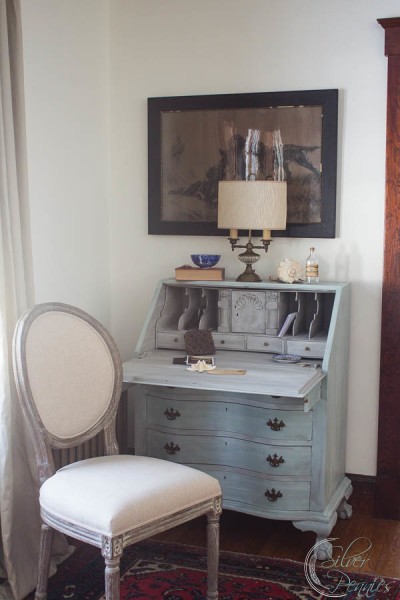 I found a gorgeous plantation desk from Gentleman & Daughter from the 1840s.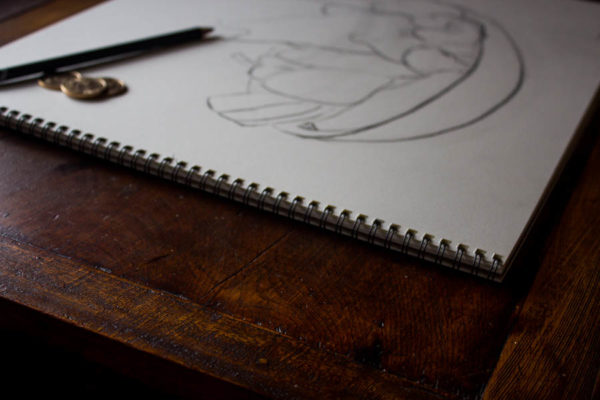 The patina on this piece is gorgeous and will look amazing against the warm gray walls. This desk has a section to store papers and drawing inside.
I'm partial to the brass pulls.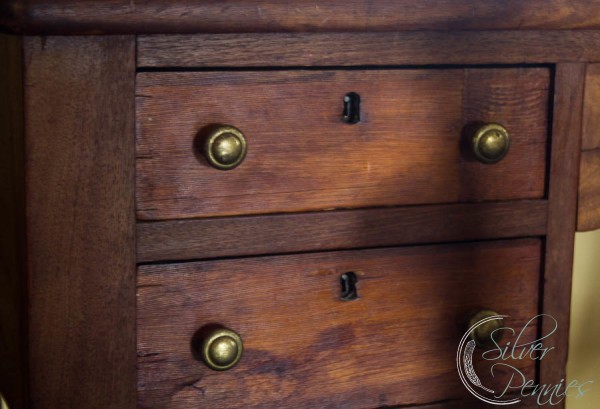 Finally, I found some old blue prints in the basement. I don't know if you remember the letter we found  to the original owner of our home, Murray Trefry.  Well, after some research, I've found that he was a builder and we uncovered some of his designs in the basement.  His blueprints have the same look as these, but they are of buildings in Scituate.  I found drawings from the 20s and 30s and I plan to have them preserved and framed.
Now all I need to do is get to work on this room (easier said, then done)!