To sit by a roaring fire is a noble past time. Read on for my ideas for cozy afternoons by the fire.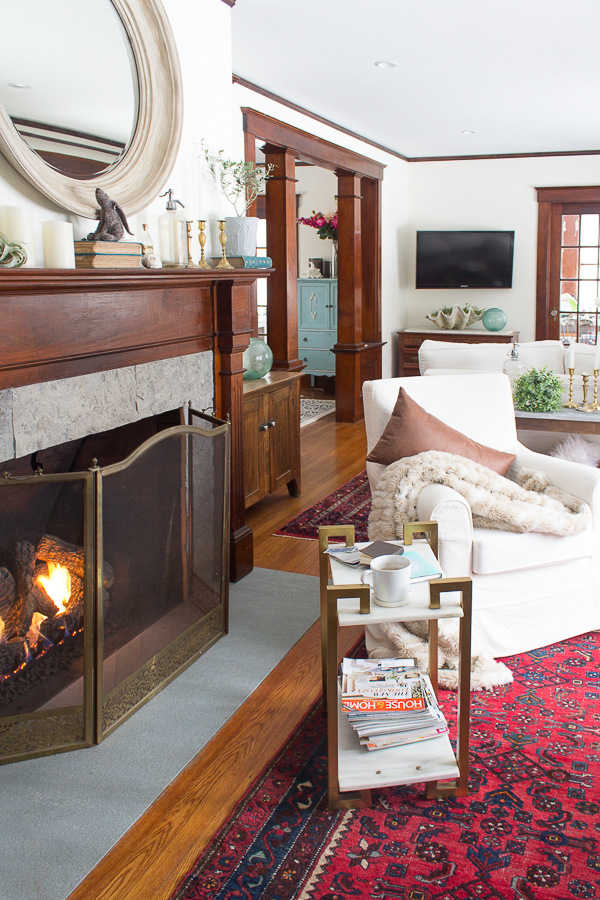 Last month, we redid our fireplace. We refaced it and had ventless gas logs installed. You can read the full post here. I'd always, always dreamed of having a working fireplace in this room. Prior to doing it over, this spot was very dark. The dark bricks and cracked brown tile absorbed all the light. Every time I'd look at the fireplace, I'd cringe and think of all the ways it could be better.
It turned out better than I could have even imagined!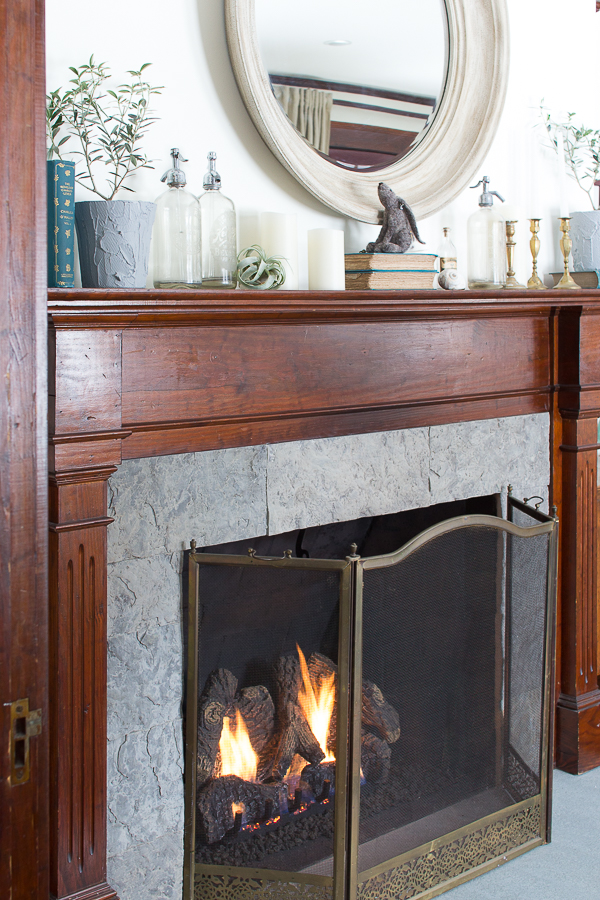 I now seek out time to spend in here. It has become a focal point of our living room but also such a relaxing spot for our whole family. A place to slow down and enjoy the warmth of the fire on cold winter days and to slow down. It optimizes cozy living and hygge. I thought what a perfect spot to share with you for our February installment of the Cozy Living series organized by my friend Jennifer at Town and Country Living.
Here are some Ideas for a Cozy Afternoon by the Fire
This post contains a few affiliate links for your convenience, you can read our full disclosure policy here.
Add Olive Plants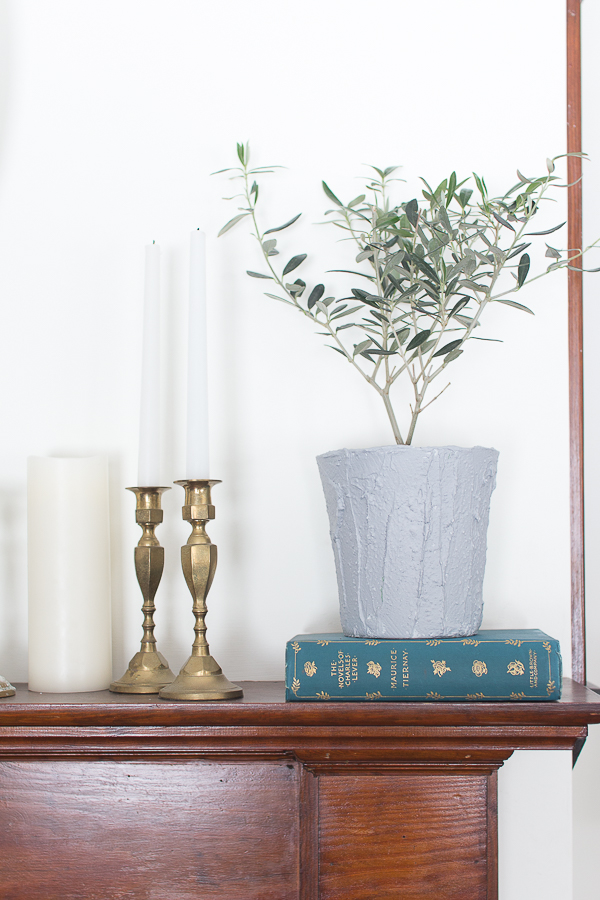 Did you know the olive plant symbolizes peace and friendship? It may be a nice gift for someone this winter or Valentine's Day. I actually found my olive plants at the grocery store. Can you believe these were $7.99 each? I love the silvery green leaves and I think they work so nicely with the neutral decor in our home. The pots are actually plastic and I gave them a faux concrete look with Saltwash® Powder and some paint. I'll share the full tutorial with you in another post.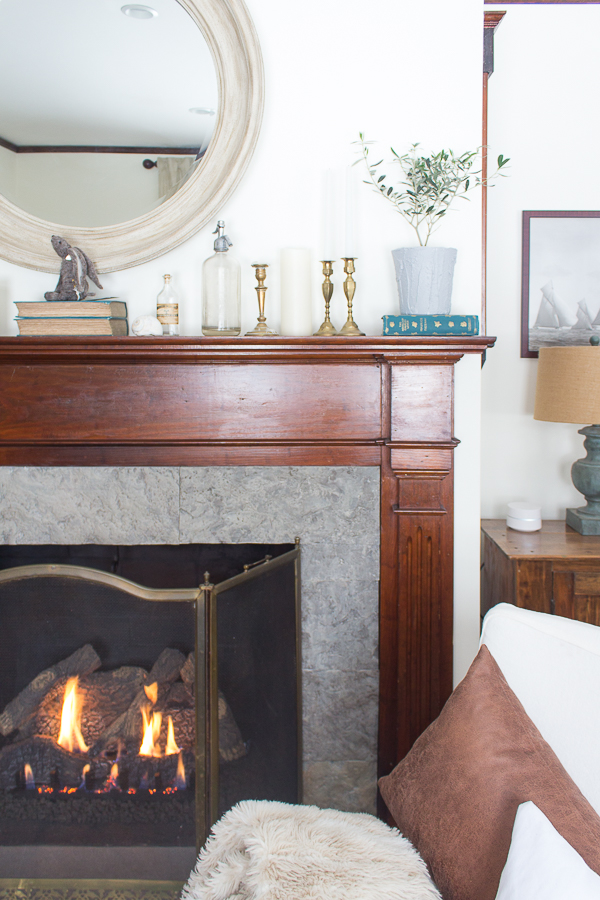 Also on the mantel are vintage seltzer bottles, antique books, treasures from the beach and a hand felted bunny from my sister in law in England. Isn't he sweet?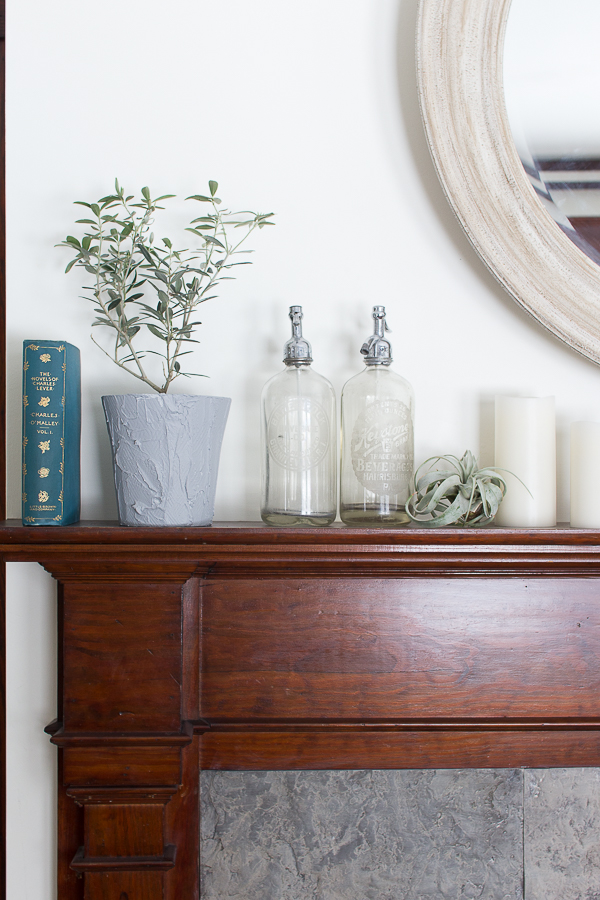 Airplants add texture in a natural way
I've tucked a few air plants here and there to make our space feel even more cozy. I love how easy these plants are to look after. It's okay if you forget to water them. You just have to spritz when you remember.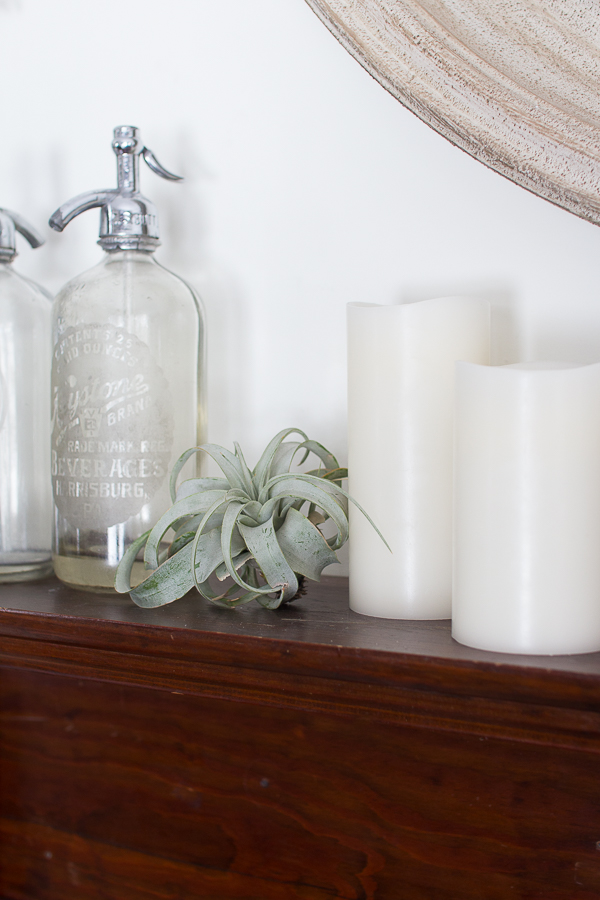 Writing Letters and Notes
For Christmas Luke and the boys gave me notecards from Felix Dolittle and I also have some I painted in watercolor. You can see my Society6 shop here. I so love writing letters by the warmth of the fire.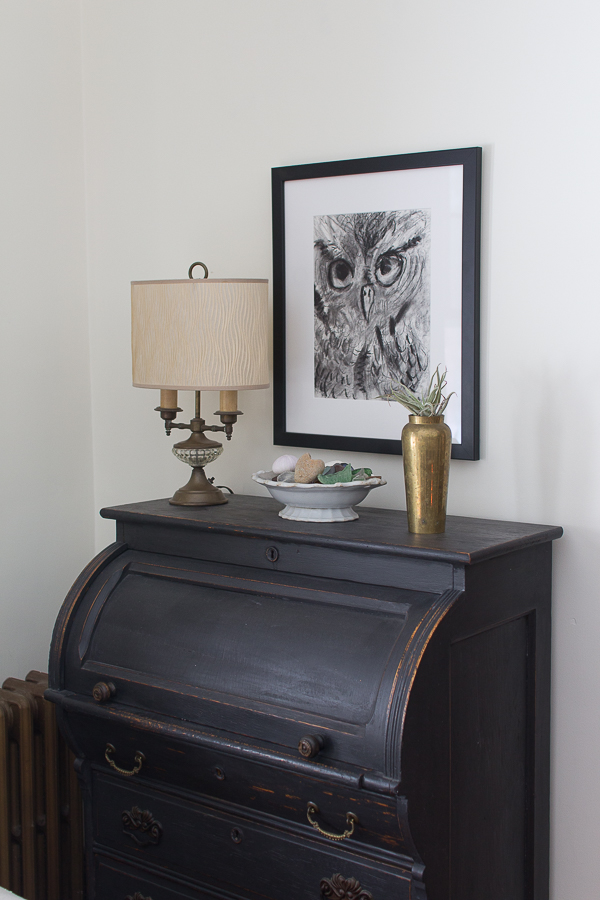 My oldest drew the owl and I just love it. You can see there's another air plant in a brass vase I found at the thrift store.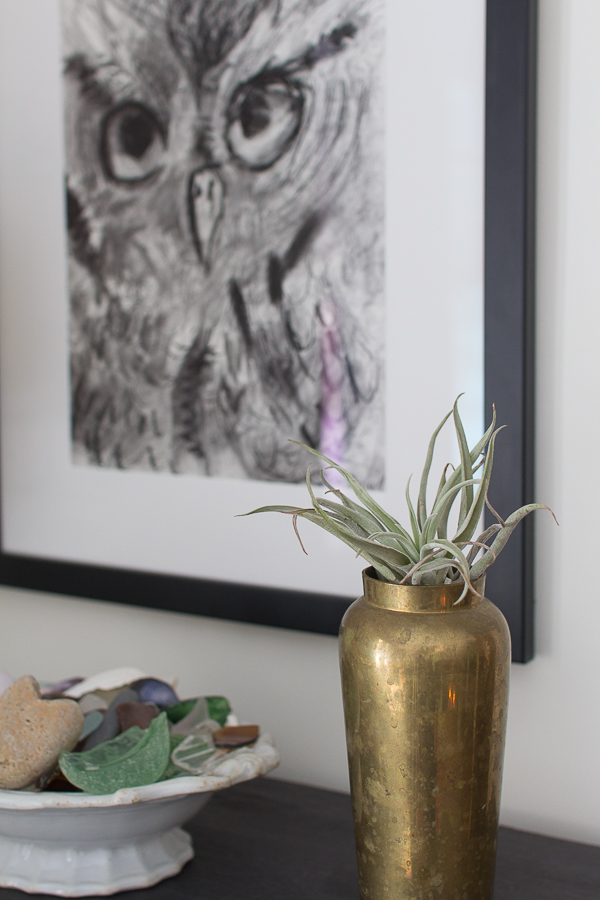 I love how the aged brass reflects the light from the fire!
Next to the vase is an ironstone bowl filled with beach treasures. My youngest found the heart rock.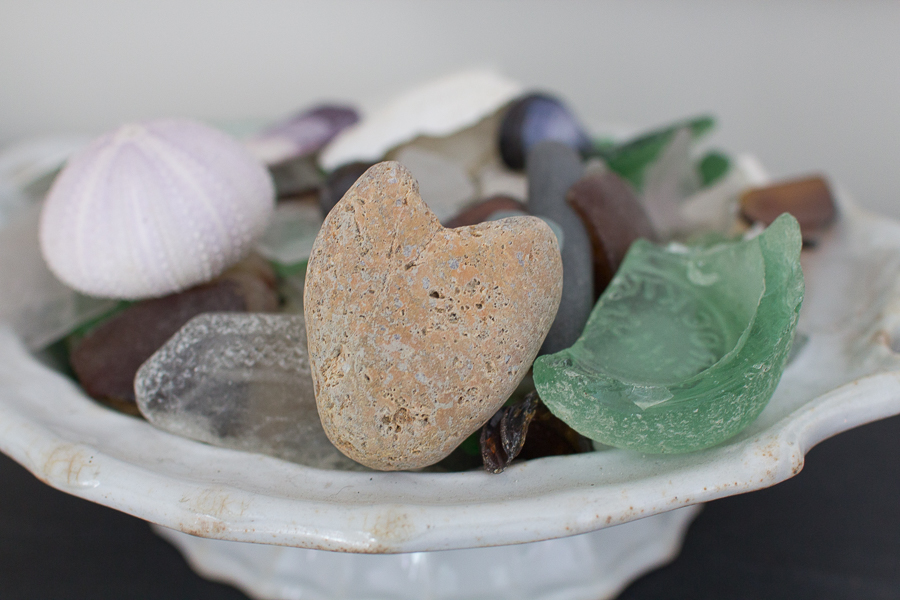 We love sea glass around here. I find it so comforting to be surrounded by things I love – mementoes from the shore, my boys and my dogs.
Reading a Pile of Magazines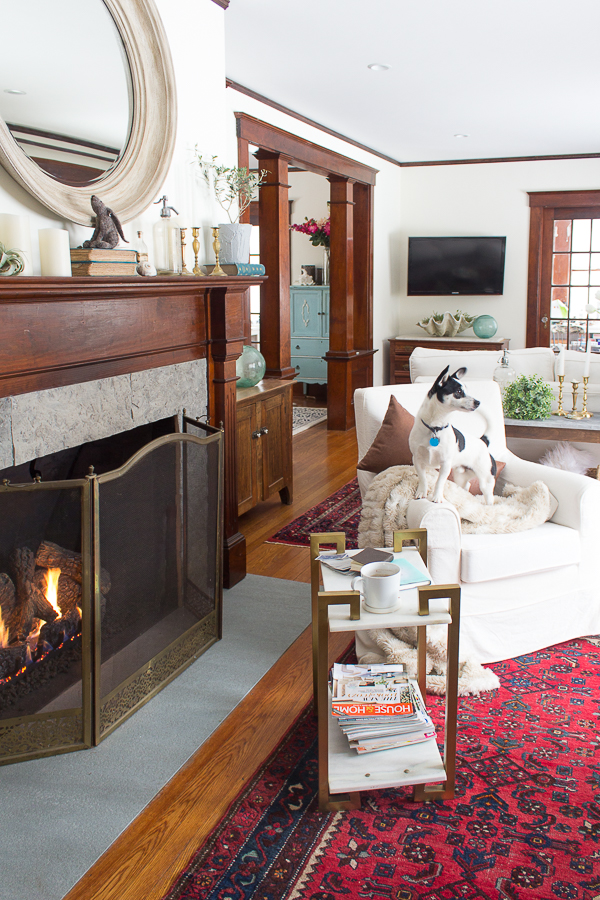 The white chairs are usually by the windows as I love to see the fire when sitting by it. There's nothing I enjoy more than sipping coffee and reading a stack of design magazines. I can get lost for hours…
Max seems to like the chair here!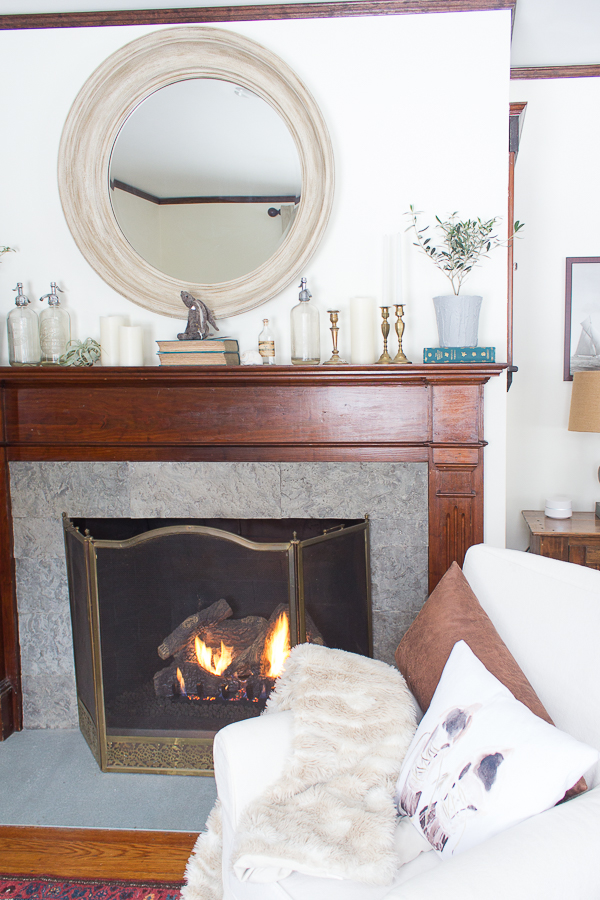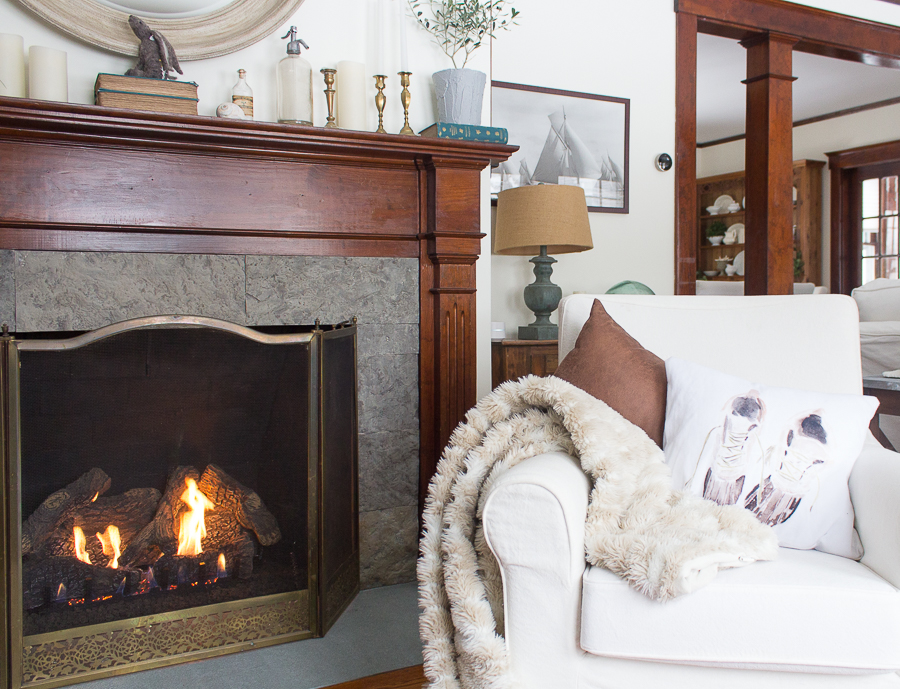 I love wrapping up in fur throws. I painted  the worn boot pillow and it's available in my Society6 shop.

Playing Board Games
We adore playing board games with our two little boys. Conor starts school much later so we usually play in the morning and will also play games in the afternoon. He keeps winning at Clue
but he's a chess
master and we also LOVE Monopoly
and Risk
. Those two usually go on for weeks, though.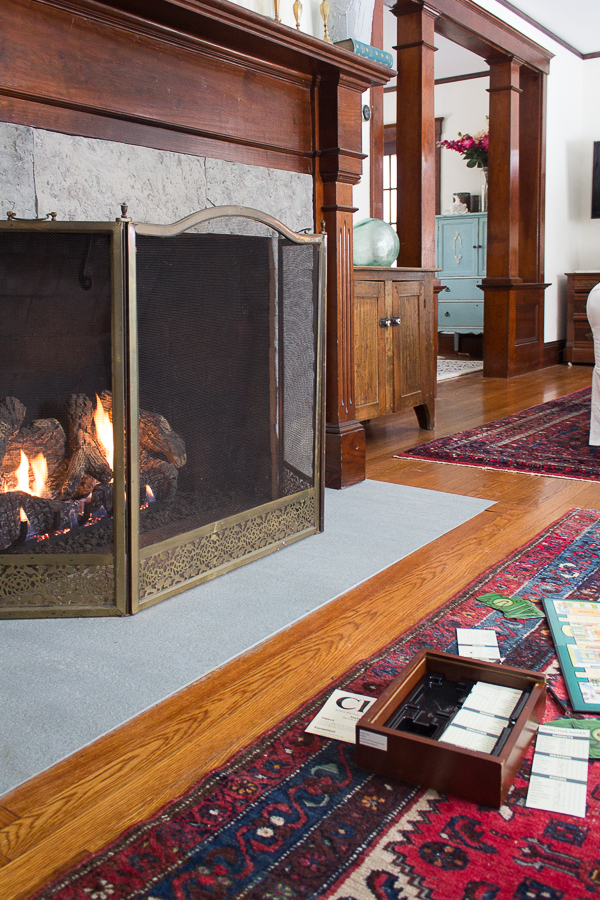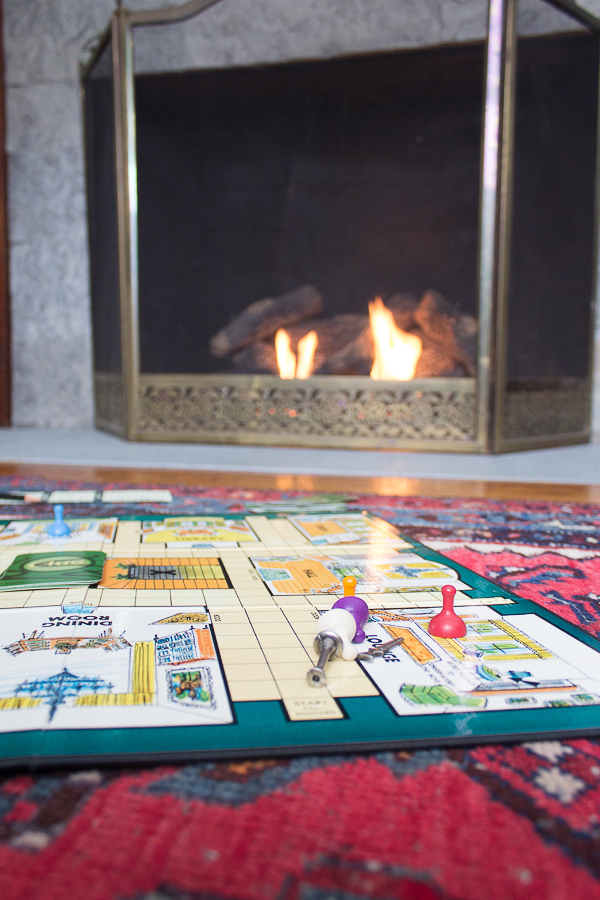 He actually beat me twice at Clue this very day!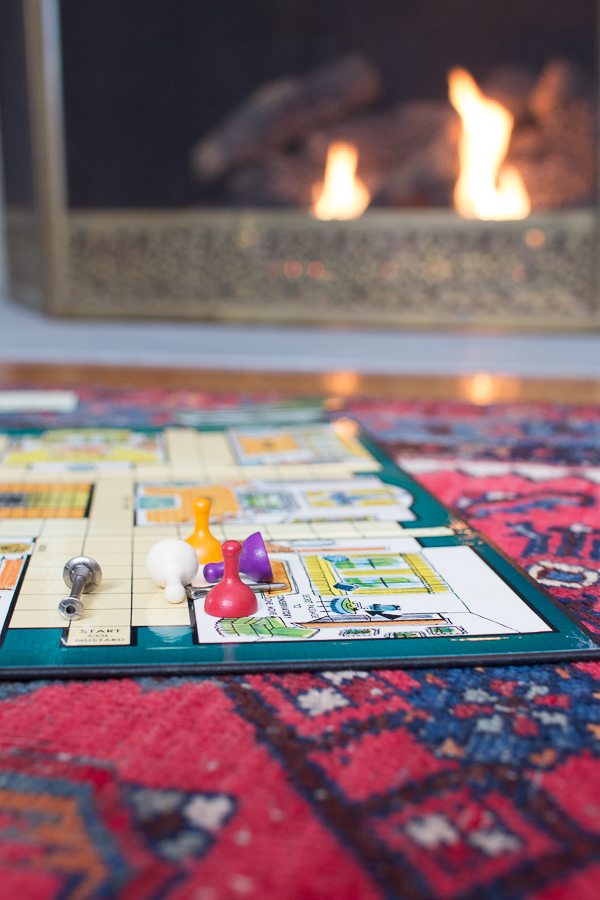 Cards and Journaling
An afternoon by the fire is a perfect spot for a game of Gin Rummy or Journaling. The only card game we really know is Gin Rummy (my dad taught me when I was little) but I'd love to learn some others. Please leave some you love in the comments.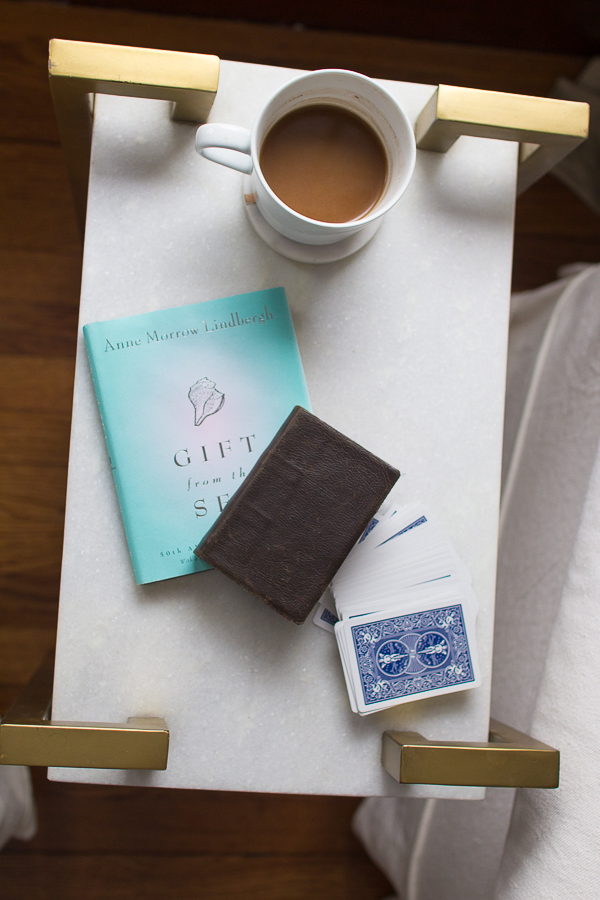 The leather journal belongs to my oldest. He sketches in it while I love this book – A Gift From the Sea
. Readers recommended it and I love reading and re-reading it.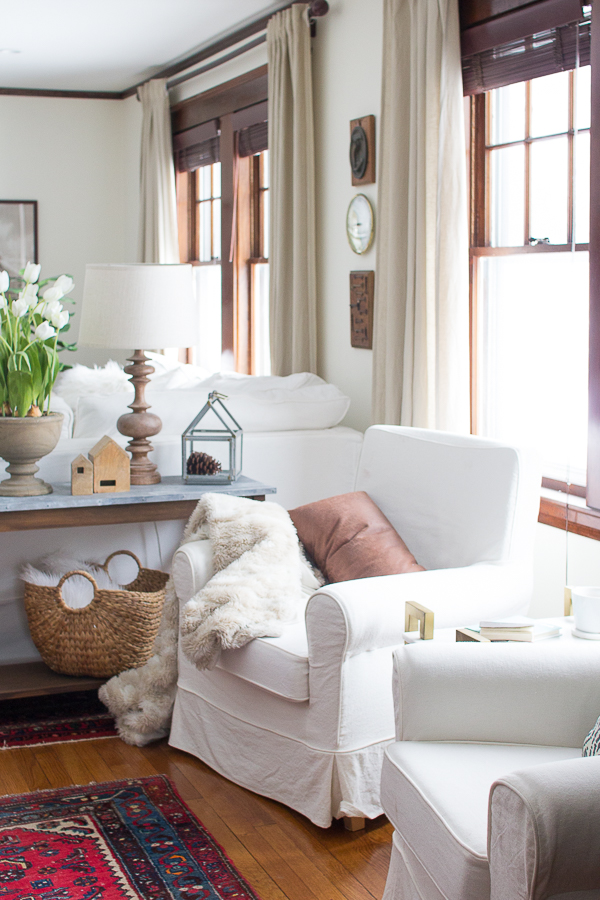 This linen chairs are so cozy to spend an afternoon or an evening by the fire. Can you believe they're Ikea?
Finally, another past time that's enjoyed by the fire?
Napping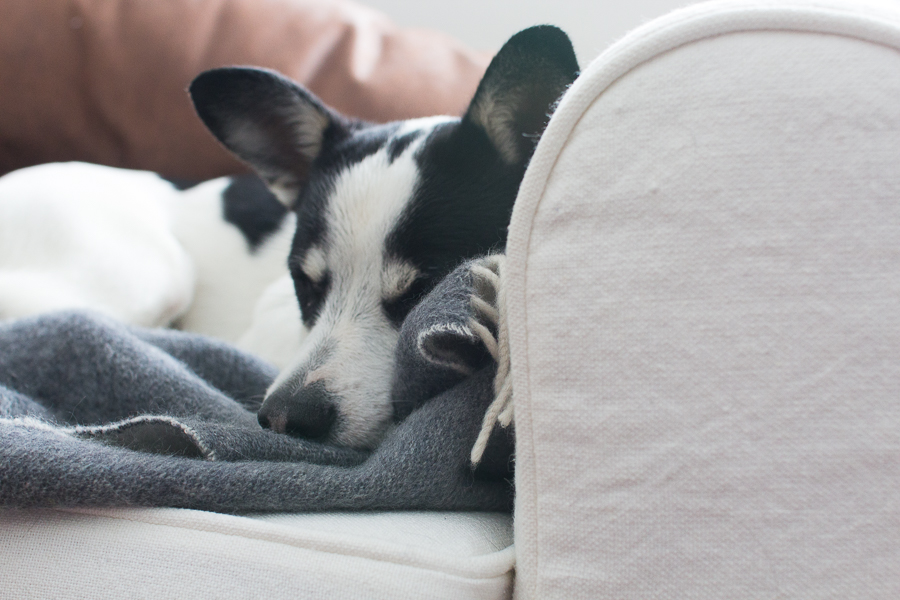 This is actually Max's chair. Right on my cashmere blanket.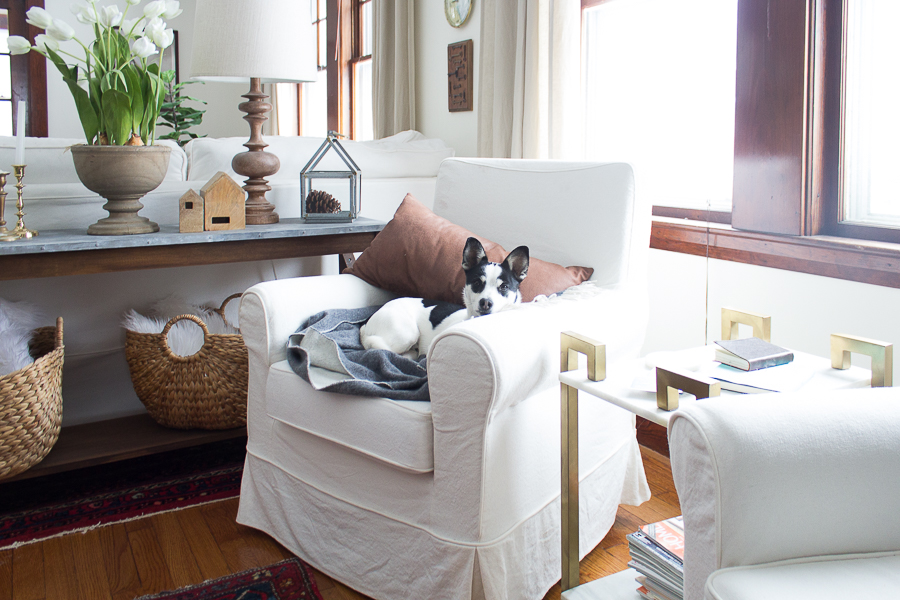 When he's not barking at a passer-by he's, cozy right here, napping.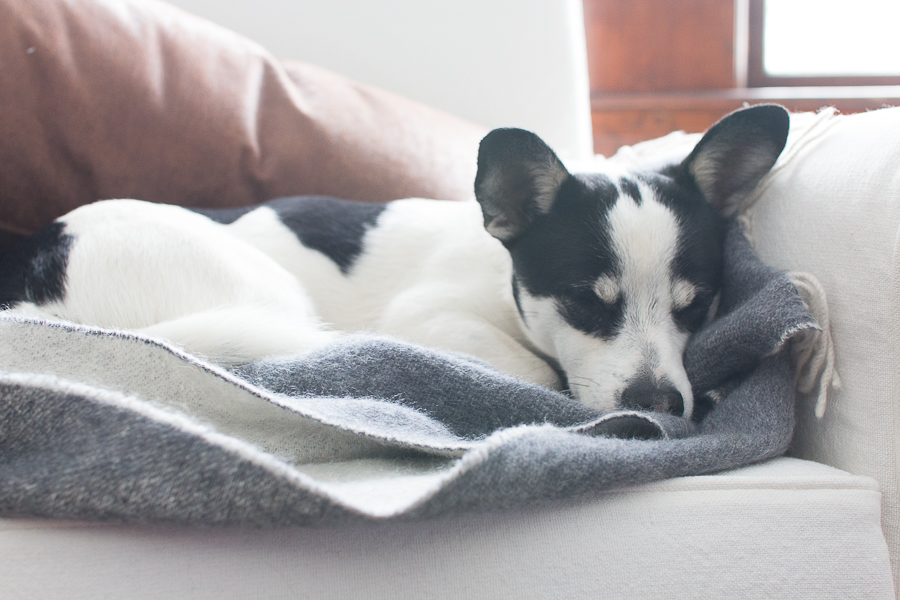 I know many find the winter months exhilarating and energizing, but I find them a time where I want to be quiet, cozy by the fire and day dreaming of warmer days by the beach. It's this time in January and February where I like to reflect and recharge my batteries.
I hope this post gave you a few ideas of how spend a cozy afternoon by the fire. I often get asked for sources so I've included a full source list below.
Source List
Be sure to visit all my friends taking part for more Cozy Living Ideas:
Finding Silver Pennies : Making It In The Mountains : Thoughts from Alice : Town and Country Living