Take the guess work out of styling a book shelf with my easy tips. Sharing how to style a bookshelf and new additions in the office.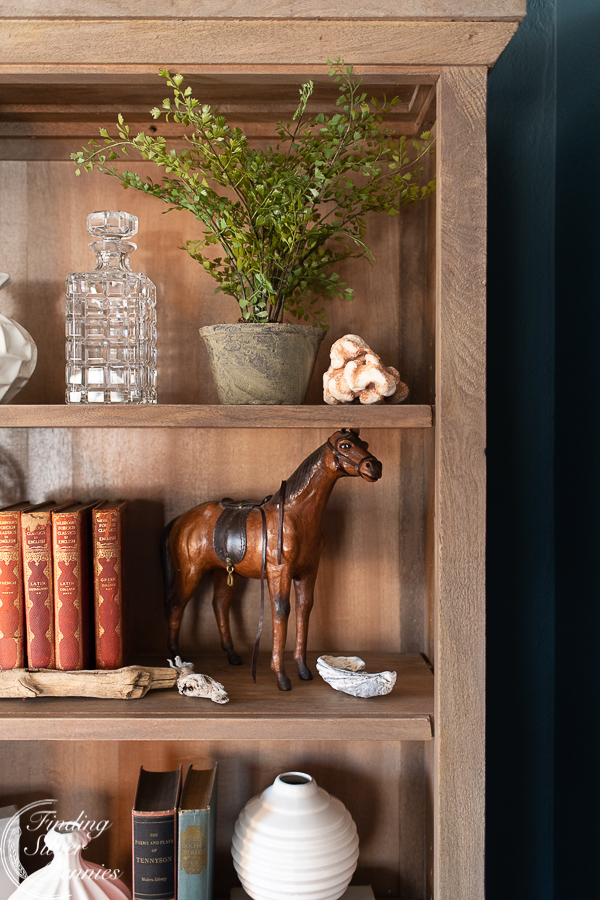 I love styling bookshelves, but I know it can be a daunting task especially when the bookcase is large. For a while I've wanted to add a bookshelf to Luke's office. An English office isn't complete without one, right?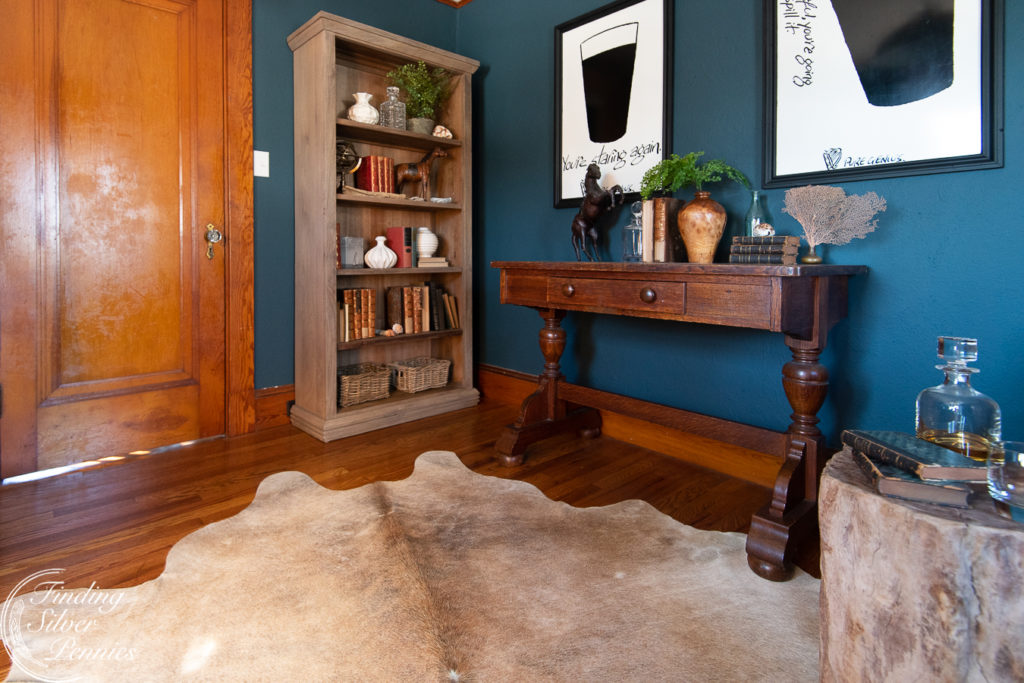 You may remember I shared this beautiful dark wall hue here and a little reveal of the space here, but the space wasn't exactly finished. I'm delighted to share the space is now complete!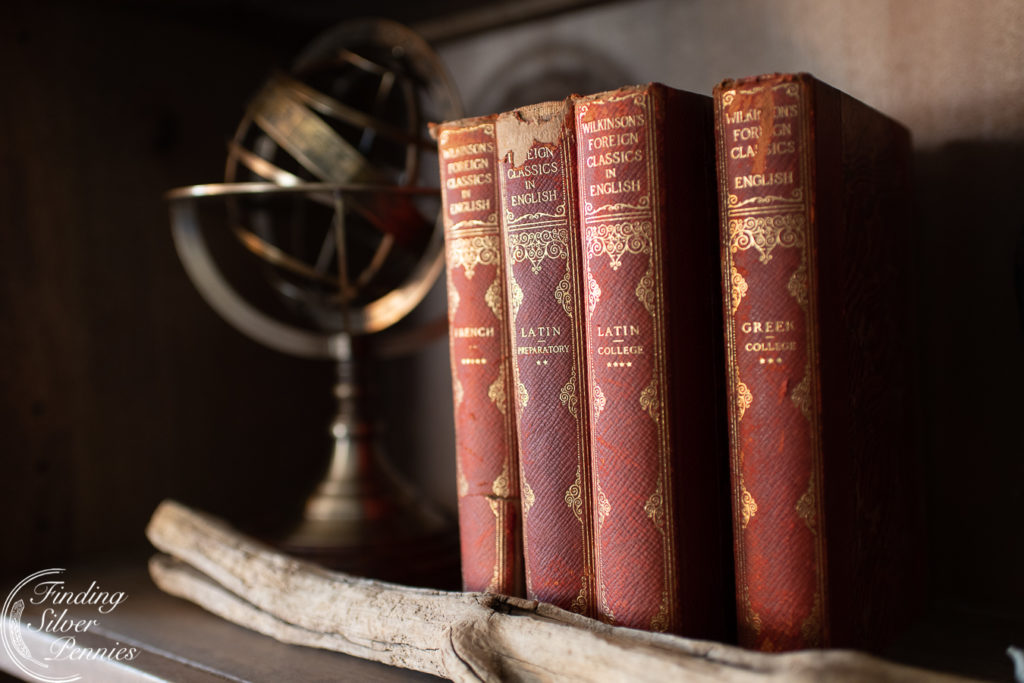 This post is sponsored by The Home Depot. The opinions I have shared about the products are my own​. 
This post also contains affiliate links, if you purchase a product via the link I may receive a percentage of the sale. You can read my full disclosure policy here. Thank you for supporting my blog in this way.
After a long search, I found the perfect elements at the Home Depot. Did you know they have great home decor and furniture? I especially love the Home Decorators Collection.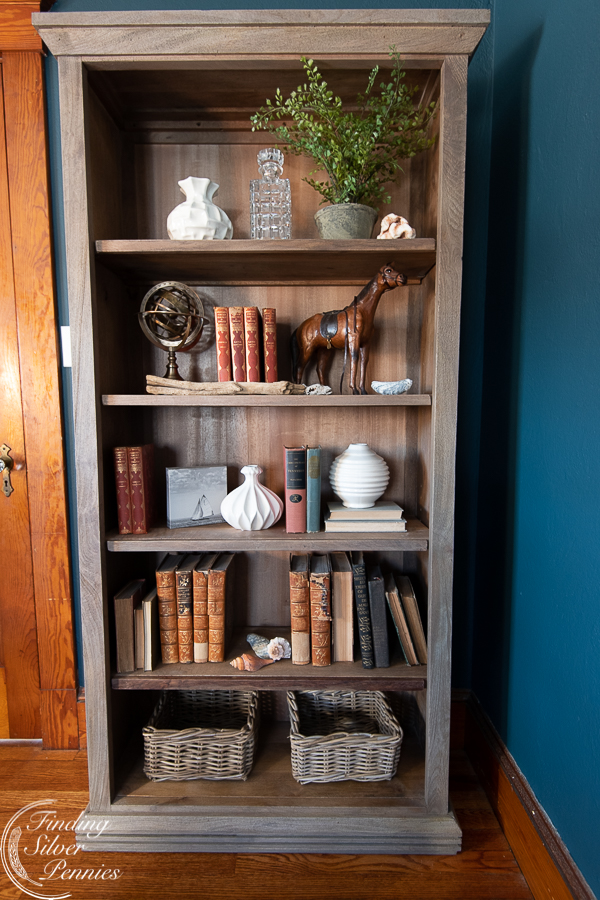 This bookcase is amazing, it's solid mango wood and has a lovely warm gray stain. I knew from the photos online that it had just the right look, but you know how it is ordering online it's hard to tell if it will be as good quality as you're hoping. I'm so impressed with this bookshelf. It's just as beautiful in person. It was so heavy I couldn't help Luke carry it up the stairs and our friend had to help him.
How to Style a Bookshelf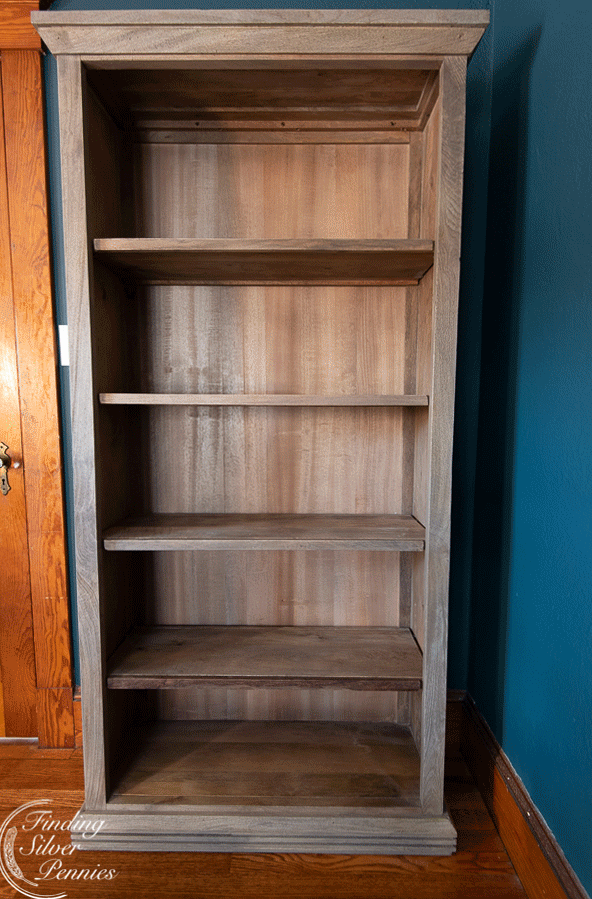 Alright, here are my tips in no particular order.
1. Play with Elements
You probably won't get it right the first time. You really need to have all your elements out and try them in different spots on shelves. You'll see in the animation above, I played with a few locations and thought about using a sea fan which in the end just didn't work as well as the leather horse.
2. Old Books add Charm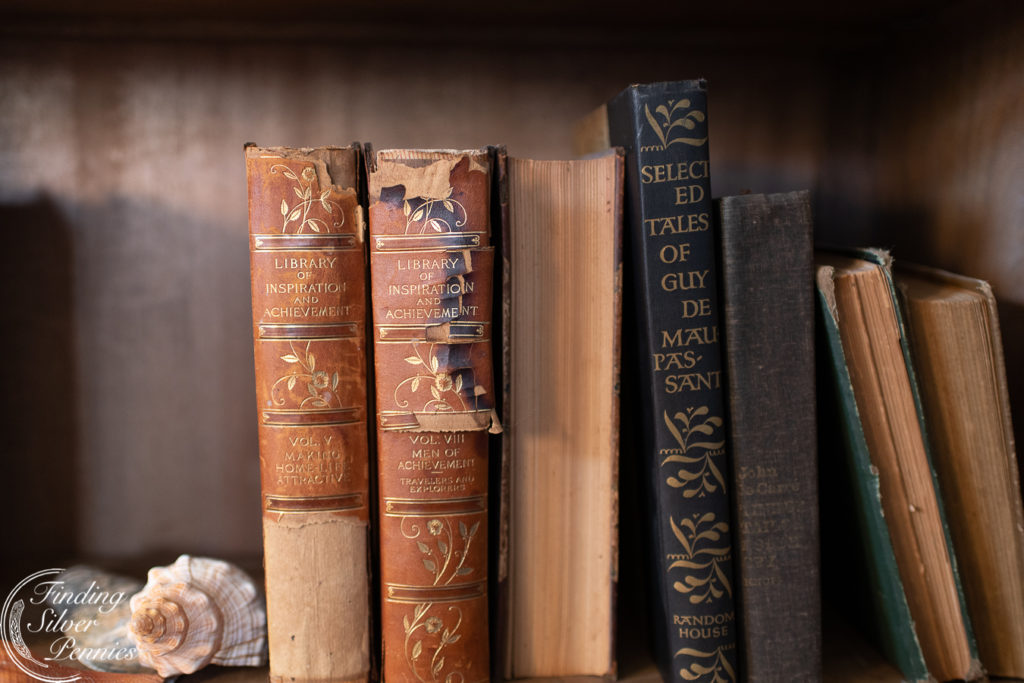 Old books – especially with broken and peeling spines, add so much character to a space. I like to stack them, turn them so you see the spines and the pages. Lean them to create sculptures so your eye can bounce around the space.
Where do I find old books?
Many of these I found roadside. Someone was throwing them away. I pulled my car over and loaded them in the trunk. I also shop my library book sales. When choosing books for decor I look for: fun covers, pretty spines, and the colors of the books.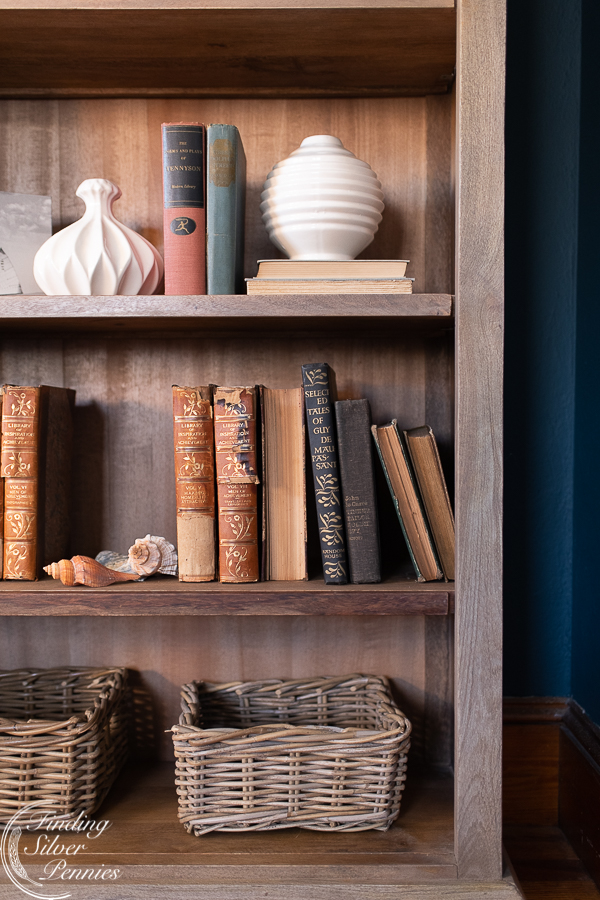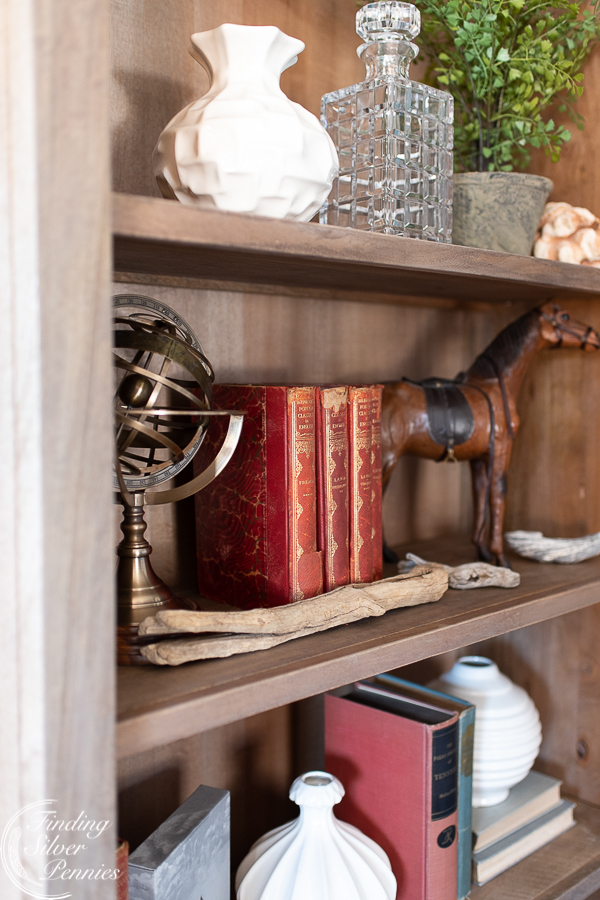 3. Contrast
The white sculptural vases add contrast to the wooden bookshelf. If your bookcase is white you'd want to add darker vases and decorative elements to create contrast.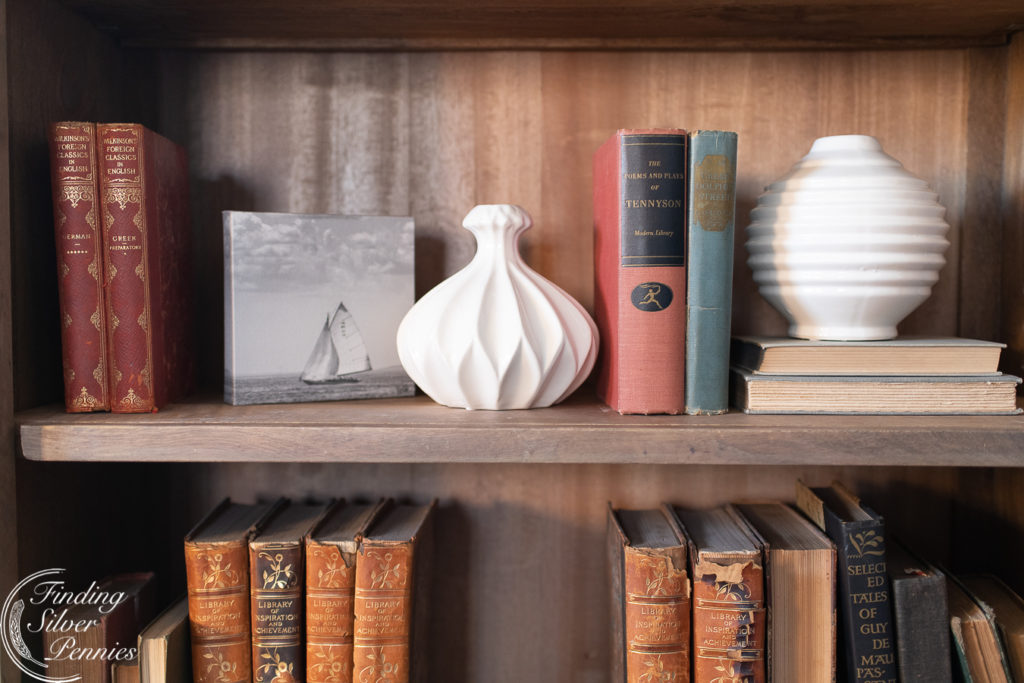 I love the texture of these vases and they visually break up the dark books and bookcase.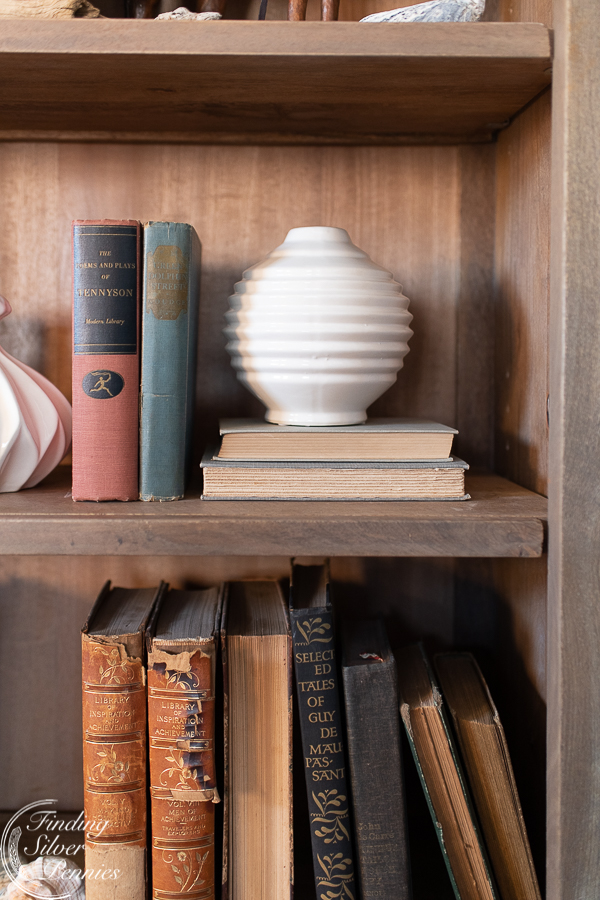 Unfortunately, I can't find these specific vases on the Home Depot site now, but these cache pots, this vase or orb could give the same look.
4. Texture 
There's lots of texture on these bookshelves from shells and driftwood we've collected at the beach.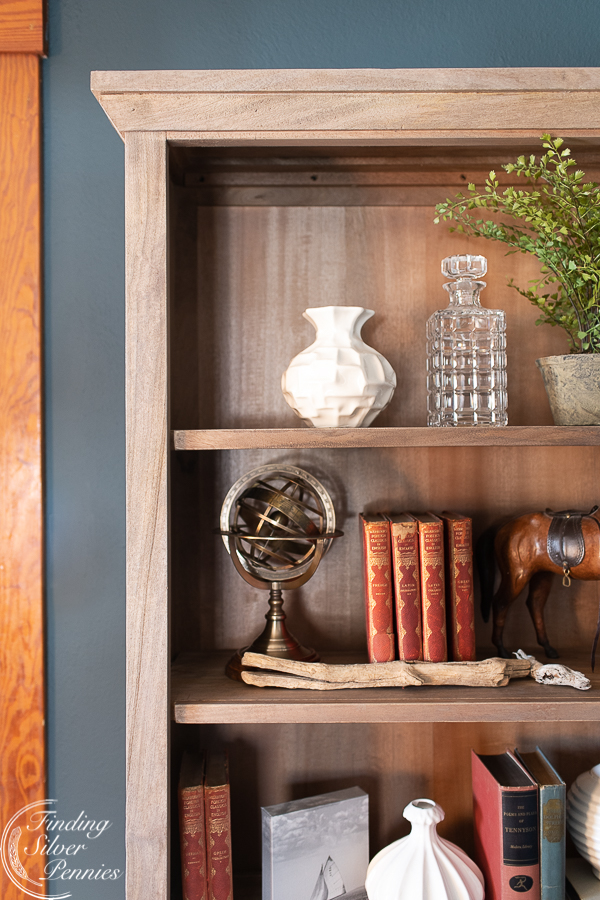 The vintage glass decanter, the vases, and the smooth leather vintage horse also add texture.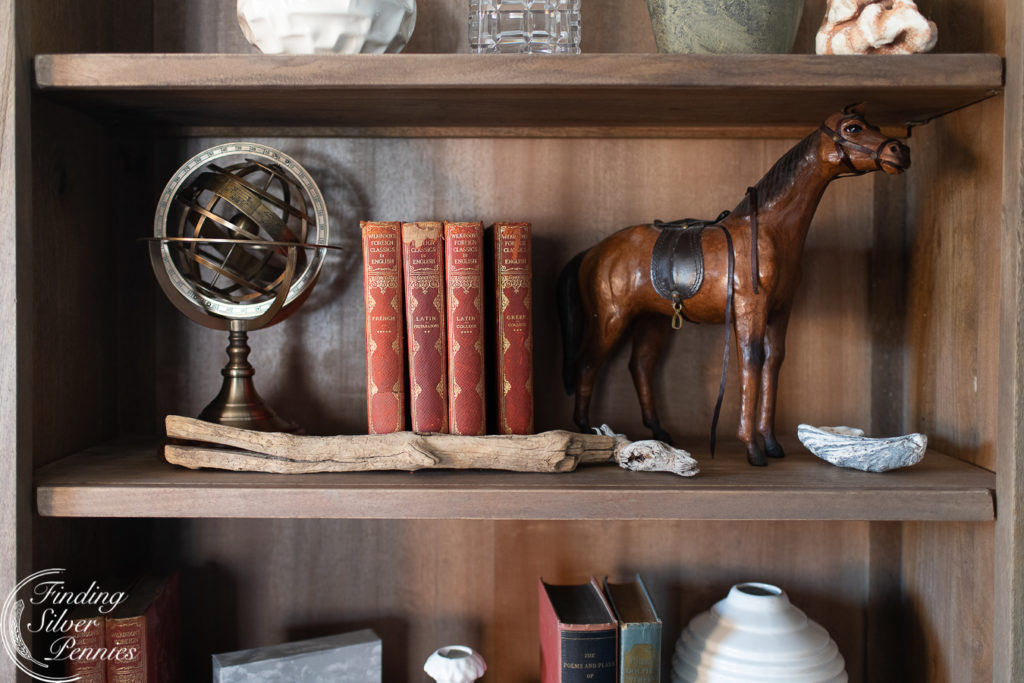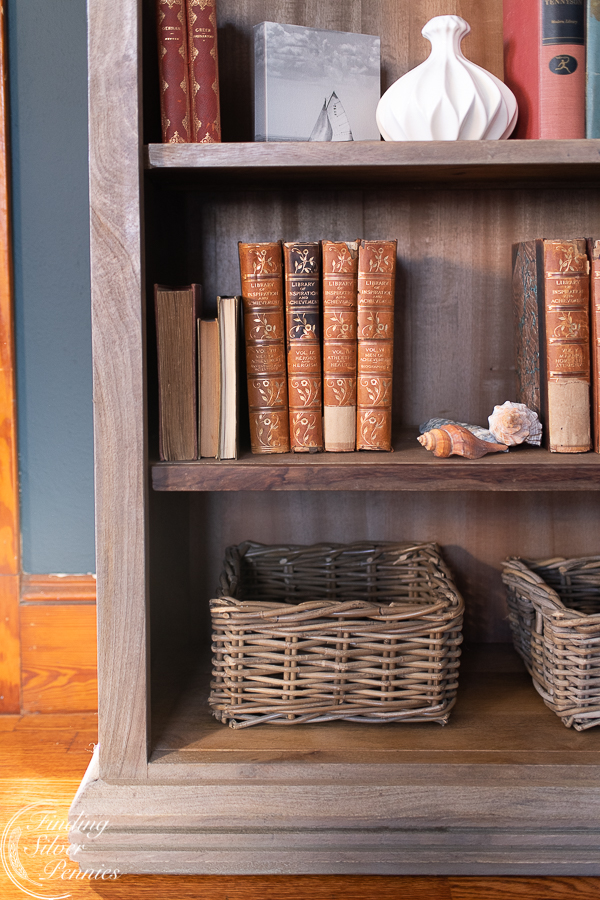 5. Add Life with Plants
Plants (real or faux) add some life to bookcases. I love the look of Maidenhair ferns but always seem to kill them. I found this beautiful one at the Home Depot. It looks perfect here.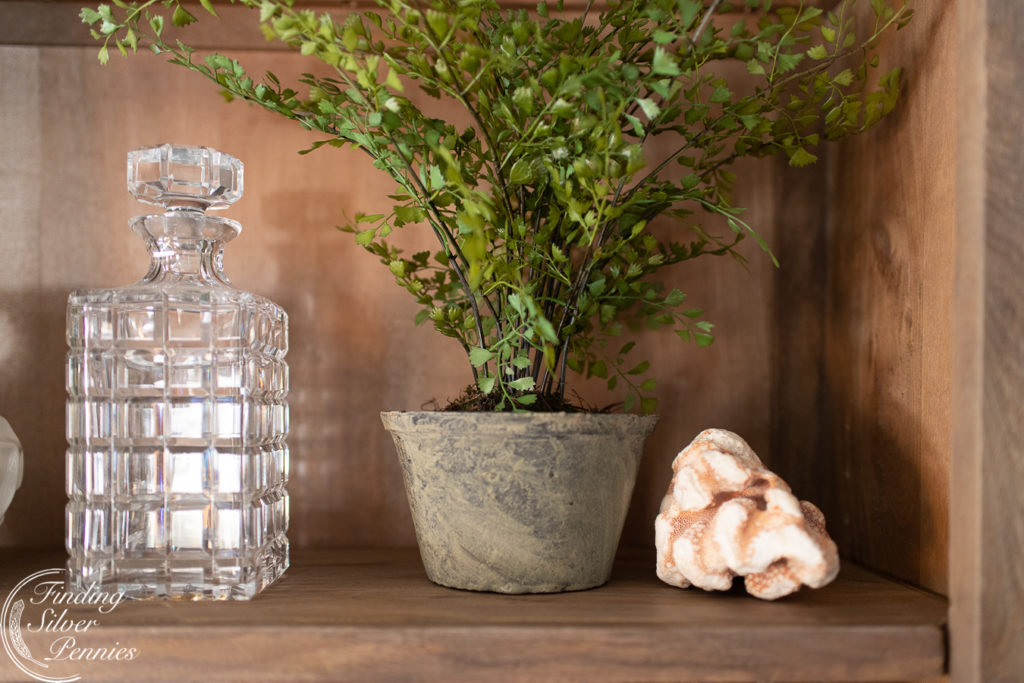 The best part is I can't kill it because it's faux! Doesn't it look real?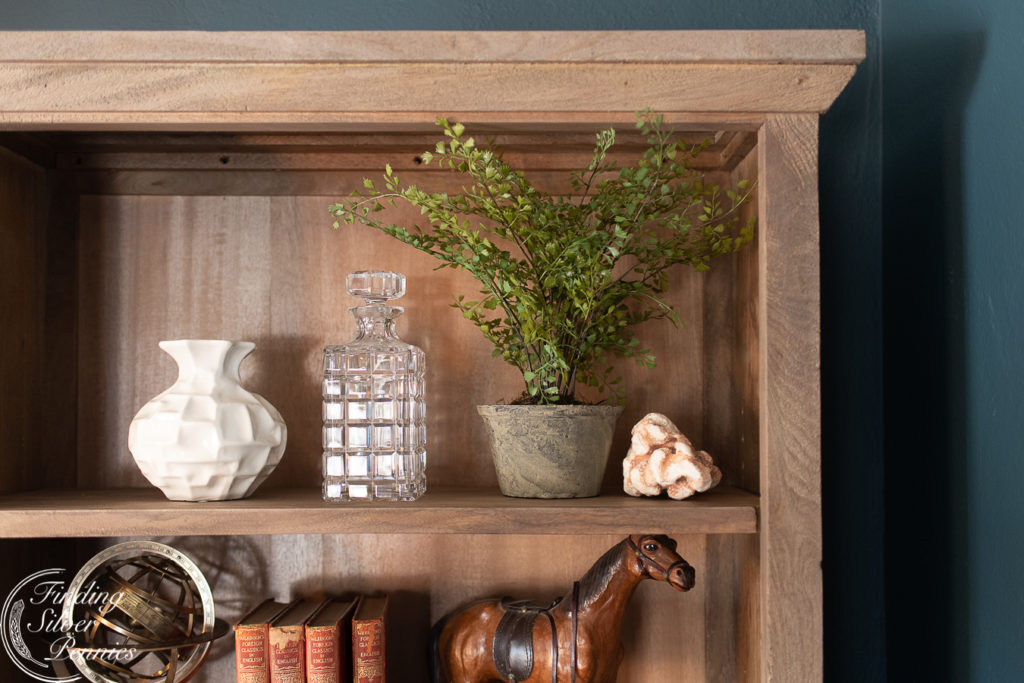 6. Add Warmth with Metals
When I think of old English libraries I always think of brass. This globe add just the right touch of warmth and shimmer.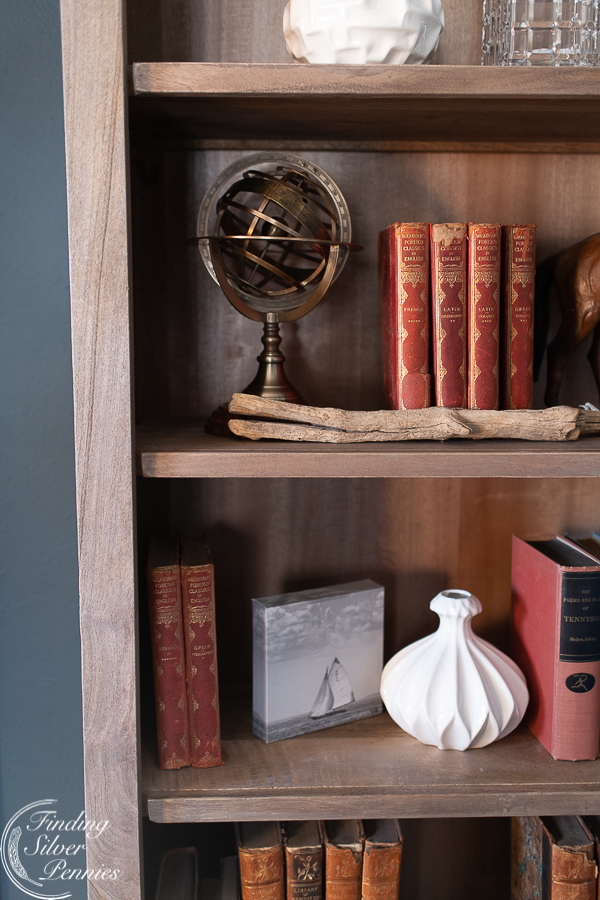 The one we ordered is no longer available but this one is very similar.
The gold leaf on the spines of the books also pick up this warm hue.
7. Vary Heights of Decorative Elements
Adding different heights, shapes and lengths helps ones eye move fluidly around a bookshelf. Place books under items to lift them.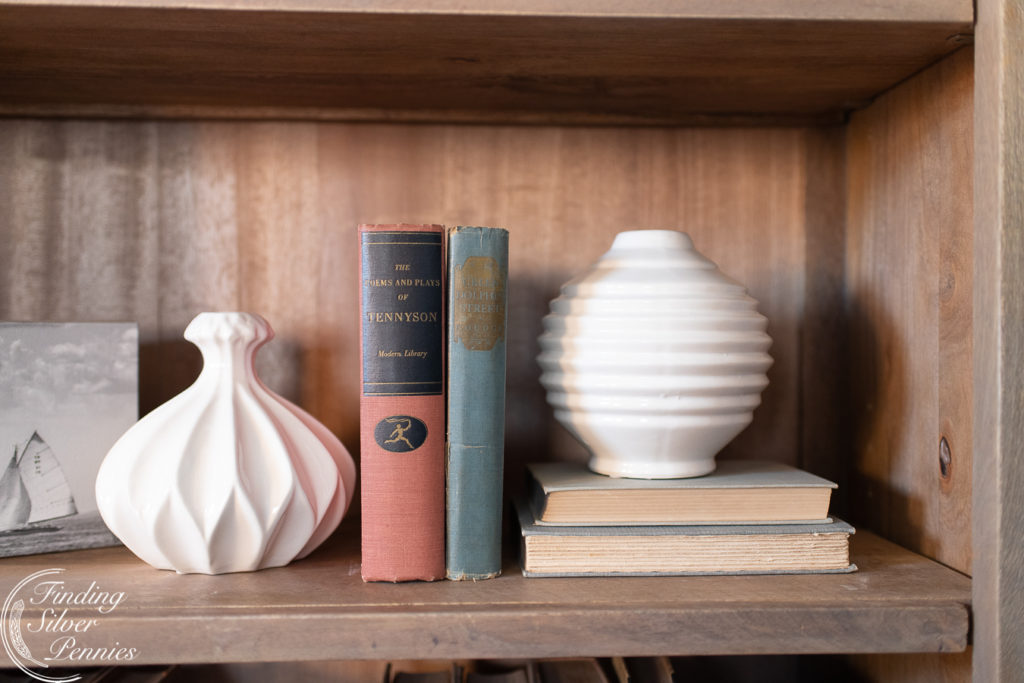 8. Stand Back When Styling
I think of bookshelf styling as a 3 dimensional painting or sculpture. Sometimes you can't see the full picture when you're too close. While I'm styling, I always step back to see how it looks together. This is an in-progress shot: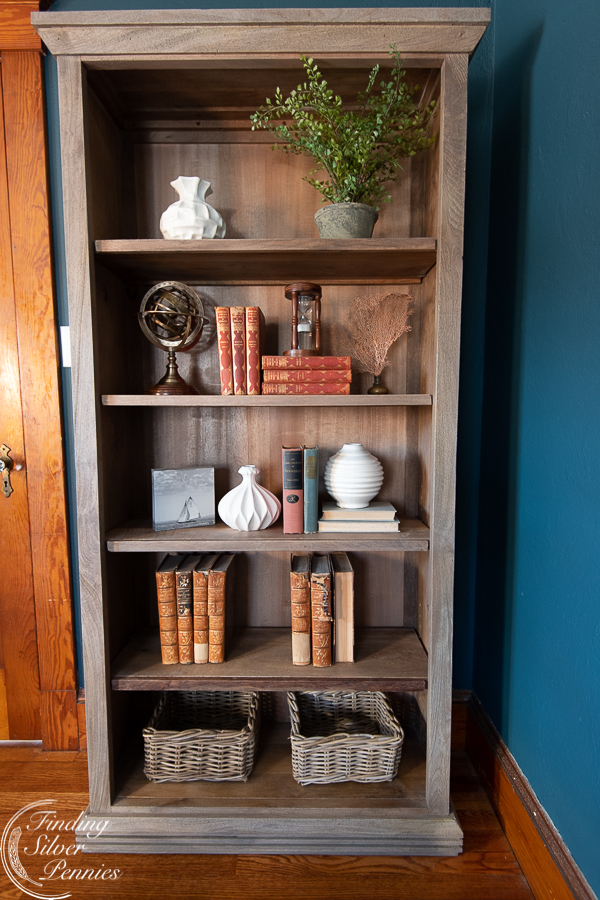 In the end I decided to layer in shells, more books, remove the sea fan, and the hour glass.
This is how it came out: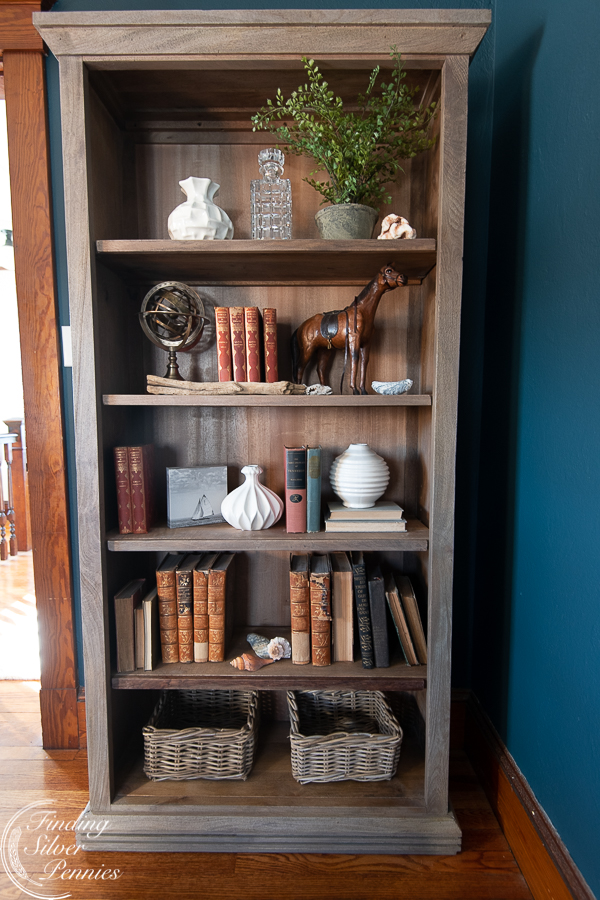 I decorated in a heavier way as I wanted to mimic the feeling of an English library, however, for modern bookcase styling many of the same principals apply – vary height, color, and texture. Add vintage elements and metals for warmth.
I hope my bookshelf styling tips were helpful.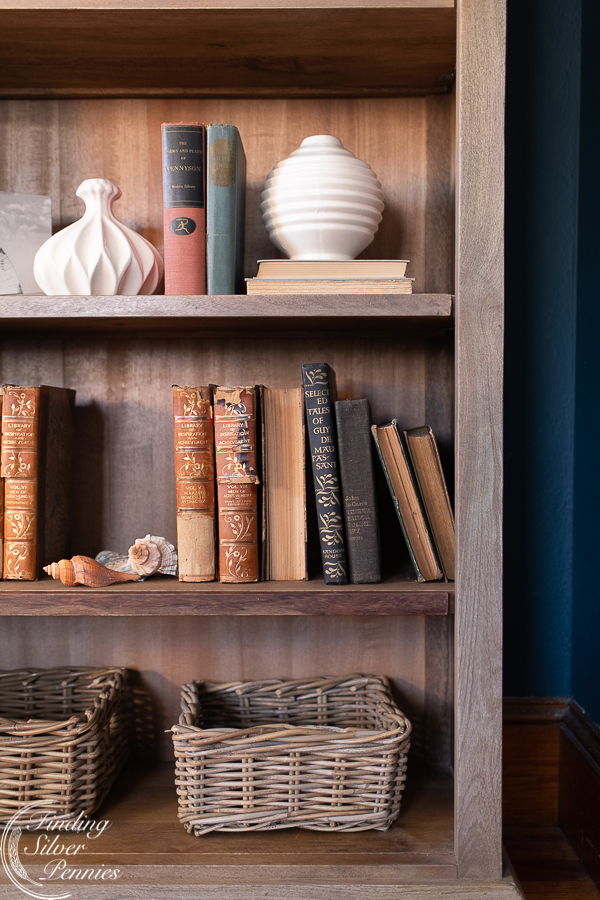 Now I need to share with you a few more additions to this office space!
Eeek! So excited for you to see: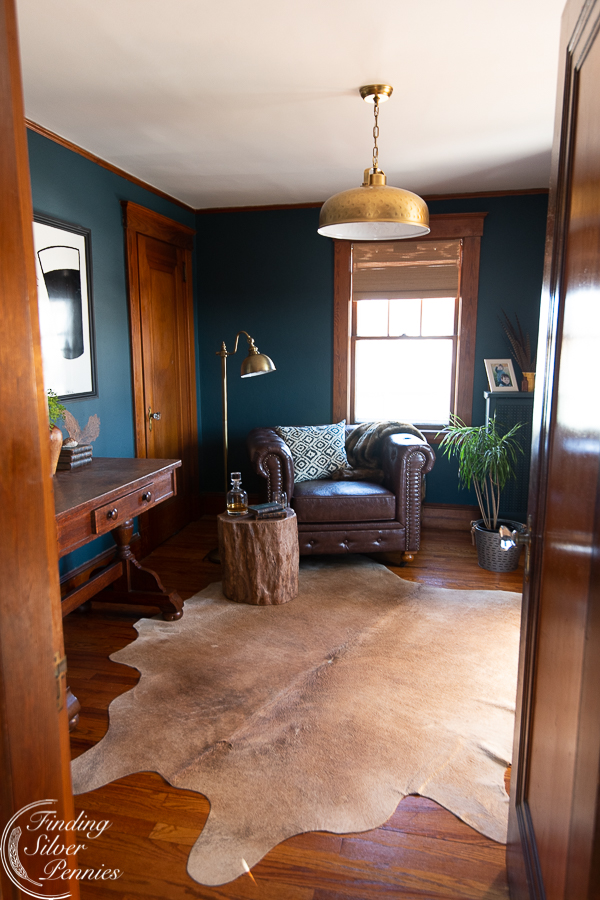 Can you see the new additions?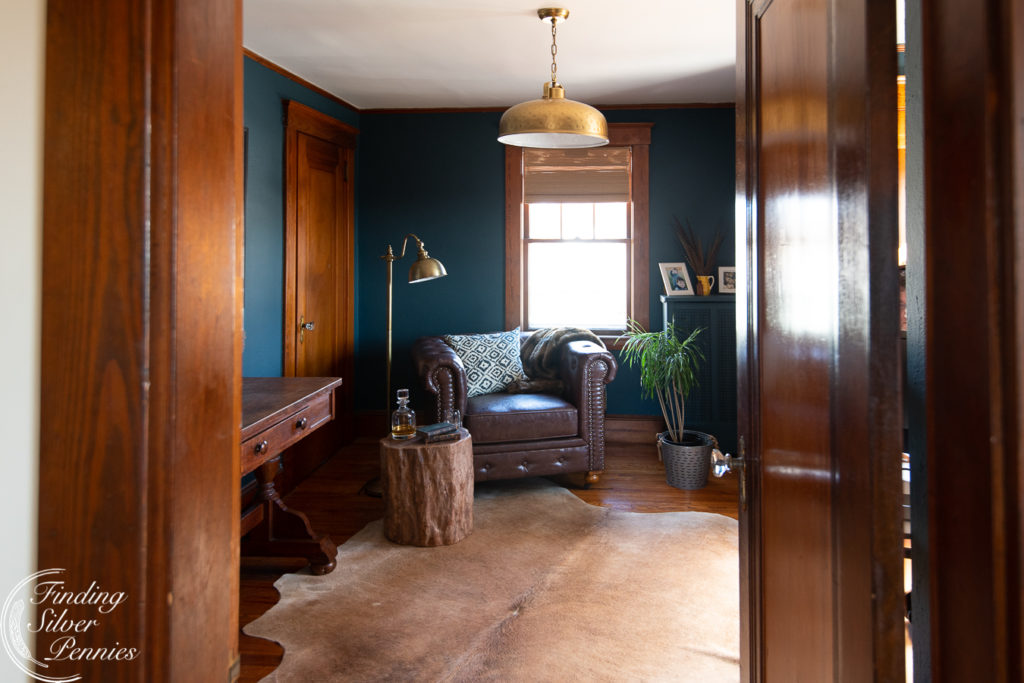 Yup, the beautiful chesterfield style chair! This is the Gordon Leather Brown Chair by Home Decorators Collection. As with the bookshelf, I was pleasantly surprised by the size, weight, and quality of this chair.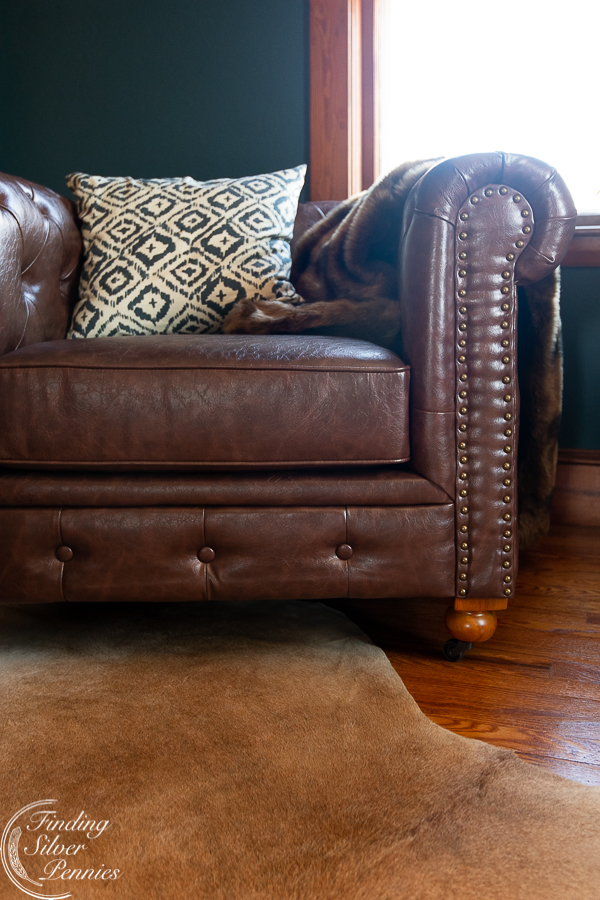 The brass nailheads, which are hand applied, are lovely and the tufting adds to that English look.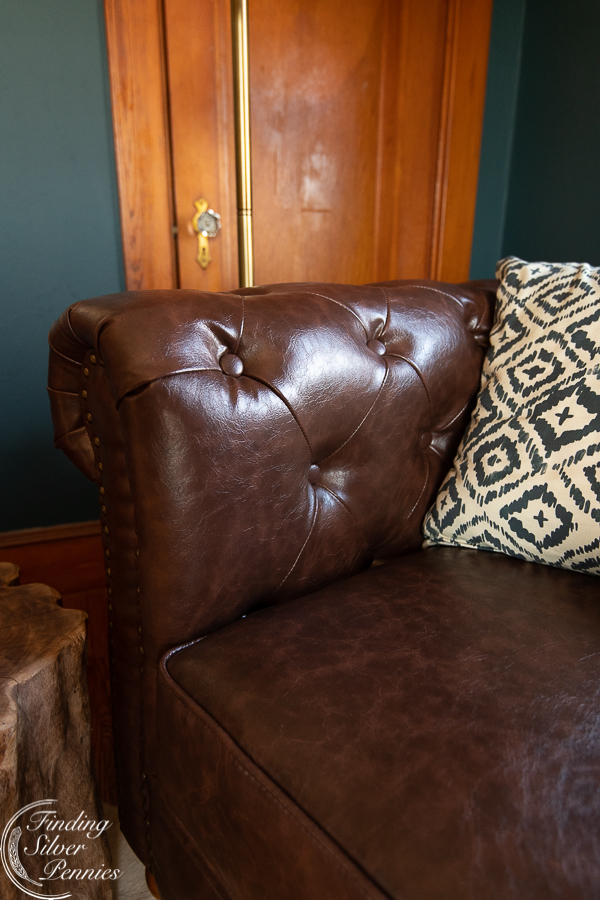 The warm brown leather is supple and has an aged look to it.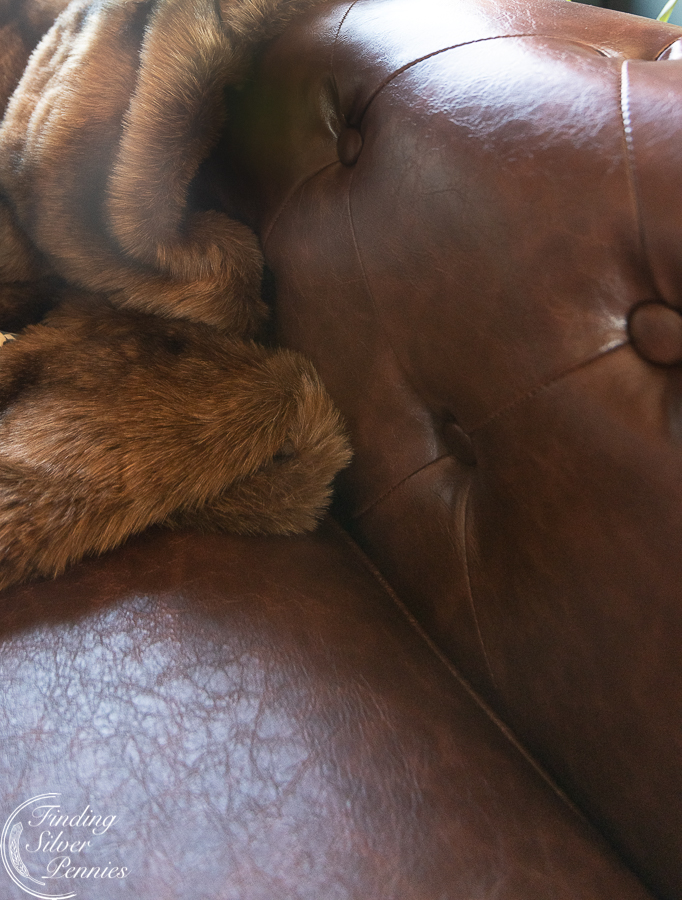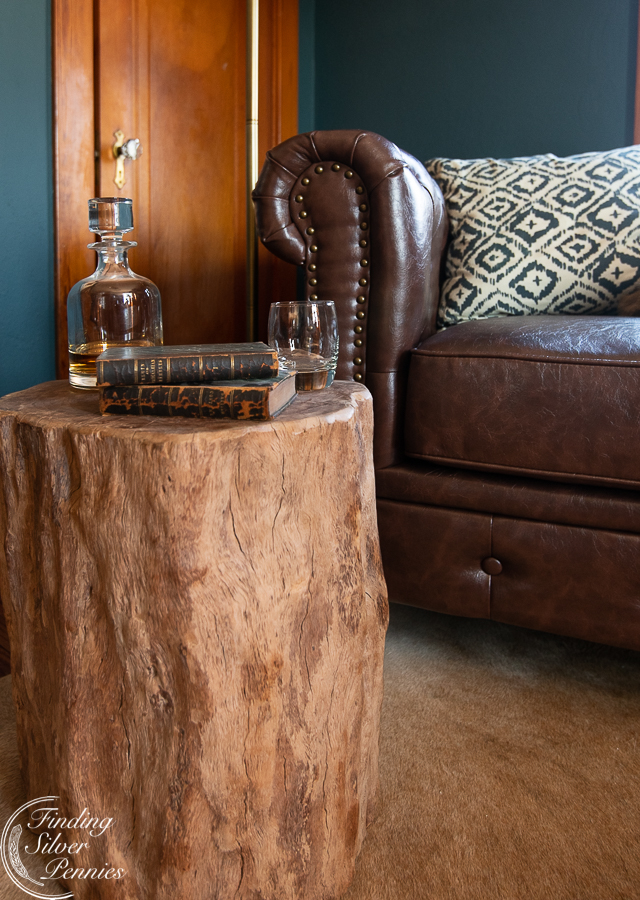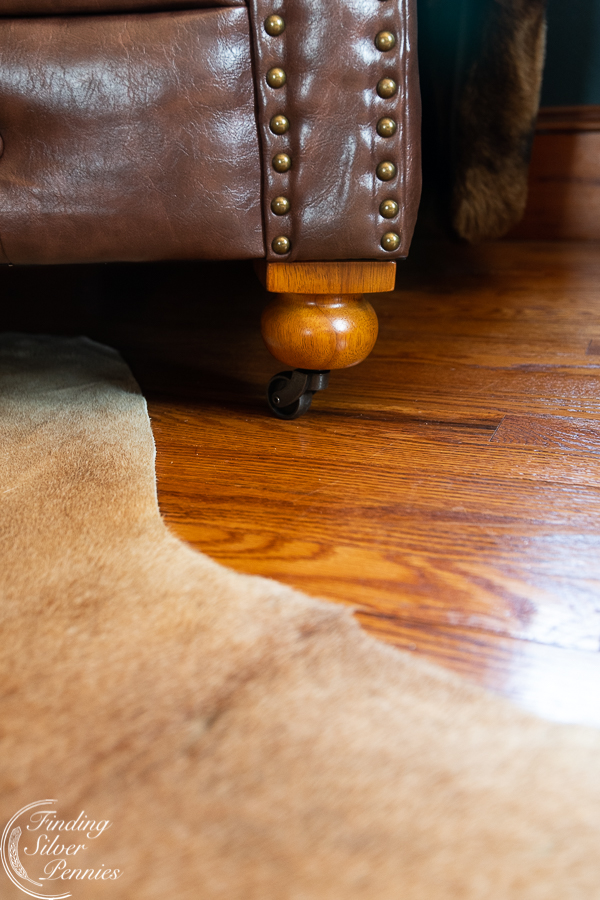 Walnut legs and casters finish the look.
The stump table which we already had looks so rich against the leather.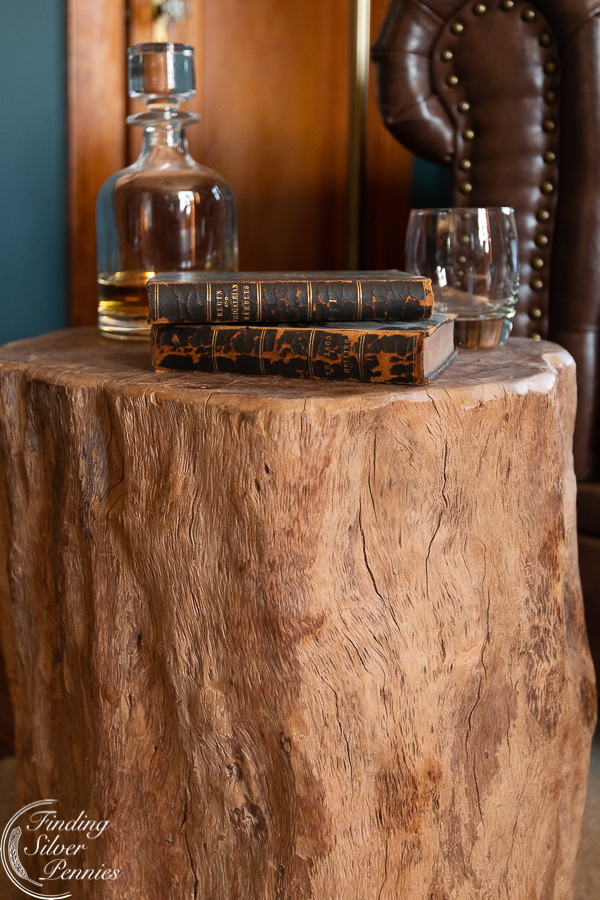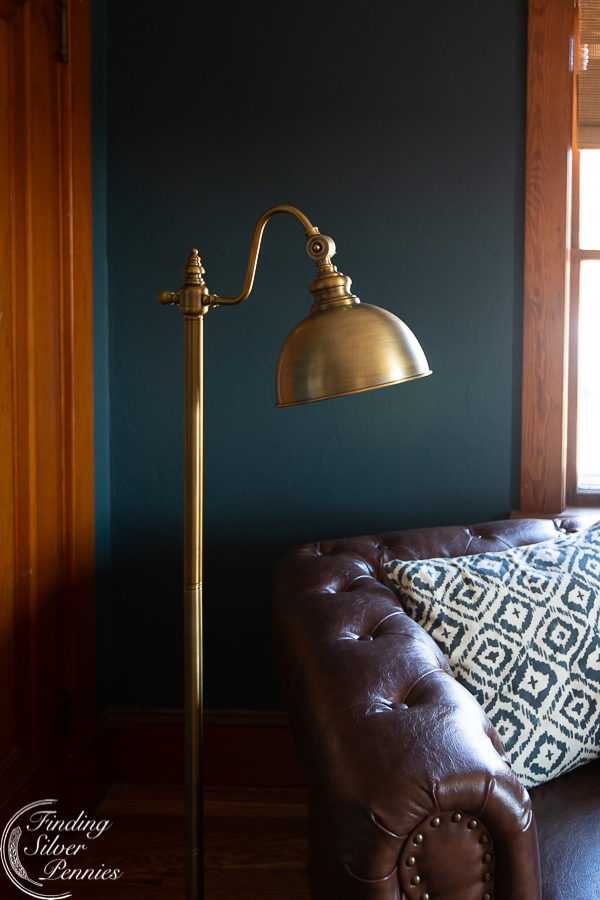 The other new addition is this Antique Brass Pharmacy Floor Lamp.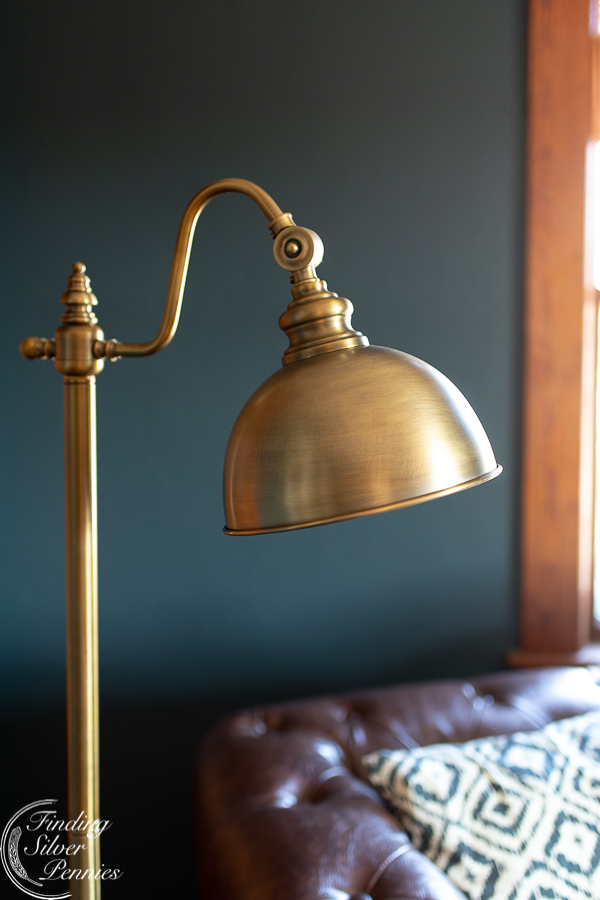 It's a great reading light and looks perfect against the dark blue / green walls.
It's taken some time to find just the right pieces to add to Luke's office, but he loves all the new additions and really enjoys working in this space. I moved a few things around on our Stickley vintage library table, too.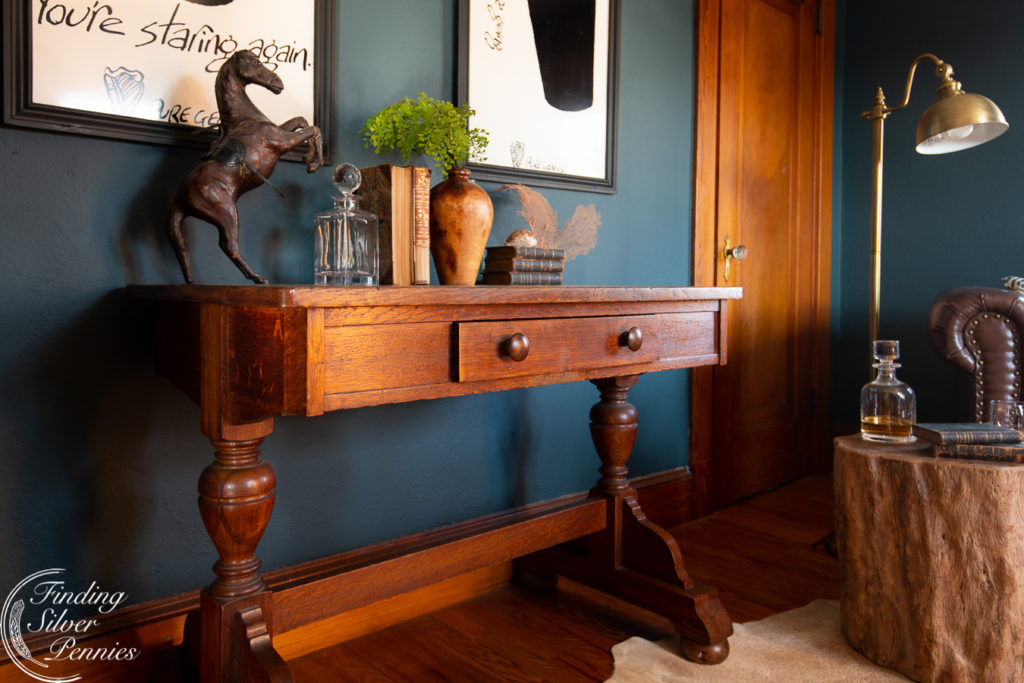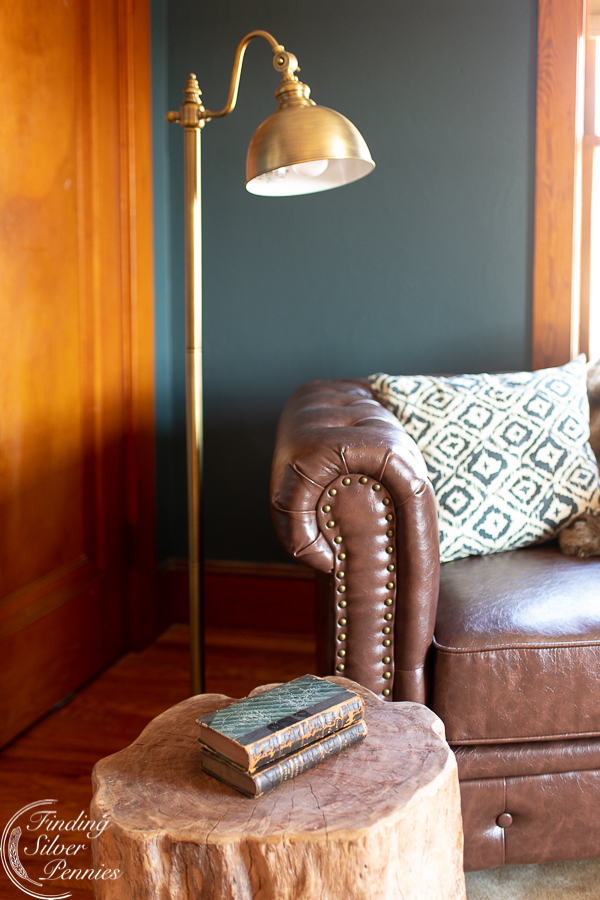 I hope you love the new addition as much as we do.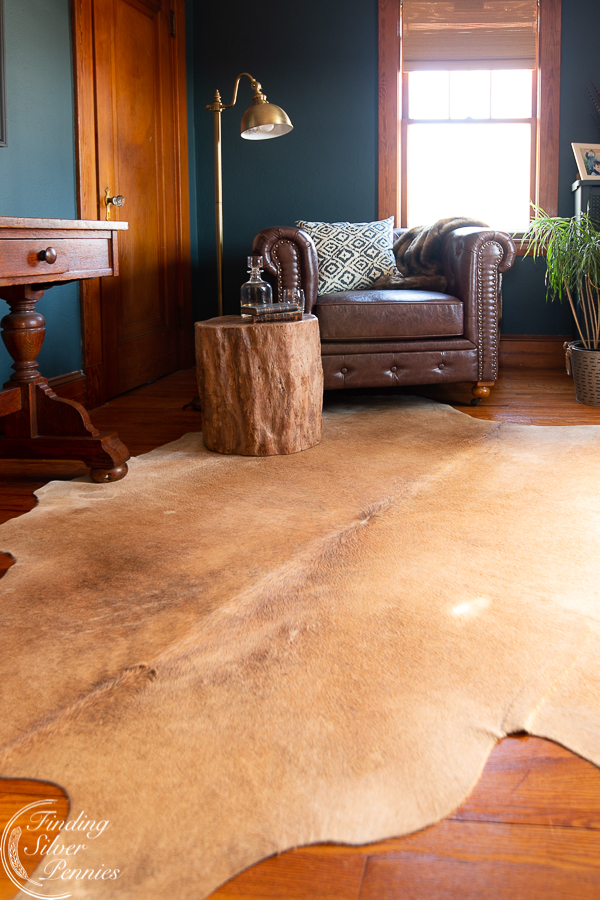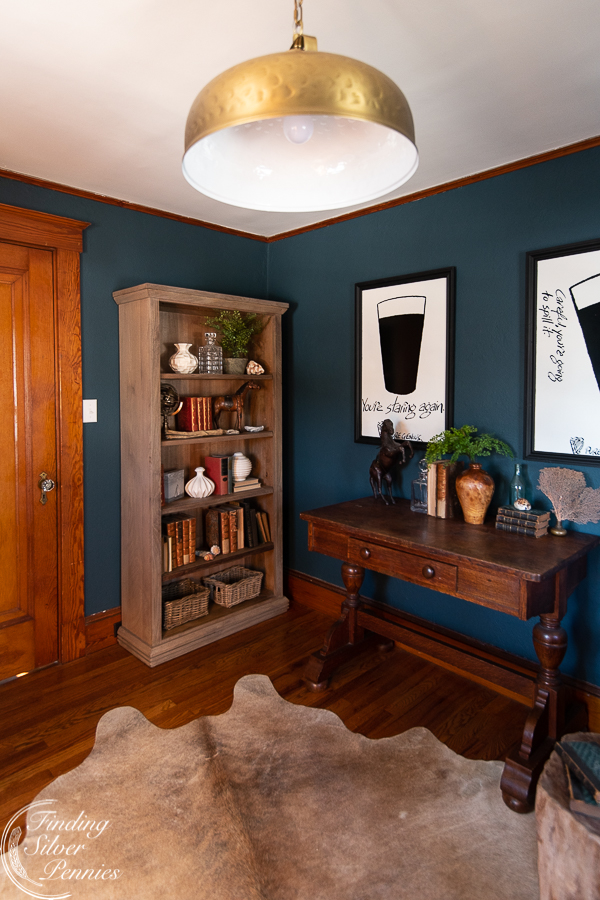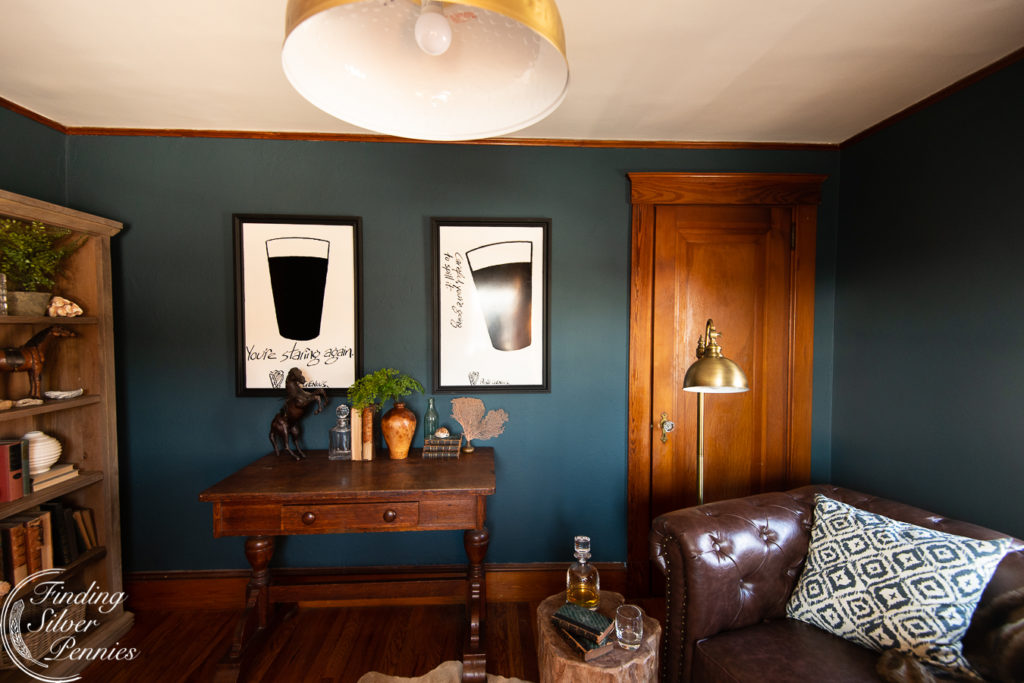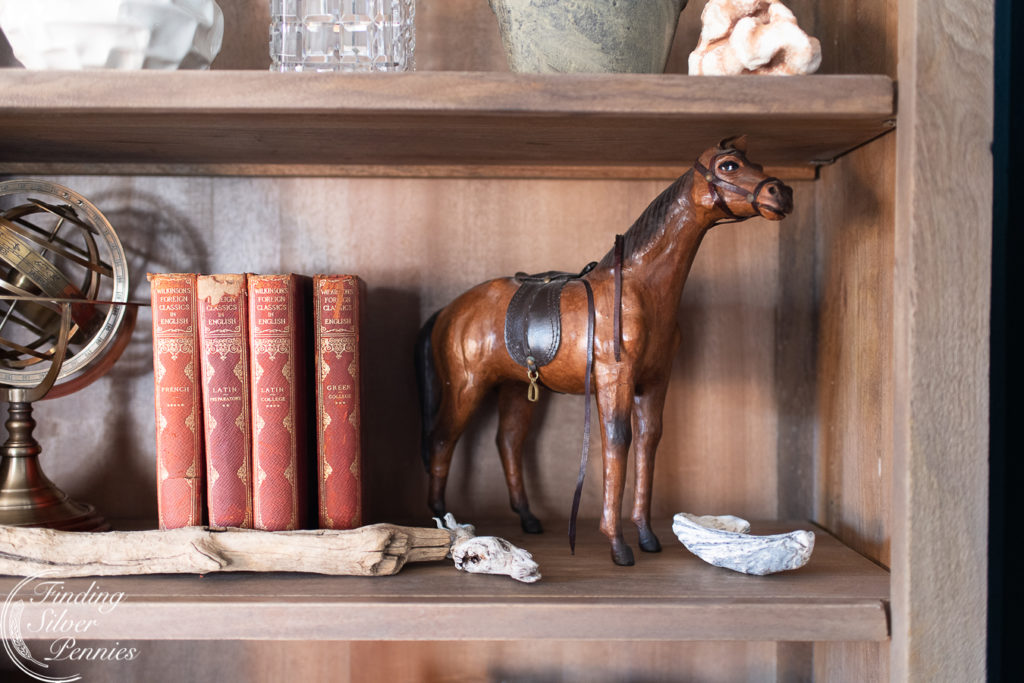 A huge thank you to my friends at The Home Depot for helping create such a beautiful office for Luke.
If you'd like to shop the look you can do so below.
Shop the Look