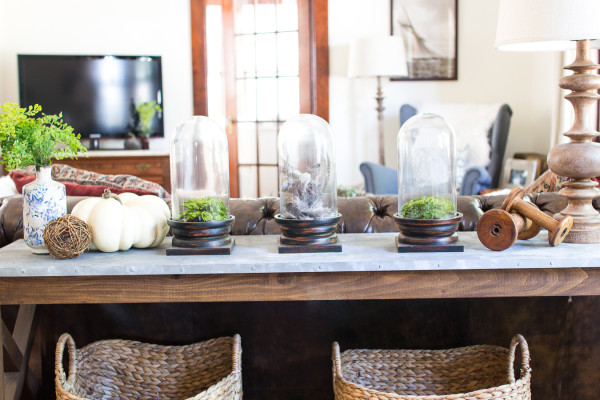 Here in New England the leaves are just starting to turn color and their is a cool, crispness in the morning air. Fall is here. For some reason this year it took me a bit longer to get motivated to decorate our home. I just love the summer here by the sea. It is hard to let go of that when school starts… But our home is now looking more fall-like. I'm delighted to be part of the Fall into Home Tour 2016 organized by my friend Rachel over at Maison de Pax.  Last year's tour was so much fun, click here to see that! I will be sharing the living room and dining room today and more of our home this week and next. It's too hard to cram it all into one post!!!
If you're coming from my dear friend, Rachel's home (Shades of Blue Interiors), welcome! I love Rachel's style and we had so much teaching at Haven this year. I'm so excited to have you here!
Let's start in the living room. This is how the room looks when you enter from the front hallway. This room is essentially two rooms; a sitting area by the fire and our family room where we watch TV and play games.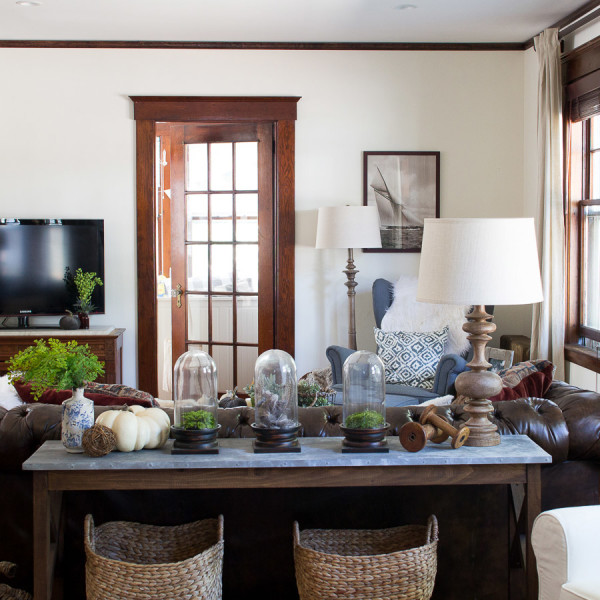 Over the spring we undertook a renovation which consisted of replacing our ceilings and adding recessed lights in this room. It was very stressful but we're so happy with how the living and dining room came out.
My fall decor is inspired by Nature. In our home you will see warm browns and cocoas in leather, feathers and glass, lots of white, vibrant green in ferns and moss, blues, grays and tiny hints of rust this year. I'm not a huge orange lover, but I'm trying to add a bit more…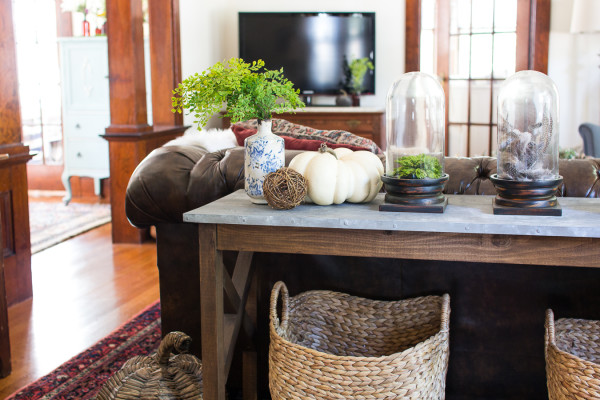 This post contains a few affiliate links. These links don't cost you any more if you purchase through them but I will get a percentage of the sale, thank you for helping support our blog in this way.
You may remember the faux galvanzied console table Luke built last year. This season I'm decorating it with this beautiful jar by Birch Lane. I put a faux maiden hair fern from Save-On-Crafts in it and LOVE it. I tried growing real maiden hair ferns and they all died 🙁 Now I buy faux!! New to me this year are also these cloches. I've wanted some forever and found these at Save-on-Crafts and the price was amazing. I love the deep wooden bases and how they work so well with our home.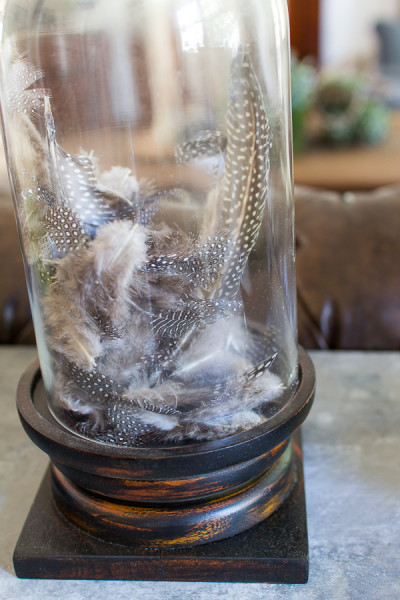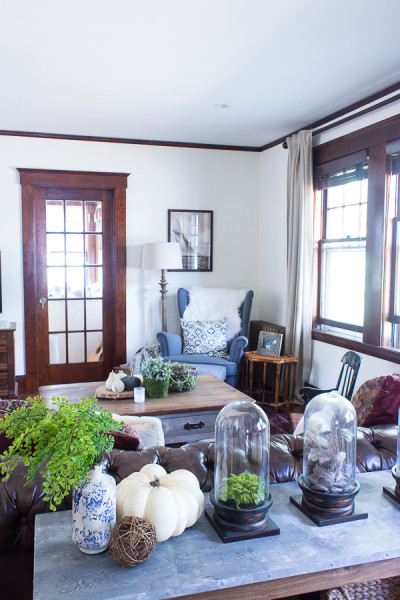 I also used preserved Japanese moss in the other two and love how green and vibrant they are.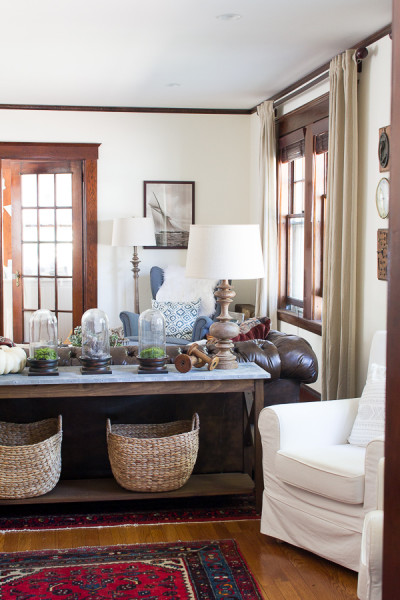 The table lamps and standing lamps are by Target. Our white armchairs are by Ikea and the beautiful tribal pillows are from Minted (they were in the boys' playroom last spring). The oriental rugs in the living and dining room are all antiques.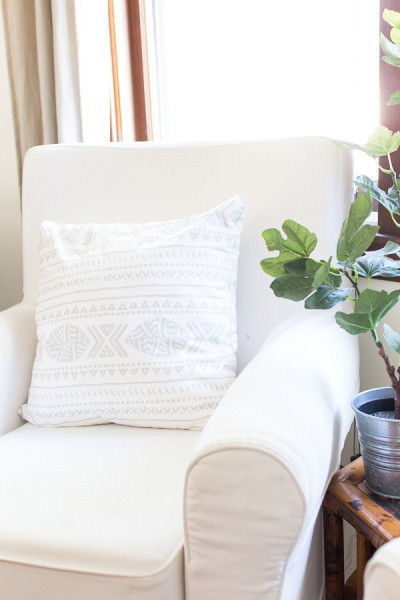 We've had these chairs for years and they are wonderful! The slipcovers are so easy to pull off and wash.
Opposite the chairs is our fireplace. I'm still trying to figure out what to do with it as I don't love the brick but we really want to put a gas fireplace in here when we can afford it so wondering if I should just wait.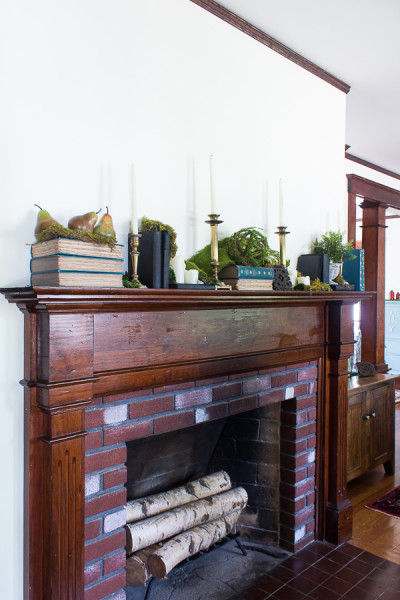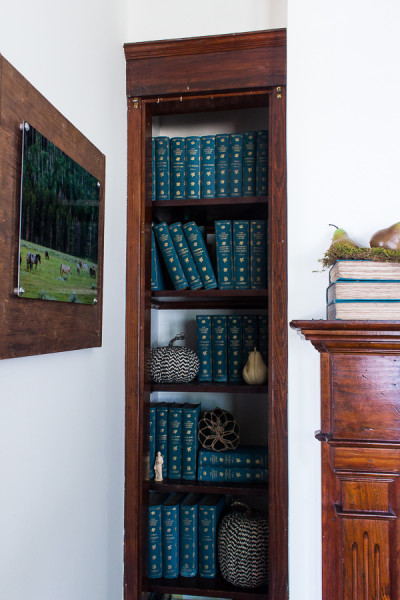 Our home has wonderful built ins and little nooks and crannies. This is what made us fall in love with it. The dark woodwork, milled in Maine, these tiny bookshelves tucked perfectly in unexpected places. The books in here are antique and I bought them because I LOVE the color, they used to be up in the guest room. The pumpkins were from Target a few years back.
My moss covered mantel is inspired by nature, we love going for long walks in the woods and I wanted to created something that reminded me of what you might find in a home nestled in the wood, perhaps in the English countryside.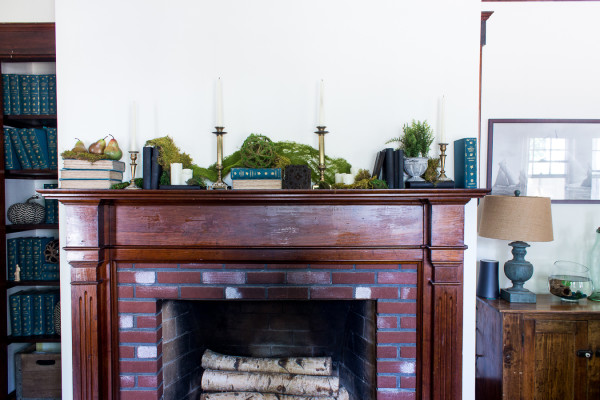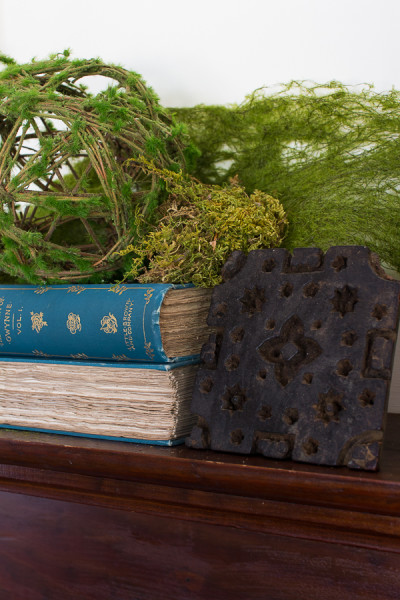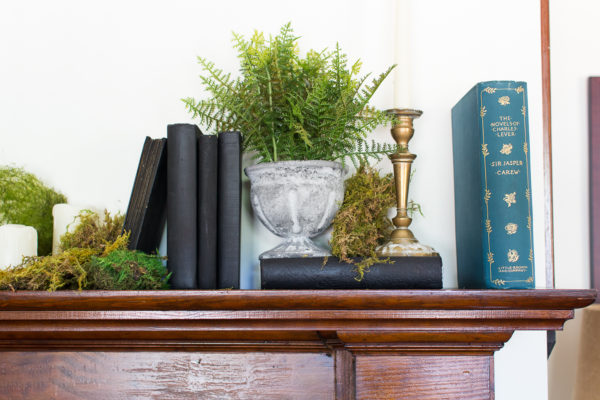 I think I'm going to write a separate post on the mantel next week to give you more details on how I created this look.
Let's go into the other part of the living room. We spent LOTS of time in here.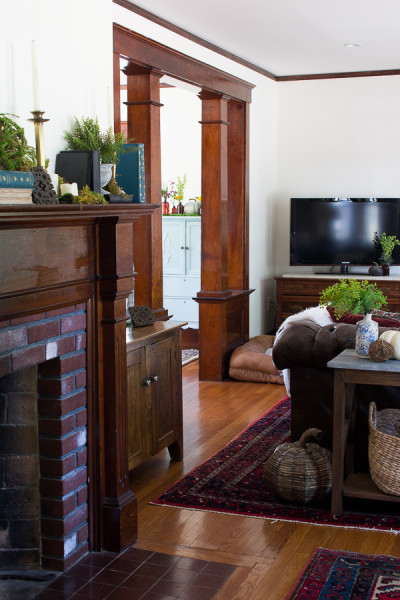 Central to this room is our Chesterfield couch, which to date is my best Craigslist find!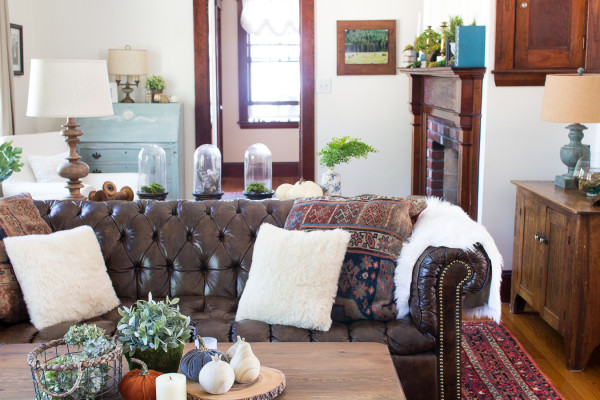 Nestled on the couch are antique Kilim pillows, faux fur from Michaels and a fur rug from Safavieh. I thought the fur added some softness.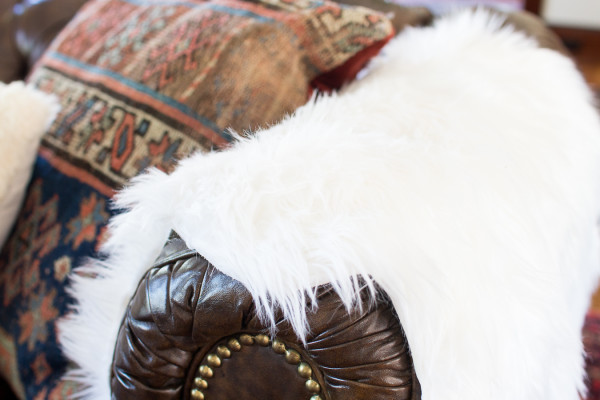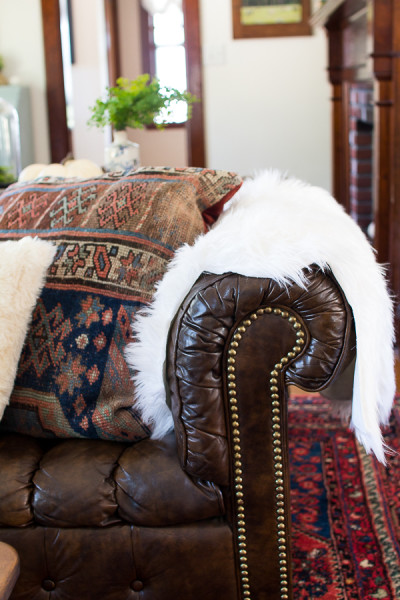 If you hadn't guessed yet, I love nailhead trim and tufting.
I try to keep our coffee table pretty simple. This is where the boys sometimes eat breakfast. We often have pizza here on Friday nights with a movie and we color and play board games here too. So I try to keep the decor on the table simple so we can move it when we want to play Monopoly or Clue.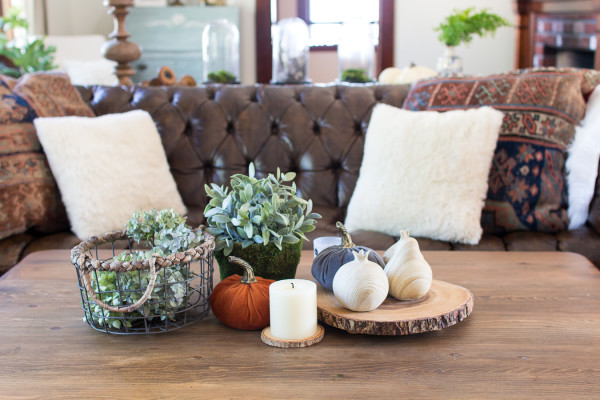 The dried hydrangeas are from our yard, the metal basket was from Marshall's (I bought three) and I'm so happy I did because I have them through out our home. Wooden coasters are great for drinks but also candles. This wood chopping board is perfect accent for wooden fruit and velvet pumpkin from Target. The velvet pumpkins are new this year. I couldn't resist them on my last trip to Target. See I'm adding some rust???? Are you guys proud of me?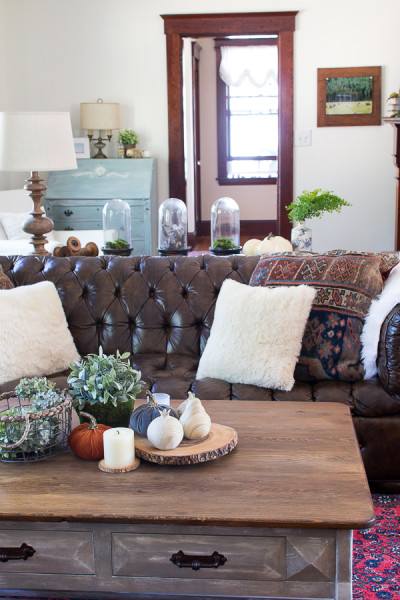 Over in the corner of this room is our wingback chair and ottoman. We bought this last year at Ikea and are so happy with this purchase. I got the ottoman because my dad needs to elevate his leg when he sits but you know what? We all love putting our feet up in this house. It's the perfect spot for a cup of tea and to sit with a pile of magazines or a good book.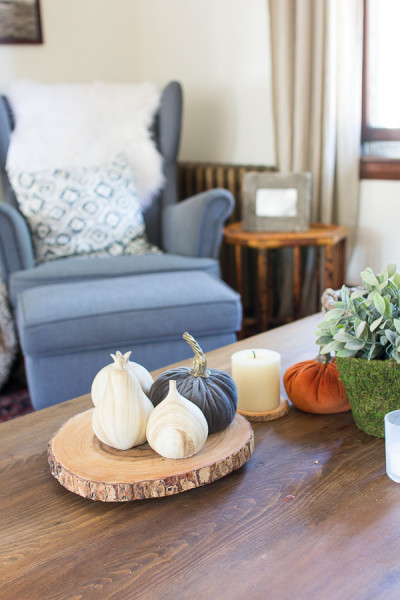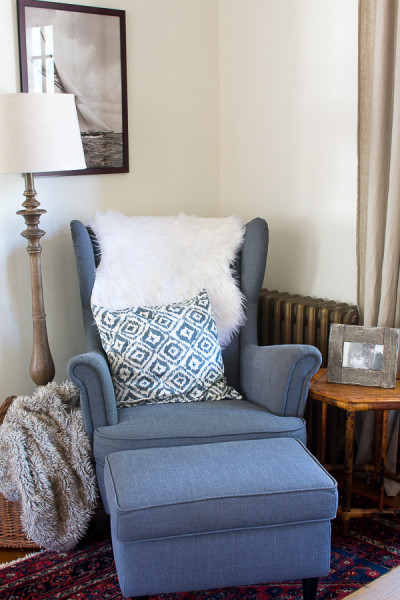 It really is a wonderful spot. The pillow is from Minted.
Well, that's our living room. Let's make our way into the dining room.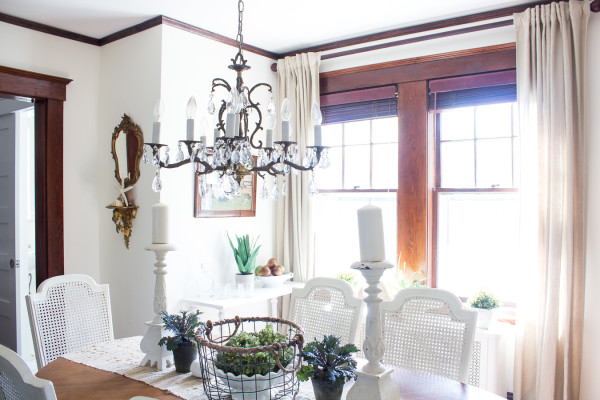 This was the first room I did over in our home three years ago. I'm starting to think I want to do something different in here. Maybe a more English look, but for now it is staying as is. The table and chairs I upcycled, I found them on Freecycle.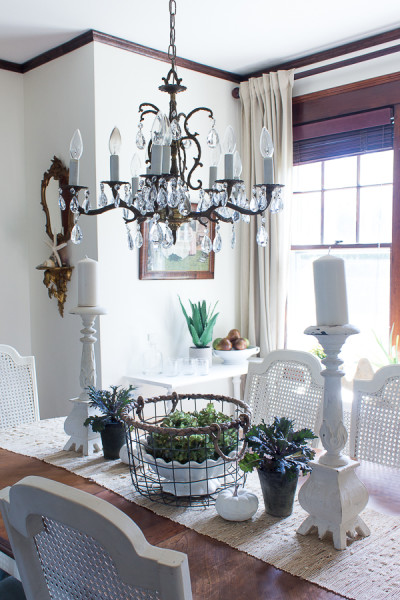 The chandelier is from a local antique shop. The table is simply decorated with dried hydrangeas from the yard and ornamental kale in cement pots (from Save-on-Crafts). I found that ironstone swirl bowl at the thriftstore for $6 and put it in one of my wire baskets. I like the texture it adds.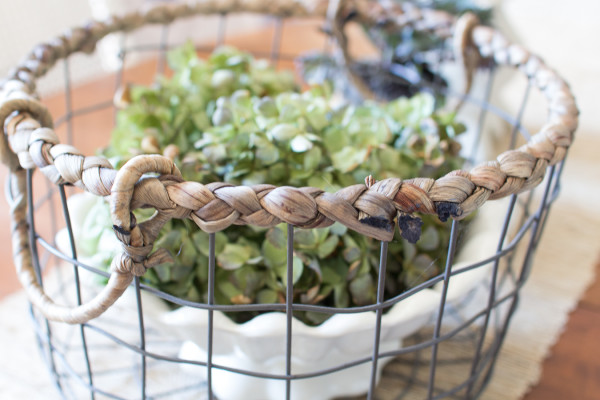 A view from above (I had one foot on the table to take these, ha! ha! the life of a blogger!).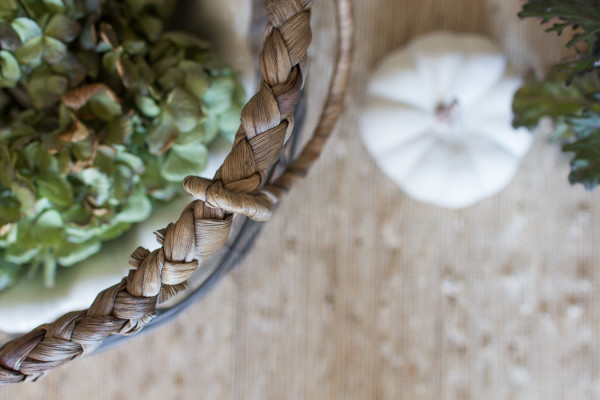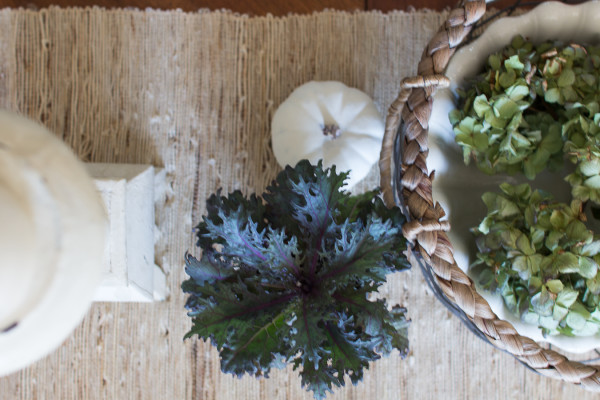 The runner was from Target last year, I love how it works in every season. The tall white candlesticks were from Goodies in the harbor. I think they're architectural salvage made into candlesticks. One is a little wonky, but I like imperfect. I love them in our dining room!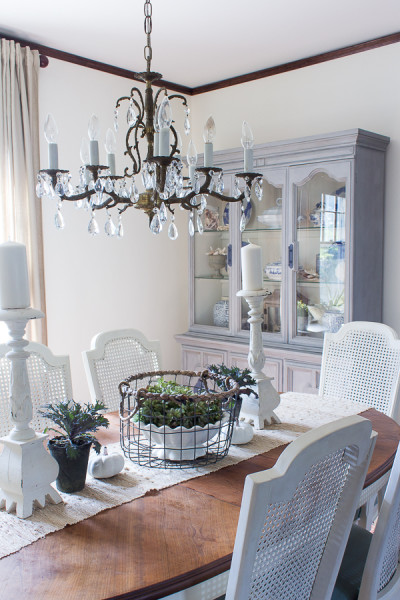 Over in the corner is a faux marble console I created last fall. I like using it as a bar area. For fall I have some pears on it in Ironstone.
The painting used to hang in my parent's restaurant so it holds special meaning, it's an English lithograph.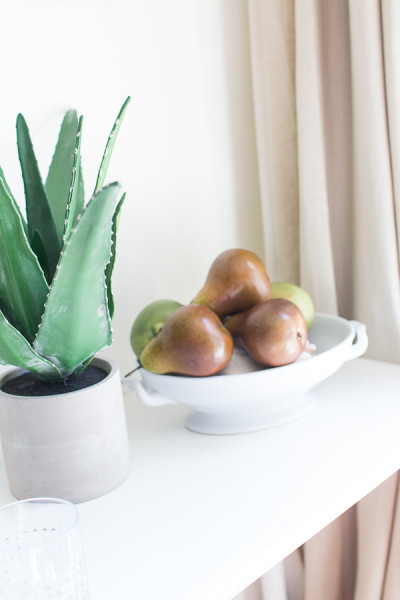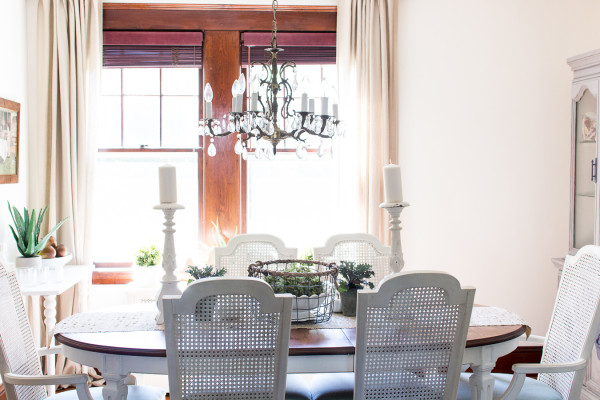 We use this room for all kinds of gatherings – special holiday meals, Thanksgiving and Sunday roast dinners. It is a wonderful room and spot for entertaining and gets such beautiful light.
In the other corner of this room is a little antique armoire that I love to decorate for the different seasons.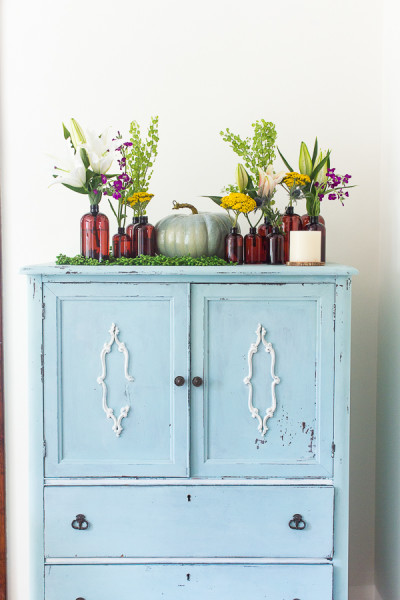 The cabinet is painted in Miss Mustard Seed Milk Paint Eulalie's Sky with Old White Chalk Paint on the details. I often get asked about the color.
I decided to bring in warm browns and vibrant jewel wild flowers and lilies.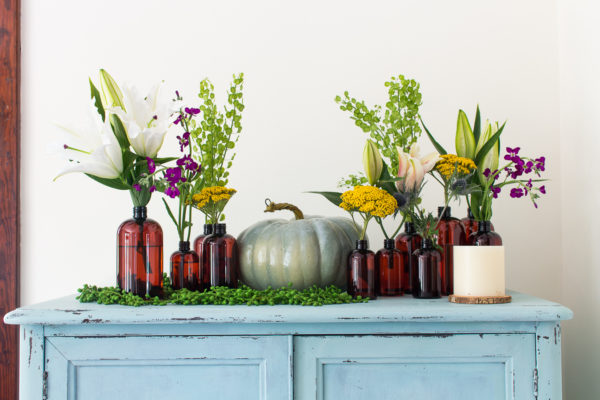 The flowers were from Trader Joe's. The bottles are from Specialty Bottle Supply. Would you believe me if I told you, that these are plastic? I saw them at Haven and found out where they got them. I got all of these for $17. It just goes to show you don't have to spend lots to get a pretty and festive look for fall.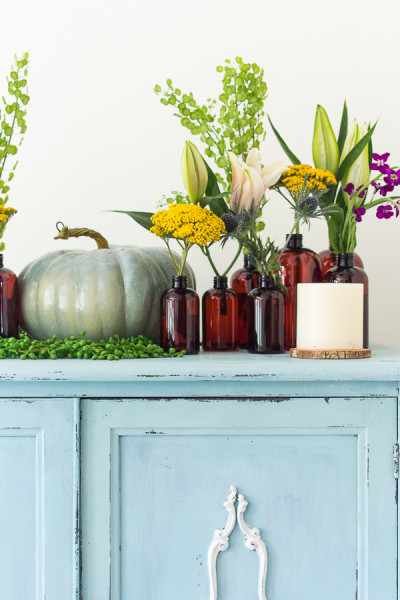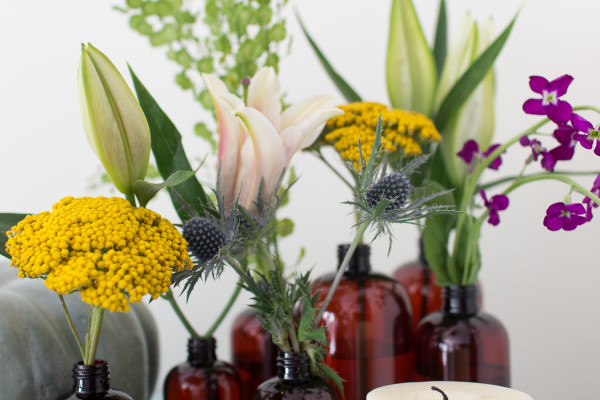 They smell pretty amazing too!
Well, that's our living room and dining room! I also shared a fun fall printable in watercolor last week that I thought you guys might like for your home. You can read that post here. See? I'm trying to add some orange.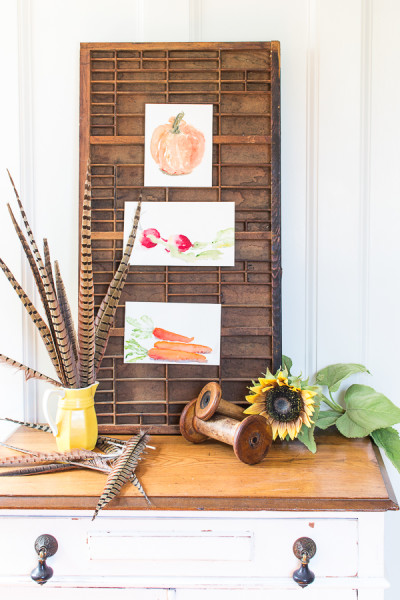 I hope you guys have a beautiful Monday and hope you enjoyed our home tour. I'll be sharing our sunroom and entry later this week and the mantel and She Shed a bit later on.
Next up on the tour is Annie from Zevy Joy. I can't wait to see how her home is decorated!

Full Source List
Living Room
Wall Color – Mascarpone in Matte by Benjamin Moore
Dark Woodwork – Original
Linen Curtains – Ikea
White Chairs – Ikea
Painterly Ikat Pillows (on gray chair) – Minted
Tribal Pillows – Minted
White Pillows – Michaels
Kilim Pillows – Antiques, similar to these
Oriental Rugs – Antiques
Galvanized Table – Painted Tutorial and Build Plans
Tommy Bahama Baskets – HomeGoods
Safavieh Faux Fur Rugs – Wayfair
Standing lamps and table lamp – Target
Chesterfield Sofa – Craigslist find,   domino has ones that are similar.
Coffee Table – Painted Furniture Tutorial
Bamboo side table – antique
Faux Plants – Ikea
Books, bottles – Antique
Cabinet with fish and Dresser with TV – Antiques
Blue and White Bottles – Birch Lane
Horse Photography – Kjeld Mahoney Photography
Velvet Pumpkins – Target
Woven Pumpkins – Target
Wooden Fruit – Target
Cloches – Save-On-Crafts
Brass Candlesticks – Antique
Dining Room
Wall Color – Mascarpone in Matte by Benjamin Moore
Dark Woodwork – Original
Chandelier – 3A Antiques
Dining Set – Craigslist Find and redid with Annie Sloan Chalk Paint in Old White. Can see more of the makeover here.
Faux Marble Bar Console – See tutorial here
Vintage Shelf and Gold Mirror – Goodies II, post here
Woven Runner – Target
Faux Plant (on marble console) – Target
Vintage Blue and White Jar – Antique
Linen Curtains – Ikea
Fresh flowers – Trader Joe's
Gray Hutch – Tutorial here
Simone Antique Armoire – Tutorial here
Antique Lithograph from my parent's restaurant
Boston Amber Bottles – Specialty Bottle
Cement Plants – Save-On-Crafts
Be sure to visit all the beautiful home tours below:
Monday


Maison de Pax | Nina Hendrick Design | Shades of Blue Interiors | Finding Silver Pennies | ZevyJoy
Tuesday


Bless'er House | A Burst of Beautiful | The Wicker House | So Much Better with Age
Wednesday


Cherished Bliss | Tidbits | Love Grows Wild | Craftberry Bush | Liz Marie Blog
Sharing with: