We've been trimming the tree, hanging greenery and humming our favorite Beach Boys' Christmas songs all while sipping eggnog and eating far too many Christmas cookies. I'm excited to share our Christmas Home Tour with you today!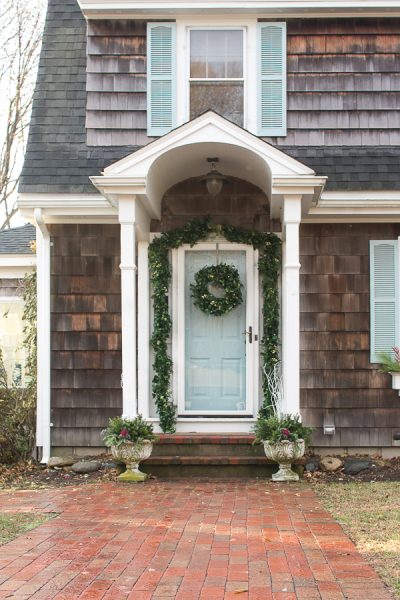 This post is sponsored by Balsam Hill. They sent me some beautiful Christmas items to decorate our home this year. I love everything and am so excited to share it all with you. 
Today is the start of the Balsam Hill Holiday House Walk. If you're heading over from Courtney's blog, French Country Cottage, welcome! Isn't Courtney's home amazing! I've actually had some fun adventures with her over the years, we got lost together on the Hidden Treasure Adventure with GMC and Habitat for Humanity.
10 bloggers will be sharing all their homes decked out for the holidays (links at the bottom of the post).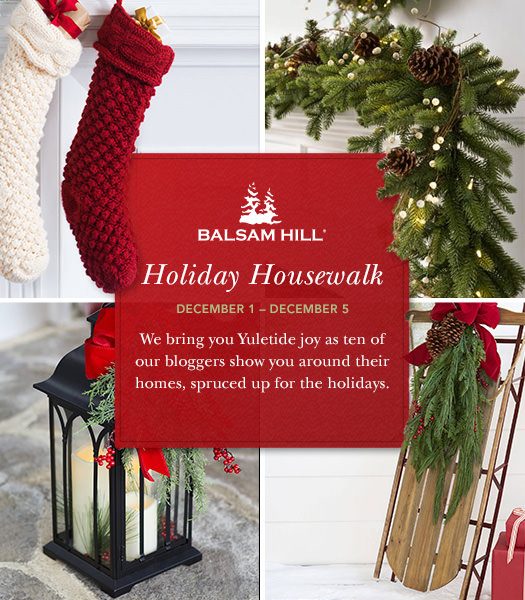 If this is your first time to my blog, we're waving a big hello from Scituate, MA, a coastal town just south of Boston. We live in the harbor in an historic Dutch colonial. Christmas is such a magical time for our family, we have two boys and two dogs. As you can imagine, our children are so excited for Christmas and all the magic and love this season brings.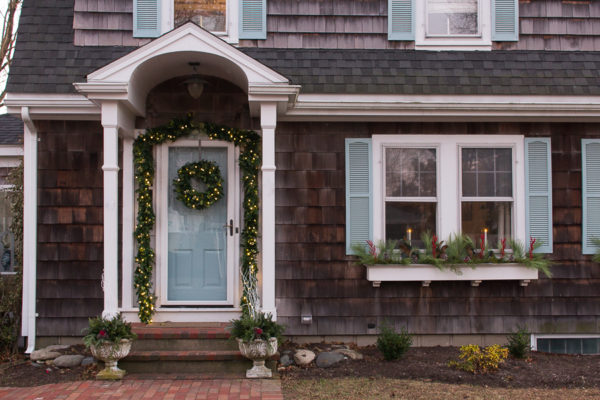 I like to keep things simple and classic here by the sea. I used Balsam Hill's White Berry and Cypress Wreath and 10ft Garlands around our door way. They look so pretty and festive lit.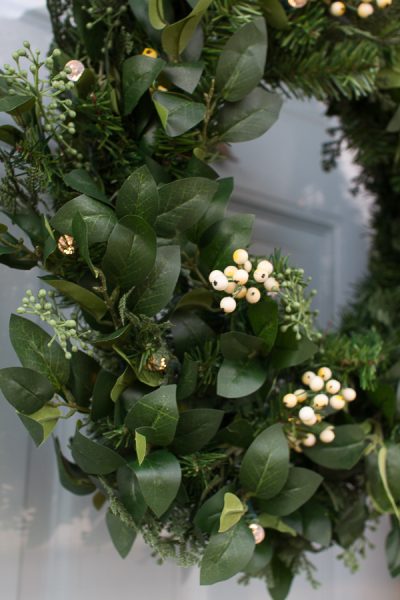 The dogs and Conor wanted to help greet you to our home: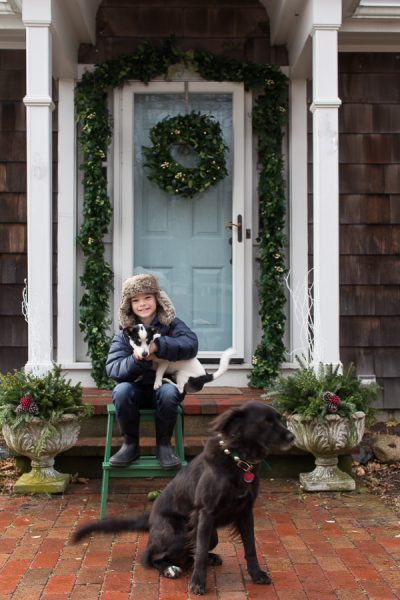 It honestly was so hard to get them to sit still. Max was squirming so much that we had to put his leash on. He escaped from Conor and was running around the front yard! He's such a little rascal!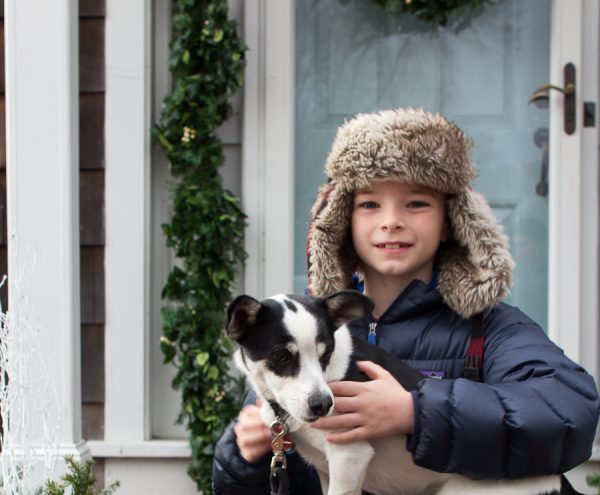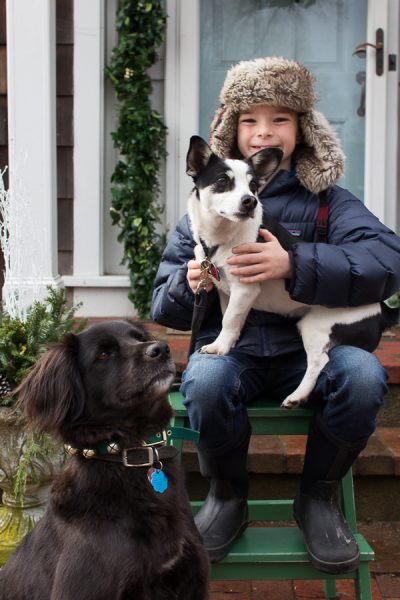 For our exterior I've used faux greenery mixed in with real in the antique urns. I'm going to write a separate post on our window boxes. I love decorating them for the different seasons.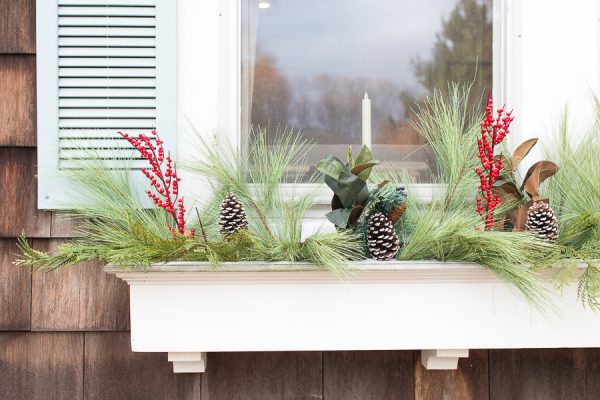 Here's a glimpse at night. The white candles in our windows have the prettiest flickering flame. I love watching them. They are mesmerizing. The boys love watching them from their beds too. These candles are similar.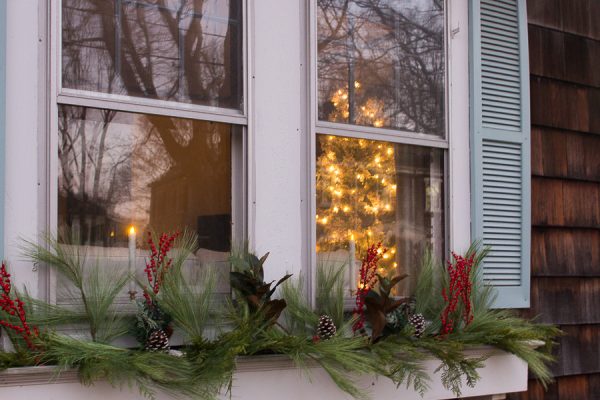 Shall we take a look inside? I can't wait to show you how the rooms look this year with our new sectional and the farmhouse dining room and chairs. It looks so different than last year.
Up first the living room: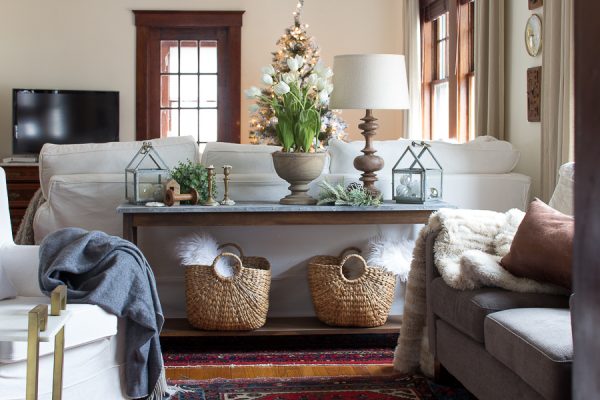 We now have two areas to this room: a sitting area by the fireplace and a family room. Last year the Christmas tree was in this room but decided to move it by our new white sectional. This year it was my desire to keep everything simple and coastal. The slipcovered arm chairs, sofa, and dining room chairs are so elegant but comfortable at the same time. I wanted our decor to be the same elegant but also inviting.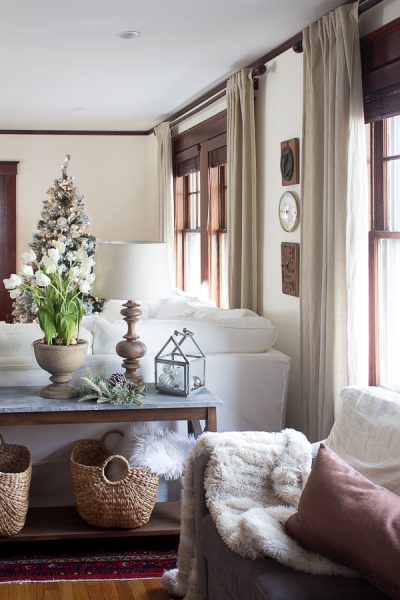 Our home is filled with oriental rugs but also lots of white, linen slipcovers and curtains and heavy cottons. I love decorating with textures.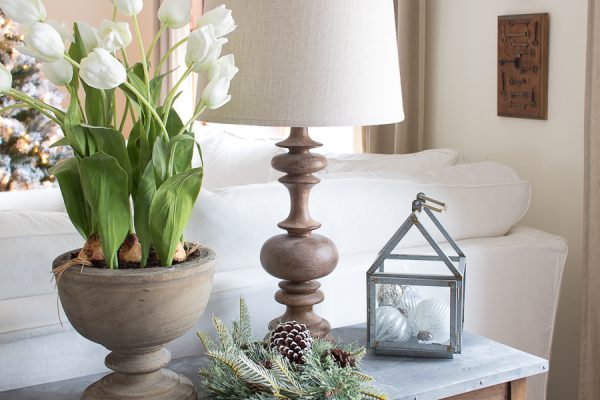 Would you believe these tulips are faux? I gasped when I pulled them out of the box. Wow! I love them so much and have a feeling they will be staying out all winter and maybe even spring too. The table is also faux galvanized click here to see how to create the look yourself. Luke built it a few years ago and it's still a favorite.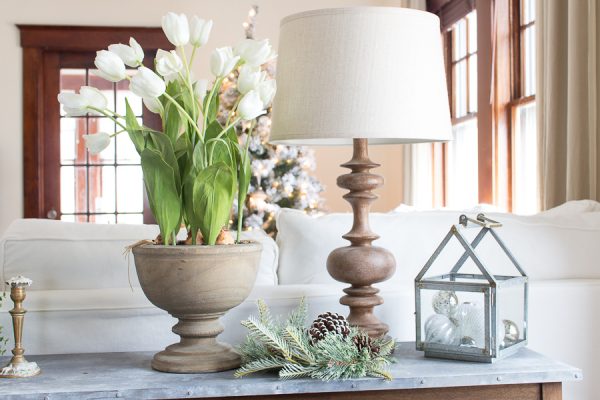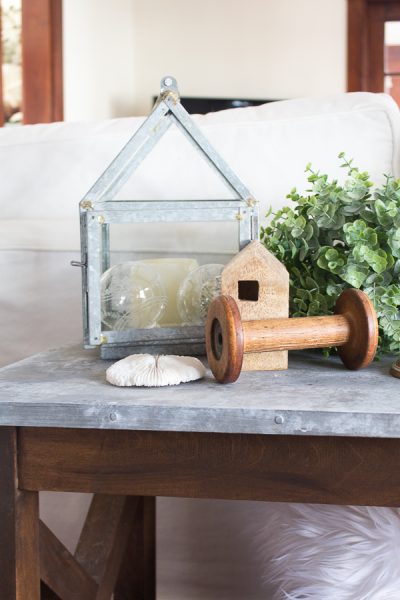 Over by the fireplace is a lovely berry and fir wreath and the lights are just so gorgeous on it.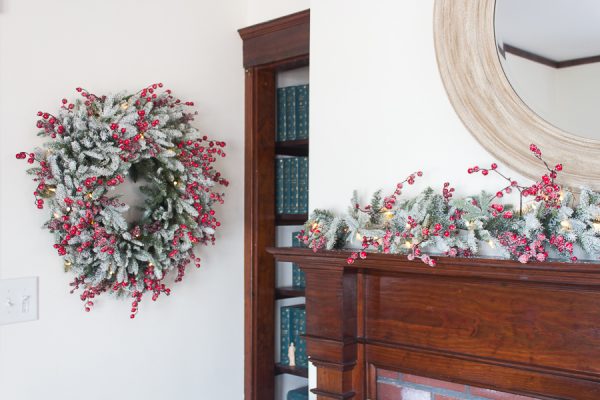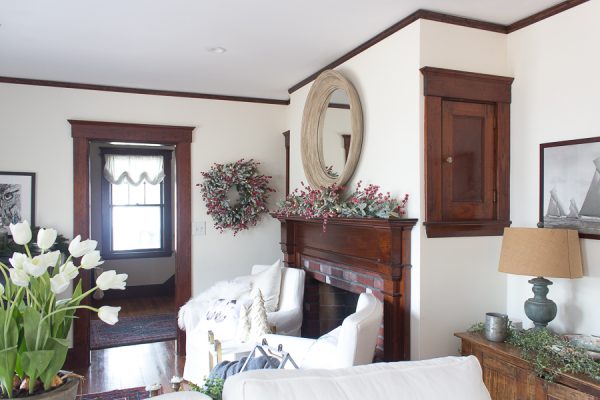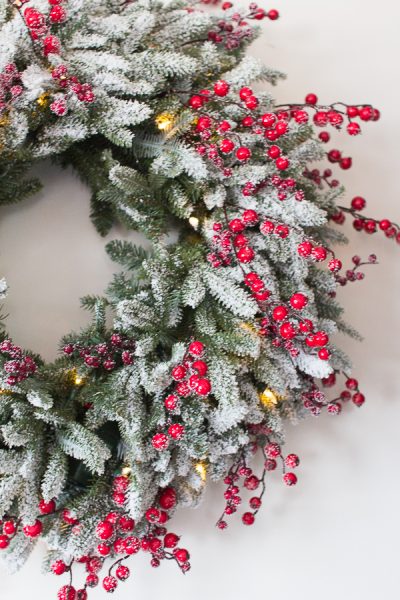 Look how magic the frosted branches and berries look.
This is the first year we have so many pre lit wreaths and greenery and it really adds to the magical cheer. I leave the lights on all day! The matching garland looks so pretty on our mantel.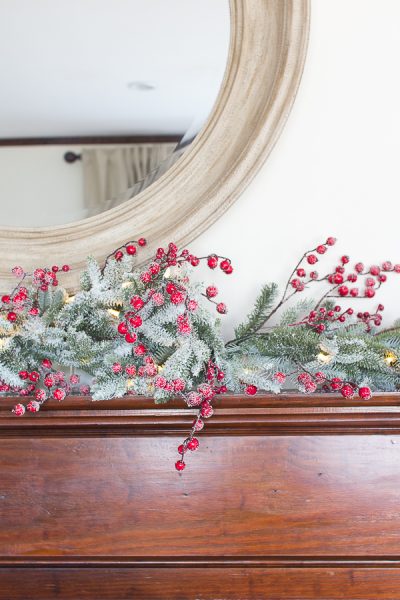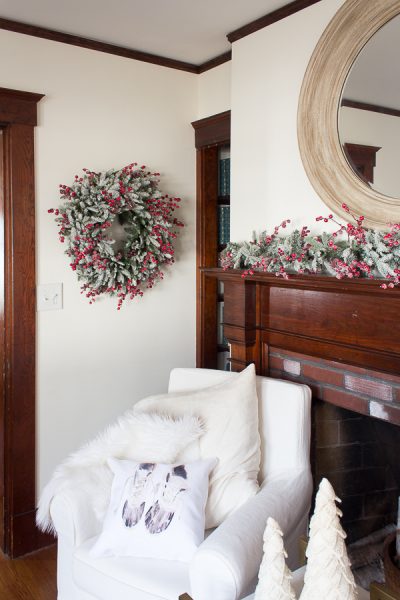 It's so cozy sitting right here.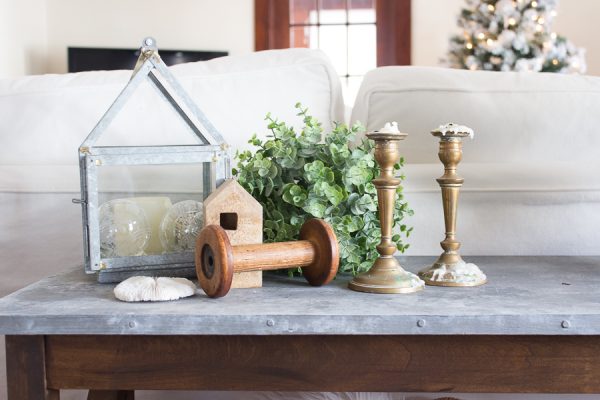 Here's our tree this year: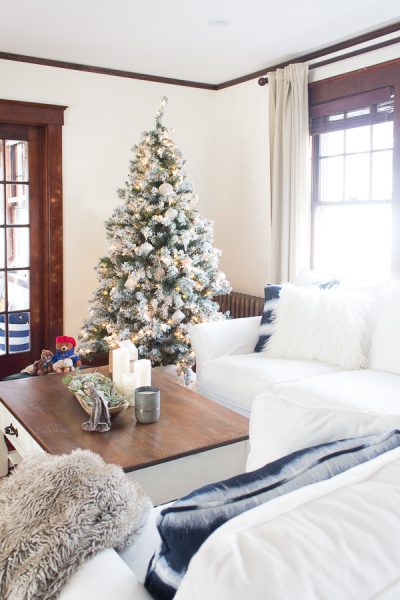 It's flocked and it looks perfect tucked next to the sofa. We still need to replace this coffee table but maybe after the holidays. We're thinking of doing something round in here. On the table I have flameless candles and they feel so real. You can control the flicker and speed with a remote. I think this is safer by the couch or on the mantel. You can see them lit below: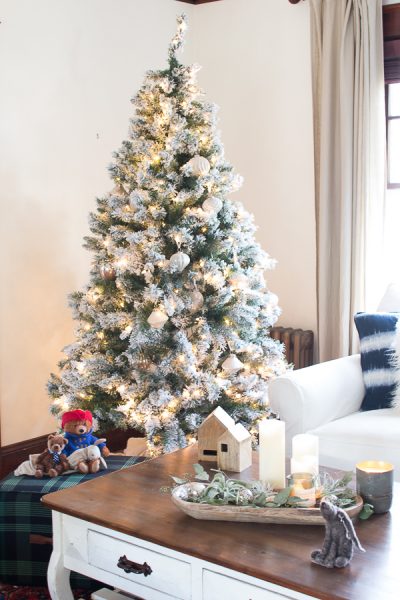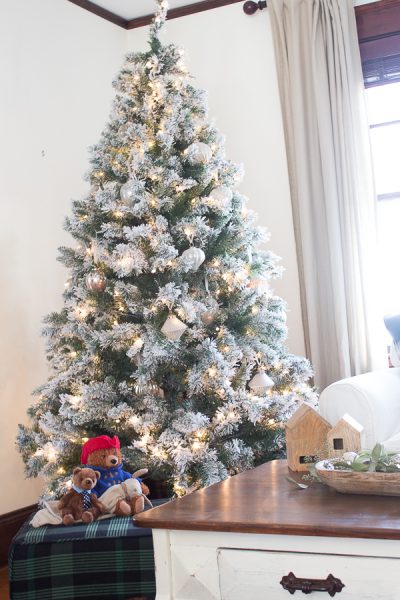 Conor's favorite toys, including his doggie, are nestled by the tree waiting for some new friends, and also hoping Max doesn't get them 😉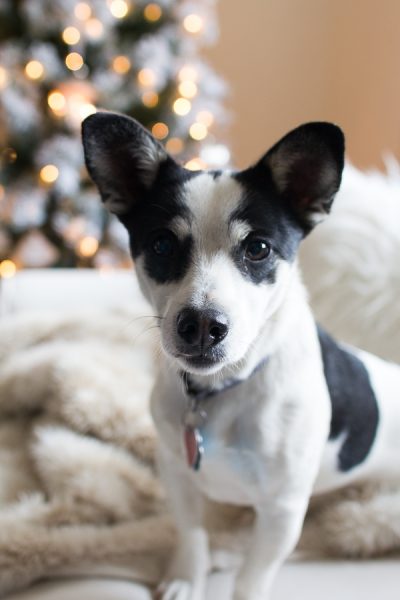 I know he looks so innocent but he does have a love for Conor's cuddly toys.
The tree is decorated with these beautiful French glass ornaments.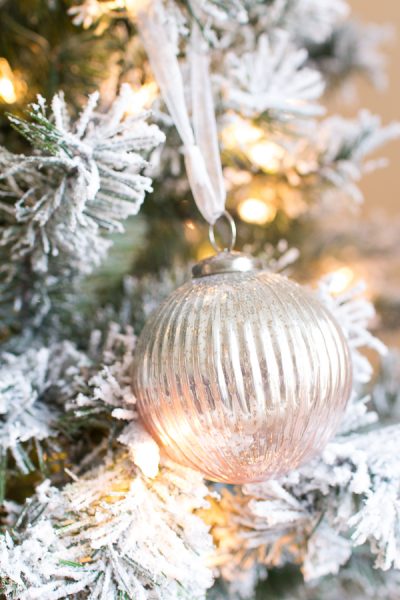 I've had them for a few years and I just love them so much. They look gorgeous on the tree but are also pretty in bowls or tables and nestled on shelves.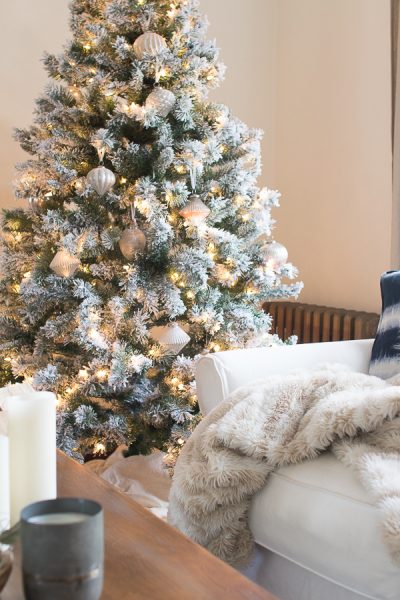 Now, I'd love for you to see the dining room. This room has changed a lot since last year as we redid it last spring. I'm so in love with the beautiful farmhouse table Luke built. It's perfect for family meals and gatherings.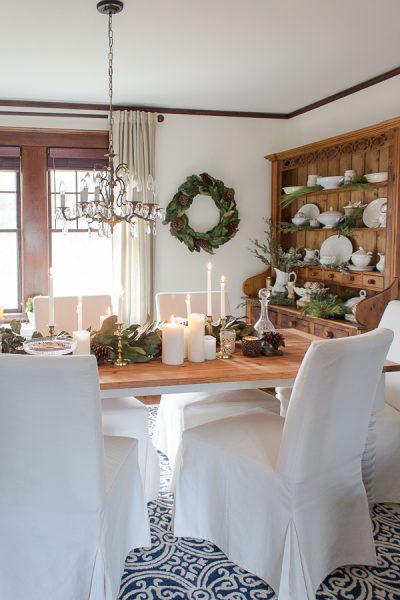 You may recognize the Magnolia Wreath and Garlands as I used them on our home's exterior last year. I'm love how simple and warm they are. I laid one garland across the blue milk paint cabinet: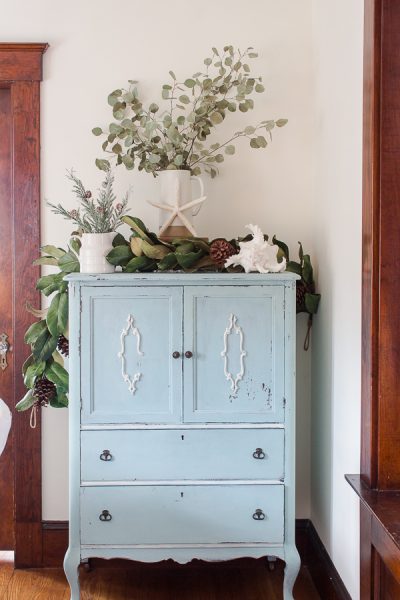 Which coordinates with the other that is strewn across our dining table along with many candles. I mixed real and faux here.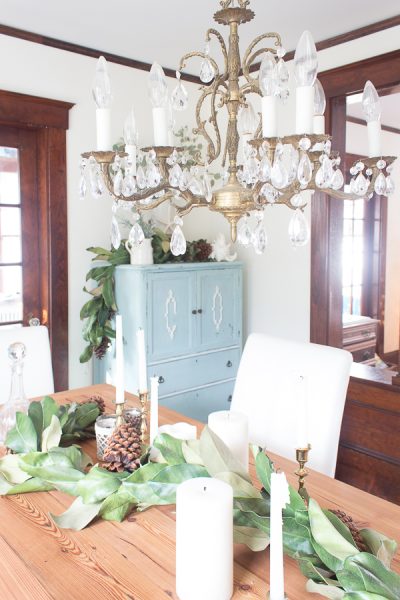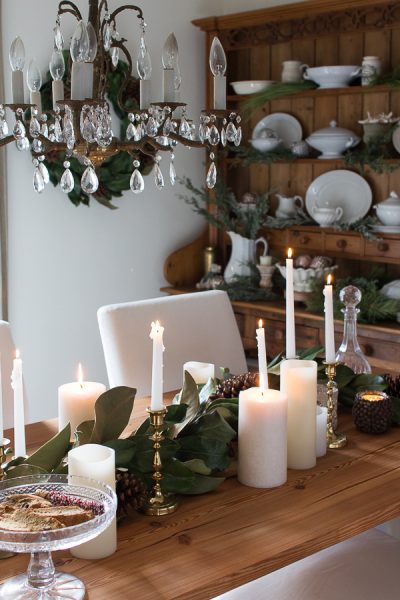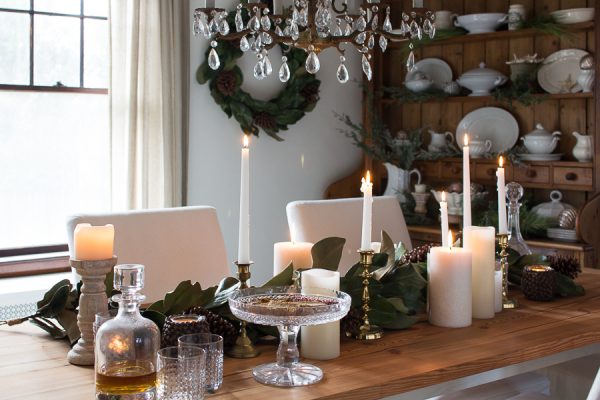 The antique Welsh dresser is decked out with lots of greenery and more ironstone.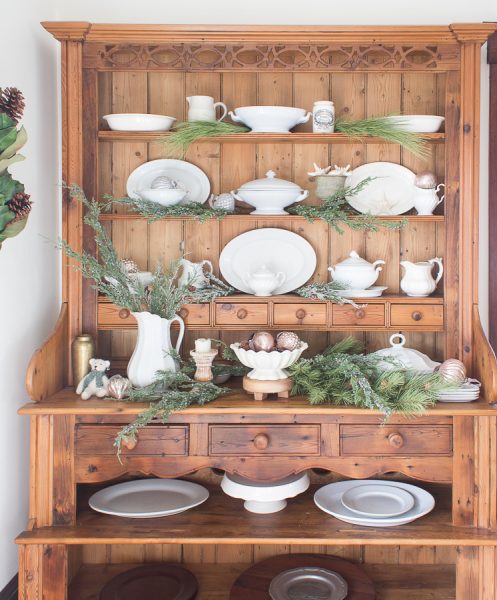 I also used more of the French glass ornaments in here.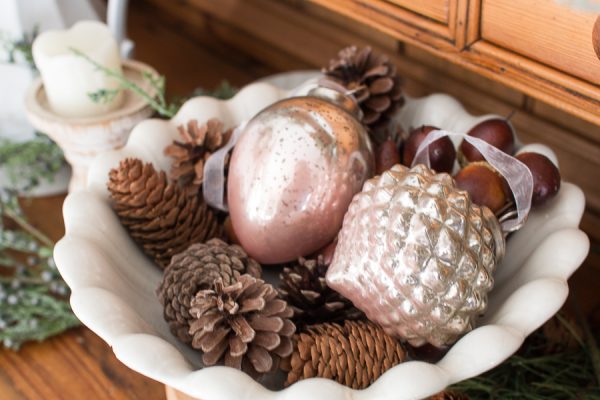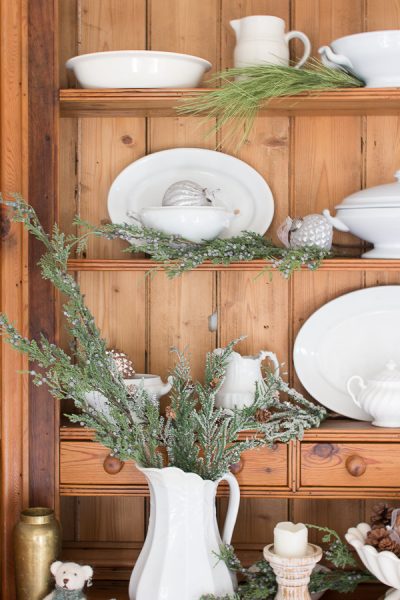 Well, that's how our home is looking this year! I hope you enjoyed the tour!
A huge thank you to Balsam Hill for sending me some lovely wreaths and accessories for our home. Their pieces are timeless and can be used again and again each year.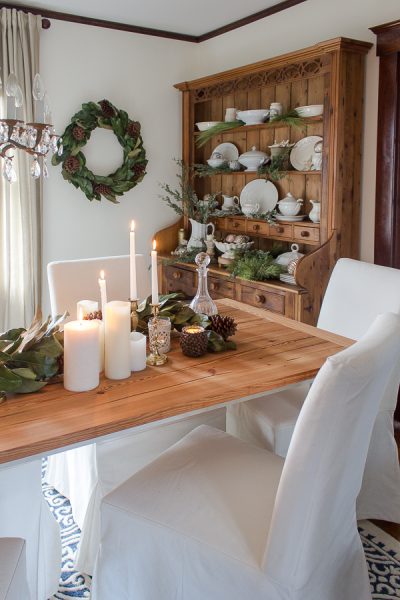 Be sure to visit all my friends who are taking part in the Balsam Hill Holiday House Walk, click the links below. Go see Courtney's home today if you haven't already visited: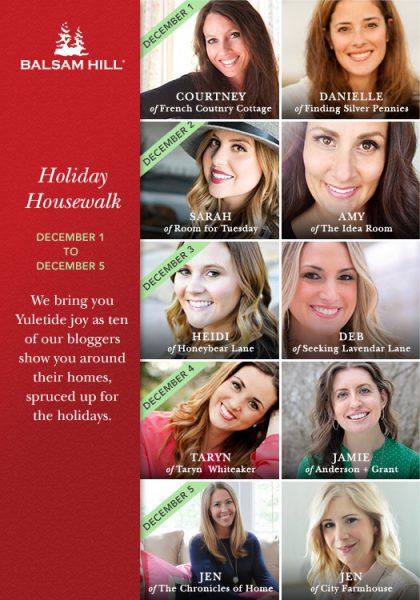 Friday – French Country Cottage * Finding Silver Pennies
Saturday – Room for Tuesday * The Idea Room
Sunday – Honeybear Lane * Seeking Lavender Lane
Monday – Taryn Whiteaker * Anderson + Grant
Tuesday – The Chronicles of Home * City Farmhouse
Sharing this post with:
French Country Cottage, The Inspiration Exchange, Shabby Art Boutique, Home Stories A – Z ,
Jennifer Rizzo Holiday House Walk