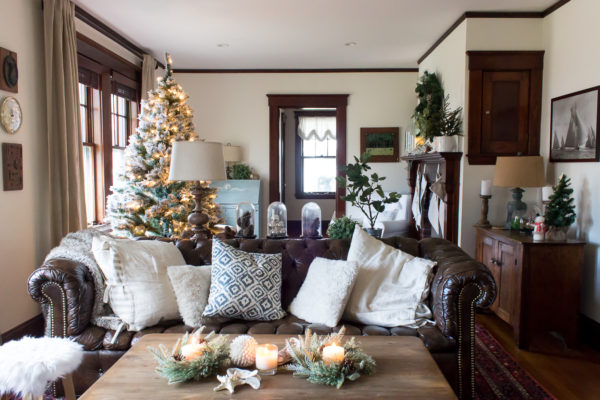 "The best way to spread Christmas cheer is singing loud for all to hear." – Elf
Elf is our favorite movie to watch as a family. We saw it on Sunday down at the cinema in Scituate Harbor and I have a feeling we're gonna watch it lots more right here on the couch. Today I'm sharing our Christmas Living Room!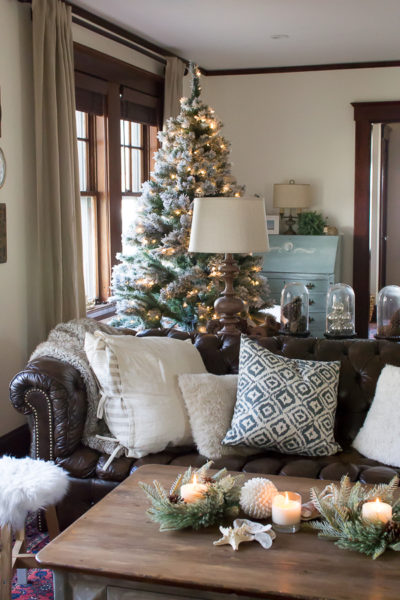 This is where we spend the majority of our time as a family. We sit here eating pizza or cutlets, watching fun Christmas movies or playing board games. The living room is truly the heart of our home and it is a very large room which we've divided with the couch. My goal this year is to make our home warm and inviting because we're gonna have a full house this Christmas – my parents and Luke's brother's family. Yay!
Let's start out on the stairs in our entry and you can see the glimpse of the tree as our boys' will see it as they rush down the stairs to see if Santa arrived.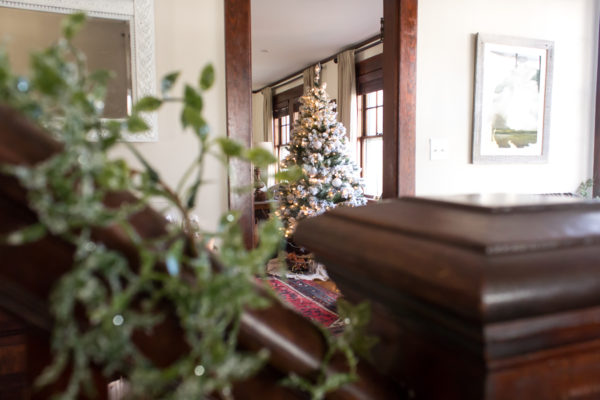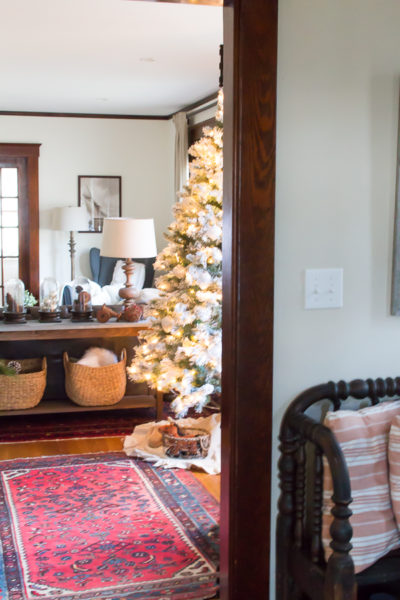 Warm oriental rugs line our floors while fairy lights add the warmest glow.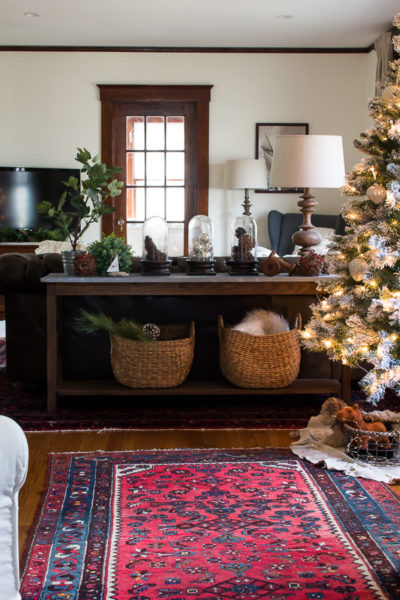 I've included a few affiliate links in this post, please see my full disclosure policy here. If you purchase a product through these links it doesn't cost you more, but I get a percentage of the sale. Thanks for supporting our blog this way.
Luke built the console table for me last December and we're still loving how it looks in this space. I filled the cloches with pine cones and ornaments. The lamps are from Target.
People still are fooled by my faux galvanized top 😉
The little sailboat ornament we made a few years ago from driftwood we collected on the beach, click here for the tutorial.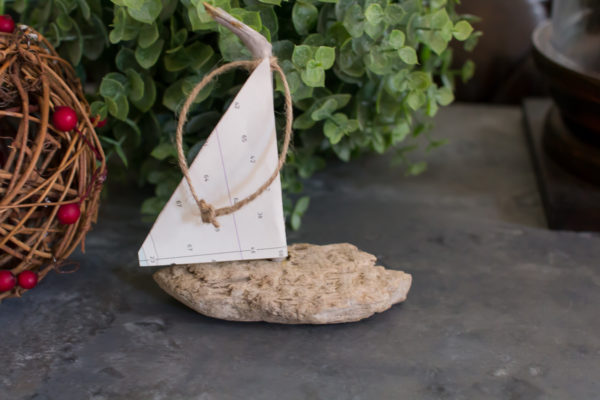 I've filled the baskets with faux greenery and fur.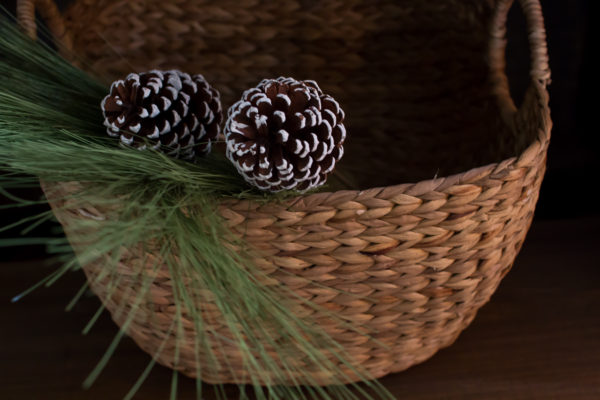 The ornaments are from Balsam Hill and are lovely. They are the French Country Ornaments.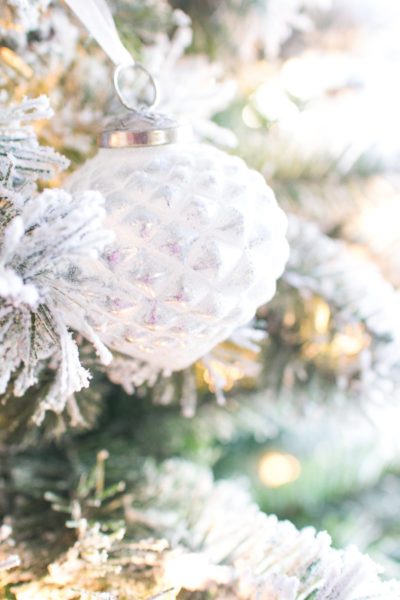 We used only these on the tree this year.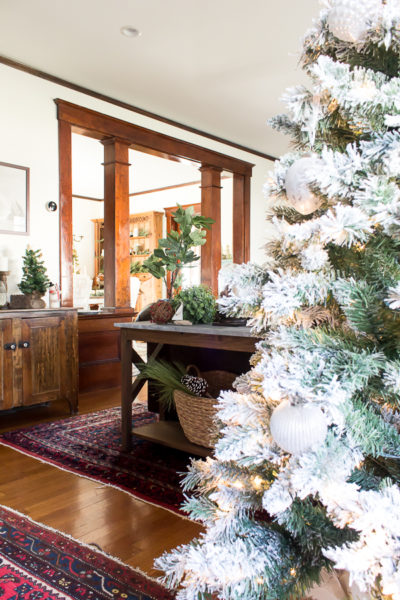 I liked the above angle because you can see into the dining room and I think this gives you a great idea of layout of our room and home.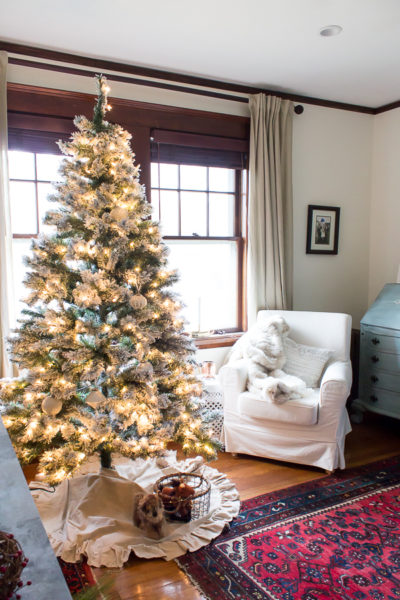 The tree skirt is made from drop cloth, you can see the easy DIY here. The chairs are Ikea, throw from World Market and pillows from Minted.
This is my favorite view in here though.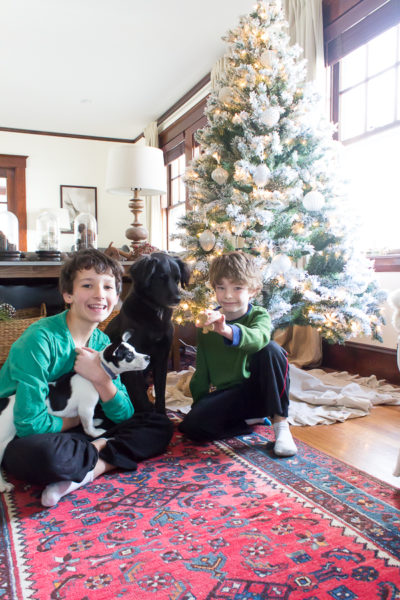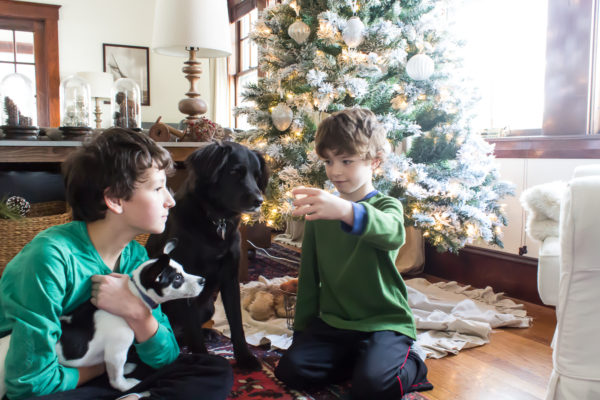 So hard to get all my little loves to sit still for a few seconds. Treats work though. 😉
Opposite the tree is the fireplace: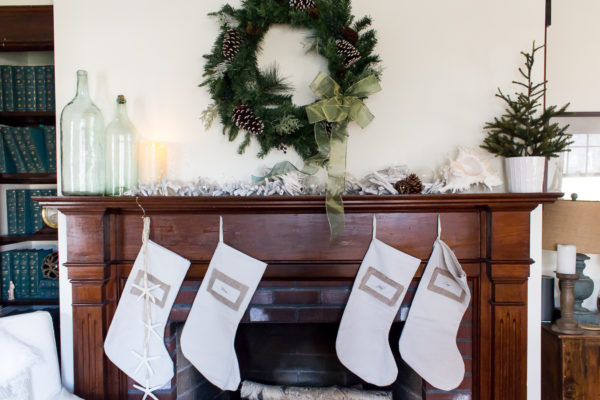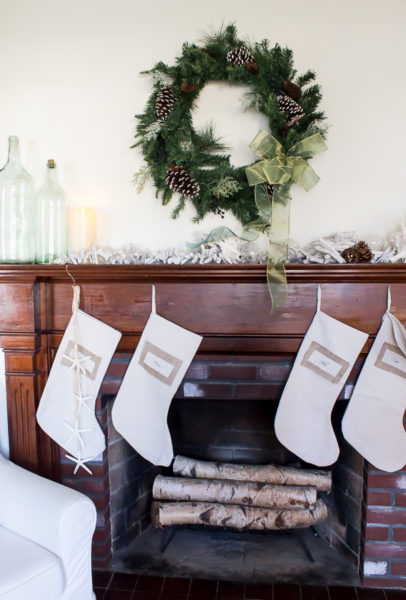 We made the stockings from drop cloth a few years back, click here for tutorial. The driftwood garland is from Birch Lane and I love decorating with it all year long. You have seen it out in the shed, in the sunroom and many other places in between.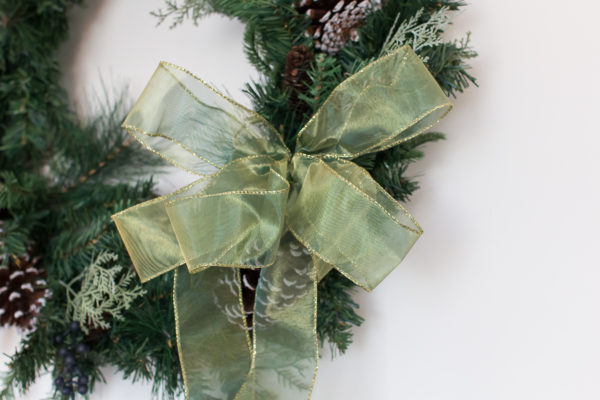 The bow picks up the shimmery hue of the antique bottles and reminds me of sea glass.
Simple pine cones and a faux mini tree from Ikea complete the mantel.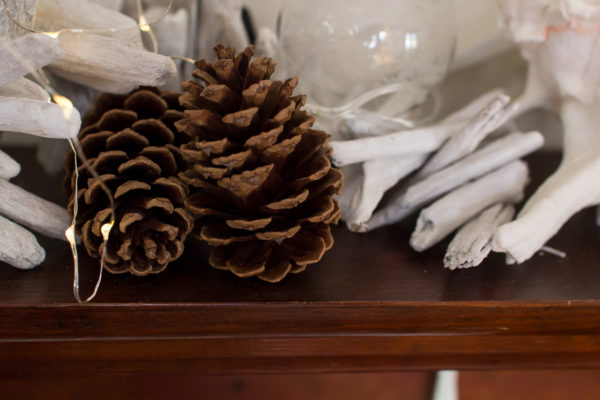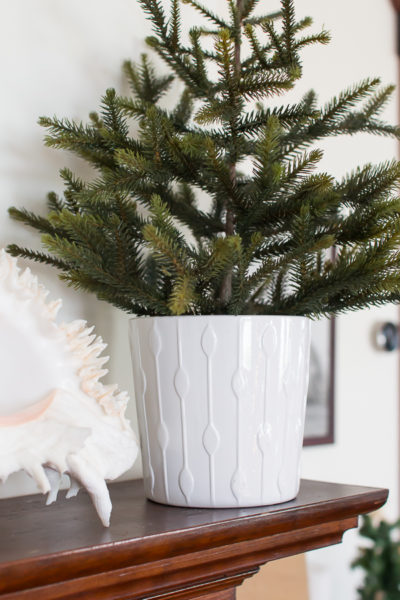 The gorgeous shell was a gift from a reader this summer.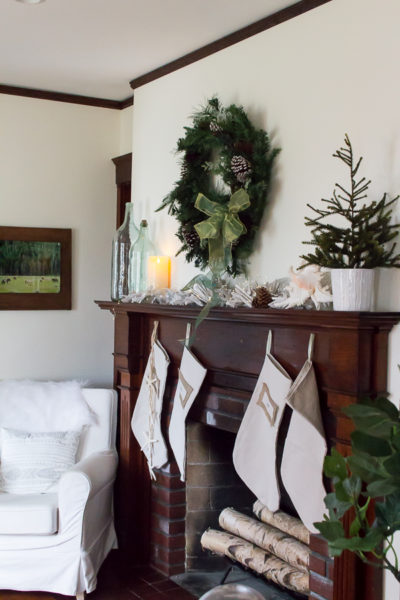 I moved the other white chair by the fireplace, the photograph above the chair is by Kjeld Mahoney Photography. I'm still hoping to do a makeover on the fireplace – changing the brick and adding a gas fireplace insert.
Okay, here's the other part of the room.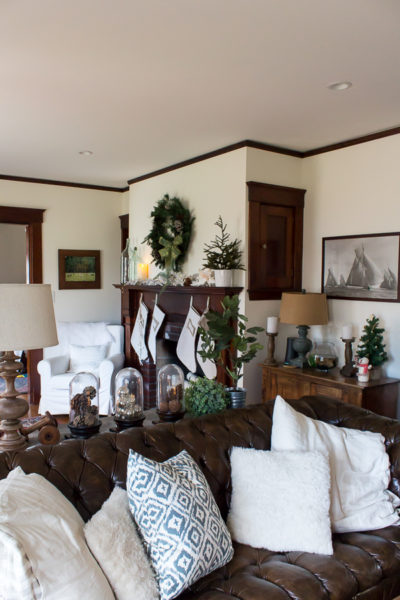 The pillows are from Ikea, Michaels and Minted. We love cozy and soft pillows to snuggle up against while we watch Christmas movies.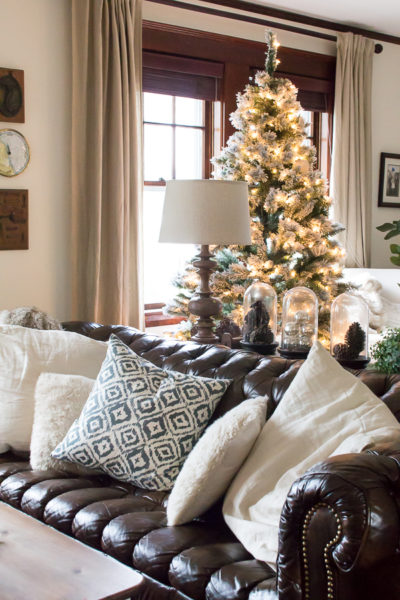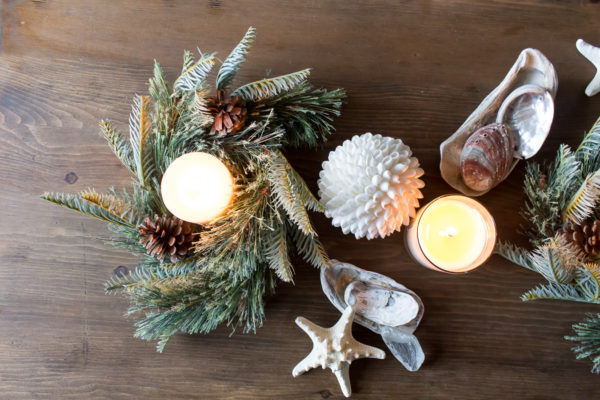 Simple candles and beach treasures are scattered on that coffee table. Can you believe that large piece of sea glass we found?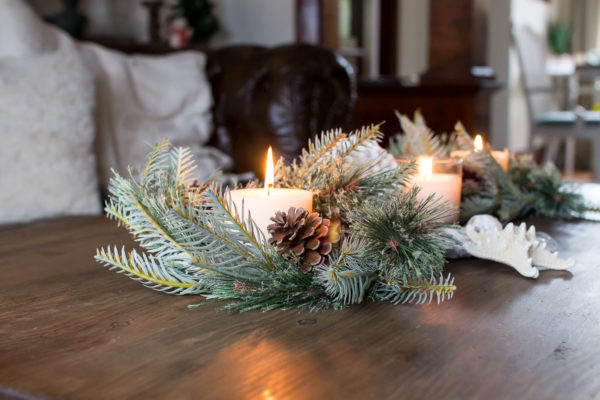 I love using candles to warm up a space.
I like to mix and match fragrances too.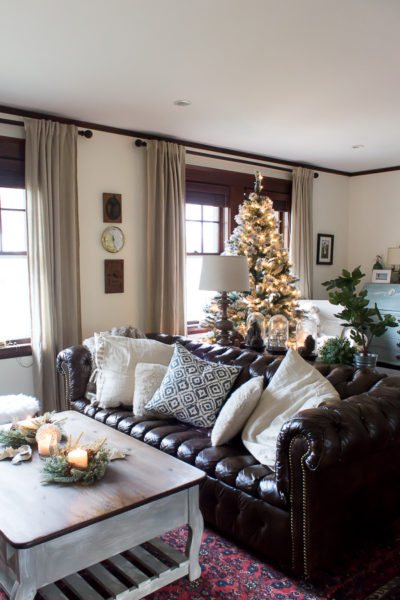 I painted the coffee table a few years back with Chalk Paint® to give it a Restoration Hardware style finish.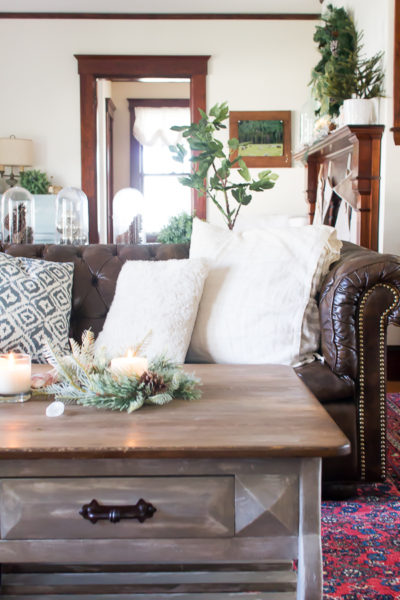 Our TV console is an old dresser.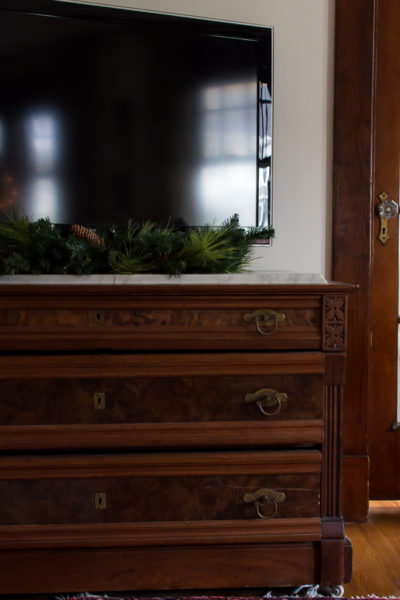 It got a little Christmas cheer too!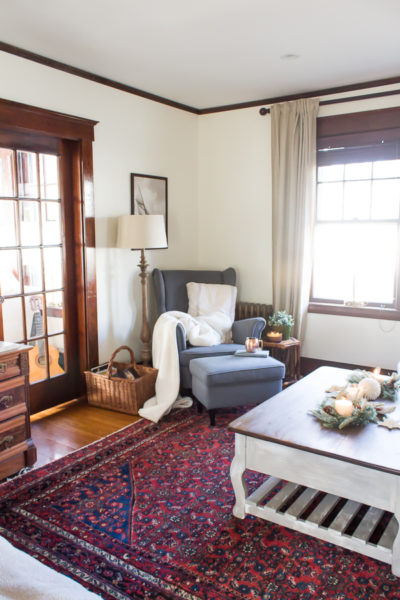 The rug is an oriental and the basket is antiques. I spend a lot time in this corner reading magazines and books. The wingback chair is from Ikea.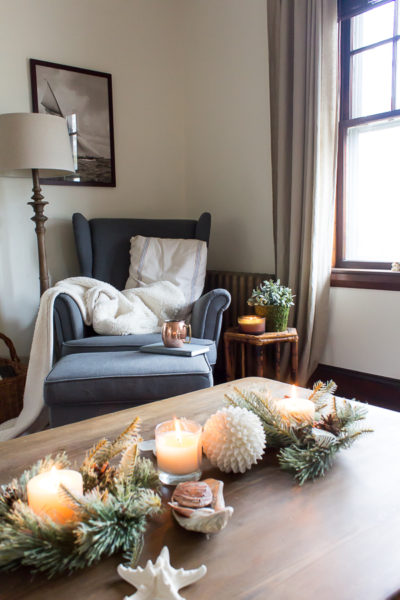 If you're looking for a great book to give or receive you need to read Magnolia Story.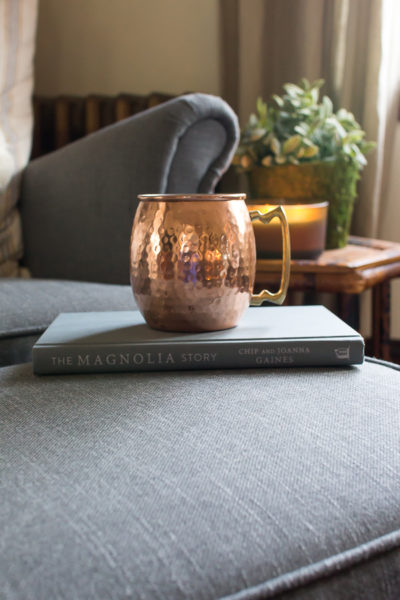 So inspiring and a book I read in only a day!
I've added a beautiful evergreen forest candle I found at Marshall's on this antique table.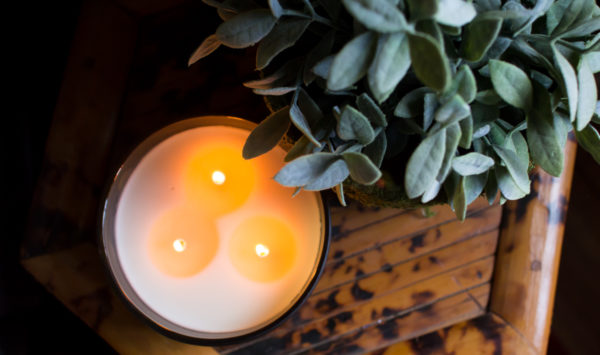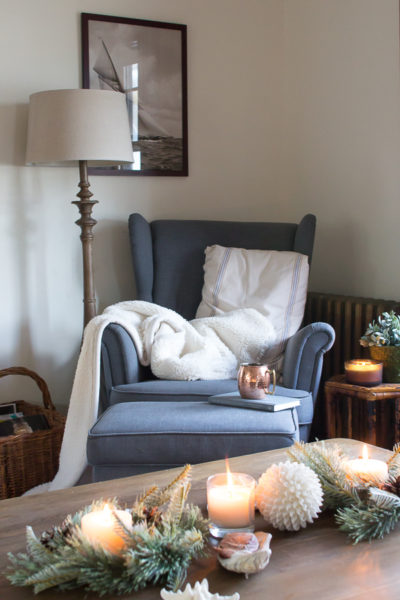 It smells amazing and makes it so cozy curled up with a book.
Since the days get dark so early, we turn the beautiful fairy lights on most of the day. They add so much magic.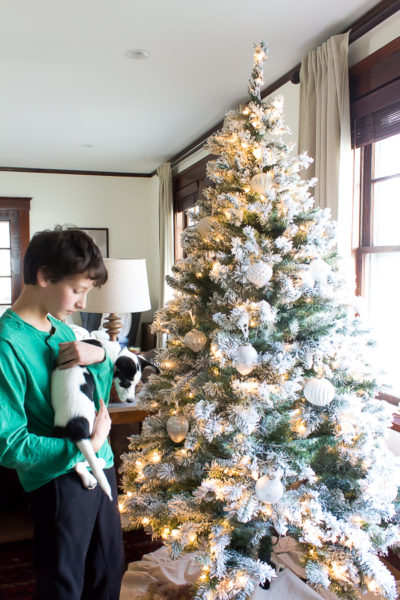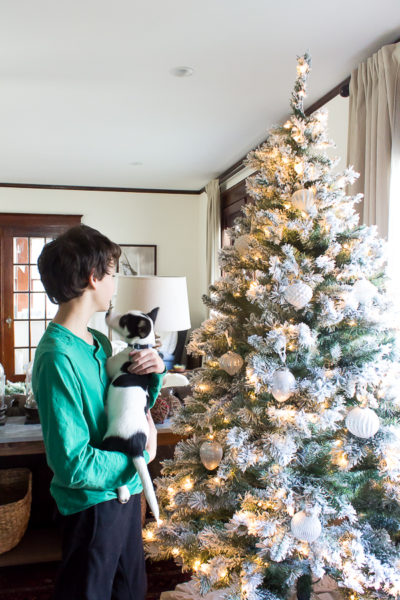 I hope you guys enjoyed this little peek of our Christmas Living Room!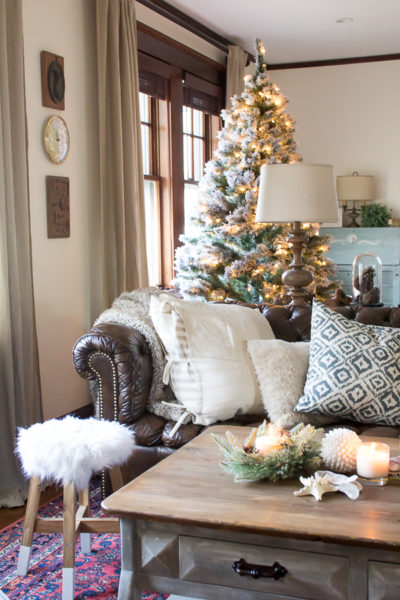 Source List
Wall Color – Mascarpone in Matte by Benjamin Moore
Dark Woodwork – Original
Linen Curtains – Ikea
White Chairs – Ikea
White Fur Throw – World Market
Painterly Ikat Pillows (one on couch) – Minted
White and Gray Pillows – Minted
White Pillows – Ikea
Fur Pillows – Michaels
Oriental Rugs – Antiques
Galvanized Table – Painted Tutorial and Build Plans
Tommy Bahama Baskets – HomeGoods
Safavieh Faux Fur Rugs – Wayfair
Standing lamps and table lamp – Target
Chesterfield Sofa – Craigslist find,   domino has ones that are similar.
 Coffee Table – Painted Furniture Tutorial
Bamboo side table – antique
Faux Plants – Ikea
Bottles – Antiques
Cabinet with fish and Dresser with TV – Antiques
Horse Photography – Kjeld Mahoney Photography
Wingback Chair & Ottoman – Ikea
Drop cloth skirt – click here for tutorial
Drop cloth stockings – click here for tutorial
Sailboat ornament – click here for tutorial
Driftwood Garland – Birch Lane
Fur cover stool – Ikea Hack, click here for tutorial
Sharing with:
Home Stories A to Z * French Country Cottage * Shabby Art Boutique * The Inspiration Exchange