Our youngest is a hot chocolate fan. In honor of him and the holidays I'm sharing how to make homemade marshmallows and a hot chocolate bar.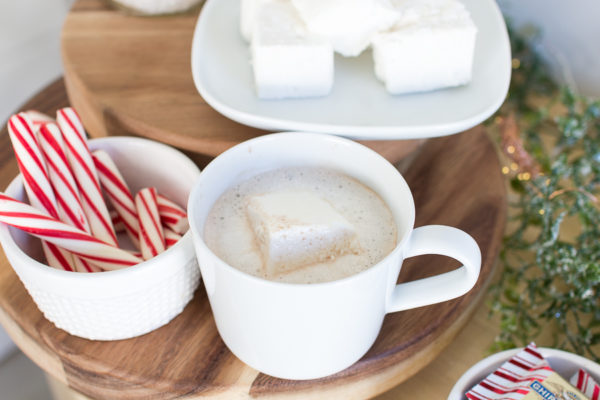 There's nothing like a warm cup of hot cocoa shared with loved ones. Here by the sea it can get very chilly, especially with the wind off the water. I thought creating our own Hot Chocolate Bar would be a fun post for the Cozy Living Blog Hop organized by my friend Jennifer over at Town and Country Living.
Last month, you might remember I shared some cozy butternut squash soup.
Here's how the She Shed is looking decked out for winter: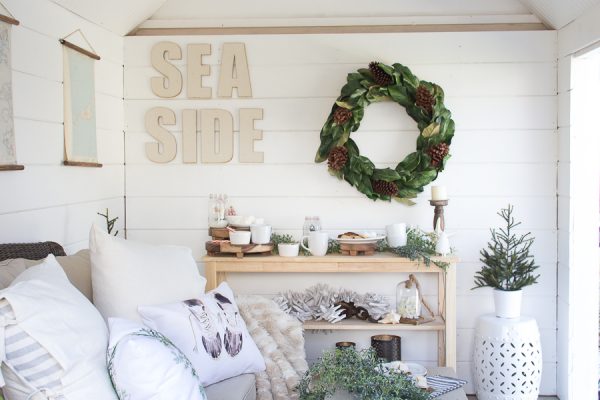 This post contains a few affiliate links, if you purchase a I product via the link I will receive a portion of the sale. You can read my full disclosure policy here. Thank you for supporting my blog in this way.
I brought some faux fur blankets and my hand painted pillows from my Society6 shop out here to make it cozy. I layered some greenery and love how the green pops against the bright white shiplap.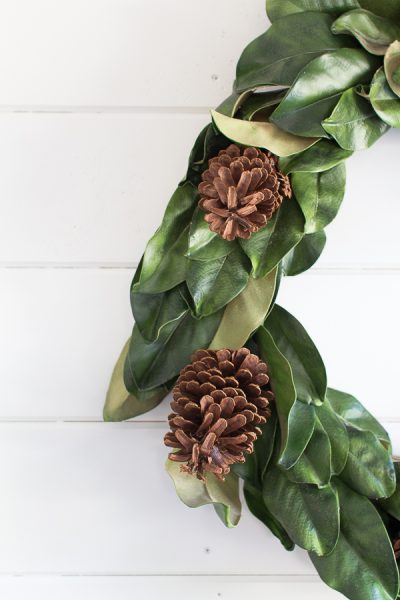 I used the console table as the bar for our hot chocolate buffet.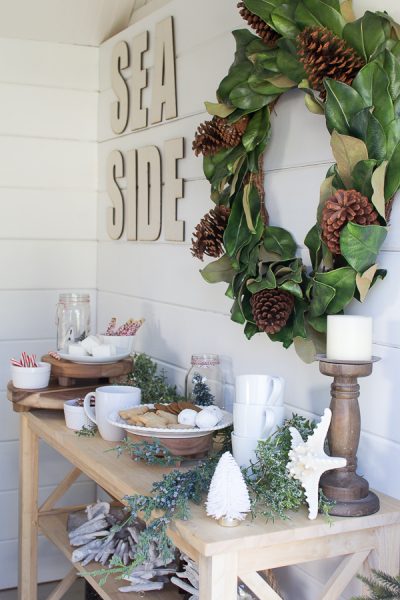 Wooden trays to create layers at different heights and Conor had fun at Target helping me pick out Christmas goodies. Wow! They're were so many pretty candy cane treats.
Shop This Look: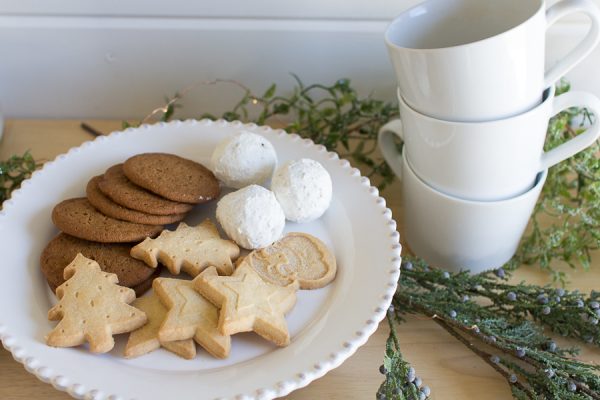 We love short bread and ginger snaps.
You can make your own cookies too, if you'd like. Since we were making the marshmallows I thought it would be easier to just buy some cookies and candy. The boys and I made the mason jar snow globes a few years ago. They are really a fun and easy project for bringing some Christmas cheer to shelves or buffets.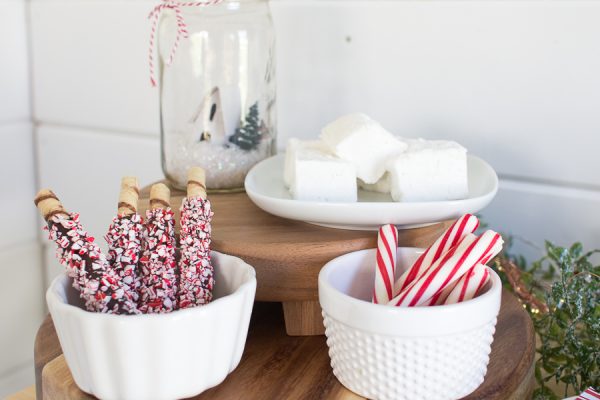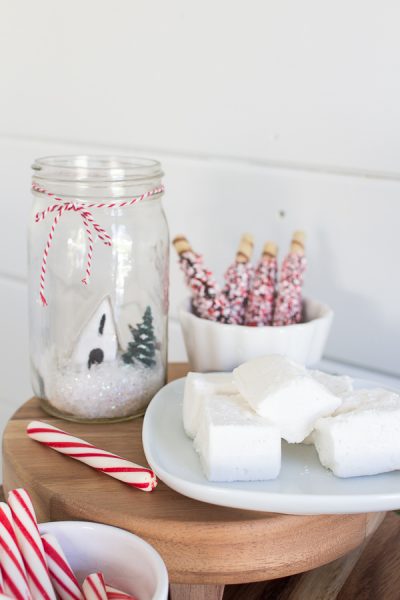 We made these giant marshmallows and I had no idea that homemade marshamllows were soooooooo good! I'm never buying them again!
How to Make Homemade Marshmallows
Ingredients
1/4 cup confectioner's sugar
1/4 cup cornstarch
3/4 cup cold water
2 envelops powdered gelatin
1 1/2 cups granulated sugar
1 cup light corn syrup
1/2 teaspoon salt
2 teaspoon vanilla extract
Method
Sift confectioner's sugar and cornstarch onto a large plate. Spray 8 or 9″ square baking sheet with cooking spray. We used Pam
and spoon some of the confectioner's sugar mixture into the baking dish
and spread so it's dusted.
Pour 1/2 cup of the water into bowl of a stand mixer
with whisk attachment. Sprinkle gelatin on top and allow to sit for 10 minutes.
In a medium sauce pan, with a candy thermometer attached, combine the granulated sugar, corn syrup, salt and remaining 1/4 cup of water. Heat over medium temperature until sugar is completely dissolved. Turn heat up to medium high and bring the mixture up to a rolling boil. Cook for 1 minute or until the thermometer says 240 degrees F.
Add the boiling mixture to the gelatin mixture in the mixing bowl. Be very careful the mixture is extremely hot. Turn the mixer to high and beat for 10 minutes or until the mixture holds stiff peaks and the outside of the bowl is cool to the touch. Add vanilla and mix until incorporated.
Pour marshmallow into prepared baking dish. Smooth the top, just be warned it is very sticky. Dust top with confectioner's sugar mixture. Cover with foil or cling film. Allow to set for 4 hours or overnight. We waited until the next morning.
When the marshmallows are set, run a knife around the edge and invert. Slice marshmallows with a knife, again they are very sticky. I then coated the marshmallows in the confectioner's sugar mixture dipping each side in by hand.
Eat your marshmallows right away or store in an airtight container. We like these ones from Ikea. They will last up to a week.
Conor loved helping make them! He measured and sifted but I did the stuff with the boiling sugar. Didn't want him to get burned. Then he was the first taste-tester the next morning 😉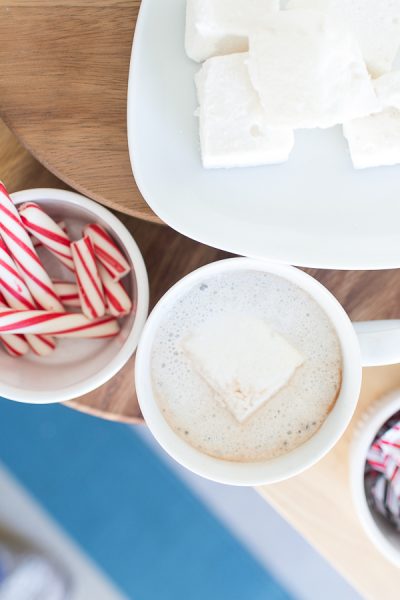 These made our hot chocolate out of this world AMAZING!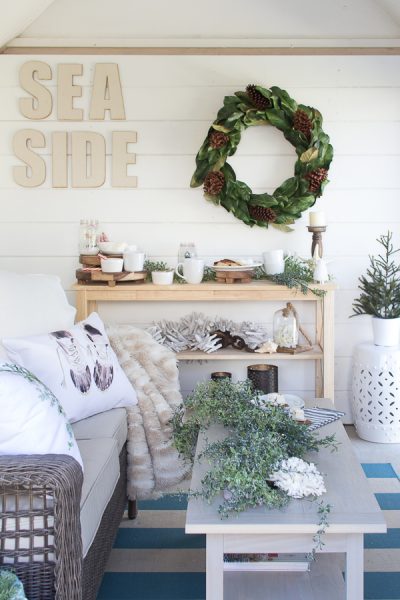 I wanted to share another fun recipe with the homemade marshmallows. My boys loved it!
How to Make Christmas S'mores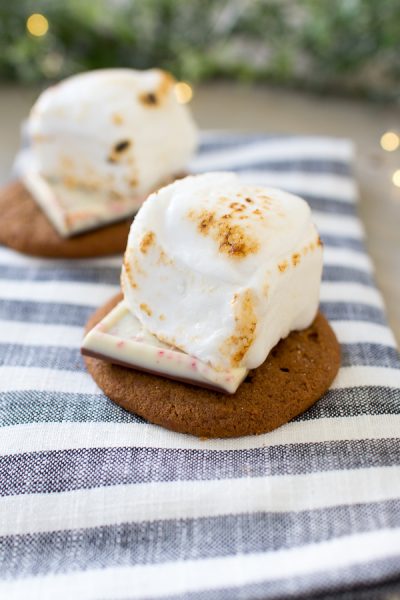 These tasted as good as they look! We might even have to make some for Santa!
Ingredients
Homemade Marshmallows
Gingersnaps
Chocolate (we used some with crushed peppermint)
Kitchen Torch
Method
Take your ginger snap and place a square of chocolate on top. Then add a homemade marshmallow and brulee the top with a kitchen torch. You can crush additional candy can to go on top or serve as is. I thought it was great as is because the chocolate already had crushed peppermint in it.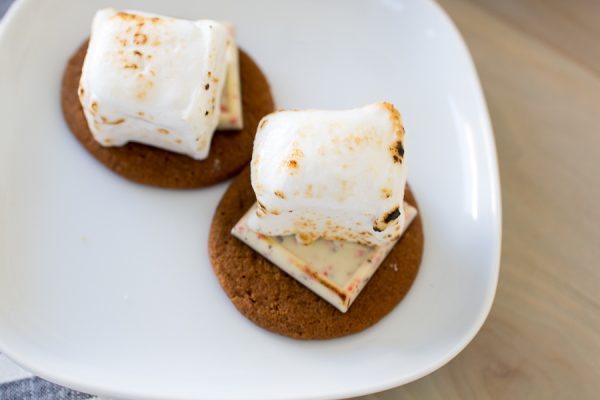 These would be great to eat while watching Elf. I really feel like Buddy would love them!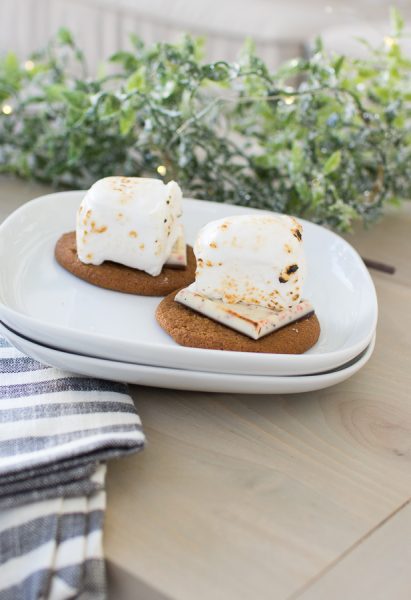 I hope you enjoyed these tips on creating your own hot chocolate bar and our recipe for Homemade Marshmallows and Christmas S'mores. We're wishing you all a Merry Christmas and beautiful holiday with your family.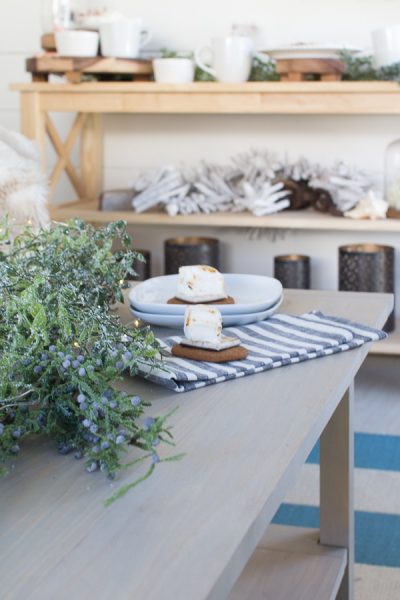 You might also enjoy our Christmas Home Tour and this Winter Free Printable.
Be sure to visit all my friends below to get some more Cozy Living Ideas for December:
Bless'er House | Duke Manor Farm | Finding Silver Pennies | Flat Creek Farmhouse | Making It in the Mountains
Sincerely Marie Designs | Thoughts from Alice | Town and Country Living | Vinyet Etc. | AKA Design