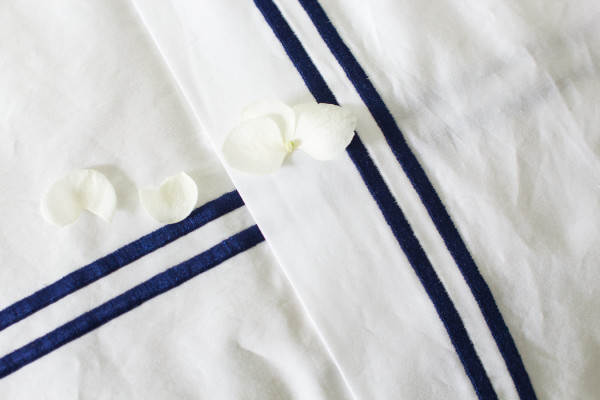 This post is sponsored by Frette. They sent me some beautiful new bed linens to try out.
You know that feeling when you stay at a luxurious hotel and you climb into bed? Perhaps, there's even a piece of chocolate on your pillow for you to have 'sweet dreams'. I think you know the feeling I'm talking about; crisp, fresh linens that were carefully place on the bed for your comfort.
Well, when this package arrived from Frette it felt like I was receiving some luxury on my doorstep. How pretty is this box????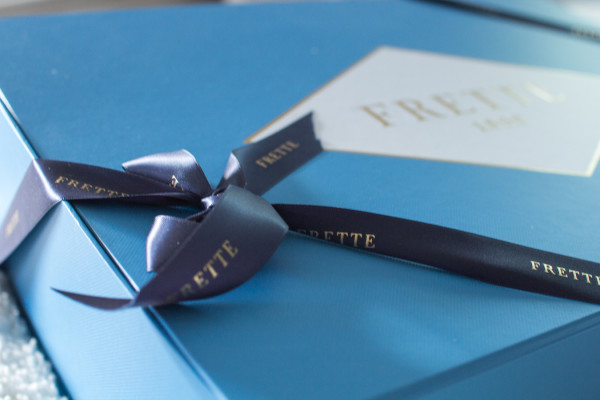 Carefully folded inside were shams, a duvet and a set of sheets for our bed all wrapped in tissue paper.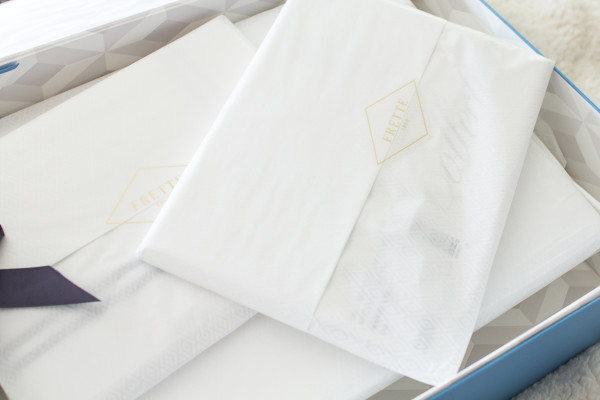 As you guys know we're having construction done to our home which is messy and dusty and, at times, loud. To receive this beautiful package, while all this is going on, was amazing, and to sleep on this bedding like a dream.
Frette began in 1860 in Milan. They specialize in beautiful linens for the bedroom and bathroom and also have gorgeous clothing and home decor.  Their linens have graced St. Peter's Basilica, the Orient Express and 500 European dynasties have slept under its sheets. I'm glad to now include myself in that category. 😉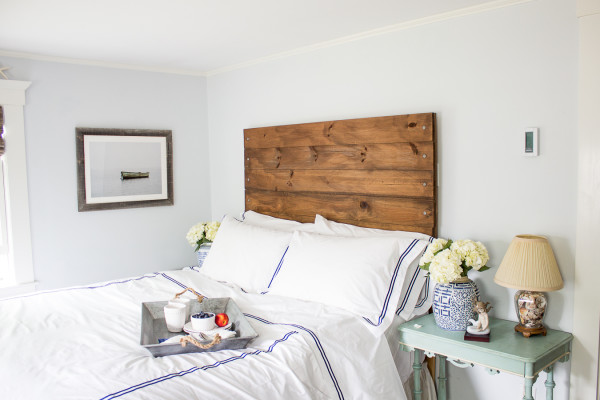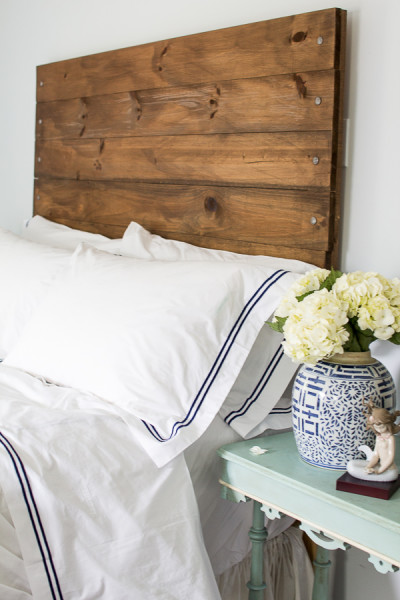 On our bed is the Frette Hotel Collection in Navy Blue. As many of you know, I adore blue and white and I think this crisp color combination is going to look so great for summer in our coastal home!  Luke is actually working on some bedside tables as I type this.
The linens are so soft and light. The navy blue embroidery gorgeous, that shade of blue I love!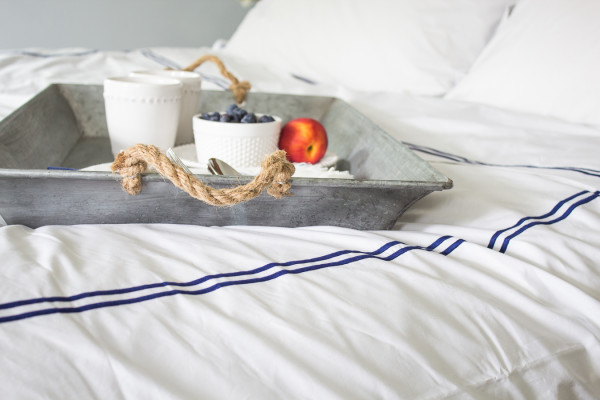 I actually slept until 9am the first time I slept under these sheets. This is unheard of.  I usually get up early on Sunday mornings to go to yoga but not the other morning.  Nope.  Actually, Conor had to come and wake me up!  I haven't slept til 9am since before we had kids which is 10 years ago….
That is how comfortable these sheets are!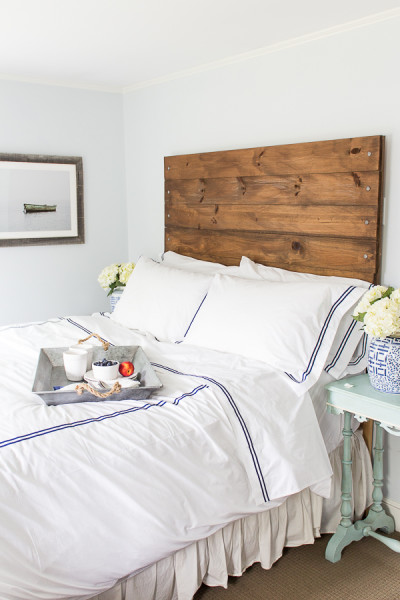 The size of these sheets is very, very generous too.  I get frustrated when I try to make the bed and the sheets are cut too tight. These are not.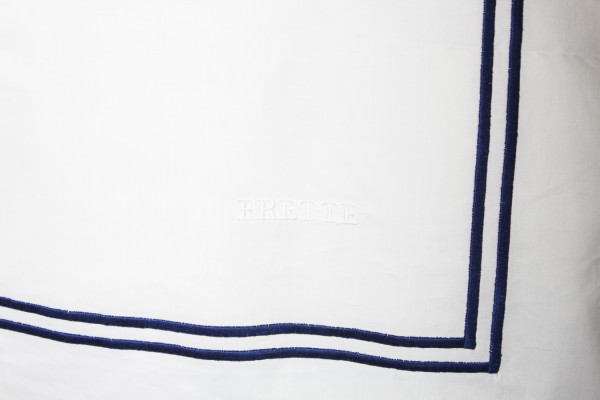 I also love the understating stitching of Frette on the pillow cases and sheets.
Frette offers various Hotel Collections. On our bed is the Classic Hotel Collection. You can find the set on our bed here, here and here. We have the navy stripe but they also do this collection in white on white, black, gray, khaki and champagne. All are beautiful and classic.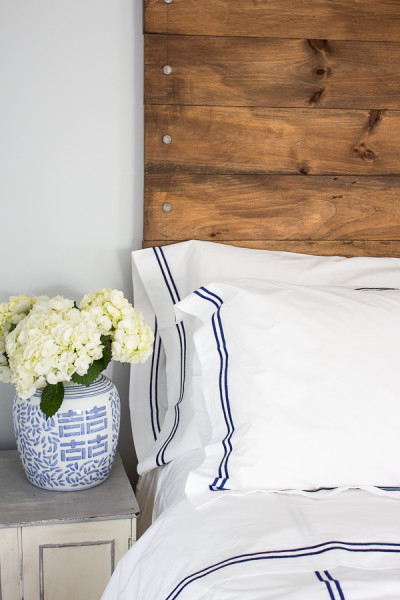 These linens are simple and elegant.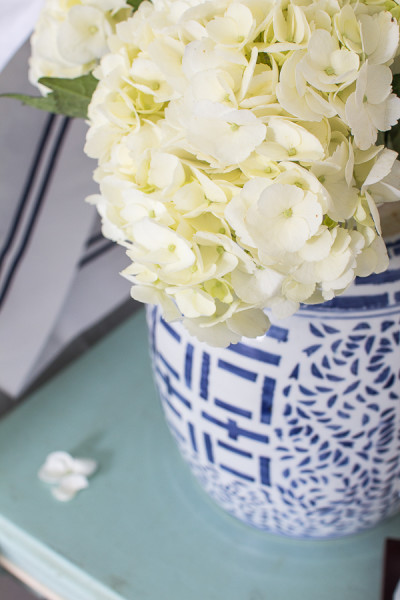 The 100% cotton linens are made in Italy and are a great value for the price. Affordable luxury for your bedroom.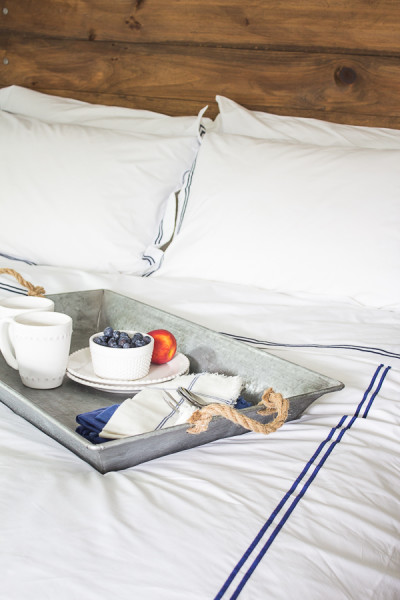 Perfect to sleep in, cozy up in with the Sunday paper or a good book or have breakfast in bed.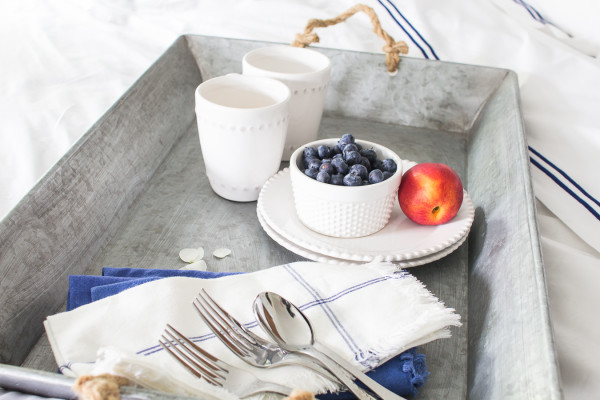 I enjoyed all of the above with my bed linens. Thank you, Frette, for sending me some luxury for our home.
I almost feel like I'm on vacation.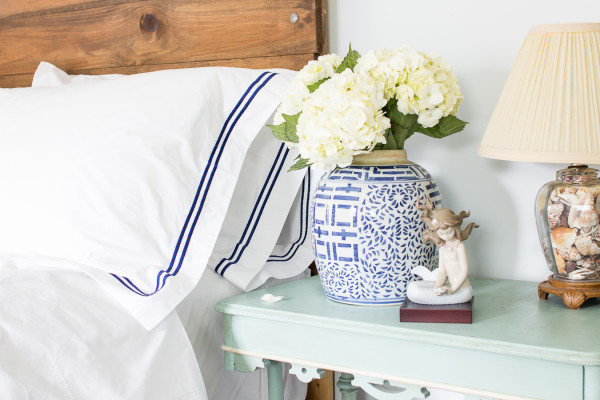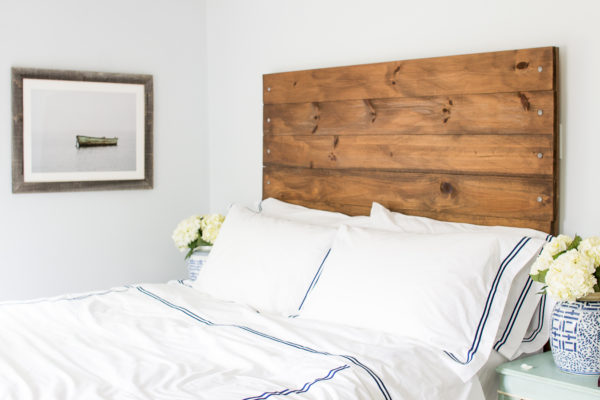 I think you'll love the Hotel Collection.