I say A New Life for An Old Stool but this is an Ikea stool I painted a few years back.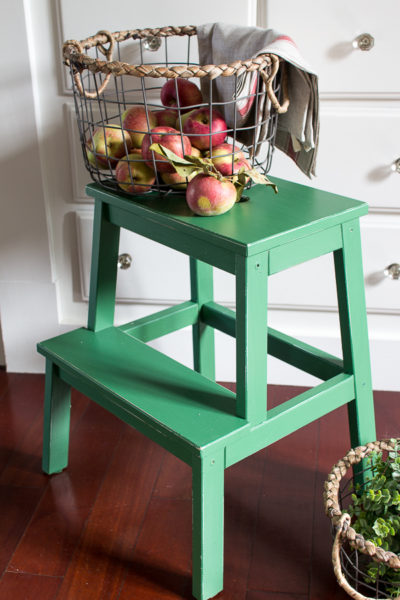 As many of you know we have a house full of kids and dogs. Some of who are harder on things than others. The culprit, or instigator, for this little makeover was our sweet Max.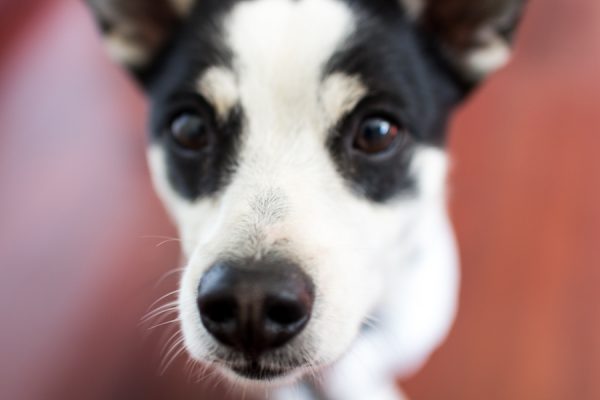 Don't let that innocent face fool you. He has a penchant for chewing on things.
wood
cables
flip flops
Okay, you catch my drift. My Ikea stool was no exception. Max had a little nibble.
Here you can see the bite marks: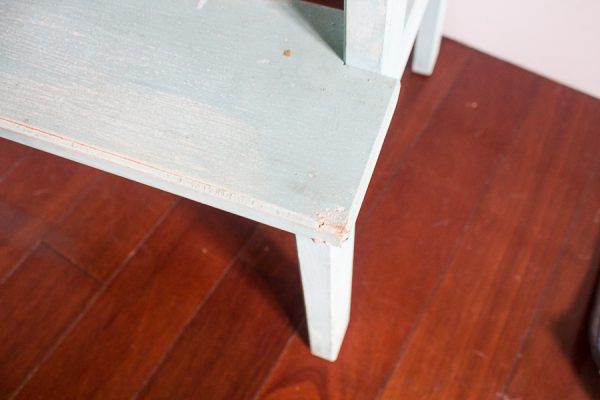 I had painted this stool with Miss Mustard Seed Milk Paint in Eulalie's Sky
a few years back. You can see that makeover here, but it was in needed of a refresh.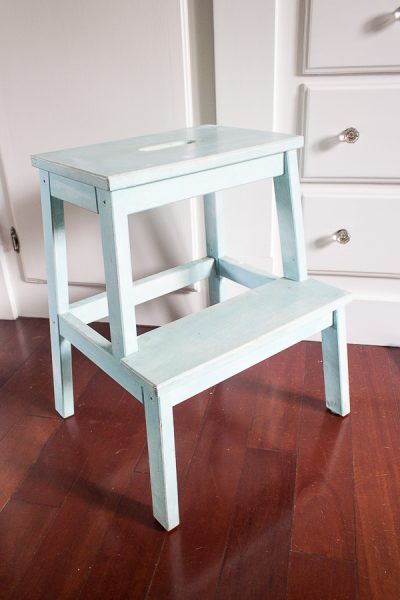 So there is the before. I'd painted this before we painted the walls in here gray and I thought a fun, bright color was needed. I also wanted something a little retro.
This post contains a few affiliate links, to read my full disclosure policy click here.
I used Fusion Mineral Paint in Park Bench for this makeover.
Fusion Mineral Paint is so easy to use. Simply open the container and stir. The color palette is so beautiful. This is part of the Michael Penney Collection. The color is so clean and vibrant but also reminscent of days gone by. That perfect green of a park bench. As you know we have an historic home and I like highlighting this in my decor. The built in china cabinet is original to the home but was previously in the dining room.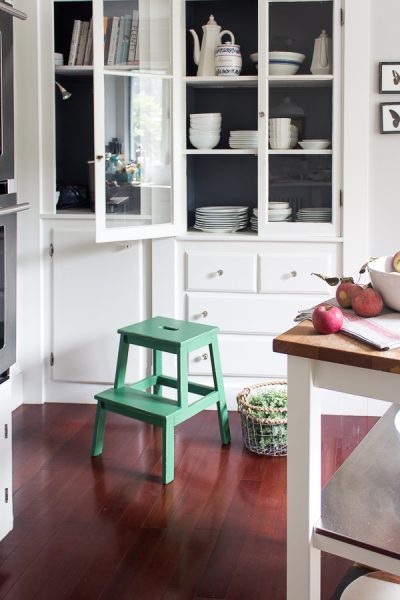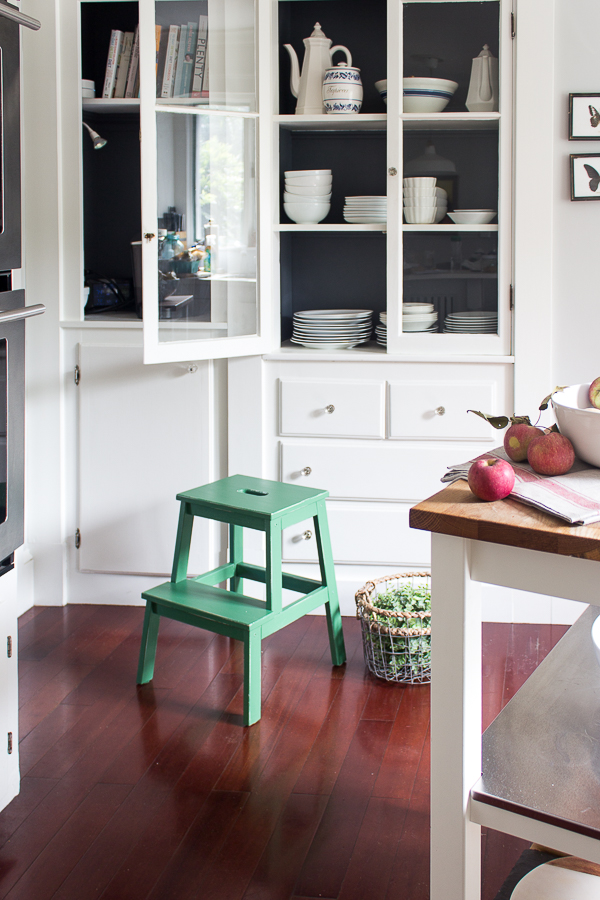 The walls in here are painted with Benjamin Moore's Gray Owl, the trim is White Dove and the interior of the cabinet is Soapstone, another Fusion Mineral Paint color.
This little stool now makes such a statement in here.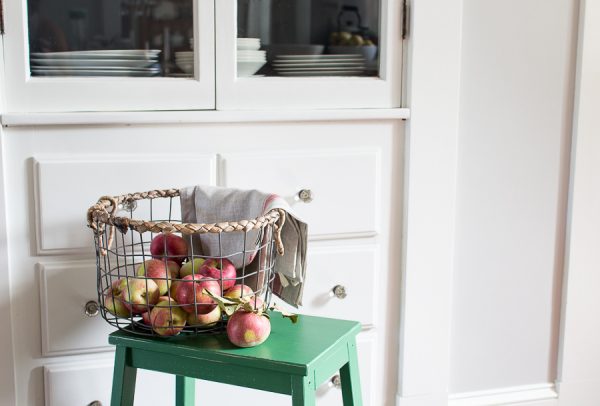 You may recognize all our apples that we picked the other weekend. We're really enjoying these. I'm hoping to share an apple dessert we made with puff pastry soon. My first time using puff pastry. Not sure why I've never used it before but it always seemed like it would be hard.
Anyway, before painting I cleaned this step stool with TSP
. It was originally sealed with tung oil but there was dirt and debris and also paint from our bedroom makeover. So I really wanted to be sure that I had a nice clean surface for the paint to adhere to.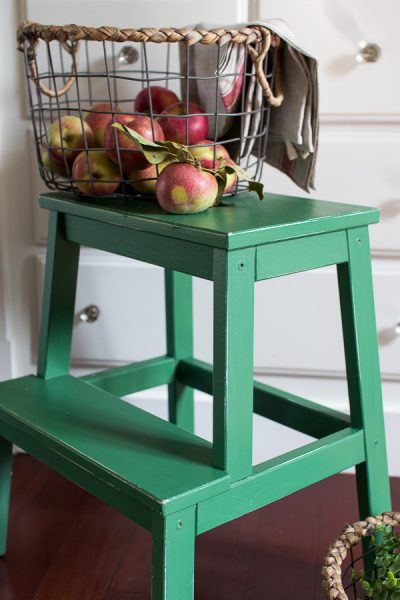 I applied two coats of the paint. Then allowed it to dry.
Shortly after it dried. I distressed with 300 grit sandpaper.
I distressed around the high points and places that would wear naturally.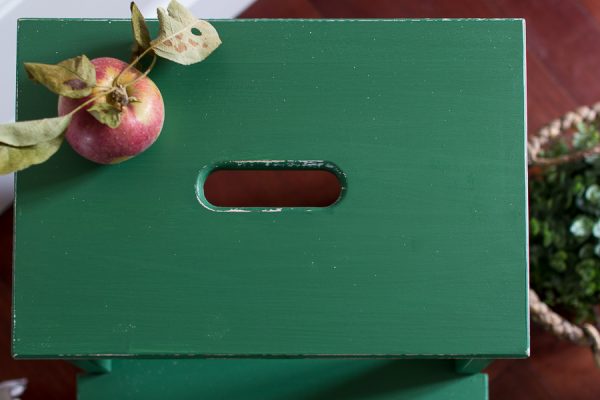 See what I mean? I love how you can see some blue and gray underneath.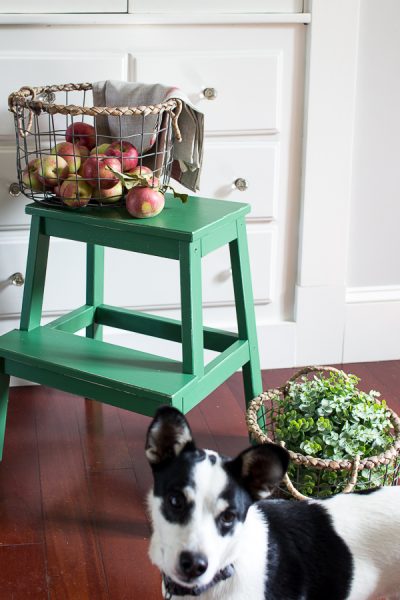 Fusion has a built in top coat, but since we have a rascal, and also because I distressed it, I wanted to add some additional protection. I used Fusion's Wipe-On Toughcoat
. I LOVE this stuff so much. It's so easy to use.
I actually made a little video on how to apply it, see below:
What I love about the toughcoat is it's so easy to use and it doesn't yellow or change color. By wiping it on you don't have to worry about brush strokes or strange marks. It dries quickly and I don't have to worry about maintenance.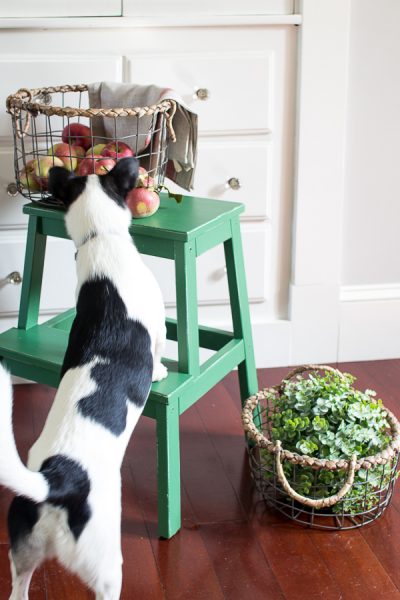 As you can see Max is already curious! So we'll see how long it stands up 😉
The ikea stool is a wonderful project for new furniture painters. It's only $19.99 and easy to put together. You can also buy it on amazon, here, if you don't have an Ikea close to you.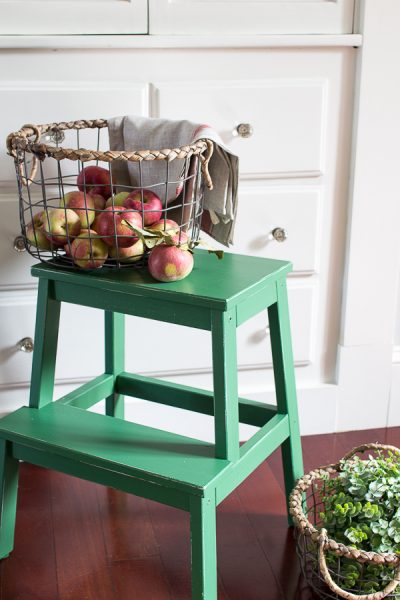 If you enjoyed this post, you might also like my eBook dedicated to painting furniture. On The Tip of My Paint Brush has over 150 pages of tips and tricks for painting your on furniture.