Living by the sea, I enjoy all things coastal. I'm excited to share beautiful nantucket bracelets and fish prints today on the blog.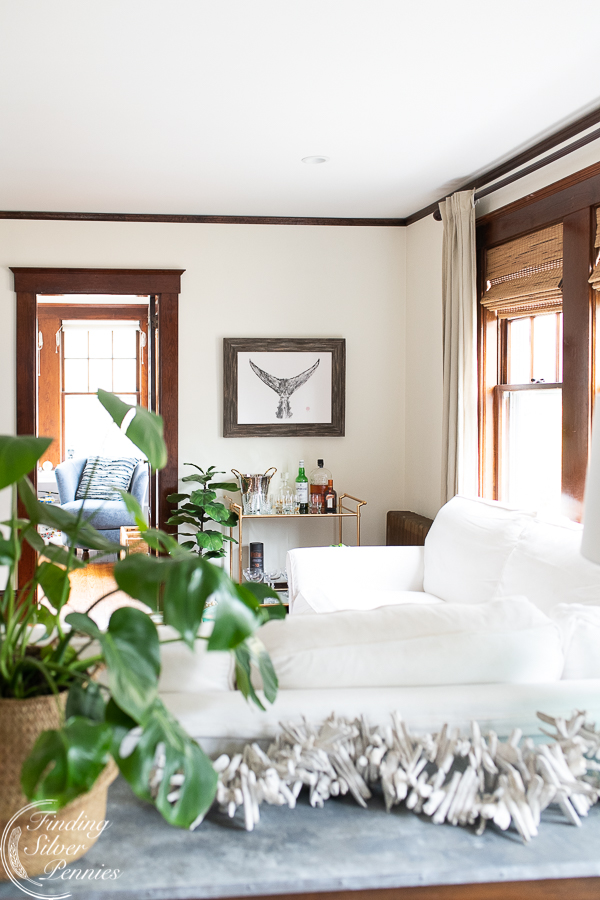 Through this little blog, I've been so fortunate to have such amazing experiences and meet so many interesting and creative people. This blog post today is very special and it may be a little long-winded, but I have so much to share with you so bear with me. One of the most important lessons I've learned through this blog and over the years of writing it is this:
It's the gifts we share which bring meaning to the life we live.
I try to share my gifts through this blog and I hope you enjoy them. Finding my creative voice through this blog was such a gift but I also enjoy the creative gifts of others. I truly believe we're all creative, all of us. Sometimes we only discover these gifts after having a full career. Today I'm going to share the beautiful artwork of Jeanne Stewart of Pressingham Farm Designs. Jeanne is humble and such a beautiful person. I'm sure she'll blush as she reads this. She is truly creative and talented. I met Jeanne in the fall, but she'd been reading my blog for a while and we connected over a few emails. Her aunt emailed me as well and wanted to know if we could meet up.
Oh, one thing I need to share, Jeanne grew up in our home. We moved to this home almost 6 years ago and our family was attracted to the architecture and charm of the house. Our 1927 Dutch colonial was built by a builder and all the lumber sourced from the Welch Company in Scituate Harbor. Jeanne's family moved to the home in 1961 and lived here for 40 years. Mr. Stewart was the Chief of the Fire Department here in town and also had a street named after him. Back in the fall, Jeanne returned to her childhood home with her two aunts and shared so many stories with me; how they used the rooms, her special memories of hatching a duck on the landing, and Luke's office used to be her bedroom. I can only imagine just how hard it was for her to come home again. I'm so glad she did. I remember saying to Luke when we first moved in, "I wish we knew more about this home and the family." The home always felt so warm and I knew it was full of happy memories. Mr. Stewart built the back deck, our bedroom, the kitchen cabinets, and many of the built ins. He actually used the same area as Luke does, for woodworking. So there's so many commonalities between how we live in the home today and how the Stewarts did. Jeanne made copies of old photos for me and also shared articles on her family history.
Jeanne and I instantly clicked. When we meet up, it's like catching up with a family member. I feel so lucky for our friendship.
The other week we met up at the Lucky Finn for coffee, we sat out on the back deck my favorite view – the Lighthouse. Jeanne brought a few gifts in tow. These gifts both hold so much meaning.
Nantucket Bracelets
Nantucket has a tradition of handwoven baskets. Jeanne started making baskets and also makes beautiful bracelets inspired by the baskets. If you follow me on Instagram or Facebook then you have already seen this beautiful bracelet.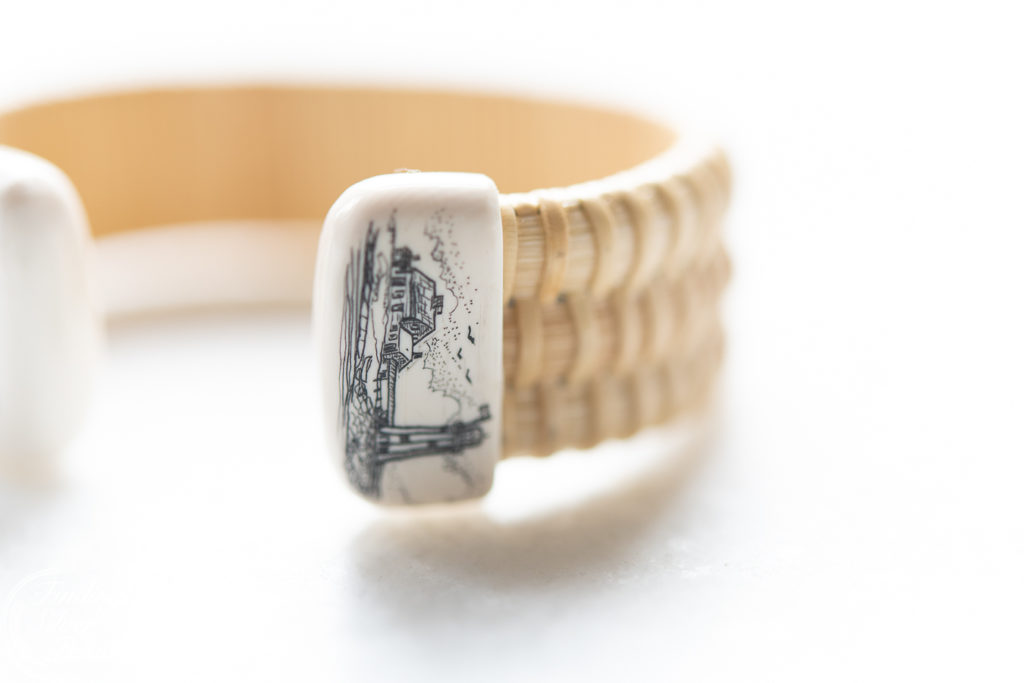 She was wearing one of her Nantucket bracelet designs when we met up in the fall and she told me all about making them. I told her I would love one of my own. As many of you know my dad passed away last year and we scattered his ashes on our friend's boat off of the lighthouse. Scituate Lighthouse was my dad's favorite place and we ended moving to this town because my parent's retired here. We fell in love with this magical, seaside town. Jeanne created me the most beautiful bracelet. On one side it has Scituate Lighthouse and the other 1-4-3. Minot Light's beacon flashes this code and it also means "I Love You".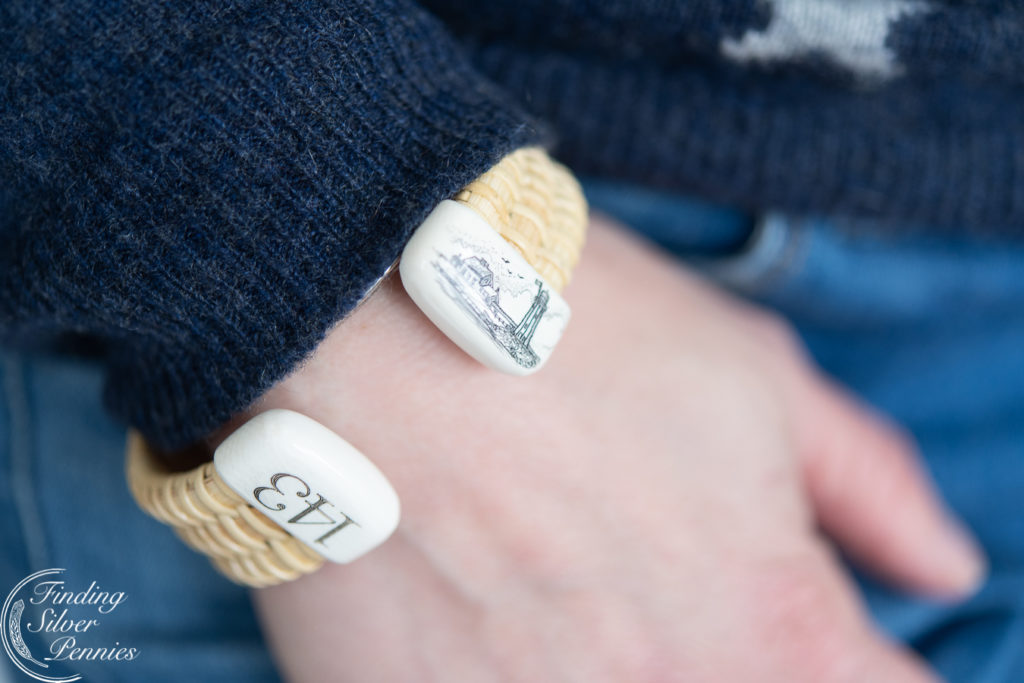 Isn't it simply beautiful? The bracelet is woven in the traditional lightship basketweave and the ivory endcaps are hand-scrimshawed by Sandy at Del's Nantuckets. This bracelet is just one in Jeanne's lighthouse series. You can see the other designs here.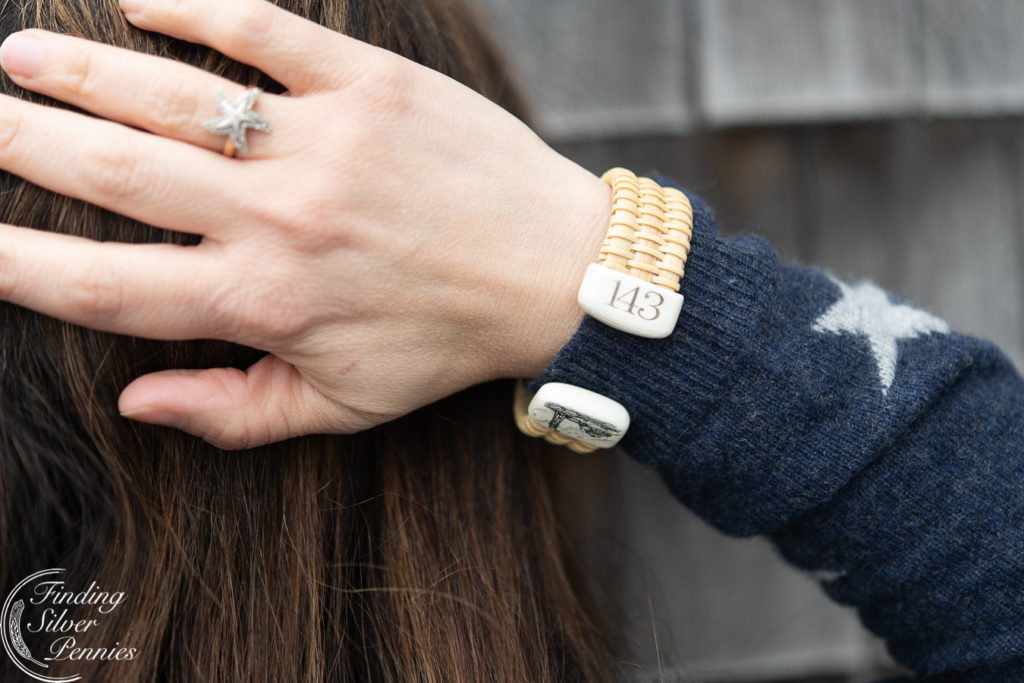 As I write this, I can't help but for my eyes to well up with tears. I now have a beautiful piece of jewelry that symbolize the love my dad had for this special town, but also the love I had for him, and the love Jeanne put into this special bracelet. I've worn it every day and each time I look at it my heart feels so full.
As if that wasn't enough Jeanne also gifted me with a gorgeous fish print.
Gyotaku Fish Print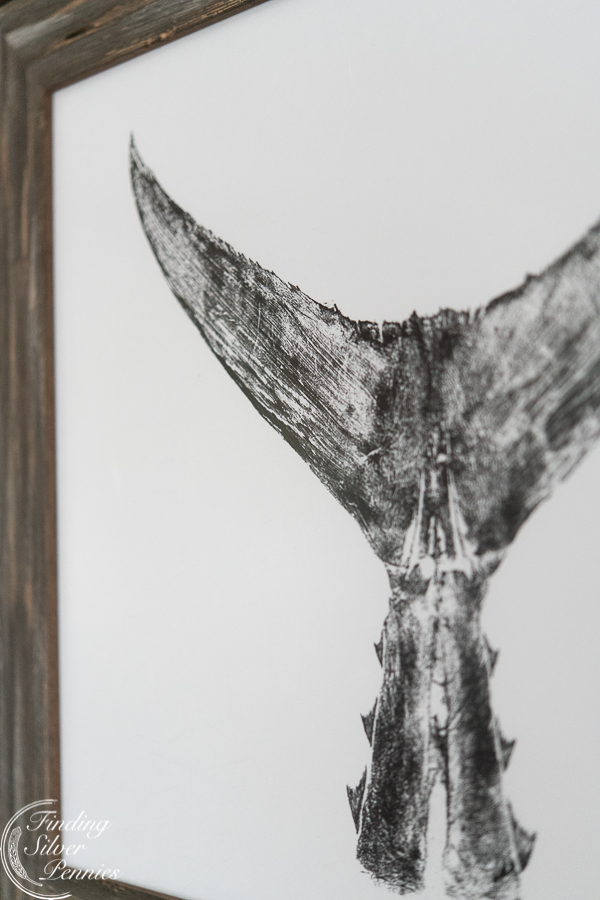 Gyotaku is the Japanese art of fish printing. Jeanne showed me a few photographs of her amazing fish prints back in the fall and I told her I'd love to hang one in our home. Having Jeanne's art hanging in the house is so special.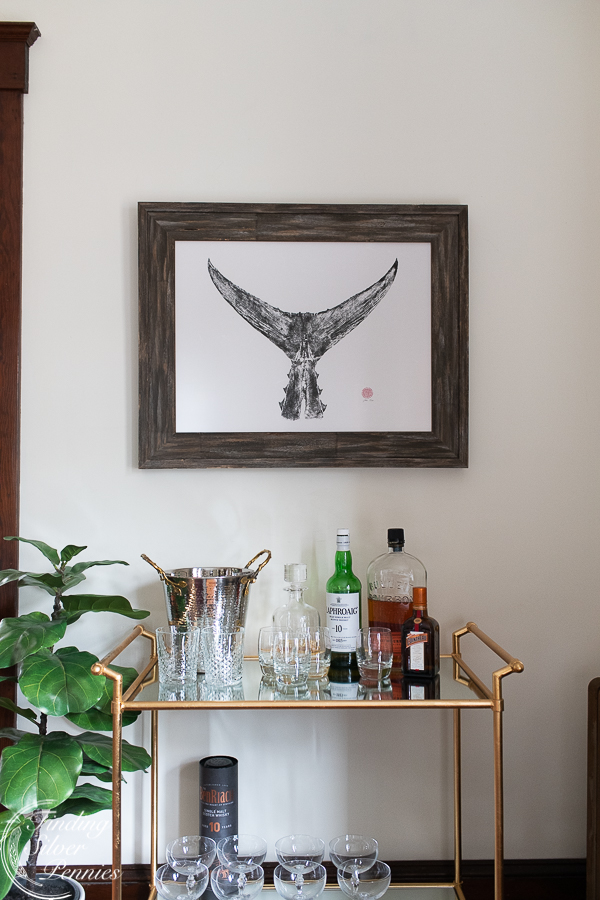 This is a limited edition print which I had professional framed.
This method of printing dates back to the mid-1800s and was used by fisherman to record their catches, but has since become an art form of its own. This fish print of a tuna tail was completed in the "direct style" of printing. The fish is cleaned, prepped, and inked. Decorative Thai Unryu paper is then applied and the image is created by carefully pressing the paper to the fish.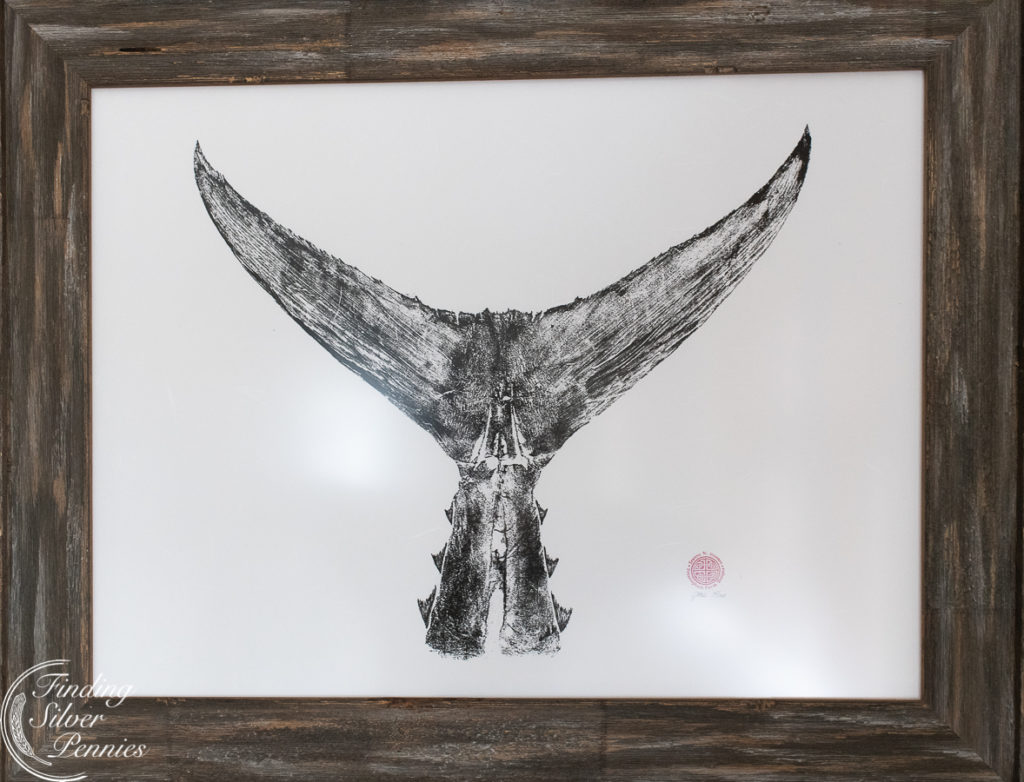 The artwork is adorned with a "chop" mark, which is the equivalent of the artist's signature.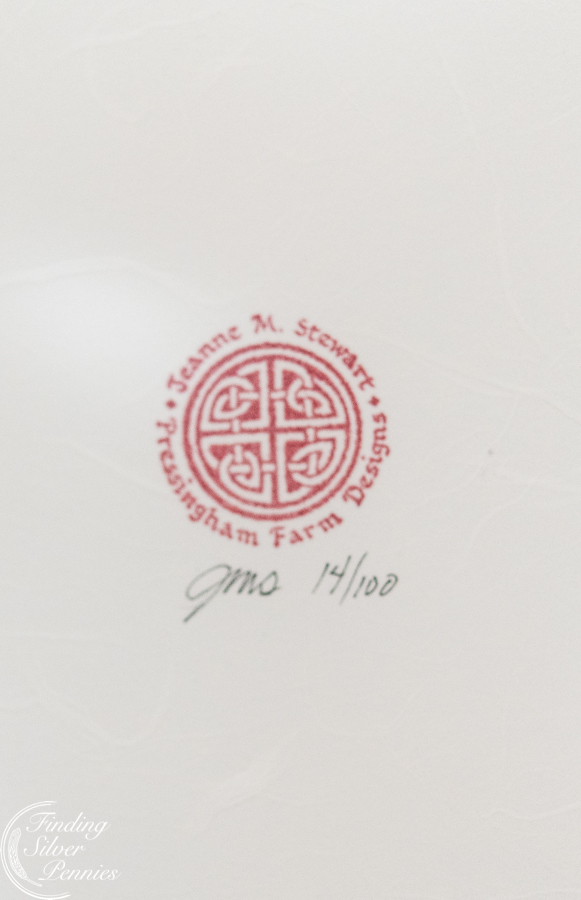 Jeanne's Chop mark has a Celtic cross worked into it.
I had the limited edition print professionally framed at The Frame Center in Hanover (for any local readers). The frame is reclaimed wood and is made there. It is dry mounted and framed with archival glass and I also paid extra to have the non-glare. I highly recommend spending the extra money, especially if you take photos of your interiors.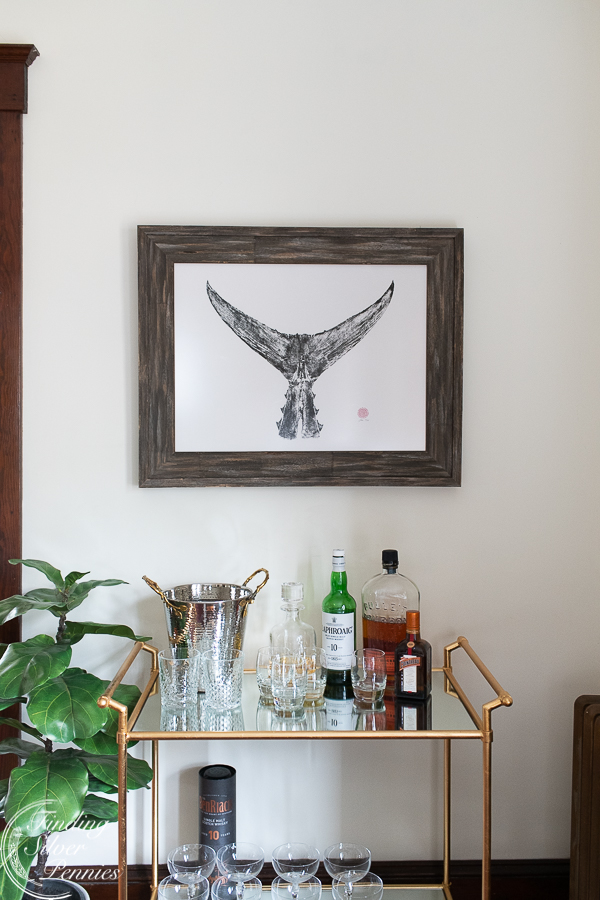 I knew I wanted it in the living room (as we spend so much time here) but also because this is the view when you walk in the room.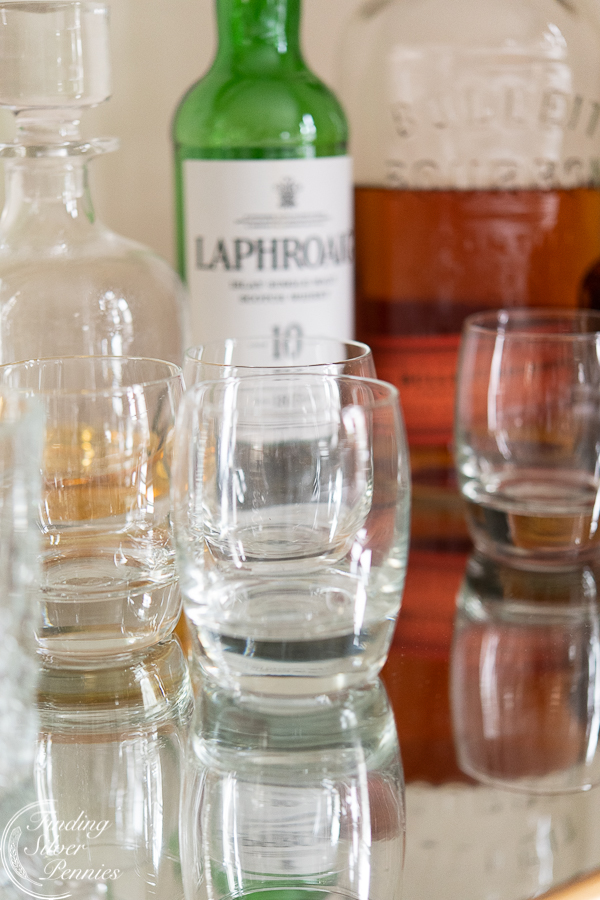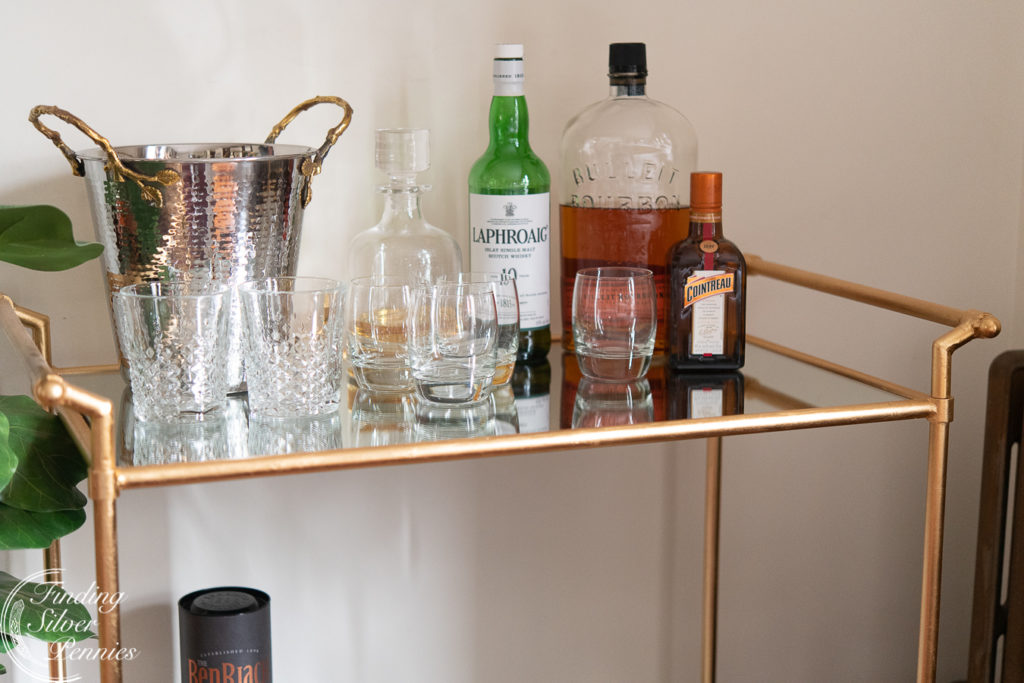 Hanging the fish above the bar cart seemed pretty perfect! It feels so masculine.
I thought you might want to know more about the actual tuna fish.
Jeanne told me the 160 pound tuna was caught by Scituate Police Lieutenant Paul Norton off of Provincetown on the Southeast corner of Stellwagen Bank.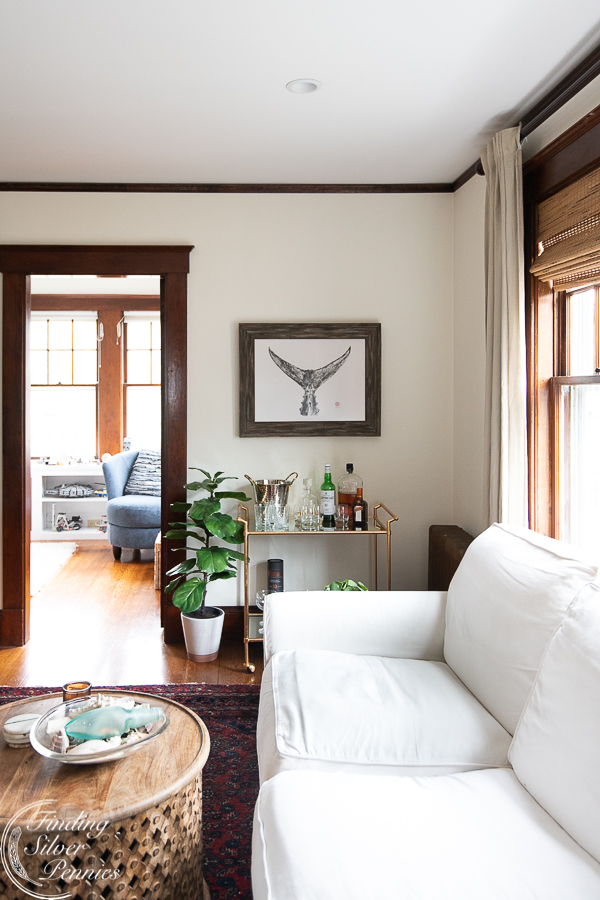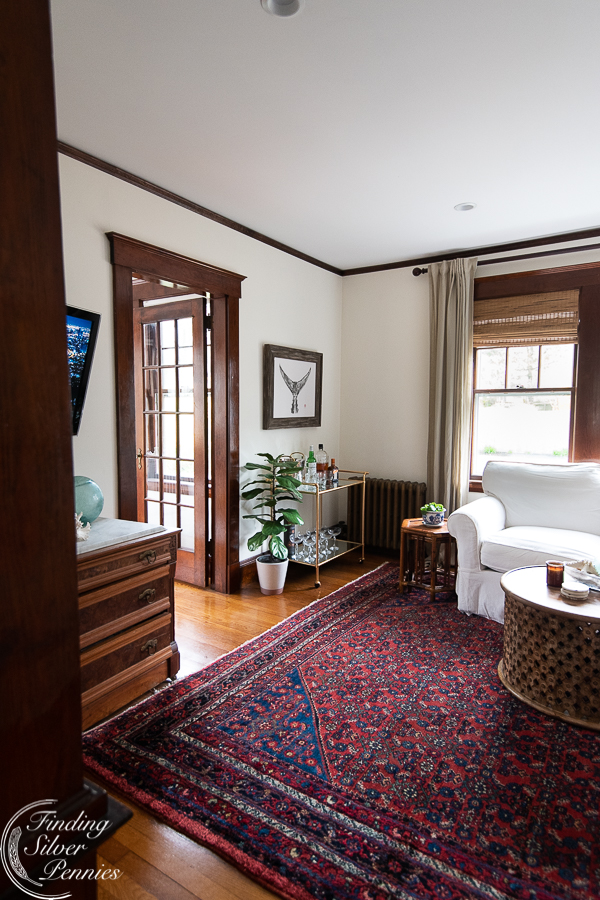 What a treasure to have one of Jeanne's fish prints in our home!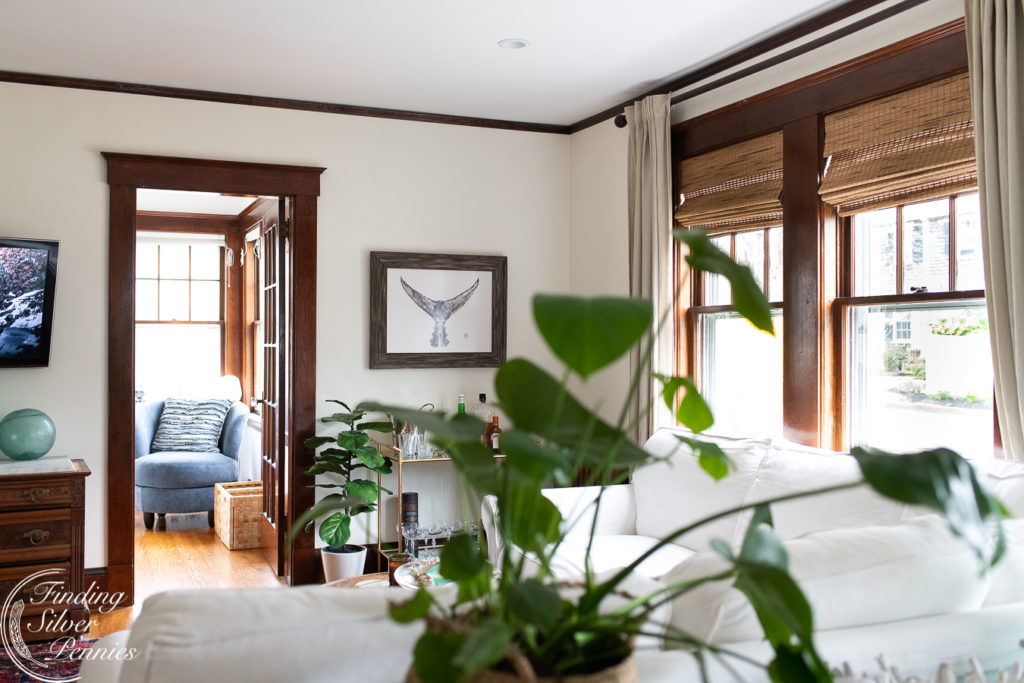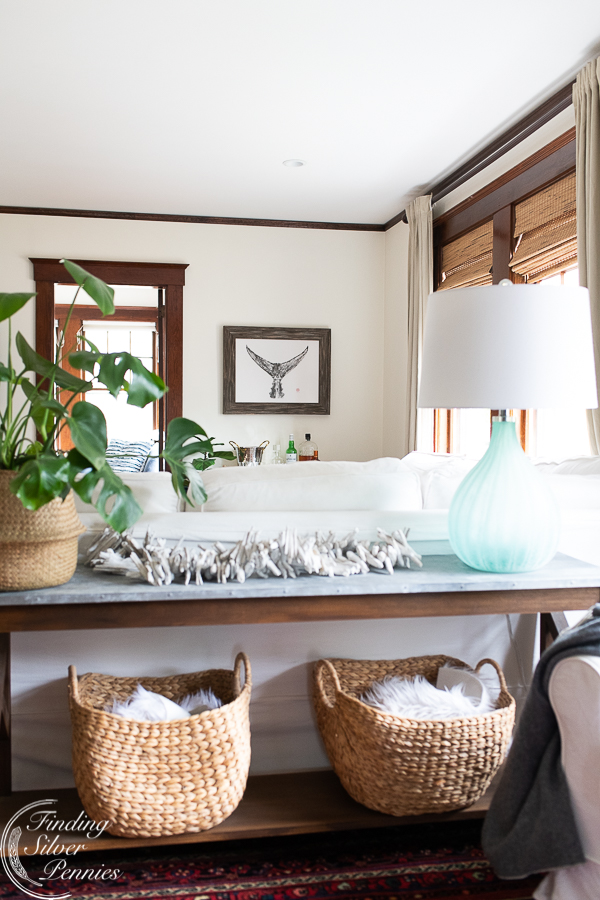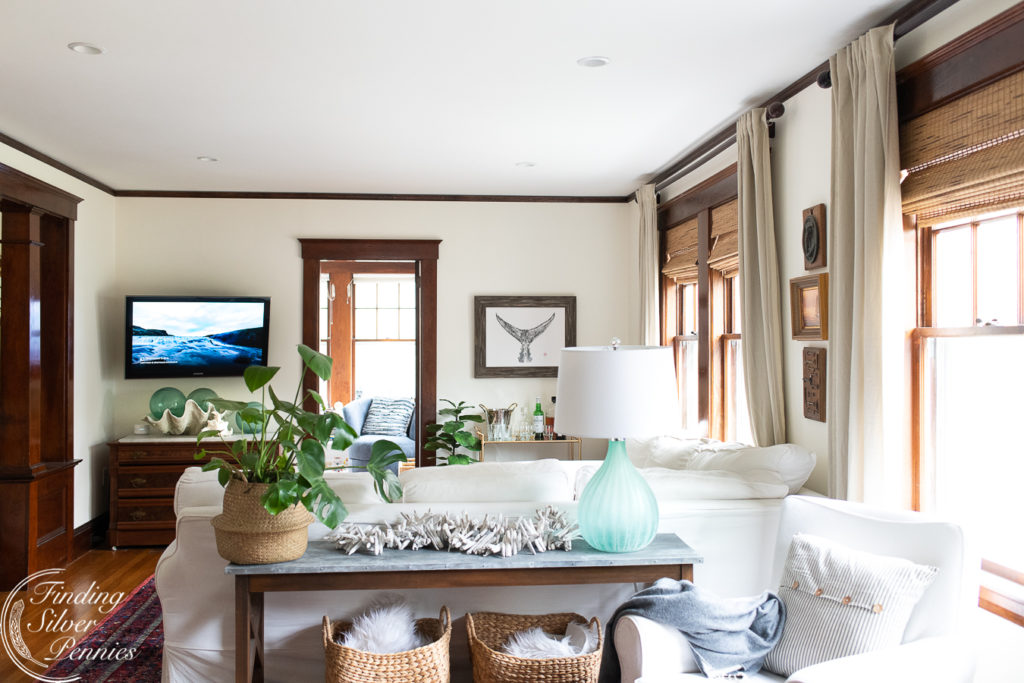 It looks perfect there, doesn't it? I'm truly touched my Jeanne's talents and her generosity.
If you're interested in ordering fish prints, Nantucket bracelets, or baskets you can visit Pressingham Farm Designs on Facebook and send Jeanne a direct message.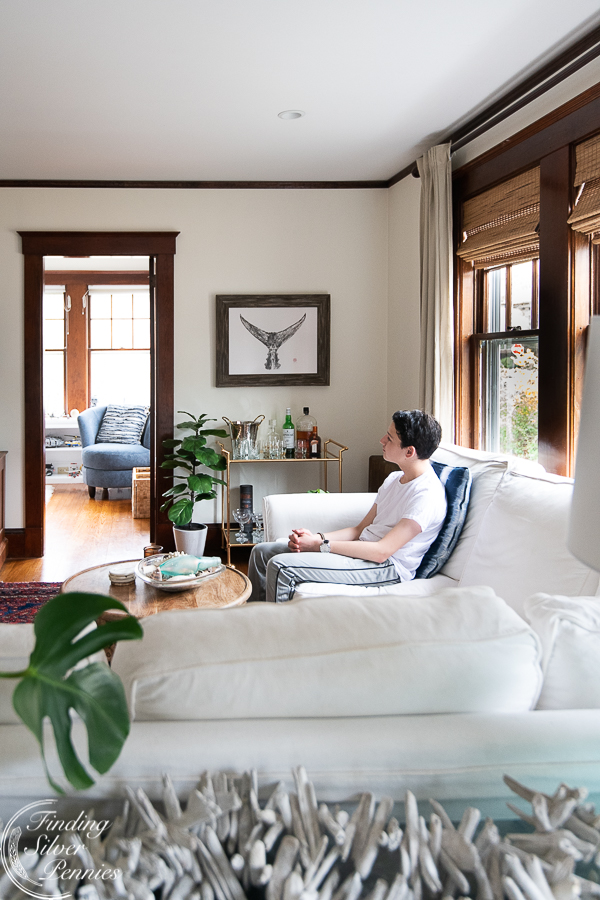 I'm hoping to interview Jeanne soon for my Creativity Over Coffee series. 🙂 I know you'll love learning more about her.
It truly is the gifts we share that give life meaning.