Our boys are growing up which means it's time for a grown up playroom to suit their needs. I'm delighted to share how we updated their space with new furniture, new paint, and lots of their artwork!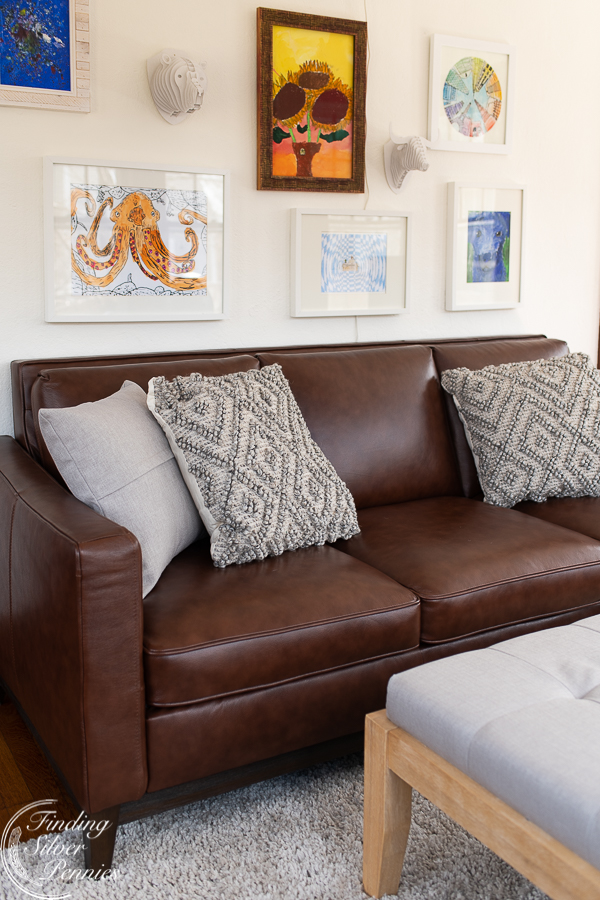 I know this goes without saying but our boys just mean the world to me. Being their mama was a dream of mine and, not to be too sappy, but I really love working on projects for them. So being able to makeover their playroom and to have them playing an active role in picking the furniture, painting, and choosing their own artwork was just amazing.
Thank you to raymourflanigan.com for kindly sponsoring this post. All opinions are 100% honest & completely my own.
We've wanted to update this space for quite awhile, you may remember in this post I shared our plans. You probably need to see a "before" photo, too. I'm cringing and covering my eyes as I share the photo….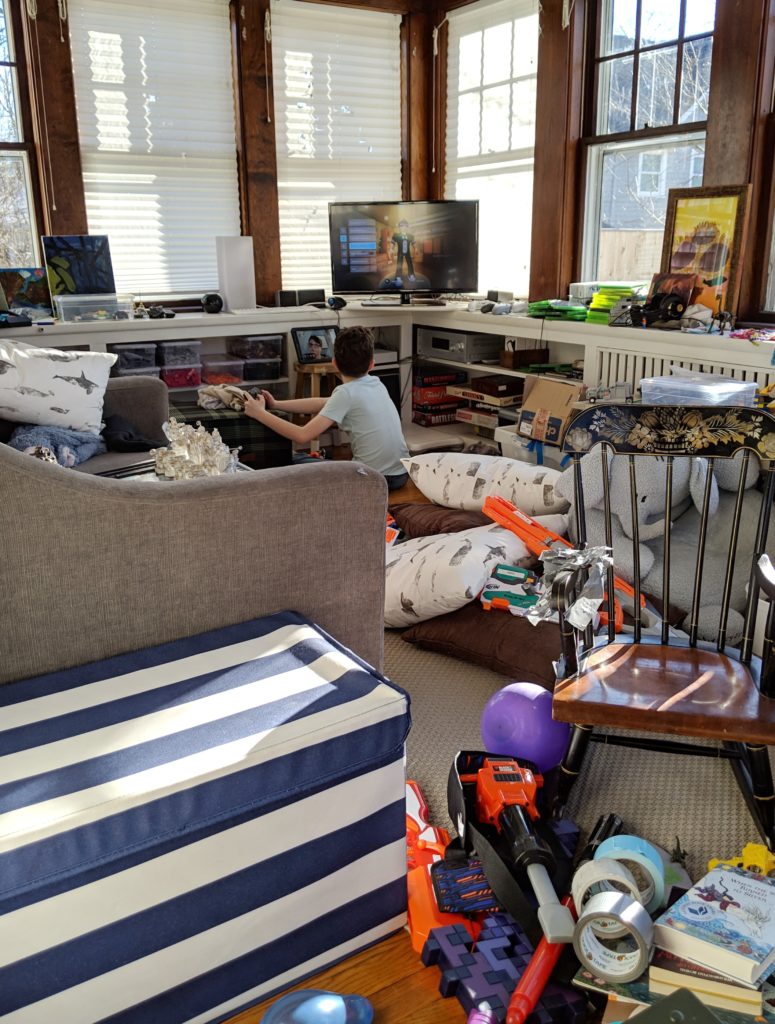 The room was a MESS on top of that it was a mishmash of furniture from about EVERY OTHER ROOM in the house. Before cleaning it out we headed to raymourflanigan.com and shopped for more grown up furniture but also things that would fit the space a bit better.  We were so impressed by the quality of the furniture and all the options in the showroom. It was Conor who actually fell IN LOVE with the swivel chairs in the store.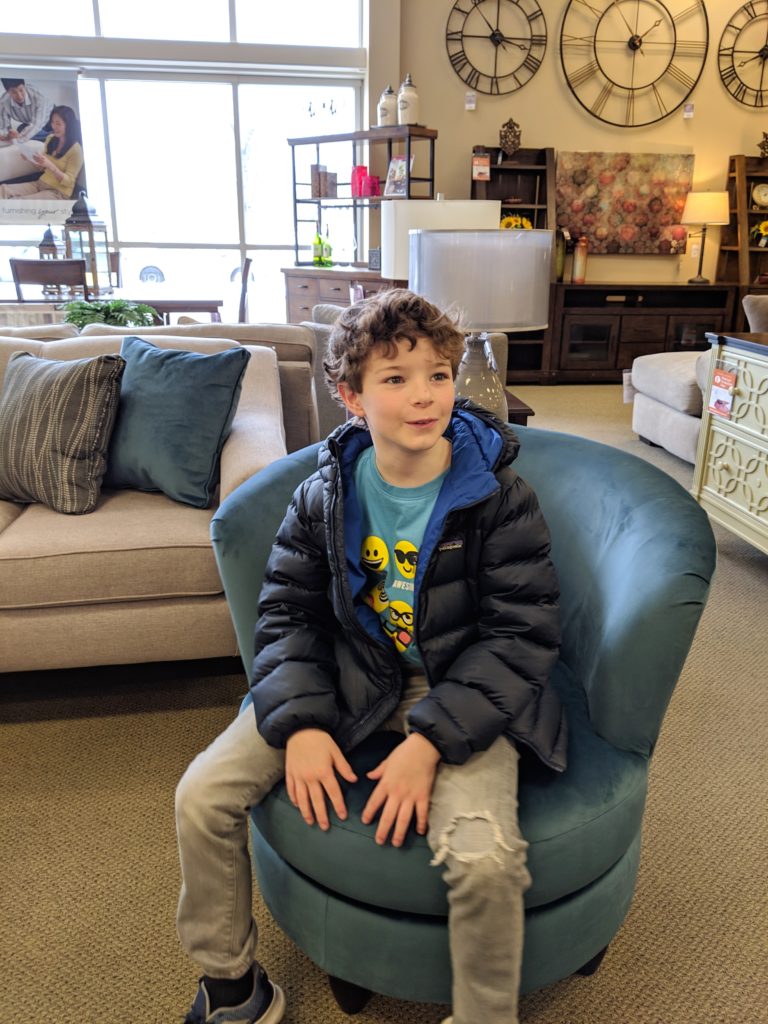 The color was a little bright for our home, but the manager told me I could customize this piece in pretty much any fabric we wanted. SOLD! We ordered two chairs and a bunch of other things, which I'll link to below.
We cleaned out all the broken toys (um, yup, there seemed to be a lot of them) and some baby toys. We painted the walls and shelves. Before, I go any further, I NEED to show you the room now: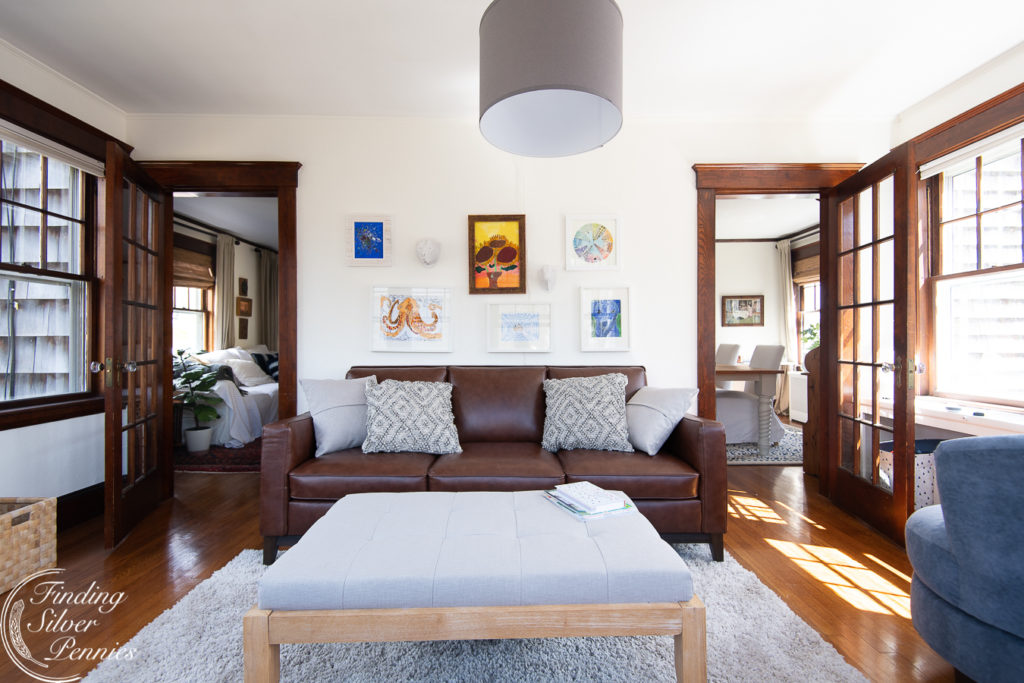 The playroom is now just such a lovely and sunny spot to spend time.
We ordered two matching swivel chairs in Stone.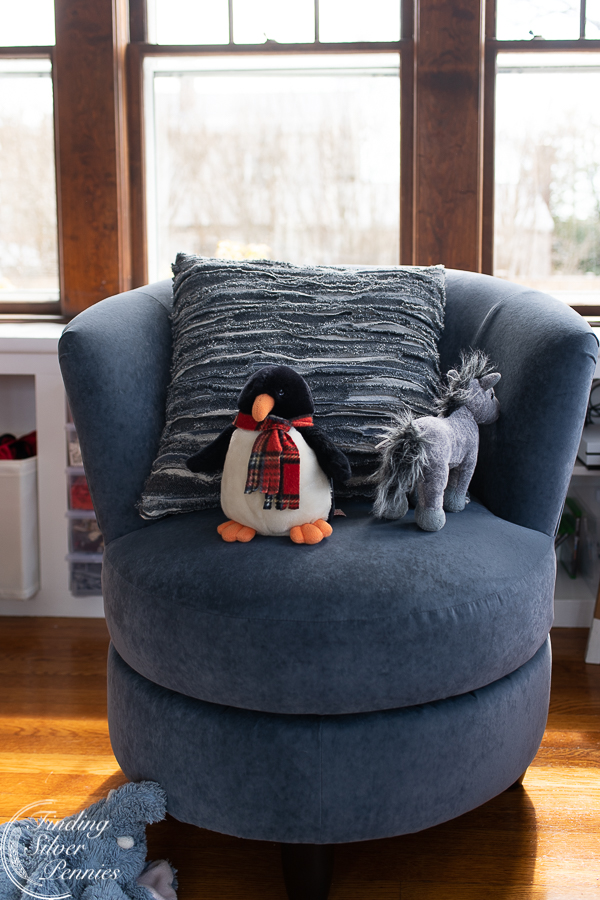 If your kids play video games, they are the best "gaming chairs".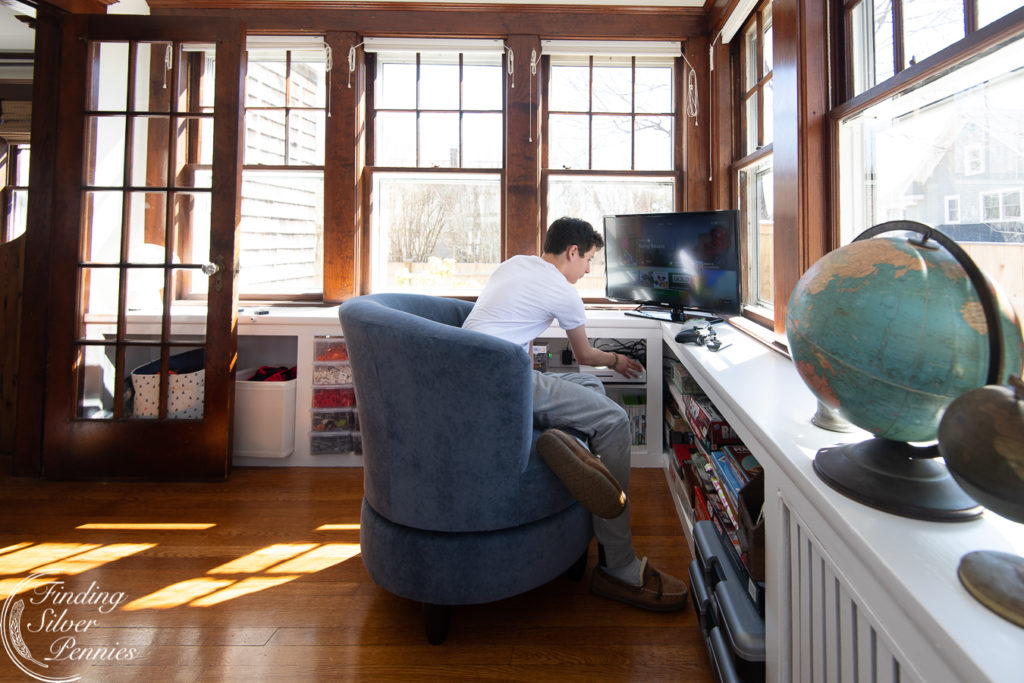 They each have their own swivel chair, The Darden Swivel Chair. The boys find them so comfy and the feel so luxurious with the custom velvet upholstery. My boys love when things feel soft.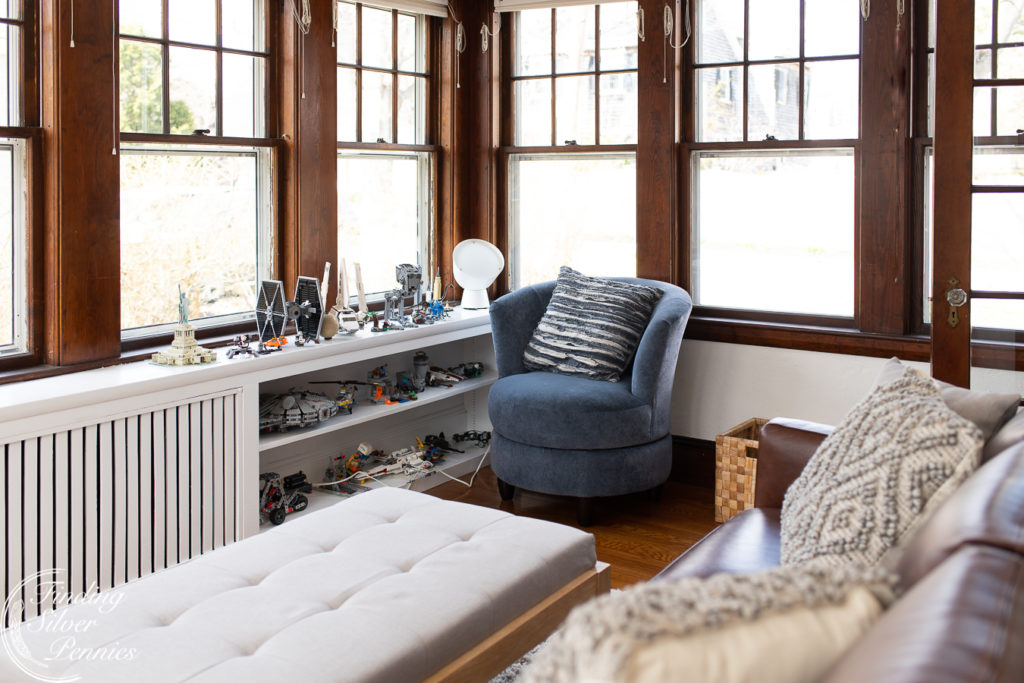 These chairs are also perfect for reading. Luke will bring in his coffee or the paper. The boys also love sitting in here reading books.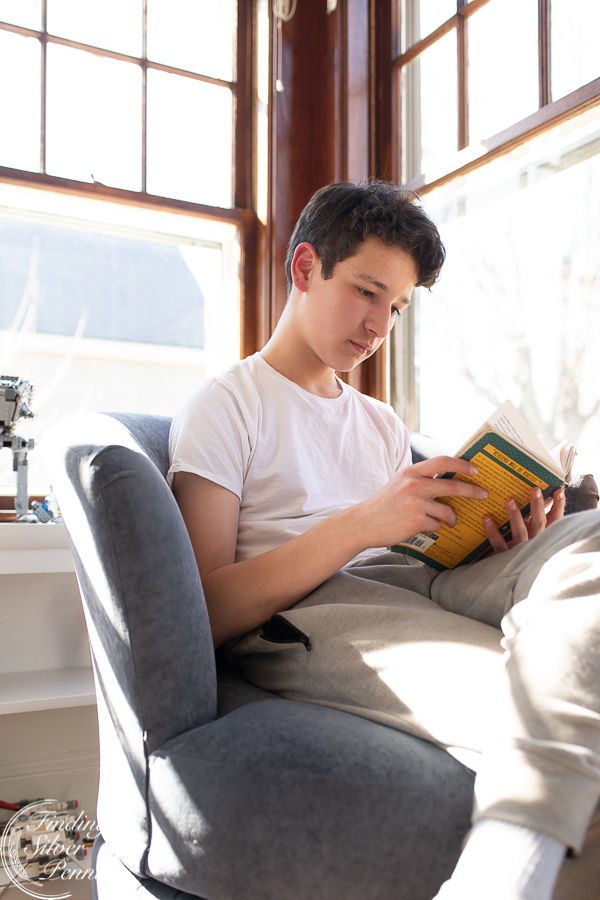 I actually can't believe how quickly our order arrived. I thought it would be weeks and weeks with the custom upholstery but everything was ready within 3 weeks! Wow!
I chose some playful denim pillows for these chairs: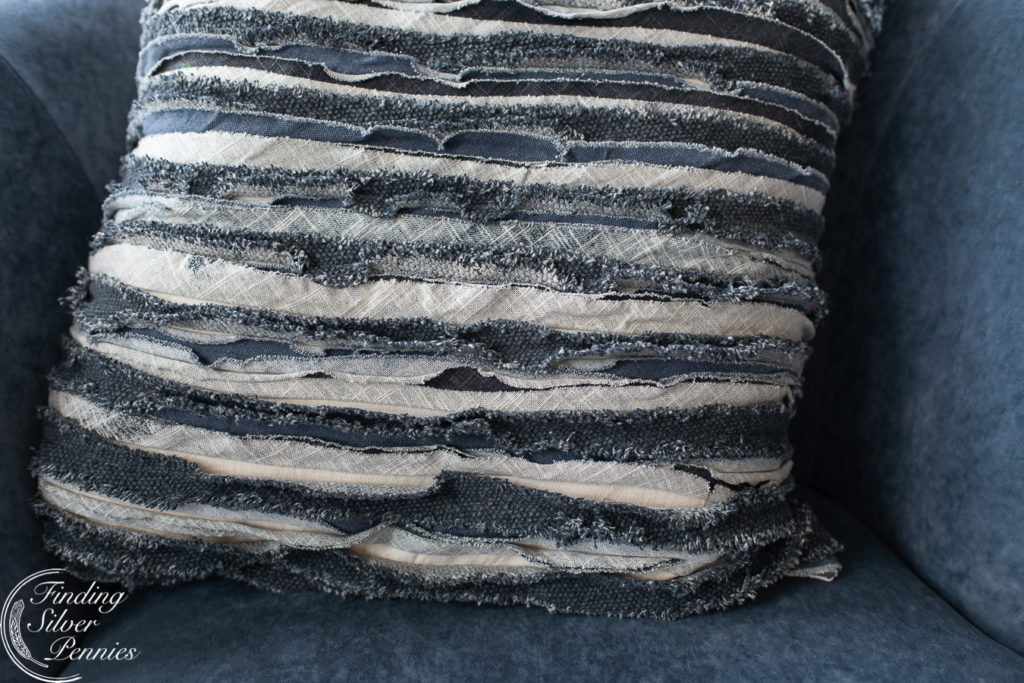 We needed lots of seating because they love playing video games and board games with their friends when they come over. This room now has ample seating. My favorite is The Berkley Leather Sofa.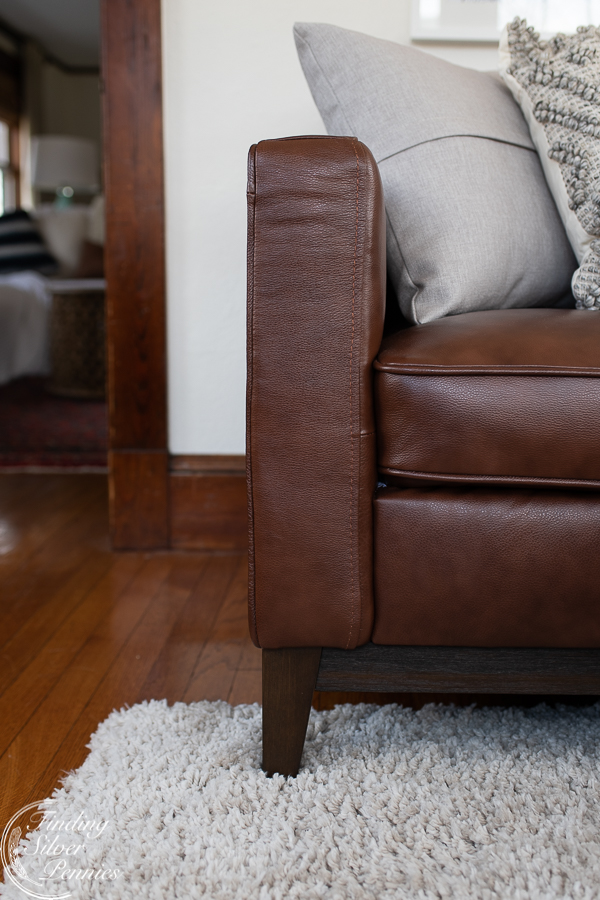 In the store I fell in LOVE with the modern, contemporary lines and the warm brown leather. It highlights our dark woodwork and French doors perfectly. The leather is so soft, too. We were slightly worried it wouldn't fit through the doorway. The delivery guys were so great though. We took the door off so they could get the couch in. I have to say having a large sofa in here makes the room feel so much bigger.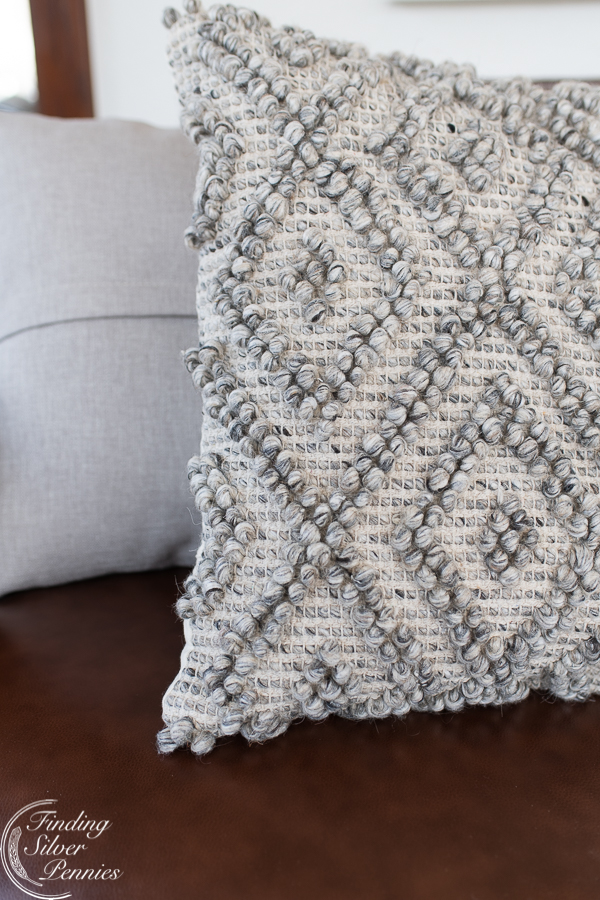 The couch came with two tan throw pillows but I also ordered these textured diamond pillows. I love how the warm grays and tans pick up all the colors in our room.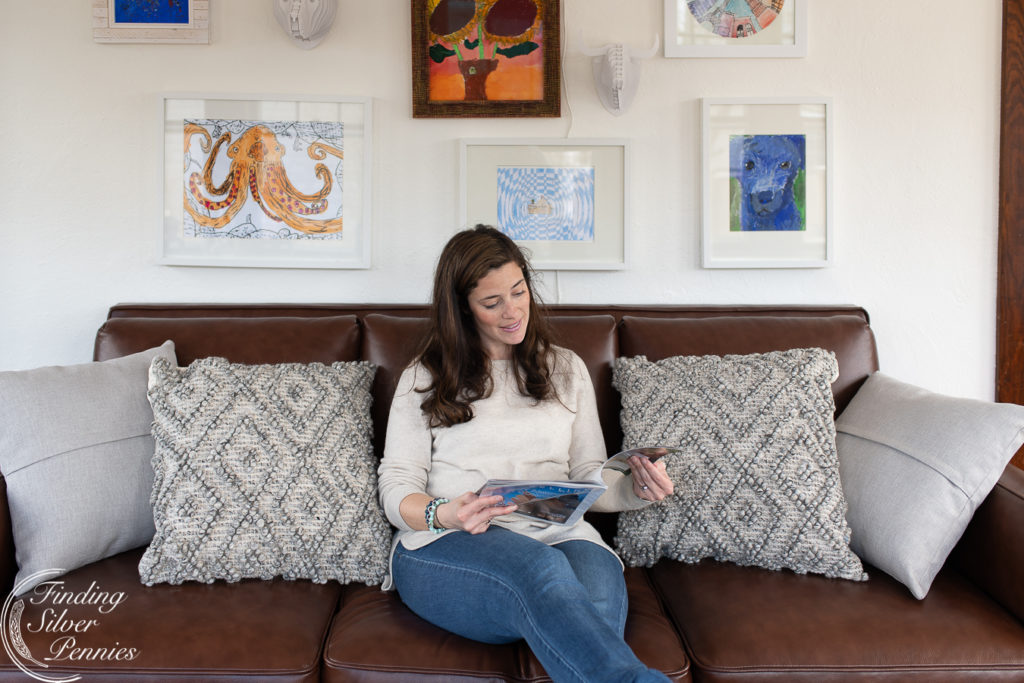 I love sitting in here reading magazine while the kids play.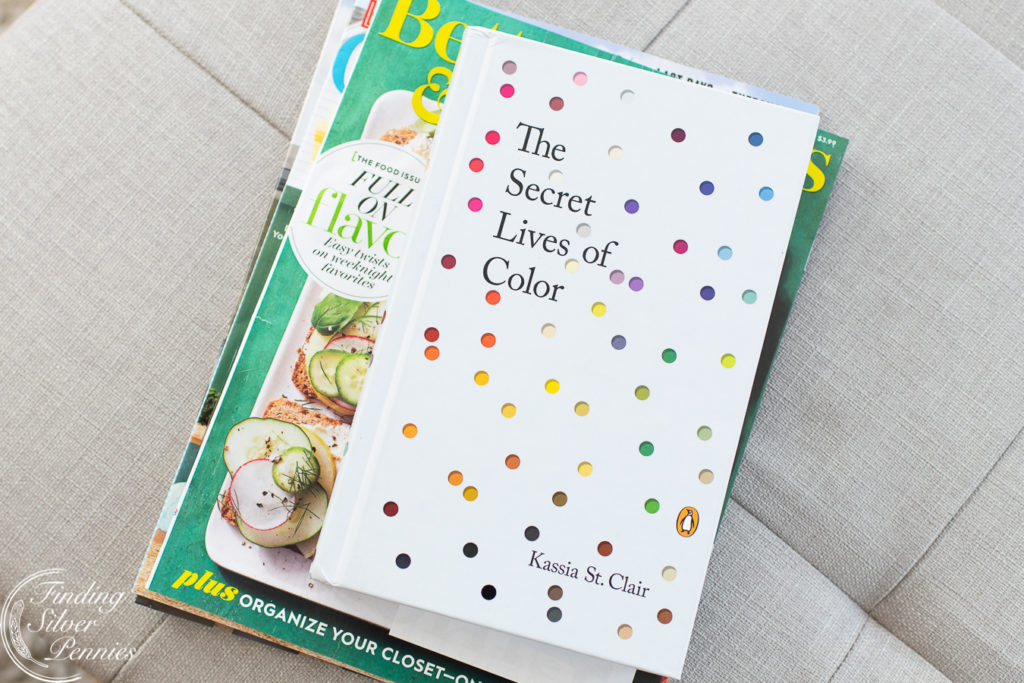 Well, it isn't all magazine reading. I'm also working on my master's project for my design class 😉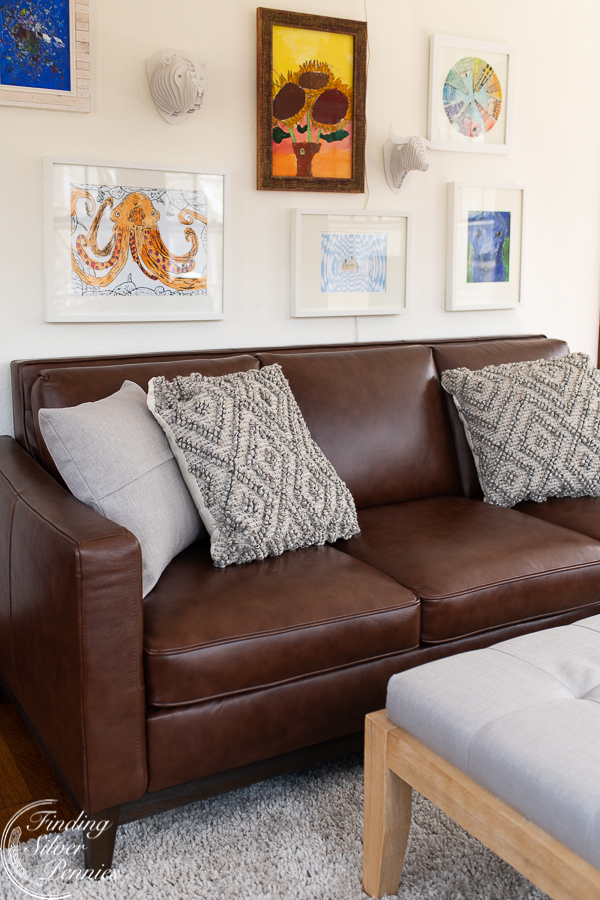 Conor LOVES doing his homework here, too. I took too many photos, but have to share a few. 😉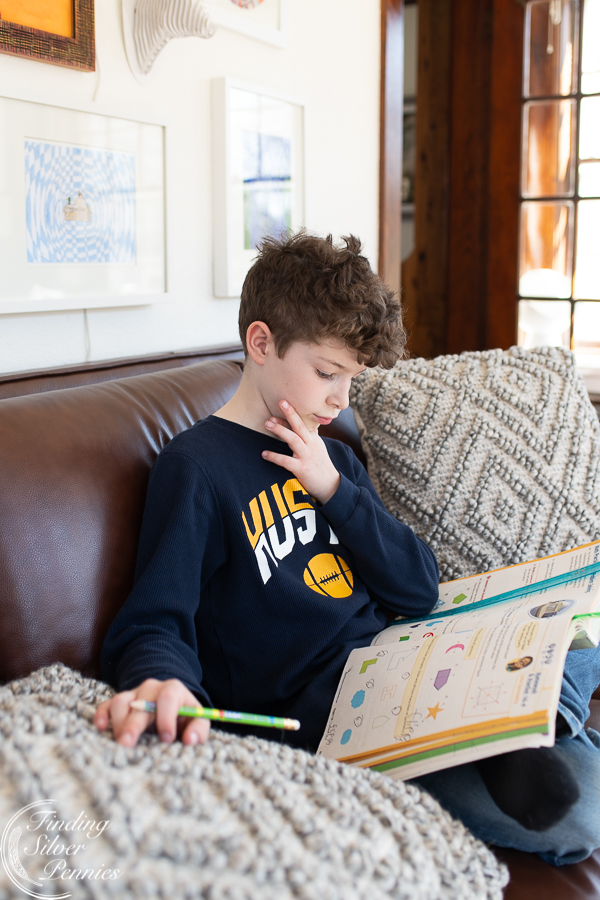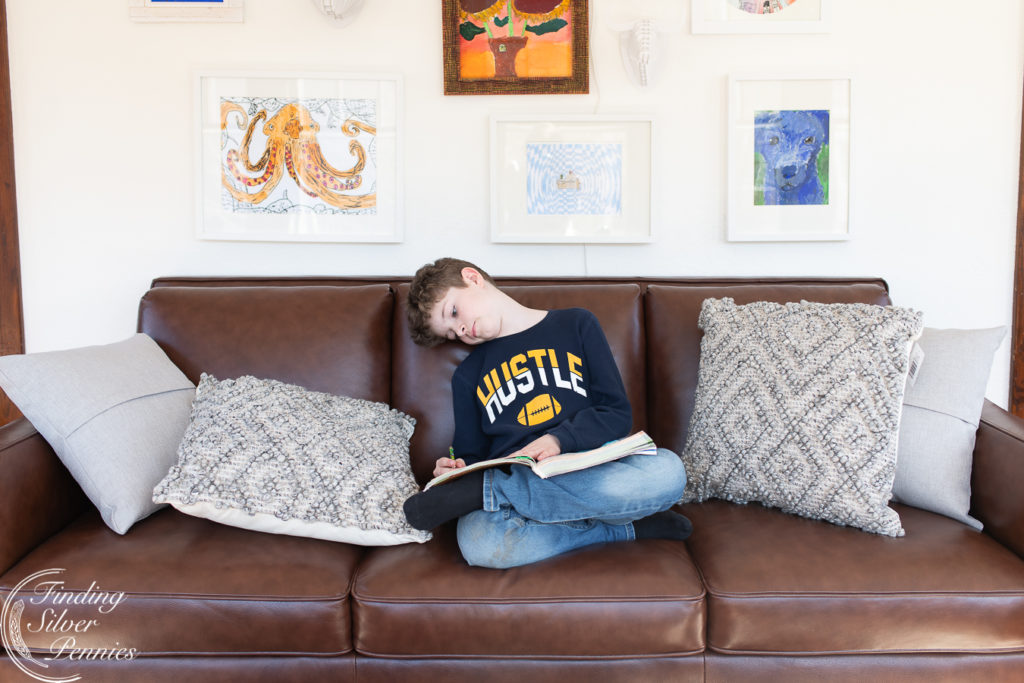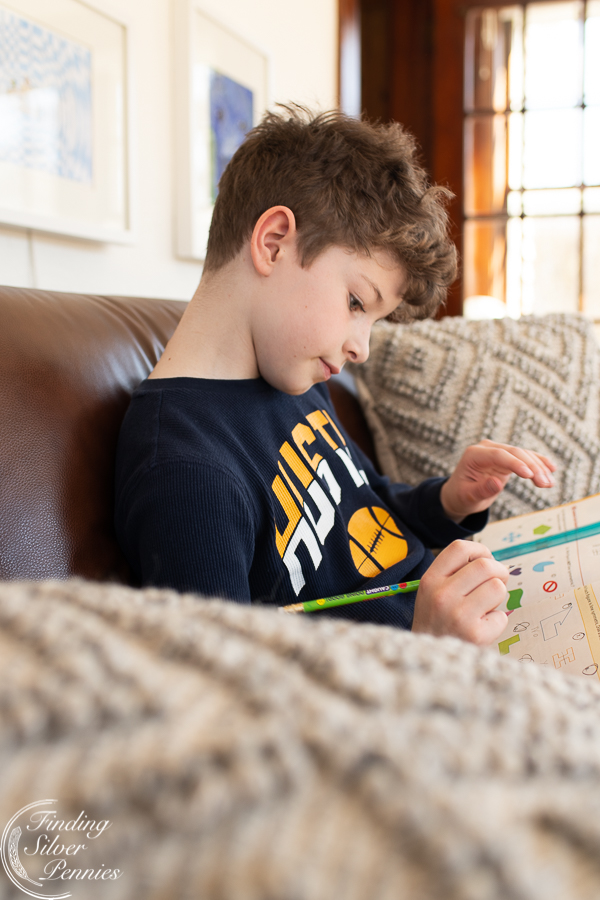 Math homework is a breeze when you're perched on a trendy leather couch!
The rug is a soft shag carpet. You know how I told you my kids LOVE soft things? Well, this rug was a must! It's the Kramer Area Rug and we added an extra thick rug pad under for added comfort.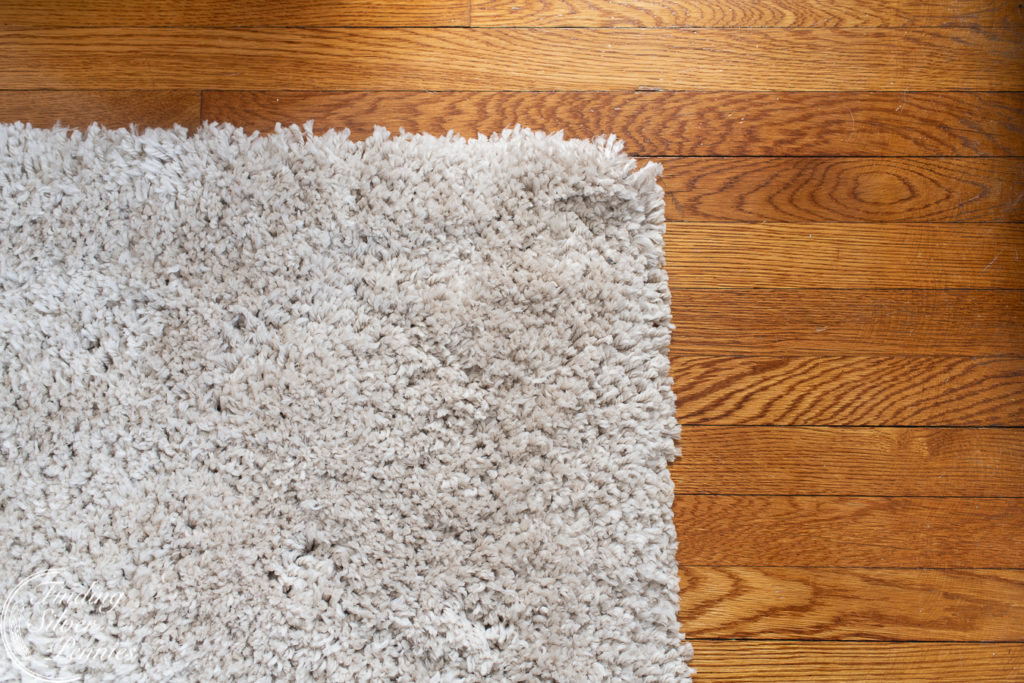 We kept our vintage globes.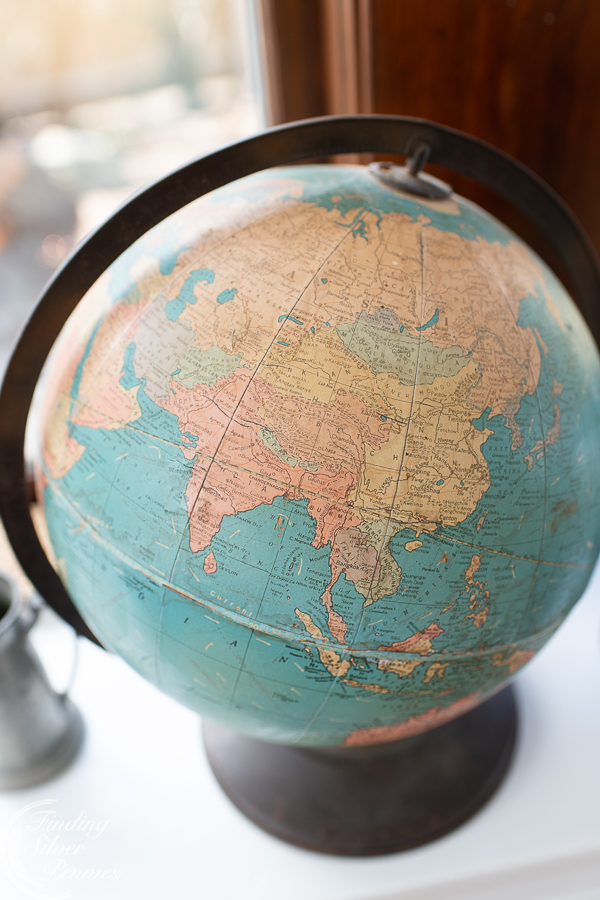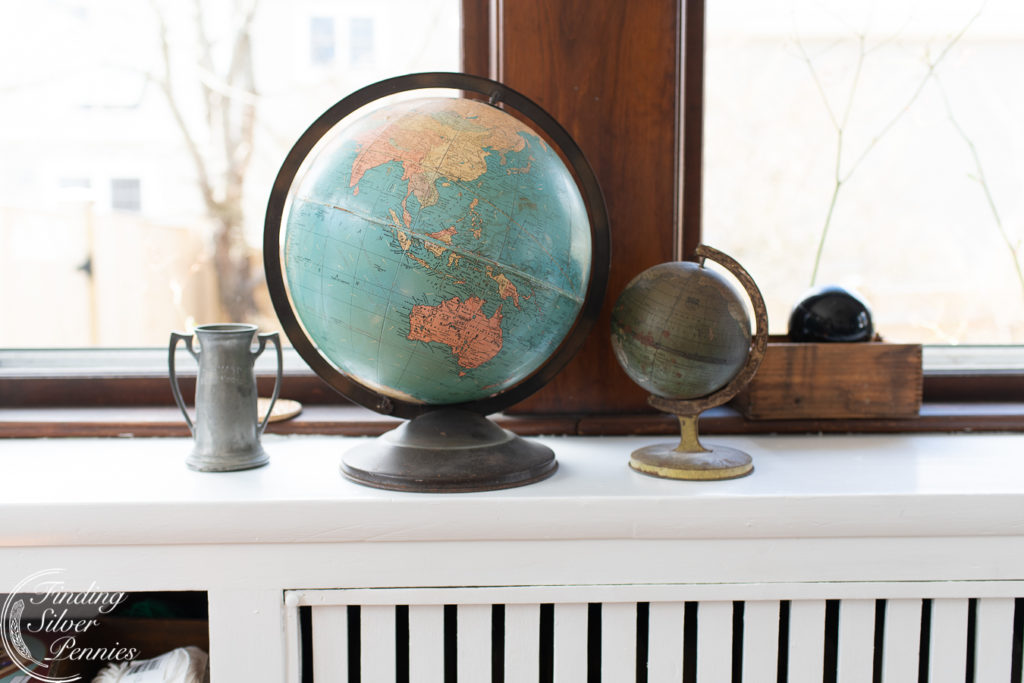 That metal trophy is from Harvard. I found it at a vintage store years ago. I just love the colors of these globes and the mixes of metals.
We also kept ALL the legos. Some are color coded while others are displayed on the white shelves. Before they were up high on red shelves and I just felt like you couldn't see them so high up.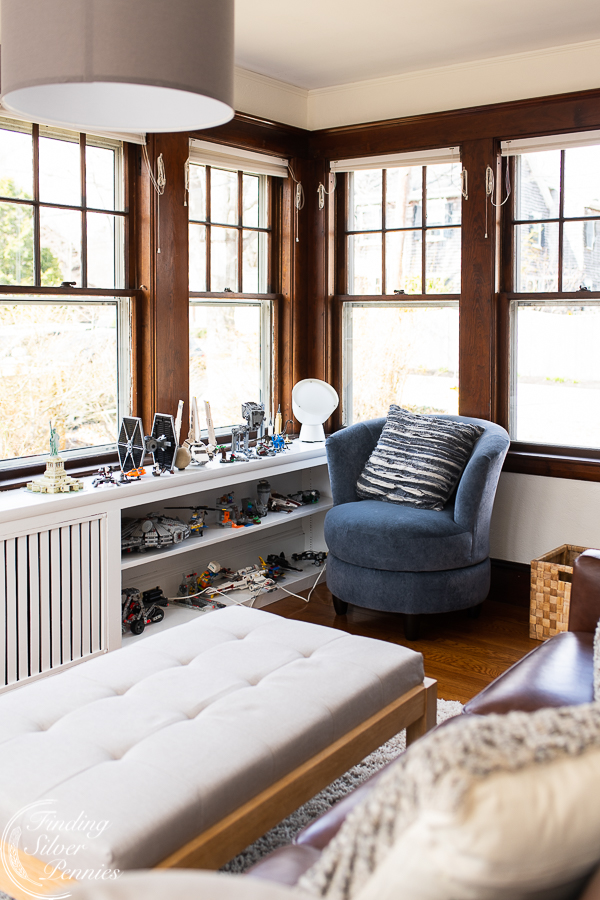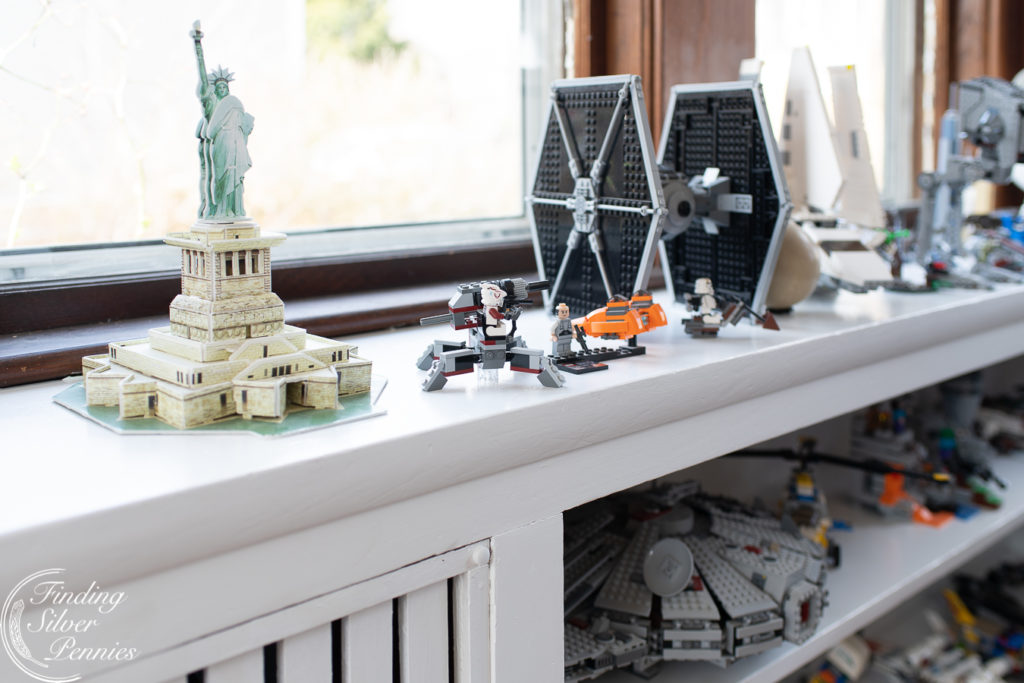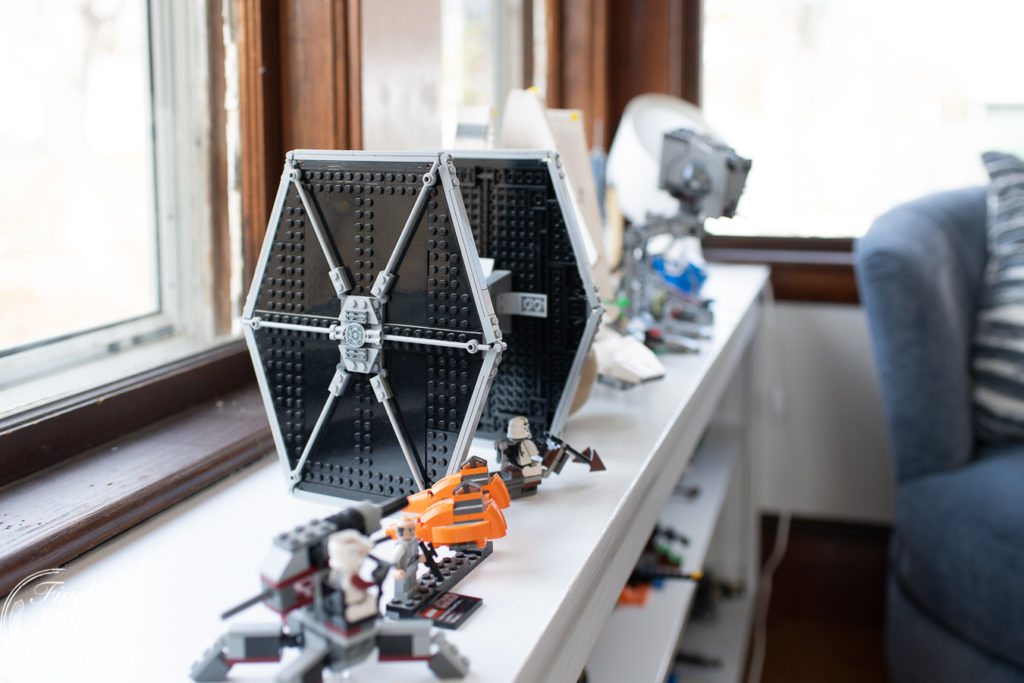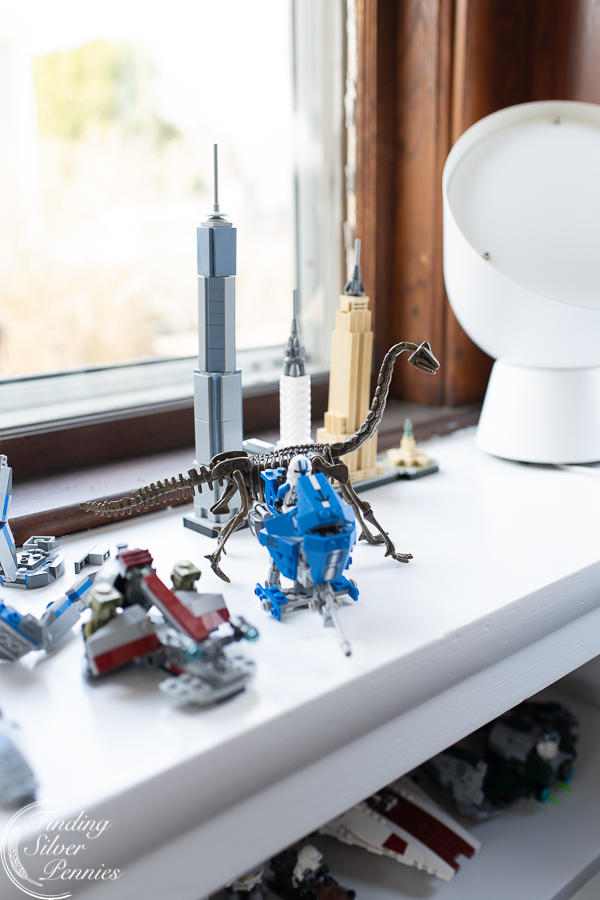 Now that it's within in reach, it can also be played with and really isn't that the point of toys and things? To enjoy them?!?
This cocktail ottoman was a last moment addition. I'm soooo glad we added it to the order! For under $200 this ottoman adds an additional place to sit, to play, to linger.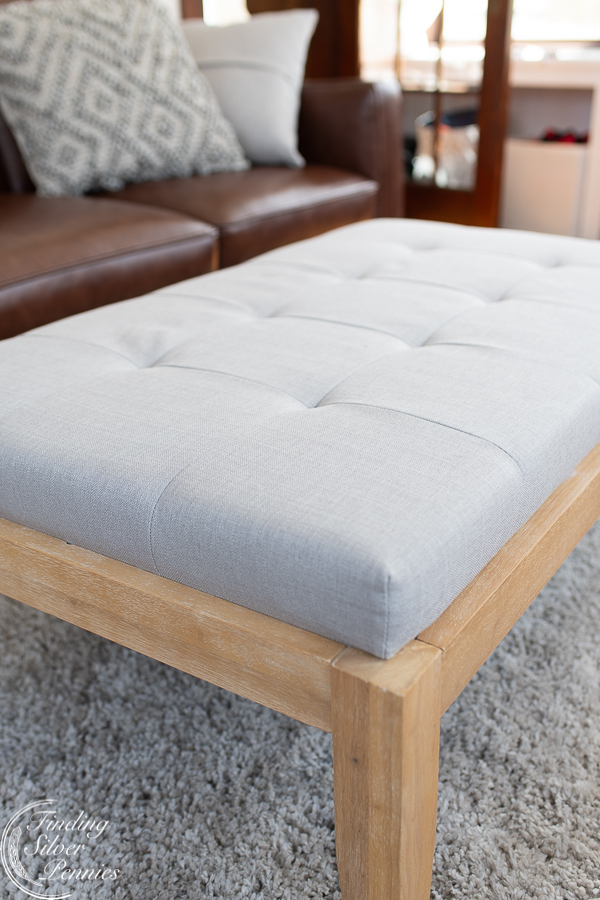 I love the weathered wood and the linen upholstery.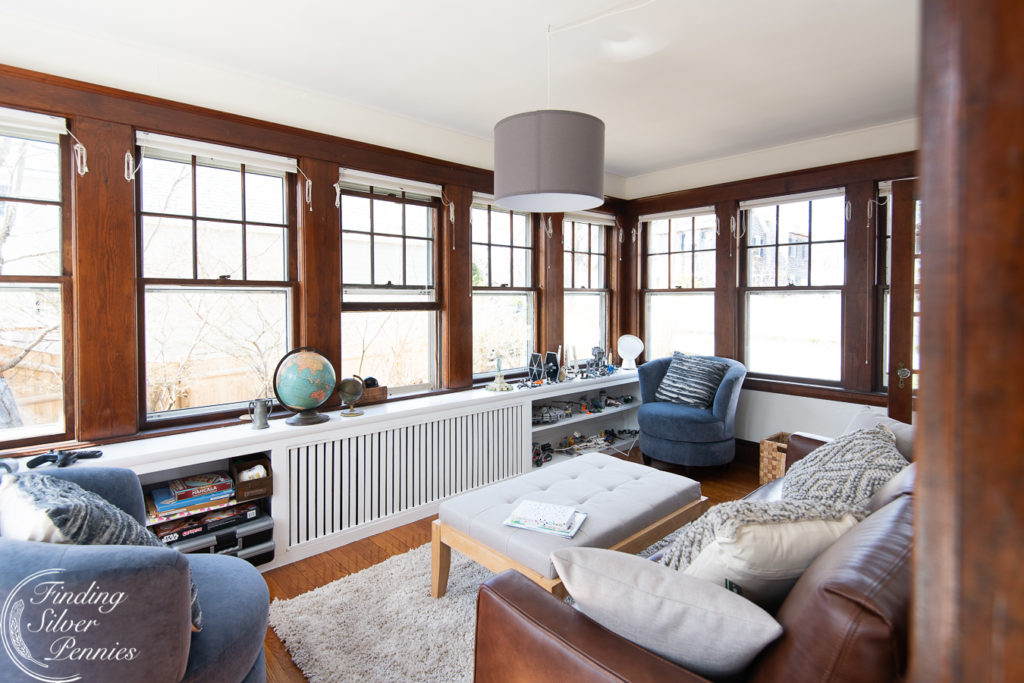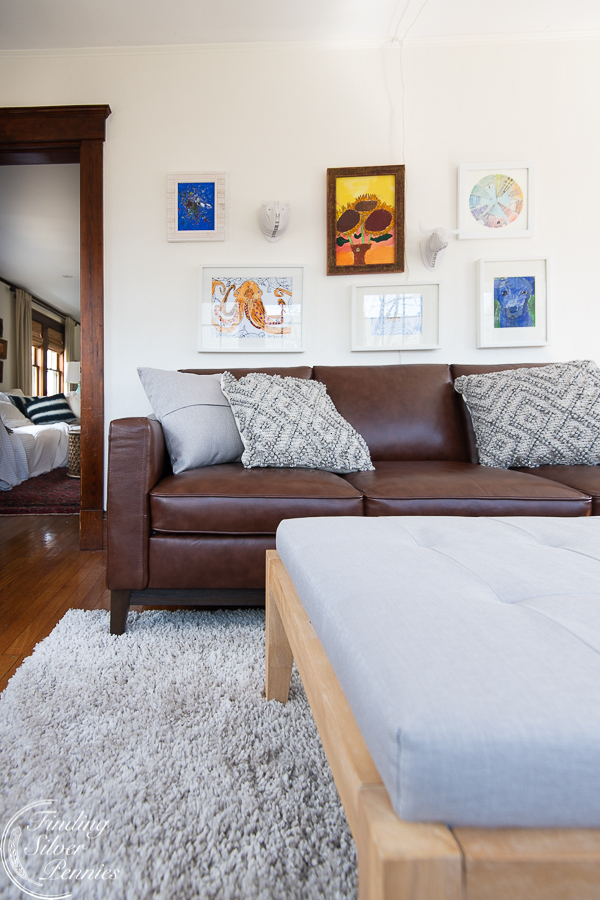 It's also the perfect place to play with legos and army guys!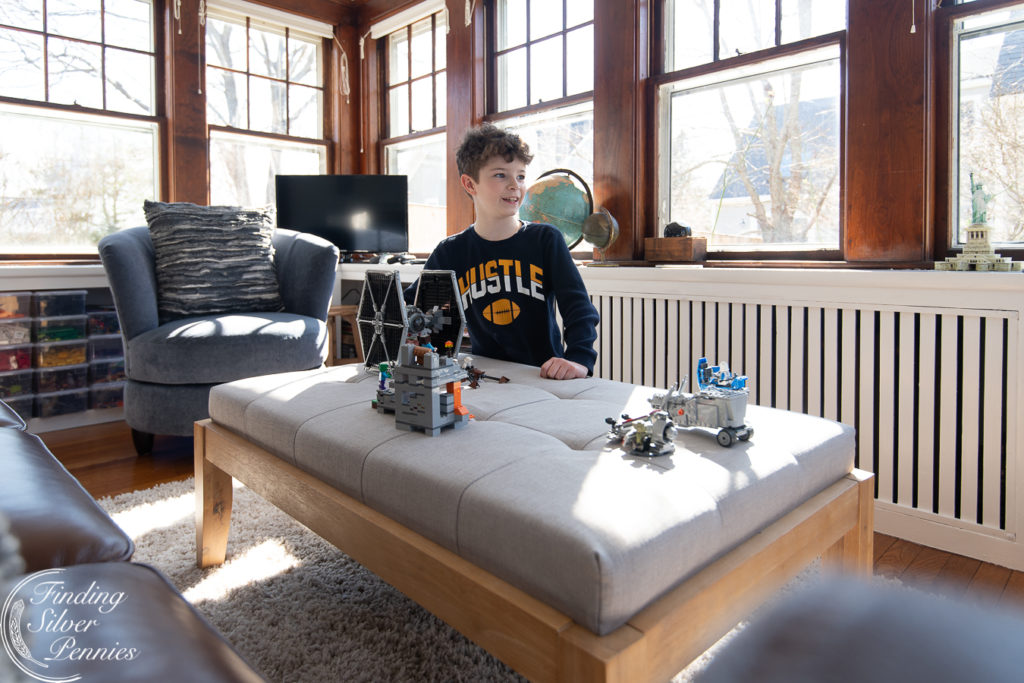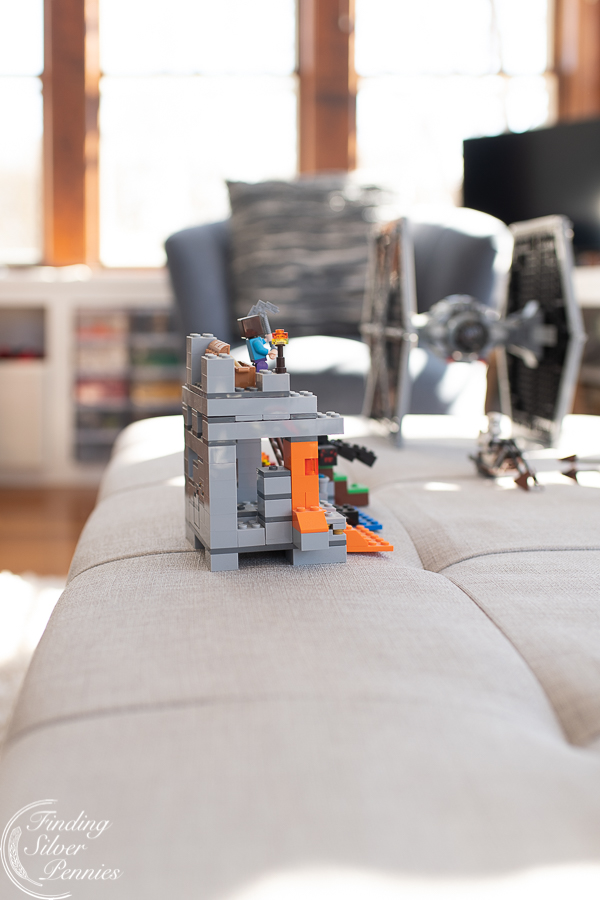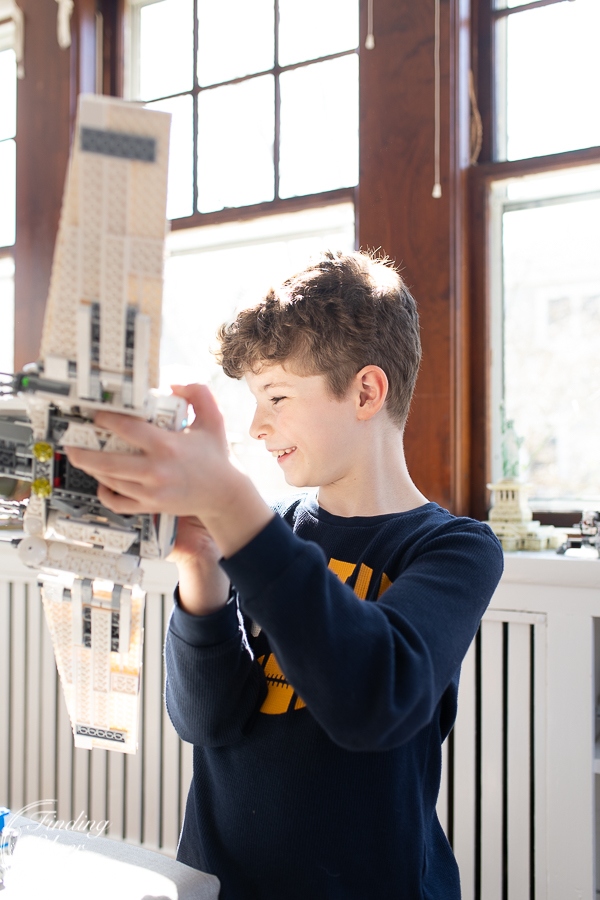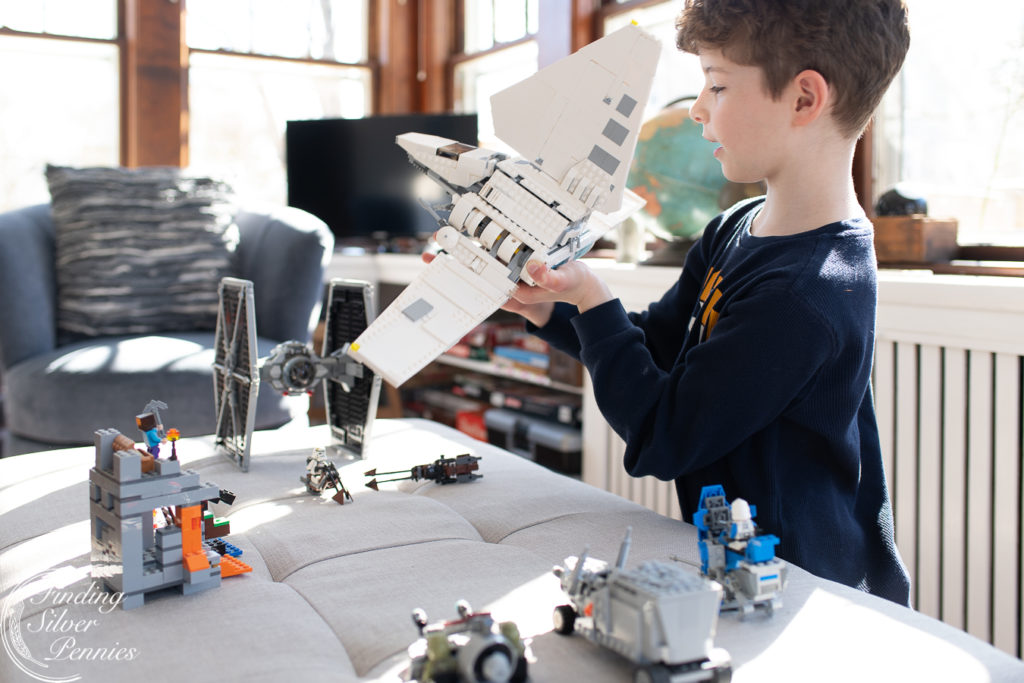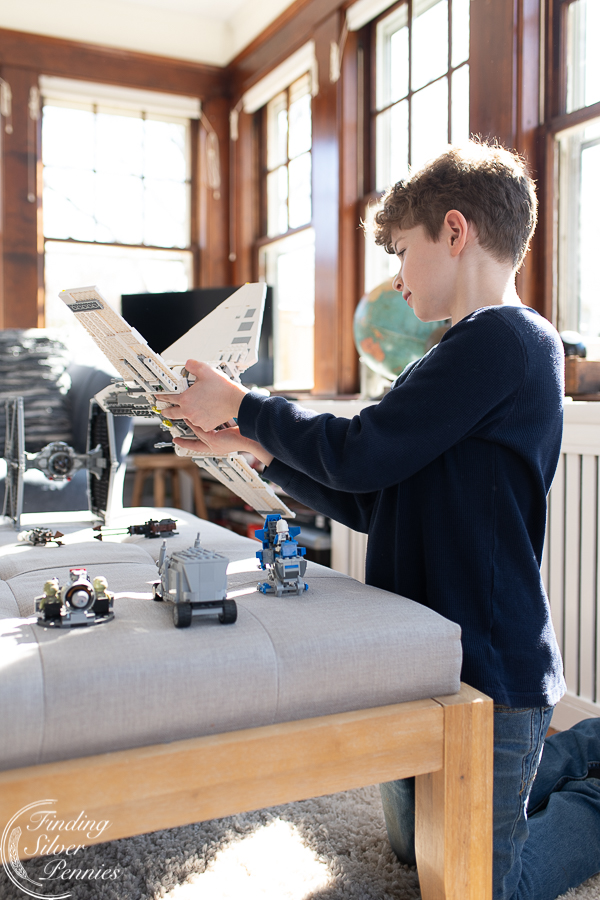 I love watching him enjoy this space so much.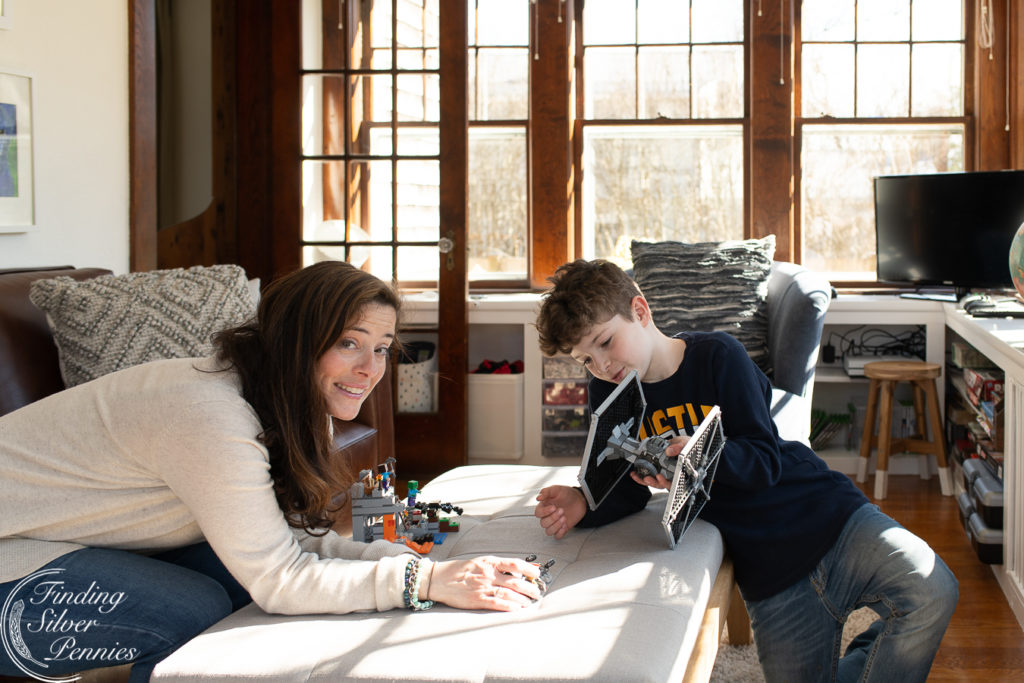 Okay, one element I haven't discussed yet, is the boys' artwork. I went quite neutral on the furniture because I wanted contrast of color to be our children's artwork. I find the things they paint and draw to be so magical and whimsical.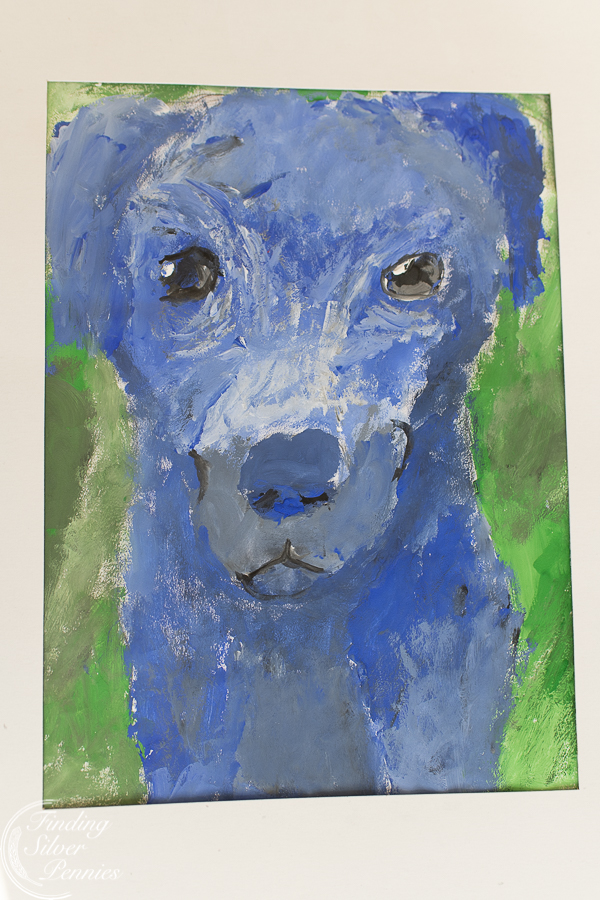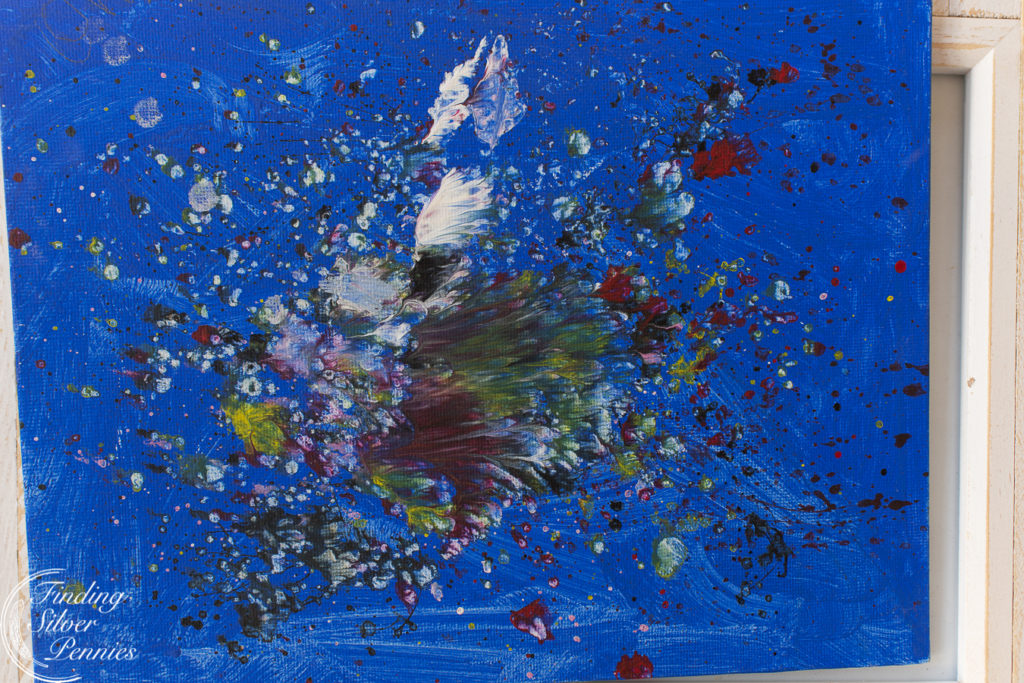 John created this color wheel last year in art class: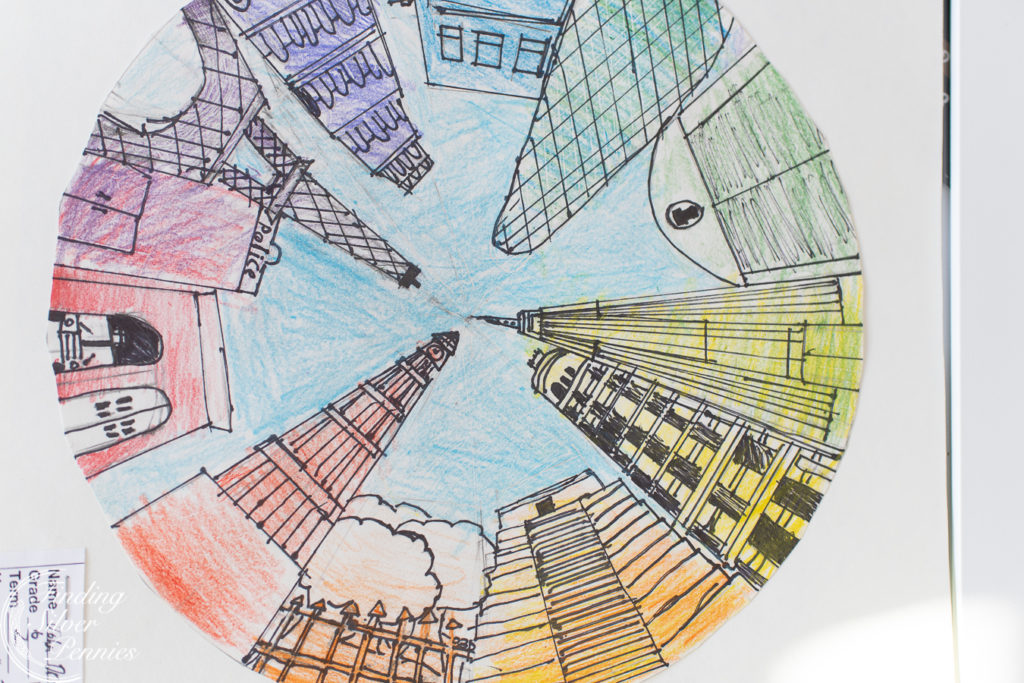 How many of the buildings can you name?
He actually drew this whilst at raymourflanigan.com. He started doodling while we were still discussing pillows and rugs etc.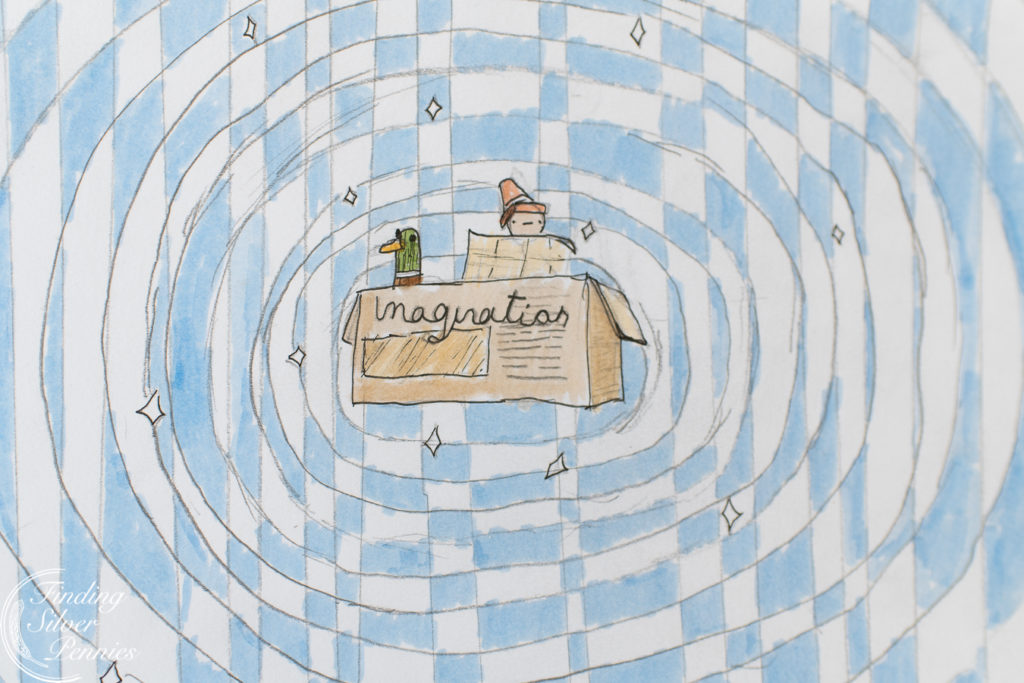 I love this drawing so much. It inspires me.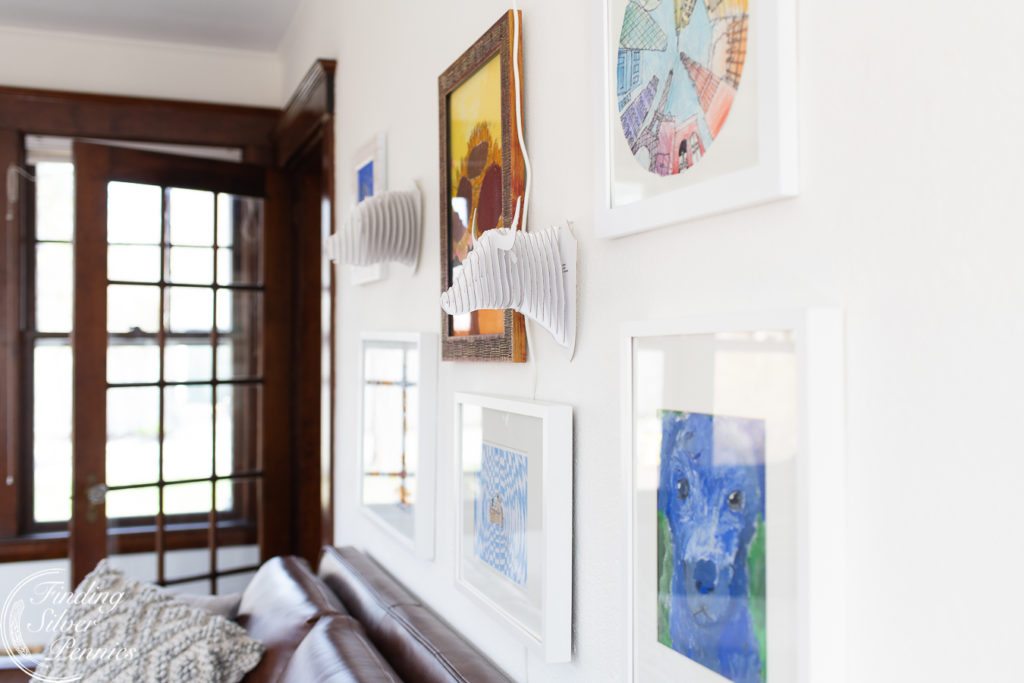 We framed all the artwork and also hung some cardboard animal heads the boys made; Nanny and Grandad sent these over from England.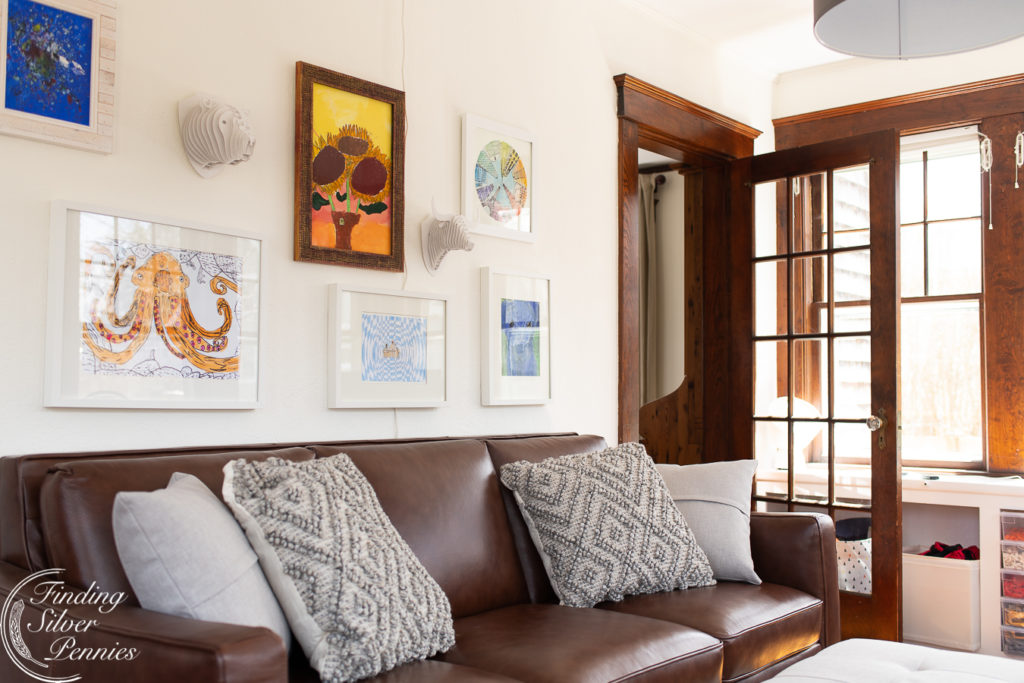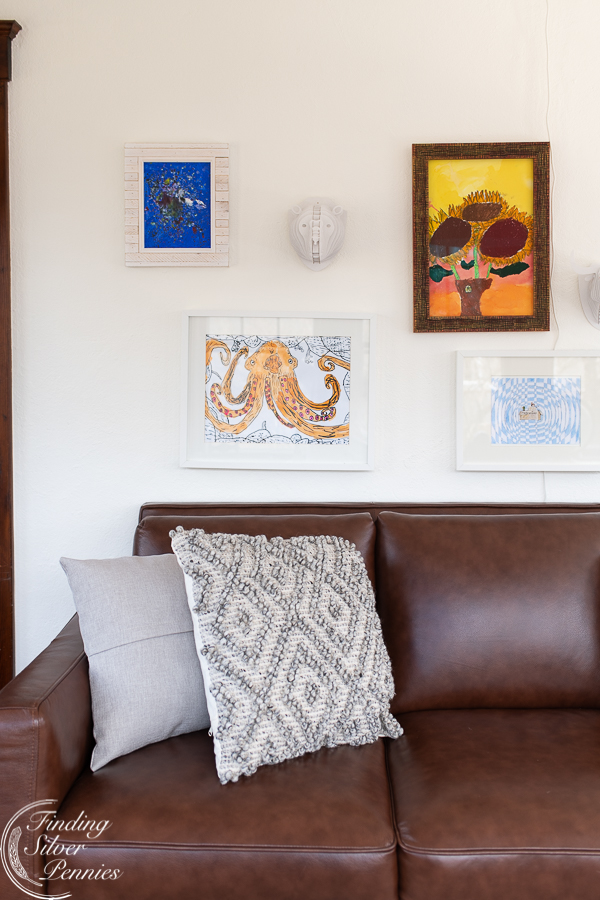 I love that we can add to this display as they bring home more and more artwork.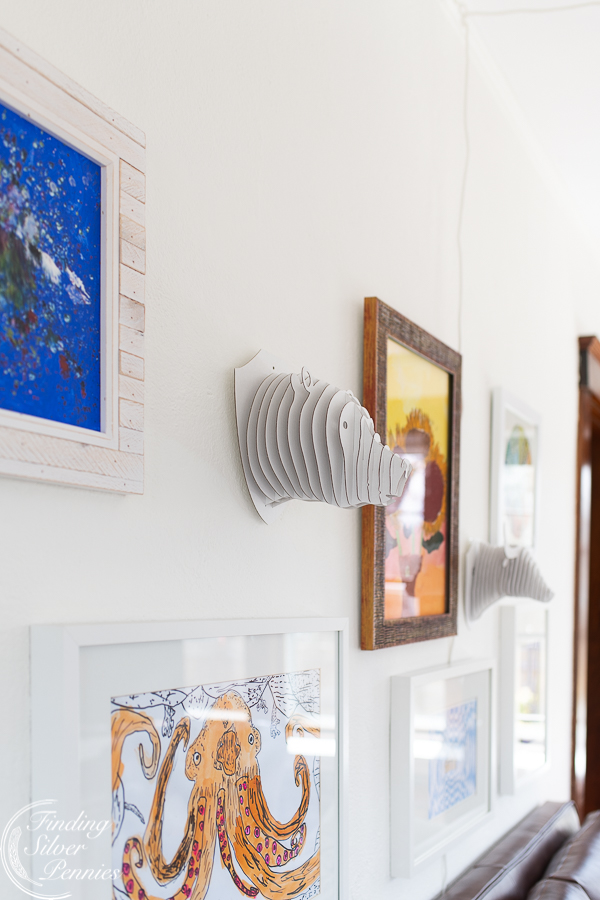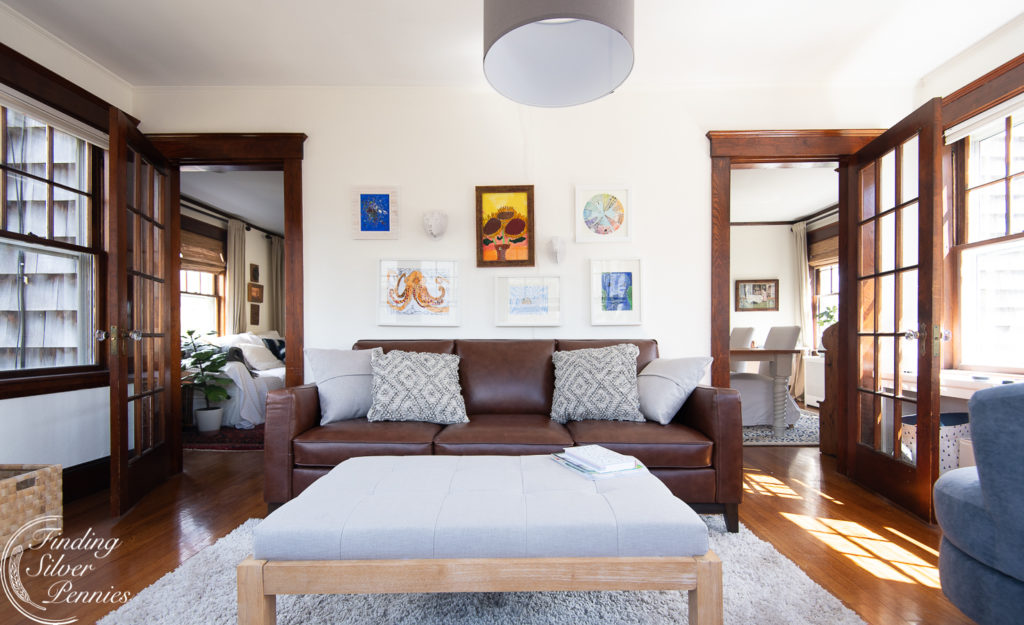 Well, that's the boys' grown up playroom reveal! I hope you enjoyed seeing it as much as we enjoyed working on it. A huge thank you to raymourflanigan.com for partnering with me on this space. The beautiful furnishings make this room such a welcome spot for us to hang out, play, and imagine together. I'm so grateful for the opportunity to makeover this space for our boys. Did you guys have a favorite from the room? Can't wait to hear what you think!