I'm so glad you all enjoyed the playroom makeover. I'm getting lots of questions about the wall color, lighting, and other sources so I thought I'd do a post devoted to playroom sources.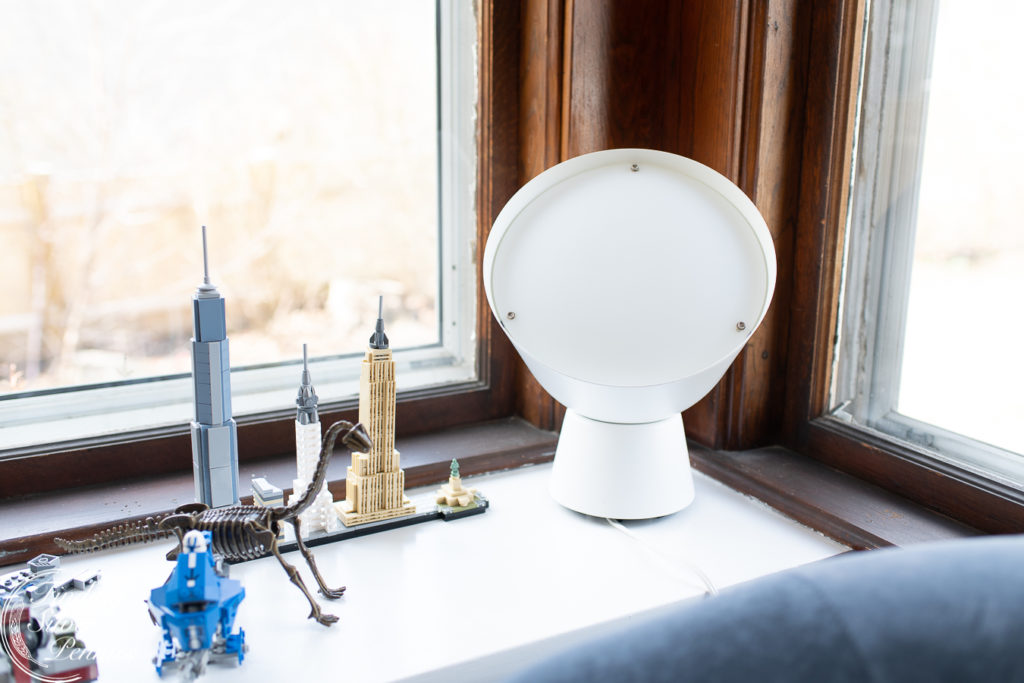 Thank you all for your kind comments, emails, and questions. I'm so glad you adore this new space as much as we do!
Last week was school vacation week, so we spent many hours in here; playing legos, video games and just hanging out.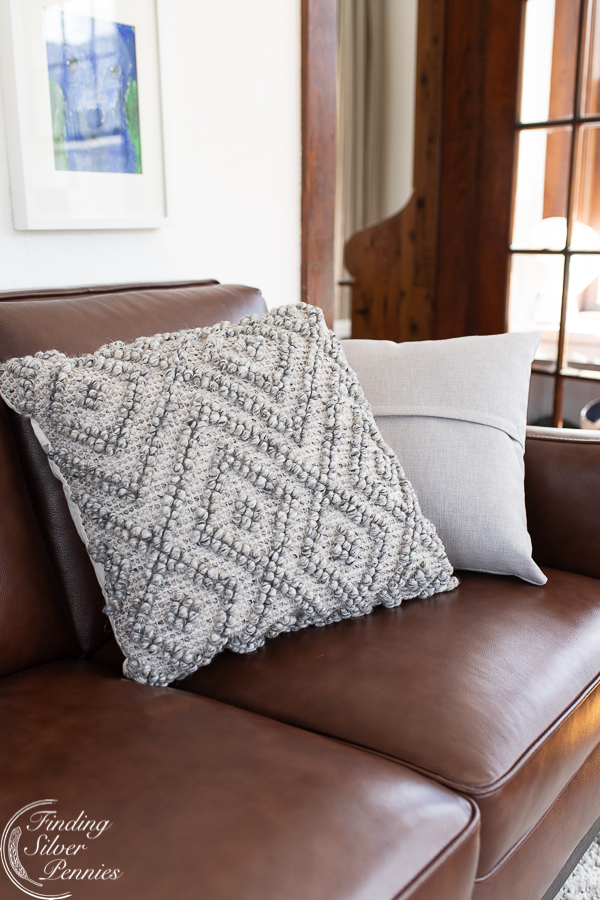 Raymour & Flanigan generously partnered with me on the furniture for this playroom. If you'd like read more about all the pieces in depth and why we chose them click here. I LOVE the couch. It's so soft and you really sink into it.
I've actually enjoyed some quiet time in here without the kids 😉 Don't tell them though.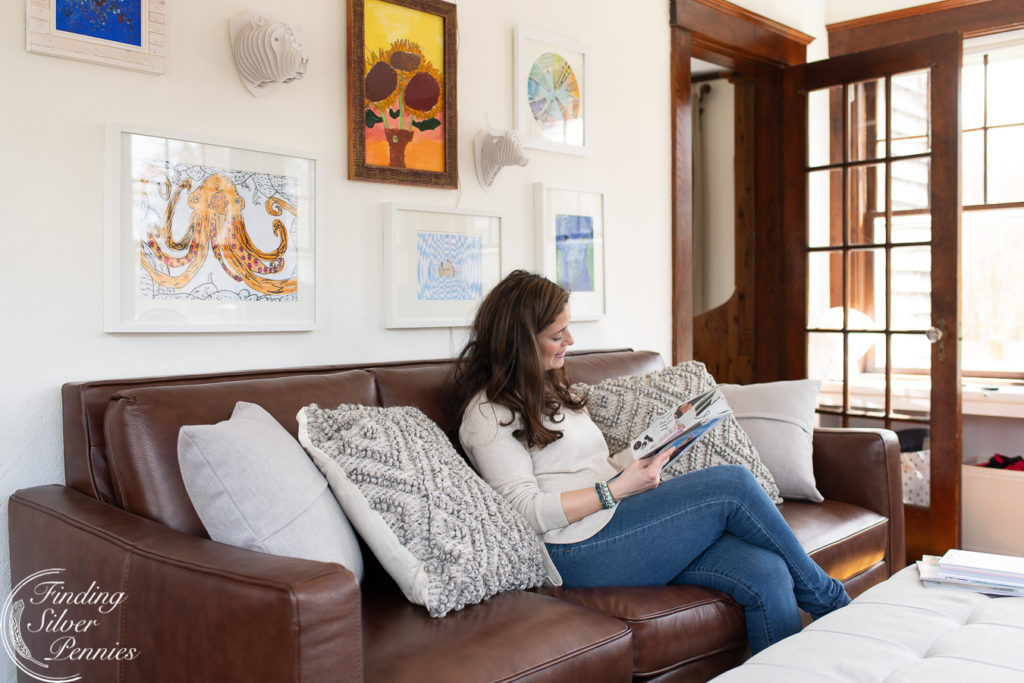 We painted the walls in Simply White by Benjamin Moore. We have textured walls in our home so I like to use matte finish that way the texture doesn't show up. This is one of my favorite whites. It's gorgeous with dark woodwork but also with white trim as well. We have this in the boys' bedroom and the sunroom as well. I thought about going with shiplap which is in our bedroom but it looked slightly dingy compared to the woodwork. I'm planning on writing a post all about dark woodwork (caring for it, colors to pair with it, and some wood cheats). Let me know if you guys have any questions about dark woodwork. I think it's now "on trend", although I'm not sure it will ever go out of style, it's just classic.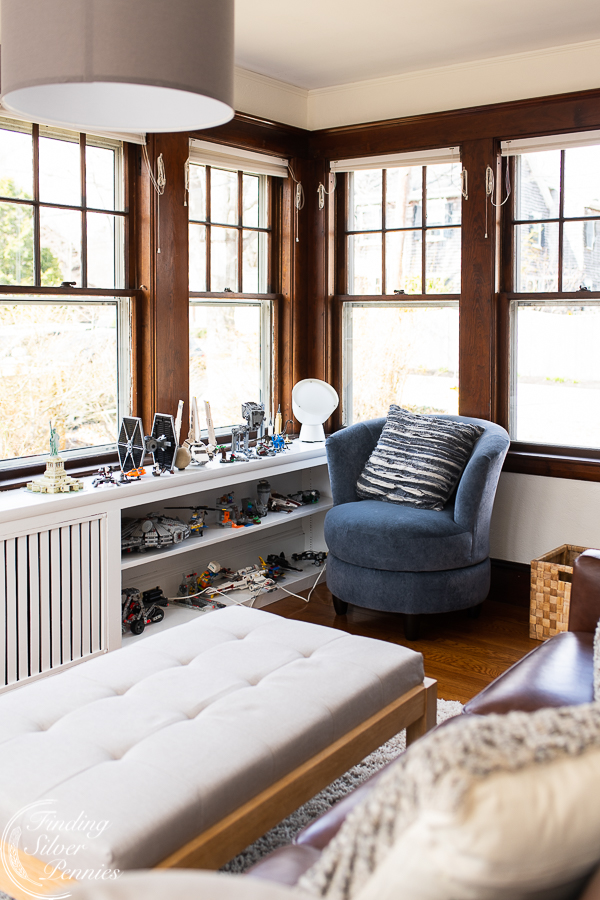 We also gave the built in bookcases and radiator cover a fresh, bright coat of white paint. The color is Super White by Benjamin Moore in semi gloss. I went with semi gloss because I wanted these to be very durable. The boys store lego, games, and remotes on them. They'll get banged up and I wanted to be ready for it.
Doing the white walls and bright white built ins (the built ins were already white) made the room feel so much bigger and brighter.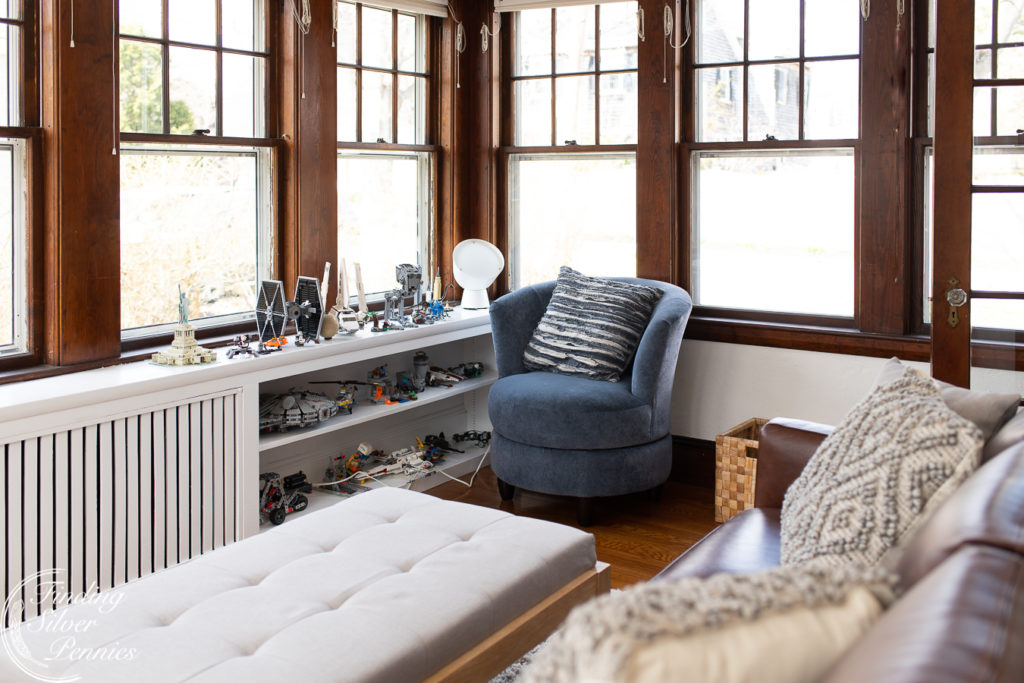 The ottoman was a last minute decision and I'm so glad we added this to the space. It makes a great play area but also great additional seating when friends come over.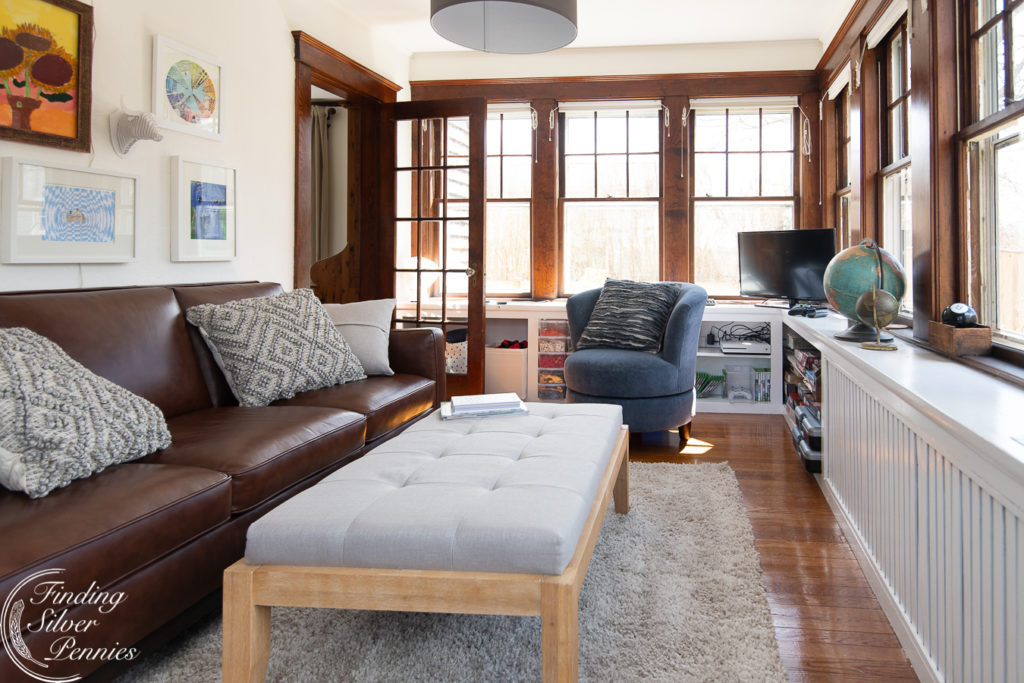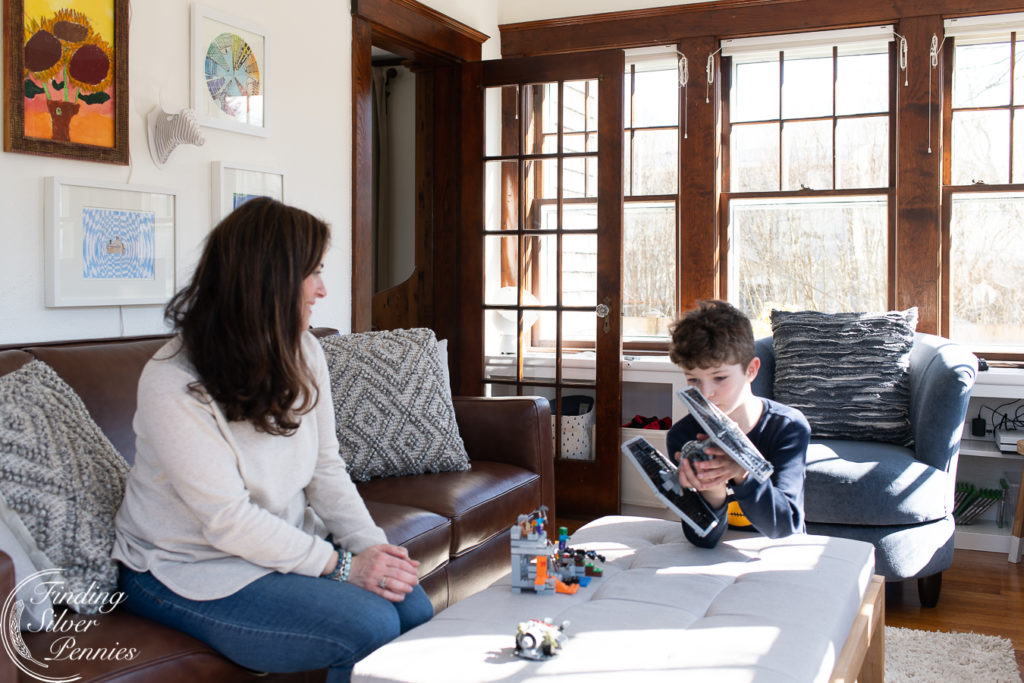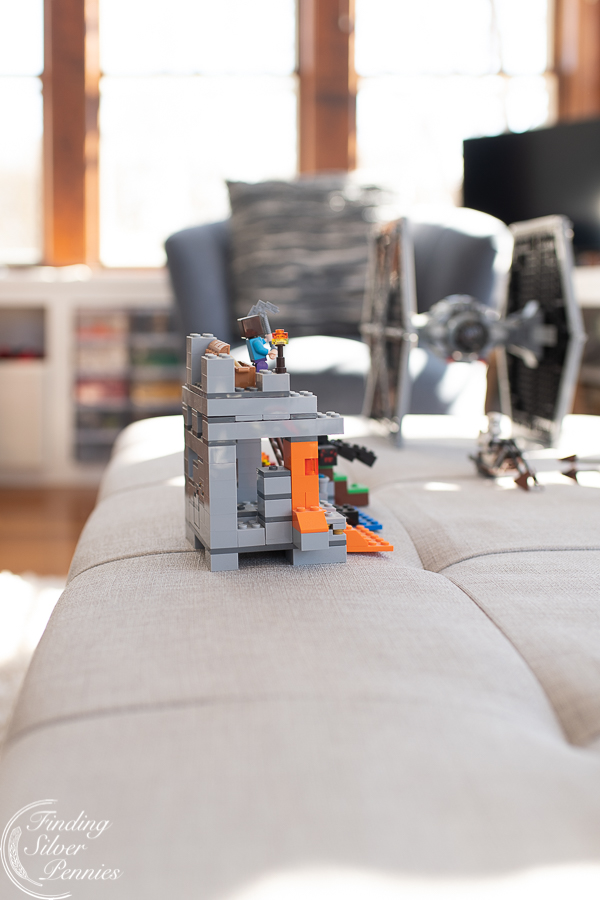 The lighting is all from Ikea. The ceiling pendant is actually a plug in. We have a hook on the ceiling. We thought about hard-wiring a light but think it will be expensive and also messy.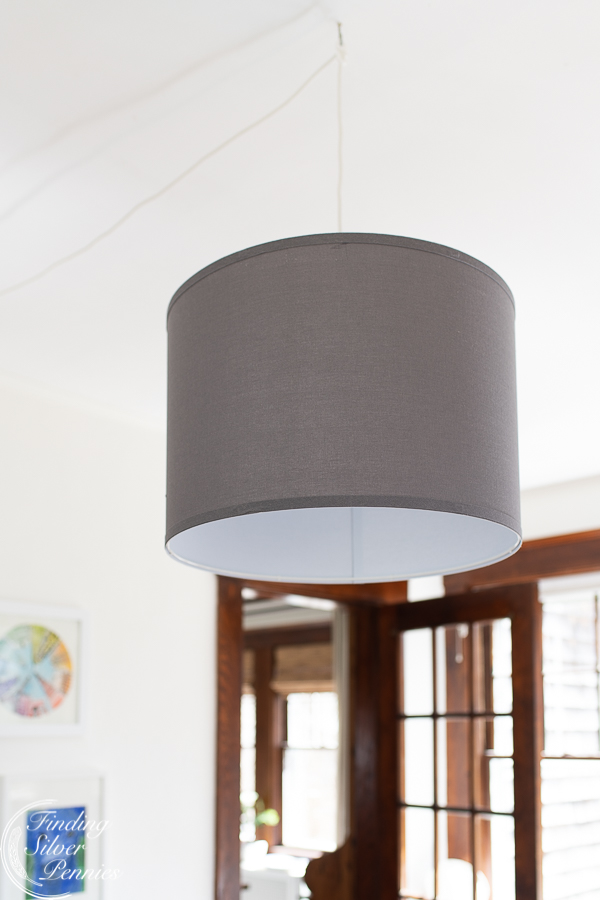 The drum shade and pendant was so affordable. John wanted the gray and I think it works perfectly. We also found these room cool lights at Ikea: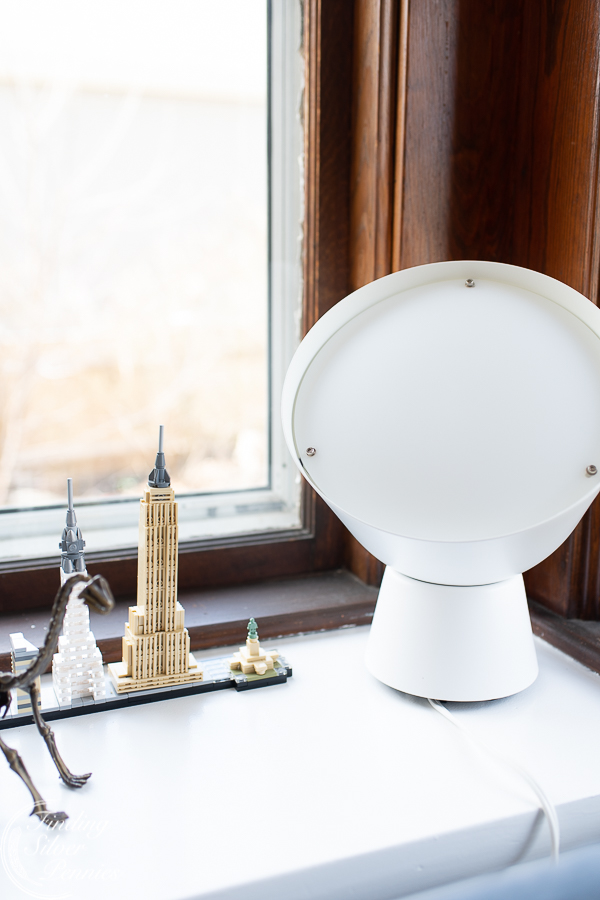 We bought two and got special bulbs that dim and change all sorts of shades of color (9 in all) from the Tradfri Smart Light System. I just thought it was a fun additional thing for the boys, especially at night. If you have white walls you can face the light toward the walls to bounce the light. They can also be hung on walls. We thought they were so neat.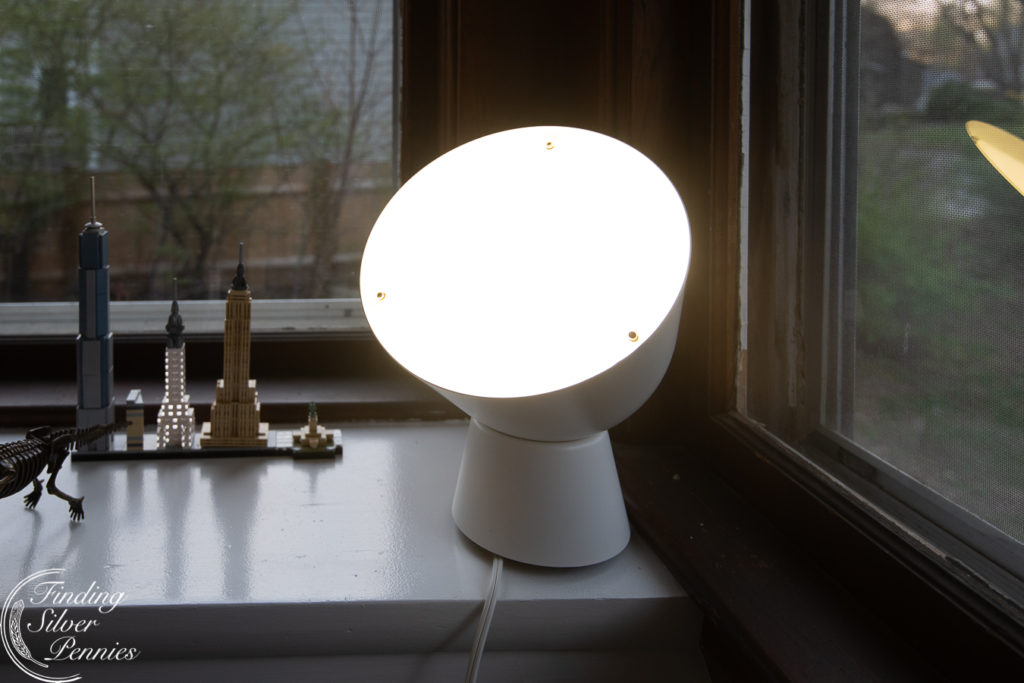 It can go from bright white to warm white.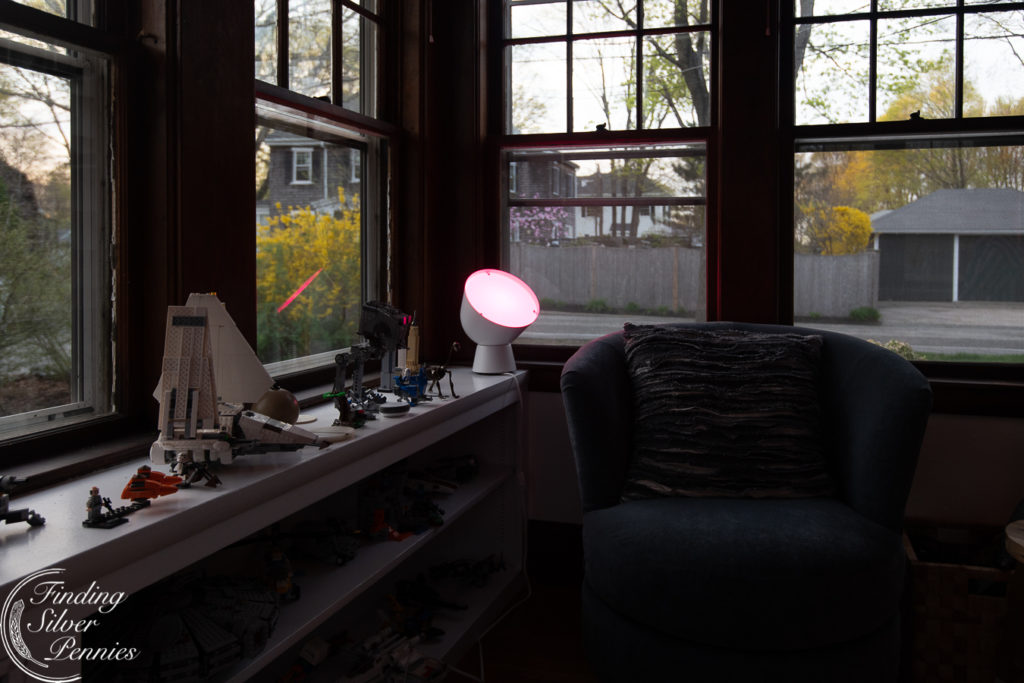 Pink: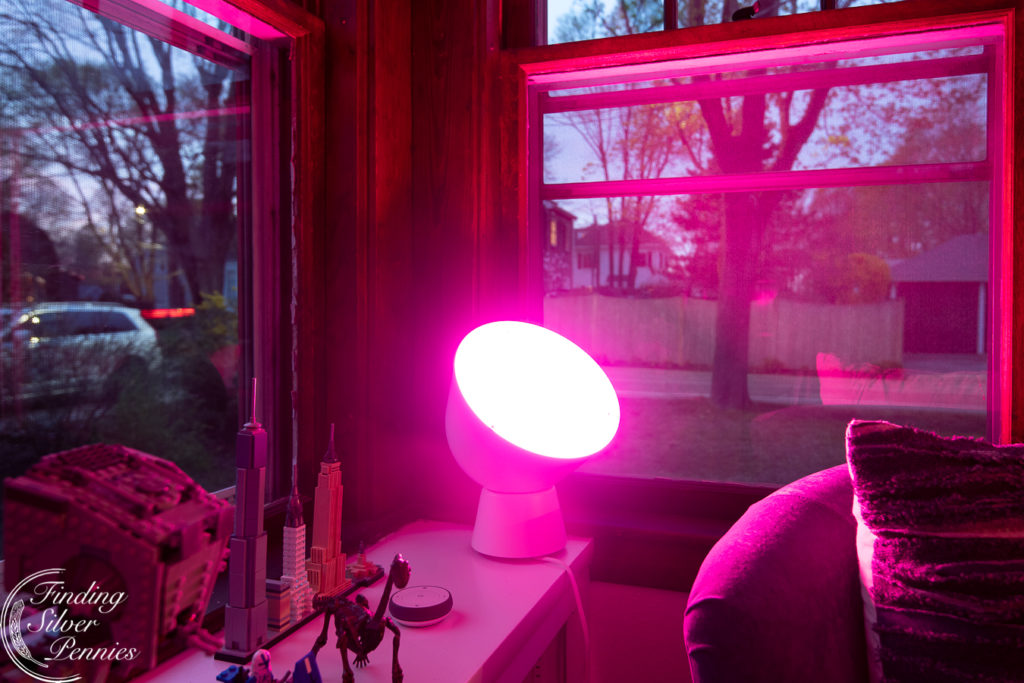 This vibrant orange: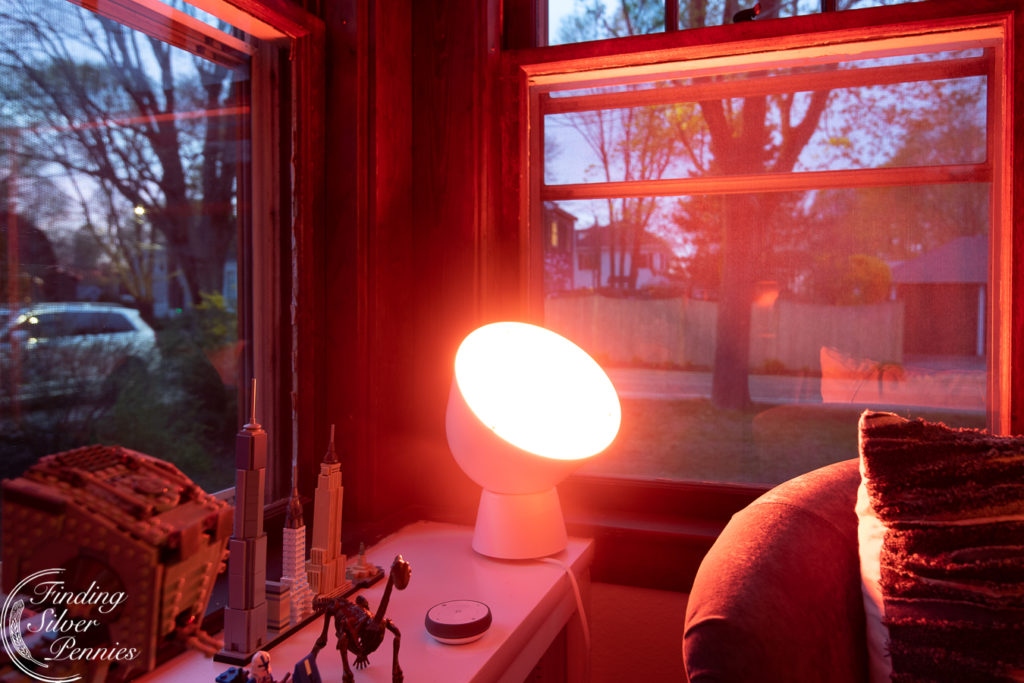 They also go blue and violet. The remote is next to the light and it's set up in that the lights change color at the same time.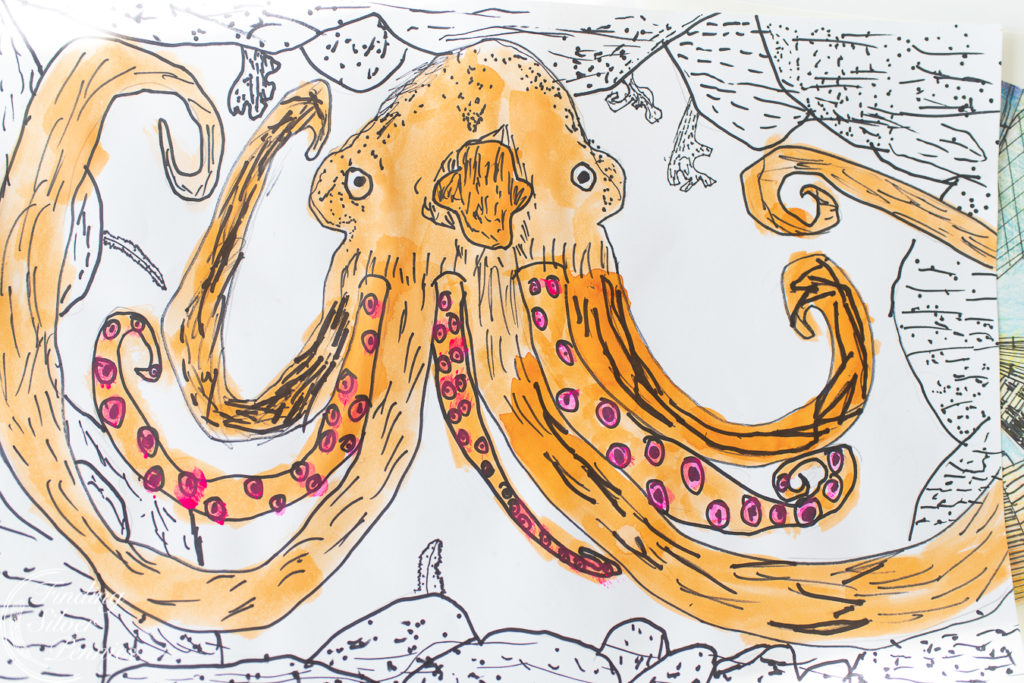 All the artwork is by the boys. Conor drew this bright orange and pink octopus. Isn't it fun?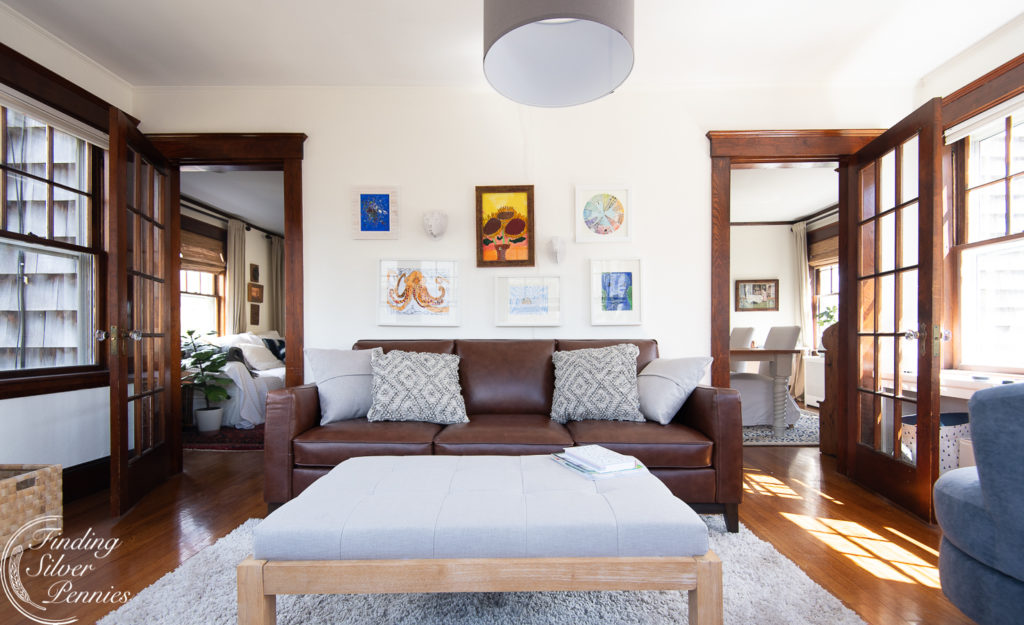 The sunflowers was professional framed at Michael's. You can read about that here, but the other frames were from Michaels and Ikea.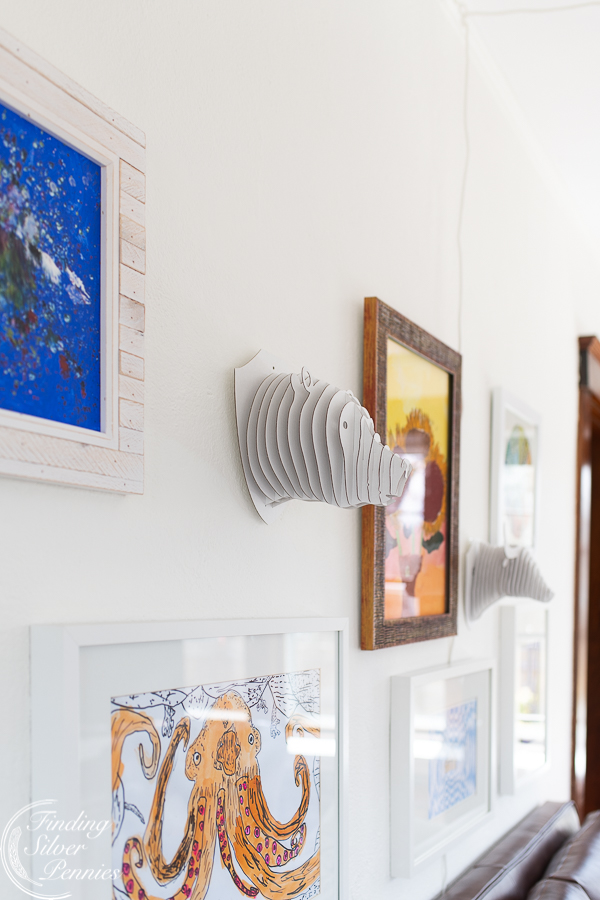 The animal heads were given to them by Nanny and Granddad in the UK. Conor loves putting them together.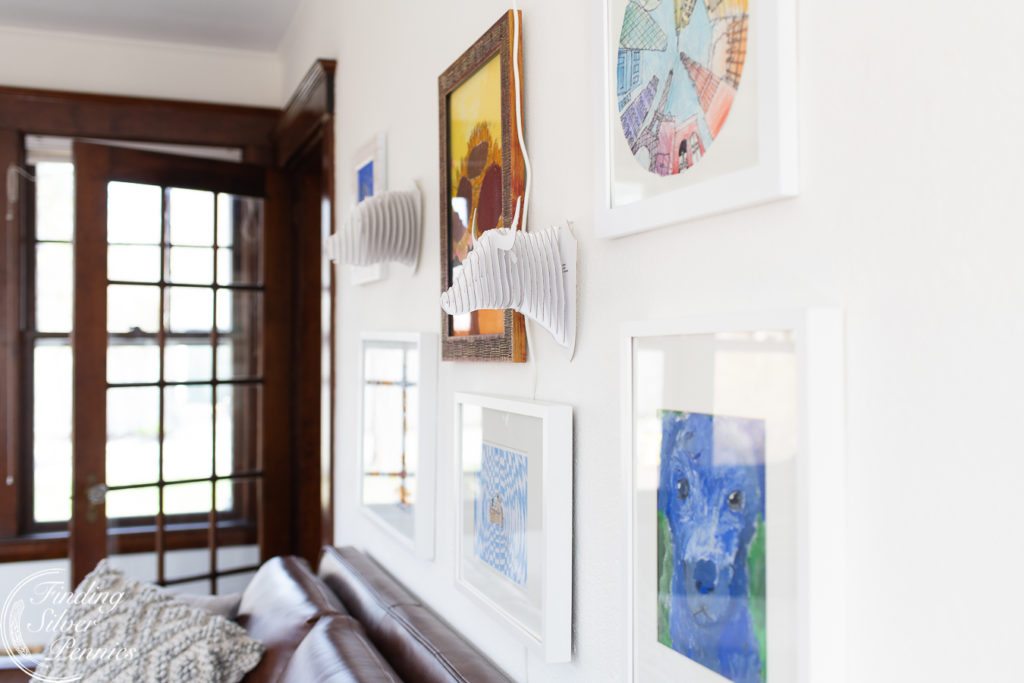 All the storage baskets were from Ikea and Target. We had them already and just brought them back in.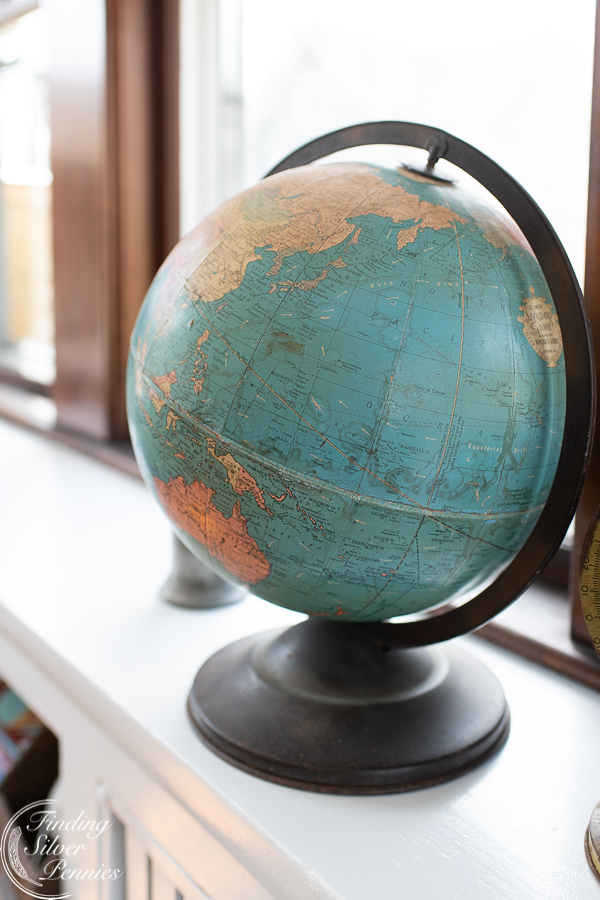 The globes are vintage and I got them antiquing a few years back.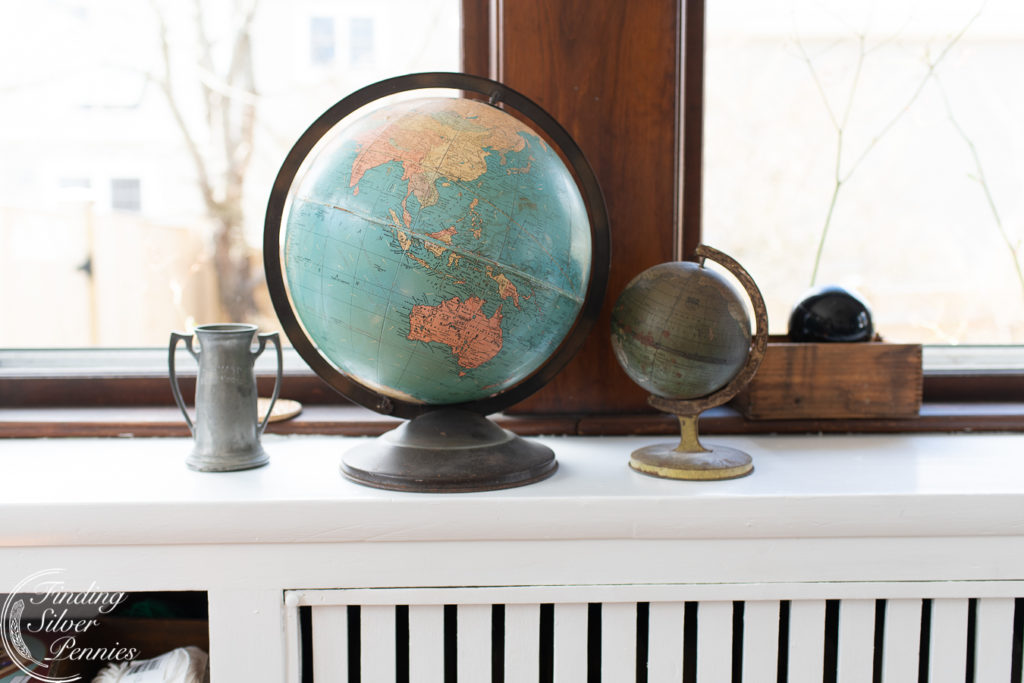 As you know, Conor fell in love with these swivel chairs from Raymour and Flanigan. We had them custom upholstered.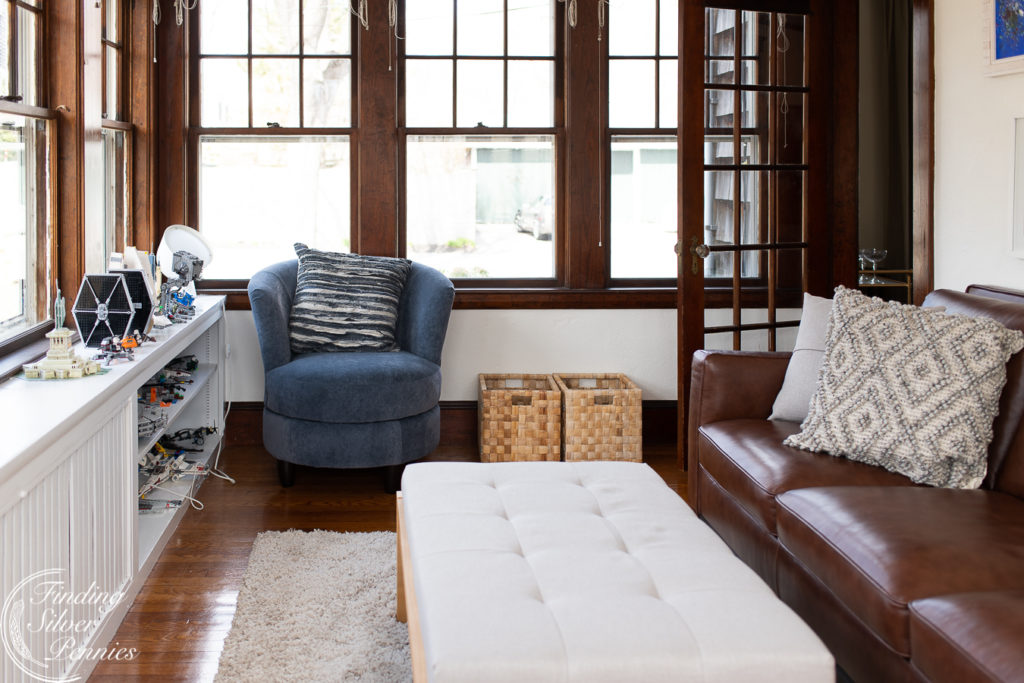 I still want to update the window treatments in this space. The current shades have holes in them. So I'm thinking of roman shades, let me know if you've found any you love.
Well, I think that covers just about everything 😉 I'll include a full source list below with links, but if you have any more questions please comment or email me.
Source List
Wall Color – Simply White in Matte by Benjamin Moore
Built in Color – Super White in Semi Gloss by Benjamin Moore
Couch – Raymour & Flanigan
Woven and White Baskets – Ikea
Ottoman – Raymour & Flanigan
Rug – Raymour & Flanigan
Globes – Vintage
Lighting Kit – Ikea
Pendant Light – Ikea
Pillows – Raymour & Flanigan
Accent Lights – Ikea
Bulbs – Ikea
Lighting Kit – Ikea
Swivel Chairs – Raymour & Flanigan
Frames – Ikea and Michael's