As tears slowly stream down my face, I sit here saying goodbye to my dad.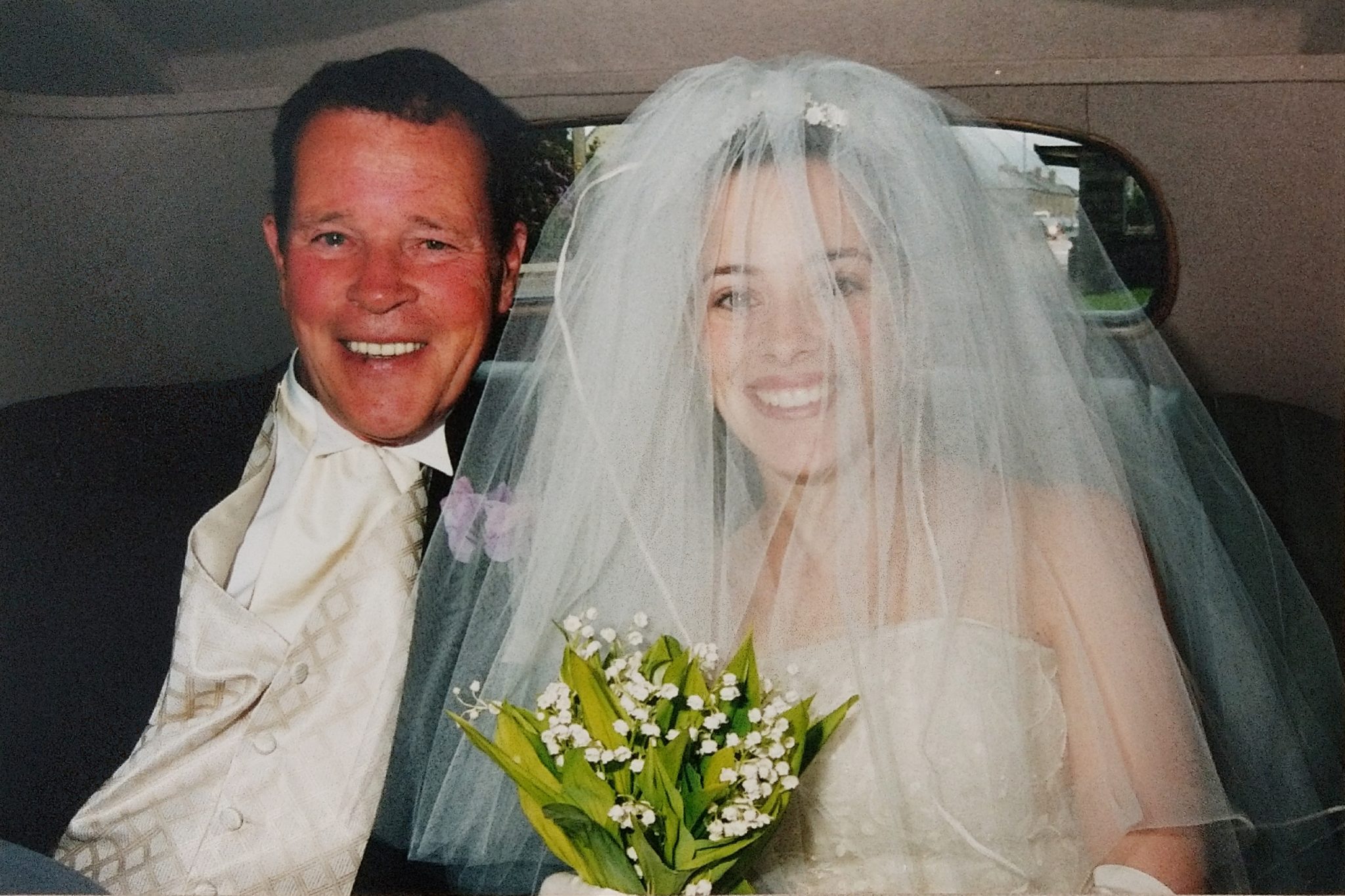 They say the love between father and daughter is very special, a father is a daughter's first love. This love is pure, not boastful or jealous. This is certainly true for me and my dad. I was actually named after him. The above photo is on my wedding day in England. I remember this day so clearly, the pride I felt with having my dad, sit by side on my special day. The skies were gray, the heavens would open shortly after the "I Do's", but I remember sitting on the car journey chatting with him and laughing while the fragrance of lily of the valley filled the air. That was 16 years ago.
This little blog started off as a journal of my inner most thoughts and feelings and today I find a need for it to be that again. I hope you all understand.
I must apologize for my absence here on the blog. First, it was my eye surgery. The PRK surgery had a much longer recovery time than I expected and my vision is still not 100 percent. In time, I'll write a blog post about the experience. The first days after my surgery my parents visited, my dad bringing me the biggest box of Godiva Chocolates I've ever seen! A week after the surgery my dad had a heart attack and was rushed to the hospital via ambulance close to midnight. For three weeks, life consisted of long days in hospital rooms. My mom and I would Uber into Boston together, meeting the most amazing and interesting people on our car journeys in. We'd tell my dad about the man from Haiti who wanted to open a night club, the lifelong marine who always took his grandson for breakfast on Saturdays; and who was thinking of opening a diner or the woman who had a daughter born with a heart problems and; retrained to be a nurse to give back. Those rides, to and from the hospital room, provided us a glimpse into the lives of so many people, from all of over the world, and they all were sending their good thoughts to my dad.
He had stents to treat the damage to his heart and the surgery went well but there were other complications in the hospital and my dad grew very weary of the constant tests, surgeries and decided he no longer had the will to live. I first must thank everyone at Boston Medical Center in Boston for the wonderful care he received. Dr. Moore, his heart doctor, was amazing and so compassionate. I have never seen a doctor express such heartfelt emotion. To all his nurses, thank you, for caring for my father as if he were your own. To those at Seasons Hospice, thank you for your compassion, your love and your constant reassuring. A huge thank you to Laurie and Emily who hugged us and cried with us and made sure my dad felt as comfortable as possible. I feel like I lived a lifetime in that hospital but it also felt like time stood still. I held my dad's hand. I was told him how much I loved him, how much he meant to us all. I enjoyed his favorite ice cream with him – Brigham's Mocha Chip. I played his favorite songs and he actually sang as loud as he could to Danny Boy. He passed away peacefully on St. Patrick's Day with the sun shining. You can read his obituary here, but he wouldn't have wanted me or you to remember him by his death. In life I often told him how much he meant to me. I told him here and here. To honor him and his life I'd like to share a few of my favorite memories.
The Blizzard of '78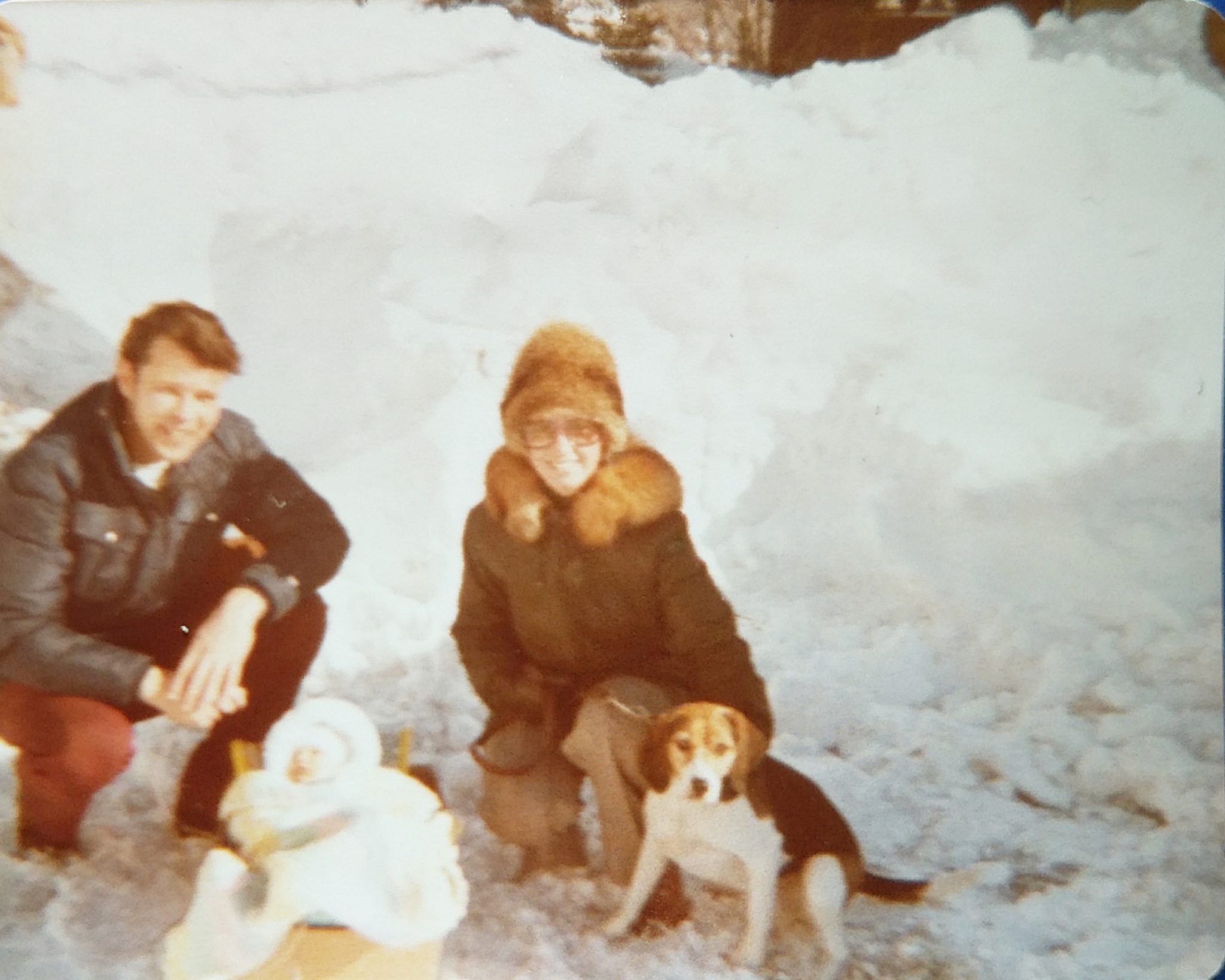 This one is a bit too early in my life for me to remember as I was just a baby. I was born in 1977 and came three months early. My parents always laughed about the blizzard, the most snow the Boston area has ever seen. They decided it was a good idea to put me in a box (I was 9 months) and pull me along in my first snow bound adventure.
Skating and Soup
My dad always made sure to spend time with me. Just the two of us would go off on adventures and one of my favorite things to do with him in the winter was to go ice skating on frozen ponds. I love to ice skate. He'd always hold my hand when I was very little but as I got bigger, I'd spin and twirl on the ice. After spending hours skating, we'd always warm up at the Luncheonette and get soup. It was with him, that I tried Cream of Tomato Soup, and to this day eating it reminds of our days skating together.
Searching for Key Lime Pie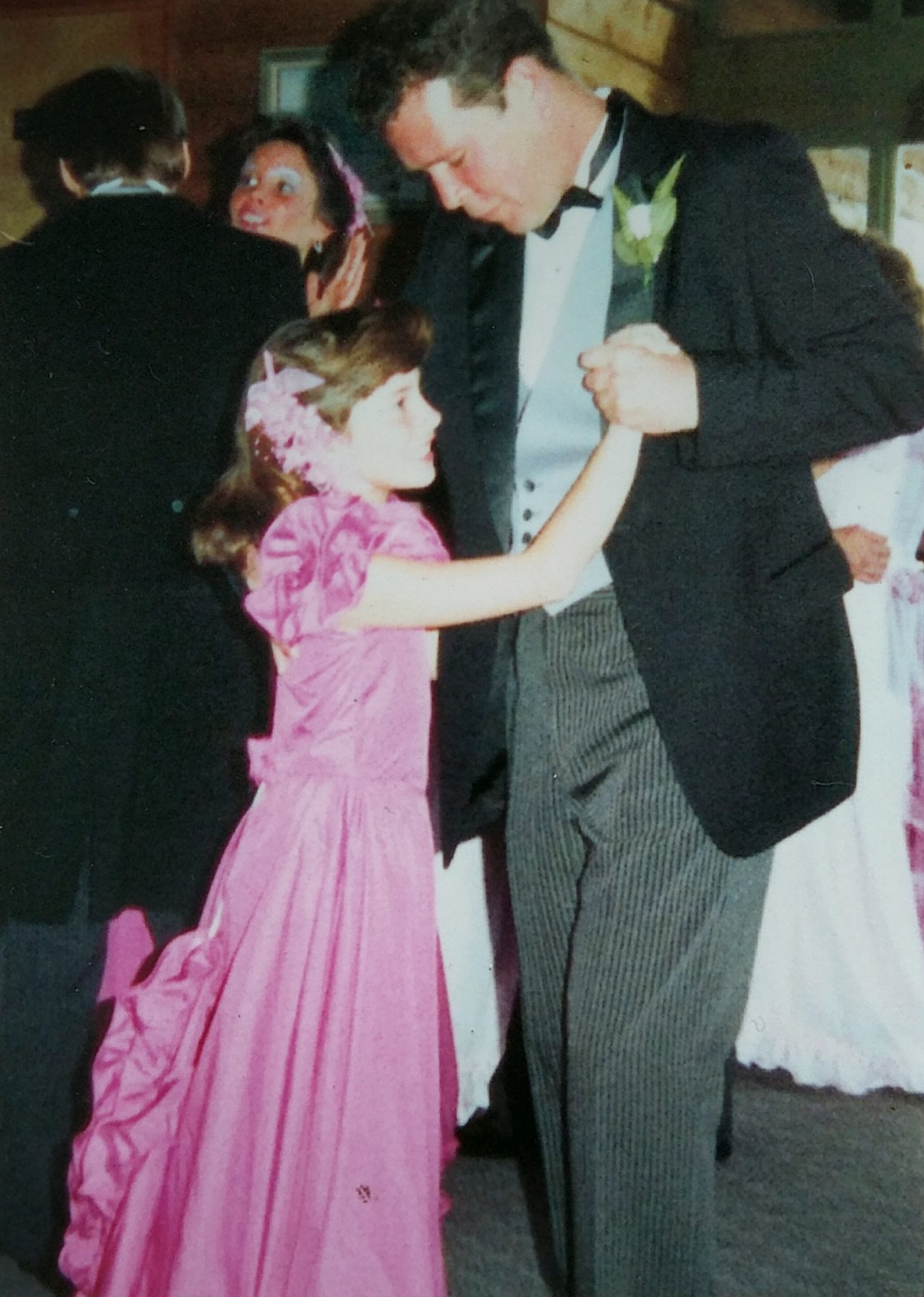 My sister Pammy got married on Valentine's Day in Florida and my dad and I were both in her wedding. I was in 3rd grade and got to miss school for the trip. He walked her down the aisle and I got to be a flower girl. I really loved my pink dress and I think it was the first time I wore hairspray in my hair. Flying on an airplane to Florida with my dad was so exciting. He took me to Busch Gardens and we also spent time by the pool. I'd never had key lime pie before and my dad thought I had to have it in Florida, because in Florida it is made with real key limes. One night, we went restaurant to restaurant in search of authentic key lime pie. I remember being exhausted by the long walk. It became a quest. We NEEDED to find this key lime pie. No restaurants had it. Deflated we walked back to the hotel and in our room my dad called for room service. He ordered two slices of key lime pie and two glasses of milk. We watched Wild Cats on the TV and ate our pie. It was creamy and tangy and tasted like heaven. He was right. Key Lime Pie is best in Florida.
Word Problems and Crocodile Tears
I am, and will probably always be, bad at math. Word problems filled me with instant dread. My dad, however, was a whiz at math. He loved numbers and was so good at math he had a successful career in corporate accounting. I'd always wait until he got home for him to help me with math homework. I'd cry and say, "but I can't do it. It doesn't make sense." He'd always be so patient with me and explain math in a way I could understand it. To this day, I still feel I'm not good at math. I have a tendency to swap numbers in the wrong order and freeze up but I don't know how I would have done my math homework without his encouragement.
Keep Your Eye on the Ball
My dad was a great golfer. He was a "scratch golfer" which means he could play any course with a handicap of zero. When I was in elementary school my dad gave me a Sunday bag with a few irons, a putter and a driver. We'd walk over to the field opposite our home and just hit golf balls. He'd always remind me, "Dano, keep your head down, keep your eye on the ball." Sometimes I'd forget and I'd top the ball or I'd completely miss it. I never did become as good as my dad as I didn't love putting BUT I could hit the ball really, really far.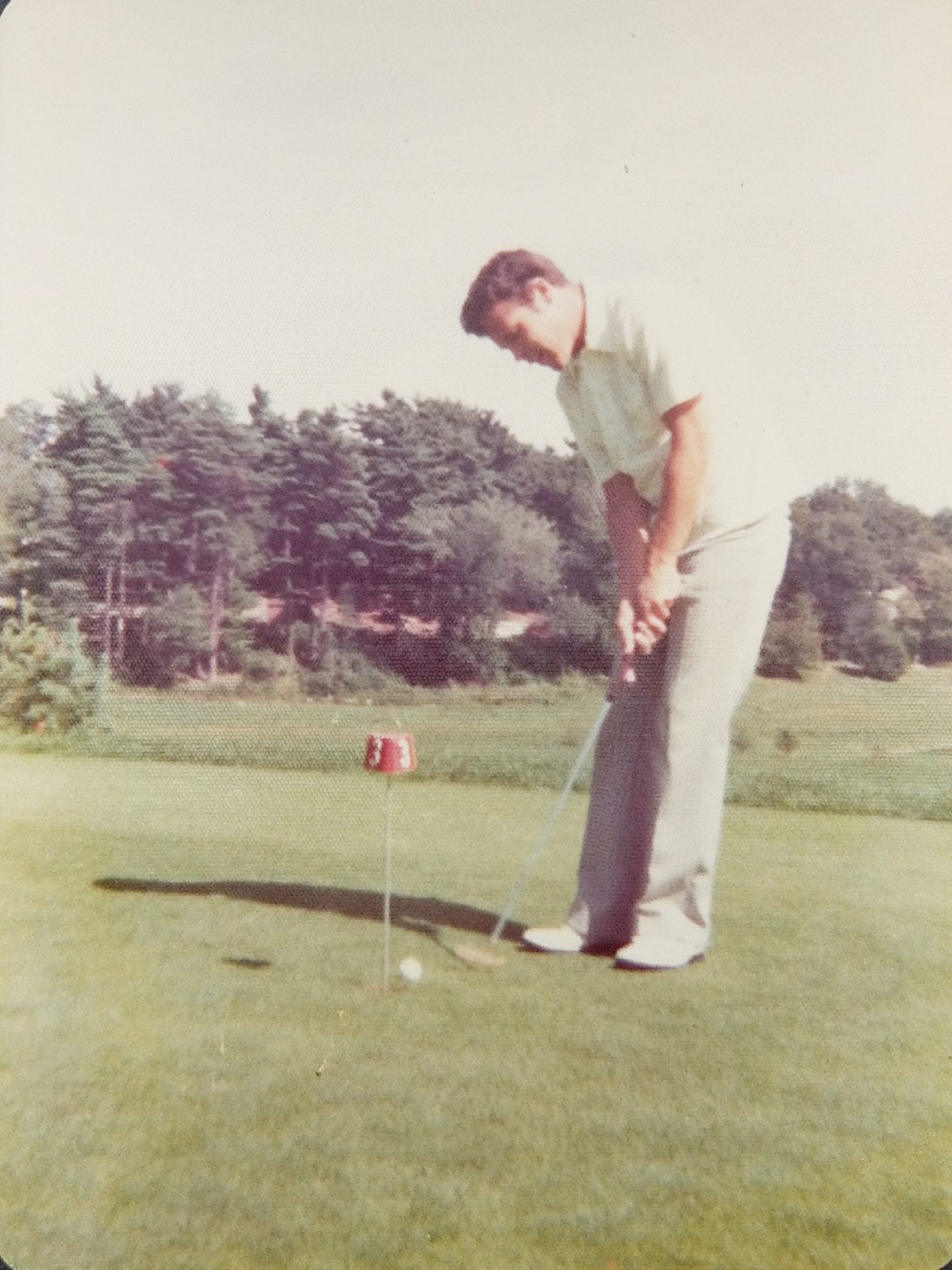 Brigham's Ice Cream
My dad was CFO at Brigham's Ice Cream. When I was very little he'd take me into work with him. I would help organize papers or photocopy things. It was the early 80s so you can imagine there was not much technology and lots of papers for me to sort. I loved getting dressed up to go into the office with him. I felt so grown up but also felt like I was making a difference. Each day we'd have salads at the Brigham's Restaurant on site and then my dad would take me over to the ice cream plant. We'd enjoy fresh made ice cream before it was hard packed into the gallon containers. Ice cream before it is actually is frozen tastes so amazing. It is so different than the ice cream you buy at the freezer section in the grocery store. In kindergarten my class went to Brigham's and my dad came down to see my class. I couldn't believe I was seeing my dad. It was like I was introducing my class to a movie star, he had on his beautiful three piece suit and Italian leather shoes, his eyes twinkling and he gave me the biggest hug and twirl.
Pool Days
In West Andover, we had a big white house and a giant pool in the back yard. During the week, my mom would always have dinner ready later so my dad could swim laps and play with me in the pool. On the weekends, my dad would sit out in his striped chair and bake in the sun. When he got hot enough he'd dive in and I'd squeal with delight. He'd throw me again and again and again high into the air. To this day I still remember these carefree days by the pool with him as some of the happiest of our life.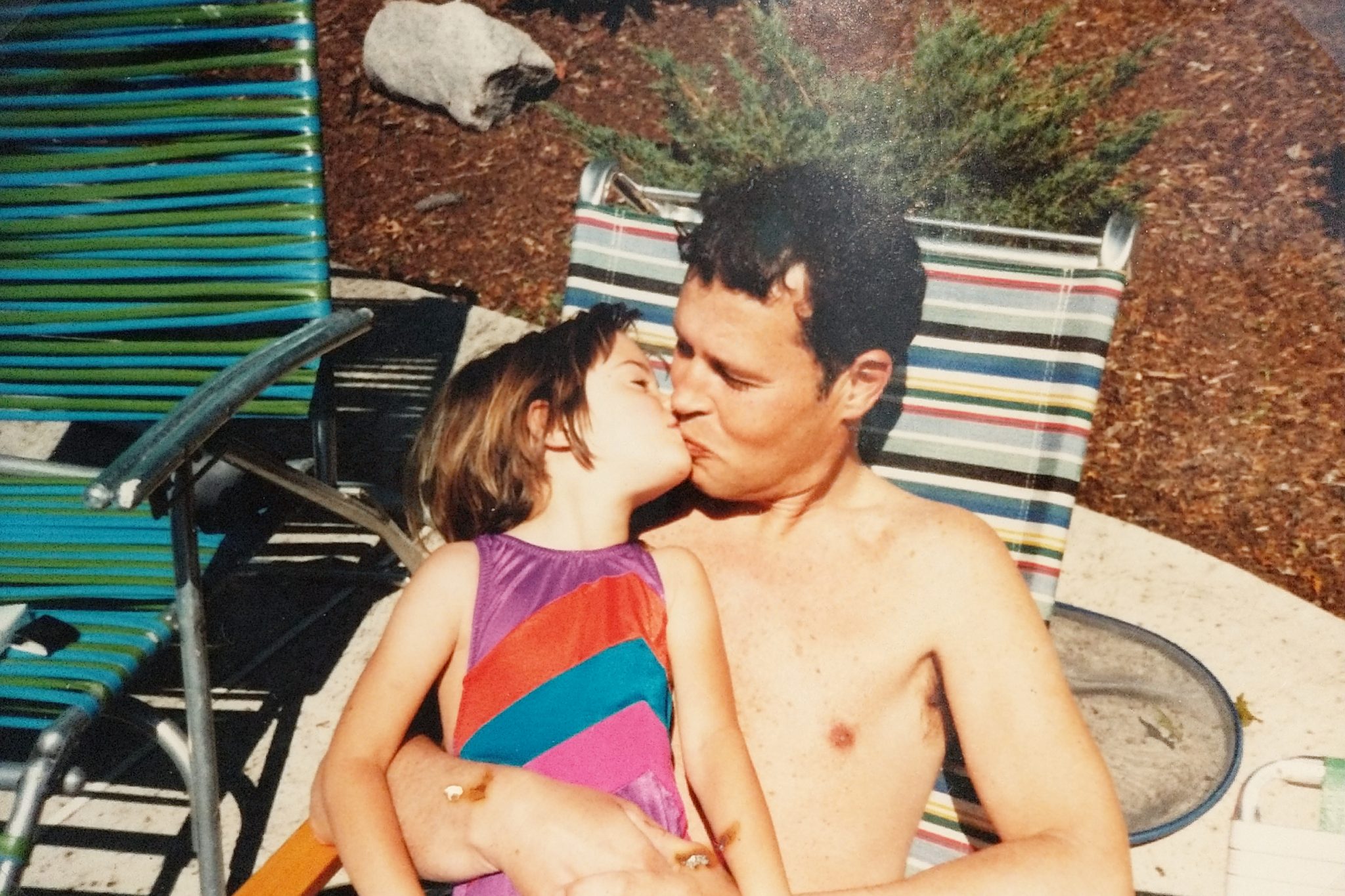 Lost in Yonkers
College was very important. My dad went and my mom wished she had. When it came time to visit schools, it was a family affair. I auditioned at Emerson college, I looked at BU but thought it was just too big for me at the time. We even brought our little poodle to visit Mount Holyoke. There were a few schools I wanted to visit in New York so my dad made arrangements and drove to New York City. This was back in 1995 before GPS, before Google Maps before fancy smart phones. It was me and the map. Well, my map skills are kind of like my math skills. We got lost in Yonkers. My dad was a quiet man but he also had a bad temper which could flare up. Usually this would happen on the golf course or when the pool cover was going on. I couldn't figure out where we were on the map and my dad's temper flared, "Dani, where are we? Are we supposed to get off at this exit?" My dad pulled the car right at the point on the exit ramp; cars were wizzing by us on the highway and cars were beeping and passing us on the off ramp. My face flushed and I felt bad that I didn't know where we were supposed to go. Somehow we figured it out and got on the right path, we found the schools and went on the tours. I loved Sarah Lawrence but I didn't get in. In the end I went to Mount Holyoke College, the oldest women's college in the country. I think my dad was proud he raised a strong woman and now I don't get lost anymore thanks to Google Maps. Oh, on a side note, Mount Holyoke told families not to call students. That it would help with homesickness. I started thinking my parents didn't miss me, but my dad snuck calls to me 😉
Bartending at Baldwin's
It was my dad's dream to own a restaurant. That dream came true when I was in 7th grade. My parents redid the old Baldwin Homestead. When they bought the building it was in a sorry state. There was water damage from pipes bursting and the whole place just smelled awful. My grandmother thought they were crazy to take on such a big project. My dad did most of the renovations and landscaping himself and restored the colonial mansion to it's splendor. They held so many functions, amazing dinners and all the regulars and employees became family. He sponsored many waiters and chefs to become American citizens and many of the regulars came to my wedding in England. When I was in college my dad started having problems with his feet and legs so I bartended for him. He made the best drinks, but the funny thing was my dad was allergic to alcohol, so didn't really drink himself. I loved working the bar and learning how to make Old Fashions, Mudslides and Margaritas.
*****
My dad was such an amazing man. I wish you could have all met him. He was so smart, funny, a dedicated husband, father and grandfather and he really taught me so much about life by his example. Often times, I'd get stuck writing. I'd call him from my dorm room and ask for his help, I'd often say, "Dad, I can't get started…" He'd listen to what I had on paper and my ideas and he'd always, say, "Dani, it sounds like you know what you want to say. Why don't you start with something like this…." After talking to him, I'd somehow be able to start. He'd make my thoughts clear. He'd have a way to get me started. This whole blog actually started because I wanted to write a book about the restaurant. I still haven't started it but the writing it but I'm sure  7 years of writing on the blog would fill many, many books.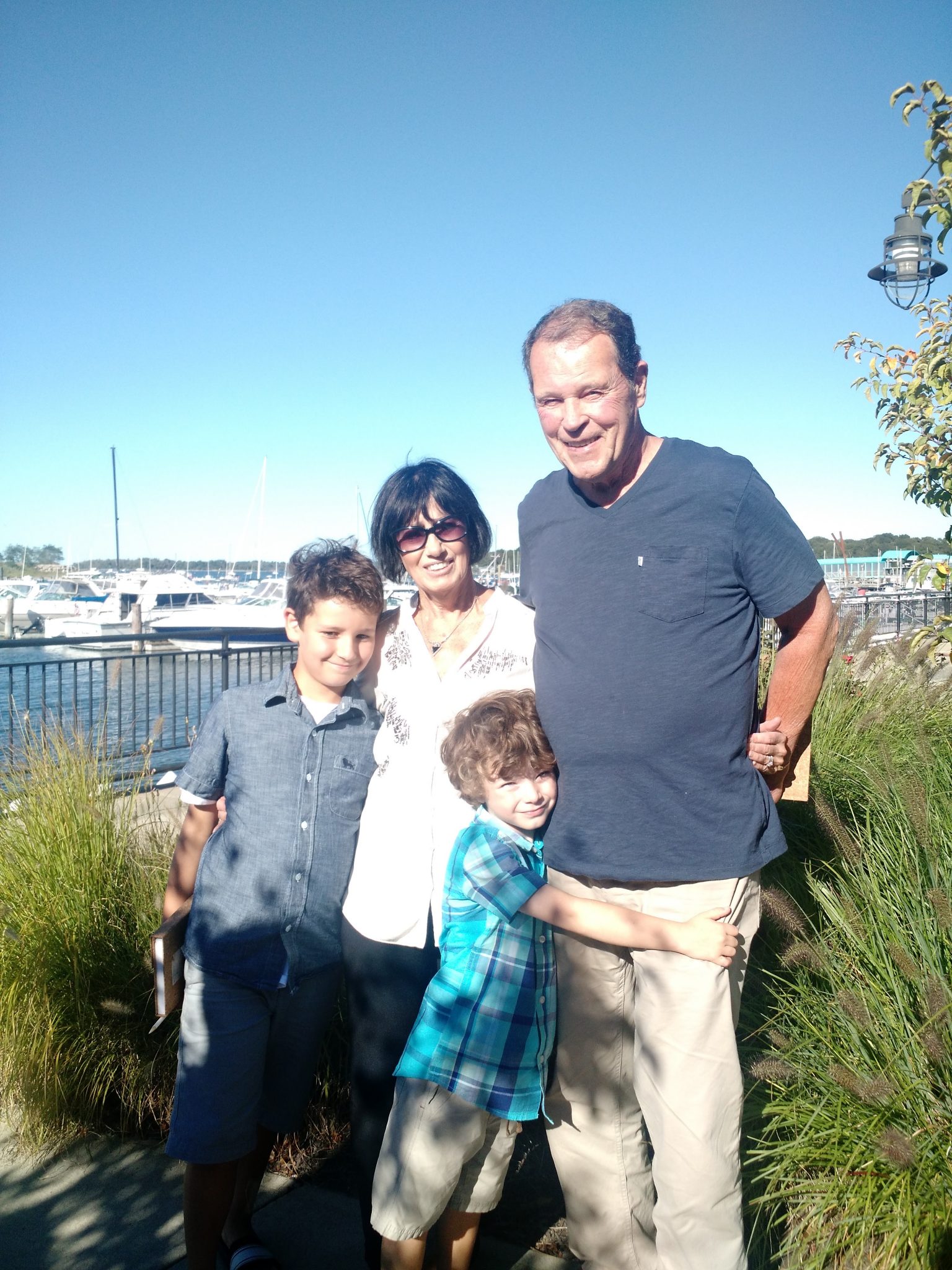 I still cry each time I realize I won't hear his voice again or see his twinkling, blue eyes. I hope you feel like you got to know him through my memories. Isn't it amazing how impactful the small things in life are? Most of my very fond memories are of tiny moments, not grand gestures.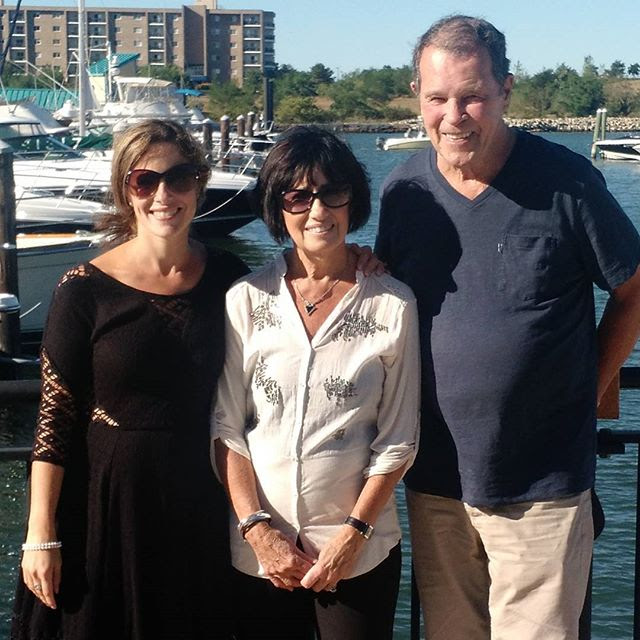 Prior to his passing on my friend Rebecca, who lost her mom, said this to me:
"He is part of the foundation that made you you. Even when he's physically gone, you'll know exactly what he's thinking, feeling just by listening to that internal voice. You'll never really ever be apart."
I found great comfort in these words. When the weather is warmer we will scatter his ashes by Scituate Lighthouse. He loved the sea and loved living in the harbor. When I think of him, I'll always think of him, like this in his Irish knit sweater and LL Bean slippers: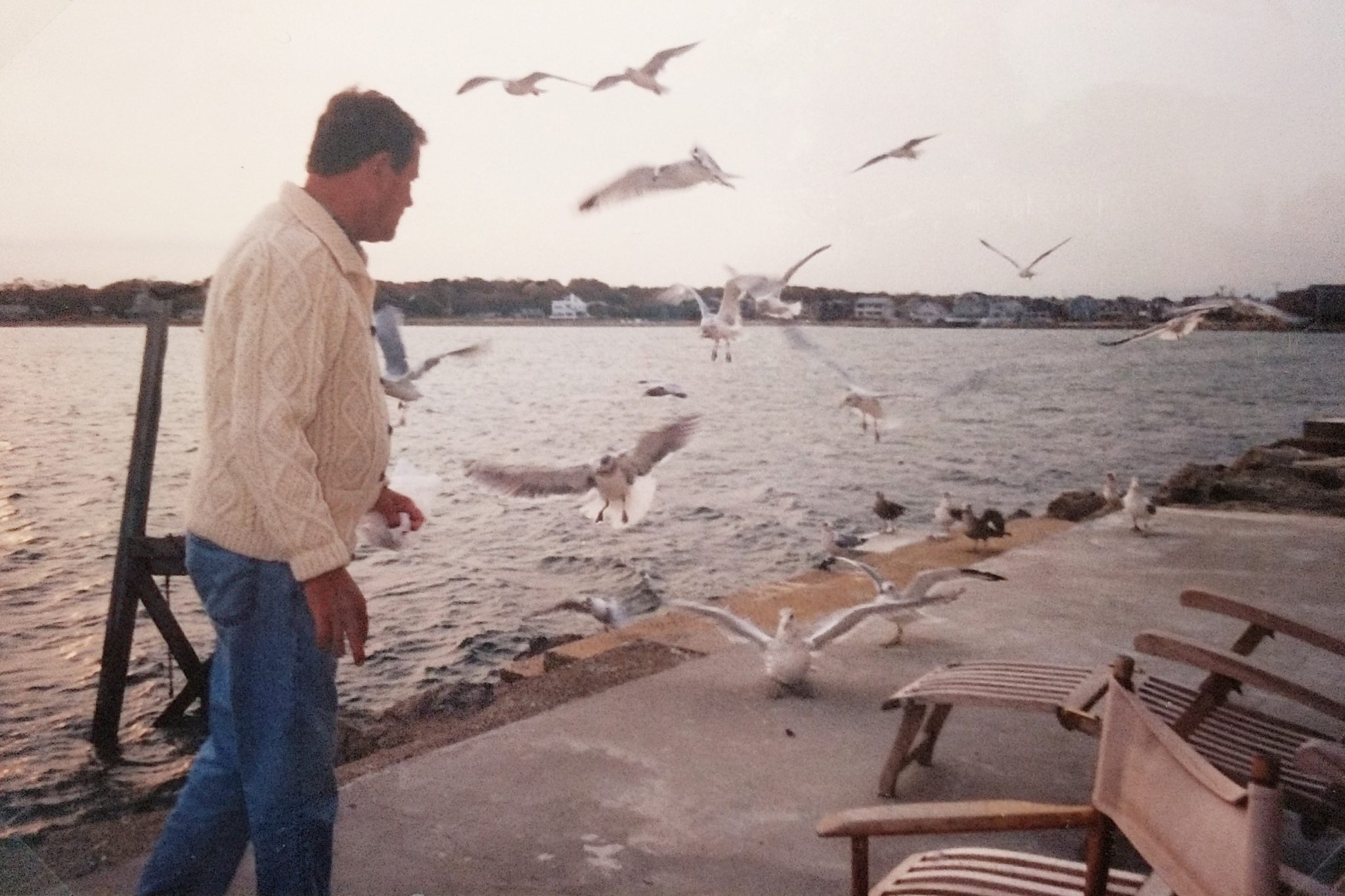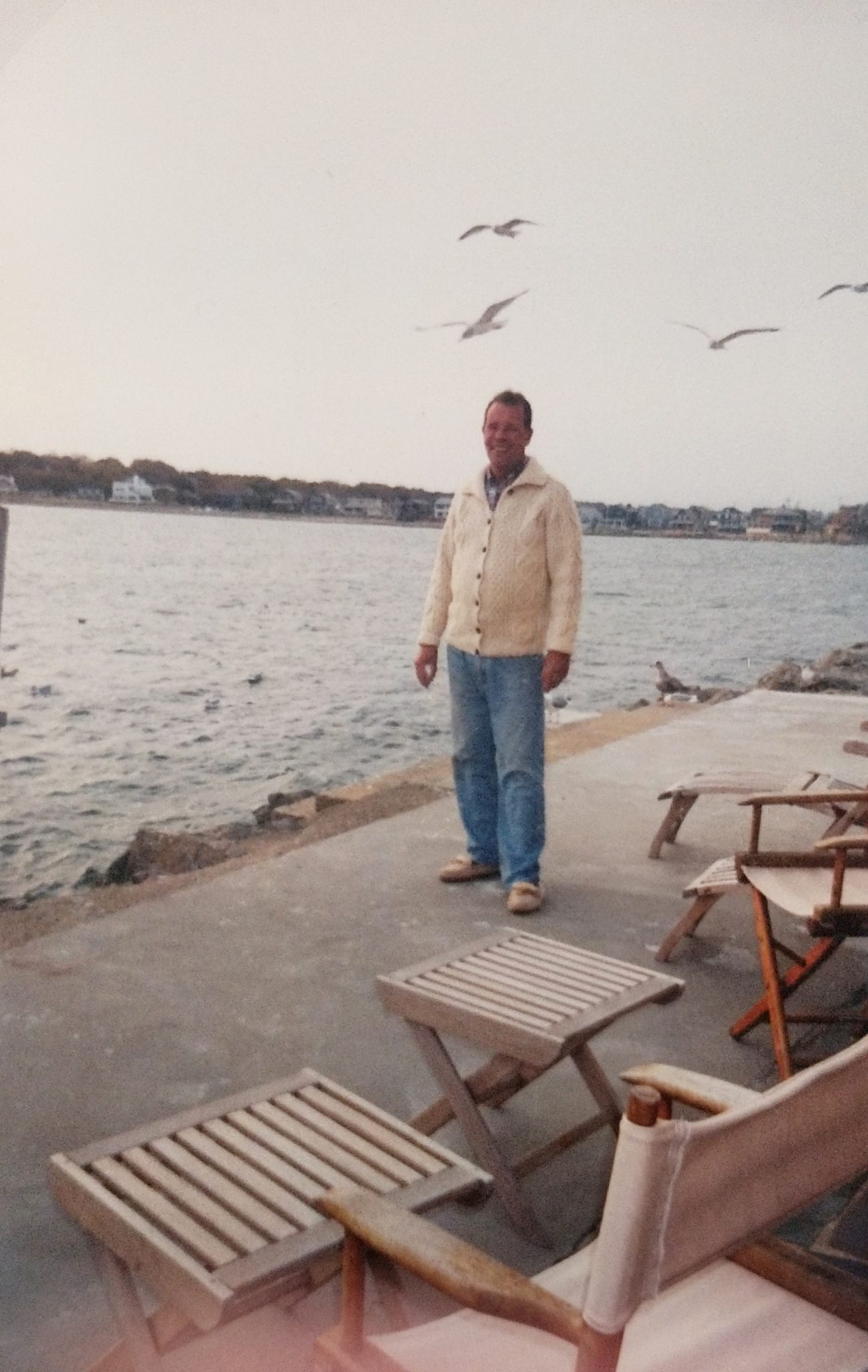 Thank you all so much for the kind comments and support you've given me over the years and in the coming months. I thought I'd finish this post with my dad's favorite song:
"Oh Danny Boy, the pipes, the pipes are calling
From glen to glen and down the mountain side
The summer's gone, and all the roses falling
It's you, It's you, must go, and I must bide
But come ye back when summer's in the meadow
Or when the valley's hushed and white with snow
I'll be here in sunshine or in shadow
Oh Danny Boy, oh Danny Boy, I love you so
But if you come, and all the flowers are dying
And I am dead, as dead I well may be
You'll come and find the place where I am lying
And kneel and say an "Ave" there for me
And I will know, tho' soft ye tread above me
And then my grave will richer, sweeter be
And you'll bend down and tell me that you love me
And I will rest in peace until you come to me"