Our home is a mix of old and new, high end and low end. I'm always finding great products that are durable for family life at Ikea. I thought I'd share more Ikea favorites for our home.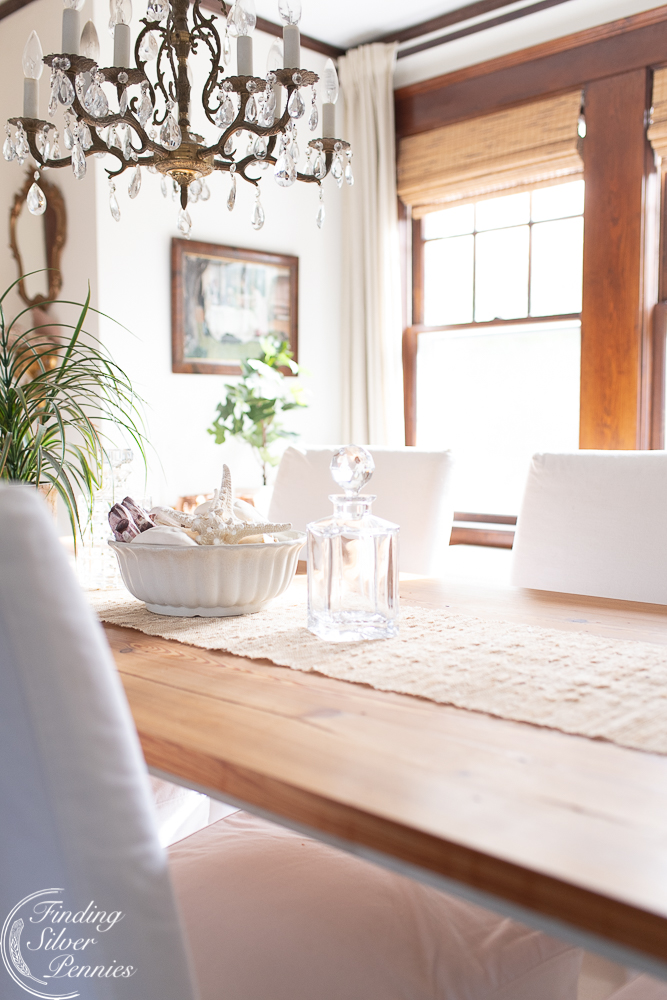 First let me say one thing, I know our home looks pretty in photos, BUT (and here's a big BUT) I live here with two messy boys, a husband, and two dogs. This isn't a magazine. This isn't a show house. Dogs come in with muddy paws. Boys drop meatballs and pasta on the chairs. Bags are dropped and shoes kicked off at the front door. So, I always like to have affordable options of home decor in our home because I know things won't stay perfect.
Nearly 4 years ago, I wrote this post sharing some favorites from Ikea. It's an older post so some of the photography is just so-so, but you may want to read it for some other Ikea favorites. Since time has gone by, I now have more favorites to share with you. In no particular order here are more items I love from Ikea and why I love them.
Ikea Favorites in our Home
Henriksdal Long Cover and Henriksdal Chair
I love the look of slipcovered white furniture because I think it looks clean, coastal, and casual. When Luke created the long reclaimed farmhouse table I knew I wanted to incorporate slipcovered dining chairs in the space. You can read about the room makeover here. We did this room over about 2 years ago and you used to be able to buy these chairs without a cover, but I think they're including a short cover for the price we paid. The reason we bought these chairs is two fold: they're super comfy (so great when you want to sit and linger over coffee and the paper) and they're affordable which means I could afford to buy extra slipcovers when we bought the chairs (just in case). The chairs are $69 and the slipcovers are $29. I haven't even used the spare covers yet. I find that these wash so nicely. Each time I wash them they look and feel like brand new chairs! You can read my post about keeping white slipcovers clean here. I highly recommend these chairs and would buy them again in a heartbeat.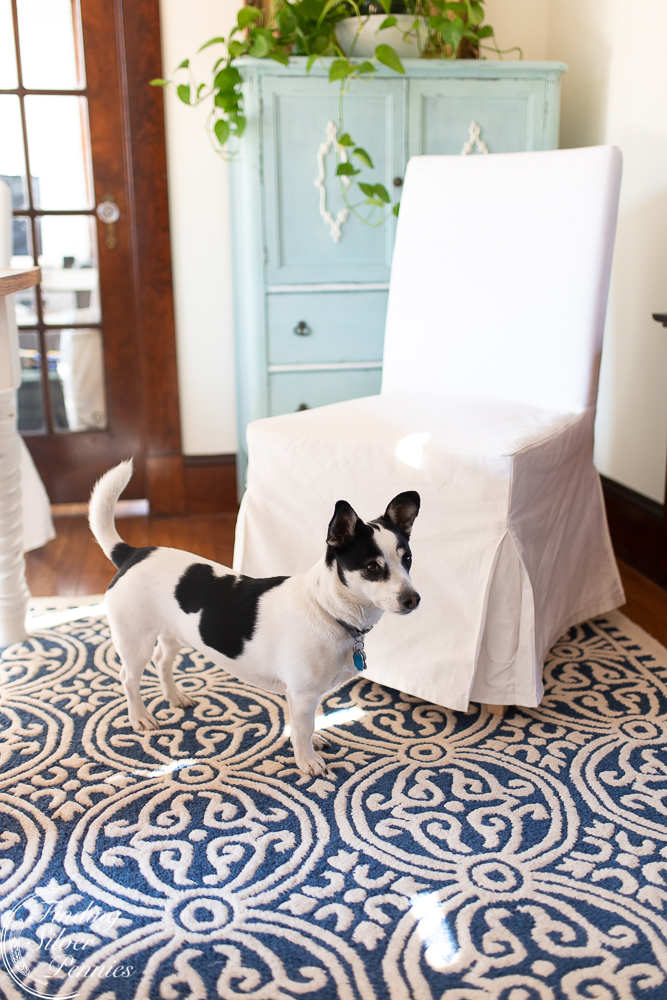 Above is the chair after two years, and below is when we first bought them: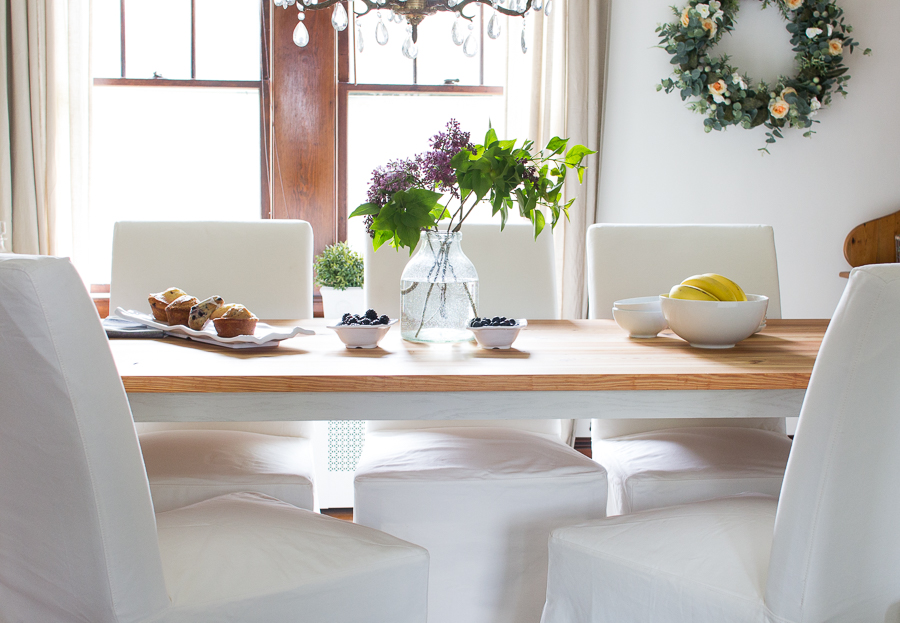 I have these curtains in several rooms. I love them because they are very long which means you can hang them high (which gives the illusion of more space) and are made of linen. The other things I love about them is the price! Two curtain panels for $59! Some colors are on sale for $47.99 right now.
I have them in tan in our living room and dining room.
As seen in the dining room: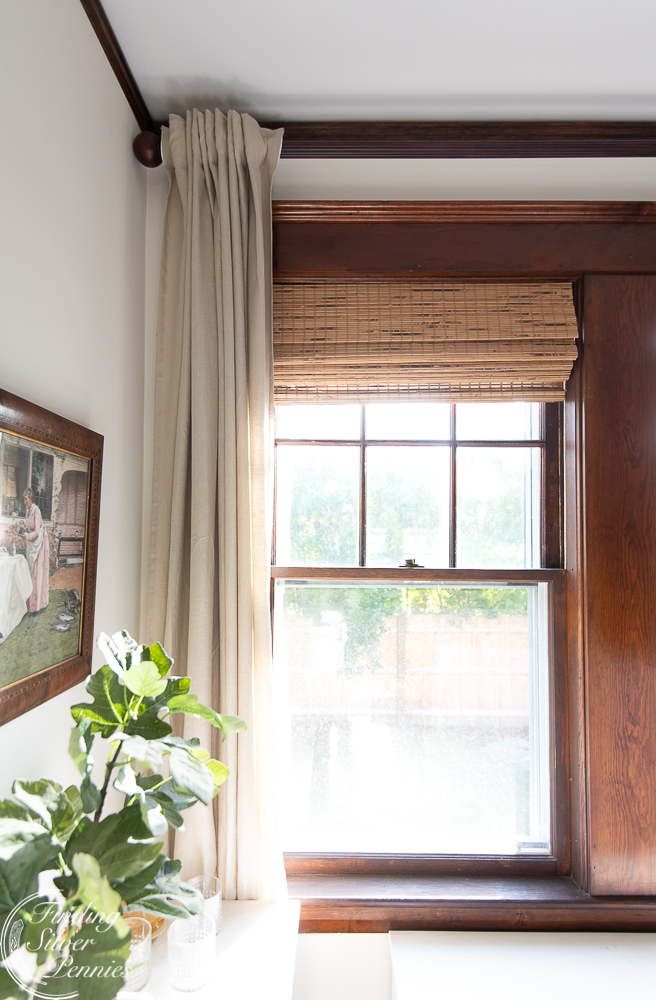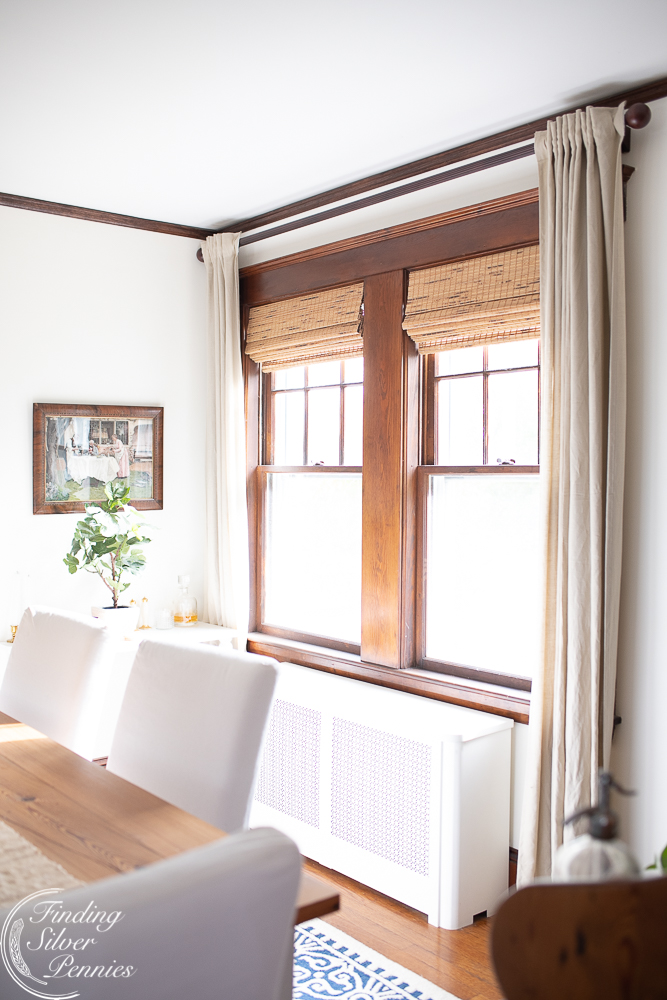 In the living room (with new bamboo blinds)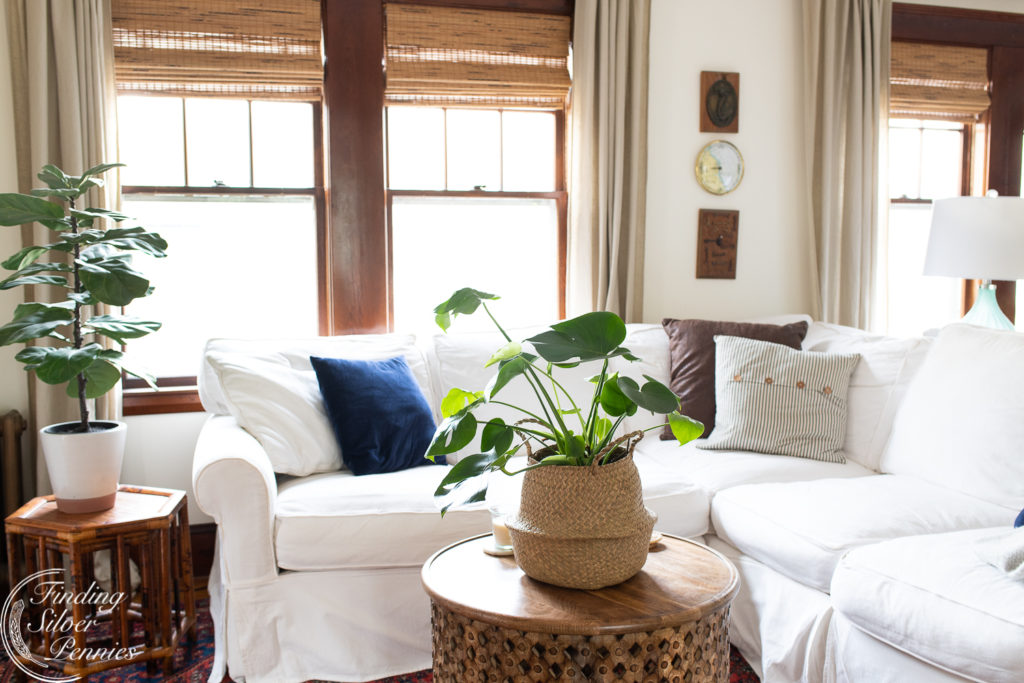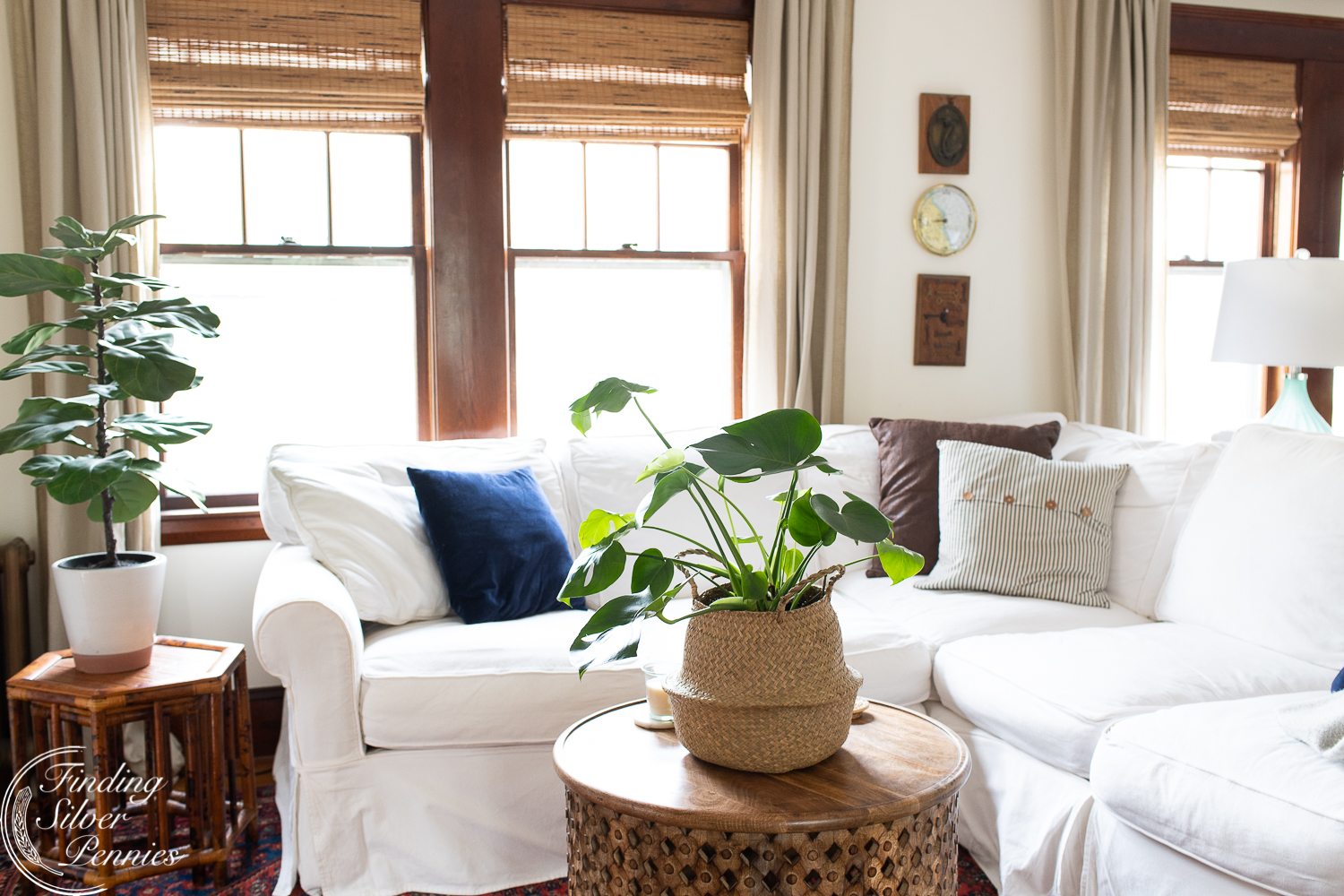 In white in our bedroom (we used them on our closet doors):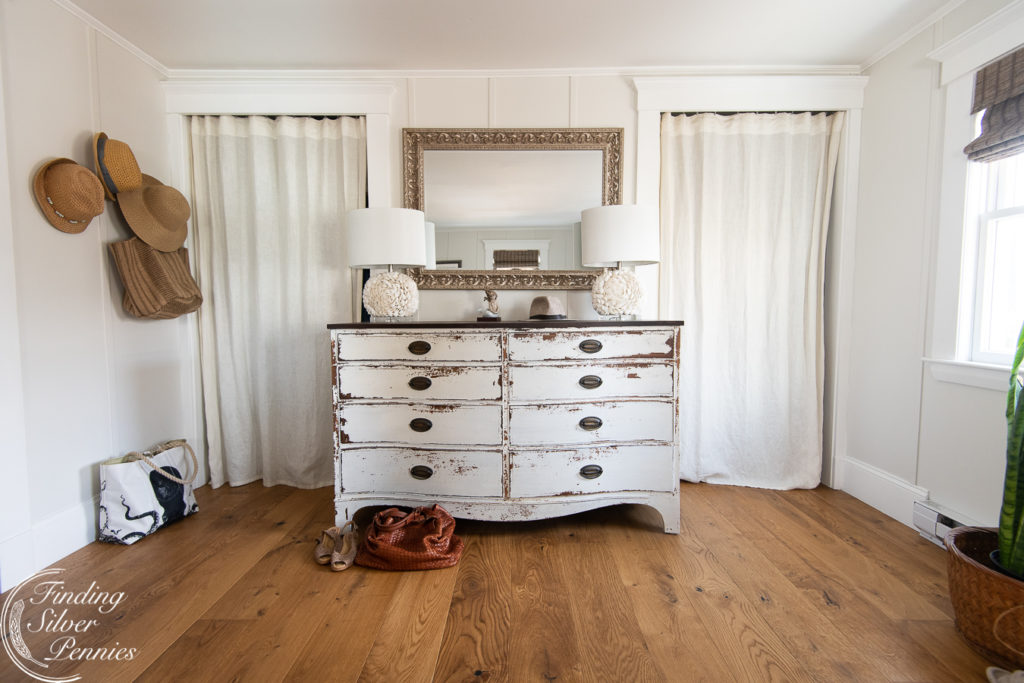 I hung the gray version in our kids' bedroom: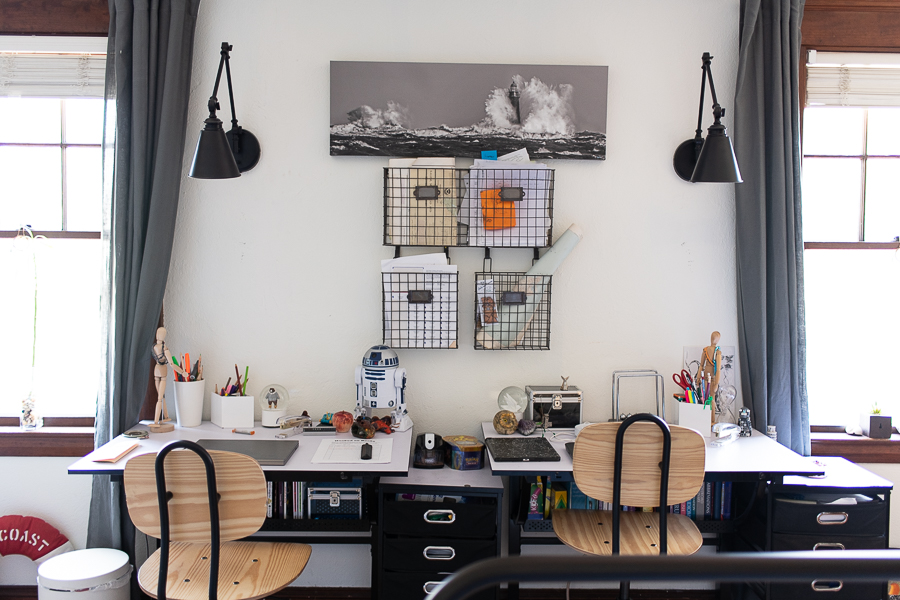 When we did the boys' bedroom over we got desks that came with stools. Our kids' didn't find the backless stools comfortable so we added these swivel chairs by Ikea. These chairs are comfy, supportive, and a good price point. We've had them for over 2 years now and they look as good as the day we bought them.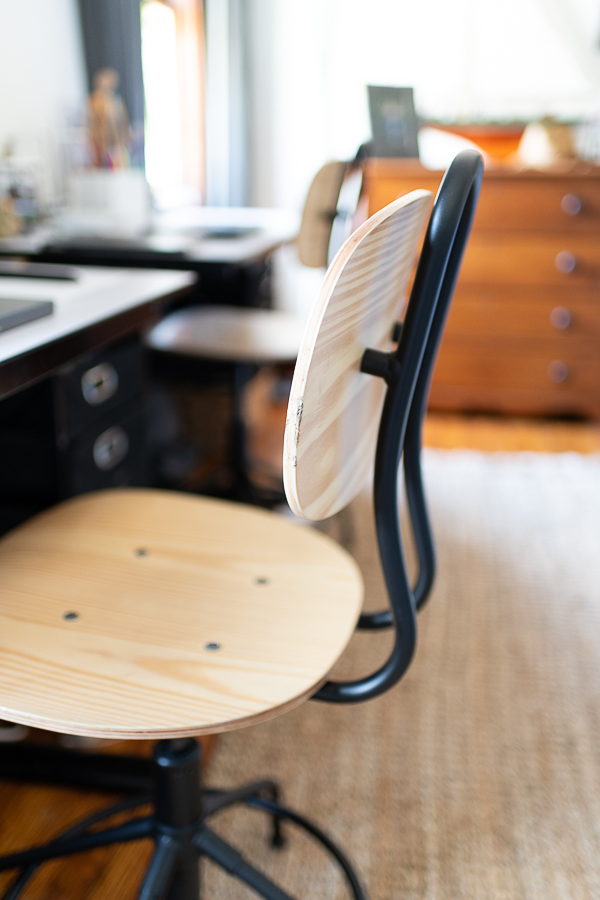 When redoing the kids' bedroom, they found this light at Ikea. Well, the one we bought was orange inside and the one I linked to is copper. Ikea no longer makes the orange one we have. The boys were adamant that they needed this light in the bedroom. It opens and closes so at night it dims the light or it opens to allow more light into the space. I have to admit I'm glad they convinced me on this one.
Here's how it looked when we put it up: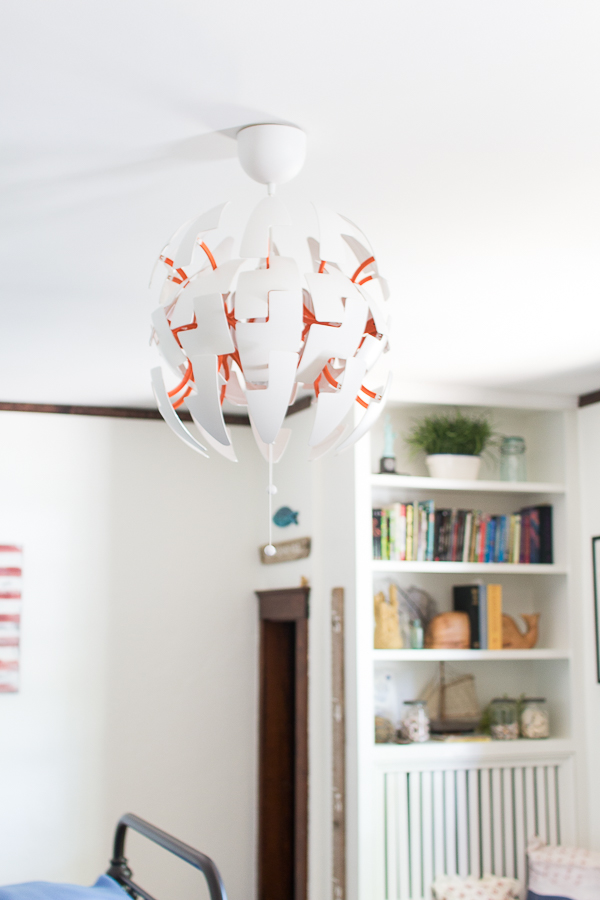 Large, tropical leaves instantly make me calm and relaxed, even if they're faux. I couldn't resist bringing these home and have used them so many times in the She Shed an in our home.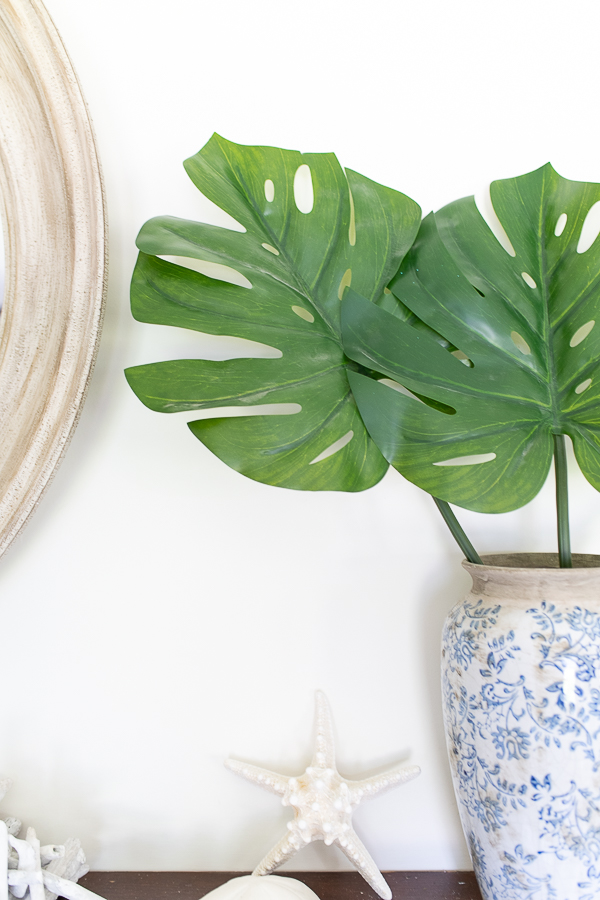 I actually have many faux plants from Ikea which come in handy for decorating. I originally had real plants in the she shed but everything kept dying.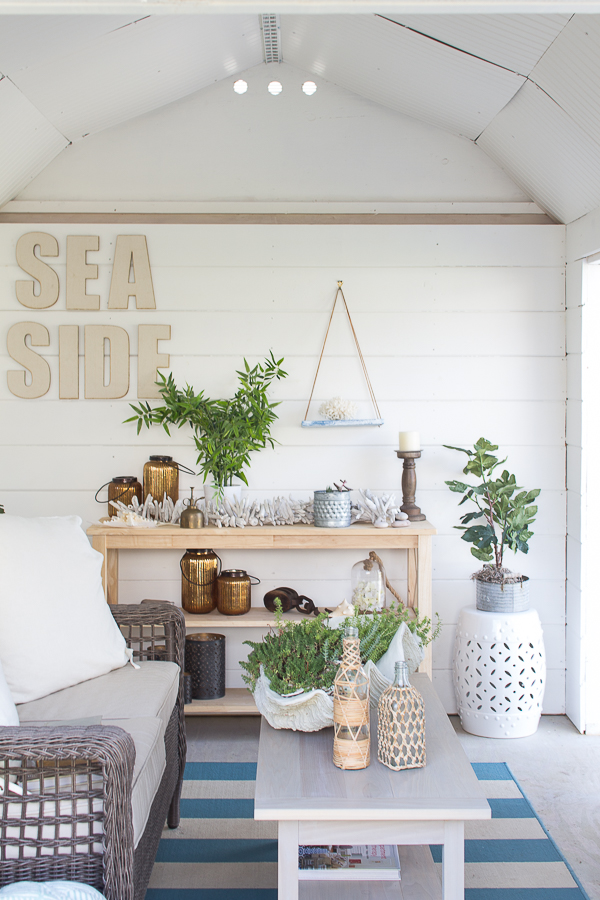 I've shared this stool with you before (many, many times), I can't recommend it enough. I use it EVERY single day. It comes in raw wood (and other colors) but I gave it a fresh coat of paint – a pretty green. You  can see the makeover here.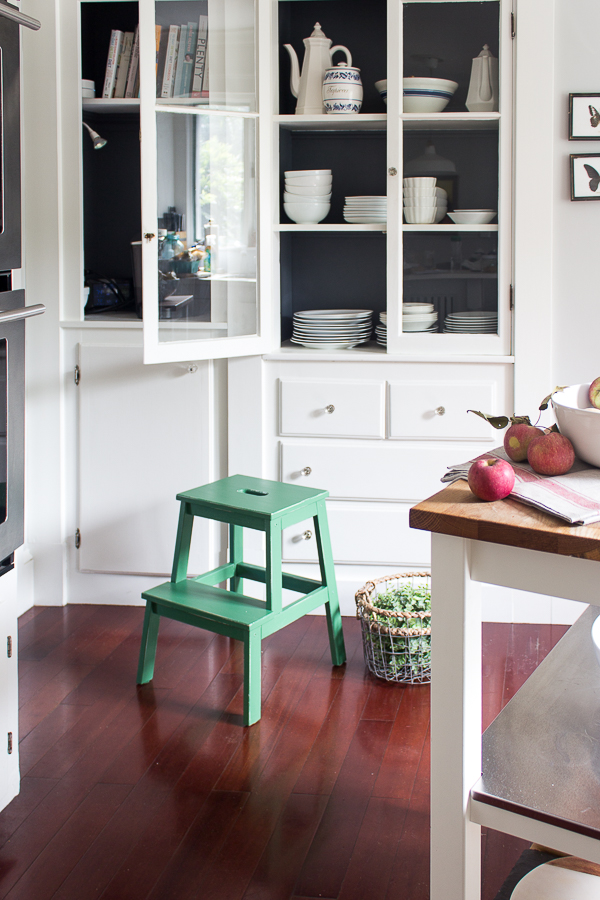 Our little island is also from Ikea, but can't seem to find that exact model anymore.
I fell in love with this bamboo and metal desk. I love the clean, modern lines, and like how it visually doesn't take up much space. This is important if you have smaller rooms like us. We bought two of these desks for the guest room / creative space I use. I turned the guest room into a multipurpose room last year and this is where I work.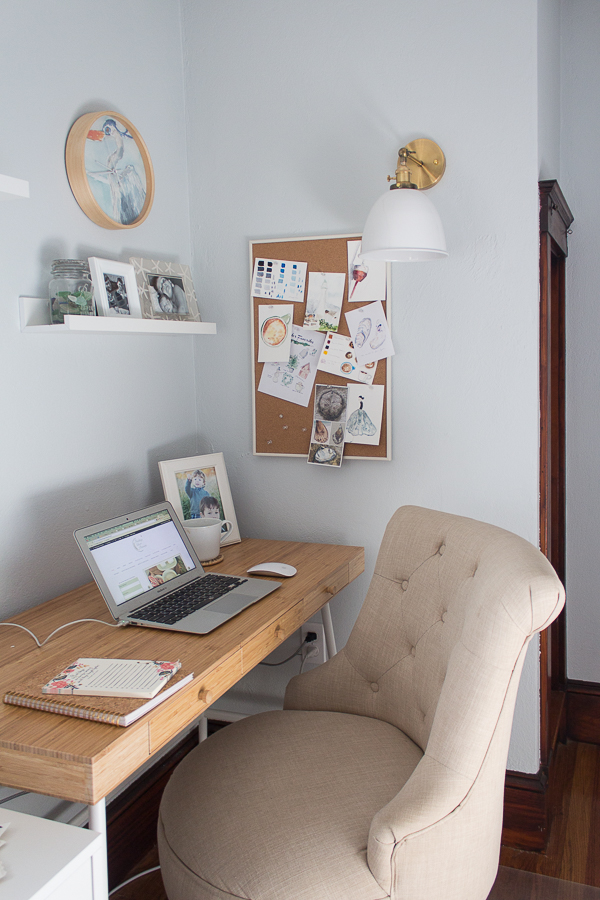 You can see the room reveal here. There's a few other elements from Ikea like the flat file drawer, a desk lamp, bulletin board and picture ledges.
There's nothing more luxurious than linen bedding. I LOVE our's from Ikea. It's still in great shape after almost 2 years! You can see our bedroom makeover here.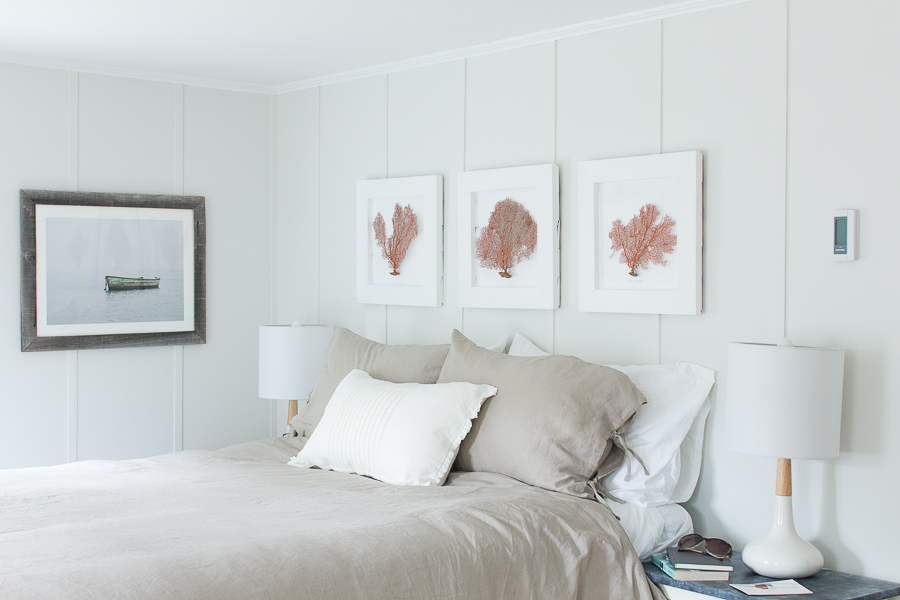 The throw pillow is also Ikea but I don't think they stock it anymore.
Glasses from Ikea are great. They're durable and virtually indestructible. Before kids (when we lived in London) we had beautiful crystal glasses. All but one broke. I use these glasses all the time. I also have the taller version.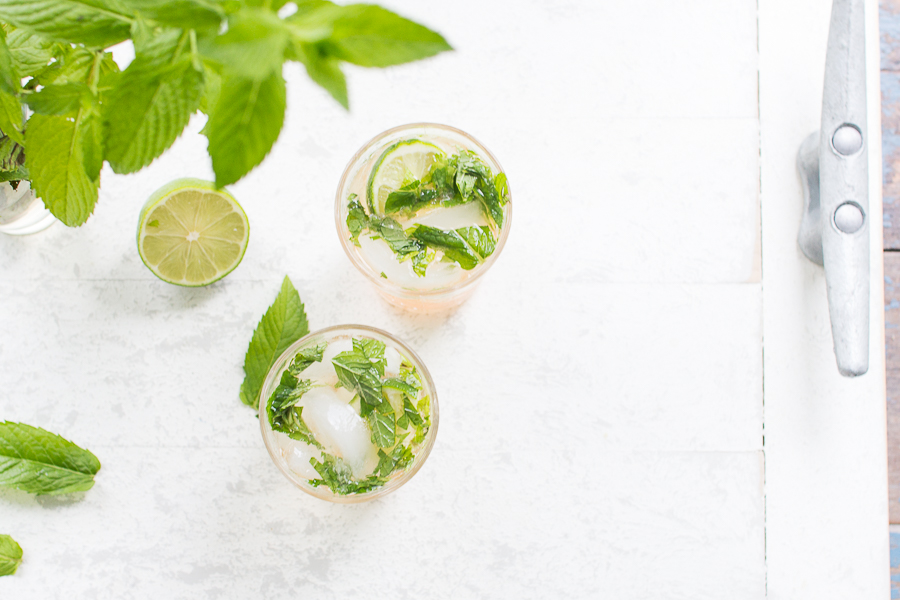 Perfect for Rhubarb Mojitos.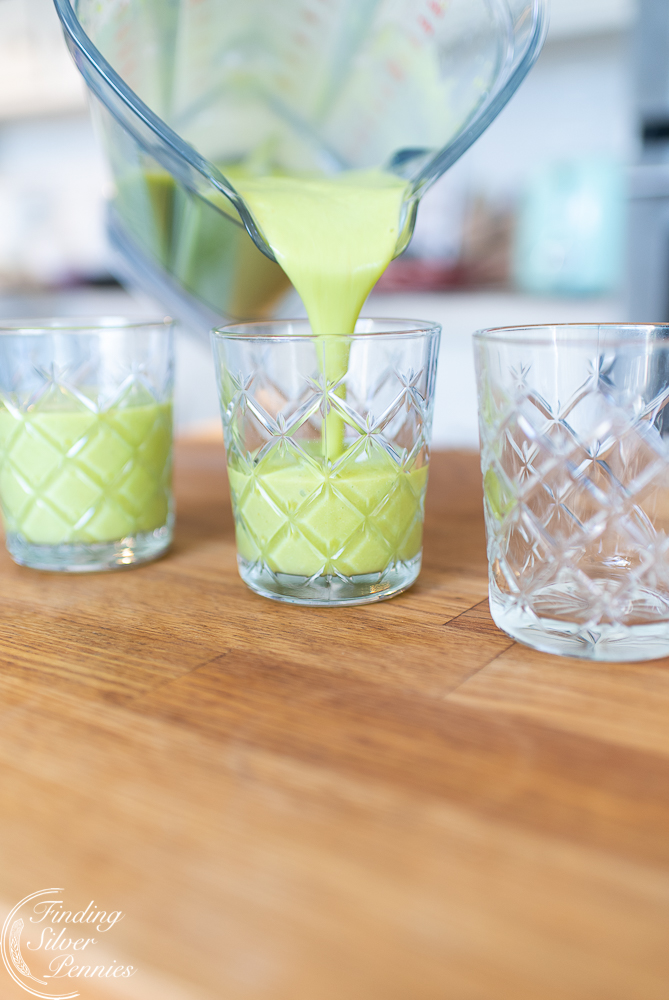 or delicious watermelon drinks in the summer: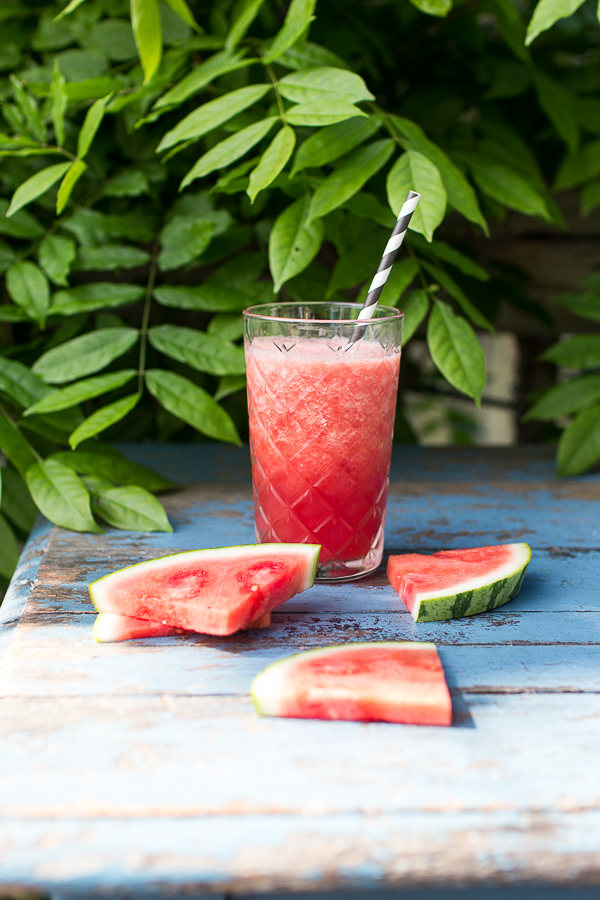 Speaking of summer…
We ordered three of these recliners for the pool area. They are lightweight and can be moved around the area if we'd like but we found them durable and comfortable to lay on in wet bathing suits. We love them so much we'e going back to Ikea and buying one more. When we're all out at the pool, the boys fight for the third one. Ha! Ha!
Summer can't come fast enough!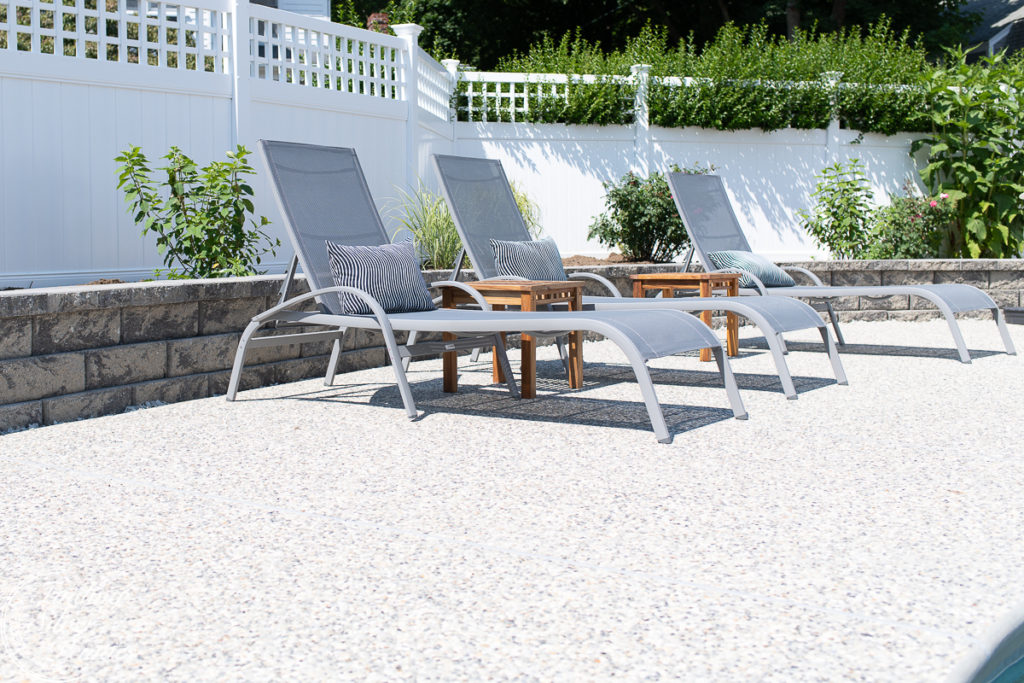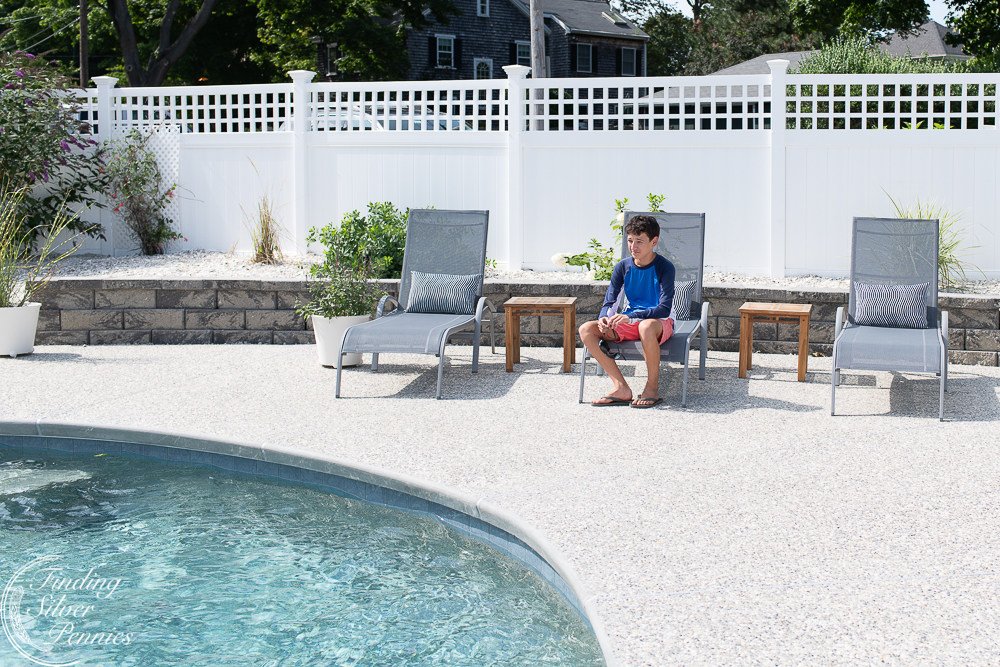 You may want to pin this for later!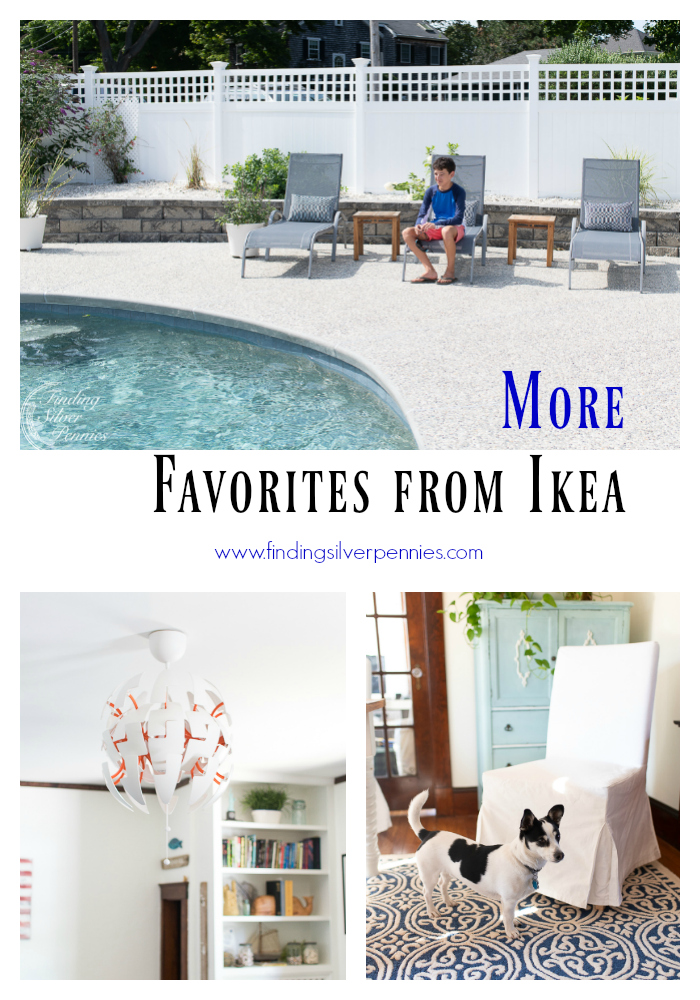 I hope this post was helpful. I hope you got some ideas for  you next Ikea trip!
There are some things we always pick up when at Ikea.
Here's a list of staples:
Paper napkins
Candles (tea lights and tapers)
Band Aids
Usually something from the kitchen section
Swedish Fish
lunch (the kids love eating there)
Paint brushes
Picture frames for kids' art