It's no secret. I love flowers. Since it's still not peony season in New England, I thought I'd try some paper peonies.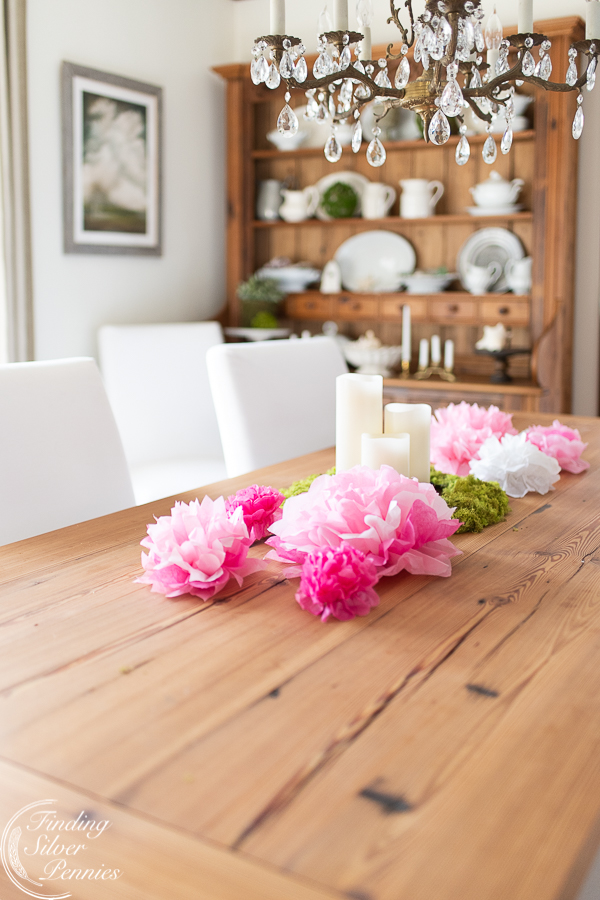 Peonies, in all their splendor, remind me of my grandmother. The soft petals, the pretty pale and bright pinks, and, of course, their heavenly fragrance. Maas used to have them in her garden. I've planted a bunch in our own but they aren't even growing yet. To be honest, the forsythia hasn't started here yet either.
Last weekend I made 24 of these pretty peonies and they'll be on display tonight at Scituate Education Foundation's Light Up the Night Spring Party. Over the past few months, I've helped plan this event doing the design and brainstorming ideas. I'm hoping all my ideas will come together today and the event will be successful in raising funds for education in our community.
While making these pretty paper flowers, I realized just how relaxing it is. I just wanted to make more and more. I thought it would be a perfect project to share on the blog, but also perfect for our Cozy Living Series hosted by my friend Jennifer. In this series we look at cozy, inviting, and the principles of hygge. Spending an afternoon making these, sitting in the dining room with a cup of tea, was therapeutic.
Another nice thing about these paper peonies, they're super affordable! I used tissue paper from the dollar store along with fishing twine already had!
How to Make Paper Peonies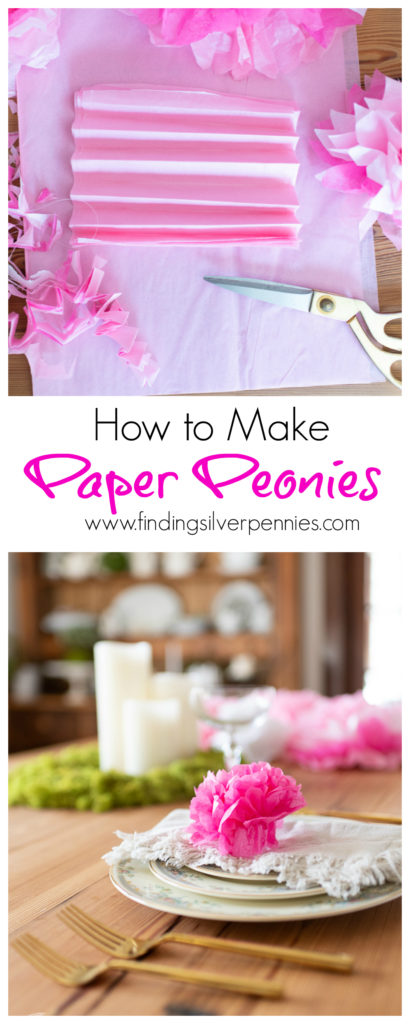 Materials
Tissue paper
Fishing Twine
Ruler (optional)
Scissors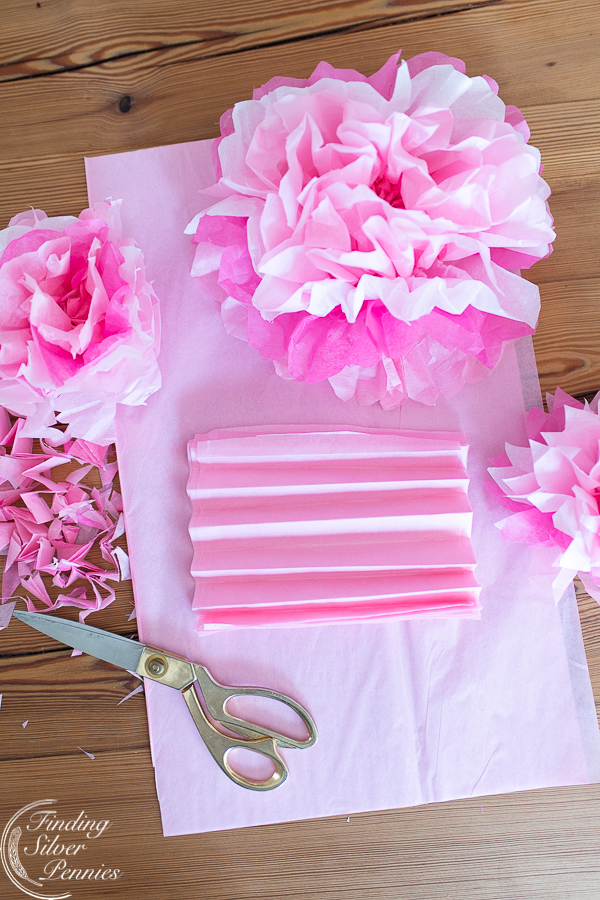 Method
Step 1 – Cut approximately 5 sheets of tissue paper into a rectangle.
Step 2 – Accordion pleat the rectangle (as if you're making a paper fan)
Step 3 – Tie fishing twine to the center of the pleated rectangle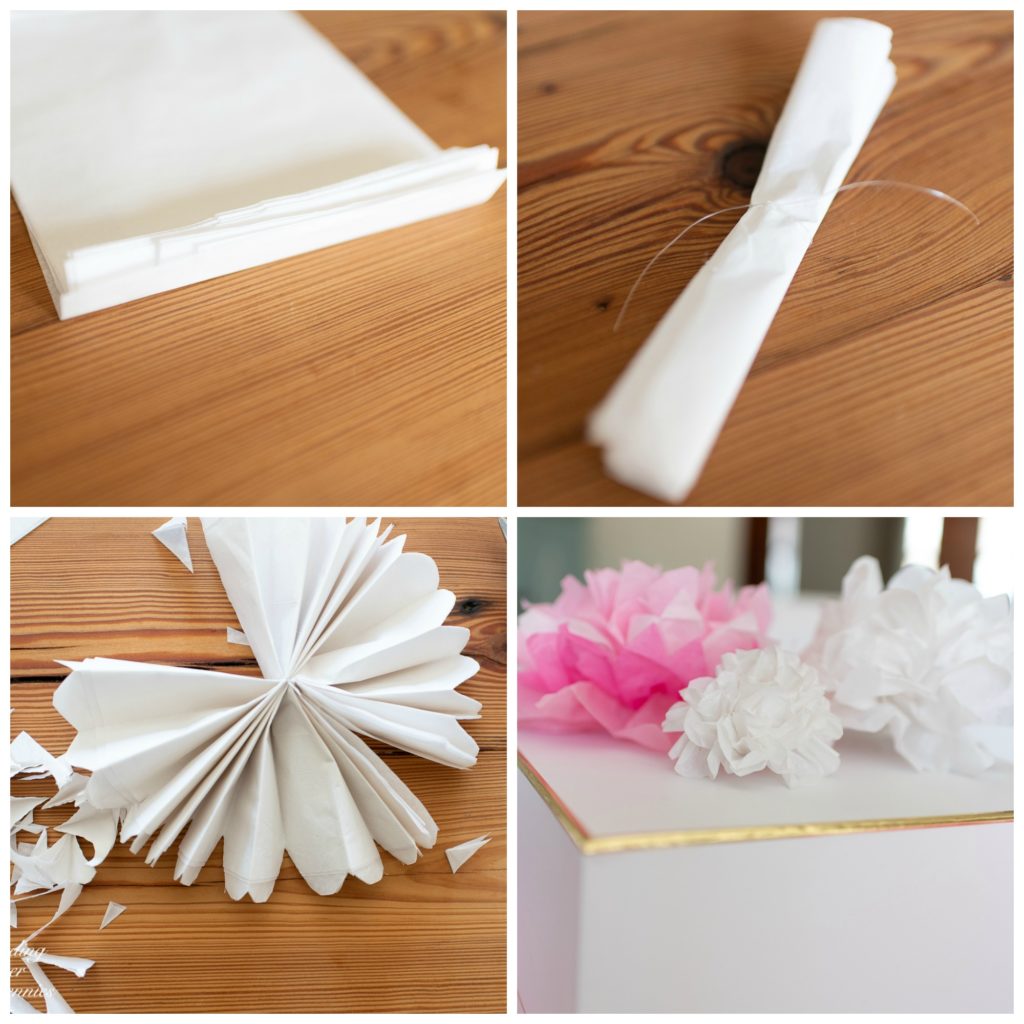 Step 4 – Cut the tip of the folder paper. I did pointed and rounded edges. I also experimented with doing two rounded points per petal.
Step 5 – Fan the paper out as seen in photo 3 (above).
Step 6 – Starting from the center and working outward pull the tissue paper apart from the other layers.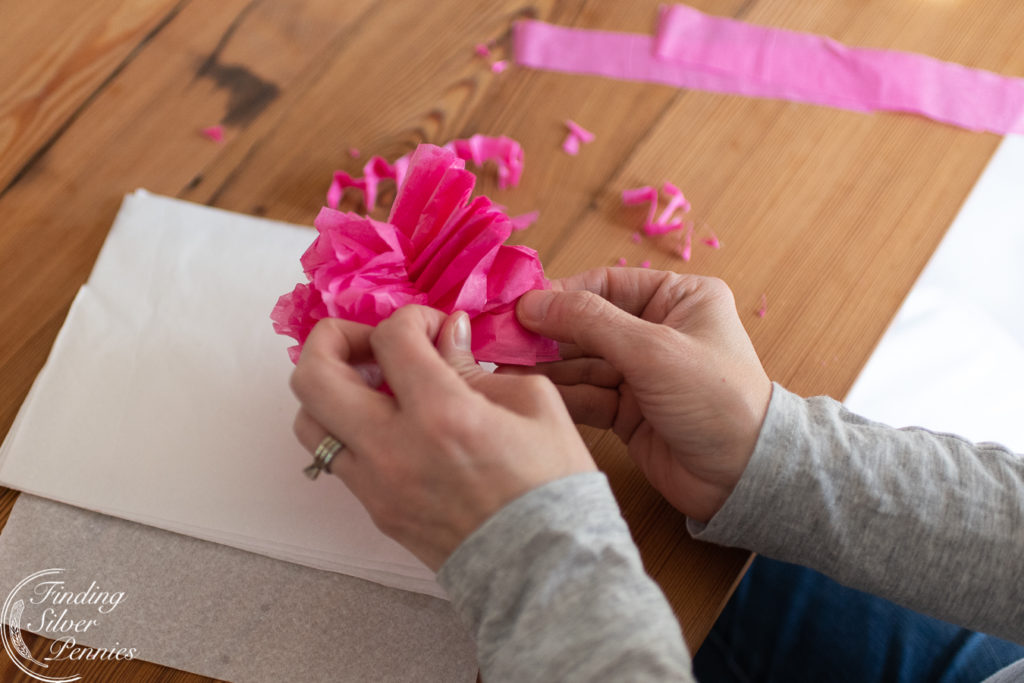 In a few minutes, I had beautiful paper peonies in my hands! The tissue paper magically transformed before my eyes into paper peonies!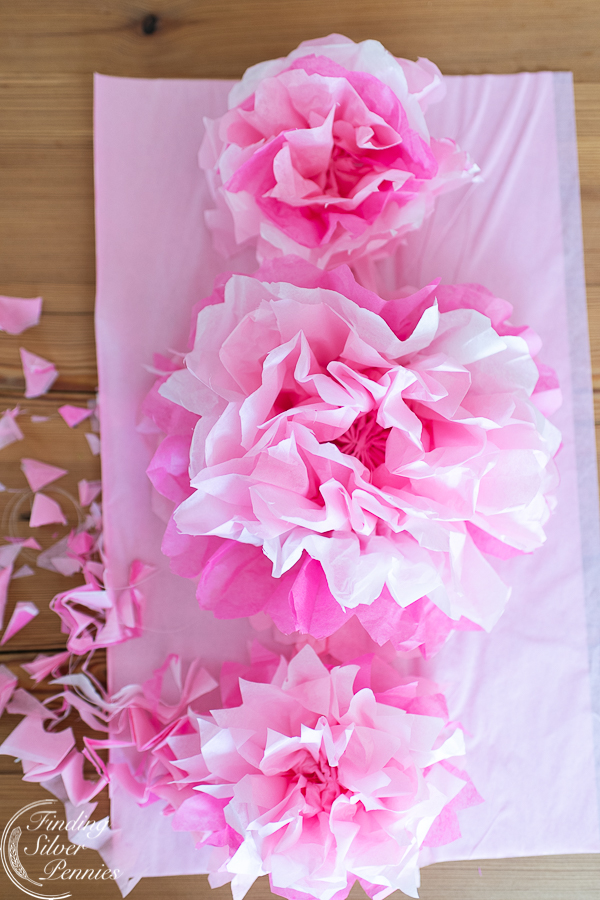 I found that mixing up the sheets of tissue paper and sizes made it more realistic. Some big and some small. I did try doing the full sheet of tissue paper, but this didn't work. It was too big and just looked wrong. Rectangles of 5″ x 9″ look the most realistic (pictured below). I also found that mixing different colored papers made these fun. Some light pink, dark pink, and white. I did some all white and some all pink. I also added some with yellow centers.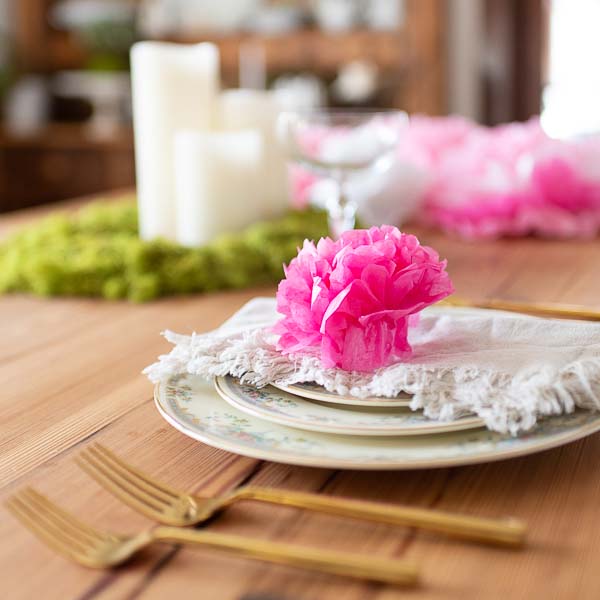 How could you use these flowers?
Ideas for Paper Peonies in Home Decor
Tonight at the fundraise our paper peonies will be on a selfie wall, but there are so many applications you can use them on.
Mother's Day is coming up, as is, Easter and First Holy Communions. These pretty peonies would be lovely on top of gifts.
Gift Toppers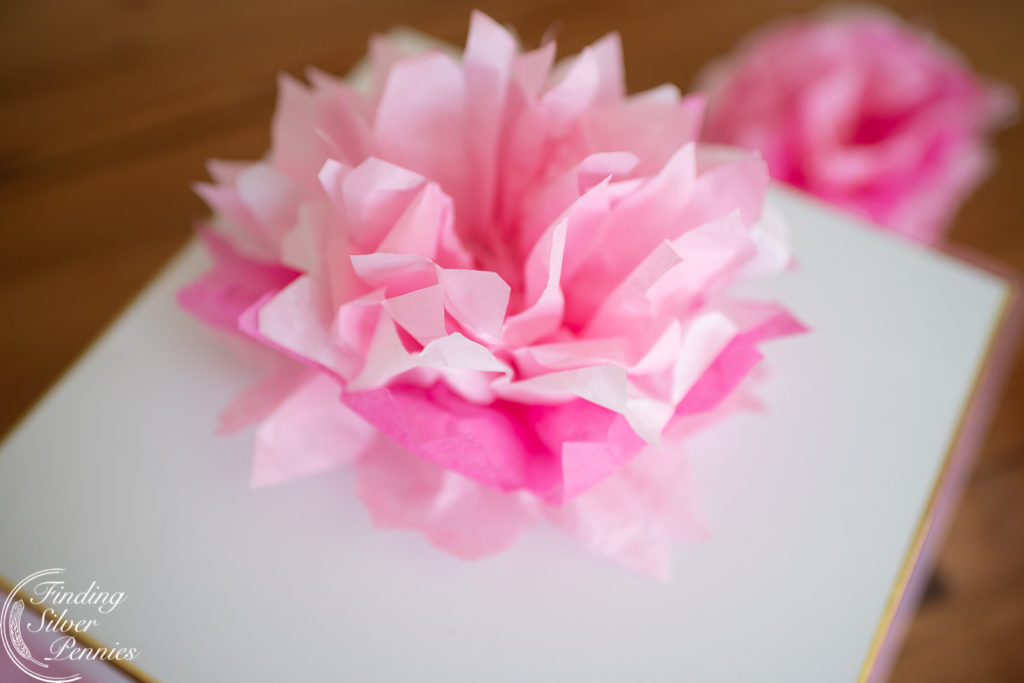 They look sweet, as a large one on top.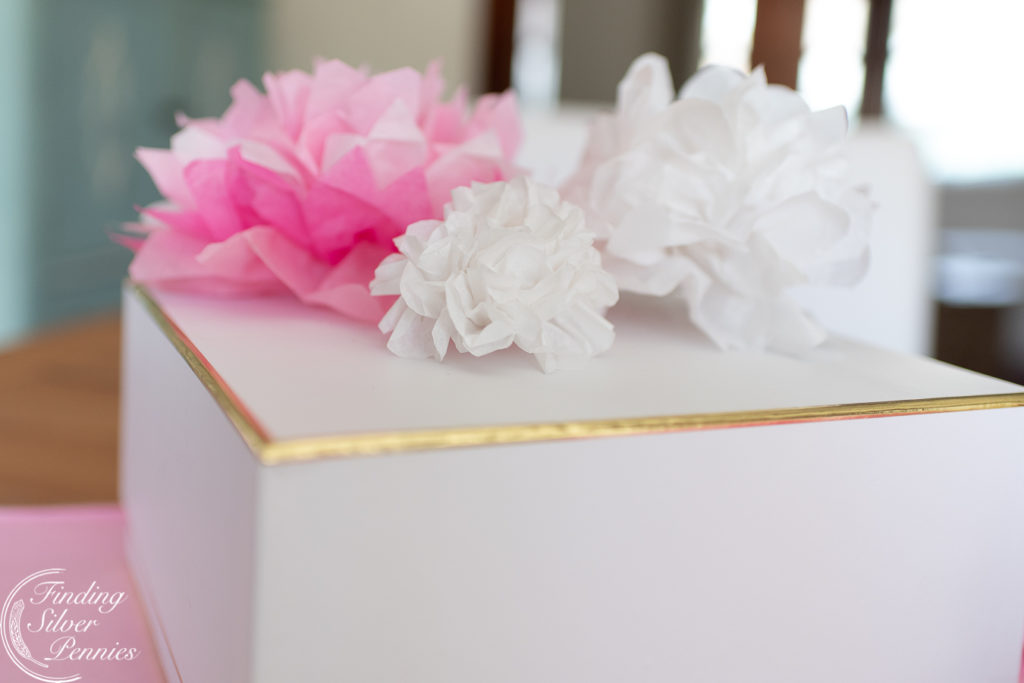 Also fun to mix several sizes and colors together.
Place Settings
A sweet little paper peony placed on each setting looks fun and festive. Perfect for a Mother's Day brunch or baby shower.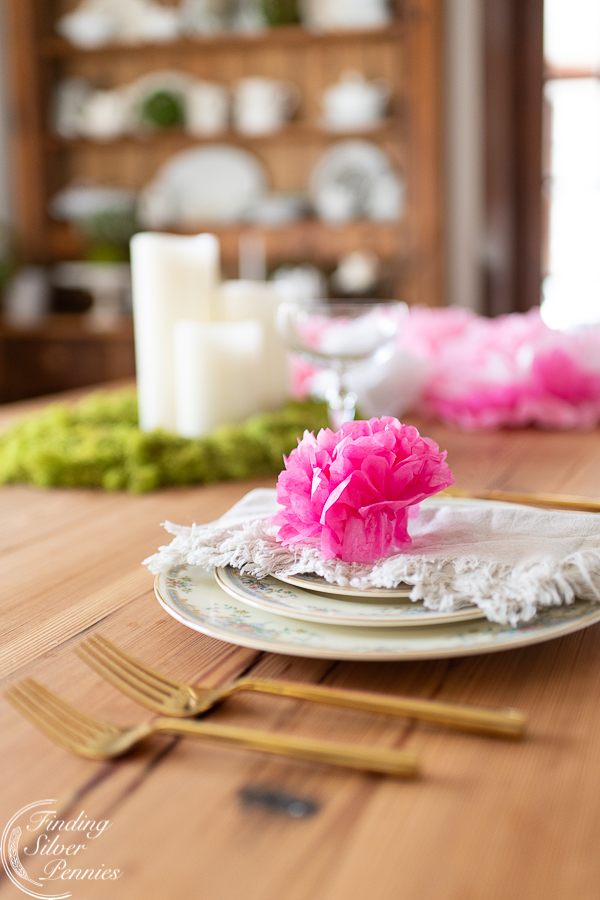 The moss wreath is another DIY and you can find the tutorial here.
Paper Peony Tablescape
Another idea is to scatter these peonies across a tablescape.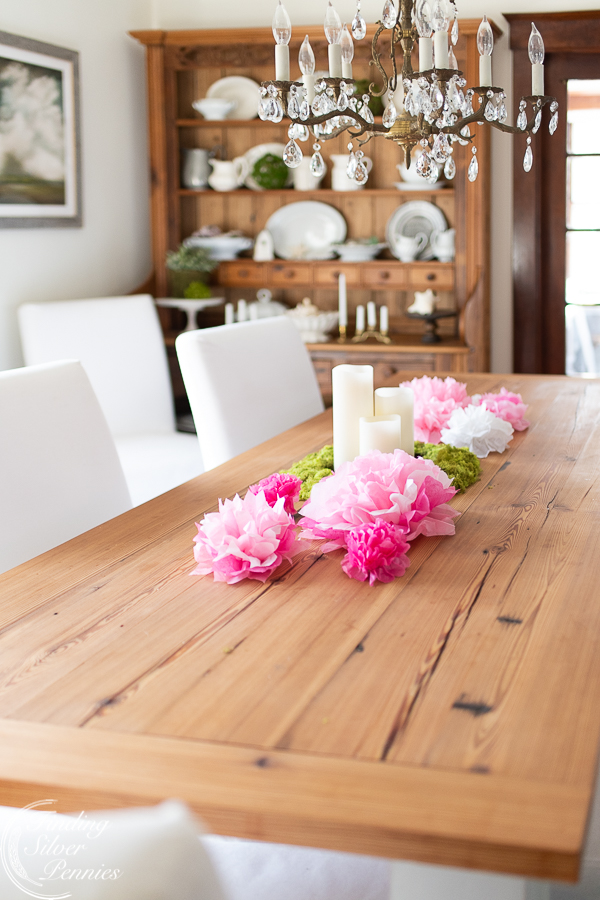 They can also be attached to walls, attached to florist twine or sticks and placed in vases or jars, affixed to cards.
If you enjoyed this post you might like my book page roses and my other cozy living posts.
Be sure to visit all my friends below for more cozy living ideas:
Hymns & Verses / Sincerely Marie Designs / Finding Silver Pennies / Creative Cain Cabin
Town & Country Living / Making It In the Mountains / Vinyet Etc.