For years we've dreamt of a pool. For the last 5 months we've been working on the pool and landscaping in our yard and today it's time! I'm so excited for you to see the pool reveal!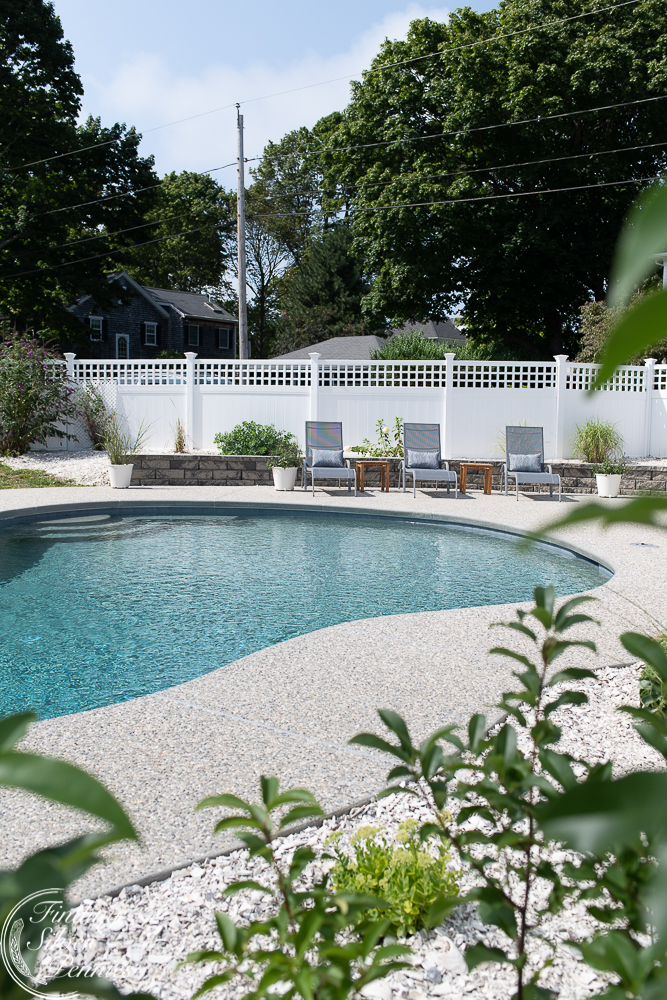 If you've been following along with us since March, you maybe already saw our pool inspiration post here.
I'm so excited after months and months of hard work to share that our dream pool is a reality. When I was a little girl I had a pool and I have the best memories of times swimming, diving, and being thrown again, and again, and again by my father. We dreamt of the same type of summers for our two boys.
I think in order to fully appreciate the reveal you need to see a progress shot from early on in the construction.
Pool Reveal
This was March: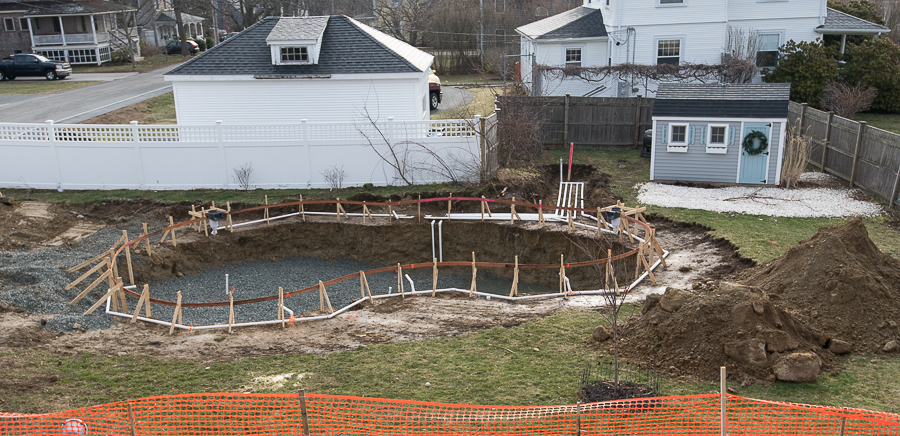 Here is now: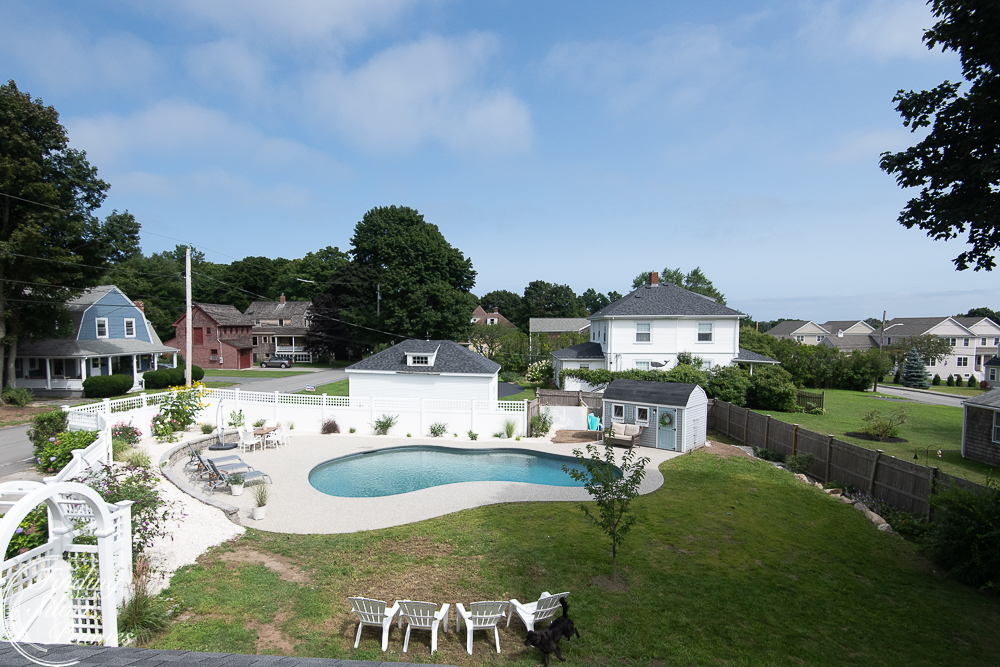 There are a few patchy areas (bottom left) and we still need to plant grass behind the shed but we will be doing that in the fall.
Luke built a fenced in area for the pool equipment (corner behind the shed) which meant we could finally take the orange construction fence down. Max has a tendency to chew on cables and wires and we didn't want him chewing on the wires associated with the pool. We'd had that fence up since before breaking ground, to keep the dogs out of the pool area while construction was taking place.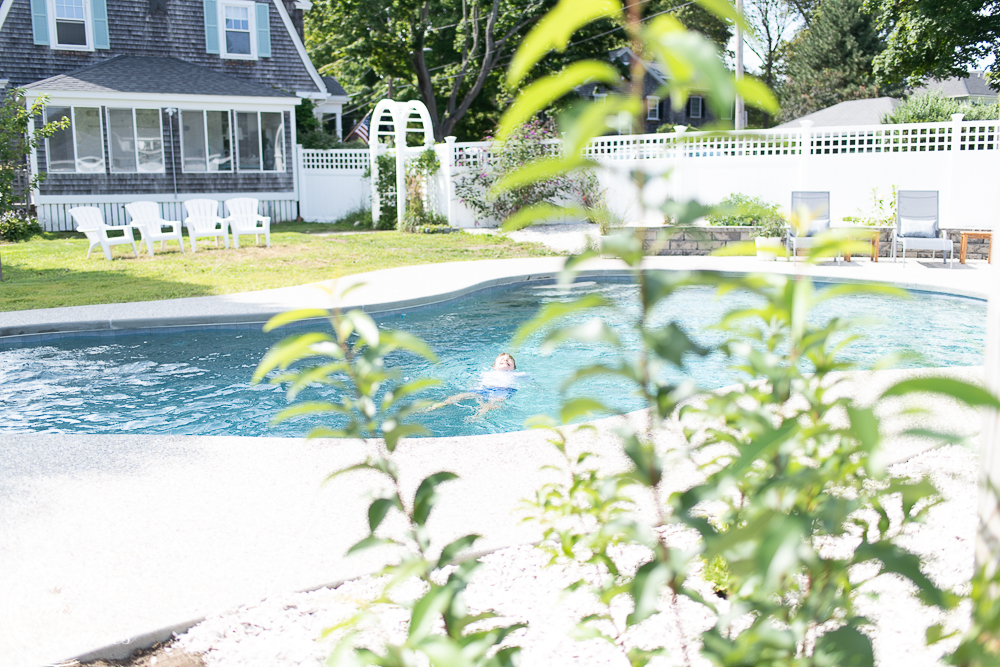 We started planning the pool last summer with South Shore Gunite Pools and signed the contract last fall. Work was planned to start March 1st but then we had three Nor'easters and a blizzard in a three week time period. Work began at the end of March.
If you'd like to see all the posts ( I did a series of step by step posts with videos) – you can see all of that here.
The amazing thing was being able to customize the whole pool – from shape, to color, to pebble finish interior to choice of decking. Seeing our dream take shape before our eyes was so exciting for Luke and I, but also for our boys. John and Conor were so excited to see the heavy equipment in our yard and all the people and artisans who worked on our pool were so lovely and explained the process as they went.
We decided to make the deck bigger as we wanted space for eating and lounging and we also decided to bring the shed forward, so added additional decking in front of the shed.
Part of the reason we went with South Shore Gunite was their amazing reputation but also the pool has a lifetime warranty. They did the pool and deck construction and also did all the plumbing and wiring. We are IN LOVE with this pool.
Due to town regulations we had to replace the fence. Our old fence wasn't high enough and was considered climbable. We used Armstrong Fence for the installation and they were amazing to work with. We love the privacy this fence gives, especially since the pool area is in the side of our yard and people walk by our home when heading to and from the harbor.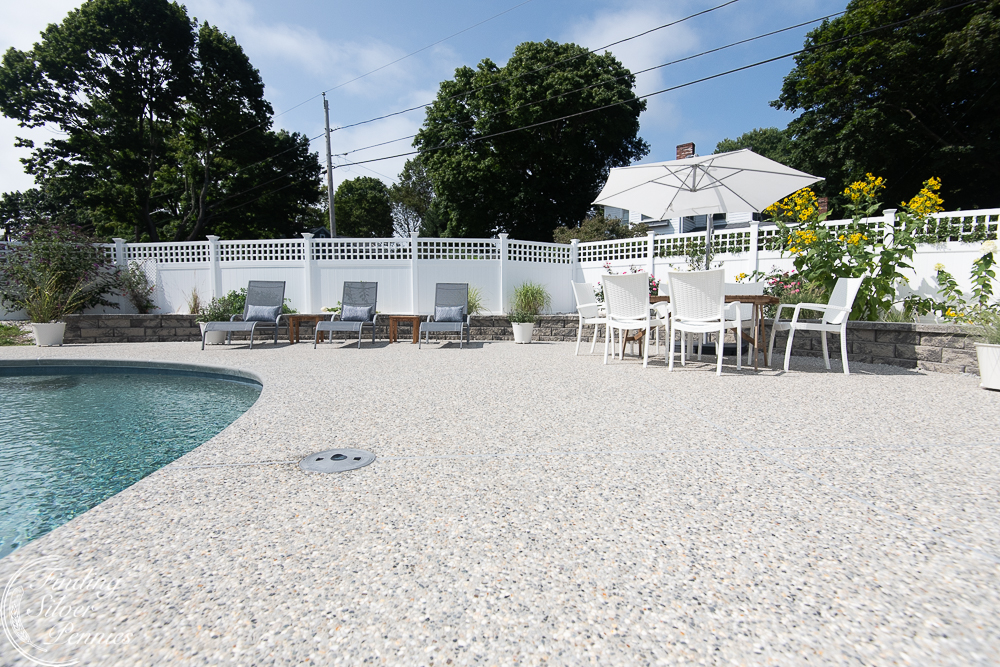 Pool construction was complete in June and then Luke and I started landscaping. I think we were a little naive on how much work the landscaping actually would be. It took us many, many hours. Our friend Greg helped us here by bringing his tractor and moving 40 yards of soil. We thought that would be enough to grade our yard but it wasn't.
We had 22 more yards delivered for behind the retaining wall and behind the shed. That's the thing about putting in a pool, the water needs to run away from the pool, and while our yard looked pretty level, it wasn't.
Luke took off 4th of July week and we started landscaping. We did the retaining wall in one weekend. Each of those blocks weighs 50 pounds. You can see how we built the retaining wall here.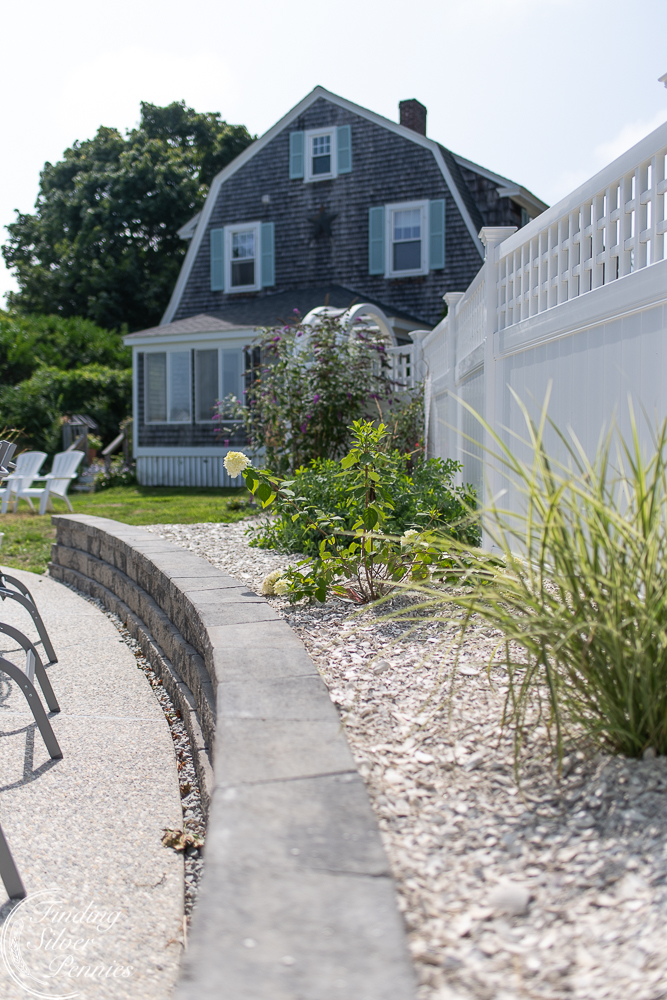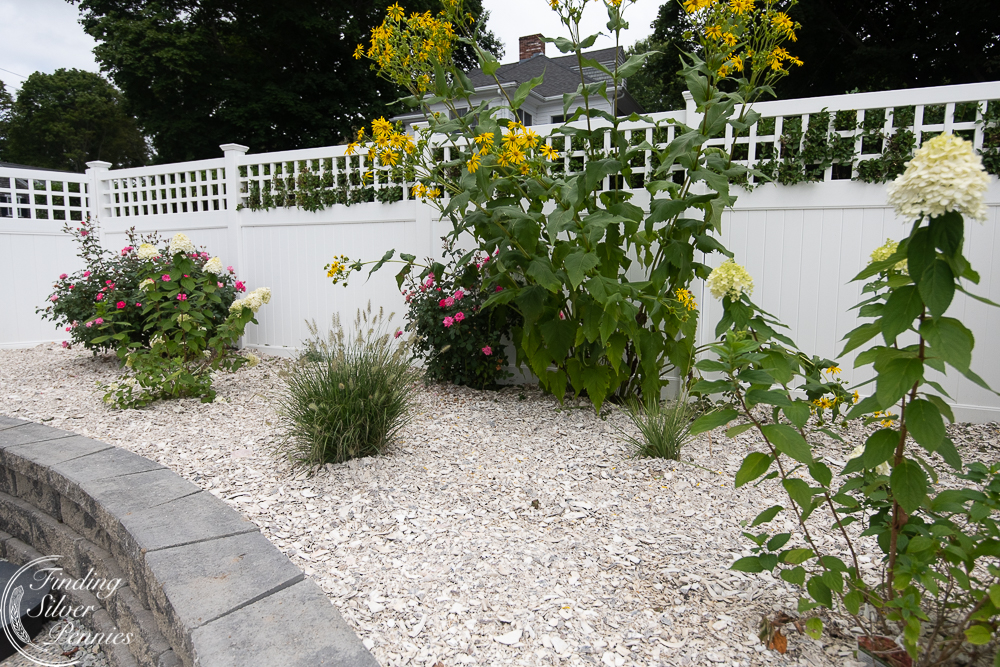 After filling the beds, in the pool area, with soil we added crushed shells. It was actually my dad's idea to use the shells. You may remember that we used crushed shells for the she shed patio. It is a very Cape Cod look, and realize it isn't done everywhere in the US. You will see it a lot as patios, driveways, and in garden beds on Nantucket and Martha's Vineyard. The dogs go in these beds because they bark at other dogs walking by so we knew we didn't want to put mulch because they'd track it all over the pool decking. While my dad was sick in the hospital he said to me, "Dani, why don't you do crushed shells?" He did all the landscaping for my childhood pool and as I worked on the pool with Luke, shoveling wheelbarrows full of shells I thought of my dad smiling down on us from heaven. Beautiful white crushed shells look so coastal against the ornamental grasses and limelight hydrangeas we've planted.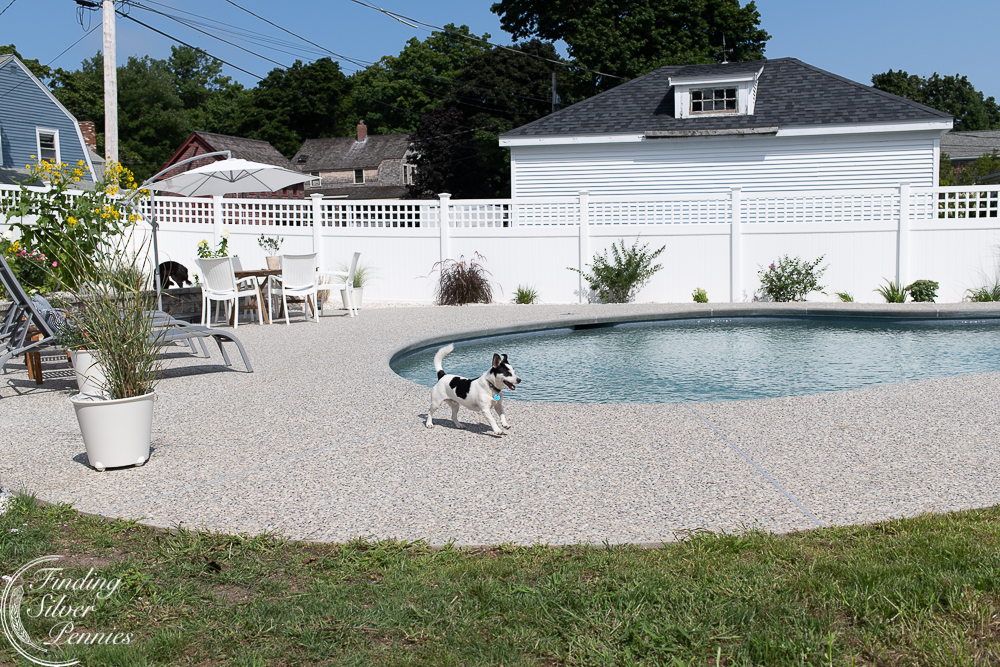 By doing the landscaping ourselves we saved A LOT of money. The retaining wall, soil, crushed shells and plants were roughly $3500 but it could have cost us anywhere between $10-$30K to have the yard professionally landscaped, and I think we appreciate it more because we did it ourselves.
By the Numbers
Speaking of numbers I thought it would be fun to share what went into this pool by the numbers:
The pool is 16 x 36
The deep end is 6 ft deep
1 ton of rebar supports the pool structure
20,000 gallons of water to fill the pool
62 yards + of soil for grading and landscaping – 22 yards dug by hand
1 shed moved
1 50 ft retaining wall built
9 yards of crushed shells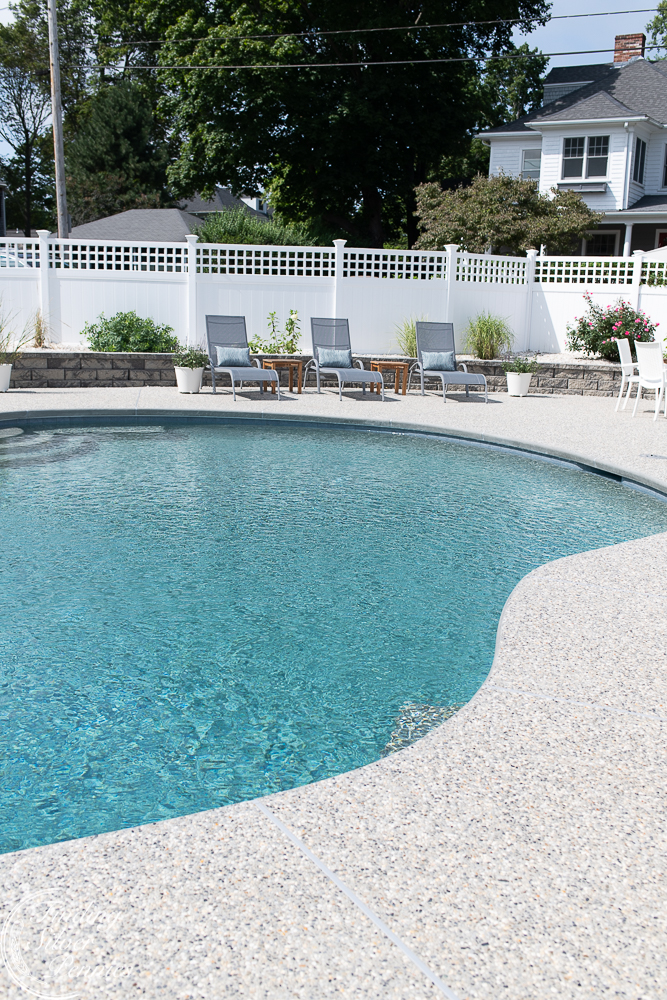 Patio Furniture
Since the pool construction was such an expense we decided to purchase affordable pool furniture this year. My desire for the pool area was comfort and durability. I wanted the pool area to look clean, coastal, and relaxing.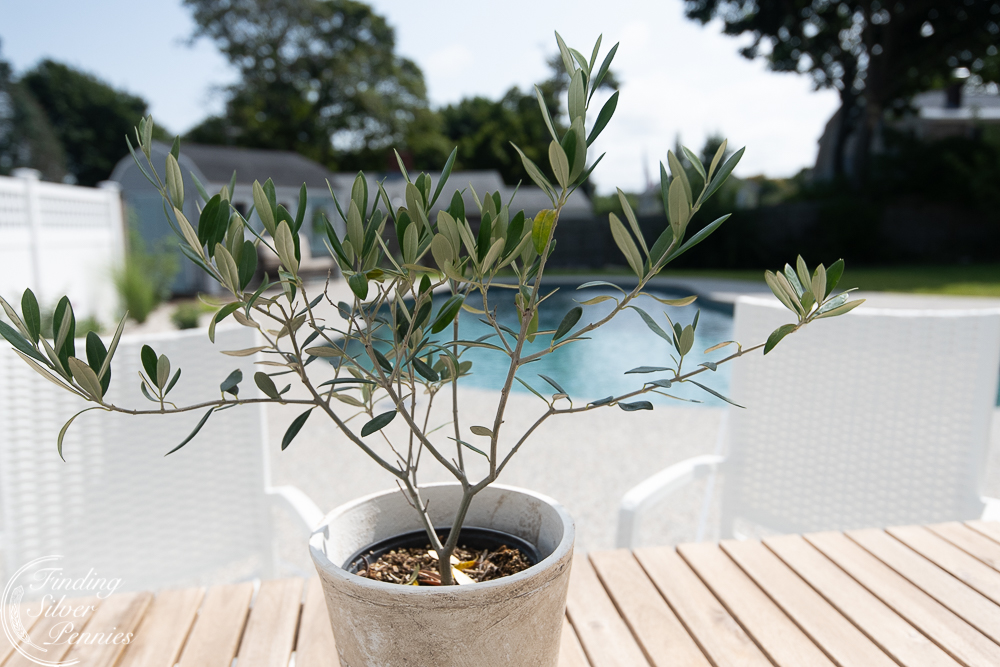 The olive plant was from the supermarket and I just found the planter at Michael's for 70% off. Doesn't it look like something you'd find in France?
The majority of the patio furniture is from Ikea.
The loungers are mesh and are perfect with wet bathing suits.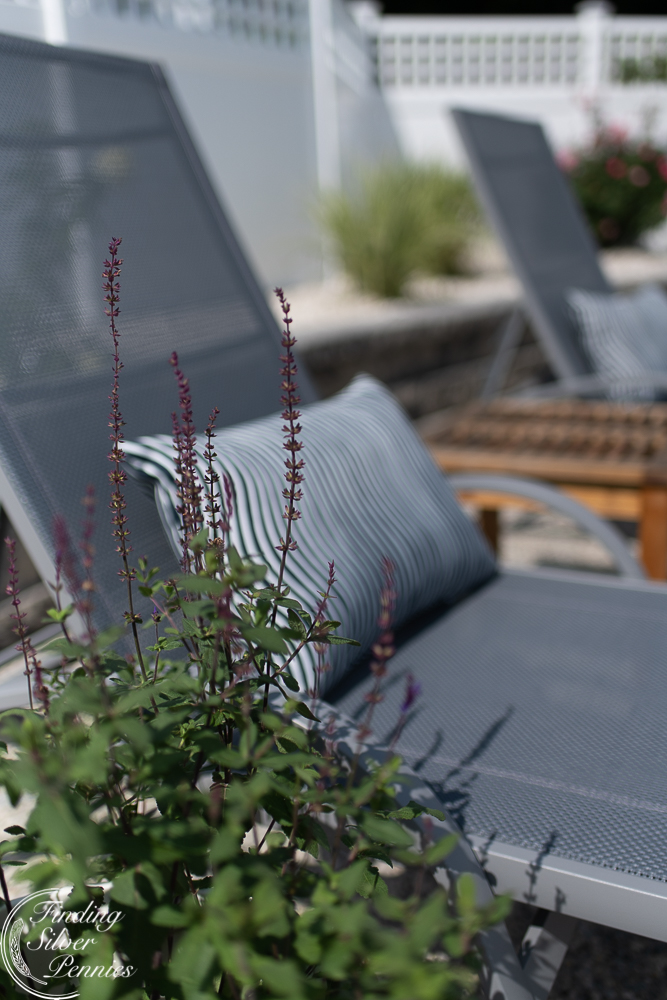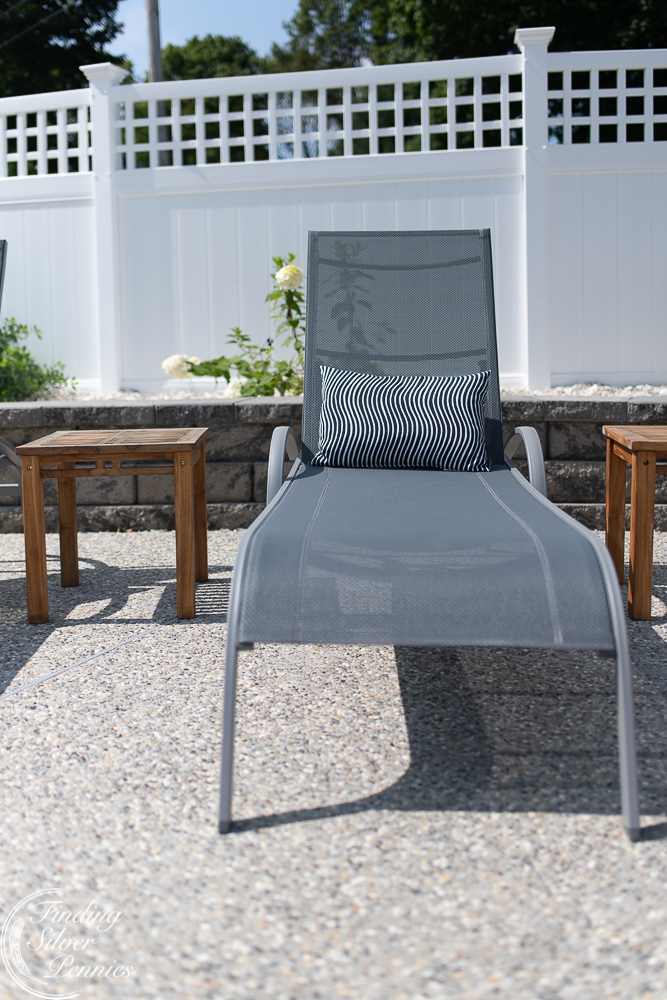 The wavy pillows are from Crate & Barrel and were on sale. The side tables are teak and I sealed them with teak oil as I wanted to preserve the color of the wood. I think I'll need to reapply the teak oil each year.
The dining chairs are plastic but have a great woven look. They are very comfortable and perfect with wet swimsuits.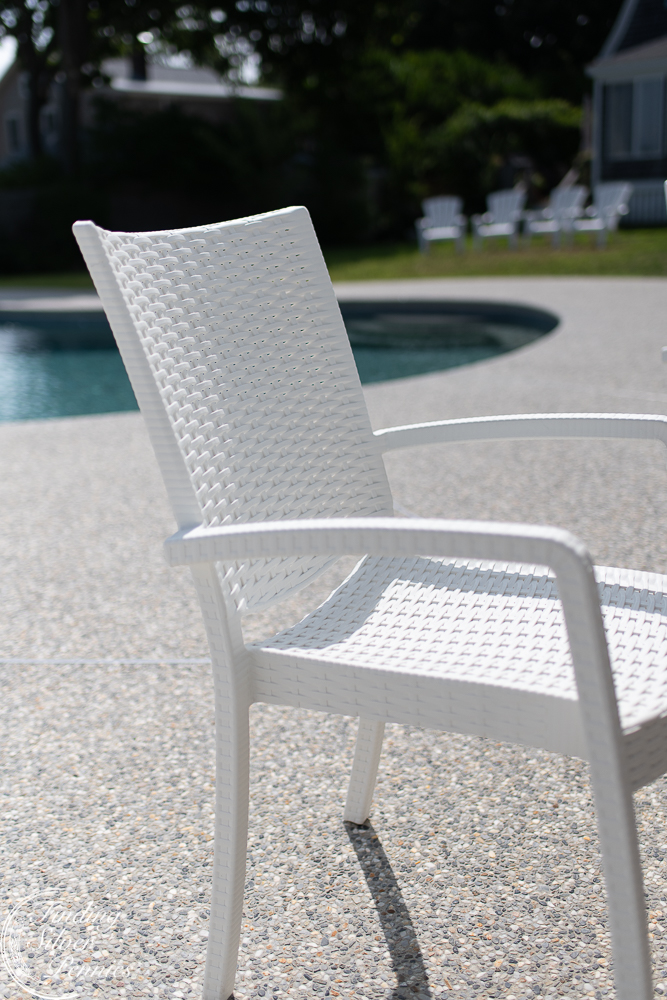 The great thing about the chairs and loungers is that they are stackable, so will make winter storage much easier.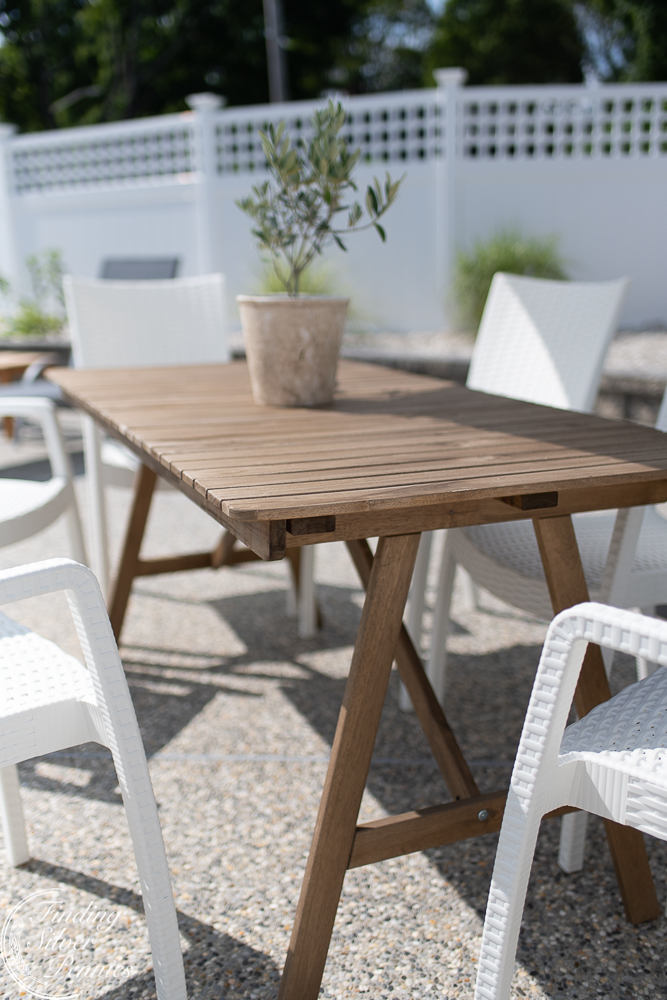 The outdoor table is slightly narrow and we'll probably get something a little bigger for next year, but this table will be great for parties and buffets.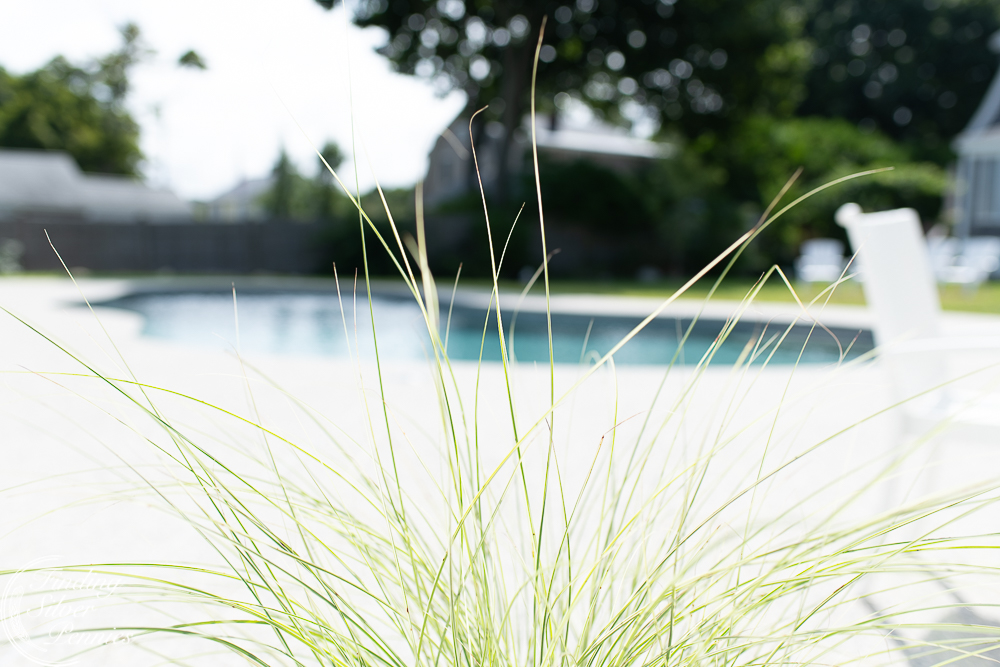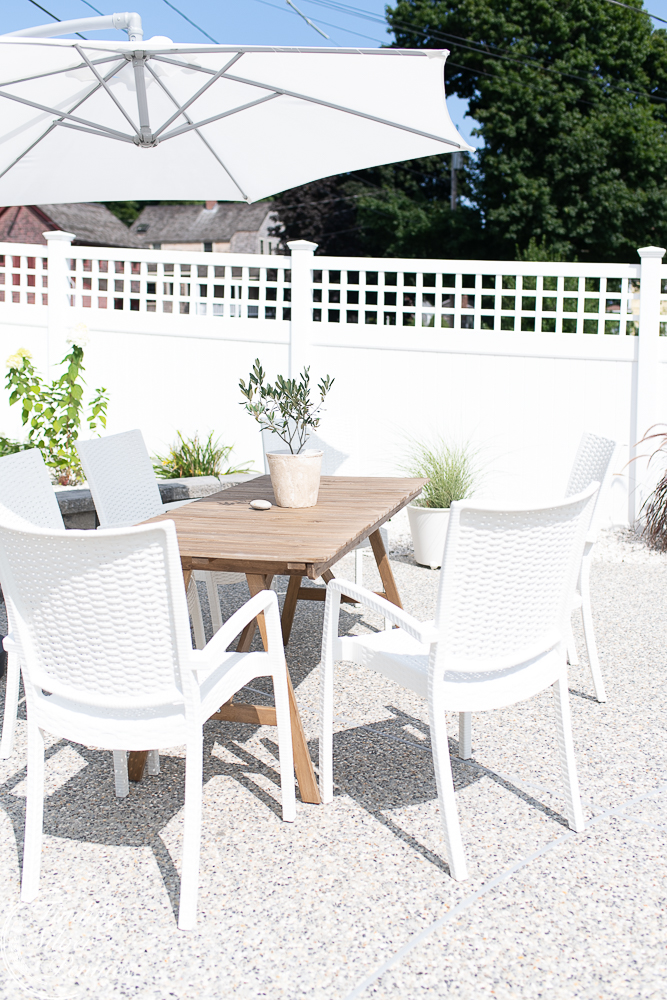 The umbrella was also from Ikea and was so affordable. It's perfect for adding some shade, as our pool gets full day sun.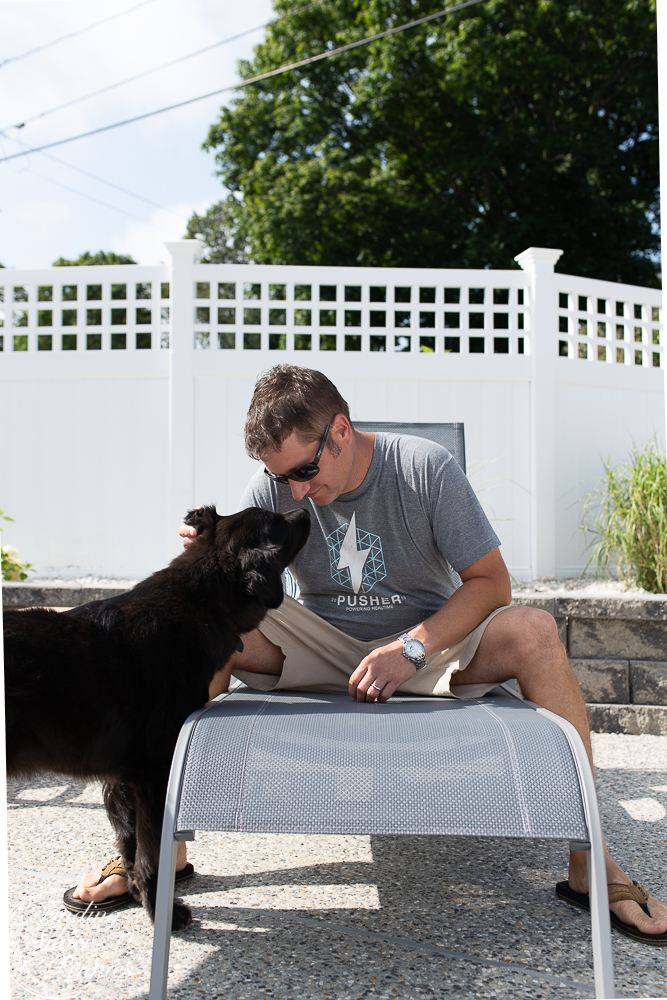 I moved the settee that was inside of the she shed outside for now.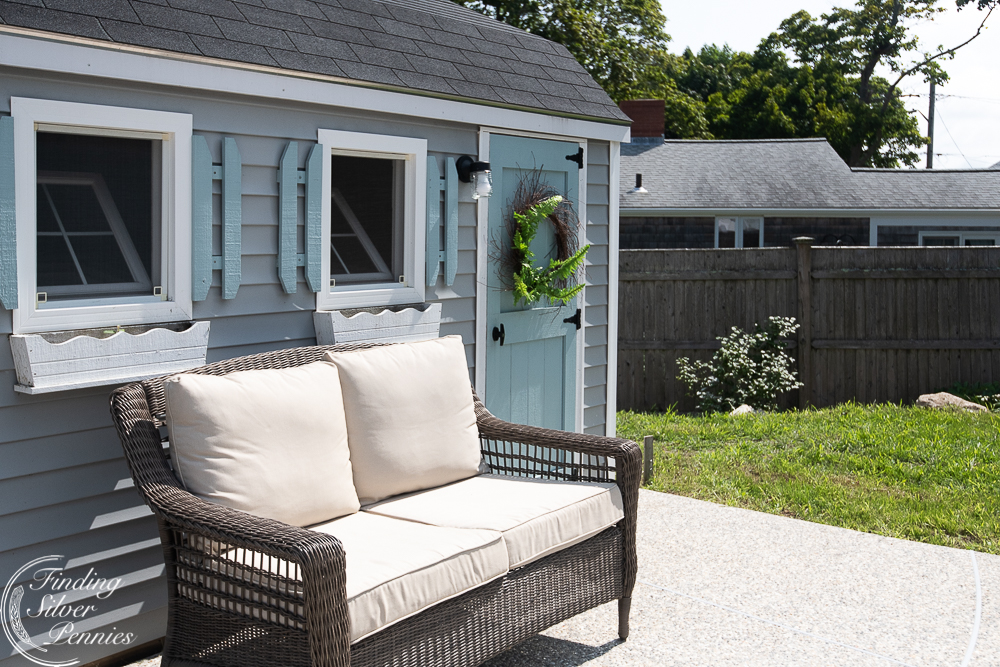 You may recognize the fern wreath, you can see that easy craft project here.
This area is still a work in progress though. We plan on replacing the window box with one we build (which is why there's no plants in there) and we plan on completely redoing the interior of the she shed to make it a pool house. The exterior light is new and we've added wifi and electricity inside the shed.
Planting
Since we wanted to spend the majority of time out here enjoying the pool we kept the landscaping very simple.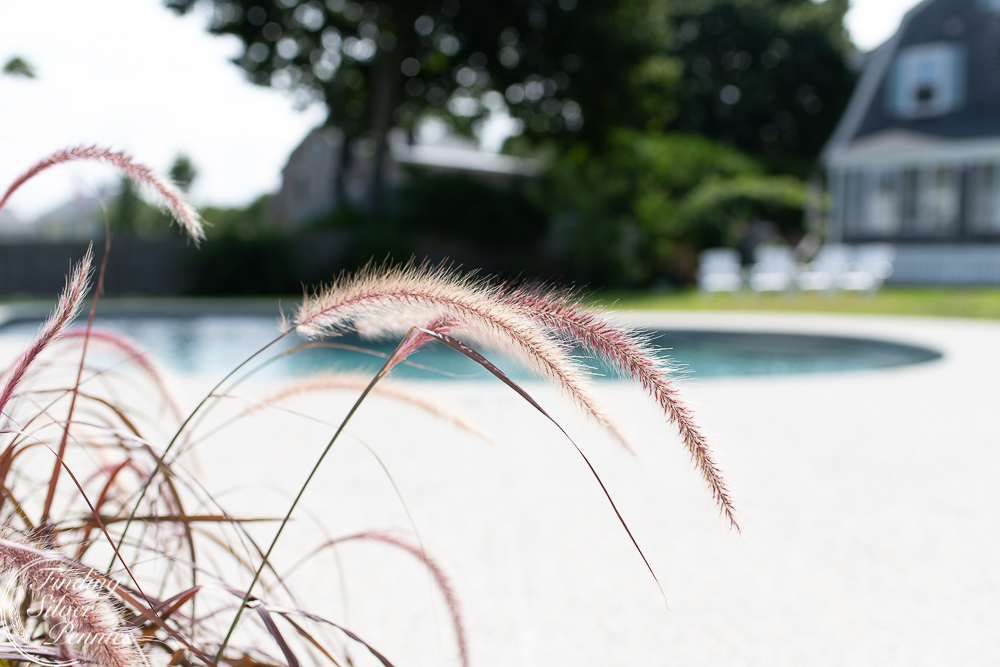 We planted lots of ornamental grasses. Some with fronds, some with zebra stripes.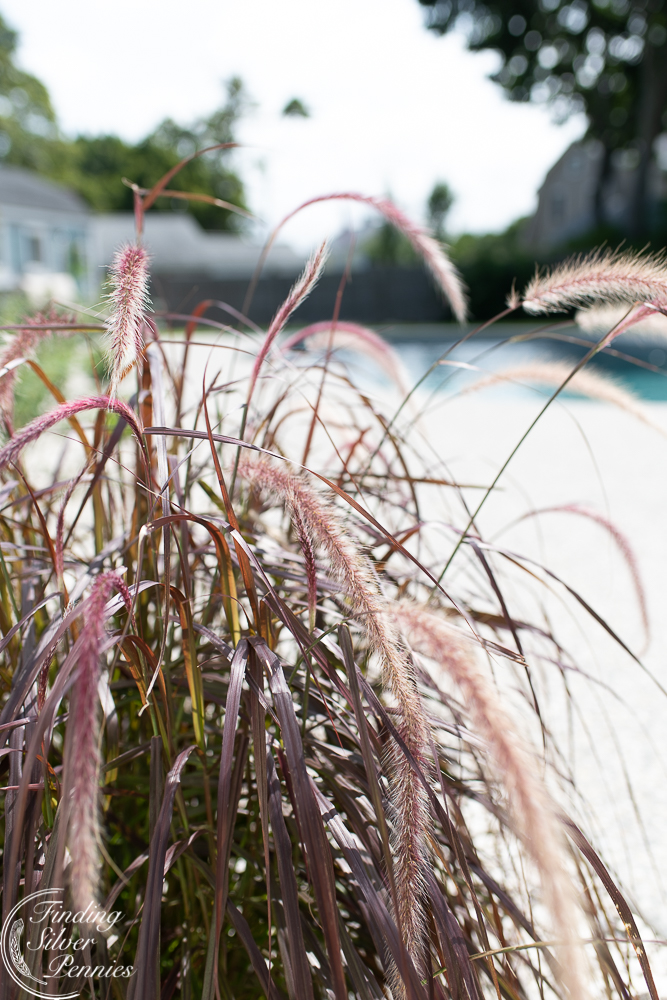 The knock out roses were already planted as were Conor's sunflowers. We bought dwarf sunflowers at the Garden Club Plant Sale a few years ago and somehow they crossbred with regular size sunflowers, so we've created our own hybrid. I'm gonna try to relocate the sunflowers next year, though. We have enjoyed seeing the tiny sunflowers on big stalks grow and the bees love them.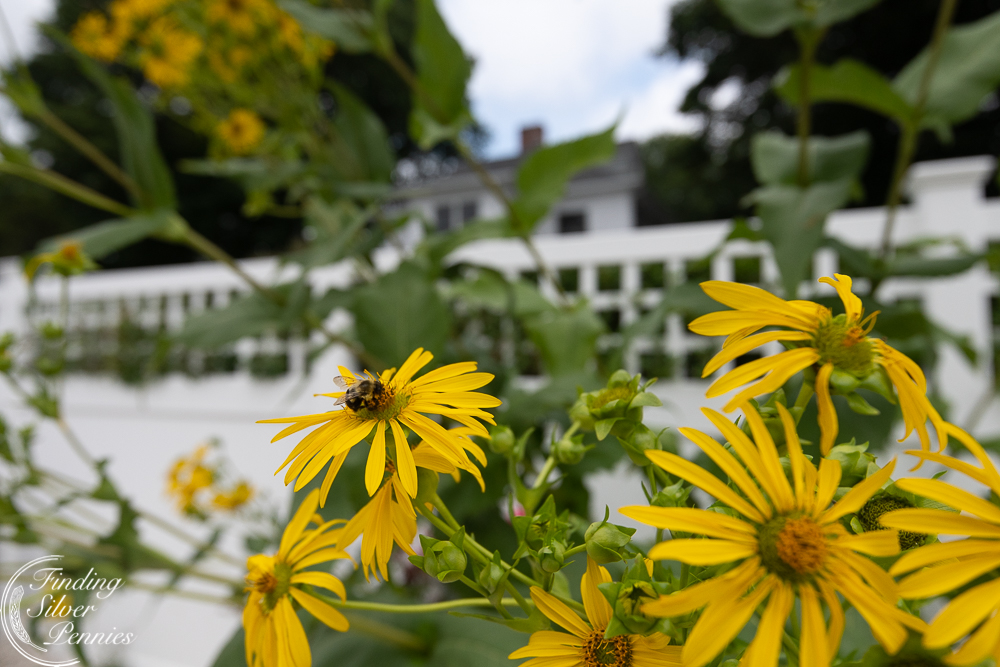 I've always dreamt of having limelight hydrangeas, and we added a few which will fill out, and hopefully have loads of blooms in years to come.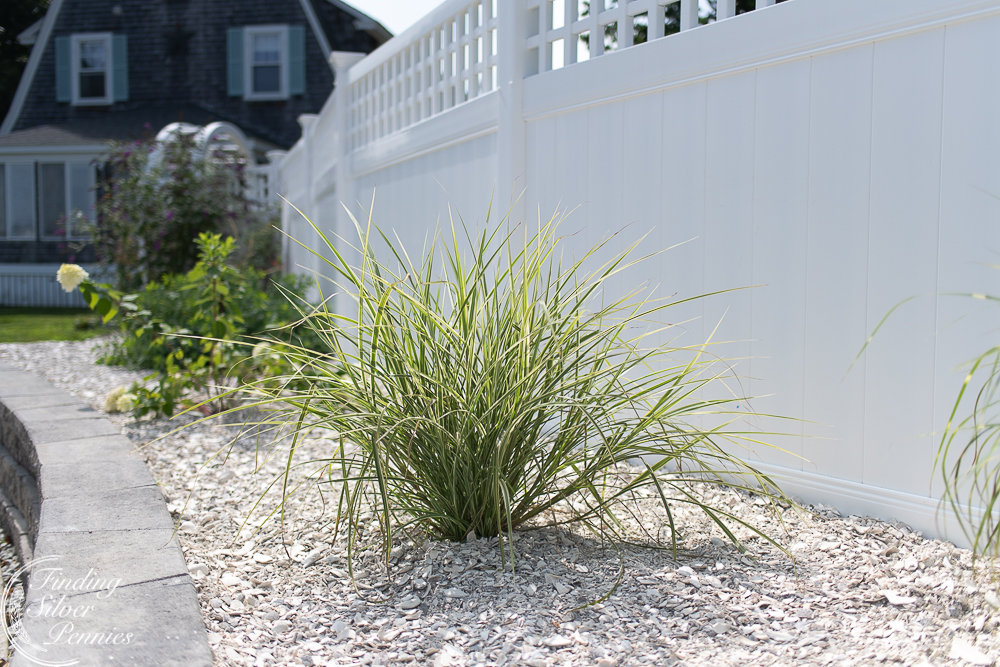 Our lilacs, which we planted last year, didn't bloom in the spring but they're in bloom now. Go figure, but I'm not complaining.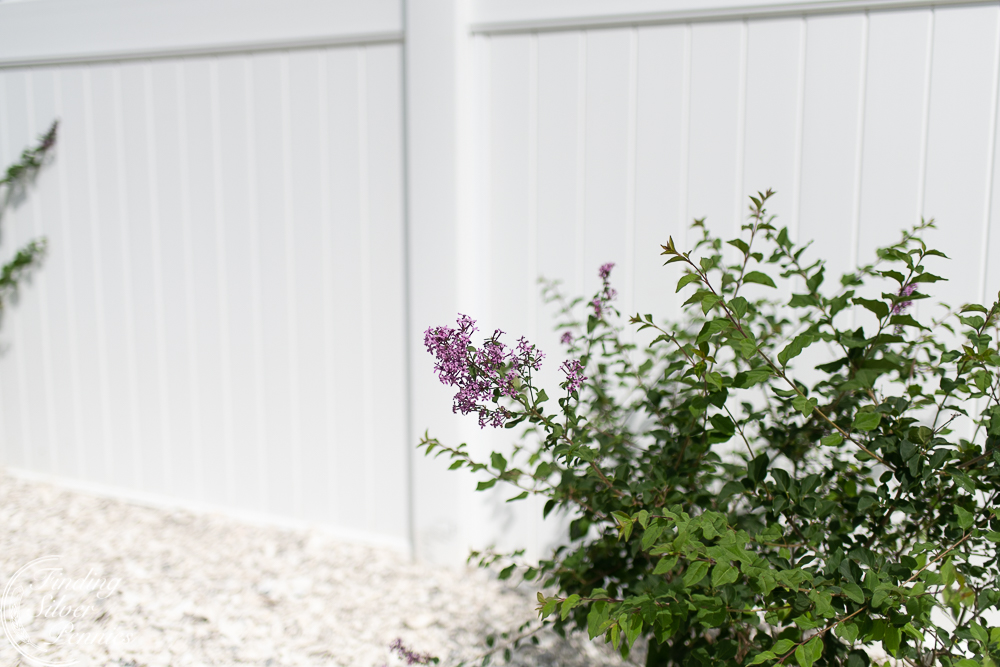 It has been amazing to watch and enjoy the nature in our yard while enjoying the pool as a family. We've seen hawks in the distant trees, bumble and honey bees in the sunflowers and our honeysuckle and butterfly bushes attract butterflies, humming birds and humming bird moths (pictured below).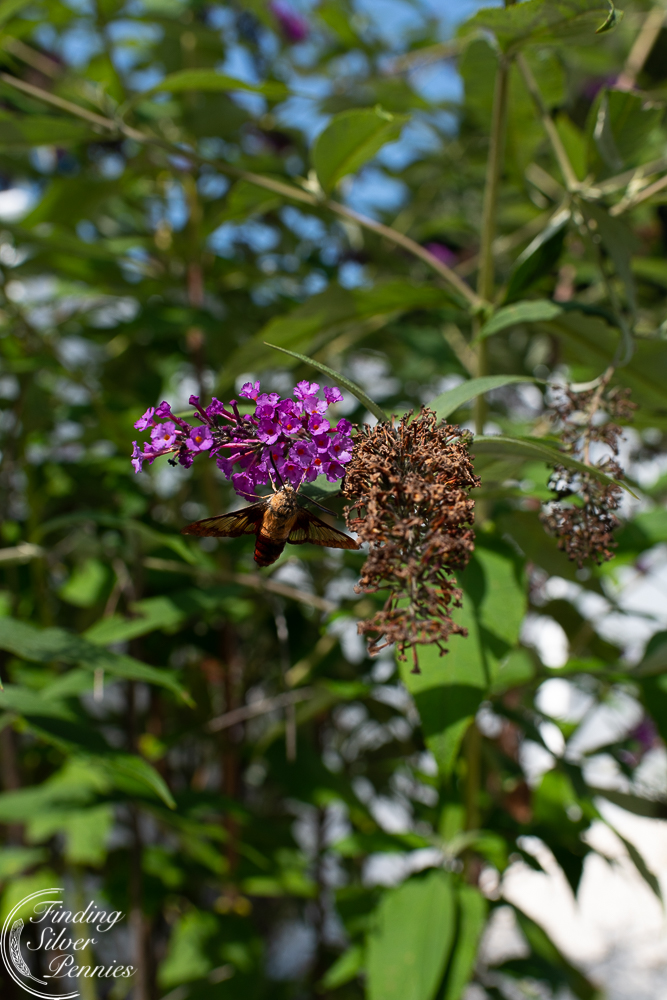 This is such a dream come true for our family. Our boys are growing up so fast, that I'm excited for these fun, family times by the pool.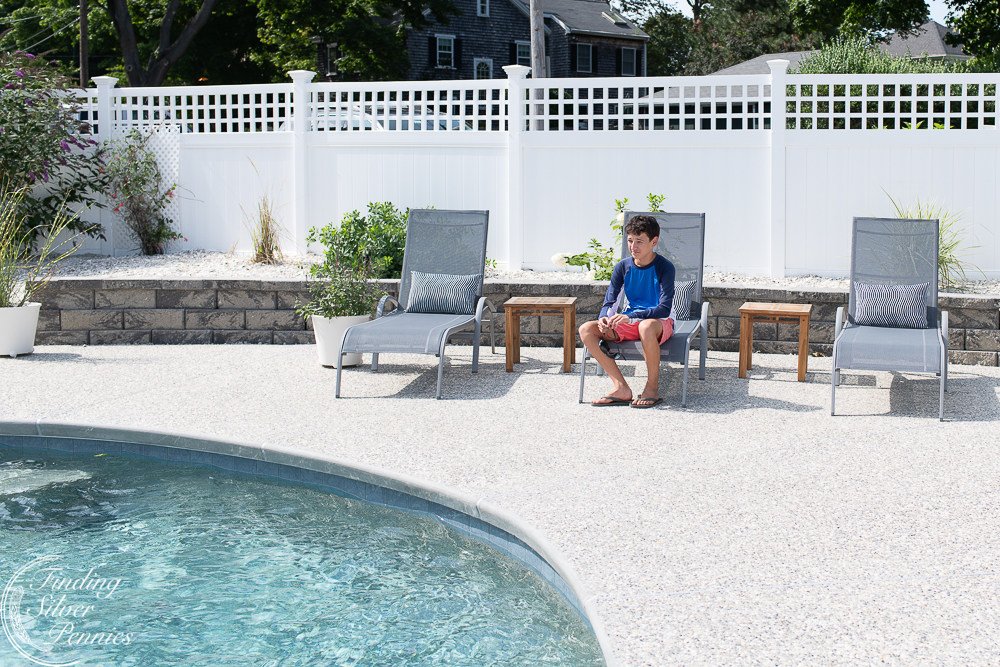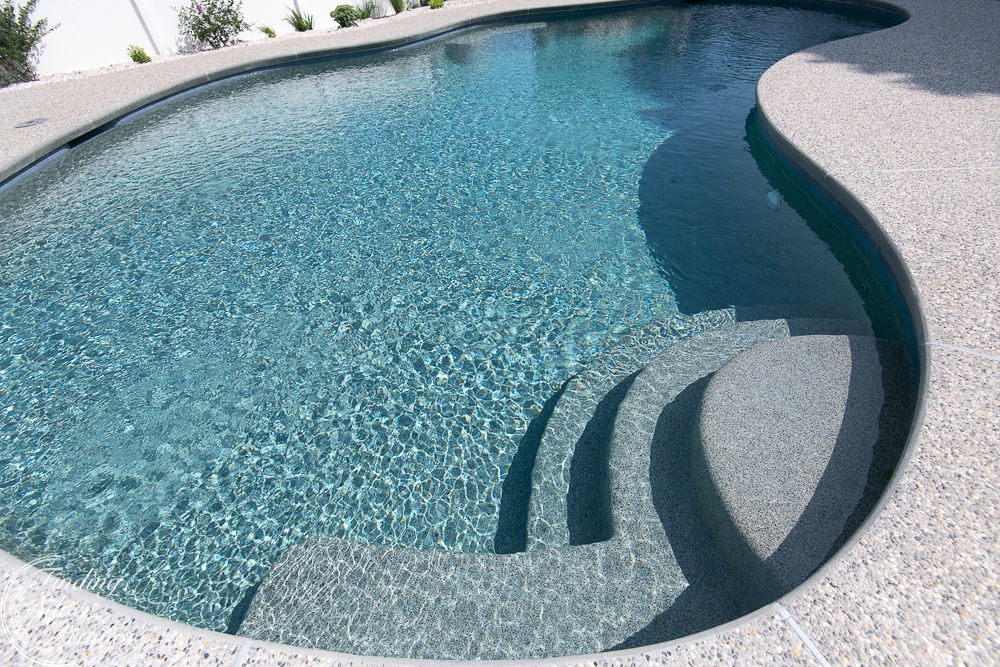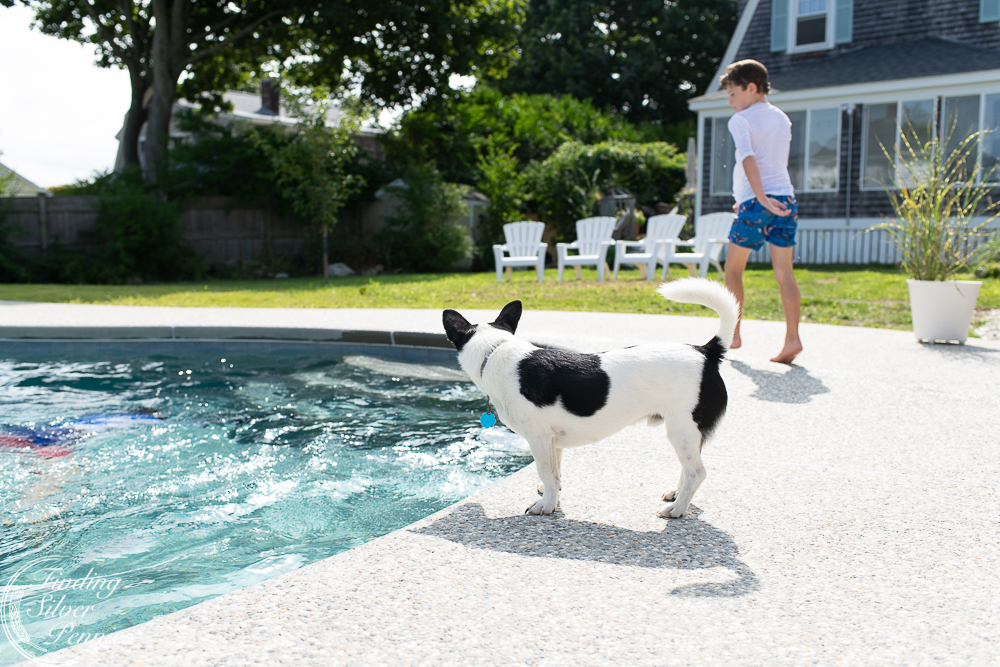 Days of floating: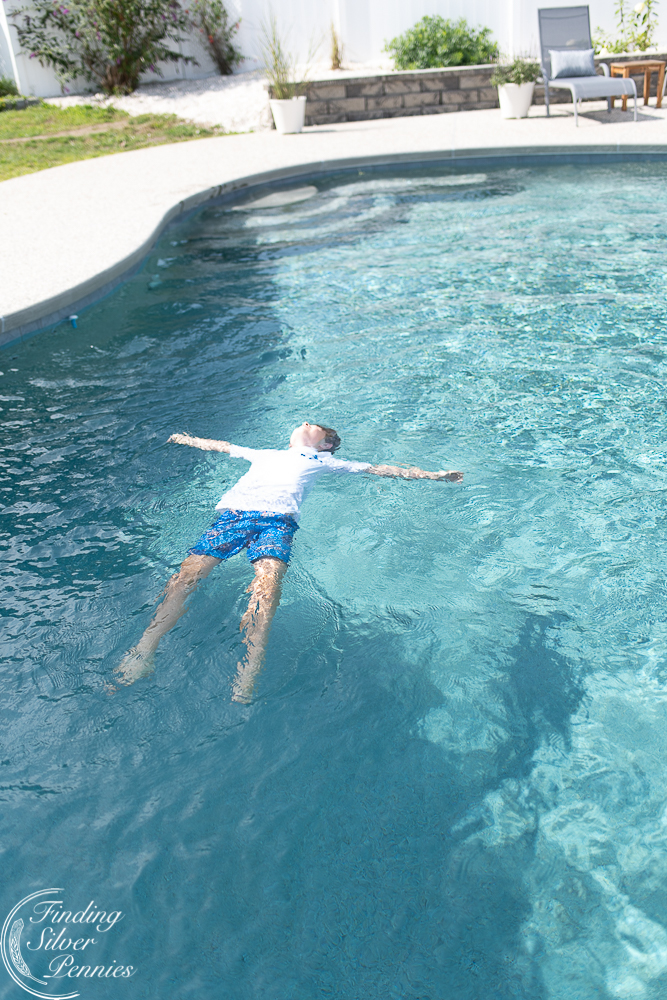 Jumping: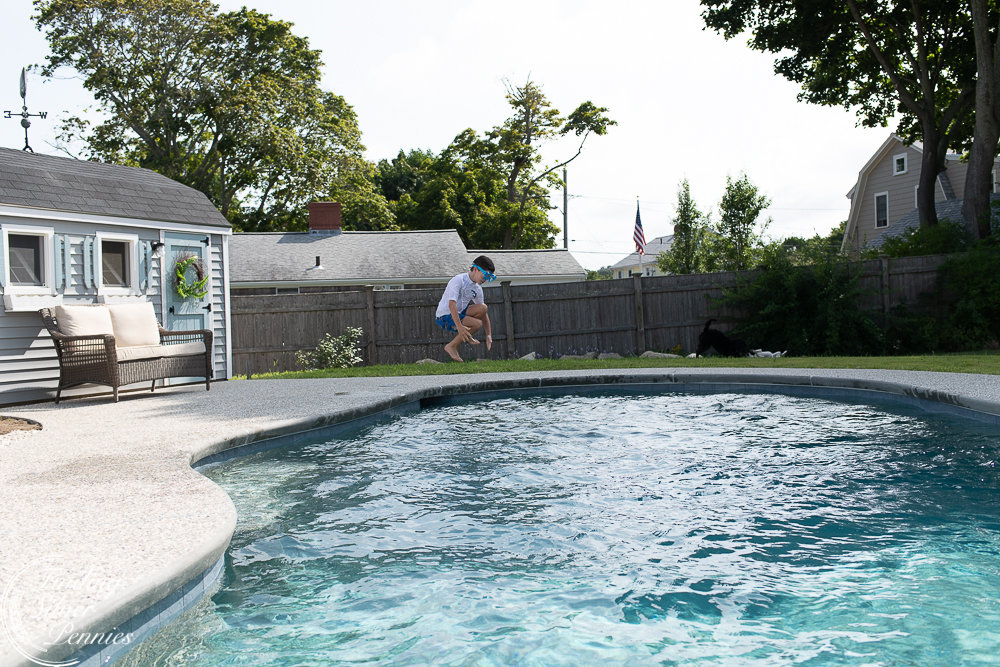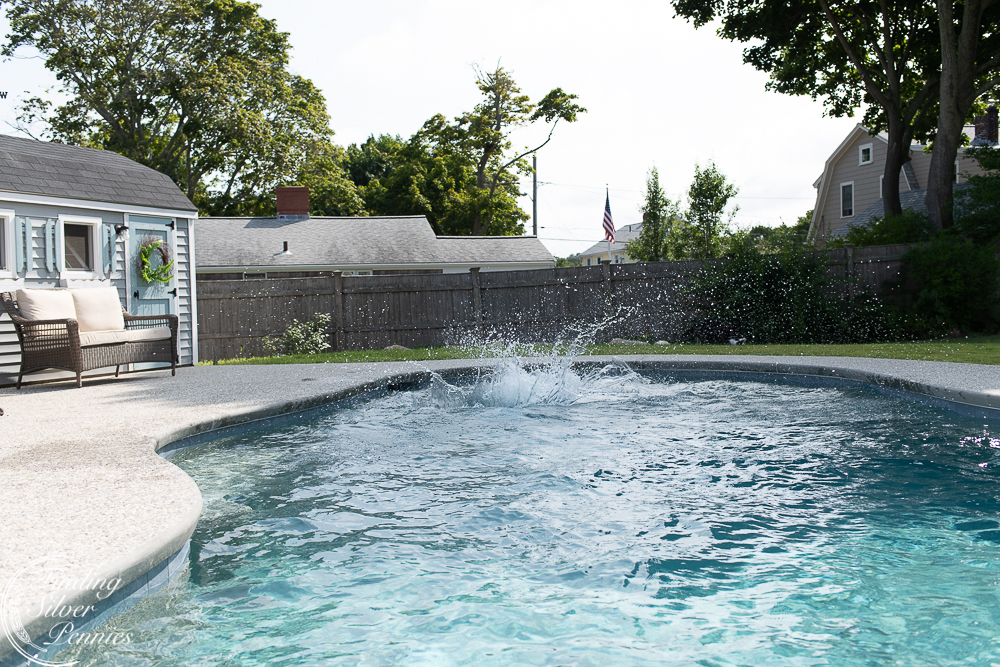 Soaring: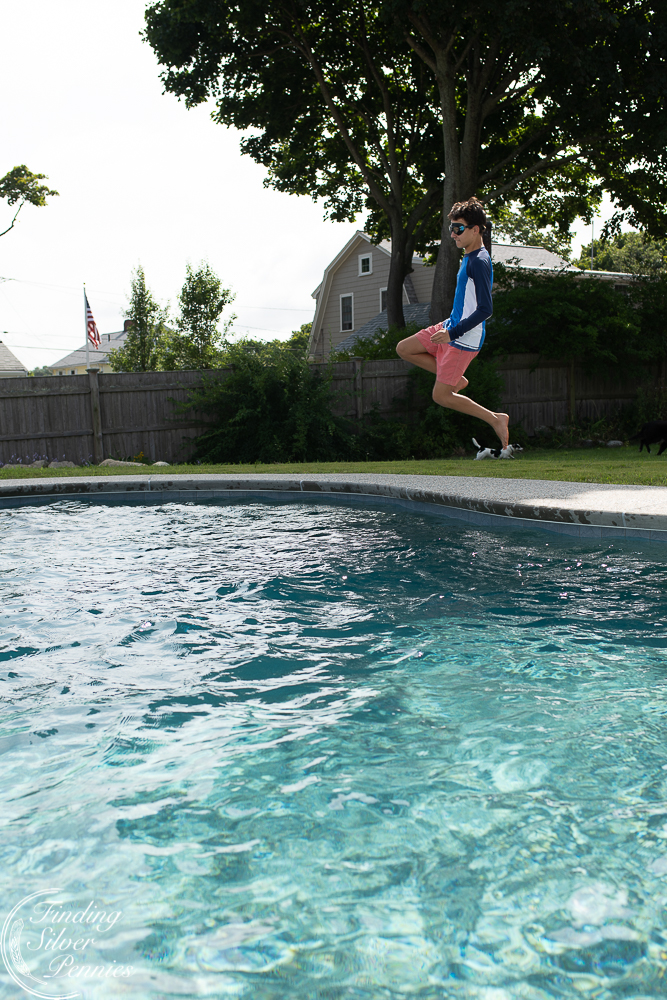 and handstand competitions: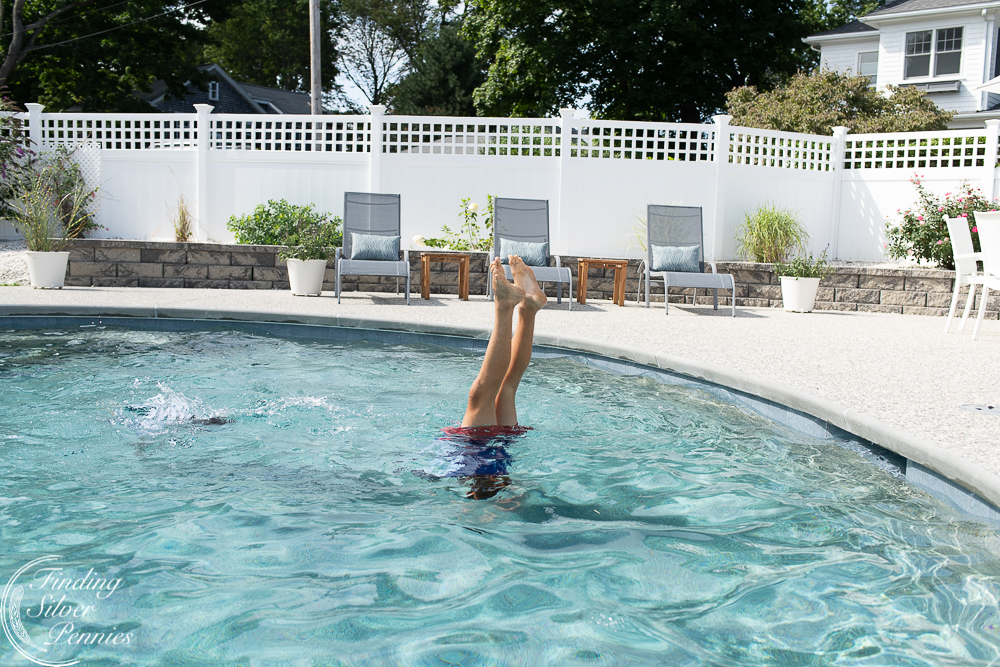 This part of our yard wasn't really used and now it's become a heavenly spot to create many amazing family memories. I am forever grateful to my husband, our friends who have supported us, and the companies who helped our dream come true.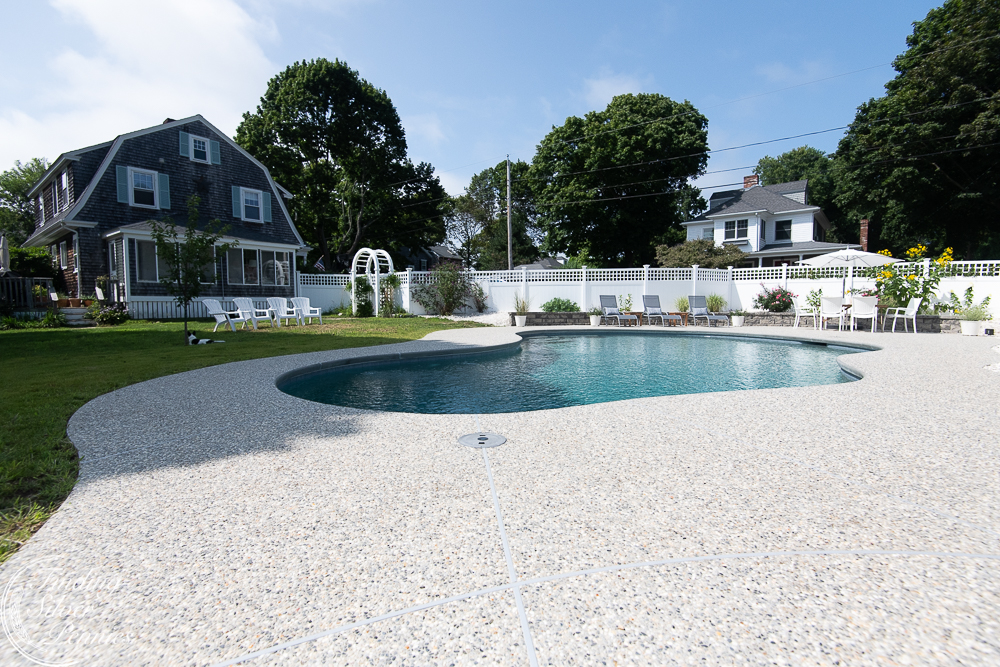 Are you thinking of putting a pool in? Do you have any questions for us? Please feel free to comment or email me your questions? I will write a follow up post to address any additional questions.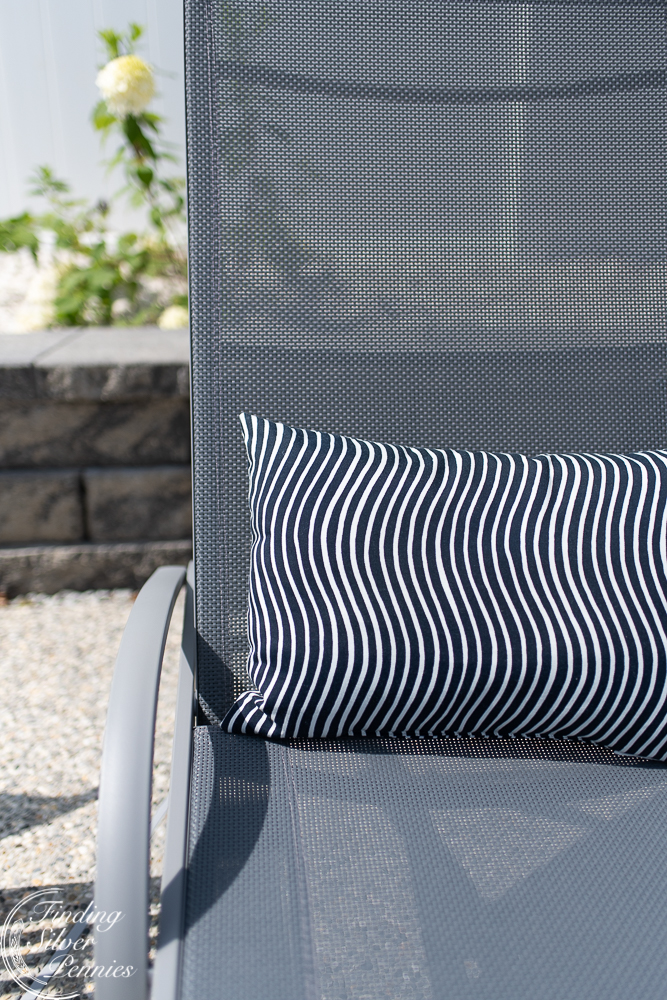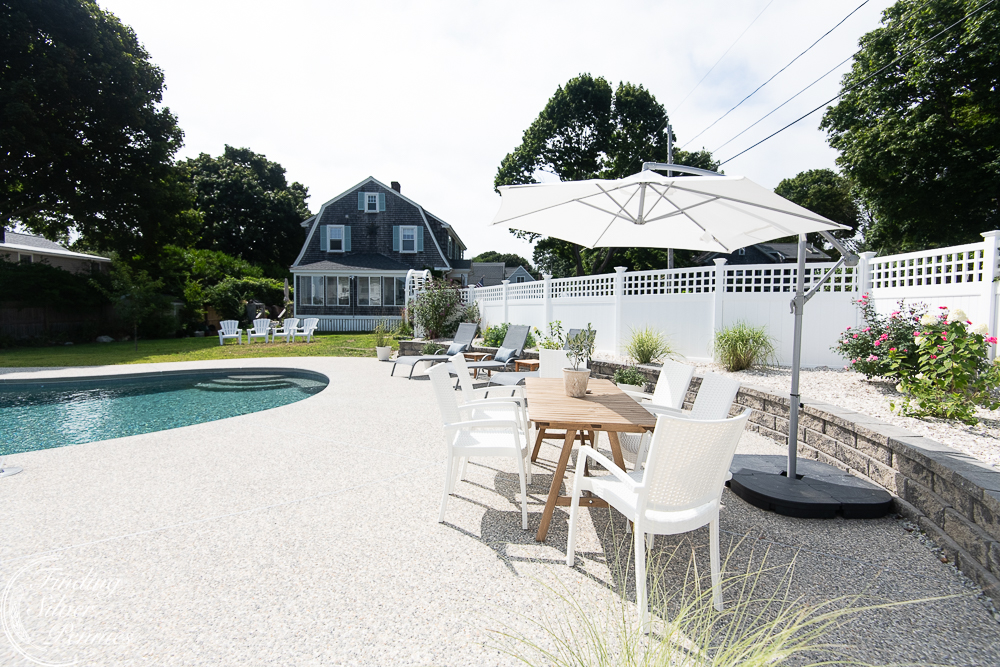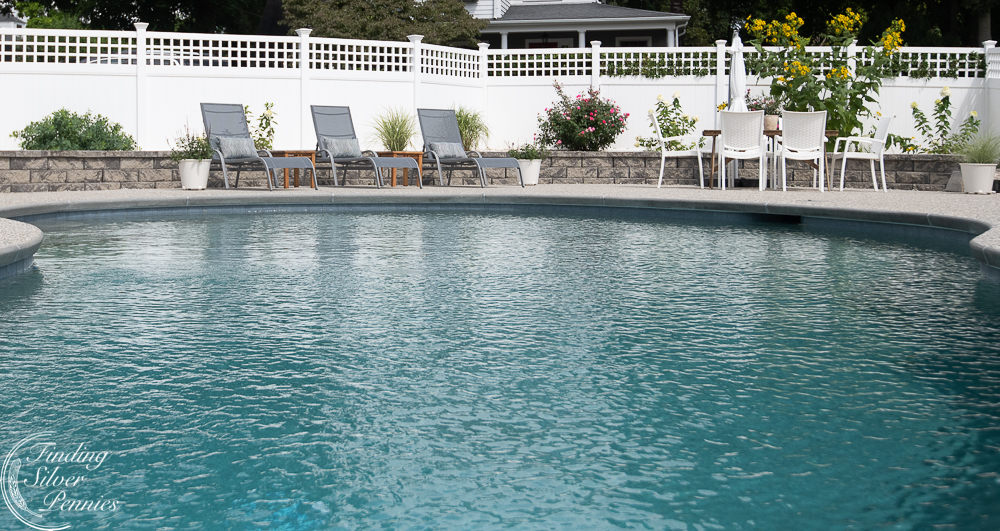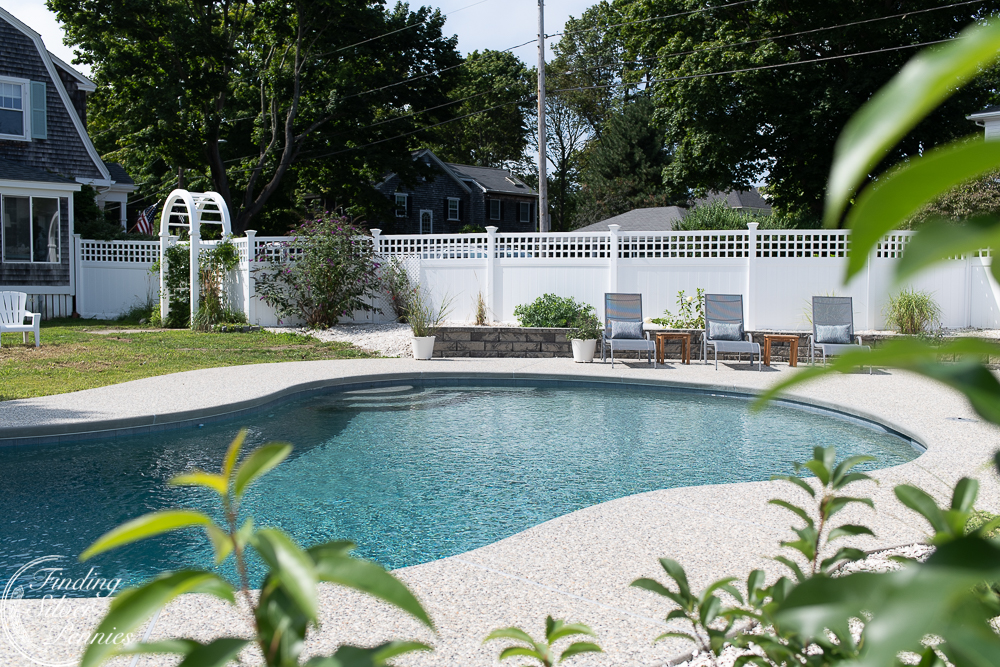 Until the weather gets cold, I have a feeling you'll find us out by the pool…