Let me start by saying this isn't a sponsored post or anyway affiliated with Ikea.  As many of you know we don't have a huge budget for decorating and we also have a young family (well, they are growing up now) but I have two little, active boys and a dog.  I like to mix high end and low end; antiques and new pieces.  Ikea allows me to do this very affordably.
We're getting close to our 2 year anniversary in this house. Can you believe it?  I'm thinking of taking you on a before & after tour on the on our anniversary, but today I thought I'd share Ikea in our home!  I'm always on the look out for a good deal or a piece of furniture or home decor that is affordable and fun.

I know you guys are all my friends so let's think of this as my guide to what I love (and haven't loved) that we've brought home from Ikea.
We bought these chairs last year for our sunroom makeover and they've been perfect in this space.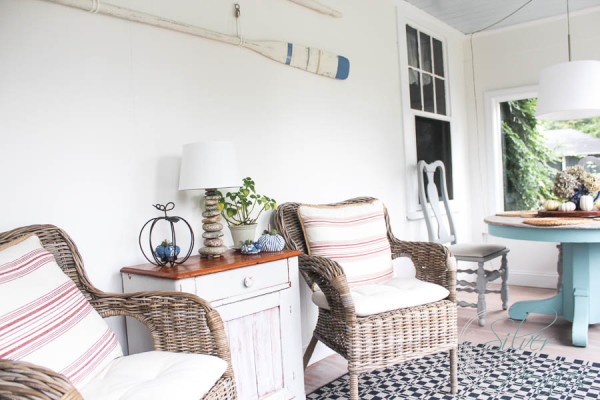 They've been out there all winter in the unheated room and have stood up just fine.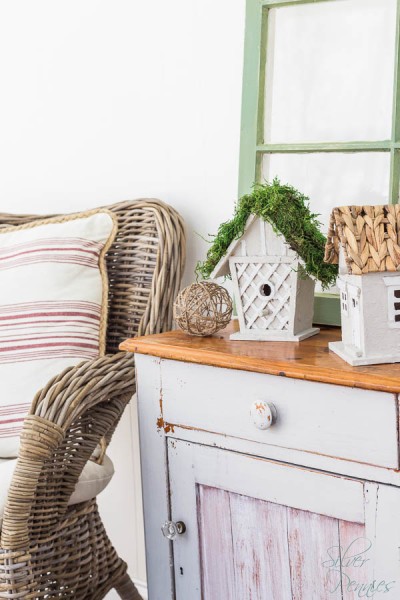 Pros: Very comfortable and durable.  These chairs are sturdy and give the coastal look I love for an affordable price.
Cons: I haven't found a con yet for this one.  Maybe that you can't wash the seat covers but you could affordably replace it.
Would I buy it again? Yes.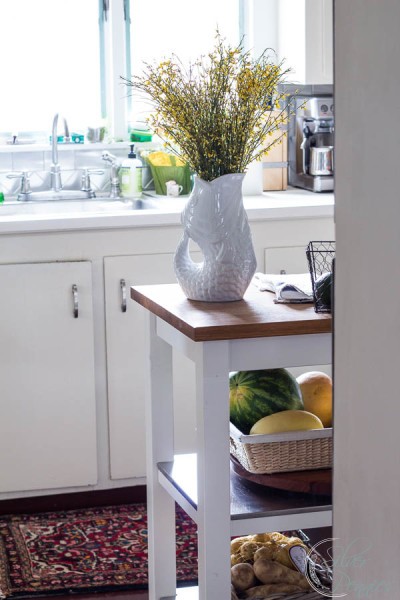 I know I don't share many images of our kitchen as I would like to do it over and it has yellow walls (which aren't really my color).  We have this little kitchen cart in our kitchen and use it as a small island.  It works well because our kitchen isn't too big.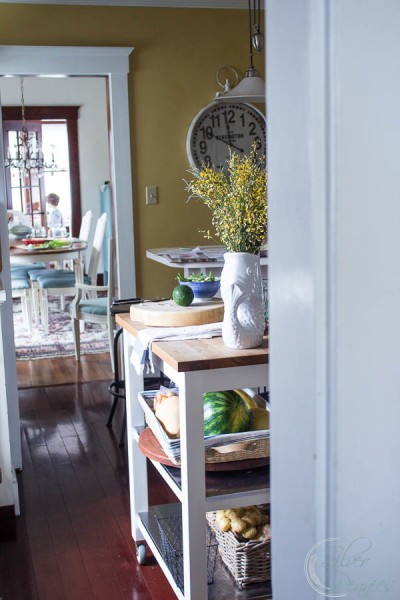 Pros: Great size for a small area. Great price.  Multiple shelves for storage and love the warm wood grain top.
Cons: The paint chips and the top marks.  My boys sometimes leave water glasses on it which leave drink rings. The once smooth surface feels rough to the touch.   You can refinish the top but I've been lazy.
Would I buy it again? Maybe.  I would really love a reclaimed wood piece but this works for now.  If we found something vintage, I would move this to the basement for my studio area.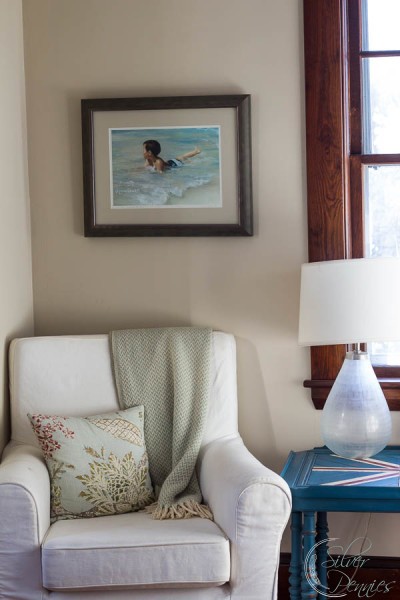 We actually own two of these chairs.  They were originally in our living room in our first house, but now I have one upstairs on the landing (above) and one in our living room (pictured below, last fall):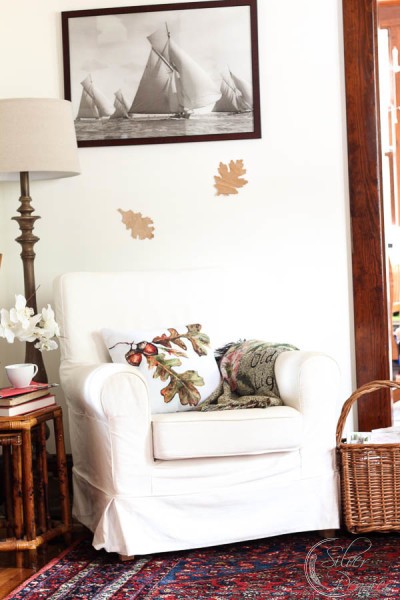 Pros: I love the shape of this chair.  It is very classic, but smaller and streamlined.  If you have a small corner or room, these can make your room look larger.  The slipcovers are easy to wash. The chair and slipcover are very affordable when compared to other stores.
Cons: One leg broke on one of our chairs (that is up on the landing.  I think from two little boys sitting on it and bouncing), but it still is okay just a little wonky.
Would I buy these chairs again? Yes, yes, a million times yes.  I haven't even bought new slipcovers for them and we've had them for a few years now.
I shared this little Ikea Hack with this stool here.  I bought this stool for the vintage look but also because I have trouble reaching the cabinets and the boys like helping me cook.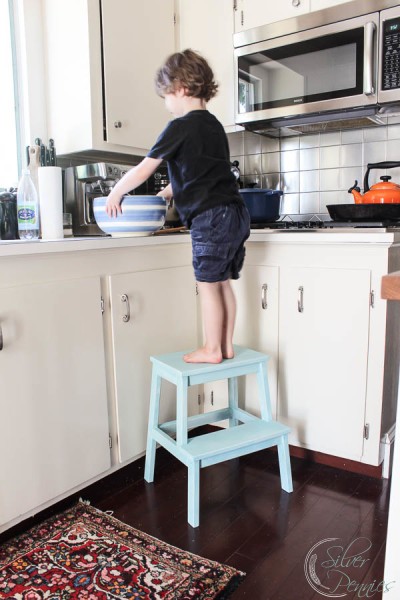 Pros: Affordable and very sturdy.  Easy to put together.  Ability to customize the look.  I shared two different milk paint finishes but you could also stain this, weather it or leave it bare.  Also great for a bedside table, extra seating or a side table.
Cons: Haven't found any.  We love the stool.
Would I buy it again? Yes.
We used this rug as part of our sunroom makeover. Click here for sunroom sources.
This indoor outdoor rug has been a lovely addition to our sunroom.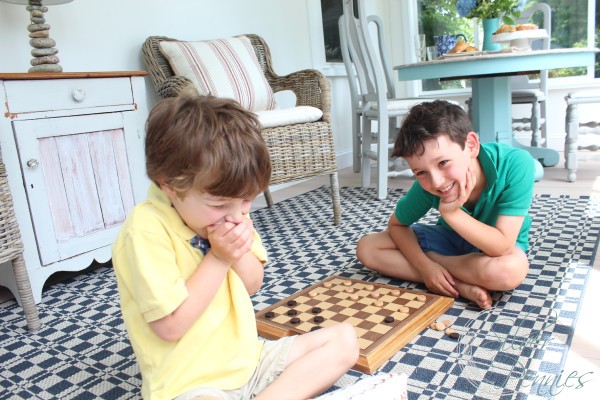 Pros: Indoor outdoor so okay in our unheated three season room.  Hasn't faded or worn.  Is soft enough for the boys to play on. Graphic pattern adds a nice texture to our coastal sunroom.
Cons: Wish it came in a larger size.
Would I buy it again? Yes!
I have these curtains in our dining room AND living room and we have them in white on our bedroom closet.  $45.99 for a set of linen curtains is an unbelievable price.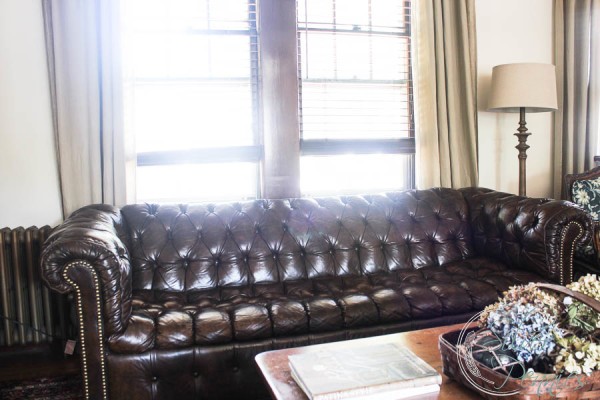 Pictured in our dining room: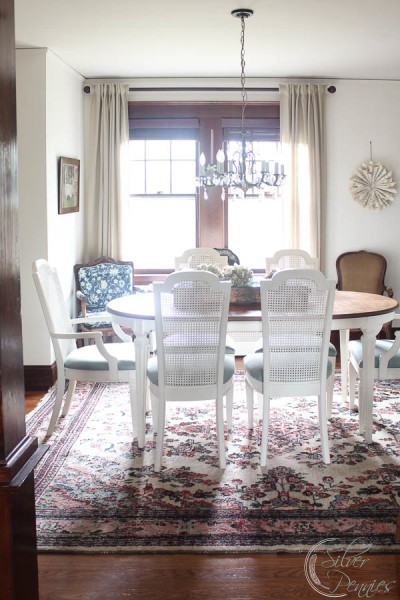 Curtains in our bedroom: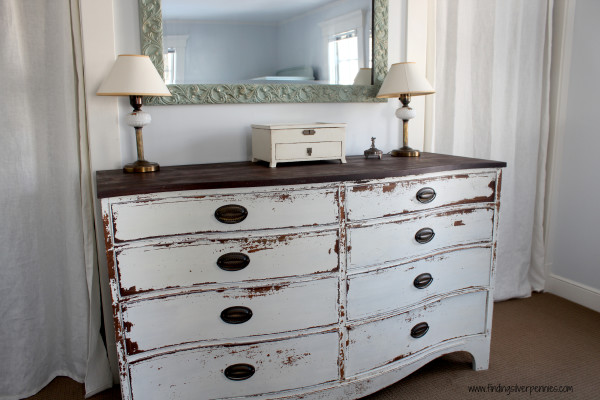 Pros: The light weight adds light to rooms, they come in a nice long length, are more affordable than Restoration Hardware.  I shared how to get the Restoration Hardware Look for Less, click here.
Cons: None.
Would I buy them again? Yes!
We got this for our oldest for Christmas and love the look of it – retro/modern mix.  We actually got the pedant and Luke just hung it in the kitchen for me.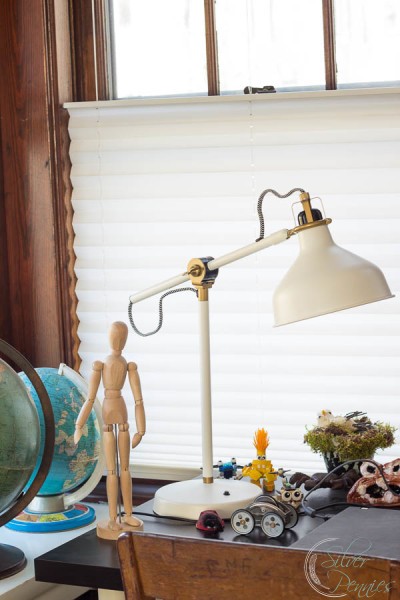 The wooden model is Ikea as well!
Pros: This is a nice heavy light and excellent price.  It throws a lot of light for our son while he's trying to work at his desk.
Cons: None.
Would I buy this again? Yes!
We originally bought this to be Conor's very first bed.  Here it is in our first home: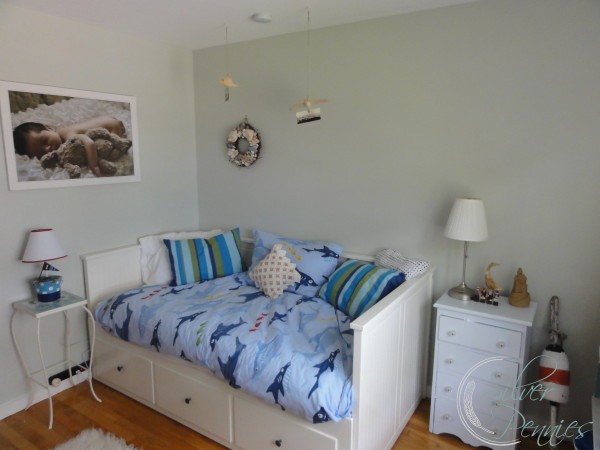 He was so excited about it!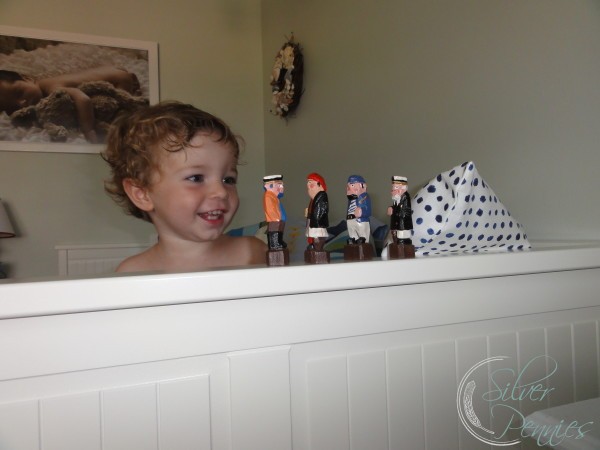 Here it is now in our playroom as a couch.  It is great for extra storage (underneath) and pulls out to a king size bed for extra space for company.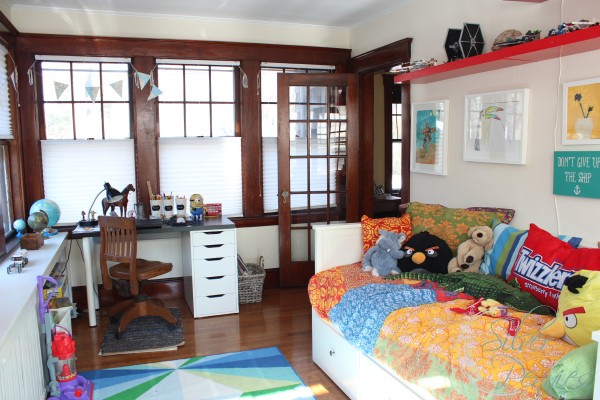 The above pictures is older.  We no longer have the rug due to a Poppy accident after getting sprayed by the skunk, the bright Indian quilt has been swapped out and the desk is also Ikea.
Pros: Great size and price for this day bed.  Works perfectly as a first bed but can also pull out.  Bonus storage in the drawers.  Can become a king size bed.
Cons: Hard to put together.  Very large and needs to be disassembled to move.
Would I buy it again? Yes!
Nyponros Duvet and Pillow Covers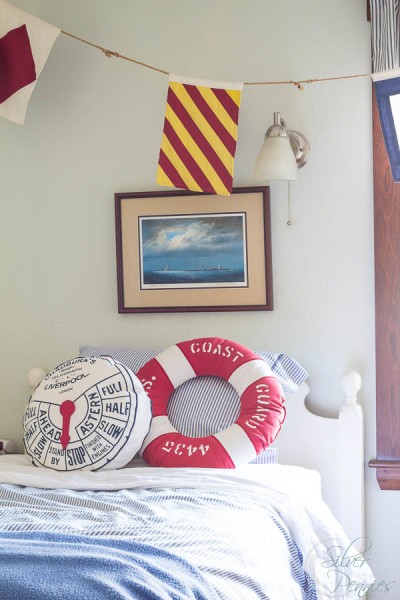 You know I love blue and white, so this duvet and cover was a no brainer.  It goes perfectly in John's coastal bedroom.
Pros: Lovely coastal look.  Soft cotton and washes very nicely. Pretty covered button closure.
Cons: None
Would I buy it again? Yes, in fact I get a lot of our bedding from Ikea. I like their white sheets and we have a white Ikea duvet set in our guest room.
If you look closely you will see these placemats in our sunroom and dining room.  I love that they are relaxed and coastal but can be dressed up in our French dining room.  If stains get on them you can just run them under water.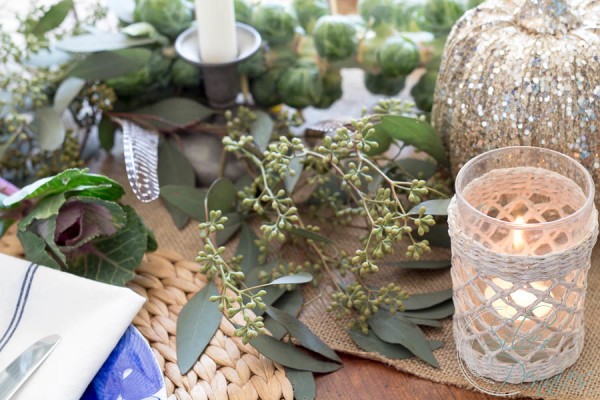 I hope this was helpful.  I know it is always daunting trying to find just the right pieces and the right prices for your home.
Other ikea things we love: kids cups (they are indestructible), place mats, pots and pans, tea towels, tea lights, paper napkins, artificial plants, throw pillow, rugs (sea grass and area) and dinner after a shopping trip!